Kid Friendly Easter Egg Hunts in Orlando
It's that time of year when pastels peek out from every nook and cranny, flowers are blooming, butterflies are fluttering, bees are buzzing and that fluffy, white bunny makes an appearance. Spring has sprung and for most children that brings about joy and anticipation for goodies from the Easter Bunny. Make the season even more magical for your munchkins with an outing to hunt Easter eggs!
Easter Egg Hunts in Orlando 2023
Easter Egg Hunt at Amber Brook Farms
Saturday, April 1, 10am – 5pm
36111 N CR 44A, Eustis
Join Amber Brook Farms for a day of Easter Celebration on April 1st from 10am – 5pm. Activities include egg hunt, face painting, eggcellent photo spots, Easter basket raffle, Jelly Bean guessing game, and live music. The usual blueberry picking, slide hill and jump pad will be open for your moppet's merriment.
Time slots for Egg Hunt:
Ages 2-4 | 11AM
Ages 5-8 | 11:30AM
Ages 9-12 | 12:00PM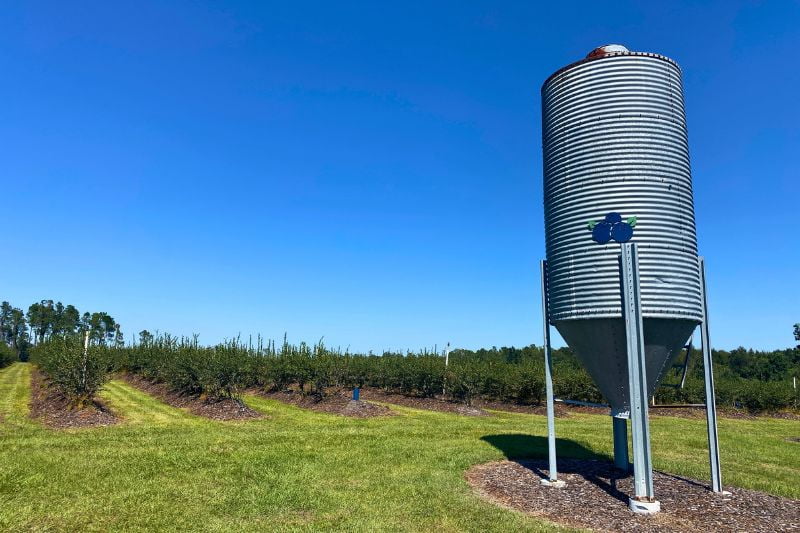 Children 1 and under are free. Tickets purchased in advance are $13 or $15 if purchased at the door.
Green Acres Farm Easter Egg Hunt
Sunday, April 2
1700 Marsh Street, Oviedo
Hop to Green Acres Farm Oviedo to celebrate Spring with egg hunts, bounce houses, farm animal pet and feed along with crafts. This special outing isn't for children only. An all-adult egg hunt is offered at 3pm for guests 21 and over. Hunters from birth to 6 will begin their egg search at 1pm with the 7-12 age group following at 2 pm. General Admission is $5. The egg hunts and pony rides are extra. Only a limited number of people are admitted so reserve your spot early. No tickets are sold at the door.
Magic 107.7's Easter Egg Hunt
Saturday, April 8, 9:45am – 12pm
155 W Warren Ave, Orlando
On Saturday, April 8th, Magic 107.7 will host their free Easter Egg Hunt in the Longwood Historic District for children from birth to 5th grade. There will be games and prizes for attendees, a photo opportunity with the Easter Bunny and an Easter Basket Competition. Concessions for purchase will be available. The hunt schedule is as follows:
Under 2 yrs. old—continuous
2 yr olds—9:45
3 yr olds—10:00
4 yr olds—10:15
K (& 5 yr olds)—10:30
1st grade—10:45
2nd grade—11:00
3rd grade—11:15
4th-5th grade—11:30
Easter Egg Hunt in Ivanhoe Village
Saturday, April 8
1412 Alden Road, Orlando
MAM Events is hosting their 2nd Annual Easter Egg Hunt at the Hall on the Yard from 10am – 12:30pm on April 8th. The 407 Food Fair will begin at noon. Tickets are $15. Prepare for a hare-raising good time!
Hop On Downtown and Chocolate Chase
Saturday, April 8 · 11am – 2pm
421 Broadway, Kissimmee
Kissimmee Main Street invites families to hop on down to the Kissimmee Historic District for a few hours. This free event does not require registration and will have over 1,000 eggs for attendees to find. The fun begins at Kissimmee Main Street Welcome Center.
Oviedo Mall Easter Egg Hunt
Saturday, April 8, 2:30pm – 2 pm
1700 Oviedo Mall Blvd, Oviedo
Partake in an egg hunt with a twist. Eggsplorers ages 12 and under can start their quest at Precious Fine Jewelers in front of the Easter Bunny's house. Throughout the mall, the Easter Bunny will place pictures of eggs to find. When one has been spotted, kiddos can zip into the store for a special treat (while supplies last). Stop in to tell the Easter Bunny all about it after! 1
Family Day Easter Egg Hunt
Saturday, April 8, 10:30am – 1:30pm
381 Orange Lane, Casselberry
The German American Society of Central Florida is a hosting a free egg hunt with special guest, Mr. Bunny himself on April 8th! Other activities will include a bounce house, bubble machine, face painting and crafts. Food and drink (including German beer on tap) will be available for purchase. The fun begins at 10:30 with a toddler – 5 hunt at 11:30, children 6-12 will hunt at noon and the Easter Bunny will make an appearance from 12:30-1:30.
Island H2O Egg-Stravaganza
Every weekend in April, starting April 8
3230 Inspiration Drive, Kissimmee
Island H2O Water Park welcomes you to attend their Egg-Stravaganza. Happening every Saturday and Sunday from April 8 – 30, park goers can search the park for hidden eggs and win prizes. The hunt starts at 10:30am and lasts until all of the eggs are found.
Seminole Towne Center Easter Egg-Stravaganza
Multiple dates – April 1, 2, and 8
200 Towne Center Circle, Sanford
Happening April 1st, 2nd and 8th, Seminole Towne Center will have egg decorating, games, prizes, and a scavenger hunt. Roll on over for egg-traordinary glee!
Eagle Nest Park
Saturday, April 8, 10am – 1pm
5165 Metrowest Blvd, Orlando
Men's Closet Events is hosting a $5,000 Easter egg hunt on April 8th from 10am – 1pm. There will be multiple vendors, face painting, balloon animals, and more. Children are welcome to join the Easter Egg Challenge. Each age group will be given 3 minutes to pick up as many eggs as they can. Group 1 is for ages 4-6, Group 2 is for ages 7-9 and Group 3 is for ages 10-12.
Vance Harmon Park
Saturday, April 8, 12pm – 2pm
|50 Cypress Drive, Kissimmee
Rickita Realty is hosting their 1st Easter Egg Hunt at Vance Harmon Park. Participants can enjoy an egg hunt, snacks, Easter pictures, over 100 prizes, 6 Easter basket raffles and a gift card PLUS over 100 prizes. Prizes also include 9 winners of $1,000 and 1 winner of $2,000 in down payments for those looking to purchase a house this year. A break down of the agenda is:
12-12:30 Check In
12:30-12:45 Egg Hunt ages 0-3
12:45-1:00 Egg Hunt ages 4-7
1:00-1:15 Egg Hunt ages 8-13
1:15-1:30 Egg Hunt ages 14-17
1:30-1:45 Egg Hunt ages 18 and up
1:45-2 Easter Basket Drawing and Down Payment Raffle
Launch Entertainment Park Golden Egg Hunt
Sunday April 9, 10am – 9pm
610 N Alafaya Trail, Orlando
Jump into Easter on April 9th from 10am-9pm at Launch Entertainment Park. Families can scour the 50,000 sq. feet complex to find treasures a.k.a. eggs. Prizes include one month jump pass, $20 KRAVE gift card, Launch backpack and gear, lots of candy, and a special photo with the Easter bunny. Pictures with the Easter bunny are free but attendees must purchase jump passes or plays.
Who Moved My Eggs Hunt – 1 North Powers Drive, Orlando
Help find the eggs in Orlo Vista Park at Pavilion 1 on April 8th from 10am-12pm. This free event is hosted by Balm in Gilead Healing Church International. Other activities include games, food and music.
Easter Egg Hunts at Orlando Area Churches
Cortiva Institute Egg Hunt and Open House – 2600 Lake Lucien Dr, Suite 140, Maitland
Elevate Easter with a little health and wellness at Cortiva Institute's free egg hunt and open house. Expect Easter basket raffle prizes, free face painting, free chair massages and mini facials! There will also be light refreshments, live demos and campus tours to meet some of the staff and students. While this is a free event, they do request an RSVP for planning and preparation.
Holiday Inn Egg Hunt and Brunch – 5750 TG Lee Blvd, Orlando
The Holiday Inn Orlando International Airport invites you to an egg-citing outing that will fill your basket and your belly. On April 9th from 6:30am-11:30 am, families can dine on breakfast favorites including an omelet station before dashing to crack some goody-filled eggs. Don't miss out on snapshots with everyone's favorite rabbit during brunch, the Easter Bunny. Brunch is $13.99 per adult and $9.99 per child. Every child 11 and under joining for breakfast will earn an entry into the egg hunt at 10:15am.
Lake Hills Church Glow in the Dark Easter Egg Hunt – 268 Mohawk Rd, Clermont
Lake Hills Church is bringing a little light to darkness with glow-in-the-dark Easter eggs! The fun begins at 8pm for children ages 0-5th grade.
Seminole Community Church Easter Eggstravaganza – 5070 Orange Blvd, Sanford
Join families (and maybe even the Easter bunny) at an egg hunt for ages 0-5th grade on April 8th. Find multiple animal encounters, family photo booth and chances to win prizes including gift cards. Seminole Community Church will host from 1pm-3:30pm. Tickets are free but registration per vehicle is required.
Calvary Baptist Church Egg Hunt – 4606 Lake Margaret Dr, Orlando
An Easter egg hunt, prizes, candy and fun are all hop-ening on April 8th at 11am. Calvary Baptist Church welcomes the community to hop by. No reservations needed.
Faith Assembly Easter Egg Hunt – 9307 Curry Ford Rd, Orlando
Faith Assembly welcomes you to join them on one of their three campuses for family friendly fun. From 10am-1pm on April 8th, experience their activity zone and food trucks. Continuous egg hunts every half hour will ensure no one misses the hare-raising egg-citement.