A Parent's Guide to Peppa Pig Theme Park in Florida!
A little more than one year ago, the world's first Peppa Pig Theme Park sprang up practically next door to us and I couldn't be more thrilled as a mom of a preschooler. With a few visits already under our belts, this fantastic theme park, specifically designed for preschoolers, has become a familiar playground for us. So, I've gathered a heap of valuable insights to ensure you and your little one have the best day ever.
We're going to delve into everything the park has to offer – from thrilling rides and interactive attractions to delightful character meet and greets and an exceptional water play area that'll have your kids squealing with joy. Plus, the park's Autism-friendly amenities make it an inclusive space for all. We'll also explore the shopping and dining options available to make your day even more enjoyable.
Get ready as we also provide key tips and suggestions tailored for each age group and a handy list of essentials to pack for your visit. Let's embark on this oink-tastic adventure!
What is there to do at Peppa Pig Theme Park Florida
First, let's list all there is to do at Peppa Pig Theme Park Florida. And there is a lot! Every single ride is built to enable an adult to ride right next to their little piggy.
Daddy Pig's Roller Coaster – 36-inch height requirement
Peppa Pig's Balloon Ride – no height requirement
Grandad Dog's Pirate Boat Ride – no height requirement
Grampy Rabbit's Dinosaur Adventure – 34-inch height requirement
Mr. Bull's High Striker – 34-inch height requirement
Peppa's Pedal Bike Tour and George's Tricycle Trail – no height requirement
Muddy Puddles Splash Pad – no height requirement
Pirate Island Sand Play
Fun Fair games and play area
Granny Pig's Garden and Playground
Mr. Potato's Showtime Arena
The Cinema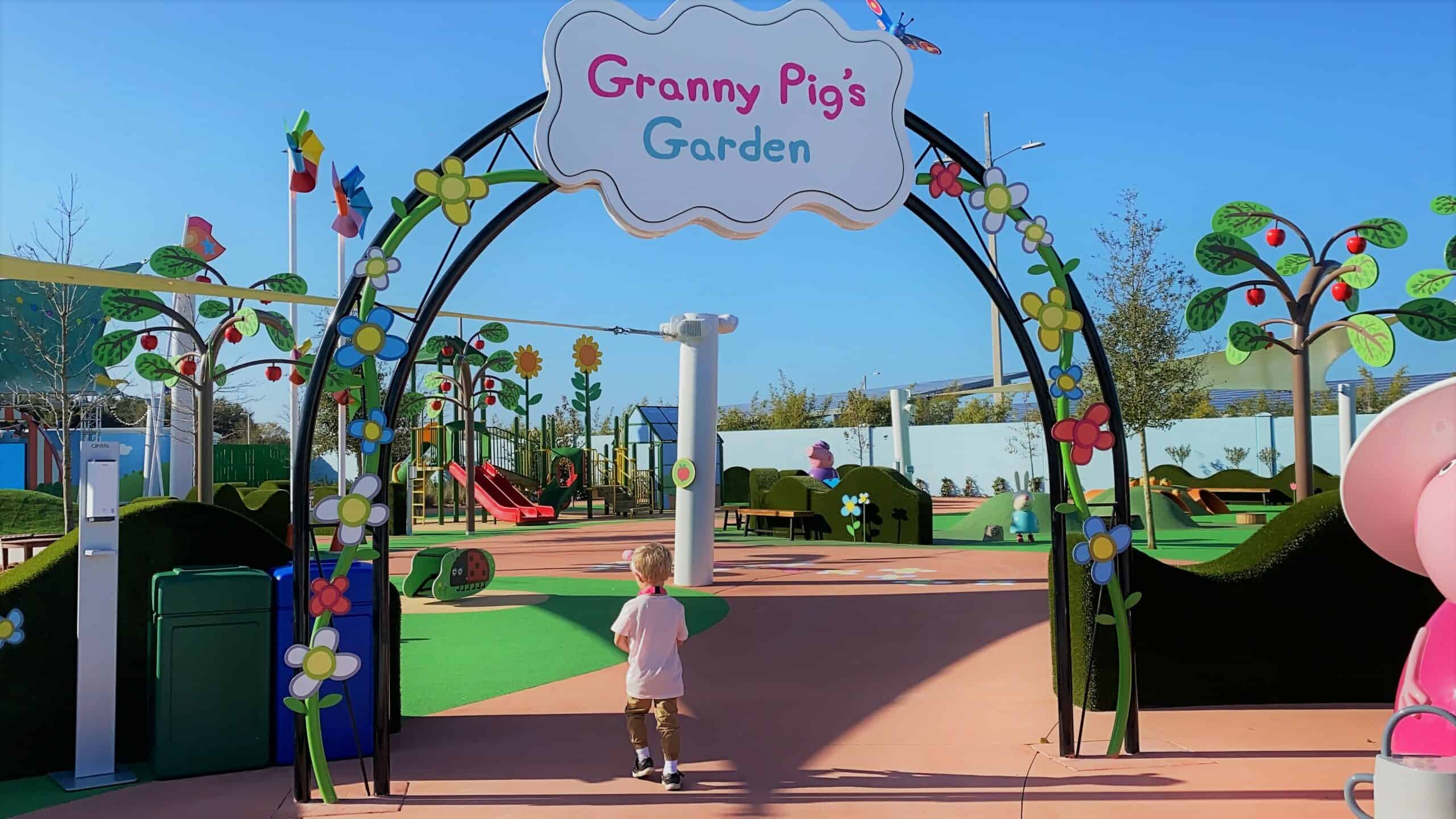 The Pirate Island Sand Play, Fun Fair games and play area, and Granny Pig's Garden and Playground are perfect for preschoolers. Each area is free, independent play that kids can enjoy without any lines or waiting.
These three areas are so empowering for preschoolers! The multiple places for little ones to do their own thing in a safe and fun environment are what I love most about Peppa Pig Theme Park.
Now that we've reviewed the full list of things to do at Peppa Pig Theme Park, let's dig into each ride and attraction individually.
NEWS – Mornings this summer will be filled with extra oinks and giggles with the debut of Breakfast with Peppa at the World's First Peppa Pig Theme Park! This oinktastic NEW experience, available for a limited time Fridays and Saturdays beginning June 9, includes a specially crafted breakfast menu and exclusive time with Peppa Pig.
The Rides at Peppa Pig Theme Park
Daddy Pig's Roller Coaster

Description: Take a ride with Daddy Pig in his recognizable red car and go on an unexpected adventure when Mr. Bull's "digging up the road" sends you on a curvy exploration of Daddy Pig's new shortcut! This family-friendly thrill ride is the perfect first roller coaster for brave "little piggies"!
Dani (mom of a four-year-old): "My little guy was initially excited about this roller coaster. However, after eyeing it for a while, he decided otherwise. I was hoping this would change during our second visit, nearly a year later – but it was still a no"
Laura (mom of a six-year-old): "My boy took a little warming up to it, but soon he was ready to go. He rode it a total of three times!"

Peppa Pig's Balloon Ride

Description: You won the Fun Fair raffle! Now ride to the sky with Peppa Pig and your family in Miss Rabbit's hot air balloon as your prize! Enjoy the view from the very top, it's brilliant!
Dani (mom of a 4 yo): "After a thrilling ride on Mr. Bull's High Striker, my four-year-old could not be convinced to go on the Balloon Ride. This Balloon Ride is fairly simple, and there is no height requirement. We visited nearly a year later and he could not feel comfortable enough to try it."
Laura (mom of a 6 yo): "This is a great ride to do early in your day so you can get a bird's eye view of the theme park and enjoy a nice breeze!"

Grandad Dog's Pirate Boat Ride

Description: Anchors away! Sail with Grandad Dog on this family boat ride to find his hidden treasure.
Dani (mom of a 4 yo): "Highly recommend starting here, especially if you have really young kids with you. There is no height requirement and it is a simple, but fun ride that slowly bobs up and down as you go in a slow circle. On our return visit my nearly 5-year-old asked to ride it three times in a row!"
Laura (mom of a 6 yo): "Even at six years old, my son enjoyed this ride and we ended up riding it a second time. This is another good one to start with to get your kids ready for some rides throughout the day."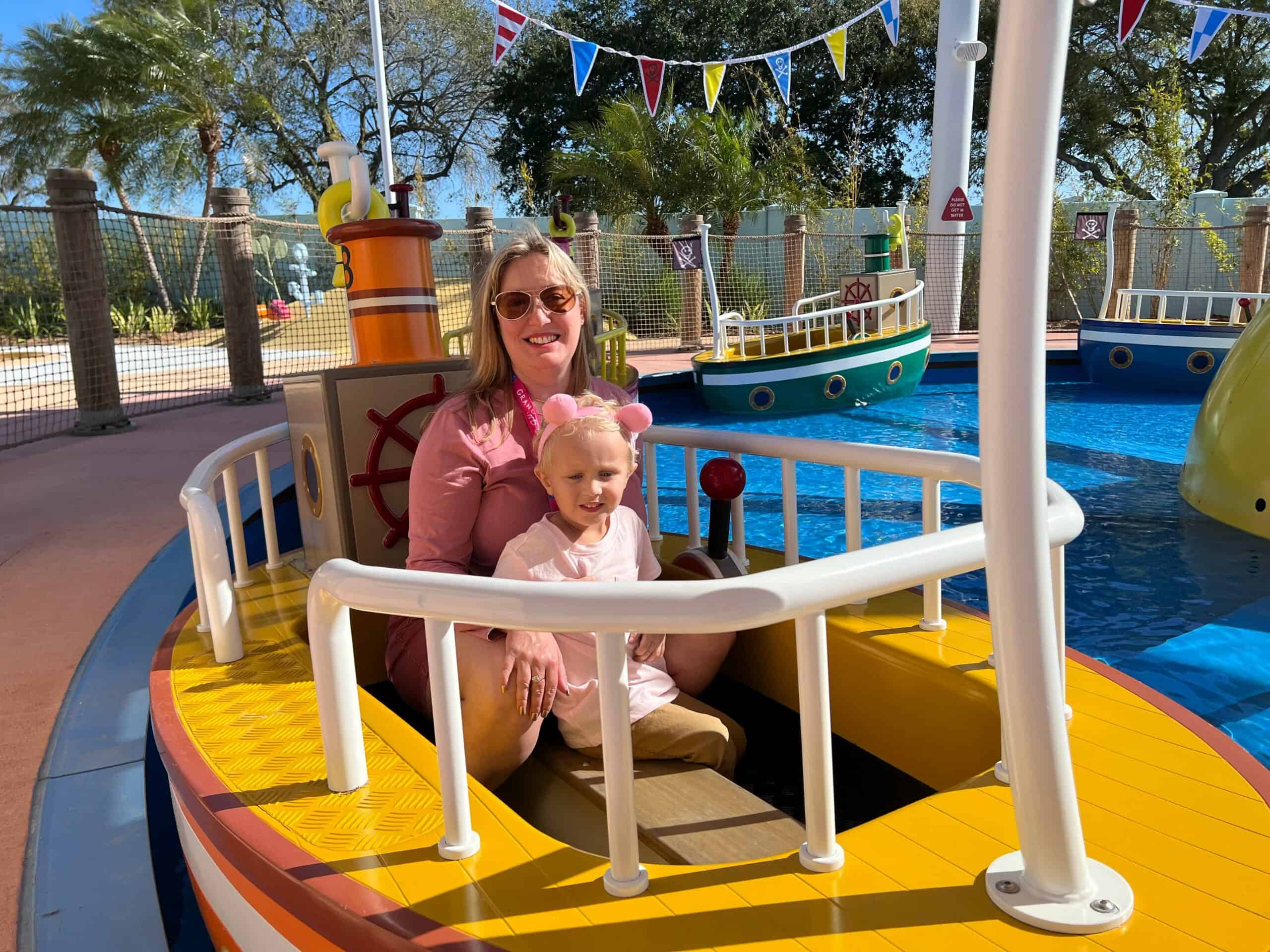 Grampy Rabbit's Dinosaur Adventure

Description: Take a ride on a friendly dinosaur and discover prehistoric surprises around every corner of Grampy Rabbit's Dinosaur Park! Parents can ride along with their little explorers on this epic dino quest!
Dani (mom of a 4 yo): "What a cute ride! This one does have a 34-inch height requirement. It reminded me of the joasting knight ride next door at Legoland, except parents can ride with their child on this cute dinosaur ride. On our second visit, my son got to ride with his grandmother and again with his grandfather."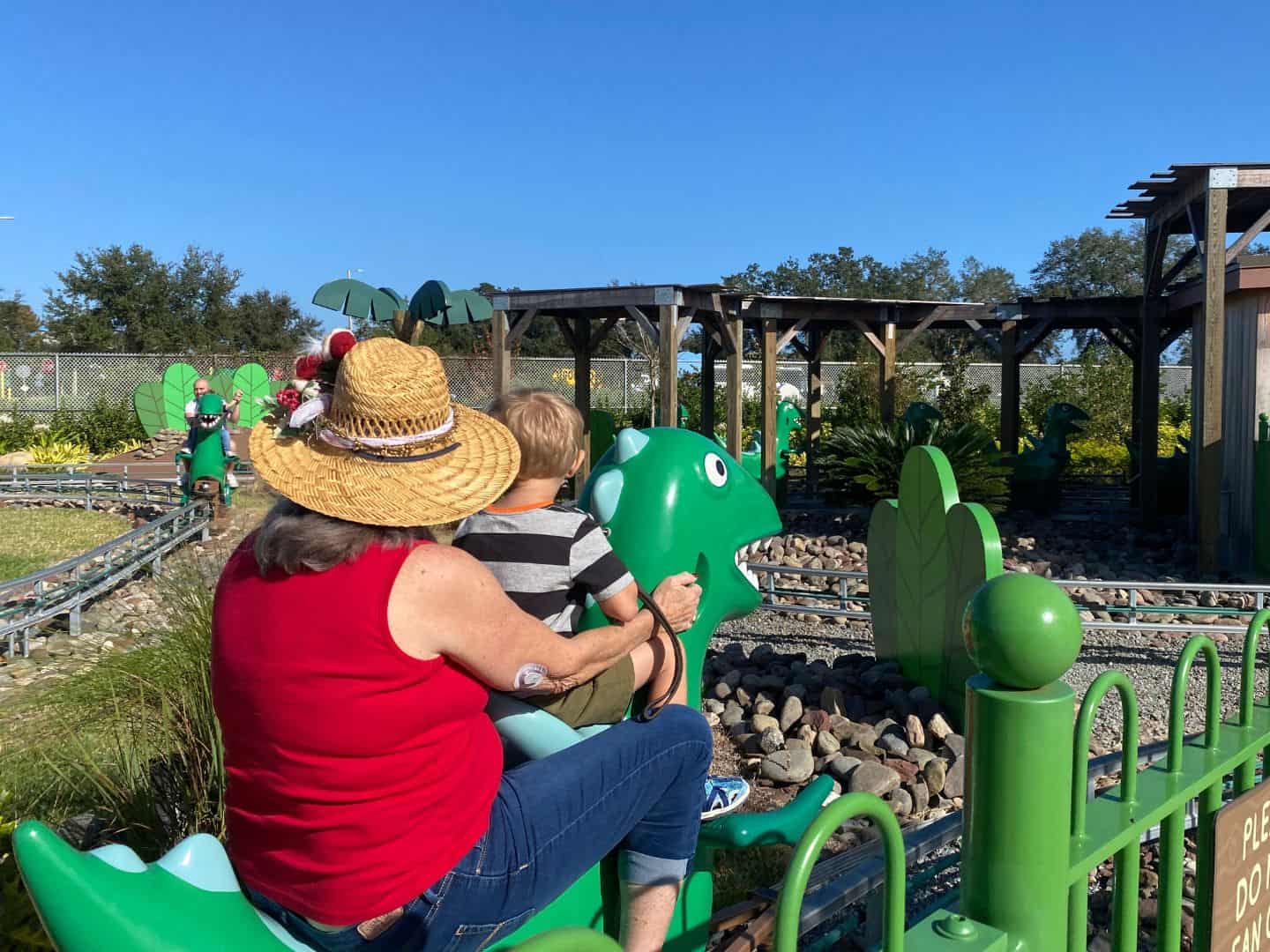 Laura (mom of a 6 yo): "At six years old, I was not prepared for my son to want to ride without me. He is tall enough (over 43 inches) to ride the one on his own. He had a good time on this one, though could outgrow it soon."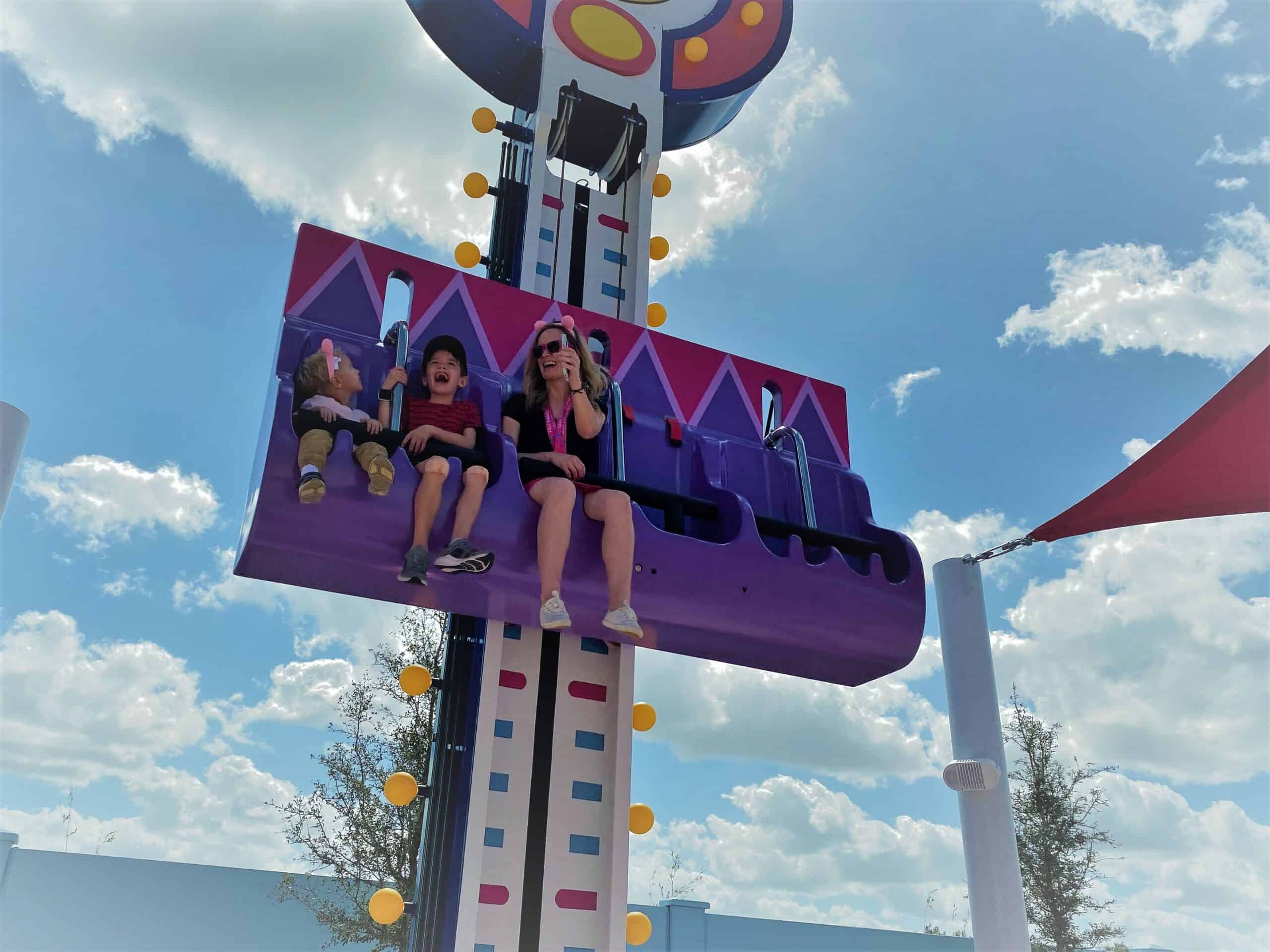 Peppa's Pedal Bike Tour and George's Tricycle Trail

Description: Little ones will pedal their way through a camping adventure in the woods, through the icy mountains to see the sights, smells, and sounds of the great outdoors! Smaller cyclists can enjoy George's shorter pedal path adventure on tricycles built just for them!
Dani (mom of a 4 yo): "This is a self-powered ride, as kiddos get to pick out their own tricycle and ride around the path. Both my son and Laura's kept coming back to this. My four-year-old was able to do the main path, and also spent some time in the fenced-in area for smaller kids, which has smaller trikes. On our second visit, my son continually came back to this experience."
Laura (mom of a 6 yo): "What a surprise hit! We spent lots of time here. And with it being near the center of the park it is sure to attract all the kids."
The Attractions at Peppa Pig Theme Park
Granny Pig's Garden

Description: Granny Pig's Garden leads to multiple playgrounds and areas to explore including Rebecca Rabbit's Playground, Madame Gazelle's Nature Trail, Grandpa Pig's Greenhouse, and George's Fort.
Dani (mom of a 4 yo): "This massive playground and play area are immediately on your right when you walk into the entrance of Peppa Pig Theme Park. There are lots of play areas to explore in this front corner of the park."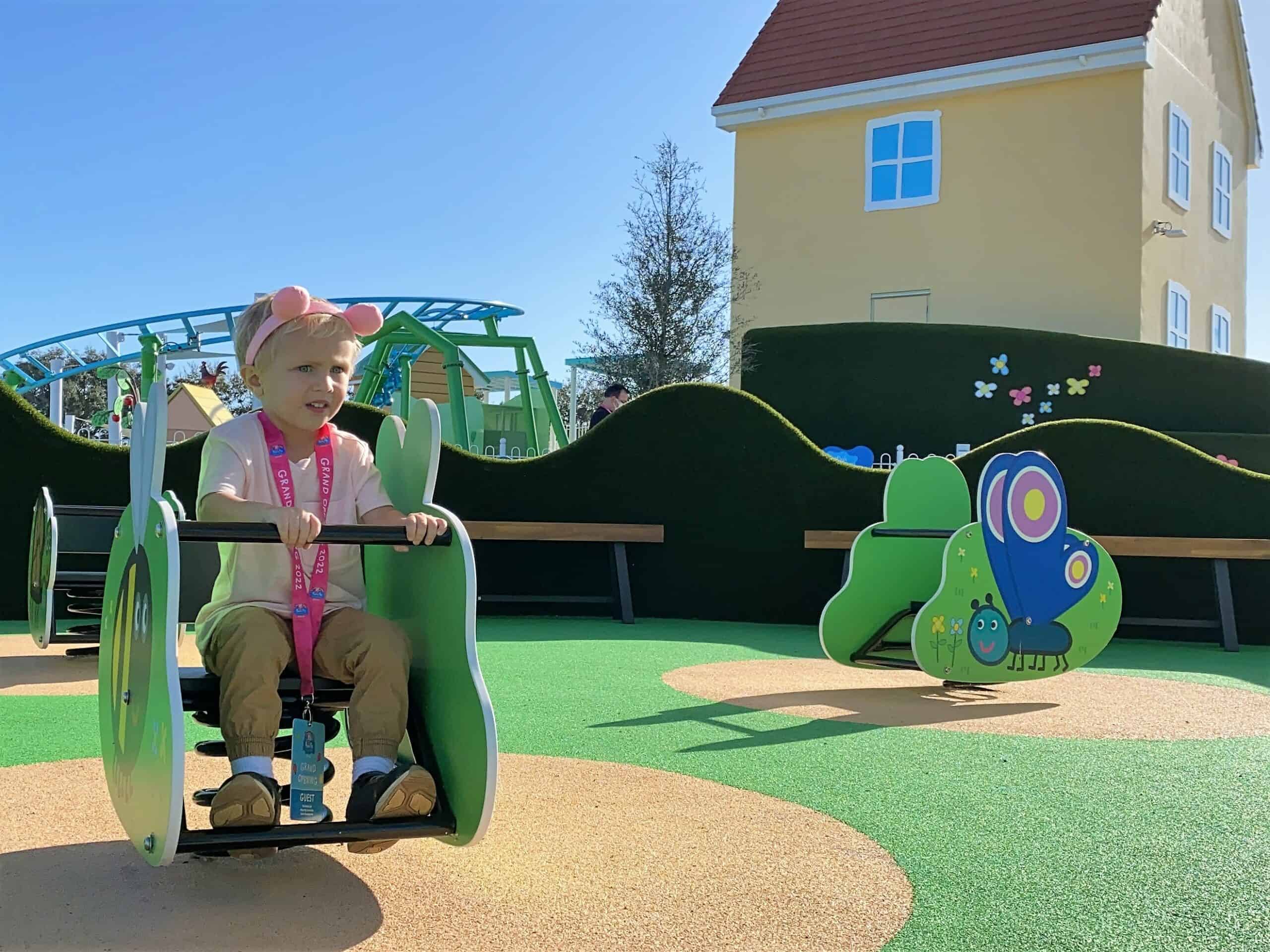 Pirate Island Sand Play

Description: Land ho! Dig for buried treasure and build your own sandcastle on the beaches of Pirate Island with Danny Dog in Pirate Island Sand Play!
Dani (mom of a 4 yo): "What a great spot for kids to unwind. I loved letting my boy play on his own as I rested my feet on one of the many benches nearby. I would imagine this area might be helpful to neurodiverse guests, too."
Laura (mom of a 6 yo): "Dani and I let our boys play here for quite a bit and it was a good area for rest."

Muddy Puddles Splash Pad

Description: Have an oinktastic time with Peppa and George doing their favorite thing: jumping up and down in "muddy puddles!" This lively play area has spouting fountains, slides, and other watery surprises to keep the play experiences super fun and splashy!
Important note: Changing rooms are provided. They are a little tight and you do have to walk through the front part of the splash area to get to them.
Dani (mom of a 4 yo): "This is much more than a splash pad. This felt like a mini-water park. On our second visit, we took a midday break here. It felt great to get refreshed. Adults can splash around too!"
Laura (mom of a 6 yo): "There are multiple water slides that are good for 4-6-year-olds. And it is great that the area is fenced in so parents can relax a little in the lounge chairs."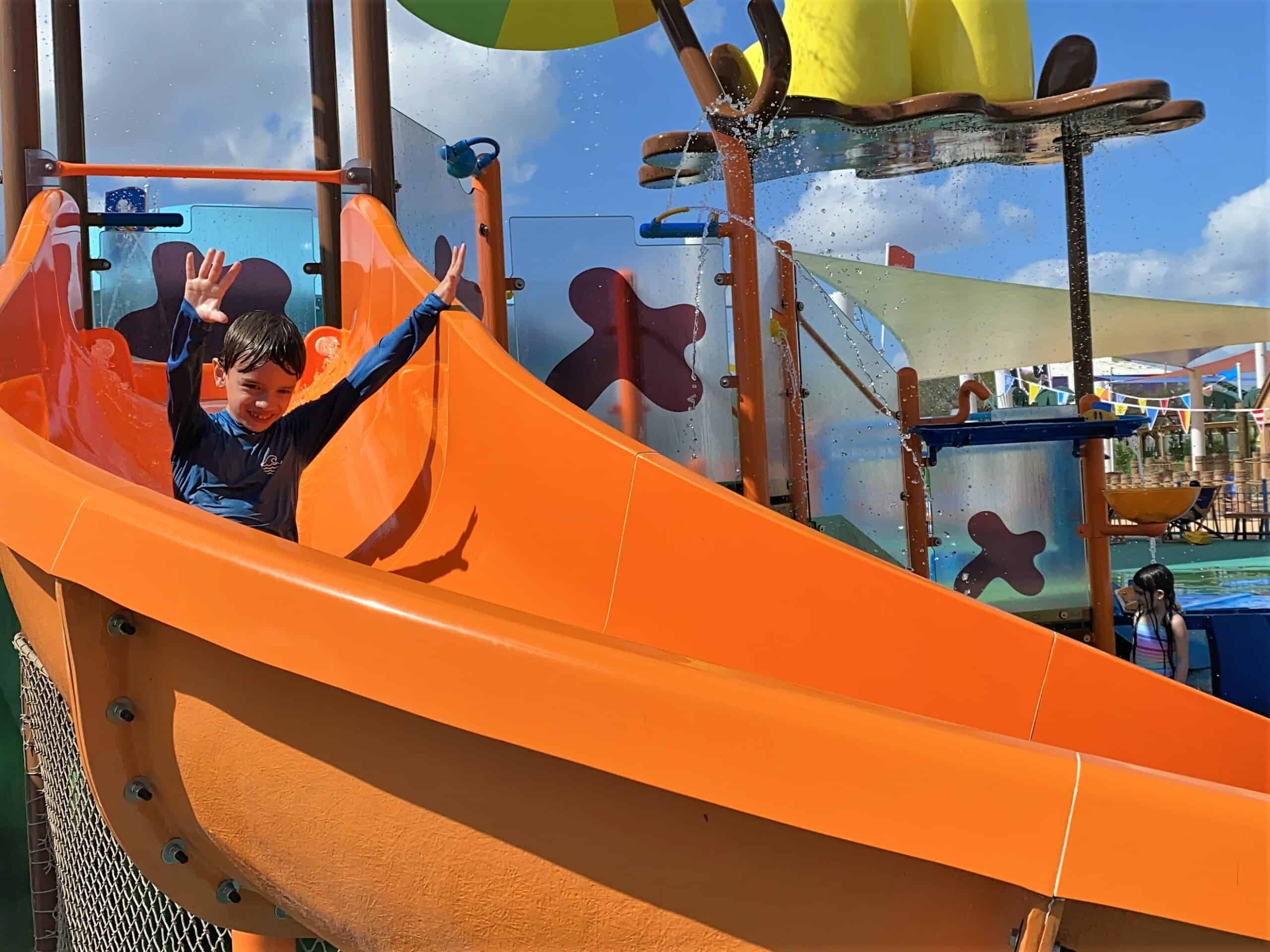 The Games
Fun Fair

Meet Peppa and her friends for a fairground adventure full of free games for the whole family, rides that take you up into the sky and lots of other fun things to try!
Dani (mom of a 4 yo): "This was an unexpected benefit of this park built for preschoolers. My son loved the "hook a duck" game as well as the bean bag toss. It is so great to have these little games included in admission so the kids can play freely."
Laura (mom of a 6 yo): "These games are little, but great for many ages. This area can make kids feel empowered as they play without really winning or losing, it's free play and it's lots of fun."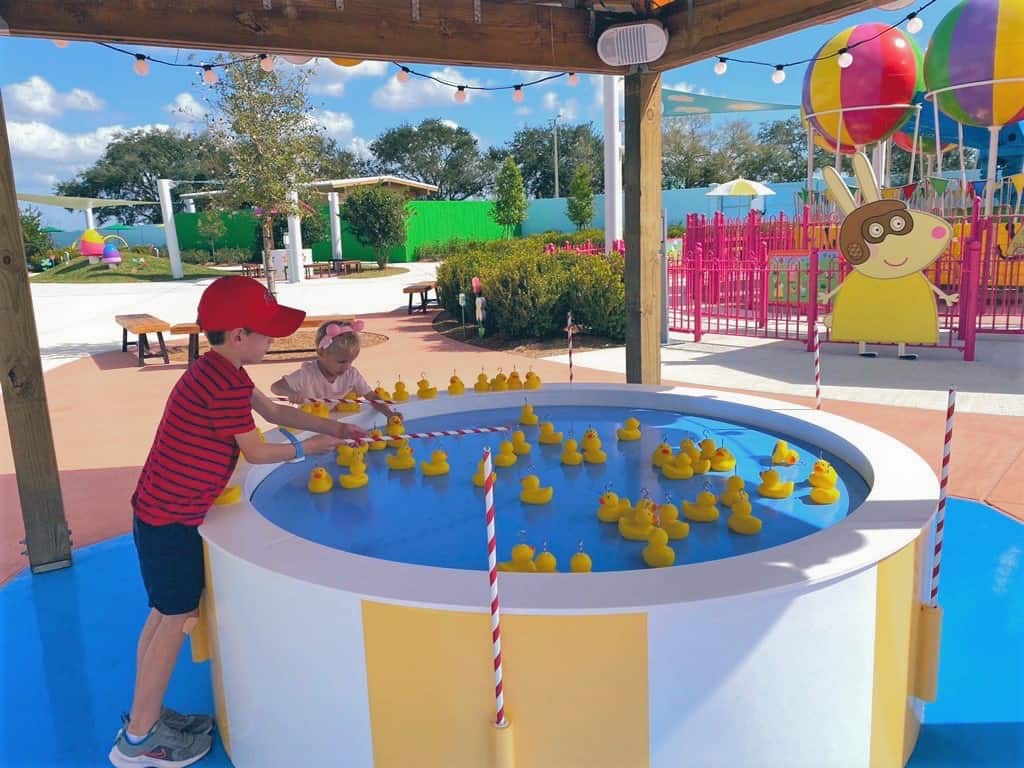 Peppa Pig Characters at Peppa Pig Theme Park
Towards the front of the park is Mr. Potato's Showtime Arena. This amphitheater-style area has cushy bean bag chairs and a shaded movie screen. Our kids met Mommy Pig and Daddy Pig here.
Character greetings and a fun kid-friendly show alternative here throughout the day.
Sample Itinerary
During our second visit, we spent about 5 hours at Peppa Pig Theme Park. Follow our itinerary to have a great day with your preschooler, with a balance of fun and break times.
10 am at park opening: walk to the back of the park for the Dinosaur Adventure ride. We rode it 4 times in a row without any wait!
10:30 am: Pirate Boat Ride
11 am: Lunch at the Diner, we loved to eat lunch early and avoid crowds
11:30 am: Free play at the tricycles
12pm: Pop into The Cinema for a rest as you watch Peppa Pig cartoons in an air-conditioned theater.
12:30 pm: Playground and Fun Fair (or roller coaster if your kiddo is up for it)
1:30 pm: Muddle Puddles Splash Pad – Water Play
3:00 pm: visit any rides or other experiences you may have missed or want to repeat
We departed around 3:00 pm but easily could have ridden another ride or played some more. But I have learned not to push myself or my preschooler to the point of exhaustion.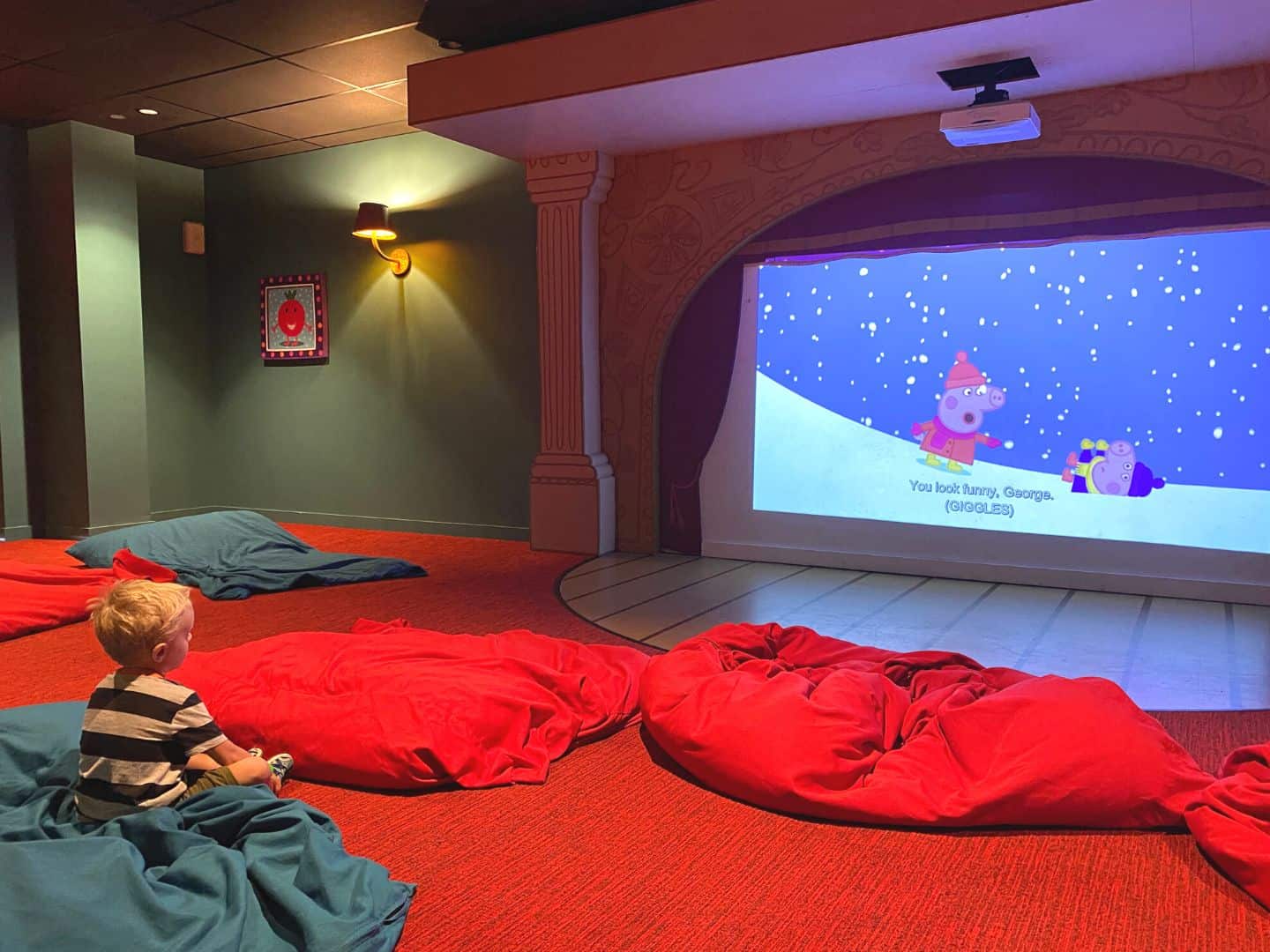 Peppa Pig Merchandise
Near the front of the park is Mr. Fox's Shop. This cute little shop is packed wall to wall with adorable Peppa Pigmerchandise. You can browse toys, books, art kits, plush toys, home accessories, and more.
Thankfully I have worked with my son on setting expectations about shopping. I tell him that he can select one item, and I have approval power. He initially picked out a $95.00 complete playset. Thankfully we found a medium-sized one at $22.00 — which came home with us.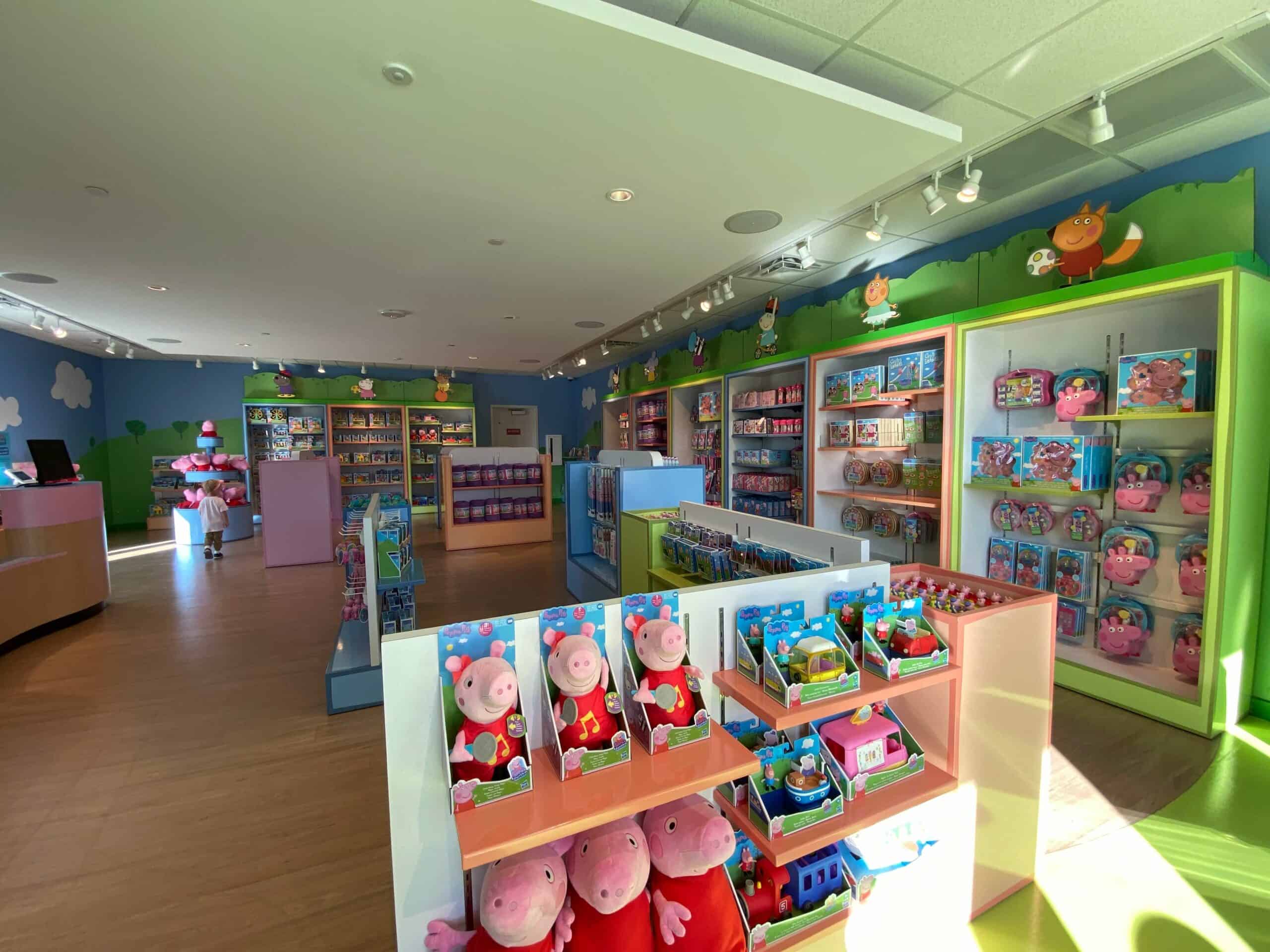 Autism-Friendly Features at Peppa Pig Theme Park Florida
Peppa Pig Theme Park is partnering with The International Board of Credentialing and Continuing Education Standards (IBCCES) to earn its accreditation as a Certified Autism Center (CAC)when it opens on February 24, 2022.
IBCCES has worked with the Peppa Pig Theme Park to conduct staff-wide autism sensitivity and awareness training in addition to making more tangible updates to the in-park communications. The training reviews the areas of sensory awareness, environment, communication, motor and social skills, program development, and emotional awareness and includes a comprehensive autism competency exam.
In addition to staff training, IBCCES helped develop the Sensory Guides. These Guides are posted near the entrance of every attraction, providing insight on how a child with sensory processing issues may be affected by each of the five senses. This information is intended to make it easier for parents and families to plan activities that satisfy their child's specific needs and accommodations.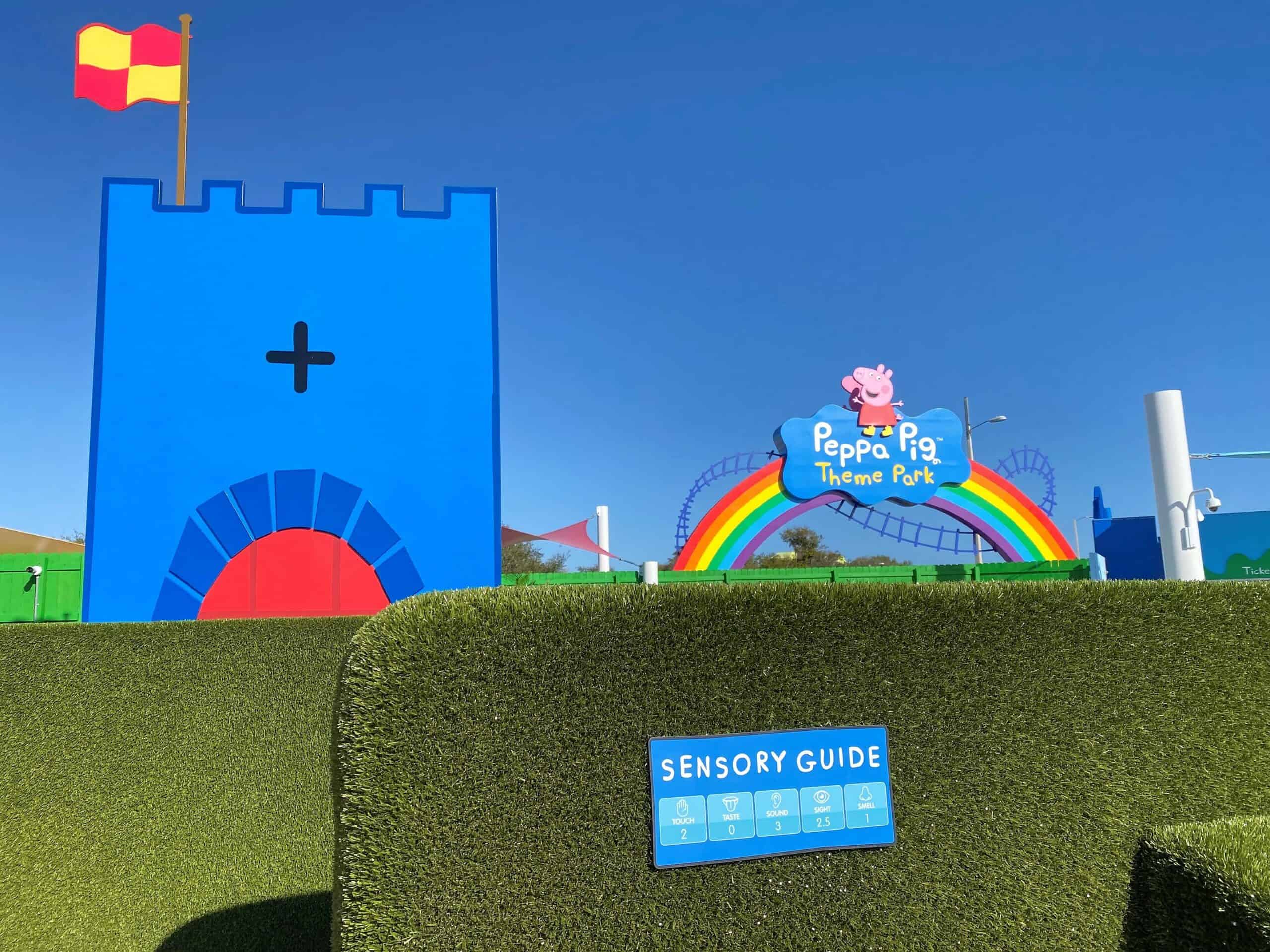 Other Accessibility Features at Peppa Pig Theme Park
At Peppa Pig's Balloon Ride hot air balloon baskets are specially designed to allow children who use wheelchairs to roll onto the "balloon basket" without needing to transfer from their wheelchairs.
Merlin Entertainments' creative and project delivery team, Merlin Magic Making, along with the ride manufacturers at Technical Park worked closely to develop this adaptation to a fan-favorite ride to ensure more children could experience it safely along with a grownup, or adult companion.
This is just one part of a larger commitment from Merlin Entertainment to develop attractions that can be enjoyed by all guests, of every ability. In addition to this very special ride, the playful park's marquee water play attraction, the Muddy Puddles Splash Pad has been developed with kid-friendly accessibility in mind.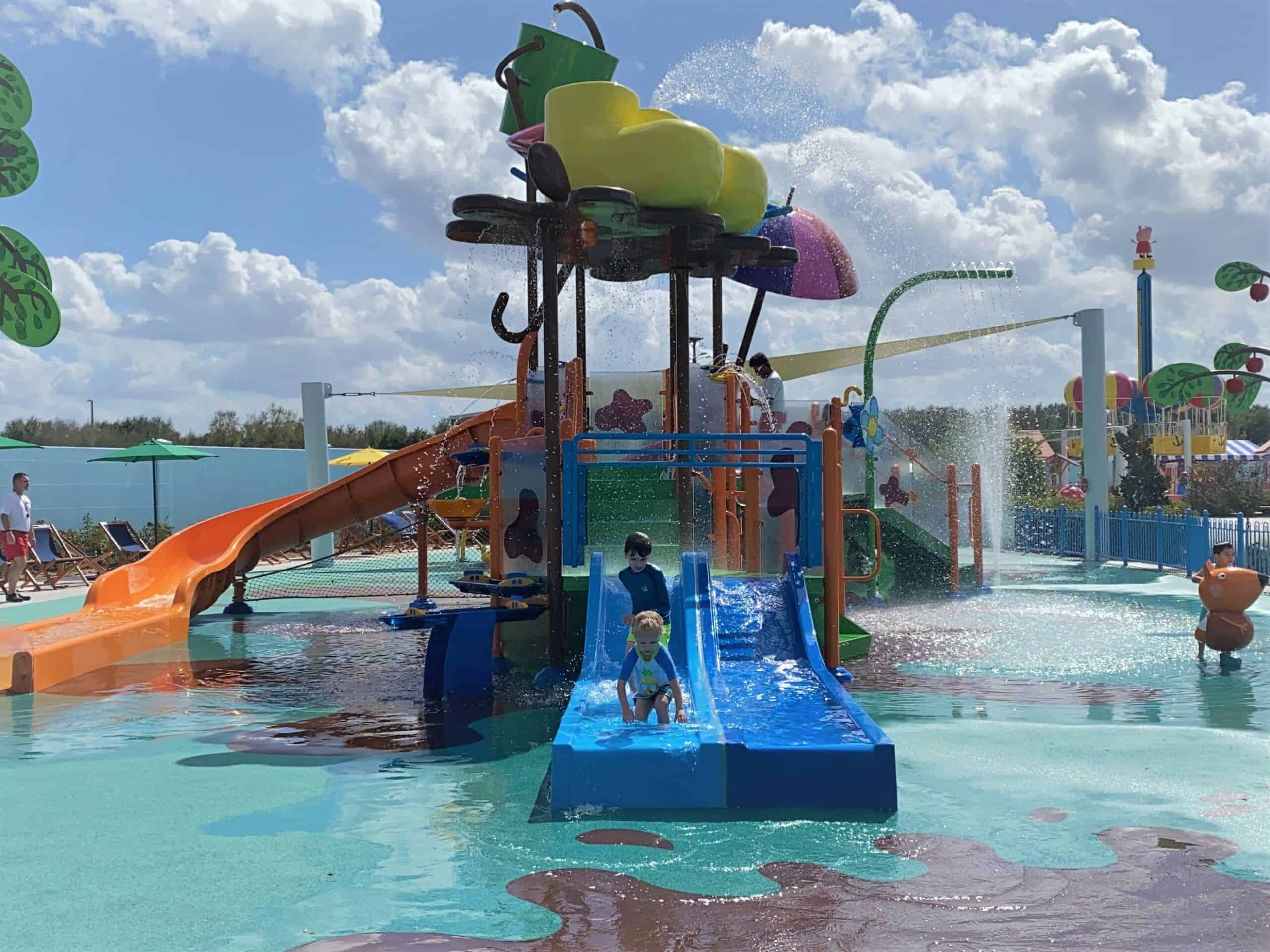 The ground is specially graded for wheelchair use and several heights of water play elements are being choreographed for the enjoyment of all guests and all abilities. This includes a tunnel of water hoops that can be navigated in a wheelchair and additional interactive splash surprises at varying height levels.
Back on dry land, explorers and "little piggies" will discover additional fun adventures that are sized with these same guiding principles of accessibility in mind.
Children in wheelchairs are able to maneuver and explore the sensory-rich trail of Peppa's Pedal Bike Tour without leaving their own wheelchairs. The enchanting, greenery-covered maze walls of George's Fort have also been mapped out to all ADA guidelines and standards.
Additionally, all the Fun Fair free game counters have been constructed at accessible heights to be easily enjoyed by everyone.
What age is best for Peppa Pig Theme Park?
Any age up to about 6 or 7 years old will most likely have the best time at Peppa Pig Theme Park. Admission starts at two years old, in part because a two-year-old can enjoy the vast majority of the experiences.
The littlest guests, ages 3 and under will enjoy multiple areas including Peppa's Pedal Bike Tour, Fun Fair, Pirate Island Sand Play, Peppa Pig's Balloon Ride, Grandad Dog's Pirate Boat Ride, and Granny Pig's Garden with multiple play areas including George's Fort, and lots more.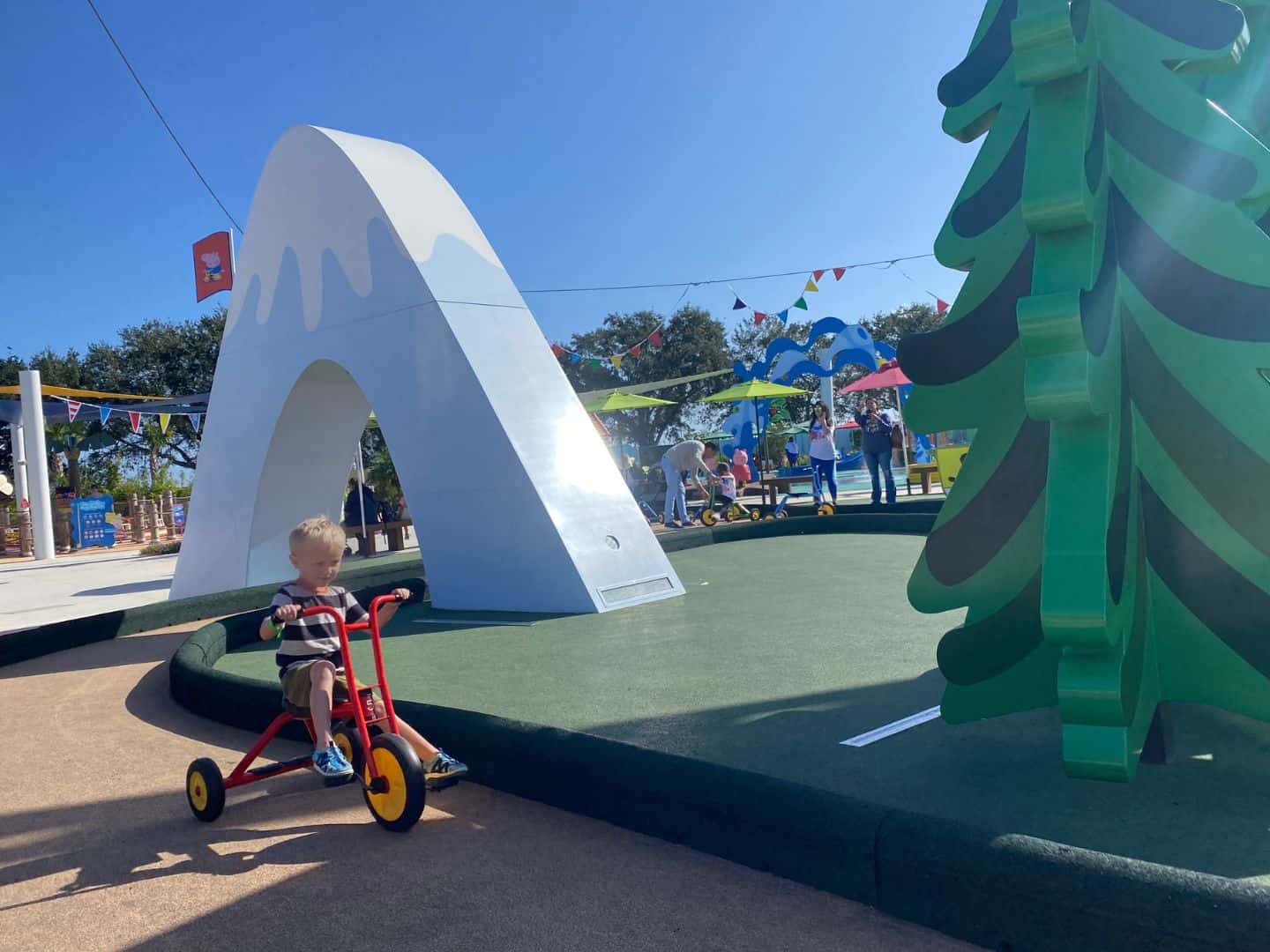 Ages 4 and up will enjoy all this, plus Grampy Rabbit's Dinosaur Adventure, Muddy Puddles Splash Pad, and depending on their acceptance of thrill level Mr. Bull's High Striker and Daddy Pig's Roller Coaster may be fun for them. If not at 4 years old then 6 to 7 year olds will surely enjoy them.
When is the best time to go to Peppa Pig Theme Park?
Weekends and major holidays are sure to be very busy. Unfortunately, the park does not open until 10:00 am. Anyone with a preschooler knows the "joy" of waking up at 6:00 am or earlier every single day, so 10:00 am is a little late in the morning in the world of a preschooler.
Still, the park is open until 5:00 pm which is plenty of time to enjoy everything. We experienced half of the rides and attractions by lunchtime. After a nice break, we headed towards the Fun Fair and the nearby Mr. Bull's High Striker and Peppa Pig's Balloon Ride.
After a thrilling spin on Daddy Pig's Roller Coaster, it was time to chill out at Muddy Puddles Splash Pad. This water play area is much more than a splash pad. There is a water playground with multiple slides, plus fountains, and a massive bucket that splashes down every so often. The lounge chairs around the water play area are a highlight for parents.
If you don't want to stay all day, you will still feel satisfied with about four – five hours in the park. However, there is plenty to do and many of the hands-on games and attractions are easy to do multiple times in a day, so it is entirely possible to fill an entire day here. It just depends on your energy level and that of your little piggies.
Practicalities: Bathrooms, Baby Care, and Dining
The Peppa Pig Theme Park is about the size of about two average theme park lands. The regular rides and attractions would fill up one theme park land, comparable to Sesame Street Land at SeaWorld Orlando. Then there is the water play area, games, and other attractions.
That said, there is only one restroom and one dining location. There is one water refill station near the restrooms which is super helpful!
The restroom is large with a portion of the sinks at a lower level, both for accessibility and for little piggies to wash their hands. There are also two tiny toilets for little ones to use.
Diaper changing tables are in the main restrooms, and there is a separate room for changing diapers as well.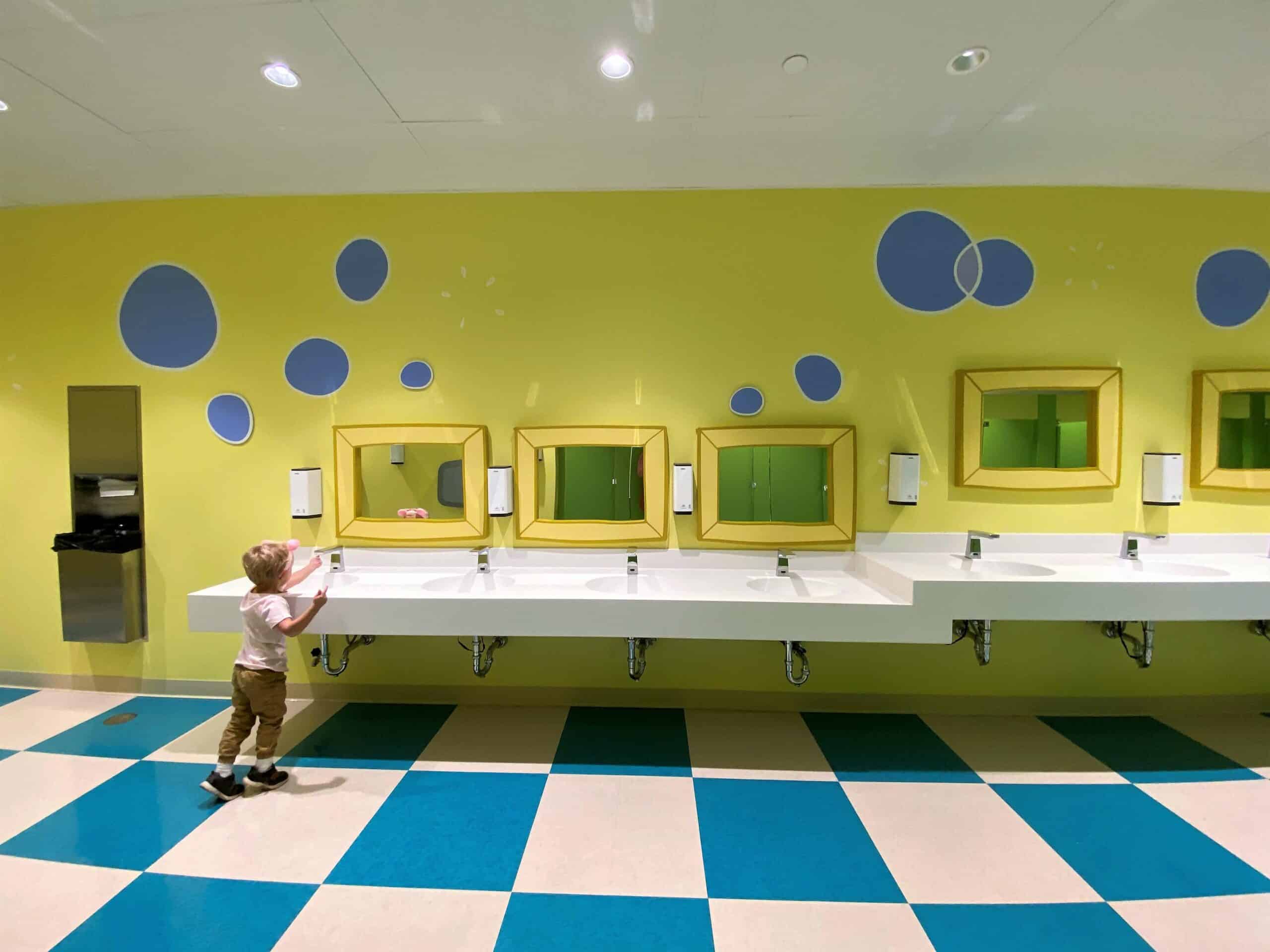 Food And Drinks
Miss Rabbit's Diner is a quick-service location with a large, comfortable dining room.
Yummy options include an ultimate three-cheese grilled cheese sandwich, creamy peanut butter and jelly sandwiches, freshly made chicken salad sandwiches, and baked mac and cheese.
All kids meals will include a fresh fruit cup or snack pack and apple juice.
My son has multiple food allergies, so choices suitable for him were really slim. I packed plenty of snacks and we made do with what I brought.
The smoked brisket melt on herbed focaccia with aged provolone, horseradish aioli, pickled onions and baby arugula is a hit. The classic Margherita-styled flatbread is satisfying and not too heavy.
I cannot resist the theme park's signature Muddy Puddle Milkshake. These one-of-a-kind shake towers come in chocolate and strawberry flavors. Both our kids couldn't get enough of the Marshmallow "Mud" Cup, with layers of marshmallow, chocolate pudding, Oreo crumbles, and gummy frogs.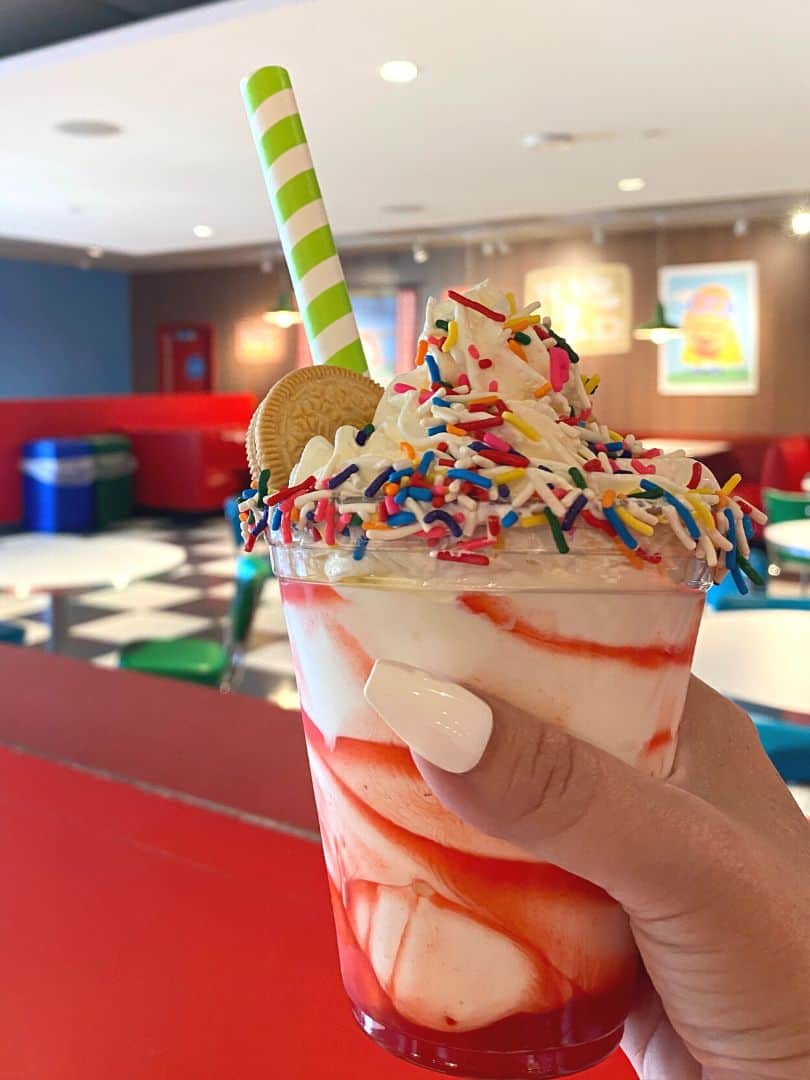 Tips For Parents
Review what is at the Peppa Pig Theme Park to help get your little ones excited and set the right expectations – hopefully, this review helps.
Admission to Peppa Pig Theme Park is separate from Legoland Florida. It is not required that you purchase admission to Legoland. If you just want to visit Peppa Pig Theme Park you can do so.
Dress comfortably, there is some shade, but there are multiple places without any shade at all.
Pack swimwear and towels so you can make the most of the Muddy Puddles Splash Pad.
A plastic bag to put the wet clothes in after your splashing fun is also a good idea.
The Cinema is a good place to rest.
Pack water and some light snacks.
Don't forget your sunscreen.
How much does it cost to go to Peppa Pig Theme Park?
Keep in mind that prices change, but as of June, a one-day ticket to go to Peppa Pig Theme Park started at $34.99 plus tax for guests ages 2 and older. You have the option to add LEGOLAND as well for $119 plus tax.
If you are local and think you'll go to Peppa Pig Theme Park and LEGOLAND, we recommend considering the Gold annual pass for a one-time payment of $299.99. If you want to spread out the costs, they do offer a monthly payment plan as well with a down payment.
What else is there to do near Peppa Pig Theme Park?
A visit to LEGOLAND Florida is the most obvious top pick since it's right next store. There are three really cool LEGOLAND hotels too, including our favorite, the Pirate Island Hotel which is steps away from both theme parks.
The parks are also about a half-hour drive from the gorgeous Bok Tower Gardens which has a cute children's play area along with cafes and plenty of areas to relax and enjoy the beauty of the land.
If you really want to go all out on this family vacation, you can also book an overnight stay for a dude ranch glamping experience at Westgate River Ranch and Rodeo which is about an hour away when you factor in traffic.
We love staying at Camp Margaritaville Auburndale which is just 30 minutes from Peppa Pig Theme Park.
All images by Dani Meyering, featured image provided by Peppa Pig Theme Park. Written in partnership with our media partners at Tampa Bay Parenting.