20 Family Friendly Orlando Hotels with Water Parks and Features for Non-Stop Fun
What better way to take a break than to unplug from the daily routine and plug into time with your child at a local hotel that includes a water park?! We do the research so you don't have to. Check out our list of family-friendly Orlando resorts with water parks below!
Orlando Resorts with Water Parks
JW Marriott + Ritz Carlton at Grande Lakes Orlando
Comfort abounds at the Grande Lakes Orlando resort. Home to J.W. Marriott and The Ritz-Carlton hotels, this getaway location has natural habitats to explore, lakes to glide across, a working farm to learn about, and a newly renovated waterpark for endless fun.
Make a splash at Splash Cove in the PlayVenture playground or AquaVenture water course. Headwaters Slidetowers gives you three speedy slides to zoom down. Swim around in the Lagoon before taking a float around the Lazy River.
The Family Escape Package guarantees connecting rooms, a room with a King bed, room with two Queen beds, and a 2 pm check-out. Book online or call JW Marriott at 800.433.5402 or The Ritz-Carlton at 888.707.9325.
Orlando World Center Marriott
Stay all day on property at Orlando World Center Marriott's resort waterpark. So many activities are offered year-round like arts and crafts, poolside games, lawn games, mini golf, and the nightly 10-minute laser show.
Seasonal activities of animal encounters, character meet and greets and movie selections are offered throughout each season of the year. Splash around any time of the year in the Falls Lagoon Pool. Smaller family members can enjoy the aquatic fun of Little Explorer Paradise.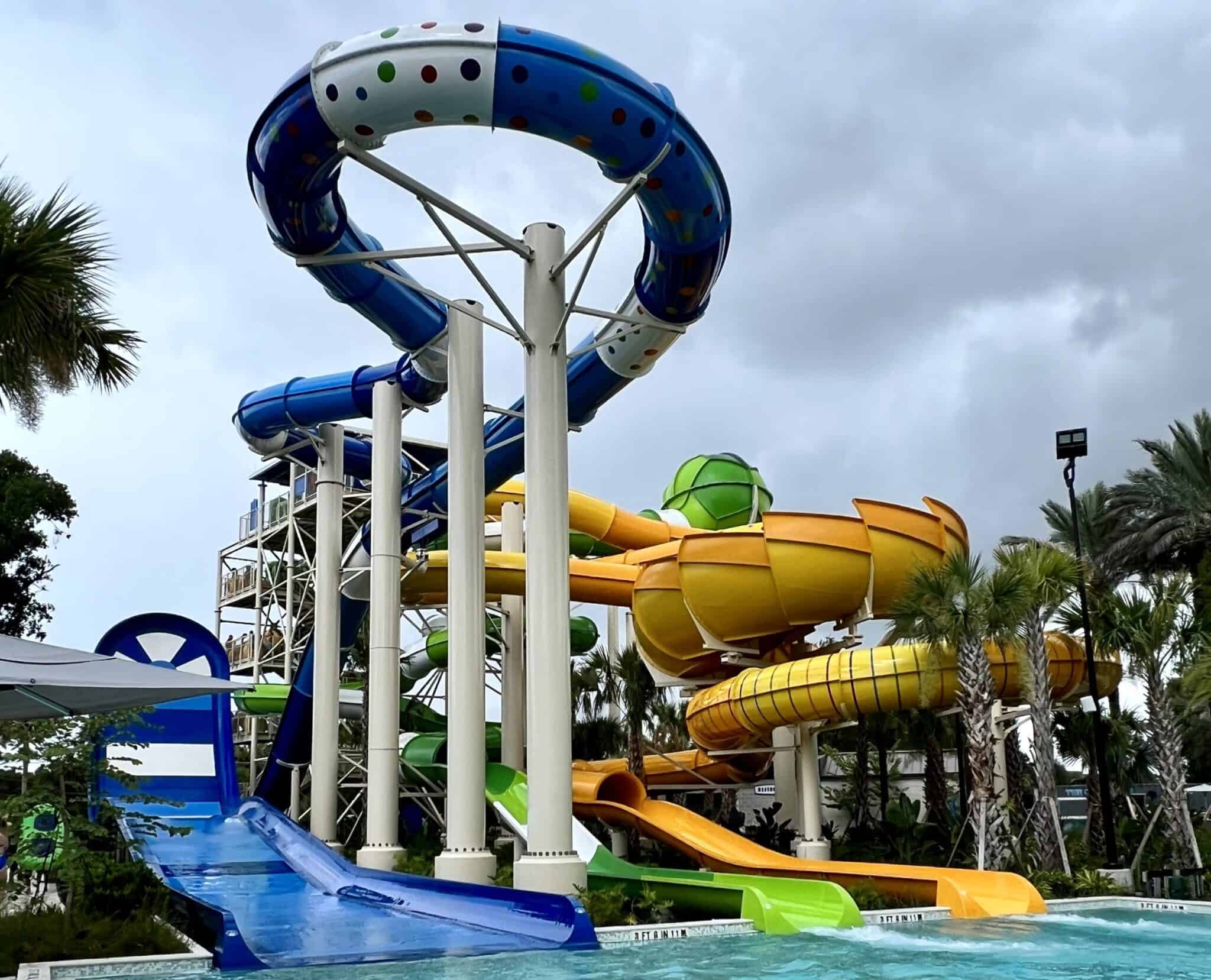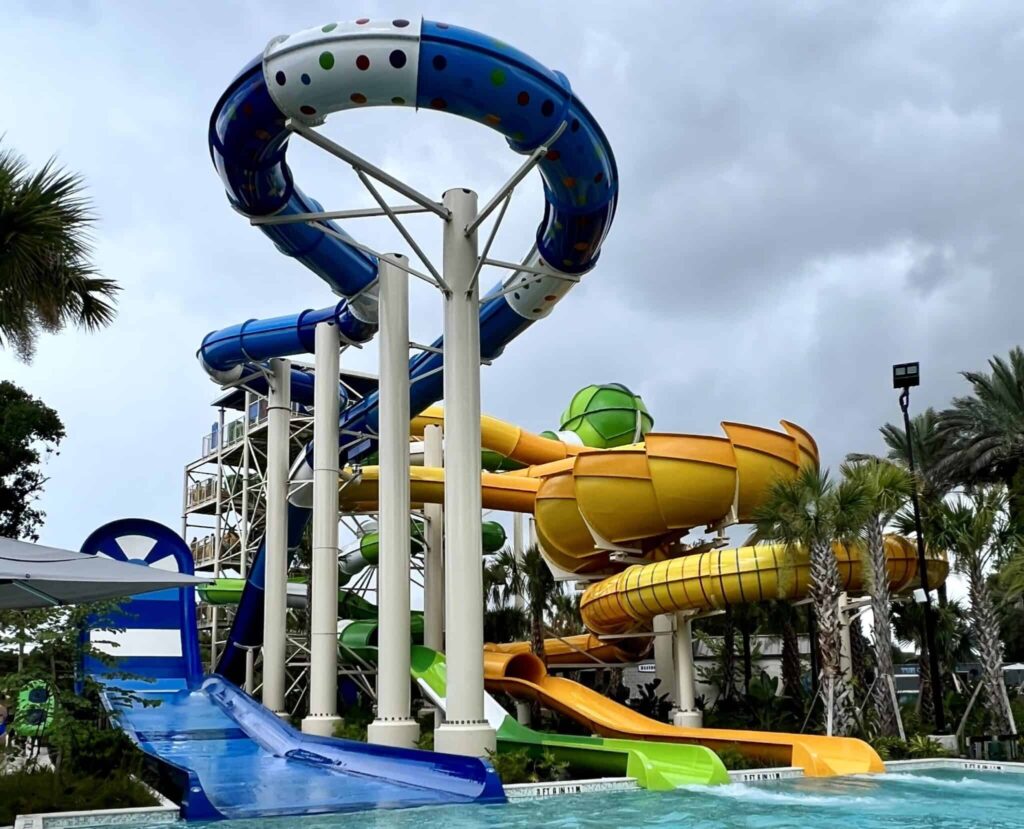 Choose to drop 90 feet or 200 feet at one of the adventure slides. The whole family will enjoy floating around the 575 ft lazy river. Contact 407.239.4200 for reservations.
READ MORE: Check out a Parent's Review of Orlando World Center Marriott from TampaBayParenting.com, one of our other publications.
Gaylord Palms Resort and Convention Center
Travel the Sunshine State in one stop when you stay and play at Gaylord Palms Resort and Convention Center. Aside from meandering through the four and a half acres of unique atrium environments, guests can splash the day away in the Cypress Springs Water Park with the new Crystal River Rapids. Cypress Springs includes the AquaDrop slide, racing slides, the Flow Rider surfing experience, zero-entry swimming pool, and multi-level treehouse.
The Crystal River Rapids is a lazy river with some umph! Around the winding bends, aquanauts will experience surprise falls, spritz and sprays. Check the website for special packages which include seasonal specials and military, teacher and AAA appreciation rates. Call 407.586.0000 or book online.
Cabana Bay Beach Resort
Step back in time when you check-in at the Cabana Bay Beach Resort. This resort is inspired by the yesterdays of the 50's and 60's beach vibe. There is no lack of water play when you and the kids dip into one of the two massive pools or float around the lazy river.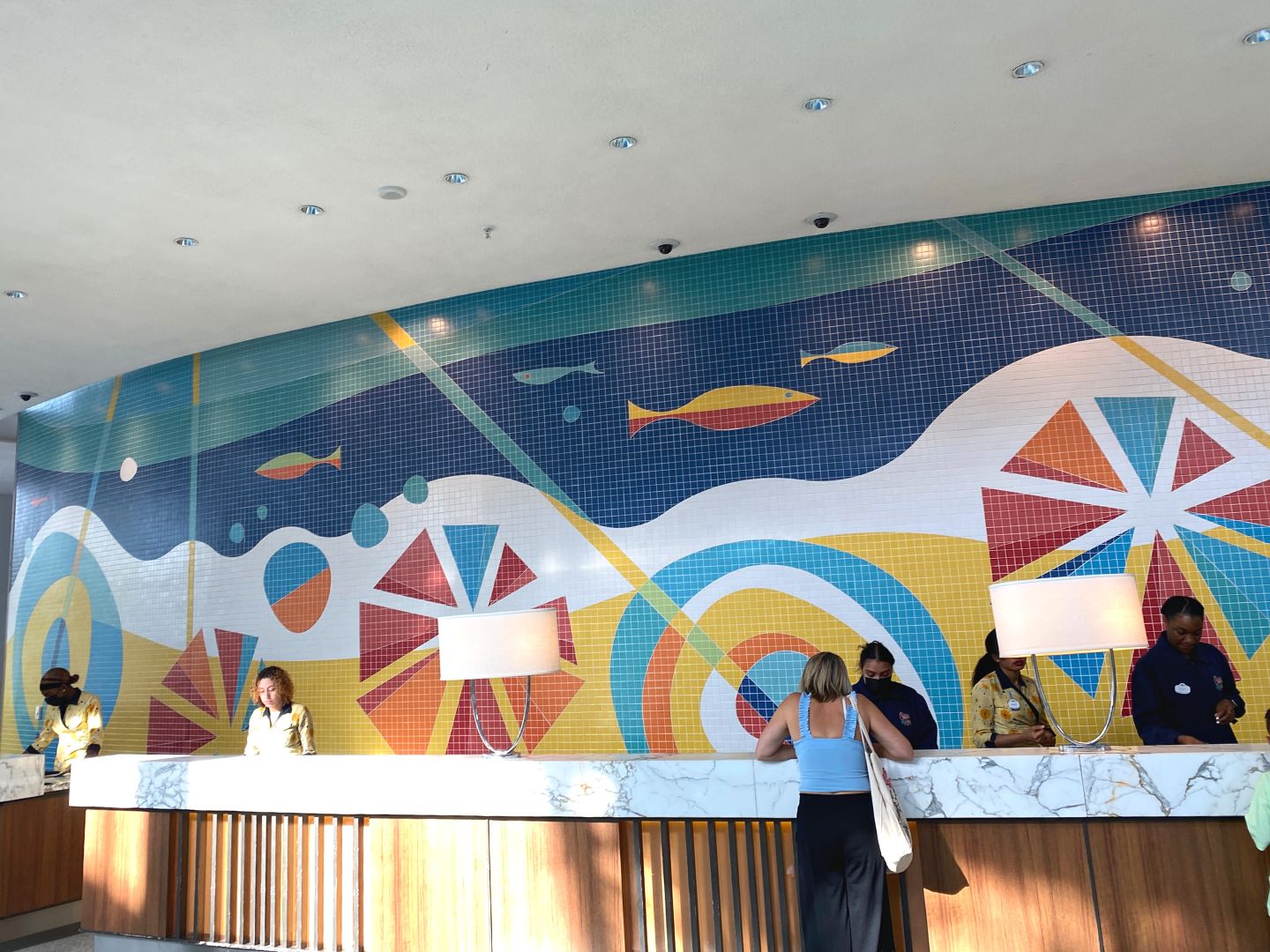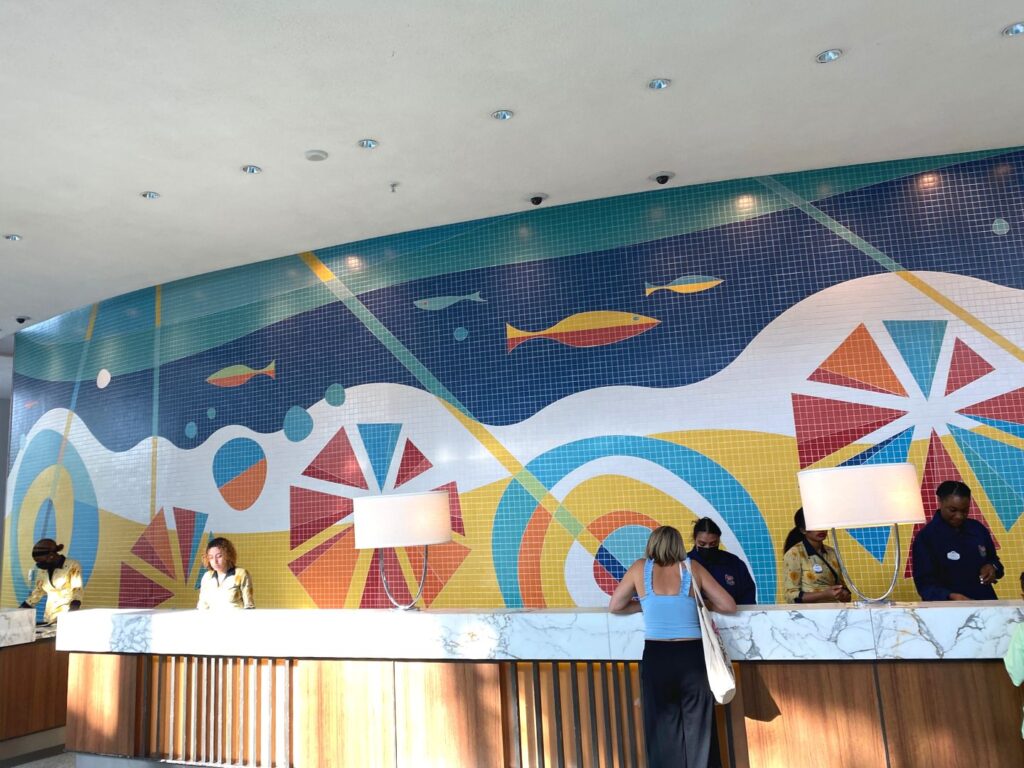 As if that was not enough, you are literally steps away from Volcano Bay water theme park. There is a walking path that connects guests straight from the hotel to the water park for endless aquatic amusement.
Florida residents receive special savings when staying on property at Universal. They offer standard rooms and family suites.
Margaritaville Resort Orlando
Waste away in Margaritaville in family-friendly style at Margaritaville Resort Orlando. As the name suggests, you'll be living on island time when you stay in this tropical-inspired paradise.
Margaritaville Resort Orlando has two pools – one that is massive with lots of activity, and the other that is quiet and chill. Neither pool has a water park feature, however, there is an actual water park just steps away. And, there is a benefit to the hotel pools lacking a water park feature.
The Fins Up Beach Club area is massive and looks like one long pool, but there is a concrete divider in the middle. This is the main pool with a sandy beach, zero-entry, and lots of activity during the day.
Without a water slide to worry about you can actually play and swim with your kids instead of constantly going up and down the stairs to the waterslide with them, or waiting at the bottom of the slide for what feels like hours on end.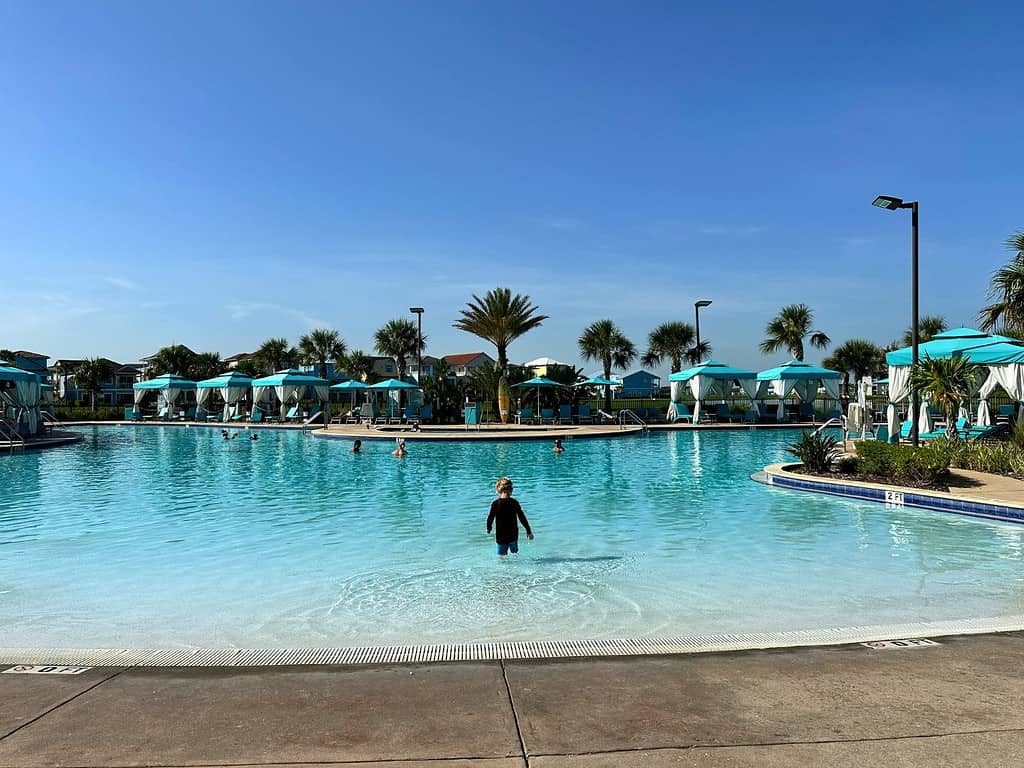 Tucked along the side of the hotel is a second pool area. The License to Chill Pool is made for peace and quiet. Our editor was able to enjoy a few peaceful hours at this pool with her son first thing in the morning. For little ones who are still becoming strong swimmers, it is the better pool.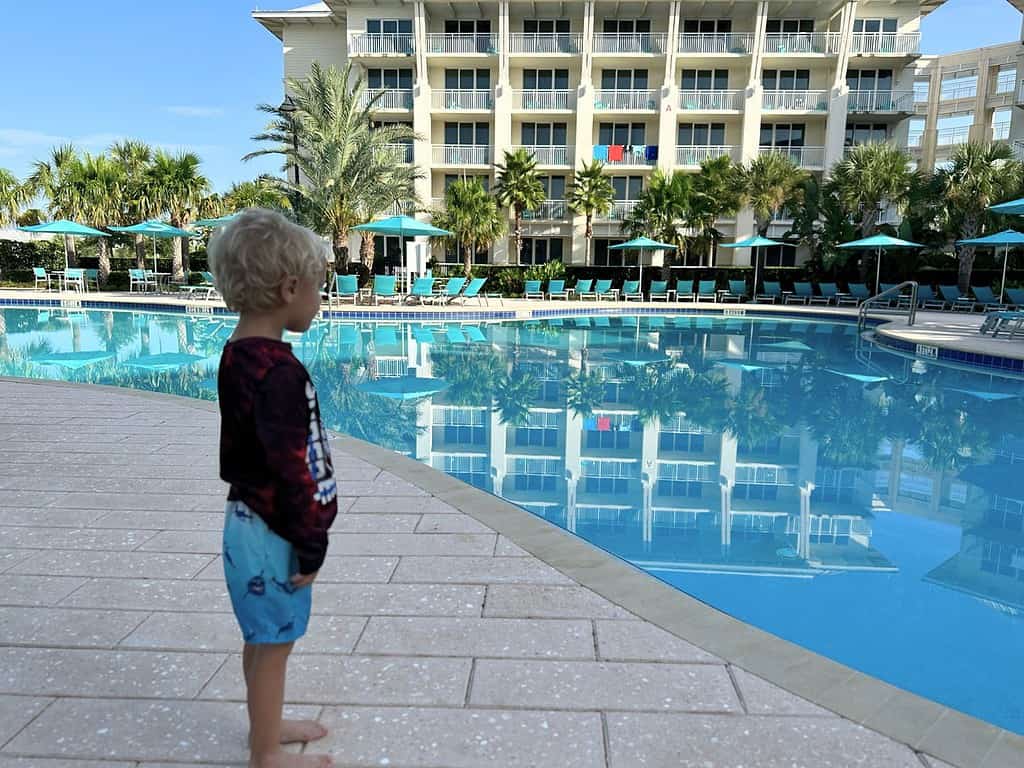 Plus, the Jimmy Buffett music that plays over at this pool is quintessential Margaritaville.
Island H20 Water Park
Steps away from the hotel lobby, on the edge of the Margaritaville Resort Orlando grounds is Sunset Walk for shopping and dining and, of course, the Island H2O Water Park. This water park is heavy on H2O and technology.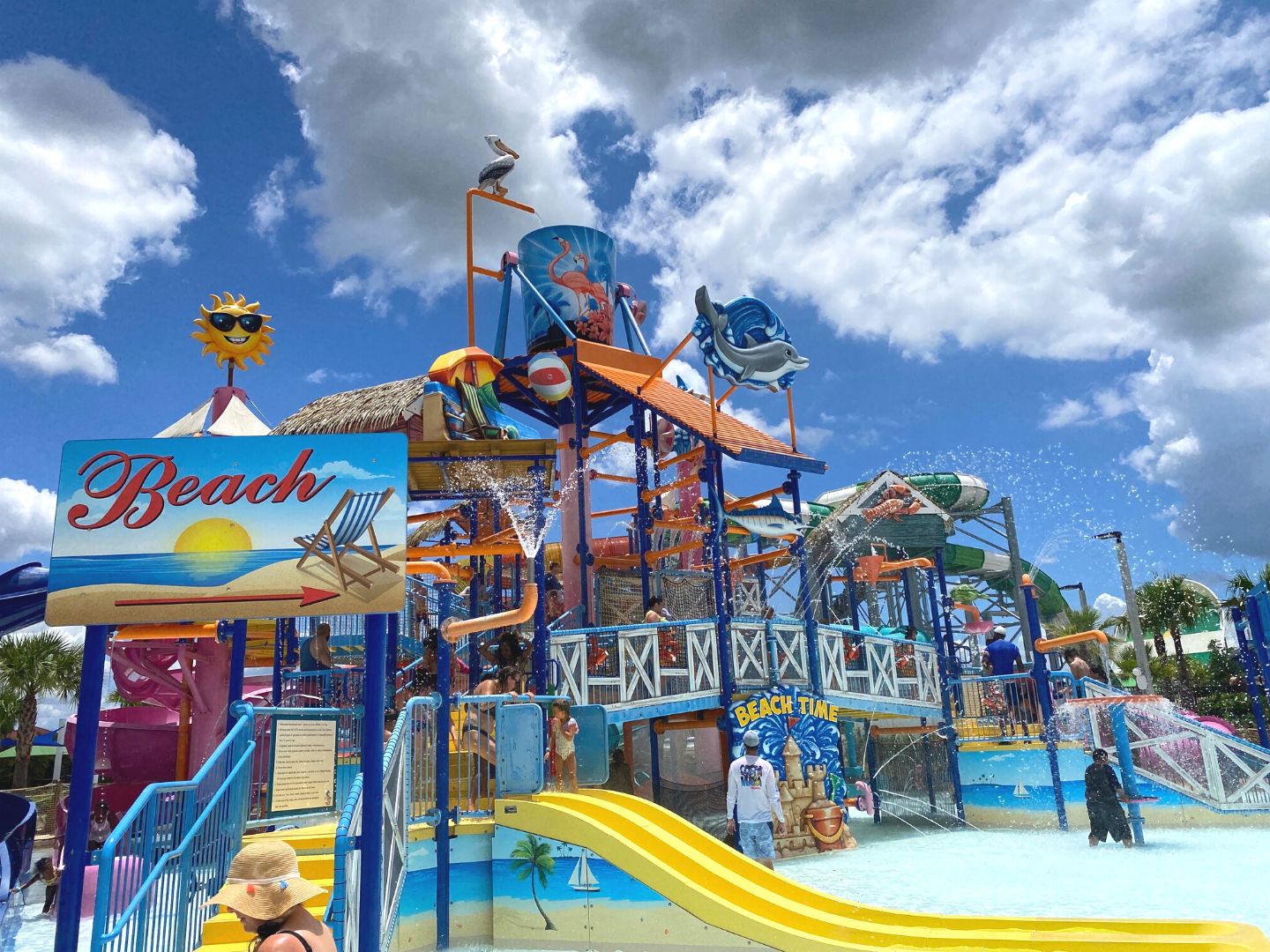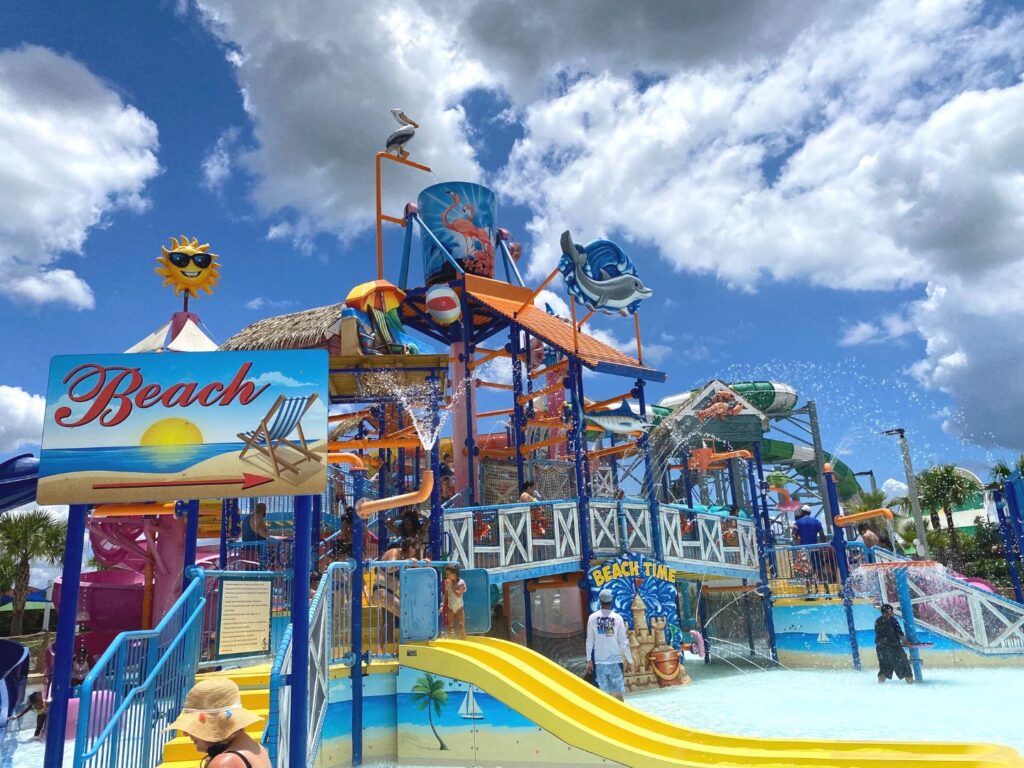 Through the app and wristband, guests can pick their own lights and song to stream as they cruise down certain rides. Song options to be piped throughout the entire park are also available on the app. Want to share video of your ride experiences with family and friends? You guessed it! Your video can be shared through the app. Guests can also earn reward points for rides to be redeemed around the park.
Book online or call customer service at 855.995.9099.
Coco Key Resort and Water
Find sun and fun with just the right amount of shade at this massive water play area. Coco Key Resort offers over 390 guest rooms, 54,000 square feet of covered and uncovered water park, 6,500 square feet of arcade space and three restaurants. The property water park allows guests to splish in the splash pad, slide down chutes, climb the aquatic playground and swim in the pool.
There is an All-Inclusive Park and Play package which includes parking for one vehicle, daily water park access for two adults and two children, daily breakfast buffet for four people and two drink vouchers. Book online or call 407.351.2626.
Omni Orlando Resort at Championsgate
Omni at Championsgate is close enough to the hustle and bustle of Orlando without being in the middle of it. There's hardly a lack of activities on the sprawling grounds of this property. Catering to golf enthusiasts, lush greens expand into the horizon for scenic views of rejuvenation for the adults while kids will enjoy pool playfulness. Step into the family pool before speeding down the corkscrew waterslide. Ride the waves in the wave pool for an oceanic experience.
For younger munchkins or older ones with a lack of the thrill-seeking gene, hit the kids pool boasting three small slides built wide enough for two. The whole family will enjoy a leisure tour down the 850-foot lazy river with gentle rapids and slow speeds. Check availability online.
Reunion Resort
Reserve and then relax at Reunion Resort. While Reunion has transportation to the Walt Disney World Resort, it is always a nice change in pace when you can walk (or ride a Surrey bike) to your destination. In true Florida fashion, lads and lasses will have a blast on five acres of water bliss. The playground offers water cannons and sprayers, rope bridges and a large emptying water bucket amidst palm trees.
Take a turn on the twisting waterslide before a round in the lazy river. And if the family needs a little break from all of those water drops, ping pong, hula hoops, relay races and Connect Four are next to the water park. Be sure to look into packages under the "Offers" tab.
Holiday Inn Resort
Don't overlook this Disney Good Neighbor hotel at the entrance of the Walt Disney World Resort. The Holiday Inn Resort is the only all-suite of its brand to boast such a title in the area. Play the day away at the onsite splash pad, wade into the Lagoon pool, or advance through the aquatic playground to the top of the four-story tower before plunging down one of the watery slides. There's space for water babies from infants to adults.
The Eat, Stay, Park and Play Package includes accommodations in a family suite, parking for one vehicle, and daily breakfast for two adults and up to four children. Book online or call reservations at 800.972.2590.
The Grove Resort and Water Park
Gather your group and head over to The Grove Resort for a break from the daily grind. The Grove Resort has spacious two bedroom and three-bedroom suites for families to feel at home even when they are away from home.
Surf's up at the property's Surfari Water Park! Wade or float along the lazy river as it travels under bridges and around waterfalls before plunging down one of the slides. Speed down in darkness through the enclosed tube slide or soak in the sun down the open slide. There is also a kids' activity pool for those younger adventures.
For an extra charge, daredevils at least 42 inches tall can catch a wave on the FlowRider simulator. There are several resort packages to explore for added savings.
Four Seasons Resort Orlando at Walt Disney World Resort
You don't have to give up luxury just because the kids are in tow. Four Seasons is known for their upscale service and amenities for a luxurious experience. Trek through Explorer Island nestled on five acres of private seclusion from the outside world.
The lazy river will help your worries drift away before racing down one of the two slides. Scatter through the plethora of water features pouring out in the Splash Zone. There's plenty of action that awaits. Find a way to save that fits your budget best under the "Offers" tab.
Signia by Hilton Bonnet Creek Orlando
Imagine your family enjoying a three-acre lazy river at your Orlando hotel – yes, you read that right. You don't even need to bring your own tubes as they're complimentary on a first-come, first-serve basis.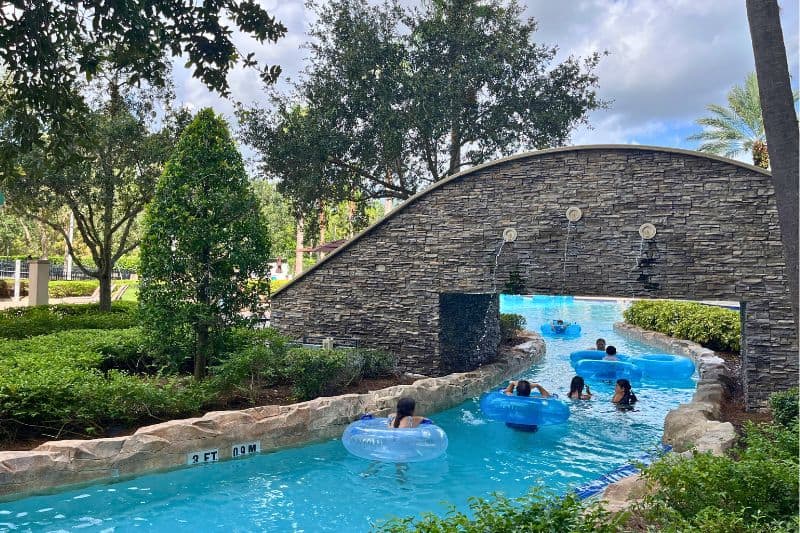 Soak up the Florida sun for hours while floating under some light waterfalls along the lazy river at Signia by Hilton Bonnet Creek. Plus you can enjoy other resort perks including mini-golf, Disney transportation at more.
This resort is right on the edge of Walt Disney World property.
Flamingo Water Park Resort
Flamingo Water Park Resort caters to families and is only a hop and skip away from Orlando in Kissimmee. Bright colors, character created rooms and furniture just their size, kids will feel comfortable and at home while staying at the Resort. While the Resort may not be a household name yet, there's no sacrifice in fun. The water park is located in the heart of the resort making it easily accessible to all staying onsite.
The Resort's "Crazy Flamingo" invites guests to try one of three exhilarating slides before splashing into the zero depth kids' pool. Take a break while floating in a tube along the lazy river. The Resort does have special offers for Florida and Georgia residents as well as those who would like to stay longer or book early.
Fantasy World Resort
Welcome to Fantasy World Resort where vacation villas are affordable for families. Calling 24 acres of space home, this resort's water park makes a big splash. Start the day big on not one, but two three-story high slides for thrills. No need to worry about chills since the water park is heated. A large splash pad allows your seedlings to do just that. Splash!
Dive (not literally) into the lazy river in a one person or two-person float. There's plenty of room for all to swim in the large resort pool too. As an added perk, your fur babies are welcome to join in the townhomes. Call 407.396.1808 or book online.
Walt Disney World Resort Hotels with Water Parks
Disney enthusiasts delight in park days but sometimes you need something a little more low-key. Most Disney goers know that all Disney hotels have a pool area. However, only the moderate and deluxe hotels have water slides and features. Here's a list of places to rest your head after some liquid enjoyment.
The Cabins at Fort Wilderness host the rustic corkscrew water slide showcasing a water barrel in the center. For smaller tots, there are smaller slides at the kids splash zone.
Slip down one of two slides in this Spanish Fort armed with water cannons. Splash nearby in the shipwrecked splash park with smaller slides.
Climb to the top of the Mayan Temple if you dare before plunging into the large pool at the bottom of this tall pyramid.
Slide down the tongue of "Scales" the sea serpent before crashing into the pool with gator and clam water features. This is a smaller "scale" slide for family fun of all ages.
Hop on over to the sister resort of the French Quarter to take advantage of this three-acre swimming hole. Ol' Man Island is Tom Sawyer's secret hideaway featuring a sawmill water slide and catch-and-release fishing hole.
Escape to the wild side at this resort's 11,000 square foot oasis with a thrilling waterslide and children's wading pool. Samawati Springs is the other pool on property which offers a waterslide and animal observation deck.
Traverse the three aces of shipwreck with pools, slides and lagoon. This water park is home to one of the highest hotel slides in Walt Disney World Resort. This water playground is shared with the Yacht Resort.
Carnival fare is waiting for all who stay at the Boardwalk Inn. Made to look like a wooden roller coaster, kids will enjoy making a splash into Luna Park Pool.
Leisurely make your way down a long slide at this infamous Magic Kingdom hotel. There are 2 pools and a children's splash area. One pool even stretches to Bay Lake.
Despite the elegance and grandeur of this Disney resort, it's quite family friendly. Beach Pool has a scenic waterslide, step onto the sandy shore of Seven Seas Lagoon or play in the splash area for kiddos.
Exotic, tropical, and paradise are a few words that come to mind at this deluxe resort. You won't have to worry about this aquatic volcano erupting as you zoom down the winding slide. A kids' splash area with smaller slides is also featured.