Plan a Spectacular Day at Orlando Hotels with Pools for Kids with ResortPass
With amazing places to swim, theme parks to visit, and family-friendly activities to participate in, Orlando has no shortage of ways to keep kids entertained. But on those hot, Florida sunny days, it can be incredibly relaxing (and fun!) to visit pools at Orlando area hotels and resorts with your children. Enter ResortPass, an online booking service that allows you to purchase a day pass for Orlando area pools without having to stay overnight at the hotel that maintains them.
Through ResortPass, parents can book both a day pass to use a resort's pool facilities and a private cabana, perfect for relaxing and grabbing lunch while the kids wear themselves out. Spend the day enjoying splash pads, swimming in kiddie pools, and jumping on water slides.
Trying to avoid hearing, "mom, I'm bored," or, "dad, I'm hot," on hot days? These Orlando area ResortPass pools are perfect for spending a day splashing, cooling off, and enjoying time together as a family.
Omni Orlando Resort
Day pass: Starting at $45 for adults, $25 for kids
Cabana rental: Starting at $275
Gain access to Orlando's only resort wave pool, a 125-foot corkscrew water slide, an adults only pool, and an 850-foot lazy river at Omni Orlando Resort. A day pass at this hotel gets guests use of a family pool with fountains, a water tower, and a water slide, as well as whirlpools and a kiddie pool area with waterslides.
There's also complimentary self-parking and access to an arcade, tennis courts, and basketball courts. Mini golf is available, too, for an additional fee.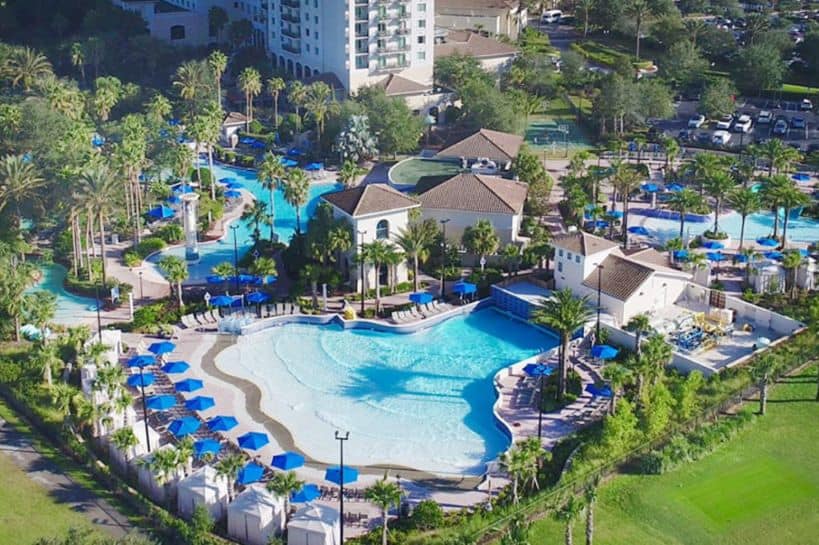 Renaissance Orlando At SeaWorld
Day pass: Starting at $25 for adults, $15 for kids
Daybed rental: Starting at $250
The Renaissance Orlando At SeaWorld is within walking distance of SeaWorld Orlando and Aquatica, but if a day inside the theme parks isn't in your plans, the pool on property makes for a perfect day of splashing. With a water park, slides, toddler play area, and splash pad, kids can have a fun day in the sun while mom and dad enjoy a sip at the pool bar.
First-come-first-serve lounge chairs, complimentary Wi-Fi, and towel service are all included, but self-parking is an extra fee.
Melia Orlando Celebration
Day pass: Starting at $20 for adults, $10 for kids
Day room rental: Starting at $99
With its large heated pool, Melia Orlando Celebration is the perfect location for families with kids who want to splash and swim, but don't want to chase their little ones all over a water park or splash pad. The pool at Melia is a large, 360-degree amenity that's perfect for a day of floating and relaxation.
Although the pool is relatively basic, it is one of the most affordable ResortPass options in Orlando. And the food available poolside is delicious too!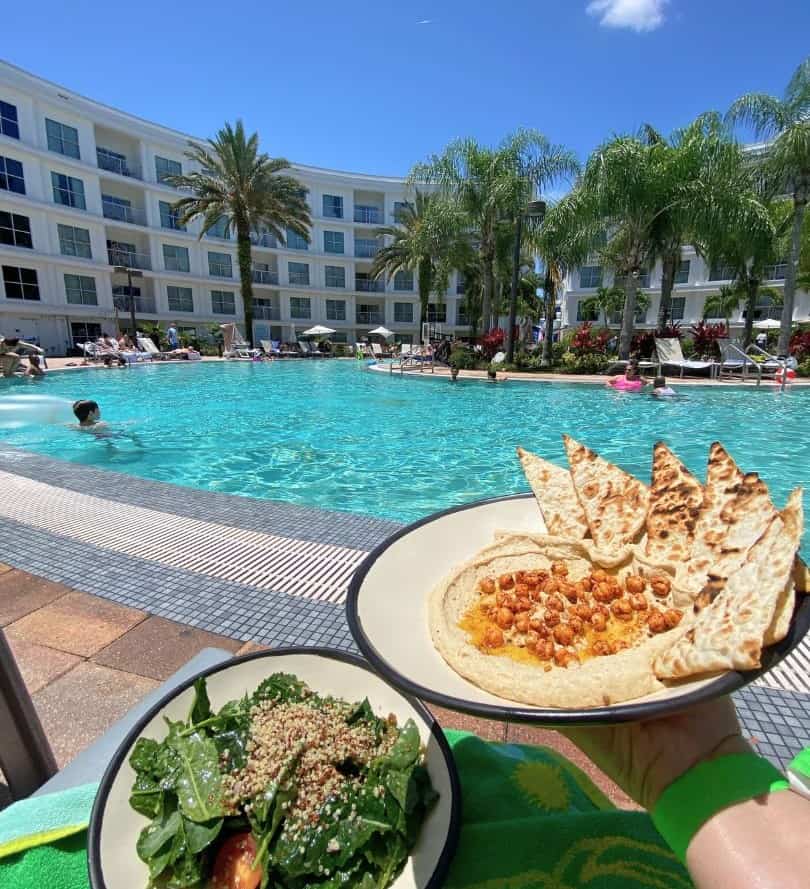 Parking is complimentary, as is Wi-Fi.
Related: Florida Resident Deals: Discounts in Orlando and Beyond
Holiday Inn Resort Orlando Suites – Waterpark
Day pass: Starting at $45 for adults, $35 for kids
Cabana rental: Starting at $200
In addition to a pool, this resort has its own water park, complete with seven slides, a four-story water tower, interactive water toys, and climbing nets. At Holiday Inn Resort Orlando Suites – Waterpark, parents can also choose between a full-day or half-day resort pass.
There's also a nine-hole miniature golf course, several dining options, complimentary Wi-Fi and a kids' playground area.
Hyatt Regency Grand Cypress
Day pass: Starting at $50 for adults, $25 for kids
Cabana rental: Starting at $350
Located close to Walt Disney World, the Hyatt Regency Grand Cypress offers beautiful scenery at its pools, from a swim-through rock grotto to a suspension bridge. The half-acre outdoor pool area has waterfalls, a water slide, and a splash zone. The property also has its own white sand beach where water sports are available to day pass customers.
Weather permitting, guests can also rent boats and bicycles to use on the property. Wi-Fi is complimentary, but parking is a $30 fee.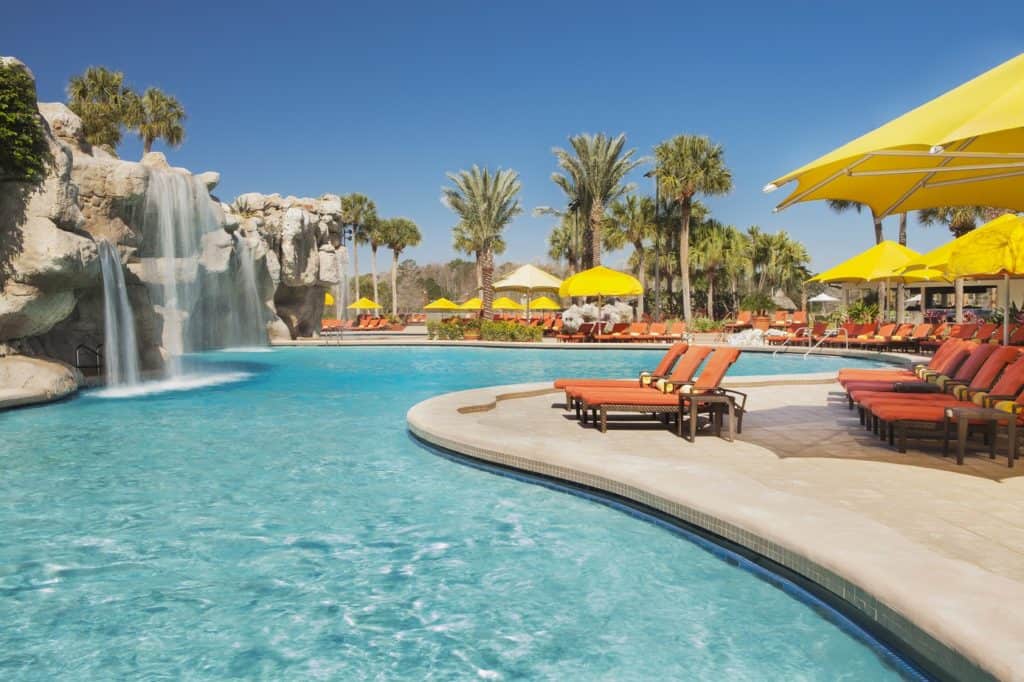 CoCo Key Hotel and Water Park Resort
Day pass: Starting at $30 for adults, $30 for kids
At CoCo Key Hotel and Water Park Resort, the water park is covered by a 54,000 square foot canopy, giving little ones a small reprieve from the Florida sunshine. There's also a water jungle gym, 14 slides and water rides, a waterfall and a kids splash area, in addition to a poolside bar and restaurant.
Self-parking is $10, but Wi-Fi and use of the property's arcade are complimentary.
Caribe Royale
Day pass: Starting at $55 for adults, $45 for kids
The large resort-style pool at Caribe Royale has both a water slide and water fall. Enjoy a family lunch poolside at the property's outdoor bar and grill once all the splashing makes you hungry.
For ResortPass guests, a discounted parking rate of $20 is available.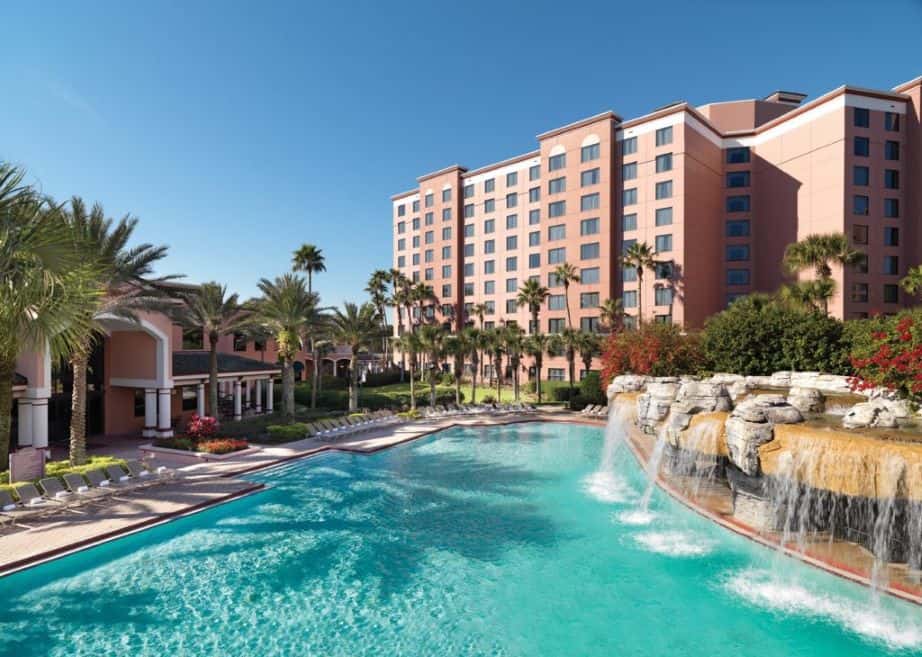 Balmoral Resort Florida
Day pass: Starting at $30 for adults, $20 for kids
There's a lot going on at Balmoral Resort Florida, where guests can enjoy a water park, fishing, miniature golf, an arcade, and more. Grab a first-come-first-serve lounge chair and enjoy poolside food and drinks from the on-site restaurant while you cool off in the water.
Outdoor games, like corn hole and foosball, are available, as are complimentary Wi-Fi and self-parking.
Want to get away for an adults-only daycation? Check out ResortPass Daycation: Day Passes to Central Florida Resorts from our sister site, Orlando Date Night Guide.
Featured Image: Holiday Inn Resort Orlando Suites – Waterpark/Credit: Brie Gorecki