15 Super Fun Family Restaurants in Orlando and Central Florida
Selecting a spot to eat when you have children can be tricky. If you have multiple munchkins like me, there's bound to be some squabbling and LOTS of chatting. The last thing you want when you are trying to feed your family is glaring eyes directed your way because your family is too loud or disruptive. And honestly, us parents don't want to ruin anyone's meal with our familial brood. So, what are we to do?!
There's a plethora of eating establishments in Central Florida that have an atmosphere suitable for families of all ages that make the dining out pressures much more bearable – dare I say, fun!
You can also jump over to our sibling site, OrlandoDateNightGuide.com for the original list of Kid-Friendly Orlando Restaurants with Playgrounds + Play Spaces.
Keep reading for 15 delightfully fun restaurants that are perfect for families in Orlando.
Family Friendly Restaurants in Orlando
1. Hash House a Go-Go
5350 I-Drive, Orlando
407-370-4646
Taste the farm life in the middle-ish of Orlando. Hash House a Go-Go serves up breakfast and lunch Sunday – Thursday with dinner hours added on Friday and Saturday.
There are plenty of tables to sprawl around no matter the size of your crew and the openness of the dining area feels like you're kicking back in the barn. Keep your little lambs occupied during wait times with the tractor located at the entrance. This makes for a fun photo op too!
This twisted farm food comes sweet or savory with dishes like Griddled French Toast and Corned Beef, Red Onions and Swiss Cheese. This is a definite Go-Go for food and atmosphere.
2. MILK The House of Cereal
5250 International Drive
Orlando, FL 32819
MILK offers guests the opportunity to dish up a custom bowl of cereal for only $5. Begin by choosing a cereal base—over 100 cereal choices. Then add a variety of toppings, including marshmallows, M&Ms, chocolate chips, sprinkles, and more.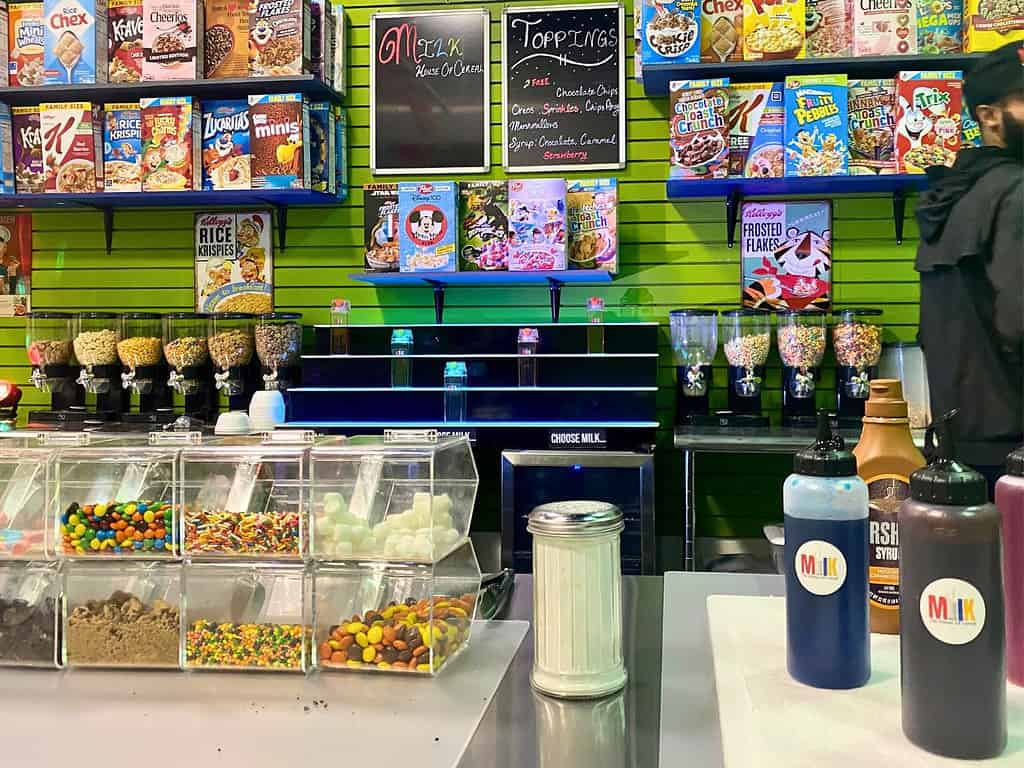 And what's cereal without milk? Choose from several different flavored syrups and shake up their own milk before adding it to their creation. There are also options for guests with certain dietary restrictions, like gluten-free cereals and nondairy milk options, so everyone in the family can enjoy for a low price.
This $5 price is an all-you-can-eat-experience!
3. 4Roots Cafe
Orlando Science Center (Admission NOT Required)
This next kid friendly restaurant in Orlando is a hidden gem. The Orlando Science Center is one of the best things to do in Orlando with kids, and having lunch at 4Roots Cafe is a great way to keep the fun going.
However, you do NOT need a ticket to the Orlando Science Center in order to eat at 4Roots Cafe. There is an entrance to the cafe from Loch Haven Park, no ticket required.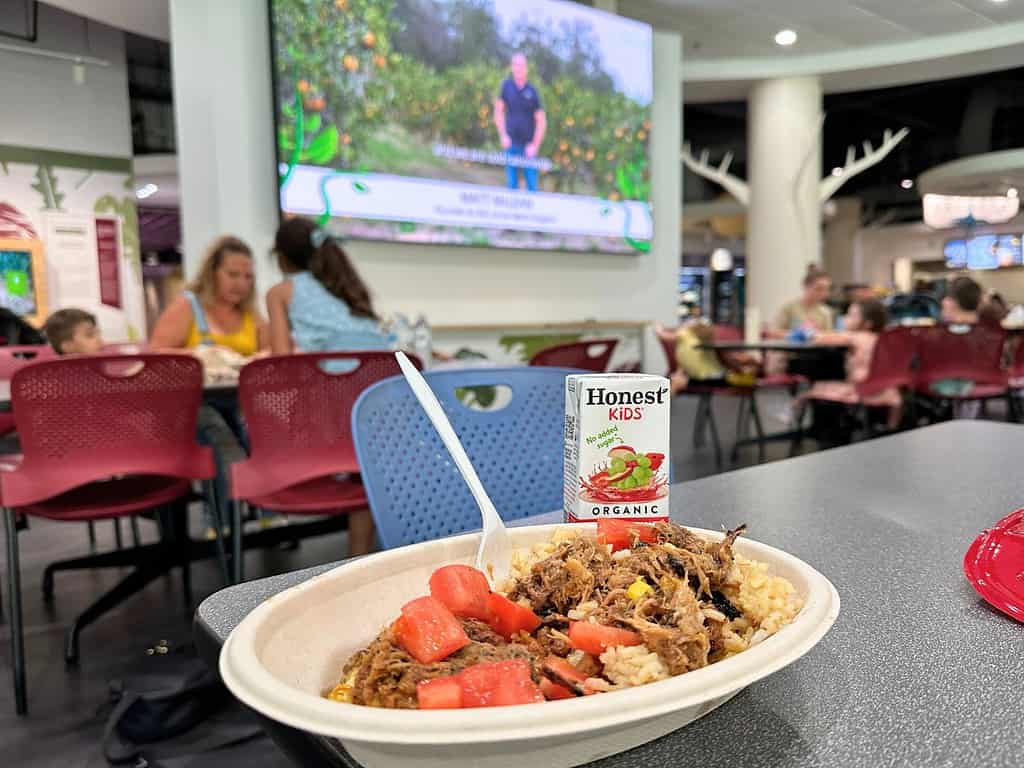 4Roots Cafe, run by the 4Rivers Smokehouse team. You won't find barbecue here. Instead, the build your own rice and salad bowls are awesome, healthful, and fresh.
You can also grab and go some wraps, salads, and fresh snacks. We love the hands-on play areas here that make lunch time entertaining.
Important Note: The 4Roots Cafe is closed on Wednesdays when school is in session, it is open 7 days a week during the summer. Lunch is served 11:00am – 3:00pm, and grab and go is available until 4:30pm.
4. Nick's Family Diner
5439 N Orange Blossom Trail, Orlando
407-704-8861
Nick's Family Diner is a hidden gem that feels like you're sitting in a comfy home. Don't expect anything fancy or over-the-top but do expect tasty food served efficiently and friendly. Not only is the atmosphere low-key, it's also affordable for families too. The menu boasts the typical diner fare you'd expect like burgers, salads, sandwiches and breakfast dishes which are served all day.
The Diner is open Tuesday – Sundays from 8 am – 2:30 pm. Do take note that there is a surcharge added to your check when paying by card. To forego that, take cash.
5. Buca di Beppo
Multiple locations

The Italian culture is known for its emphasis on family. Whether your famiglia is large or small, gather around the table at Buca di Beppo for Italian delights served family style. Every menu item is designed for sharing and comes in Small for 2-3 people or Large for 5 or more. Expect traditional favorites like lasagna, chicken parmigiana, alfredo and spaghetti.
A kid's menu is available for those picky eaters who want to stick with pizza or macaroni and cheese. Each restaurant boasts different dining rooms adorned with decorations for endless distraction as you wait, sometimes not so patiently, for your food.
6. Walk-On's Sports Bistreaux
Multiple locations
Sports families gear up for the next game day! Walk-On's Sports Bistreaux is founded by college basketball player Brandon Landry and now co-owned by professional football quarterback Drew Brees. This sports-themed restaurant brings Louisiana culture and cooking to Florida in spirit and cuisine. With televisions posted in almost every space (including the bathroom!), you and your team never have to worry about missing one second of the game.
At every shift change, diners can join staff by participating in "The Rumble" where employees get pumped for their shift to win the walk on. You have permission to drumroll on your table and join in their chants. Something that makes Walk On's different than other sports pubs is their sharing menu, great for family gatherings.
7. Mrs. Potato Restaurant
4550 S Kirkman Road, Orlando
407.290.0991
Featured on Guy Fieri's "Diners, Drive Ins and Dives" show, Mrs. Potato serves up dishes that all involve…potatoes! Coming to America from Brazil as a child, Rafaela missed the potato houses from back home so she started her own unique restaurant here in The City Beautiful.
One of the favorites on the menu is the Rosti Potato. Rosti is a hashbrown outside stuffed with yummy goodness on the inside and topped with Brazilian cream cheese. These are so big they could easily be shared. What kid doesn't enjoy fried potatoes?!
Burgers, loaded baked potatoes, empanadas and kids' dishes are also featured on the menu. The moleque (young person in Portuguese) are sure to leave with full bellies. Mrs. Potato is open for lunch and dinner every day of the week.
8. Boxi Park
6877 Tavistock Lakes Blvd, Orlando
407-536-9666
As the name suggests, Boxi Park is made from repurposed shipping containers turned into a corporate space for families or friends. Parents can release a sigh of relief as they sit in the open air while the little ones wiggle and move. No need to be button-up and strait-laced here!
There are food options to fit every mood and palate. Seafood, chicken, burgers, taqueria, and dessert eateries are scattered about. If the grown-ups need an adult beverage, there's BarNona, Hops & Vine, and La Cajita for liquid libations.
Enjoy outdoor lawn games, a playground and volleyball court to let out some energy before or after tasty bites. As a bonus, all well behaved four-legged pups are welcome to roam free in the fenced dog park.
Featured image of this blog post from @boxiparklakenona
9. The Yardery
415 E 4th Street, Sanford
407-878-2179
The Yardery invites the whole family to not only eat but play too. Both children and pups on a leash are welcome to romp around the Yard while the adults sit back with their dishes and drinks. Have family game time out with cornhole, pool, ping pong or ladder toss.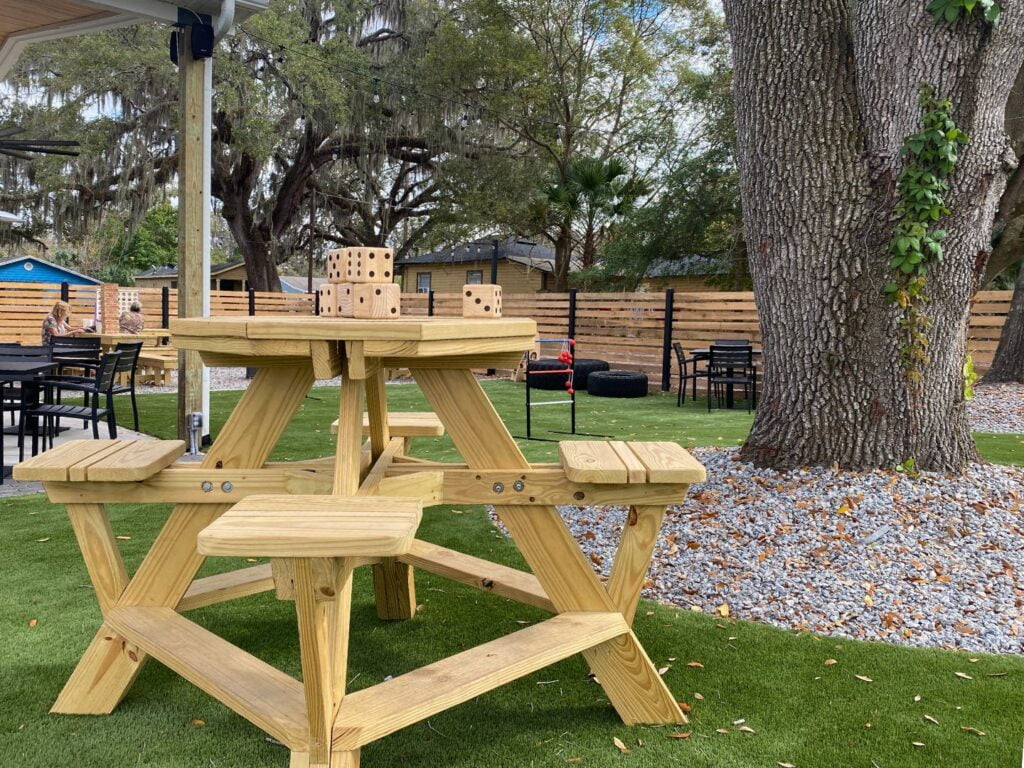 Large trees provide shade along with some covered seating for those sunny Florida days or unexpected thunderstorms. The entire Yard is fenced in and feels like your hanging at a neighbor's gathering. Indulge in lunch and dinner Tuesday – Thursday or breakfast, lunch and dinner Friday – Sunday.
10. Plant Street Market
426 W Plant Street, Winter Garden
407-456-7144
Calling the Crooked Can Brewery home, Plant Street Market is a place to dine and shop. If your family is anything like ours, we can have a hard time deciding what to eat. Everyone wants something different. Plant Street Market is the solution!
There are over 10 eating vendors inside to suit any food hankering. Seating is available inside and outside with a patio happy to host pets. When you've finished your bites, stroll through the artisan goods for something special to take home.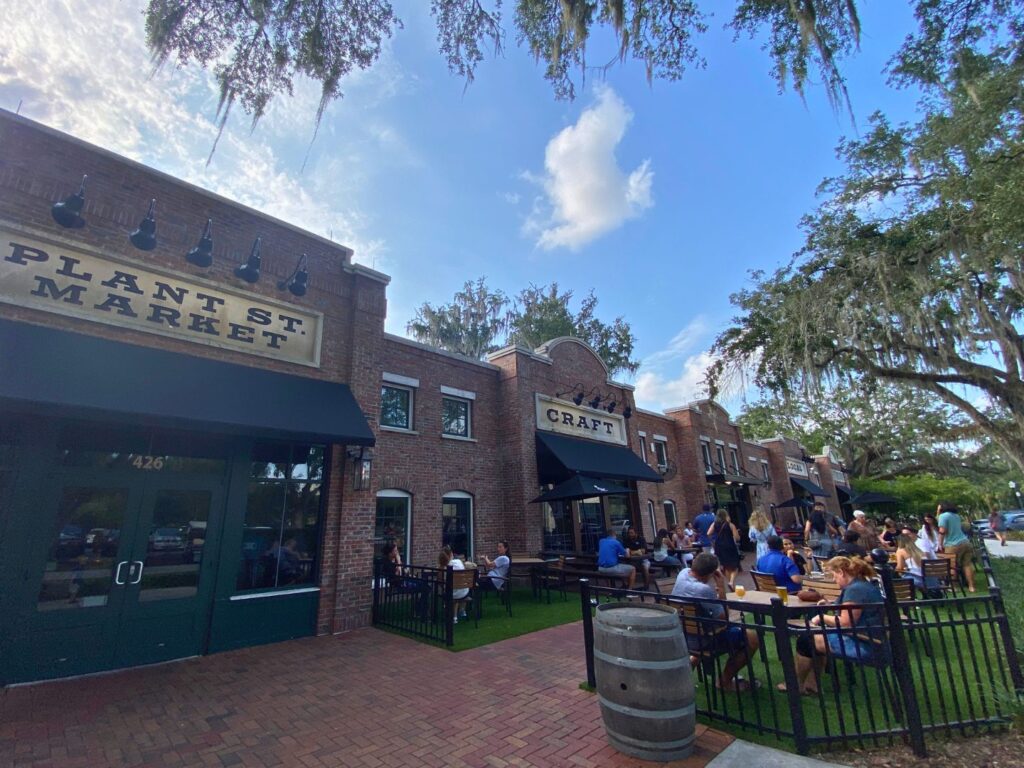 11. The Kitty Beautiful
360 State Lane, Orlando
321-209-2081

Food kids love + soft animals = the purrfect outing. The Kitty Beautiful is a cat café that will fill your belly and your heart. Upon arriving, patrons enter the café portion of the establishment. The menu offers a grilled cheese in the shape of a cat head, peanut butter and jelly sandwiches, tomato soup, cinnamon sugar toast, cookies and then some. Delight in coffees and teas by the purristas for a pick-me-up to get through the day.
After all stomachs are full, head through the double doors to play with and cuddle adoptable felines. Don't blame us if you leave with an extra family member! The café is free to enter but visitors must pay $12 per person ages 2 and up for an hour of play with the kitties.
During the week, customers can purchase 30 minute time slots for $8. On Tuesdays, it's $10 for an hour if booked in advance. Reservations are highly recommended especially on the weekends.
12. Grill's Lakeside Seafood Deck & Tiki Bar
4301 N Orange Blossom Trail, Orlando
407-291-8881
We may not live on the seashore here in the heart of Florida but we can still dine waterside on fresh seafood. Retreat to the salt life with your posse for you next meal at Grill's Lakeside Seafood Deck & Tiki Bar. Find plenty of tables indoors or outdoors for the perfectly picked place that suits your progeny. The dining room has large windows to view the sprawling deck which overlooks Lake Fairview. Patrons can arrive via their car or float by boat to the dock.
Locally sourced seafood is brought in daily for the freshest ingredients. Even though seafood is the main event, you'll find plenty of beef and chicken dishes for the land lovers. Feeling adventurous or want to make a memorable night out? Try the Froiled Lionfish! Despite popular belief, lionfish meat is not poisonous. It's their spines that are venomous. Each lionfish is properly prepared for flaky fish that frolic those tastebuds.
Best of all? There is a small playground next to the sprawling outdoor patio.
13. Yellow Dog Eats
Located in Winter Garden and New Smyrna Beach
Yellow Dog Eats is a tasty place for some cruisin' fun. The casual atmosphere is great for families looking for a relaxed place to eat together.
Some of the names of the sandwiches and salads are sure to earn a giggle from the parents, and older kids. Both locations have also dog-friendly outdoor seating, so the family dog can come along too.
14. Crabby Bill's
1104 Lakeshore Blvd, St Cloud, FL 34769
(407) 979-4001
The best thing about Crabby Bill's is its lakeside location, coupled with it being right next to a great park. Head to Crabby Bill's in St. Cloud after spending the morning at Lakefront Park in St. Cloud. This park has one of our favorite Orlando area splash pads. Refuel at this casual family restaurant about 45 minutes from Orlando.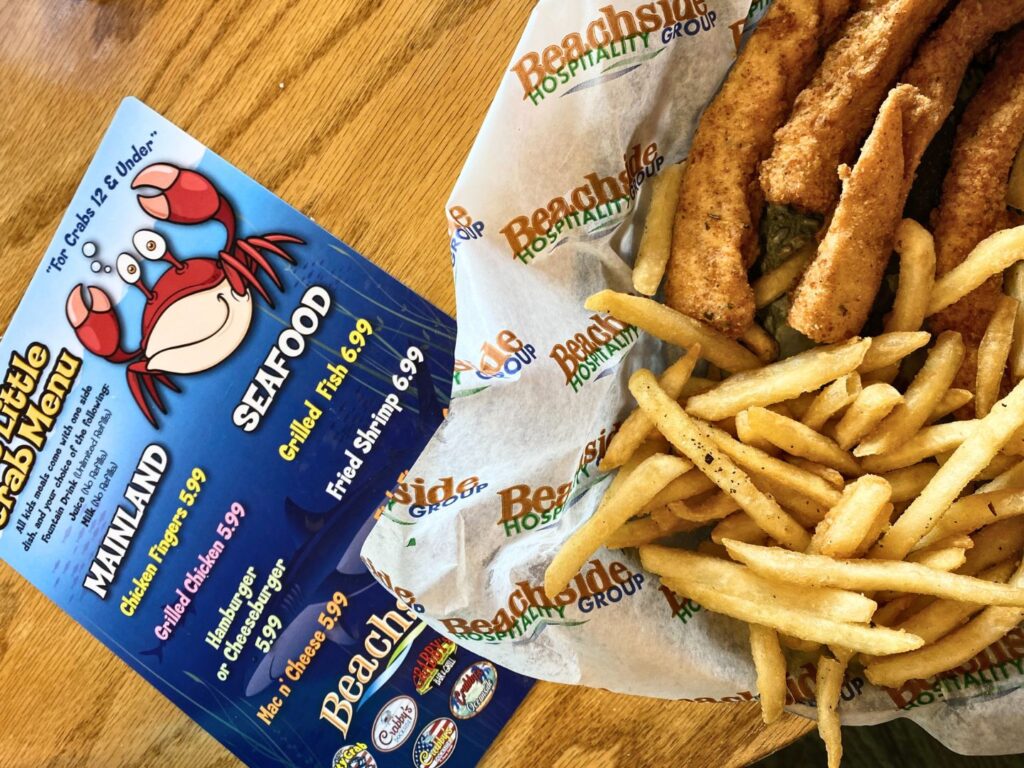 Crabby Bill's is casual and serves up equal amount of fresh seafood as well as chicken, beef, salads, and more. There is plenty of seating inside and outside on the lake.
And kids eat free on Wednesdays!

15. The Old Sugar Mill Pancake House
601 Ponce Deleon Blvd, De Leon Springs
386.871.7573
If you have early risers in your household, plan to hit the road for a little drive north to DeLeon Springs State Park and start the day with endless pancakes at The Old Sugar Mill Pancake House. Little (and big) chefs will get a kick out of being in control and making their very own hotcakes with the toppings of their choice. It also makes waiting on your food a little more tolerable as everyone can watch it cook.
The pancakes come with maple syrup, molasses and honey for glazing. Add-ons like fresh fruit, ham, bacon or eggs for your flapjacks are an extra charge. The restaurant is open daily from 8 am – 4 pm with a menu offering other breakfast bites, lunch dishes and snacks.
Even More Orlando Kid-Friendly Restaurants
Check out the most Kid-Friendly Restaurants at Walt Disney World. Or keep reading for two more family restaurants in Orlando.
Townhouse Restaurant
139 N Central Ave, Oviedo, FL 32765
A landmark in Oviedo, Townhouse Restaurant has been serving the locals since the 1950's. A hidden patio in the back is great for some fresh air and home-cooked food. There is a covered portion of the patio as well as open air with umbrellas.
Breakfast is a must here. And there is a small kid-friendly area just outside the restaurant – which just so happens to be where you'll find Kelly's Homemade Ice Cream's Oviedo location.
The Melting Pot
Multiple locations
Kids love to play with their food. If we admit it, adults do too. Kids also love to cook. I have yet to meet a child who didn't want to help in the kitchen. Carefully dive into fondue festivity at The Melting Pot where everyone can take part in creating the family dinner.
Customize up to 4 courses for your tribe to partake starting with cheeses, salad, entrée and delectable dessert with both fixed and seasonal ingredients. There's even a fondue timer on the website for diners to use for thoroughly cooked nibbles to nosh.
While this may not be an experience for an everyday meal, it's sure to create memories for a special occasion. Be sure to check for seasonal and holiday specials throughout the year.
Looking to save some time and money? Here are 15 Restaurants Where Kids Eat Free in Orlando.