Top 12 Best Disney Restaurants for Kids That Everyone will LOVE
Disney World is home to many restaurants across its theme parks and hotels. Although many are catered towards families and children, there are some that are better than others which is why we compiled a list of 12 of the best Disney restaurants for kids, at Walt Disney World.
We're covering quick-service restaurants that don't require advanced reservations, as well as table service and character-dining experiences. Reservations are generally required for table service experiences as walk-up lists are not always available.
Whether you're looking to take children to a character-dining experience or for a quick slice of pizza, Disney World has options that not only you will love, but ones that the kids will, too.
Disney Restaurants for Kids
First we'll explore the quick service restaurants at Disney that are best for kids. Then keep reading for our recommendations for table service restaurants that kids will absolutely love.
Disney Quick Service Restaurants for Kids
1. Woody's Lunch Box
Location: Disney's Hollywood Studios (Toy Story Land)
Age group: All ages
Menu highlights: "Totchos" ($9.99), grilled cheese (kids meal) ($6.99), and potato barrels ($4.49)
If you have a picky eater in your travel party, it's hard to go wrong dining at Woody's Lunch Box located in Toy Story Land at Disney's Hollywood Studios. This restaurant's dining area is filled with vibrant colors and themed decor including Babybel Cheese seats. If your little one is more adventurous, they can try "Totchos" ($9.99) which consists of a bowl of potato barrels covered in beef and bean chili, cheese, queso, tomatoes, corn chips, sour cream, and green onions. You might even see Slinky Dog Dash in action across the way while enjoying your food.
PRO-TIP: Use Disney's Mobile Ordering, and do so early in the day. Timeslots for Woody's Lunch Box book up early. Try to get a timeslot around 11am because seating gets crowded.
If your kids love Toy Story, consider booking a reservation at Rodeo Roundup BBQ. Read our editor's review of this Disney restaurant for kids.
2. Contempo Cafe
Location: Disney's Contemporary Resort
Age group: All
Menu highlights: Mickey-shaped waffle ($10.49), cheese flatbread (kids meal) ($7.59), Contempo burger ($13.49)
Contempo Cafe is a quality quick-service restaurant located just a short walk or monorail ride away from the Magic Kingdom. You'll get to see a monorail or two pass through the resort throughout your meal. It's a sight the kids in your party will never forget.
The Mickey-shaped waffle ($10.49) is one of the most well-known menu items from this restaurant and is beloved by adults and kids alike. And the Kale Power Greens Salad is one of the best salads at Walt Disney World.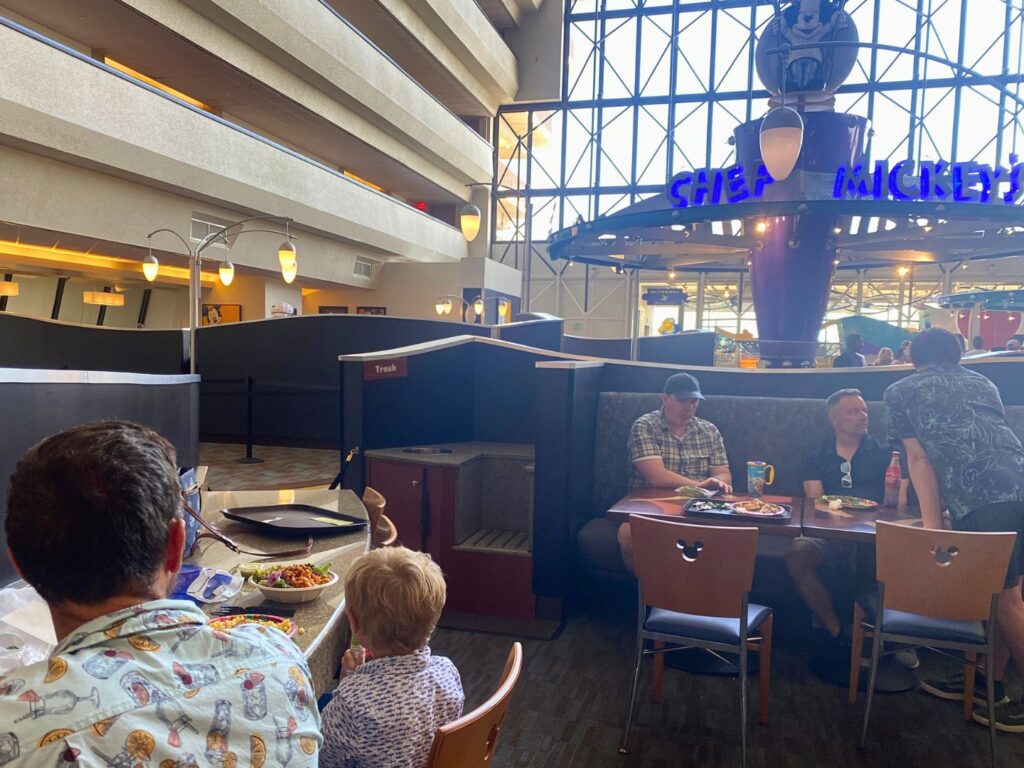 Chef Mickey's is right next door so you can even get glimpses of Mickey Mouse and his pals!
We love Contempo Cafe as a way to have a great meal before Magic Kingdom or to take a break from the crowds in the middle of the day.
Editor's Tip: Order your meal in advance using Disney's Mobile Order. My family and I place our lunch order while we're at Magic Kingdom. Then we walk over to Contempo Cafe, and our food is practically waiting for us when we arrive. It's a break from the crowds while still getting some Disney magic thanks to the views of the monorail.
3. Casey's Corner
Location: Magic Kingdom (Main Street U.S.A.)
Age group: All ages
Menu highlights: All-beef foot-long Chicago-style hot dog ($14.29) and corn dog nuggets ($10.49)
You'll score a home run when taking the young ones to Casey's Corner on Main Street U.S.A. at Magic Kingdom. This spot is filled with hot dogs galore and is known for its corn dog nuggets ($10.49). If you need a break from the sun and some time to rest with the kiddos, Casey's Corner is the perfect place. You might even catch the piano player playing some Disney tunes or "Take Me Out To The Ball Game." If you're lucky or time your meal right, you may be able to score a table with a view of Mickey's Magical Friendship Fare on the stage at Cinderella Castle.
4. Pinocchio Village Haus
Location: Magic Kingdom (Fantasyland)
Age group: All ages
Menu highlights: Chicken strips (two strips) (kids meal) ($8.49), gourmet cheese flatbread ($12.29), Malasada ($6.99)
If you find yourself in Fantasyland at Magic Kingdom, it's hard to miss Pinocchio Village Haus as it's located in the heart of the park right behind Cinderella Castle. The little ones will love the Pinocchio-inspired decor and wall art in addition to the simple yet delicious kids meals including the pepperoni flatbread ($7.79), and two-piece chicken strip kids meal ($8.49).
Since the restaurant sits just above the "it's a small world" attraction, you can wave to the guests sailing by on the boats for some added magic. And there are tables outside if you want to dine with views of Fantasyland.
BONUS IDEA: Columbia Harbor House is a favorite Disney restaurant of theme park regulars. It can get crowded in this small space, but the menu features seafood – and kids' meals are some of the healthier options in Magic Kingdom.
5. Pizzafari
Location: Animal Kingdom (Discovery Island)
Age group: All ages
Menu highlights: Cheese pizza ($10.79) and chicken parmesan sandwich ($11.59)
If you're traveling with kids who love pizza, Pizzafari in Discovery Island at Animal Kingdom should not be missed as the menu is filled with a variety of pizzas including cheese pizza ($10.79), pepperoni pizza ($11.29), and sausage & pepperoni pizza ($11.79).
The restaurant's atmosphere is vibrant and lively as its five themed rooms are filled with colorful murals and mosaics. Plus, it's located near the center of Disney's Animal Kingdom making it easy to access. The butterfly chairs outside are a nice added touch, too.
6. The Mara
Location: Disney's Animal Kingdom Lodge
Age group: All
Menu highlights: Zebra domes ($4.59), combination bowl ($15.49), ham and cheddar sandwich ($10.79).
The Mara at Disney's Animal Kingdom Lodge is beautifully themed with artwork of animals and beautiful greenery. Although much the food at The Mara is elevated and flavorful with offerings including the South African vegetable bowl ($12.99), Chermoula-spiced shrimp bowl ($14.49), and the Tamarind barbecue pork sandwich ($11.29), there are offerings many kids enjoy including a ham and cheddar sandwich ($10.79) and a cheeseburger kids meal ($8.49).
After you're done eating, you can head outside and enjoy the beautiful views of the real life animals who occupy the resort's savannah– just make sure to keep a watchful eye on the little ones.
Table Service Restaurants at Disney For Kids
7. Steakhouse 71
Location: Disney's Contemporary Resort
Age group: 6 years and up
Menu highlights: hearty American fare, breakfast lunch and dinner
Since Steakhouse 71 restaurant is located so close to Magic Kingdom, you can enjoy breakfast and then head over to Magic Kingdom without having to deal with all of the hassle of parking and congestion at the Transportation and Ticket Center. If you dine at this restaurant for breakfast, kids will also love the Mickey-shaped waffles kids meal ($10).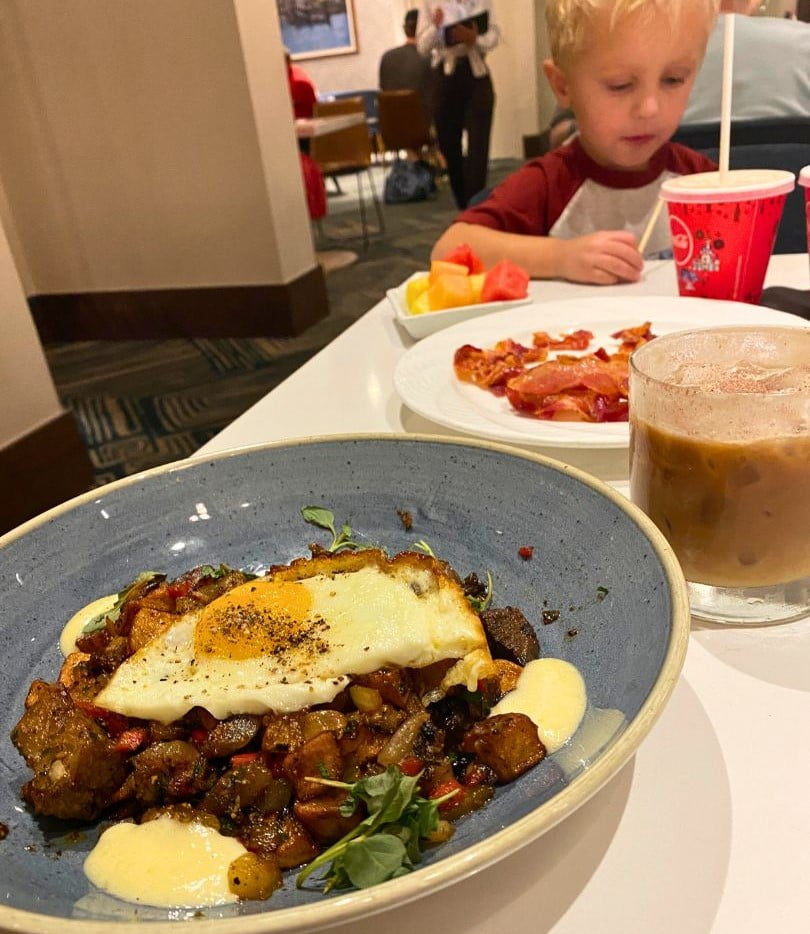 This restaurant does offer lunch and dinner as well and has an extensive menu with kid-friendly favorites including a cheeseburger ($13) and a 4-oz beef filet ($15). Not only will you have a good meal that will keep you satisfied and energized throughout the day, but you can rest assured that the kids will, too.
There is relaxing Disney music wafting over the air, plus Disney art and photographs to create a magical environment for everyone.
8. Tony's Town Square Restaurant
Location: Magic Kingdom
Age group: All ages
Menu highlights: Pasta, seafood, steak
Just as you enter Magic Kingdom you'll find Tony's Town Square Restaurant. This is one of the best restaurants for kids at Magic Kingdom for two reasons.
First, the menu has kid favorites like pasta, macaroni and cheese, and simply grilled chicken. And adults will surely find something to love with lots of Italian specialties.
Second, the restaurant is themed after Lady and the Tramp so there are fun Disney details throughout. And you can see Main Street U.S.A. from most tables making it easy to stay entertained.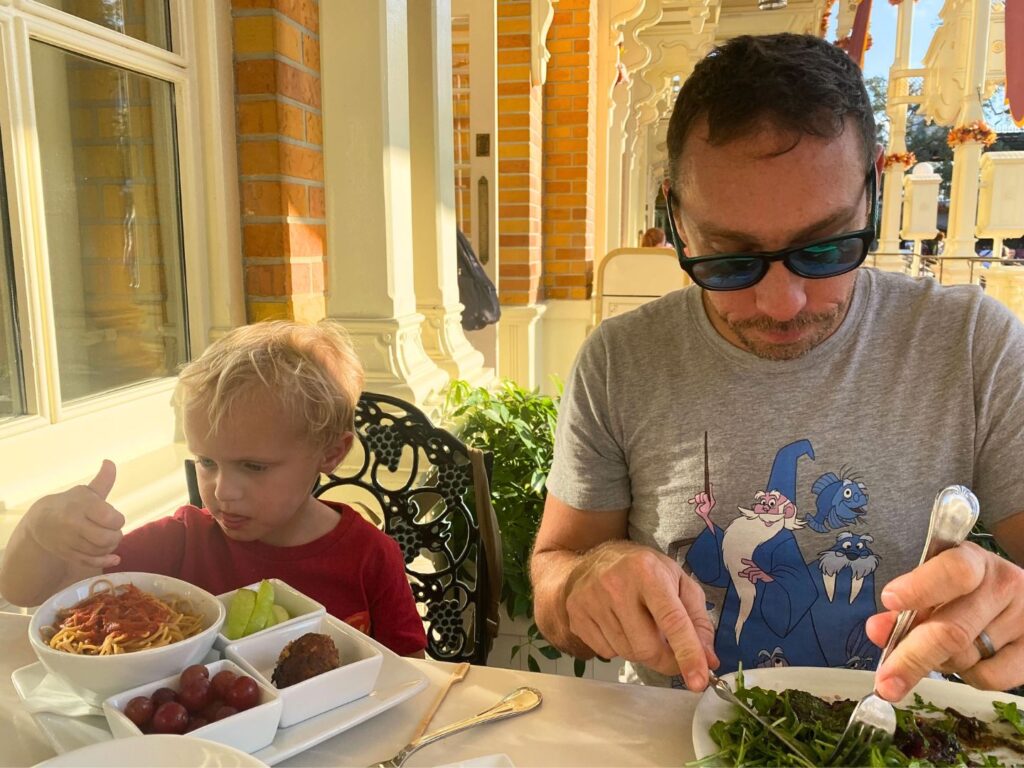 EDITOR'S NOTE: Try to book reservations around 2pm so you can catch the 3pm parade. Even you are seated inside, it's easy to step out to the outdoor dining area to watch the parade without the crowds.
9. Chef Mickey's
Location: Disney's Contemporary Resort
Age group: All ages
Menu highlights: classic American fare served buffet style, breakfast and dinner
If you're looking for a character dining experience at Disney World that's not at a theme park consider Chef Mickey's at Disney's Contemporary Resort. This character dining experience offers breakfast, lunch, and dinner. You and the kids will have the opportunity to meet and greet Mickey Mouse as well as other classic Disney characters including Minnie Mouse, Goofy Pluto, and Donald Duck.
Although the buffet food is delicious, the dessert (at lunch and dinner) is the best part of the meal and something the kids will be sure to love filled with Mickey Mousse domes and ice cream galore.
After your meal, you can head over to Magic Kingdom for some late night rides. Or stick at the Contemporary and watch the fireworks.
10. Space 220
Location: Epcot
Age group: 5 and up
Menu highlights: Smashed burger and Spaceghetti
Take your kids to space at Space 220 in Epcot. From the moment you take off to the moment you land back on Earth. Although this dining experience is more expensive than several others on property, the theming is out of this world!
The ride on the space elevator may seem daunting to little ones, but there is actually no motion to it at all.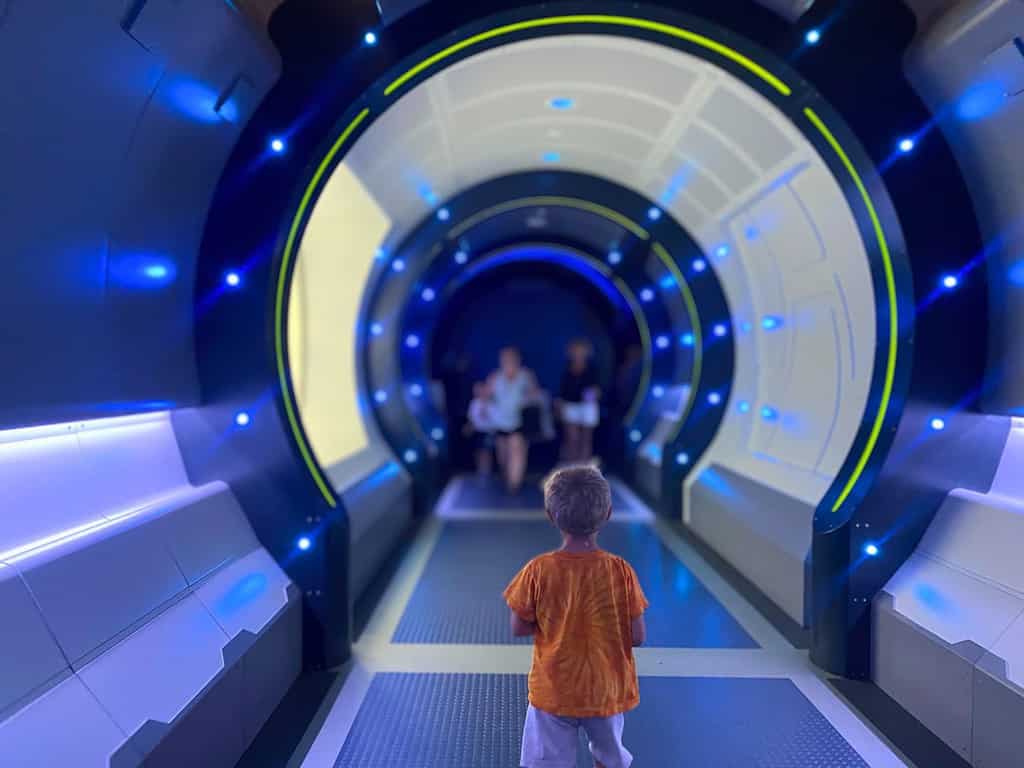 The kids will especially love the Starship Lemonade ($15) and Moon Rocks ($12) drinks that come with collectible trading cards. Each kids' meal ($29) comes with two sides, which includes vegetables as well as indulgences like french fries, plus a dessert.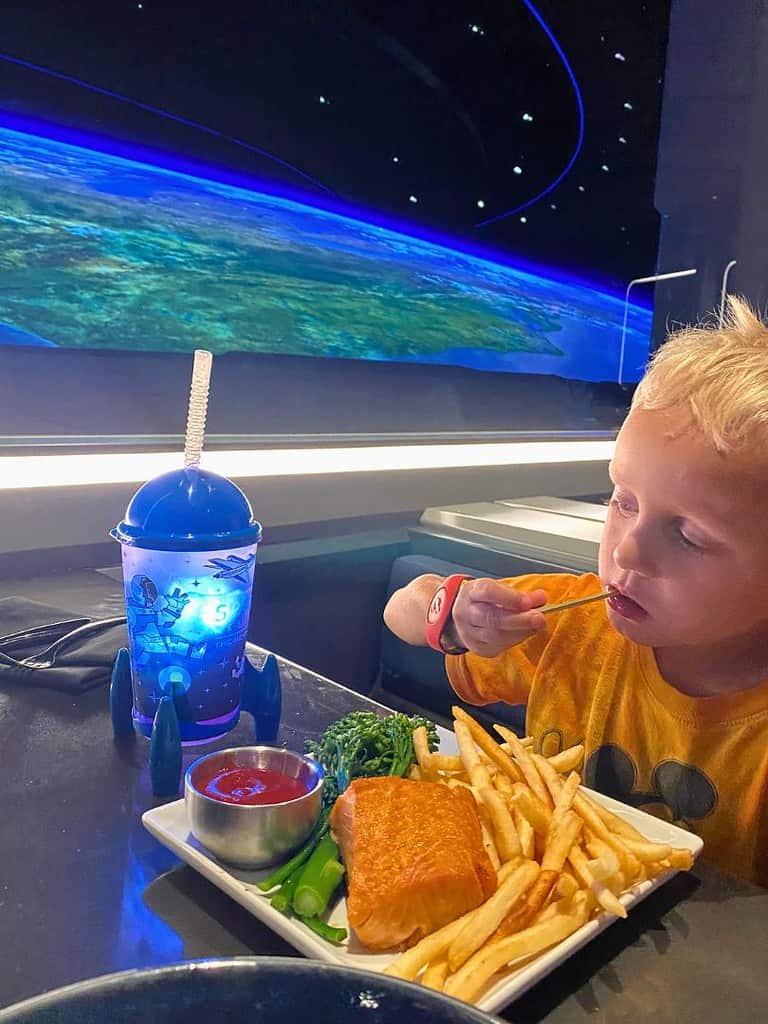 11. Whispering Canyon Cafe
Location: Disney's Wilderness Lodge
Age group: 6 and up
Menu highlights: All-you-care-to enjoy "family style" skillets ($26 per person – adults)
Whispering Canyon Cafe is anything but quiet but in the best way. Although there are individual entrees that can be ordered, the all-you-care-to-enjoy "family-style" skillets are what this restaurant is known for in addition to its comedic waiters and over-the-top props.
After you eat, you can take a bus over to Fort Wilderness and take a look at Tri-Circle-D Ranch. Disney horses and ponies are waiting to welcome you, and you can even experience pony rides!
12. Akershus Royal Banquet Hall
Location: Epcot (Norway Pavilion)
Age group: All ages
Menu highlights: Norwegian meatballs, Lefse, and Norwegian chicken and dumplings
If you have a little one that is obsessed with Disney princesses, Akershus Royal Banquet Hall at the Norway Pavilion in Epcot is a wonderful restaurant. Although the princesses may vary, Belle, Princess Jasmine, Ariel, Snow White, and Aurora typically make their way around the restaurant while you enjoy all-you-can-eat Norwegian cuisine.
The ambiance is beautiful as the restaurant sits in a building inspired by a medieval castle.