Orlando Birthday Party Entertainment for At Home Fun
From character meet-n-greets to magic shows, Orlando-area families have endless options when it comes to hiring professional party entertainers. Parents can book all sorts of performers and entertainers to bring the fun directly to one's home or yard. So, skip the laborious task of loading the car to drive to a birthday party venue… because your house is where the party is at! Here's a round-up of Orlando's best birthday entertainment for at-home parties.
Orlando Birthday Party Entertainment
(407) 280-2848
Big Idea offers several at-home party experiences, like carnivals, magic shows and gellyball games (an alternative to paintball). But our favorite Big Idea option is called Foam Palooza! Sure to add heaps of good clean fun to celebration, foam packages include party professional to guide the sudsy cannon, age-appropriate music and, no doubt, giggles galore.
Book one hour for $295 or two hours for $395.
[Pssst… the foam may help wash the cupcake frosting off those little faces.]
Also try Bubble Bus and Florida Foam Factory.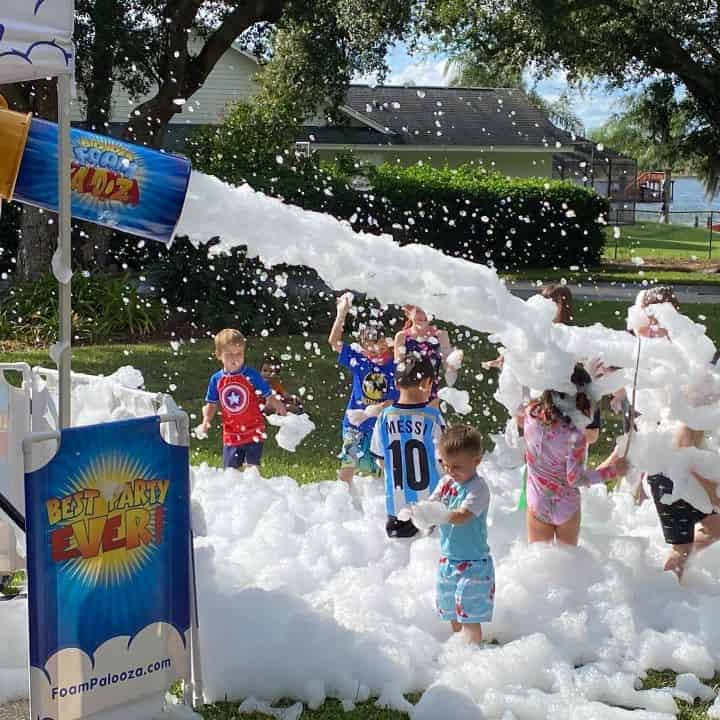 (407) 620-5782
LEGO fans can build memories with fellow partygoers thanks to celebrations by Bricks 4 Kidz. The deluxe party package, intended for ten creators, includes a legit LEGO host, giant tub of LEGO bricks, a model build (pre-selected by the birthday babe), t-shirt (for guest of honor) and invitations.
This colorful experience, priced at $230, averages ninety minutes, with extension options.
(407) 906-5220
Whether your child wants to invite a princess or superhero, Ever After offers tons of character actors outfitted with exquisite costuming and make-up. Party packages feature up-close meet-n-greets with photo opps, musical sing-alongs or live performances, themed games and, when applicable, story time, crafts, princess/superhero lessons and dancing.
Character pricing starts at $175 for thirty minutes. And if you are having a pool party, Ever After's swimming mermaids are a must!
Also try Tutu Tales Party Productions.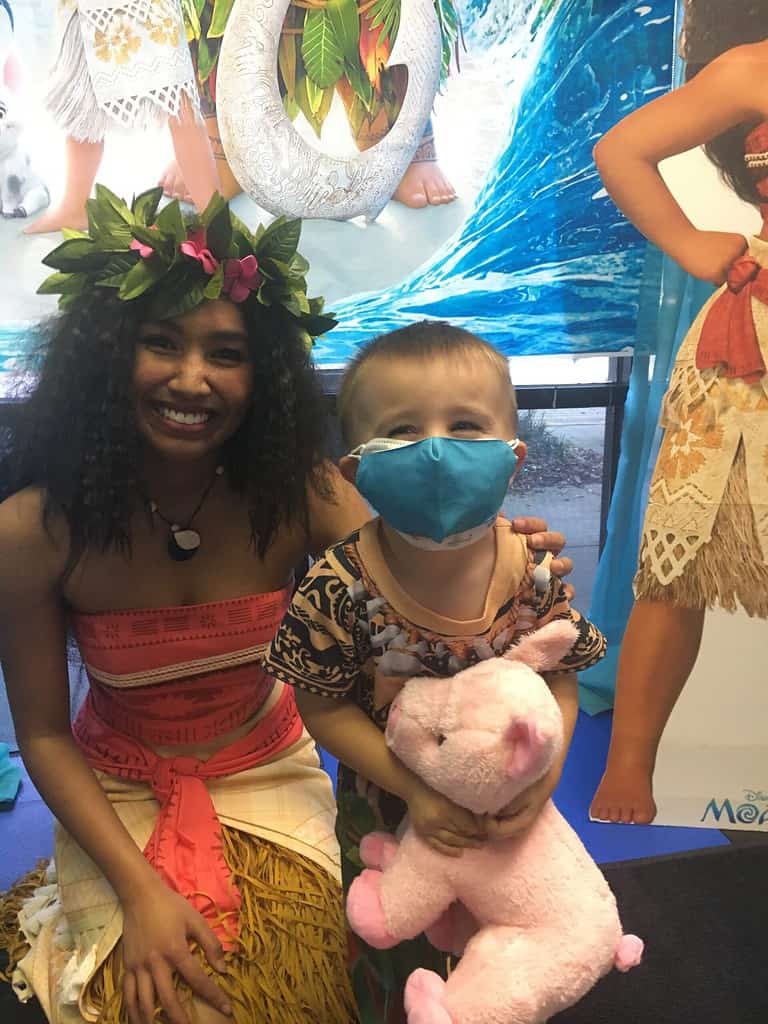 (407) 572-7016
Hide your loot! Because pirates are crashing your party – and may make you walk the plank. Captain Jack, or a whole crew of pirates, plus parrots, will help your little bandits chart a course of buccaneer fun. There are several party package options available so just let your party planning imagination set sail!
Also try Katie Adams Make Believe Theater.
(321) 830-9727
If you love the idea of Build-A-Bear but want to enjoy a more relaxed experience within the comforts of your own home, then Fluff 'n Stuff is the right stuff for you and your crew. This mobile party company lets you choose bears, cats, dogs, dinos, sea life and other wildlife stuffies. The plushes can be personalized with accessories, sounds and more. So cute, so squeeable!
(407) 792-4631
Music Mania Events offers several birthday party options for kids and teens. The party won't miss a beat thanks to an awesome DJ, lights and a screen to project song lyrics. There is an option to add a photo booth too.
(321) 332-4271
Richard Peeples (better known locally as Mr. Richard) pretty much dominates the kids' music scene in Orlando. Your family may have seen him perform an array of original wacky tunes at Barnes & Noble, Chick-Fil-A, Infusion Tea or elsewhere. His mini concerts — featuring his skills on guitar, mandolin, ukulele, harmonica and vocals — are adorable and always get the audience singing and stomping along.
Mr. Richard will perform a half-hour sing-along show at your home for just $100. For his complete band, Mr. Richard and the Pound Hounds, plan for $350.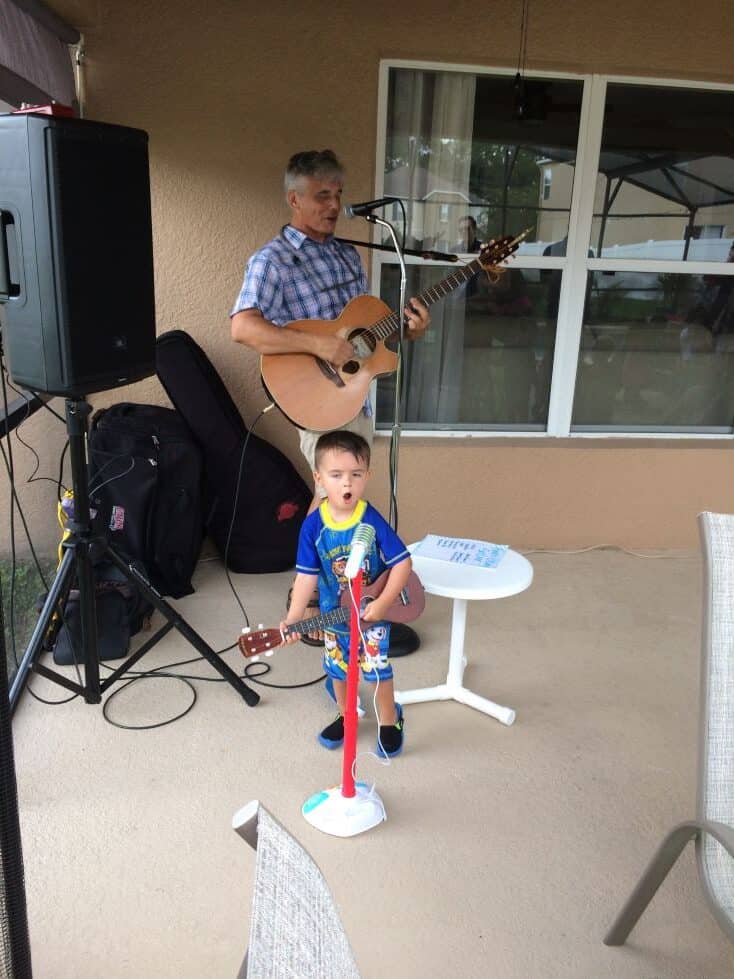 Also try Grow & Sing and Becky's Milestones through Music Preschool Classes.
(407) 308-5736
Do not get the wrong idea… naked cupcake just means the birthday treats haven't yet been decorated (so they're naked). That's because your little bakers will handle all the sticky sweetness with one-of-a-kind designs.
Birthday packages start at $350, and include an array of frostings, fillings and toppings. The Naked Cupcake can accommodate various themes and is willing to work with food allergies.
Also try Sprinkles' cupcake to-go kits.
Run by NITLEX Entertainment Inc., a five-hour Nerf party starts at $299. This one hits the mark, accommodating 20 players with Nerf blasters, safety glasses, team identifiers and more gaming gear. During the sizzling summer months, turn your backyard into a cool battleground with the Automatic Water Blaster Party Package.
This four-hour booking starts at $349.
Also try Tom's Laser Tag.
(863) 430-5070
Slumberr can help you give your child the sleepover party of his/her dreams! Kids will have the best night indoors with either a whimsical canopy set-up or individual teepee tents. Each guest teepee includes a mattress, linens, a tray (for snacks, crafts, etc.), lantern, decorative garland & lights, sleeping mask and more. And, yes, Slumberr has plenty of theme options.
Pricing starts at $200 (for two people) and hits $750 (for 10 people). Up for an outdoor adventure? Explore Slumberr's epic glamping set-ups too (starting at $485).
(407) 534-0069
Have you heard the buzz around this beauty bus (or should we say Beehive)? Party packages, starting at $500, are designed to pamper eight beautiful bugs including the Queen Bee.
Services include treatments (like facials, pedicures and manicures), make-up, snacks, karaoke and more fabulousness.
Also try Butterfly Dreams, Spa Glam Mobile Spa, Quite Whisper Spa Parties and Princess Royal Me.
(407) 729-5487
If you are A-OK with extra screentime, book Super Mario's Game Machine (prices start at $399). This 40-feet long mobile arcade accommodates 16-20 gamers with ten televisions equipped with PS5, PS4, Xbox Series X, Xbox One and Nintendo Switch. To stretch those little legs after gaming, consider adding-on the bounce house option.
Zoo Mom Science brings the zoo to you! Knowledgeable animal handlers present an educational, hands-on experience with an alligator, lizards, tree frogs, creepy bugs and slithering snakes.
Pricing starts at $150 for the wildest home party ever.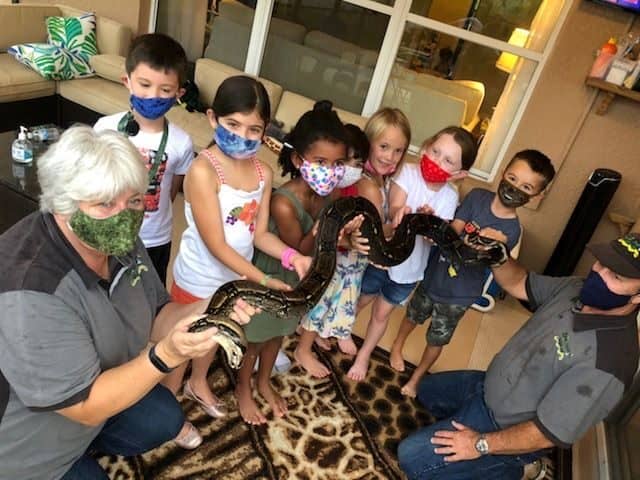 Also Try:
Happy birthday to you!
Featured Image Credit: Slumberr Party.