Best Places to See Santa Claus in Orlando with Kids – Free Photos, Breakfast Events, and More!
During the holiday season, taking the kids to see Santa Claus is usually at the top of the to-do list. Thankfully we have a lot of options to choose from here in Orlando. With so many options, we've narrowed down the best places to see Santa Claus in Orlando based on the best value and atmosphere. Keep reading for the important details.
Many of these places to see Santa are free, and pair nicely with other free holiday events in Orlando.
Photos with Santa Claus Orlando
Below we've listed the best places for your kids to meet Santa Claus around Orlando, and we put them in chronological order.
Bass Pro's Santa Wonderland
Santa at Wall Crawl
The Santa Workshop Experience at ICON Park
Festival of Trees
Santa at Disney Springs
Santa at Celebration Town Center
Winter Wonderland at Wekiva Island
Oh What Fun It Is! Lake Nona
Holiday Concerts & Santa Cranes Roost Park
November 4 – December 24
Bass Pro Shop on International Drive
Visit their Santa Wonderland to get a FREE 4×6 photo and experience the magic of Christmas at Santa's Wonderland! During your visit, you can mail your letter to Santa and receive free giveaways while supplies last.
Families can also enjoy the amazing aquariums and wildlife displays found in every Bass Pro Shop.
Select dates, November 5 through December 22, 2023
Wall Crawl Orlando
Wall Crawl is putting the "joy" back into the holidays again this year – with a truly unique Santa photo experience that you'll never forget! With their designated Santa Sessions, you'll enjoy a one-hour semi-private experience with Santa – including stories, songs, and of course – photos!
During the hour, you can take as many photos with your own cameras and phones as you would like. You can upgrade your experience by adding a photo package with one of their pro photographers.
Select dates, November 10, 2023 – November 30, 2023 then daily December 1 – 31, 2023
ICON Park
This Santa experience is second only to a visit to the North Pole. Families can partake in the annual tradition of taking holiday pictures together and the kiddos can meet Old St. Nick. Each child that participates in The Santa Workshop Experience will receive a free ride on the new Carousel on The Promenade.
They'll also be provided a complimentary ride on The Wheel in a holiday-decorated capsule and access to the VIP no-wait line. Guests accompanying the child can get 50 percent off their tickets to The Wheel.
To register for The Santa Workshop Experience, click here.
Packages start at $30
Daily November 10, 2023 throughout December
You can see Santa for free at Disney Springs, but you'll need to get there early. To see Santa at Disney Springs, you'll need to sign up through the virtual queue. When you arrive, check for a sign with a QR code.
Santa is at Once Upon a Toy which is in the Marketplace section of Disney Springs. The virtual queue signs are near the entrance to Once Upon a Toy as well as once you've entered Disney Springs from each parking area.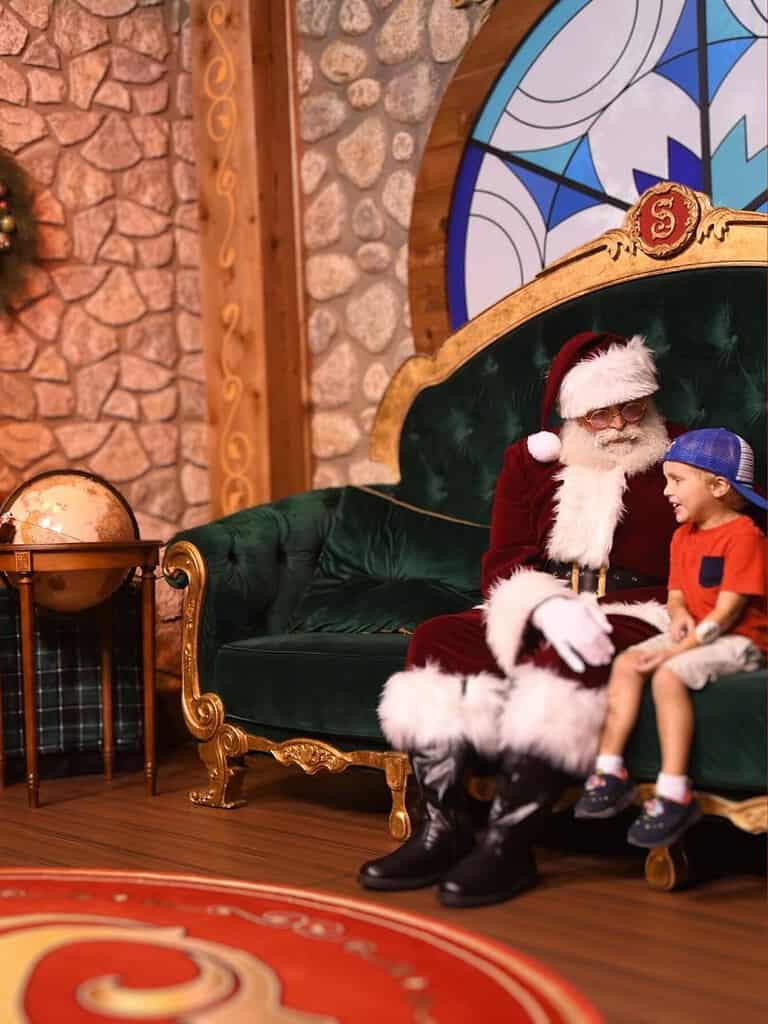 Once you've entered the virtual queue you'll get a notification on your phone when it is your turn to see Santa. You can check the MyDisneyExperience app, under Virtual Queues to see how much longer you have to wait.
While you wait go explore the rest of Disney Springs, though you'll need to get to the Santa greeting area within 45 minutes of notification that it is your turn. So don't go too far.
You can also have Breakfast with Santa at Disney Springs, at Maria and Enzo's Italian Restaurant.
November 14 through December 31, 2023
HighT Orlando
Winter in Wonderland is coming to HighT this year! This Holiday Installation, is complete with a new feature specialty cocktail menu, homemade family recipes, festive bites, live Christmas entertainment from Merrily, and a chance to meet Alice & Mrs. Claus!
Reservations are required for this special holiday installation. Make reservations online.
November 26 through December 31, 2023
Main Street Celebration, Florida
Now Snowing, Central Florida's original and premier "Snowing" event, offers one of the area's only synthetic ice rinks, special community performances by some of the area's top young talent, and special concert events throughout the season.
Now Snowing is a month-long Winter Wonderland Spectacular featuring strolling Charles Dickens style Carolers, photos with Santa, horse drawn carriage rides, train rides, ice skating, and nightly snowfall.
Select Days, December 1 – 25, 2023
Wekiva Island, near Apopka
Wekiva Island's Winter Wonderland is a special place to see Santa in Orlando because it is truly a Florida experience.
In addition to their well-loved activities like daily "snow" flurries, the Christmas tree forest and their 30-ft tall tree, and visits from your favorite Christmas characters, Santa is inviting all the good boys and girls for the first time ever to his Workshop, right at Wekiva Island!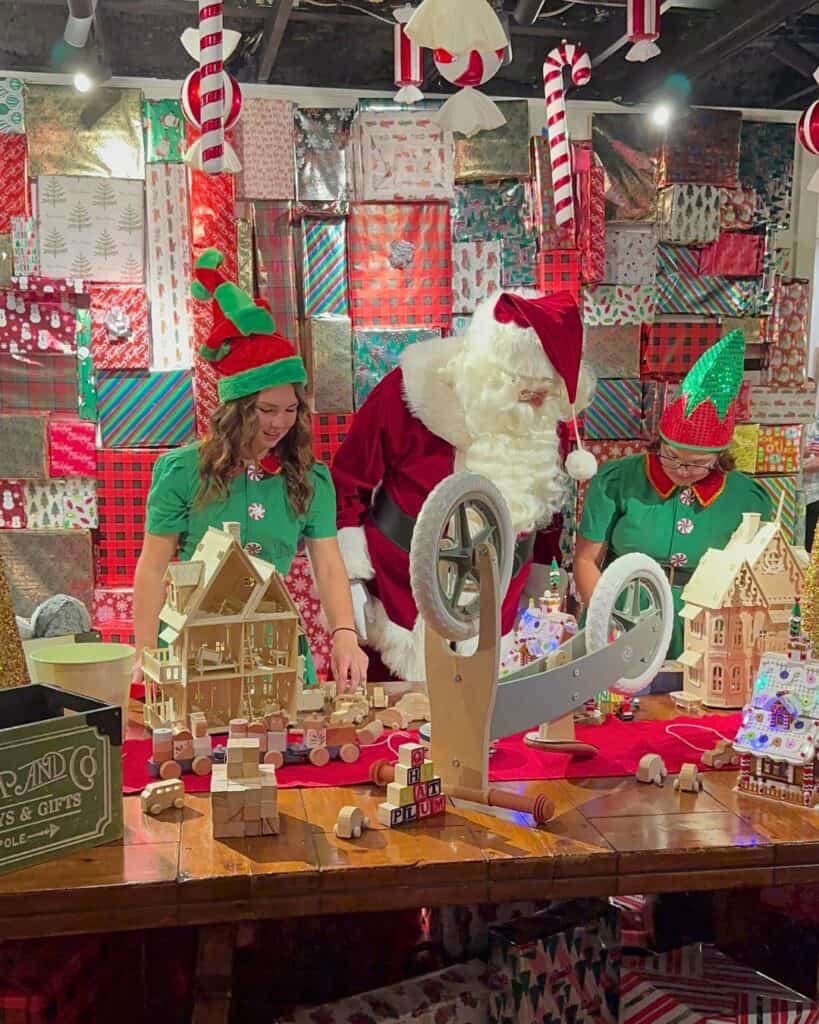 Besides the main workshop area where Santa and Mrs. Claus await, there is a gingerbread room and Santa's very own office!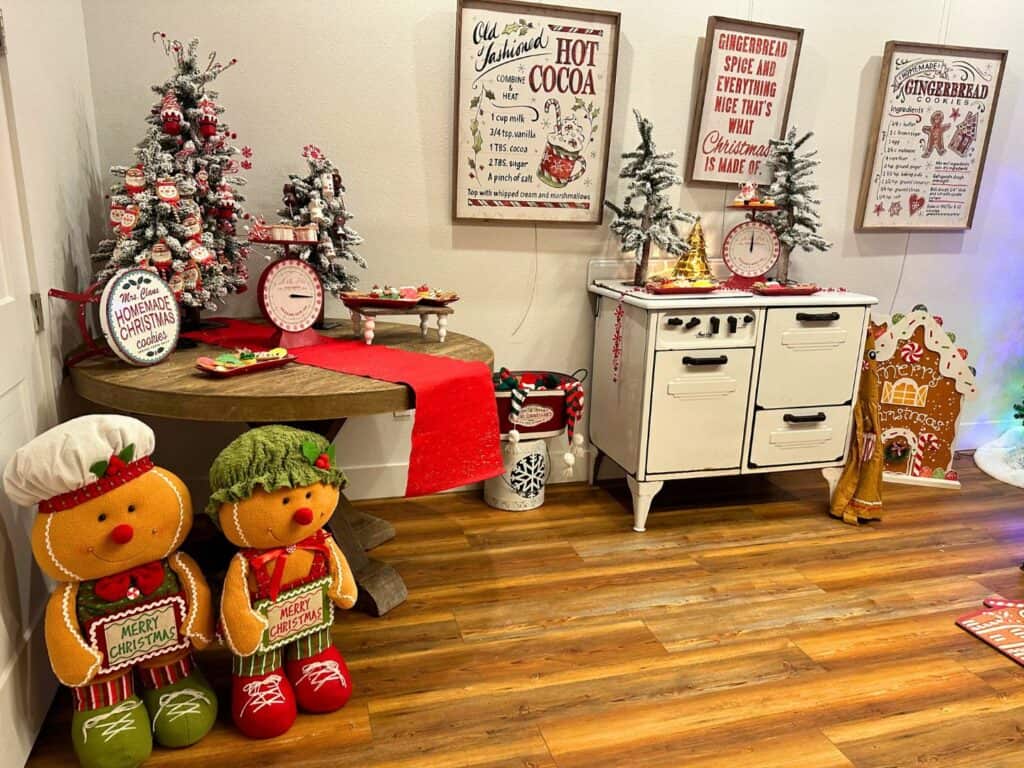 Winter Wonderland is open to the public. There is a $5 admission fee, and select events require an additional ticket.
Santa's Workshop is open on select hours and select days, usually Friday evenings, and midday Saturdays and Sundays.
December 2, 3, 9, 10, 16, and 17, 2023
Gatorland
Gatorland's signature holiday extravaganza unfolds with a delightful mix of music, festive displays, interactive characters, and an array of tempting seasonal treats available for purchase. Capture the essence of a distinctively Floridian holiday by snapping a photo with Gator Claus aboard his swamp-worthy sleigh. Meet the mischievous Krampus Croc, and sing along with the Florida Skunk Ape as he performs his favorite "Cryptid carols."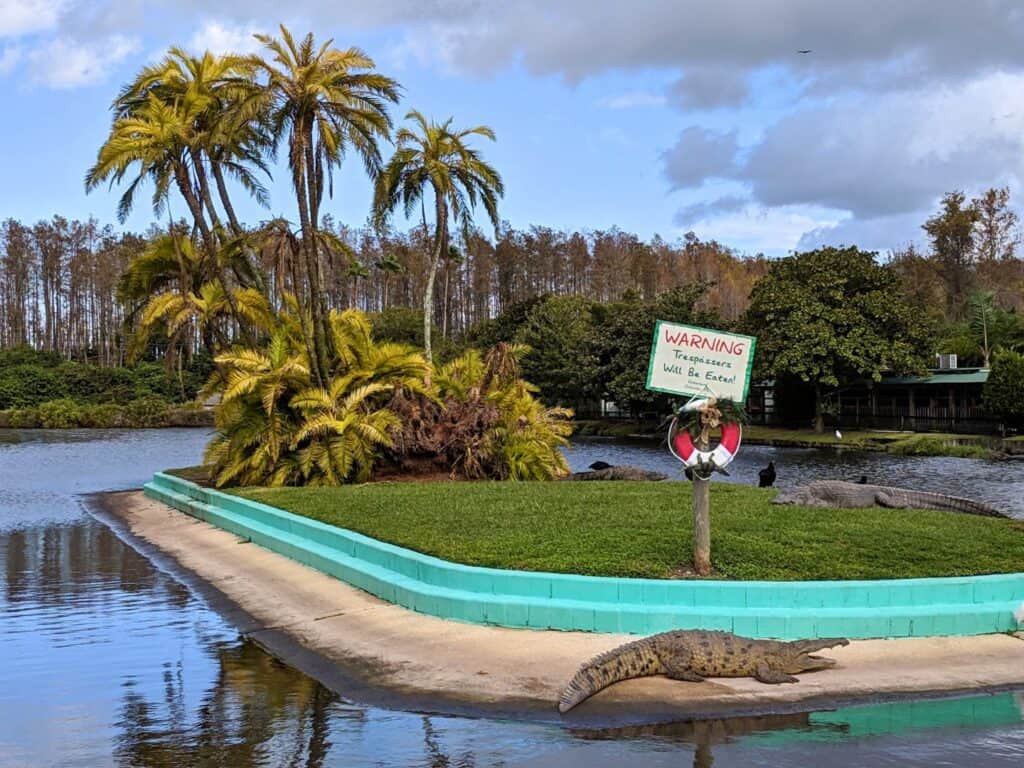 Discover an array of unique arts and craft vendors strategically placed throughout, providing a treasure trove of holiday shopping options to find the perfect gift for everyone on your list.
Cost: Included in park admission; Florida Resident rate available during December
December 7 – 23, 2023
Lake Nona
Enjoy all your favorite chilly-weather foods as sweet-treats stations and pop-up stands offer specialty snacks and beverages made especially for the season. Enjoy classic Christmas tales with Santa and Mrs. Claus at Santa's Cottage.
Stroll through Lake Nona's very own Holiday Market for some Christmas shopping or explore the Evergreen Christmas Tree Trail. Snap memories in front of the picture-perfect photo walls and Peppermint Square's 24-foot Christmas tree centerpiece with family and friends.
December 8, 15, 22, 2023
Cranes Roost Park, Altamonte Springs
One of the best places to see Christmas lights in Orlando is Cranes Roost Park. Now imagine how much fun it will be to see Santa and Mrs. Claus there too!
Enjoy live music from artists performing holiday hits and visits with Santa and Mrs. Claus in the Plaza. Food and beverages are available for purchase. Admission is free.
Other Holiday Character Appearances
Friday, Saturday & Sunday in December
SEA LIFE Orlando
Adding a touch of yuletide cheer, Santa Sharky, adorned in festive Christmas attire, will be making an appearance every Friday, Saturday, and Sunday. Guests can interact with the jolly shark, learn intriguing facts about marine life, and capture a memorable moment with the friendliest shark in the ocean.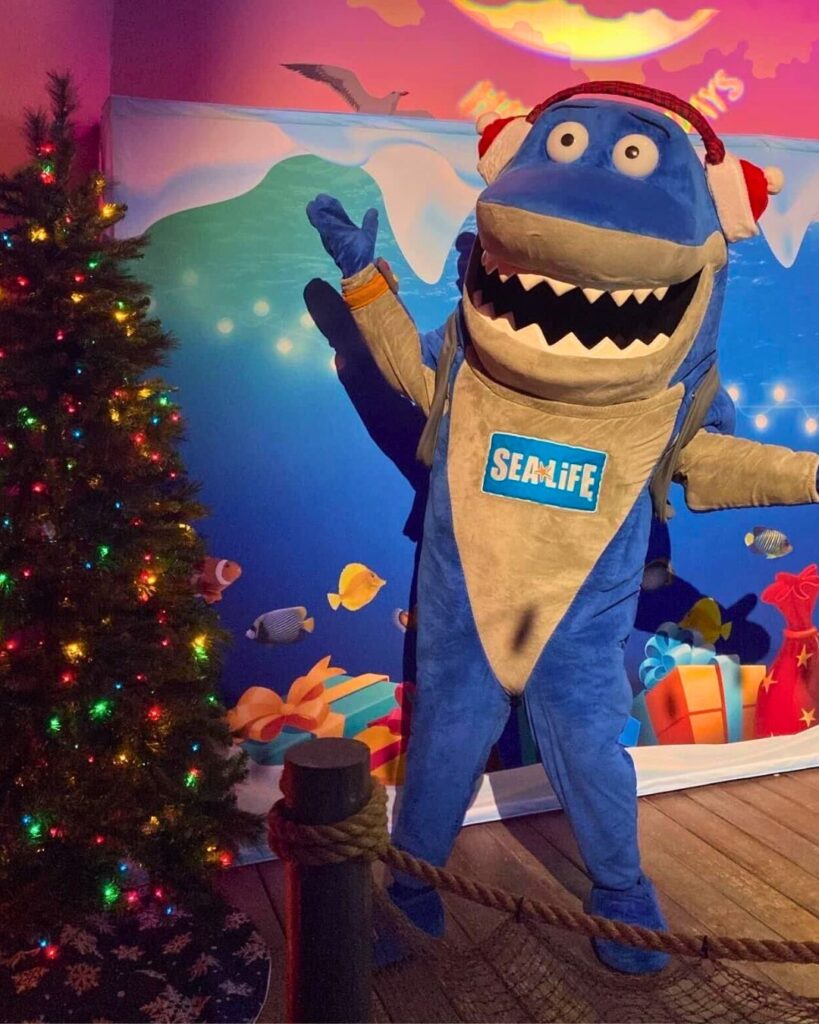 Breakfast with Santa in Orlando
Maria and Enzo's Italian Restaurant, Disney Springs
Nov. 24-Dec. 24
Seating times, 9:30 a.m., 9:45 a.m., 10 a.m
Enjoy a family-style breakfast with a visit with Santa and elves. Everyone gets a family photo with Santa plus takeaway treats. There are holiday activities and one complimentary Prosecco mimosa (for guests 21+).
Cost: $45-$79 per person
December 9th, 2023, 8 am and 10am
De Leon Springs State Park
Enjoy breakfast with Santa in beautiful De Leon Springs. Ticket includes holiday craft, letter to Santa, breakfast (pancakes), and photo opportunities with Santa. **Please be aware that this event takes place outdoors, specifically in the park pavilions.
Cost: Adults (ages 13+): $12.50 + tax, Children (ages 3-12): $19.85 + tax. Price does not include park admission of $6 per vehicle.
Sunday, December 17 and Sunday, December 24, 2023
UnReserved Food Bazaar at JW Marriott Bonnet Creek Orlando
Start your morning in the most enchanting way possible by joining us for a festive holiday feast hosted by none other than Santa and Mrs. Claus themselves! UnReserved Food Bazaar at JW Marriott Bonnet Creek Orlando is set to transform your day into a magical wonderland, with a sumptuous breakfast buffet that's sure to delight every member of your family.
This breakfast buffet will include a holiday carving station and an array of morning pastries. Experience the heartwarming spectacle of our favorite jolly couple as they prepare the best holiday cookies, filling the air with the delightful aroma of freshly baked treats.
Capture these precious moments by taking a photo with Santa and Mrs. Claus, immortalizing the excitement as they count down the final days until Christmas.
Cost: $46.00 per person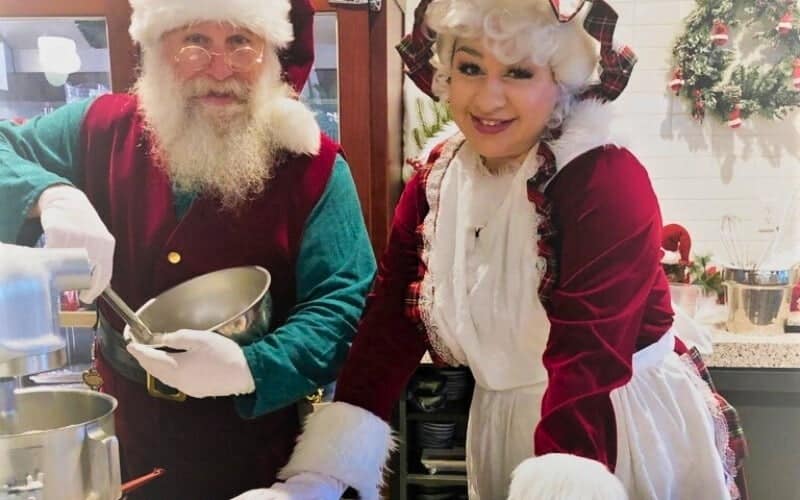 More Places to See Santa in Orlando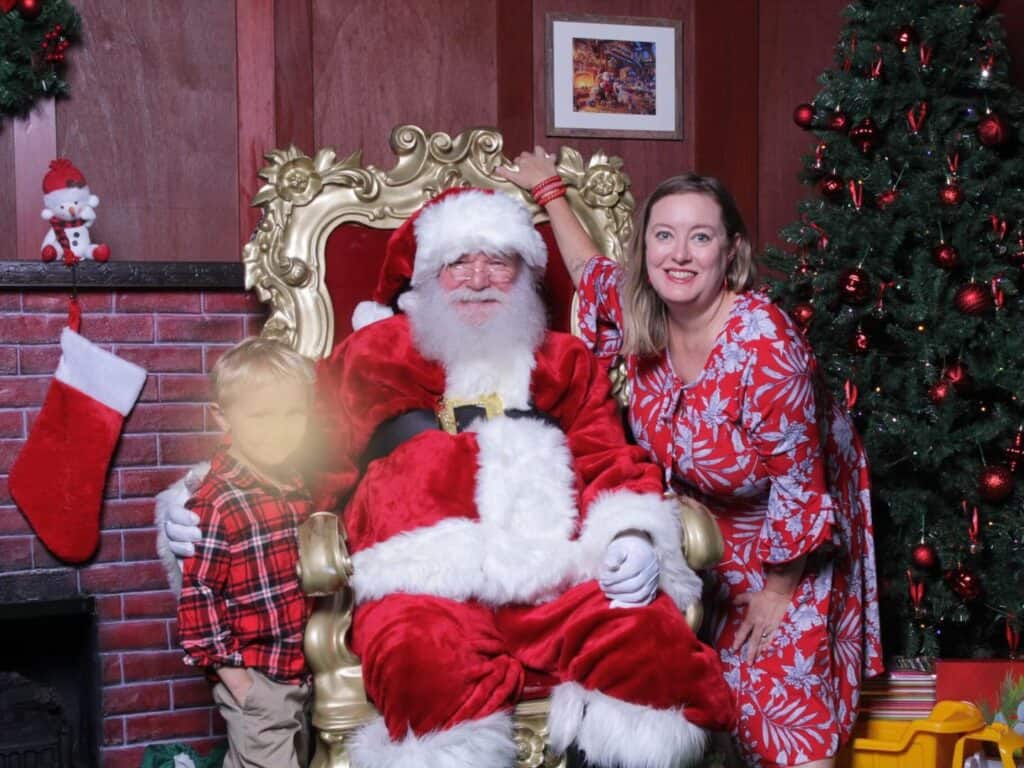 Put on your calendar for next year…
Festival of Trees at Orlando Museum of Art
Daily, Saturday, November 11 – Sunday, November 19, 2023
A beloved way to kick of the holiday season in Orlando, the Festival of Trees has delighted families for over 30 years. Besides viewing gorgeously decorated trees and a gingerbread village, there is a unique setting to meet Santa.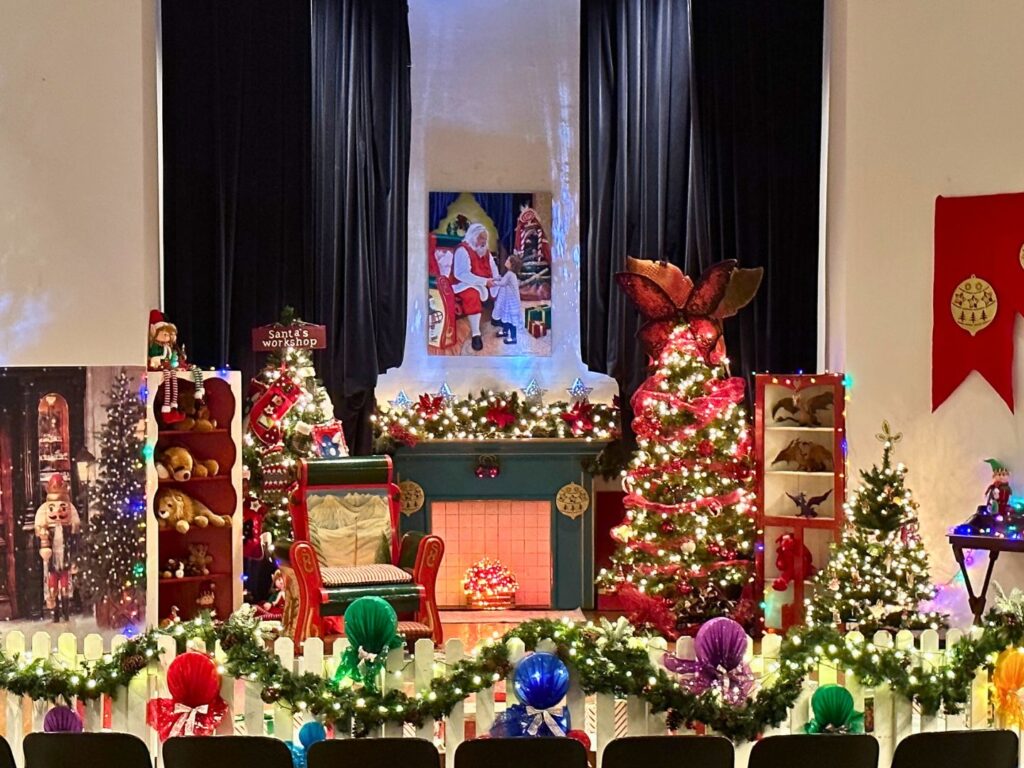 You can meet Santa Claus in an elaborate, charming setting perfect for family photos. The line can get pretty long, so make sure you visit the restroom and your kiddos are prepared to wait before getting in line.
GENERAL ADMISSION HOURS
10 a.m. – 5 p.m., Saturday, November 11th – Sunday, November 19th
TICKET PRICES
Adult: $20
Children: $12 (3-12)
Senior: $12 (60+)
Military personnel and first responders with ID: $12