6 Expert Tips for Visiting Orlando Science Center with Kids
Visiting the Orlando Science Center with kids seems easy enough. All you have to do is walk inside and explore. And yet, if you're not familiar with the layout and the Orlando Science Center exhibits you're sure to feel frustrated or confused. After years of visiting with my son, and other kids too, I've compiled these top 6 expert tips for visiting the Orlando Science Center with kids.
Visiting Orlando Science Center with kids is especially fun for ages 3-9. Keep reading for expert tips. You'll definitely want to read this over before exploring one of the best indoor things to do with kids in Orlando: the Orlando Science Center.
Expert tips for Orlando Science Center with Kids:
Park on the 2nd level if possible
Pack a refillable water bottle
Check the show schedule before you arrive
Start on the top floor
Visit Kids Town first and last
Food and drinks are available
DISCOVER: Orlando Science Center Homeschool Program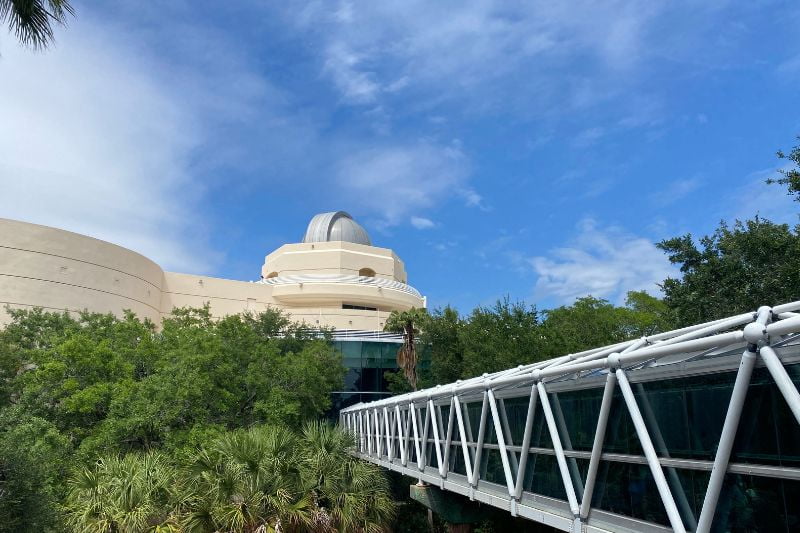 Parking at Orlando Science Center
The parking garage at the Orlando Science Center gets packed on weekends. And it is across the street from the center itself.
There is an enclosed pedestrian bridge that connects the parking garage to the entrance of the science center. Its location on the 2nd level makes parking on this level a premium. If it is full there are elevators and stairs to the 2nd level.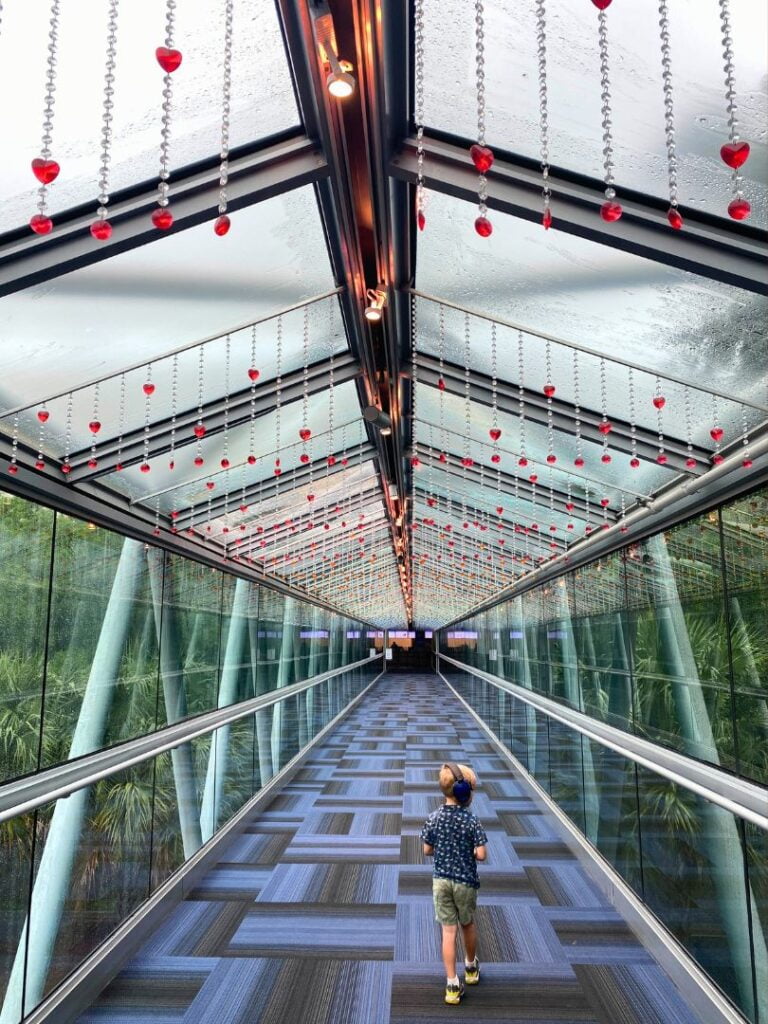 Pack a refillable water bottle
There are water refill stations at each restroom location inside the Orlando Science Center.
Learning about science means a healthy dose of biology and environmental science. What does this have to do with drinking water? Well, biology teaches us how important it is to stay hydrated. And environmental science teaches us to reduce our plastic use. So take care of both by using your own refillable water bottle.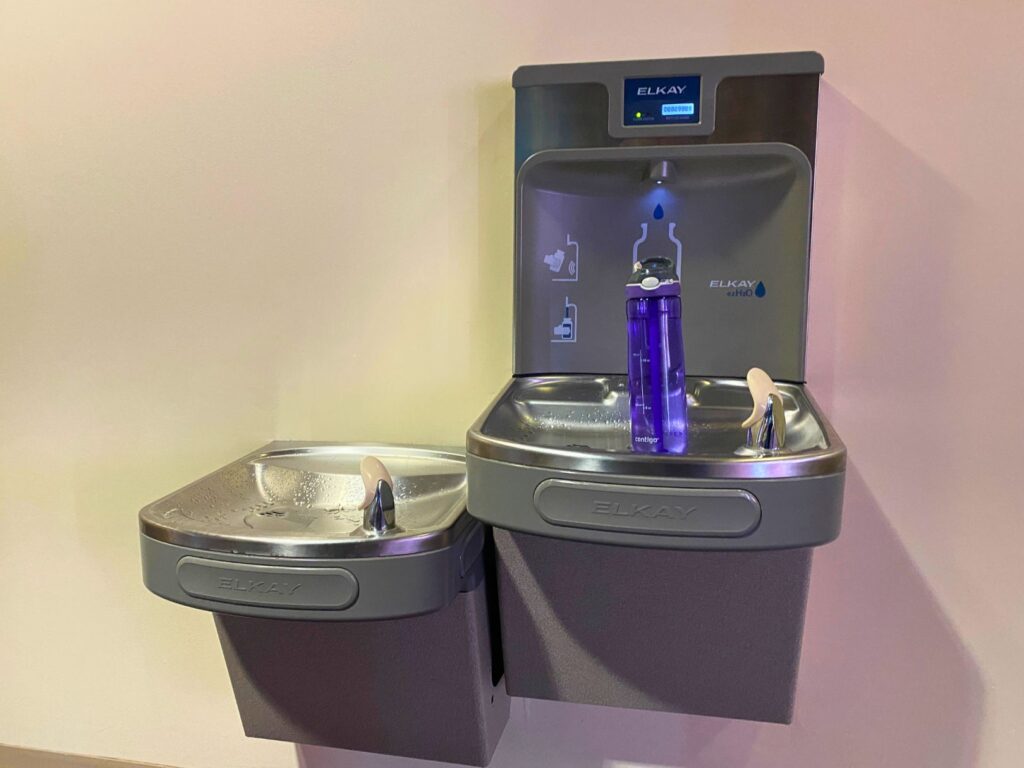 Pro-tip: Restrooms are all located along the same column and are on each floor. If your back is to the entrance of the science center the restrooms are on your right.
Check the show schedule
Besides awesome kid-friendly exhibits across multiple floors, there are two theaters and two small stages with really cool presentations.
Every single day you can enjoy a variety of movies as well as short presentations, some involving animals!
Our family loves meeting a snake at the Discovery Stage on the 4th floor.
And my five year old son impressed me by watching the entire 40 minute film about the National Parks on the breathtaking Cine-Dome screen. The film touched me so much I got a little teary-eyed.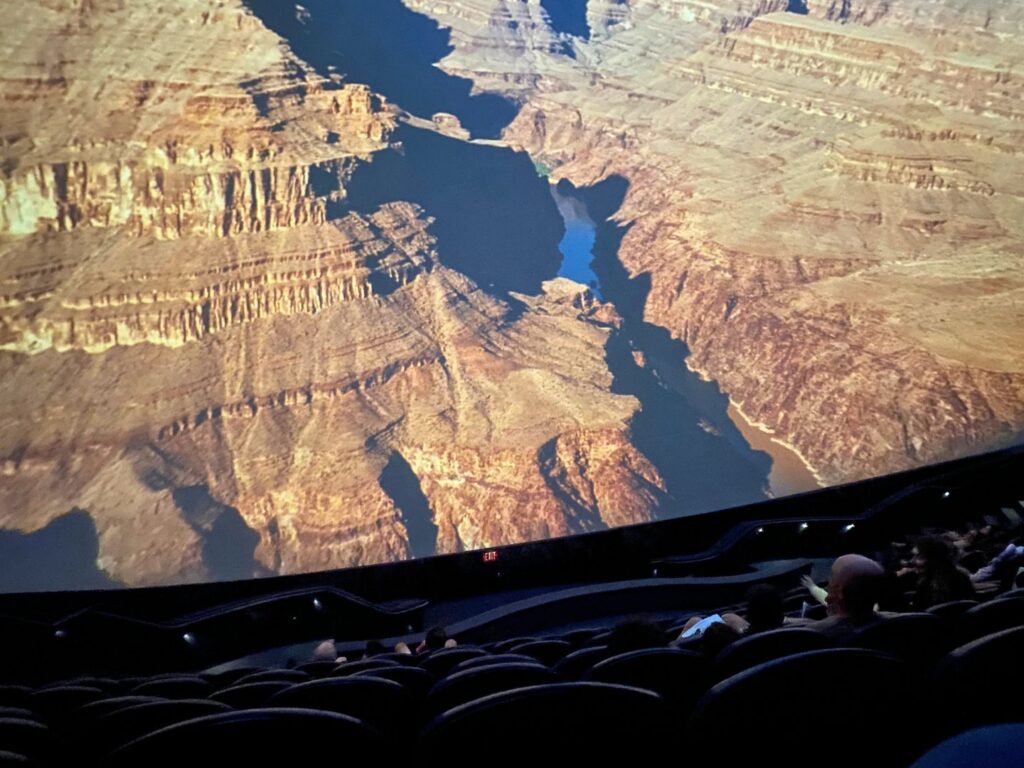 You can find the Orlando Science Center Schedule online. Viewing it in advance will help you plan out your day. Most presentations start at noon and the last one is usually around 4pm.
Start on the top floor
If avoiding crowds, especially field trip groups, is a priority for your family then start at the top floor and work your way down. Everyone tends to head straight for the exhibits on the 2nd floor, which is the floor at which you enter, since its the first things you see.
So get away from the crowds and start at the 4th floor. There are plenty of hands-on exhibits on each floor. And the 4th floor has exhibits about dinosaurs as well as the weather. Kids can even dig for dinosaur bones.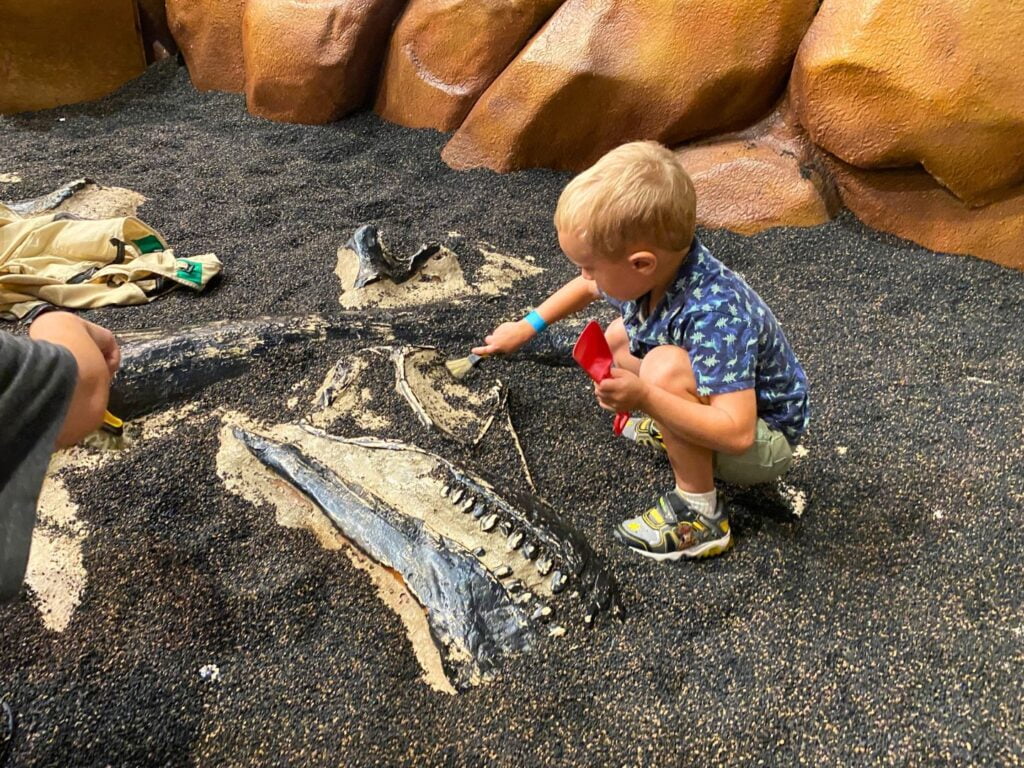 Work your way down each floor as you go throughout the day.
Visit KidsTown
As soon as you walk in the door your kids are bound to ask to go inside KidsTown. This hands-on kids play area has multiple rooms – including a water play room, and it is visible as soon as you enter the center.
It's a good idea to head into KidsTown when you arrive at least just for 15-20 minutes to satisfy your kids curiosity. And if you arrive right when the center opens at 10am, which you should to avoid crowds, KidsTown is usually pretty empty.
Just set a timer and explain to your kids that you'll need to go explore the rest of the center together. Then you can come back before heading out for the day.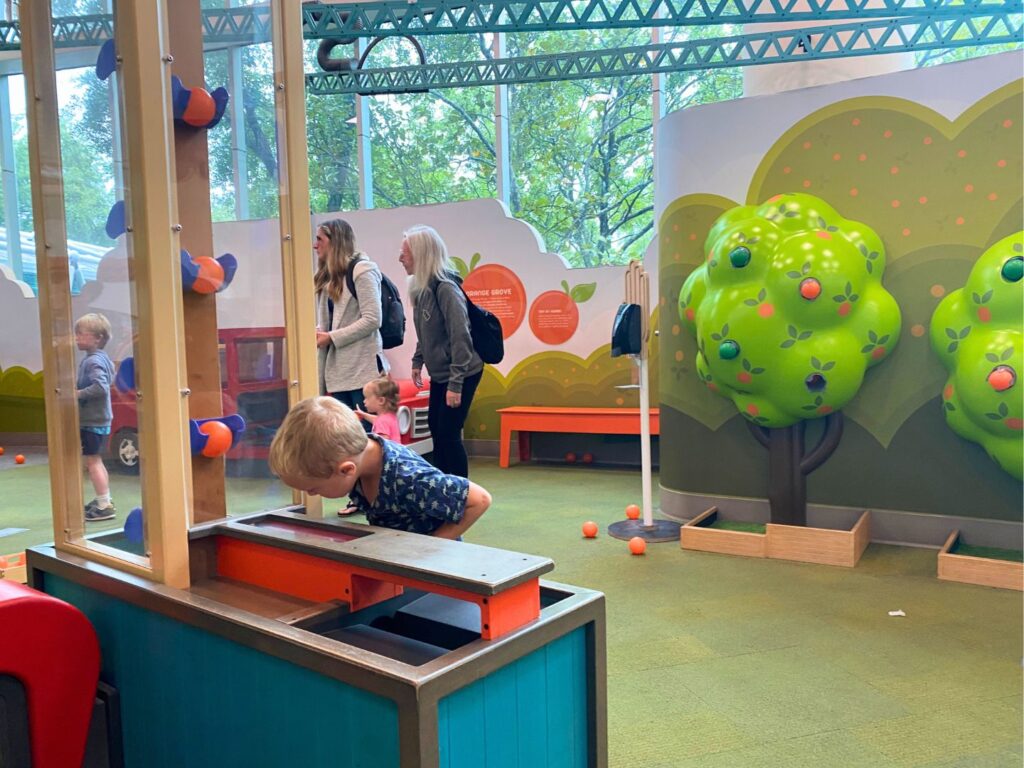 The citrus factory room is the first room, and the most popular. But don't miss the water play area and the toddler play area for little littles.
There are two family restrooms in KidsTown which are large and helpful.
Food and drinks are available
There are two locations for food and drinks inside the Orlando Science Center. On the 2nd floor (the floor on which you enter) there is The Coffee Spot which is run by Barnie's Coffee and Tea. You can imagine this is very popular in the morning.
I tend to stop here in the afternoon on our way out to refuel after a busy day exploring. You'll find lots of kid friendly snacks here too.
Down on the first floor is 4Roots Cafe, run by the 4Rivers Smokehouse team. You won't find barbecue here. Instead, the build your own rice and salad bowls are awesome, healthful, and fresh.
You can also grab and go some wraps, salads, and fresh snacks. We love the hands-on play areas here that make lunch time entertaining.
Important Note: The 4Roots Cafe is open 7 days a week, except during the off-season. It is usually closed on Wednesdays while school is in session. Lunch is served 11:00am – 3:00pm, and grab and go is available until 4:30pm.
DISCOVER MORE: Family Friendly Restaurants in Orlando
Orlando Science Center Info
Hours: 10am – 5pm daily
777 E Princeton St, Orlando, FL 32803
$24 for adults, $22 for students and seniors with ID, $18 for youth ages 2–11, and free for children under 2.
Science for All Membership
A limited amount of scholarship funding is currently allocated toward Science For All and applicants must be able to demonstrate financial need. Qualifying families will receive all of the benefits of an Orlando Science Center Membership including free general admission, parking, and more.