Here's Why Universal's Cabana Bay Beach Resort is one of the BEST Orlando Hotels for Families
If a weekend by the water is calling your name, there's no need to head to the coast! Enjoy a tropical family vacation right here in Orlando at Universal's Cabana Bay Beach Resort. The fun, retro-chic hotel is inspired by the iconic beach resorts that dotted Florida's coast in the 1950s and 60s. You'll find plenty of family-friendly fun, including two colorful pools and an onsite lazy river, plus spacious rooms and suites that sleep up to six people. Cabana Bay is one of the best hotels in Orlando for families.
Cabana Bay has all of the amenities needed for a fun, affordable family getaway, whether you go to the theme parks or make a splash at the hotel pool. So, pack your sunscreen and floppy hats, and let's dive right in!
Where Is Cabana Bay Located?
Cabana Bay is an onsite hotel at Universal Orlando Resort. It is located right next door to Universal's Volcano Bay water theme park at 6550 Adventure Way Orlando, FL 32819. The entrance is directly across the street from the Loews Sapphire Falls Resort and Loews Aventura Hotel, two more stunning hotels on Universal property.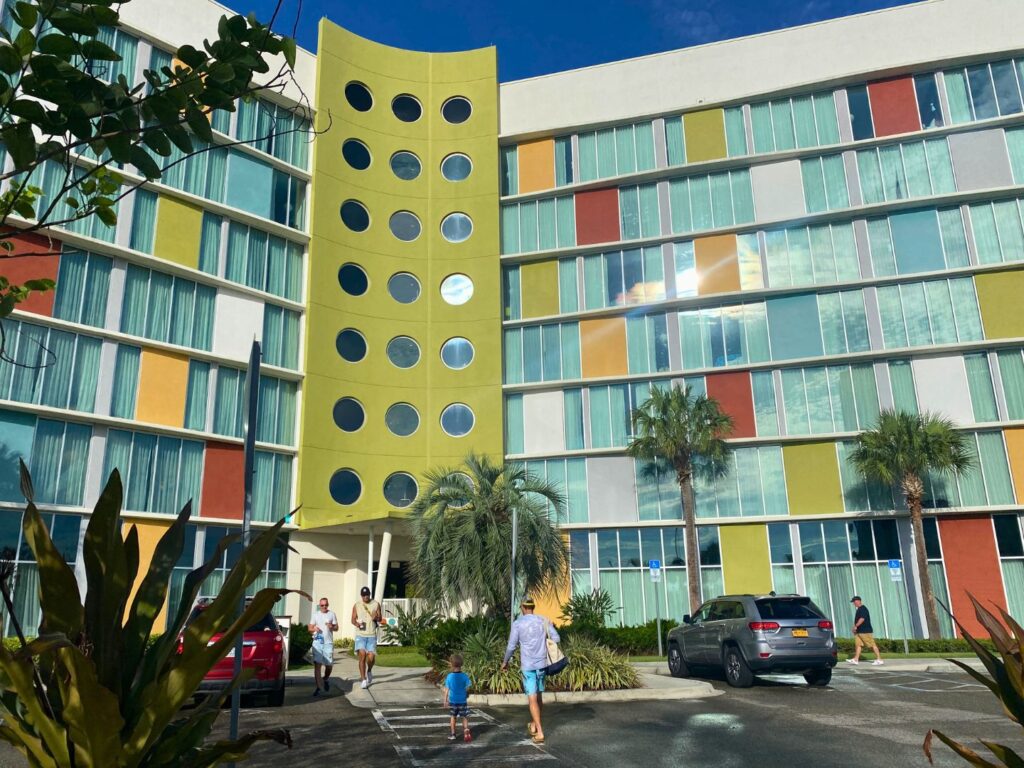 Getting there is a cinch. From I-4 West, take exit 74B and turn left at the first light. That's it! From I-4 East, take exit 75A and make three lefts onto Universal Boulevard, Hollywood Way, and Adventure Way, then turn right for Cabana Bay.
Now let's dive right into what makes this hotel so special!
Cabana Bay Beach Resort: A Family-Friendly Blast From the Past
Your vacation to another era begins the moment you enter the lobby – a bright, sunlit atrium with vibrant mosaics, colorful mid-century furniture, and splashes of vibrant aqua swirled across the floor. You might catch a glimpse of candy-colored umbrellas and palm trees out by the pool, then it's time to head on up to your room!
When you come back down later to explore, you'll discover a slew of fun amenities, like a bowling alley, a dine-in theater food hall, and even a retro cocktail lounge for the grown-ups.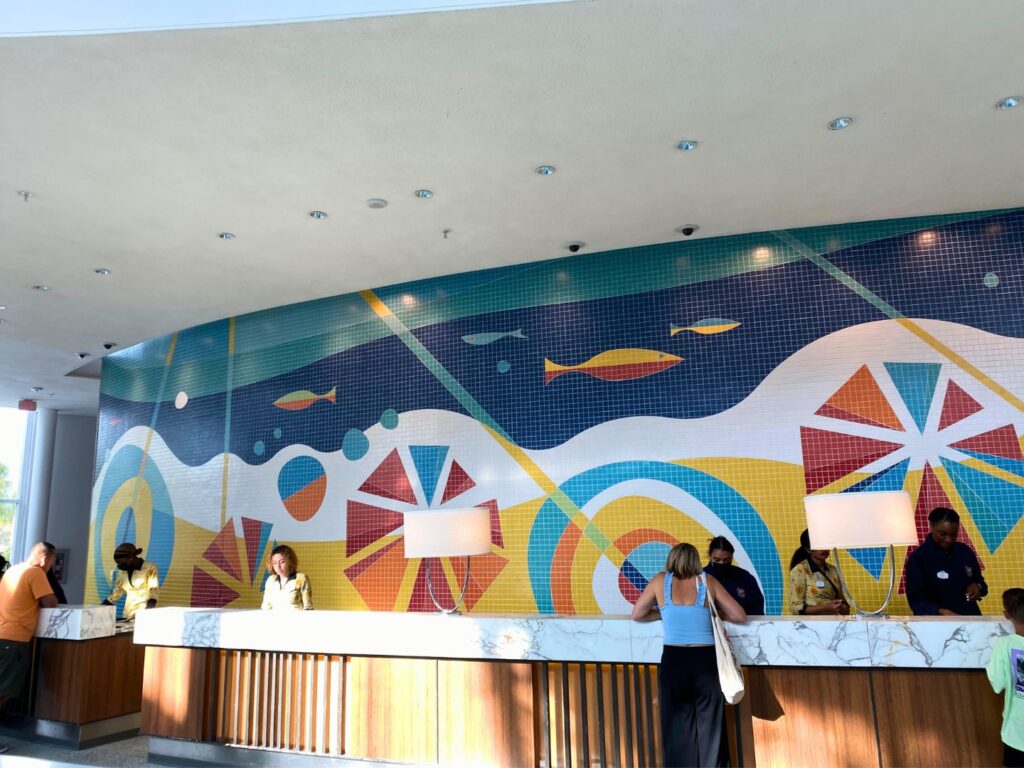 Note: There are multiple parking lots and garages spread around Cabana Bay, and you'll likely want to move your car closer to your room after checking in. If you're traveling with another adult, have them stay in the car with the kids while you check in to avoid the hassle of unloading the whole family twice.
Inside Cabana Bay's Family-Friendly Rooms
Cabana Bay has two basic room types: standard rooms and family suites. The 300-square-foot standard rooms have two queen beds and can sleep up to four people, while the 430-square-foot family suites sleep up to six with the addition of a pull-out sofa bed.
All rooms come equipped with a flat-screen TV, a coffee-maker, and a mini fridge, so you can store snacks, bottles, and anything else you need for a fun family getaway.
The family suites are perfect for big families and anyone who needs a little extra space. The suites have a separate living area and kitchenette, which can be closed off with a sliding privacy door. They have a microwave and a sink, plus some disposable dishes and cutlery for easy snacks and meals in your hotel room.
Finally, family suites also have a compartmentalized bathroom layout, where three people can get ready at once!
Now, let's talk about views. Standard, poolside, and volcano view rooms are available with your choice of interior or exterior entry. I definitely recommend splashing out on an upgraded view for a true vacation feel.
The volcano view rooms are especially lovely, with a view of Volcano Bay water park next door. Just don't be surprised when your kids start begging to go on all the water slides!
The question of interior vs. exterior hotel entry threw me for a loop when I first booked a room here, so I thought I'd briefly explain the difference and highlight the advantages of either option.
Exterior entry hotel rooms have that vintage beachside motel feel – simply open your door and step into the sunlit breezeway! These are a great option if you want to be steps from the pool, though the exterior entry means you may have to weather high humidity, summer storms, or cold snaps just to get back to the main building for dinner.
If you book an exterior entry room, the window will be in the living area, rather than the bedroom, which is nice if you want a little extra privacy at night.
Interior entry hotel rooms have more of a standard hotel feel, with a long carpeted hallway leading to the lobby elevator. Interior entry rooms are certainly more convenient, but the 1960s beachside hotel vibe does get lost in translation.
One bonus is that you're closer to the lazy river, and the window is in the sleeping area, allowing for plenty of natural light and gorgeous views throughout the day.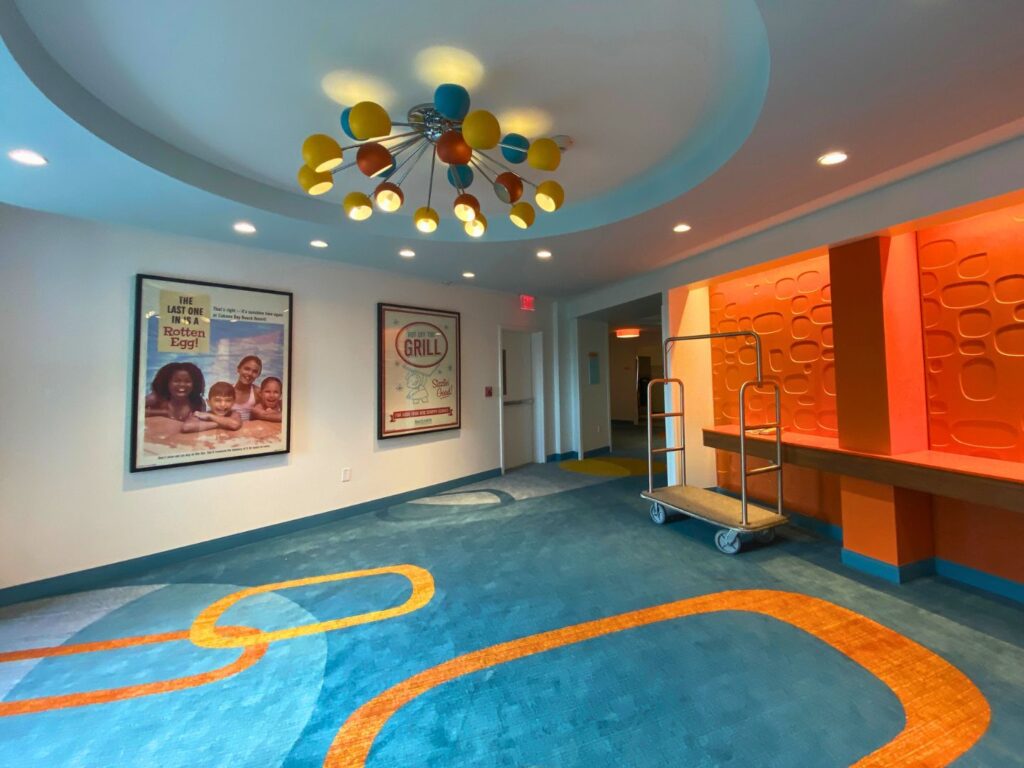 Cabana Bay's Family Suites
We spent the weekend in one of Cabana Bay's interior entry family suites, and would absolutely stay here with kids again. The extra space was perfect for traveling with a toddler. Our girl loved exploring all the cabinets and drawers, climbing onto the couches, and running to press her face against the floor-to-ceiling windows.
Our room had a small walk-in closet with a safe, where we stowed our bags, set up a diaper changing station, and collected dirty clothes throughout the trip. Having all that mess out of the way was a definite plus, and made it easier for us to just relax and enjoy the time away from home.
We don't have a travel crib, so we requested one at booking and again at check-in, and the staff delivered a very nice pack and play style crib to our room. We brought our own crib bedding, though, which was lucky, since the hotel only provided extra queen bed sheets.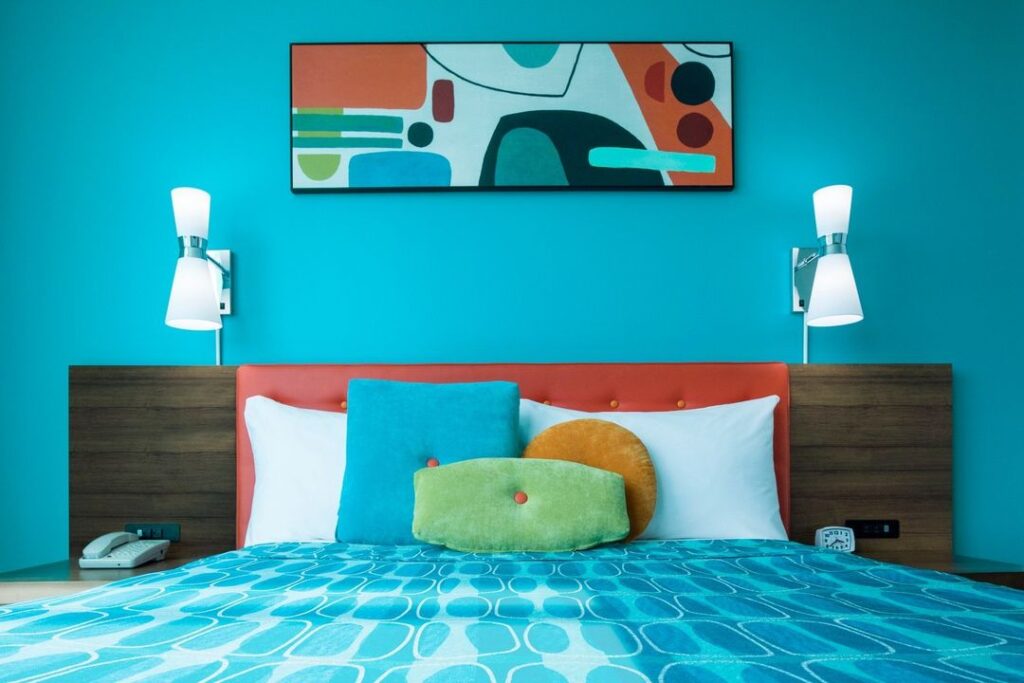 When bedtime rolled around, we set the crib up in the living area and closed the sliding privacy door, effectively creating a second bedroom for our daughter. She needed a little reassurance sleeping in a new, unfamiliar place, so we took turns camping out on the couch until she finally fell asleep.
We stored fruit, juice, and microwavable breakfast sandwiches in the fridge, and ate breakfast in the room each morning before heading out. The compartmentalized family suite bathroom made getting ready a breeze, even with a toddler underfoot!
The bathroom featured a spacious, brightly lit vanity, flanked by two doors leading to the water closet, shower, and mini vanity. There was a full-length mirror on the back of the door, which kept our daughter happily occupied while we got ready.
I really appreciated the extra prep space, since standard hotel bathrooms can get pretty packed when traveling with family or friends.
Cabana Bay Beach Resort Perks and Amenities
Make a Splash in Family-Friendly Pools
The biggest attractions at Cabana Bay are easily the pools, lazy river, and water play area. The Cabana Courtyard and Pool, located to the right of the lobby, has a dive tower-themed water slide, a large fire pit, and a breezy poolside eatery and bar called the Atomic Tonic.
There is an awesome splash pad that's perfect for kids, as well as a sand pit and several yard games.
There are several shaded picnic tables and lounge chairs where you can settle in for a snack or a poolside cocktail, or you can rent a personal cabana for up to six people.
The poolside cabanas include a table and four chairs, two cushioned lounge chairs, a refrigerator stocked with four chilled water bottles, and a personal safe. This is a great spot for toddlers to take a supervised nap in the shade while their older siblings play in the pool. There isn't a lot of space between cabanas, however, and there is no option to fully close the space off for privacy.
Personally, I think you're better off skipping these and splurging on the gorgeous cabanas at Volcano Bay Water Park instead.
On the other side of the lobby is the Lazy River Courtyard and Pool, where you'll find a lazy river, sandy beach, and plenty of beach chairs for lounging. Inner tubes are not required for the lazy river, but you can purchase tubes onsite or bring your own from home.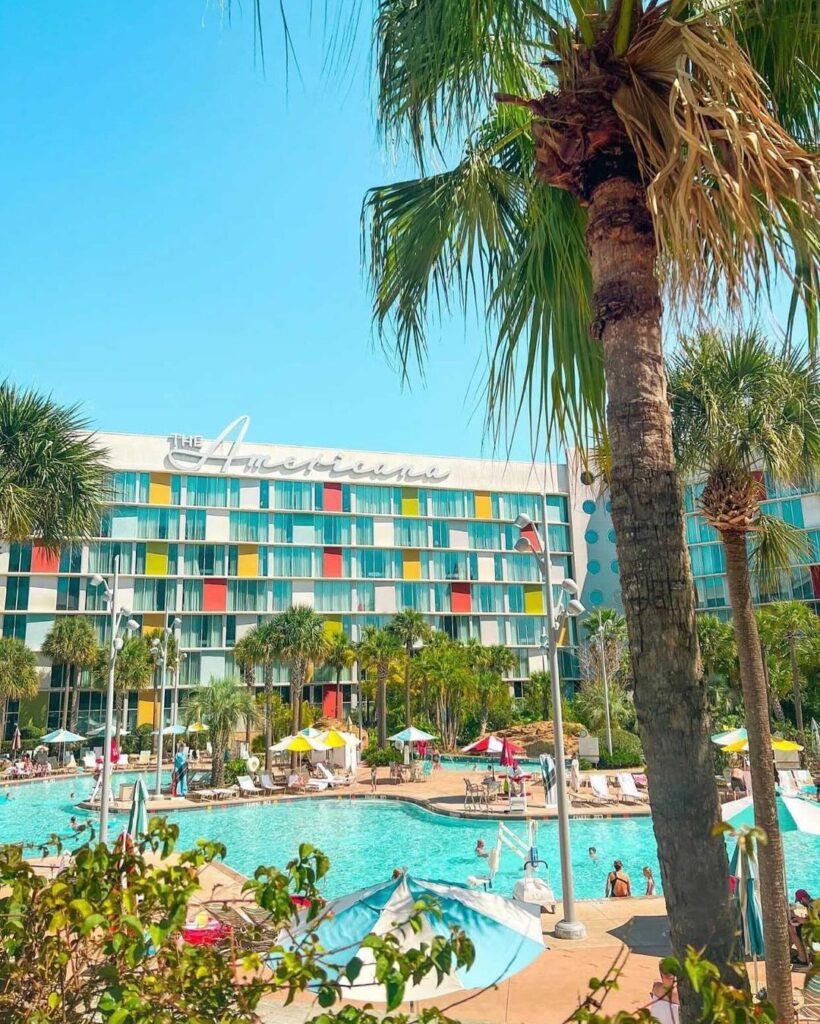 The Hideaway Bar serves up tropical drinks and fare in a fun indoor-outdoor setting, and there's a large second-story deck where you can enjoy your meal away from any pool splashing.
There are also two fire pits, with s'mores kits available for purchase at the Bayliner Diner.
Plus, enjoy a regular schedule of daily pool activities for the whole family, like dance parties, hula hoop competitions, and more. You can ask about pool activities when you check in, or look for a posted schedule when you arrive at the pool.
Indoor Fun for All Ages
Kick it old school at Galaxy Bowl, a ten-lane bowling alley with illuminated lanes and a full-service restaurant. If you're bowling, you can have food delivered to your lane and eat right there in between turns. Or, if you prefer, you can grab a seat up in the dining area before or after your game.
Galaxy Bowl is located on the second floor, just off the lobby, and costs $17 per adult, and $11 for children age 9 and under. It is open Monday through Sunday from 5pm-11pm, with the last lane reservation at 10:30pm.
Parenting pro-tip: Make bowling reservations in advance to avoid disappointment. The lanes are often booked up.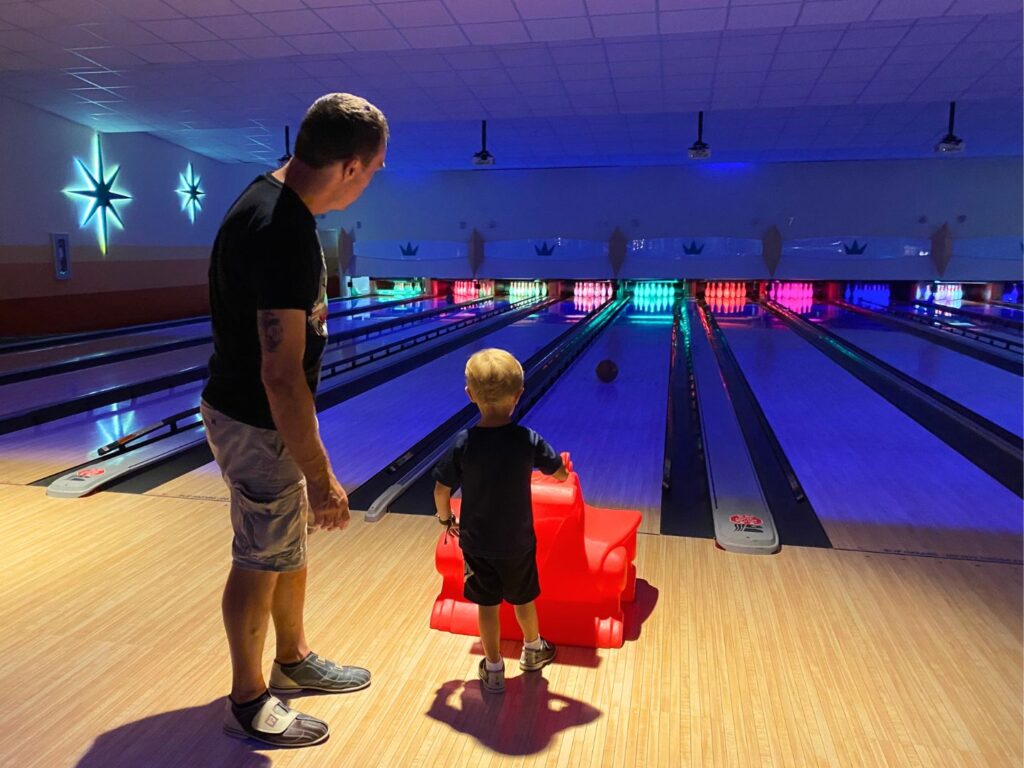 Go head-to-head with your kids at Game-O-Rama, a retro arcade on the second floor of Cabana Bay's main building. There's something for everyone, from classic arcade favorites to modern video games. The games are pay-to-play, but you don't need cash or game tokens! Instead, you can buy a reloadable game play card, which works like a debit card.
There is also a gym, the Jack LaLanne Physical Fitness Center, which is only available to guests age 18 and up. There are plenty of treadmills overlooking the sunny pool area, as well as ellipticals, free weights, and more.
Savor Convenient, Delicious Dining Options
Universal is packed with tasty, creative dining options, and Cabana Bay is no exception! If you prefer to eat dinner at the hotel, there are a handful of places where you can grab a bite.
Galaxy Bowl Restaurant, up in the bowling alley, is the only full-service restaurant at Cabana Bay. Adults can choose from a selection of starters, salads, and handhelds, as well as beer, wine, and cocktails. Kids can get in on the fun as well!
Classic mocktails, like a Shirley Temple or Roy Rogers, are an included drink option with classic kids' meals like mac and cheese, chicken tenders, or a grilled cheese sandwich. There's nothing groundbreaking or fancy here, food-wise, but the cocktail menu and neon retro ambiance are off the charts fun, and the classic comfort food is bound to keep kids happy.
If you prefer something quick and easy, the Bayliner Diner has snacks and meals to satisfy even the pickiest eaters. The diner is set up like a food court, with several unique quick-service food stations and a central dining area where everyone can gather for a meal.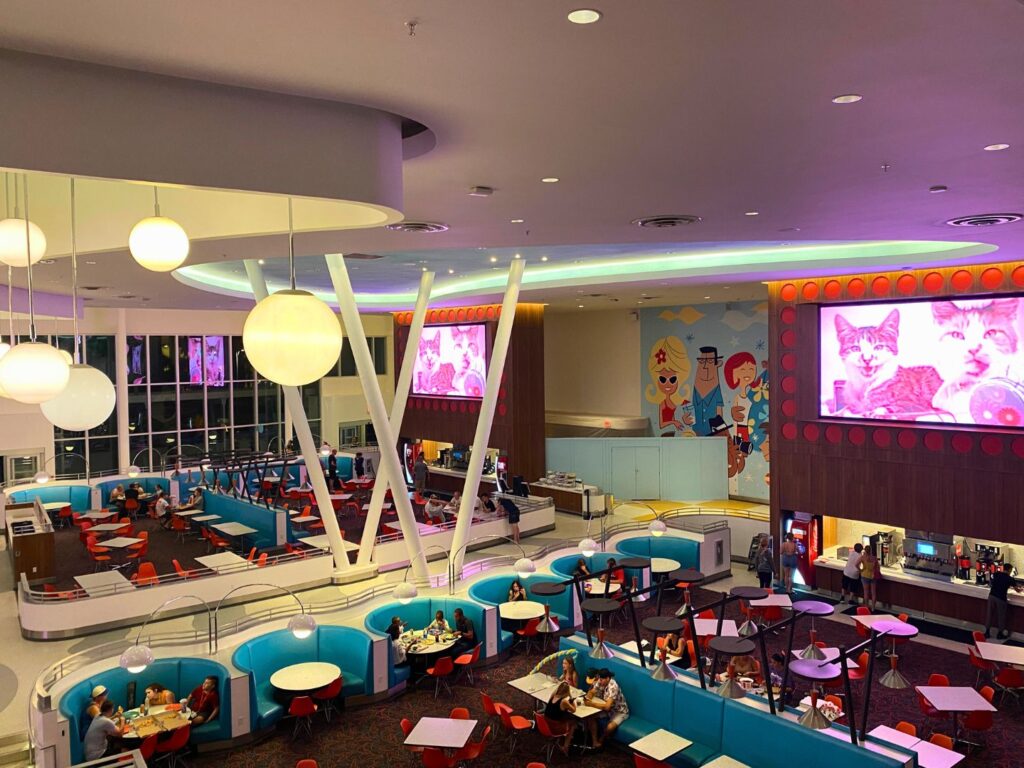 A selection of grab and go snacks, drinks, and meals are also available throughout the day. Bright orange chairs and circular aquamarine booths fill the retro dining space, while vintage TV spots dance across several large dine-in-theater screens overhead. Dinner and a show! Enjoy your food in the dining room, or take it up to your room for an easy night in.
The new Shakes Malt Shoppe is a fantastic addition, offering milkshakes (of course), plus smoothies, sundaes, floats, and bakery items.
Cabana Bay also offers in-room pizza delivery for an easy, laid-back family meal. Delizioso Pizza delivers pizza, salad, breadsticks, and even wine up to guest rooms from 6pm-12am, seven days a week. Simply use the pizza delivery button on your in-room phone, or call (407) 503-4300 to place an order.
If you're lounging by the pool and don't want to change out of your swimsuit, have lunch at one of the two poolside restaurants. The Hideaway Bar & Grill, by the lazy river pool, has plenty of seating, is open late, and has more food options than its counterpart at the cabana pool.
Atomic Tonic, meanwhile, serves up gyros, pizzas, sandwiches, and more until 7pm. After that, it exclusively sells drinks until closing time.
Finally, there are two convenient options for a quick grown-up pick-me-up. There is a Starbucks to the left of the lobby, where you can grab morning coffee on your way out the door.
The Swizzle Lounge, meanwhile, is a can't-miss retro cocktail bar in the hotel lobby. There's no food, but you can grab funkadelic drinks like the Creamsicle (vanilla vodka, Grand Marnier, Orange Fanta) or Sunshine Mule (vodka, ginger beer, fresh orange).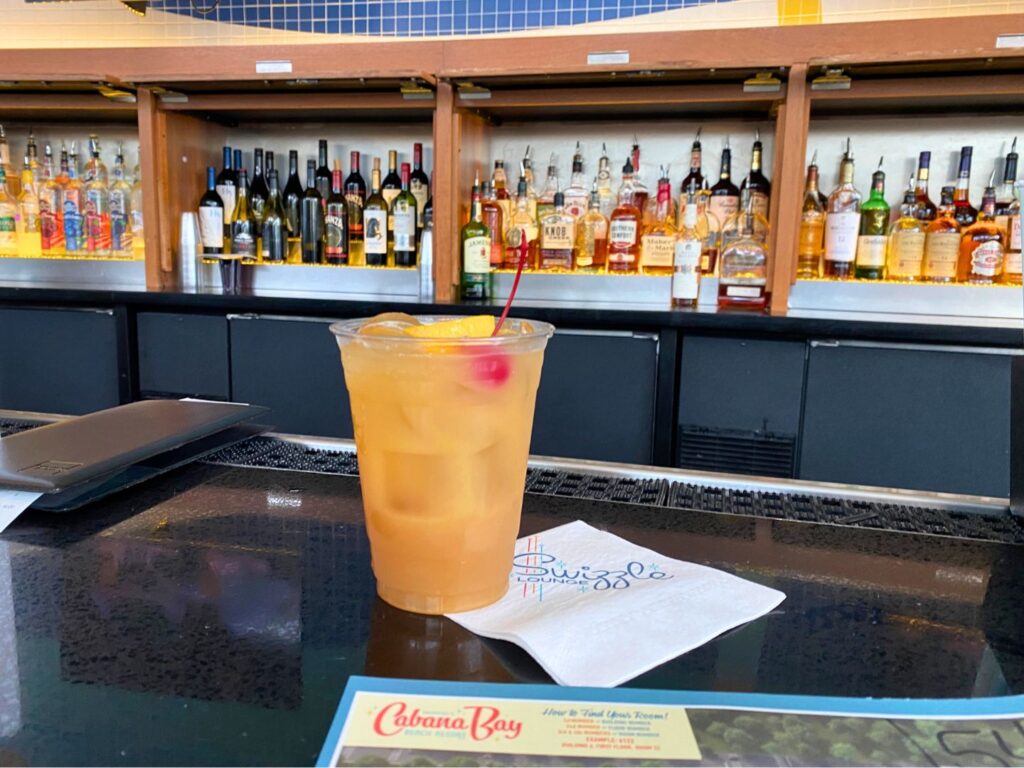 Shopping at Cabana Bay Beach Resort
Do a little window shopping at the Universal Studios Store, which sells a mix of Universal merchandise, tropical resort wear, and sundries like sunscreen, chapstick, or over-the-counter medication. This is a great place to snag some gifts or souvenirs before you head home. If you forget anything your kids need, like diapers, bottles, or wipes, you can restock here, without leaving the hotel.
Theme Park Perks
Cabana Bay Beach Resort is a fabulous destination all by itself, but if you want to add a little adventure to your getaway, your hotel stay comes with theme park parks! Note that theme park tickets are a separate cost and are not included in your hotel stay.
All guests staying at a Universal Orlando onsite hotel can enjoy the following perks:
Early Park Admission: Get into the theme parks a full hour before they open! Theme park ticket required. Check the Early Park Admission Calendar to see which parks and rides are included during your stay.
Complimentary resort transportation: free buses, boats, and resort walkways make it easy to get to the theme parks and to City Walk, Universal's entertainment and dining complex.
Carefree shopping: if you like, you can have your purchases sent back to your room, rather than carrying them around the theme parks all day
Pool-hopping privileges: Use your room key to access the pools at all Universal Orlando onsite hotels.
Related: First Look at the New Minion Land at Universal Studios Florida
Guests staying at a Premier level hotel (Hard Rock Hotel, Loews Portofino Bay Hotel, or Loews Royal Pacific Hotel) also get free Universal Express Unlimited passes for the duration of their stay. This is not a perk at Cabana Bay, but it's worth mentioning in case you are interested in exploring those options.
Cabana Bay is the closest hotel to Volcano Bay, however, with convenient, direct walking access between the park and the hotel. That alone is a great selling point, if you're headed to the water parks with kids. Guests at every other Universal hotel have to take a bus back to CityWalk and then walk, bus, or take a boat back to their hotel.
Why Choose Cabana Bay?
We've stayed at all but one of the hotels on Universal property, and Cabana Bay definitely hits the sweet spot for families and staycationers.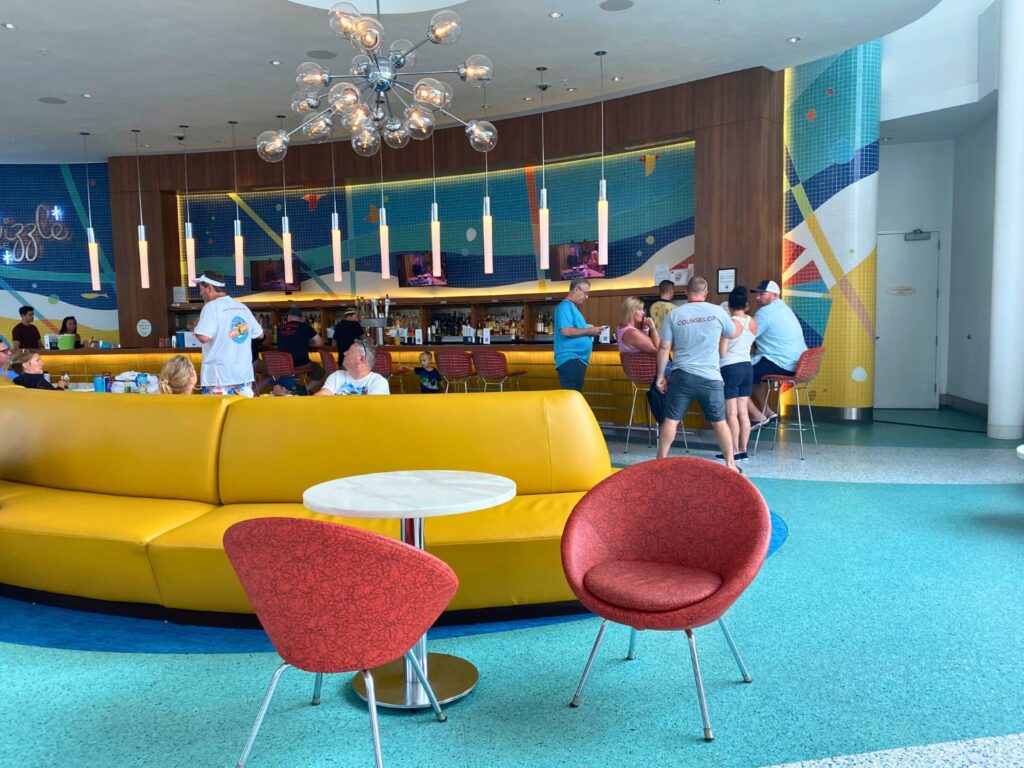 Cabana Bay is one of the most affordable hotels at Universal, with all of the amenities and most of the perks you'd get at the resort's deluxe hotels.
Book a longer stay or multiple rooms, and spend that extra cash dining and relaxing around the resort. You get access to the best pools on property, plus walking access to Volcano Bay, and you can still pool hop if you'd like to go explore the other hotels.
Cabana Bay is packed with family-friendly amenities that make it easy to enjoy a weekend away with the kids, and at the end of the day, you can relax in some of the most spacious and affordable suites in the entire resort. It's the perfect place to just unwind and enjoy some family time, and it's built just for you.
Featured image from @universalorlandohotels