NEW Minion Land at Universal Orlando is full of Mischievous Fun
A new land has arrived at Universal Orlando Resort! Inside Universal Studios Florida fans of the Minions have something new to enjoy: Minion Land! This new land takes over the very first section of the park and is perfect for families! Come explore with us as we visit the shops and restaurants at Minion Land at Universal Orlando.
Illumination's Minion Land is now officially open including the new lllumination's Villain-Con Minion Blast attraction.
What's Inside Minion Land?
We've experienced the new Villain-Con Minion Blast a few times. My husband, five-year-old son, and I loved it! It is an easy attraction without over-the-top thrills.
I loved the use of a moving walkway instead of a ride vehicle, making it easy to do and did not cause any motion sickness for me.
Be sure to watch the video monitors in the queue that explain how the attraction and blasters work. Essentially there are unlimited blasts in the main trigger. Meanwhile, the front trigger requires reloaded since it provides a larger blast.
You can learn more over at TampaBayParenting.com where I've put together a spoiler-free review.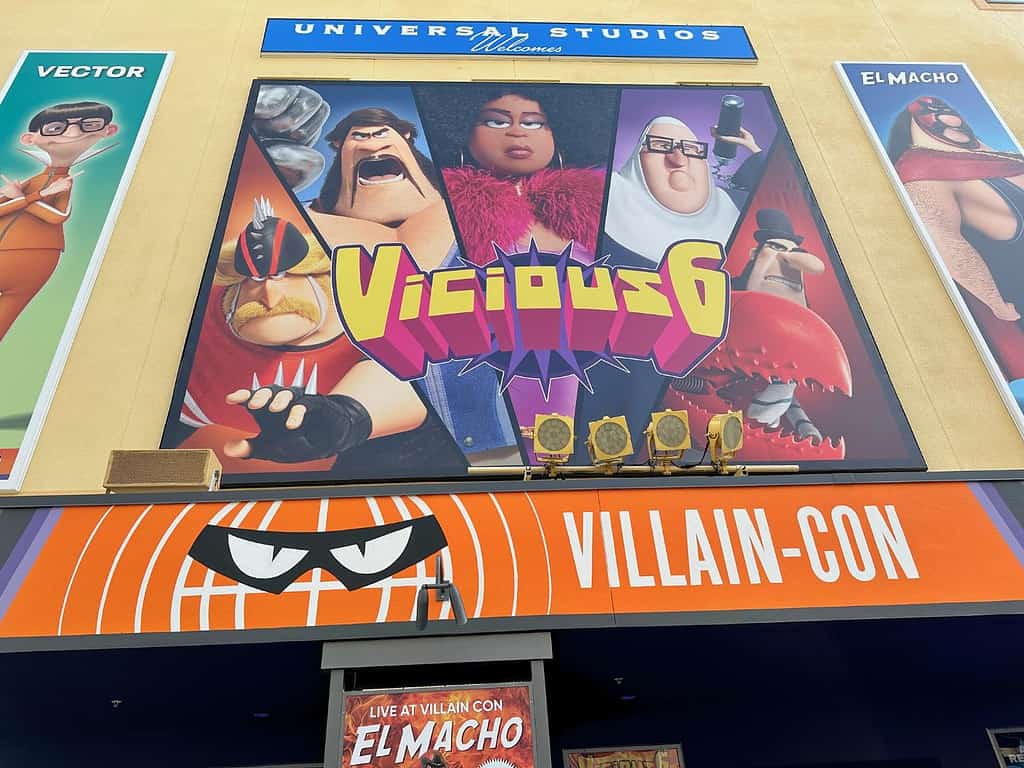 Keep reading for pictures of Minion Land and fun details. Plus a look inside Minion Cafe which is now one of the most kid-friendly restaurants at Universal Orlando.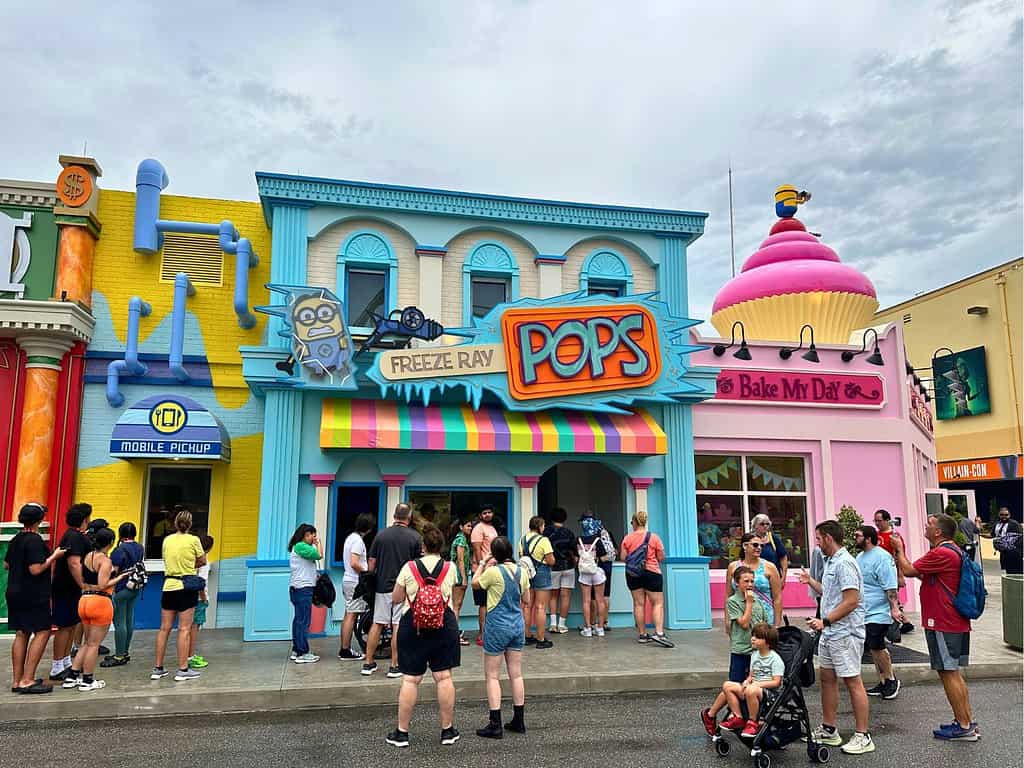 Evil Stuff Store
The first spot to open inside Illumination's Minion Land is the Evil Stuff Store. This store offers all things villains from the Despicable Me movies.
There are fun villainy figures and tons of punny merchandise. The Evil Stuff Store serves as the exit to lllumination's Villain-Con Minion Blast attraction (of course) – now in technical rehearsal.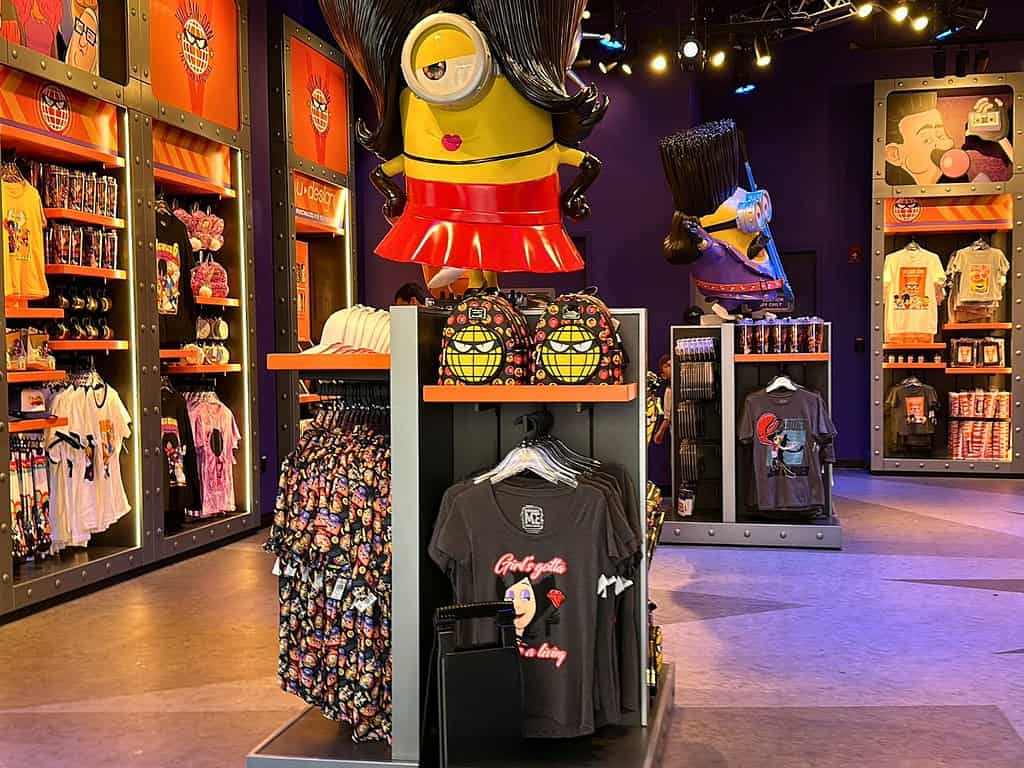 Bake My Day
Full of bright colors and all things pink, this cheery bakery and candy shop will satisfy your sweet tooth. Colorful Minions merchandise is found here too.
Bake My Day is sure to be a popular spot in Minion Land as guests crave a sugar boost during all the fun at Universal Studios Florida. And even if you don't have a sweet tooth, there are two adorable Minion figures inside that are an adorable sight.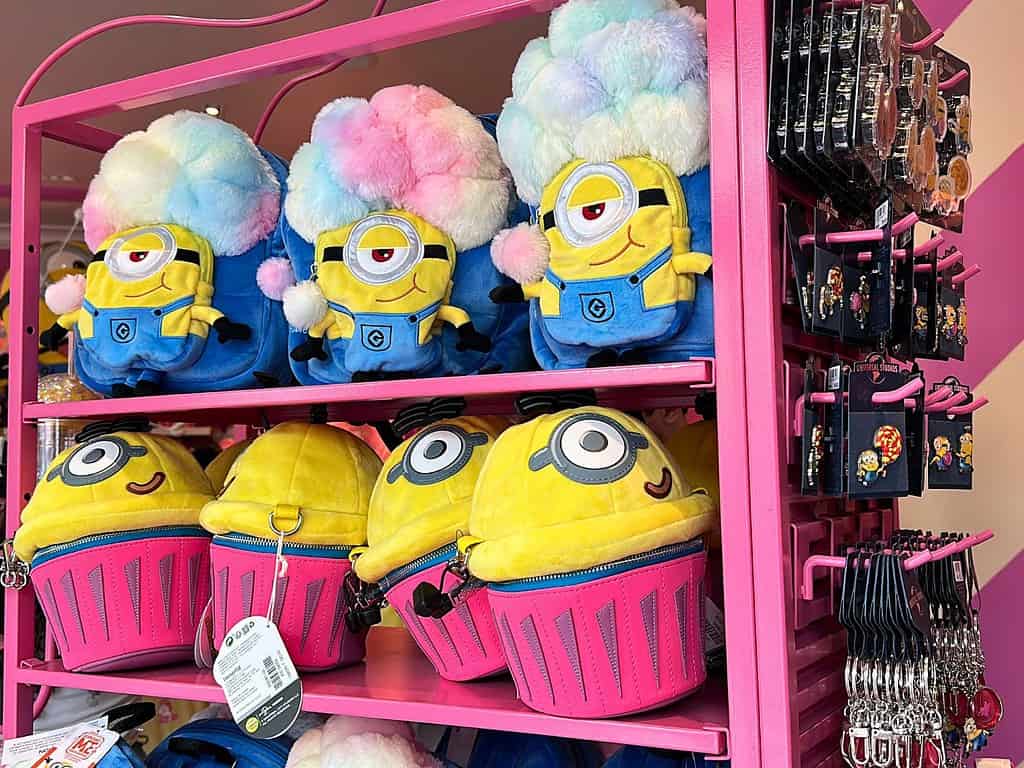 Illumination Theater Character Greeting
Come join some characters for a close-up on the red carpet of the Illumination Theater Character Greeting. You can meet characters from the Sing movies as well as The Minions.
These groups of characters alternate throughout the day. Clever digital posters underneath the marque show which characters are about to appear and which ones follow them.
For example, during our visit neither set of characters was out, but the characters from Sing were about the appear and the digital poster showed them as "Now Appearing" and then a Minions poster displayed "Coming Soon."
Freeze Ray Pops
What a brilliant idea for the Florida heat! Freeze Ray Pops is a colorful snack window that sells fruit-flavored popsicles like Strawberry, Mango, and Blueberry Lemonade, as well as Cheesecake and Cookies and Cream popsicles. Plus there are two specialty popsicles.
Mobile ordering is available here through the Universal Orlando app.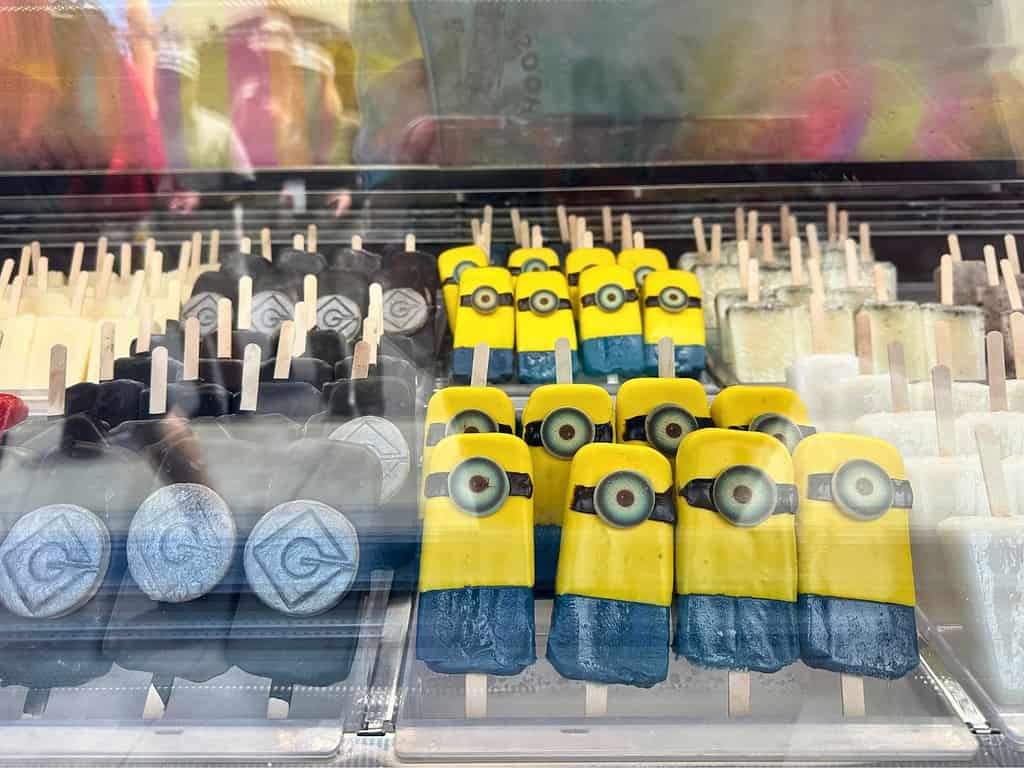 Pop-A-Nana Popcorn Stand
Banana flavored popcorn? Only in Minion Land of course! Plain popcorn is also available at this Minion popcorn stand, but what's the fun in that?!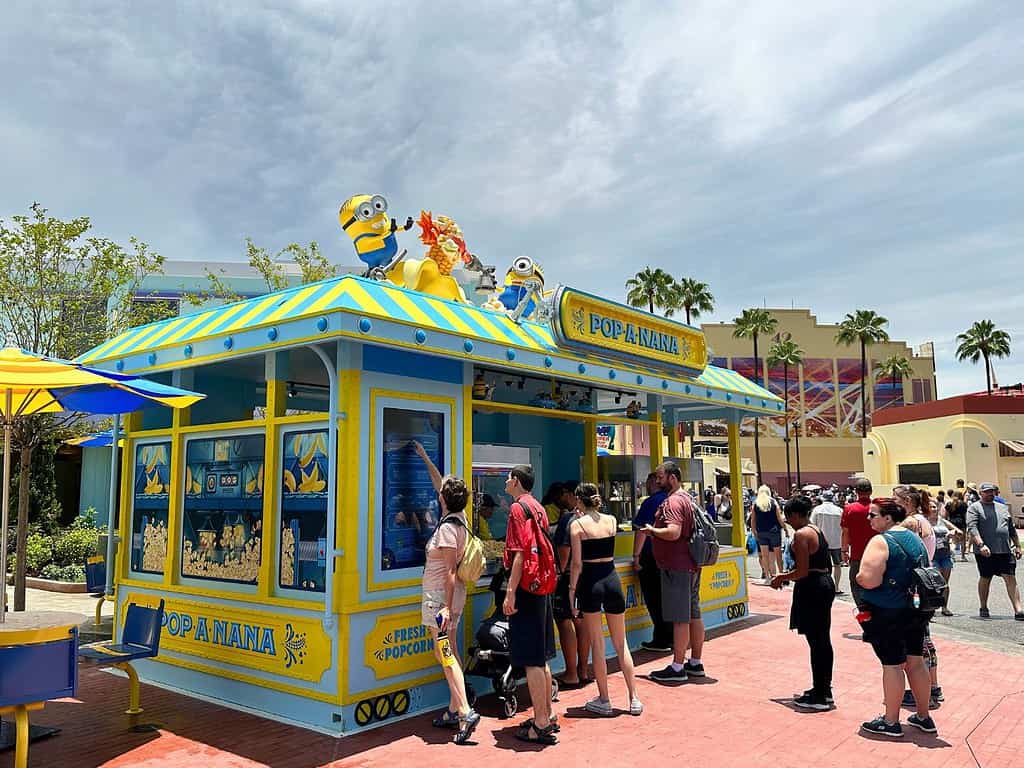 Illumination's Minion Cafe
This new quick service restaurant is perfect for families. Illumination's Minion Cafe takes over the spot at which Monsters Cafe was located. I love the transformation!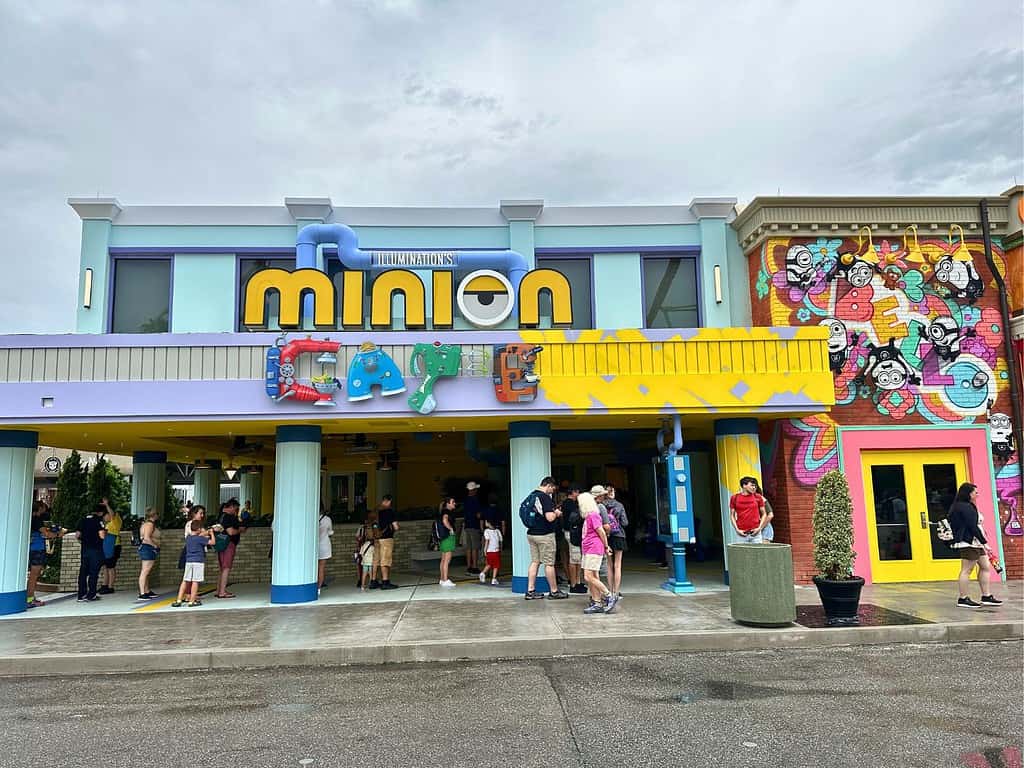 During our first, which was the first day of the soft opening, the line outside Minion Cafe did not surprise us. Families already love this spot.
The dining rooms are full of fun details. One of the rooms is themed like a break room for the Minions and features fun posters, as well as a vending machine tailor-made with items just the Minions themselves.
The menu for adults is actually quite sophisticated considering the silly theme.
Minion Cafe Menu highlights:
Uncle Dru's Belly Fillin' Pork Sandwich: Porchetta, chimichurri sauce, mustard aioli, apple butter, bacon jam, arugula on a Hawaiian pretzel bun
Steak & Cheese Ray Sandwich: French onion dipped rib eye, caramelized onions, secret sauce, cheese blast pimento cheese, on a cheese and onion brioche
Mel's Meatball Mountain: wood oven baked stuffed pizza with meatballs, basil, fresh mozzarella, and marinara
These are just some of the menu items. We have a full review of Minion Cafe coming soon.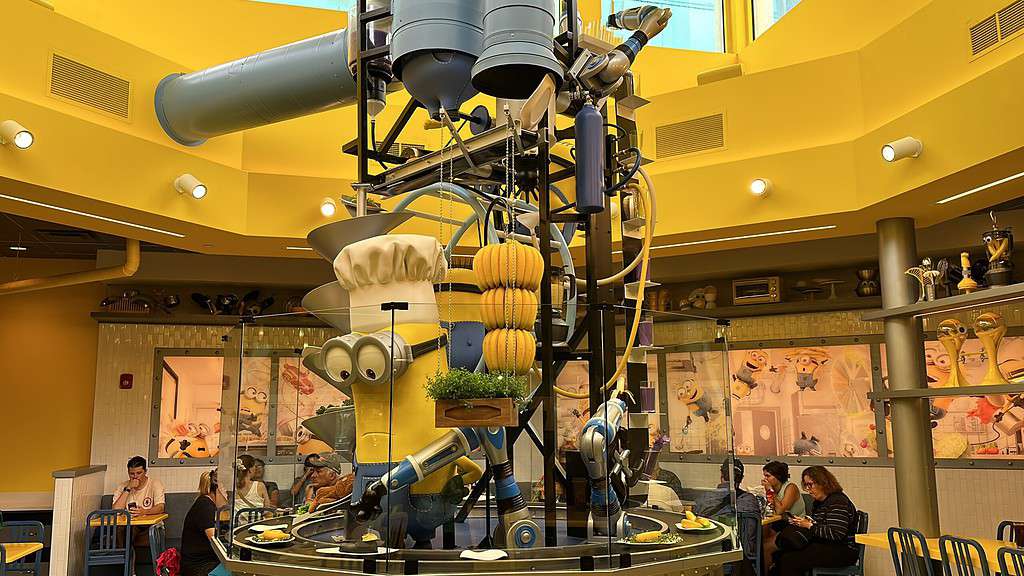 RELATED: Family Friendly Restaurants in Orlando
Minion Land is great fun! It's a cheerful and silly way to start your day at Universal Orlando.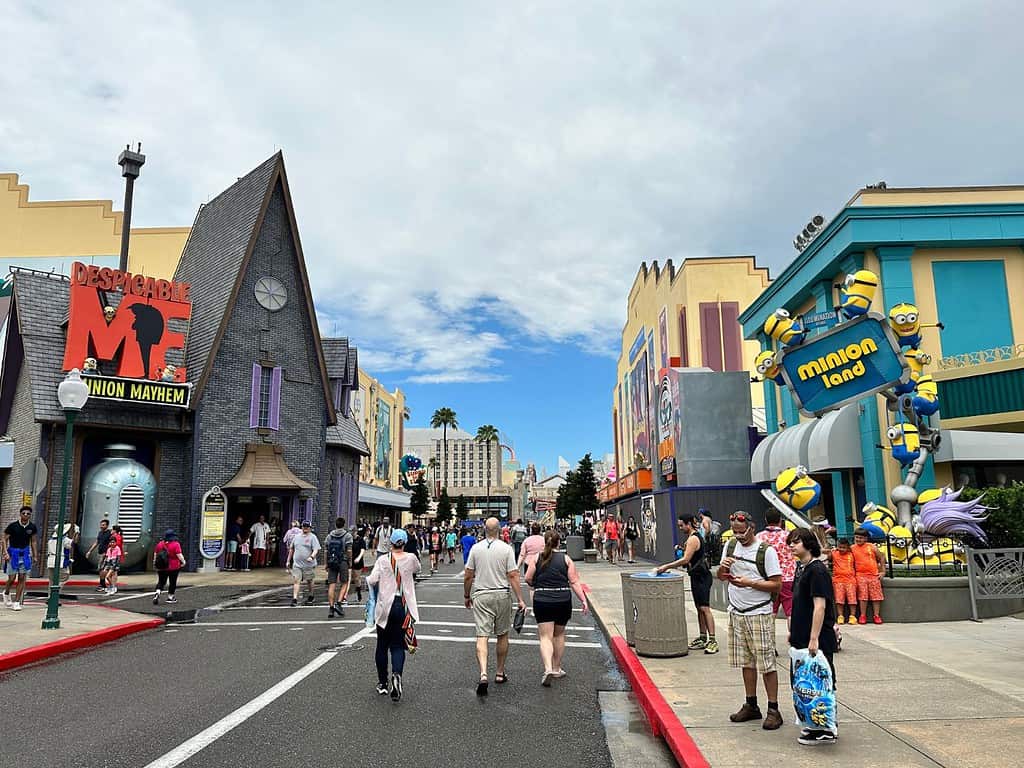 And the classic Despicable Me: Minion Mayhem still stands proud as part of this new Minion Land.