A Parent's Guide to Things to Do at Universal CityWalk Orlando – Family Fun for Kids
There are lots of reasons to visit Universal CityWalk, especially with kids! You won't need a special ticket to visit this shopping, dining, and entertainment district that connects Universal Studios Florida and Islands of Adventure. There's plenty for families with kids to do. CityWalk can be a fun and lively place to visit with children before or after exploring Universal's theme parks, or by itself for a day (or evening) out.
Pro-tip: Parking is free after 6pm (other than on Halloween Horror Nights) so you can even consider this one of the free things to do with kids in Orlando.
Whether you're looking for a place for a relaxing family dinner or you want to take your kids through a thrilling escape room experience, there's much fun to be had at CityWalk.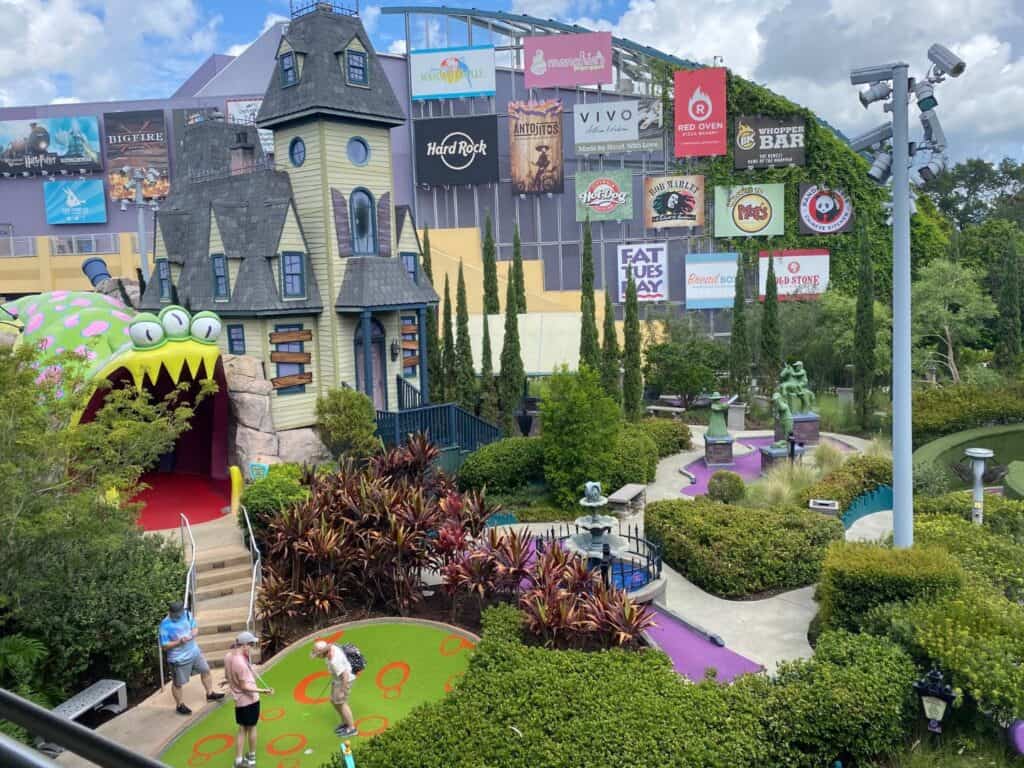 Things to Do at Universal CityWalk Orlando with Kids
Here are some of the things you can do at CityWalk with children:
Mini Golf: At Hollywood Drive-In Golf, families can play their way through two different 18-hole mini golf courses. One course, "The Haunting of Ghostly Greens," is based on vintage horror flicks. The other, "Invaders from Planet Putt," is themed around the little green aliens of old science fiction films.
Movies at Universal Cinemark: Watch the latest movies together at the state-of-the-art Universal Cinemark theater located at CityWalk. If you purchase matinee movie tickets, you can get reimbursed by the theater for the daily parking fee,
Shopping: Explore the various shops at CityWalk. There are stores that cater to kids' interests, such as the Universal Studios Store, where you can find merchandise related to popular movies and characters.
Dining: CityWalk features numerous dining options, including restaurants that cater to children's tastes. At Toothsome Chocolate Emporium, kids can meet Professor Penelope and her robot sidekick, Jacques, and at Bubba Gump, a shrimp character often makes an appearance.
Live Entertainment: CityWalk often hosts live performances and shows, including street performers and musicians.
Bonus! There are tons of photo opportunities around CityWalk. No kid, or kid at heart can resist surfing outside the Billabong Shop. You can even walk over to the entrance of Universal Studios Florida to get a photo of the famous archway and globe!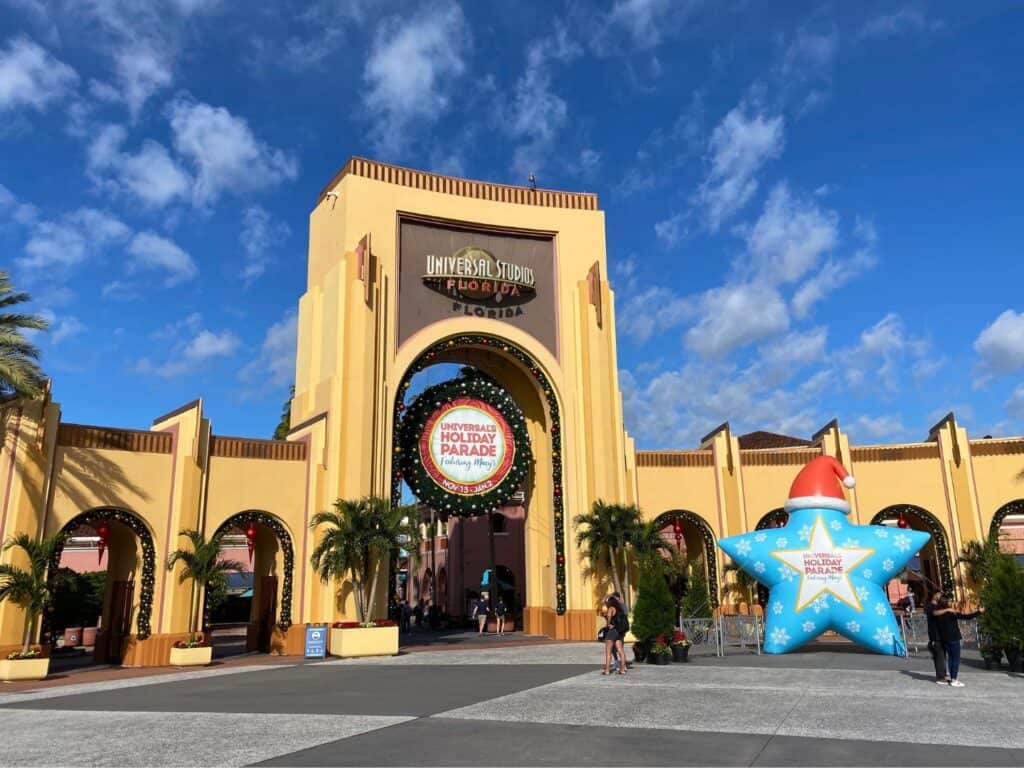 Dining
Bubba Gump Shrimp Co.: This sit-down restaurant serves Southern food like ribs and fried chicken, as well as fresh fish and yes, shrimp. There's also a kids' menu and often, kids can meet the Bubba Gump shrimp character and pose for a photo.
Hard Rock Cafe: Fun for the rock-and-roll memorabilia alone, Hard Rock Cafe is a sit-down restaurant that serves everything from burgers to salads for the grown-ups and has a kids' menu with staples like chicken tenders and mac and cheese.
Toothsome Chocolate Emporium & Savory Feast Kitchen: In the sit-down restaurant section of Toothsome Chocolate Emporium, parents will enjoy craft cocktails and delicious menu items like forest mushroom flatbread and grilled teriyaki salmon.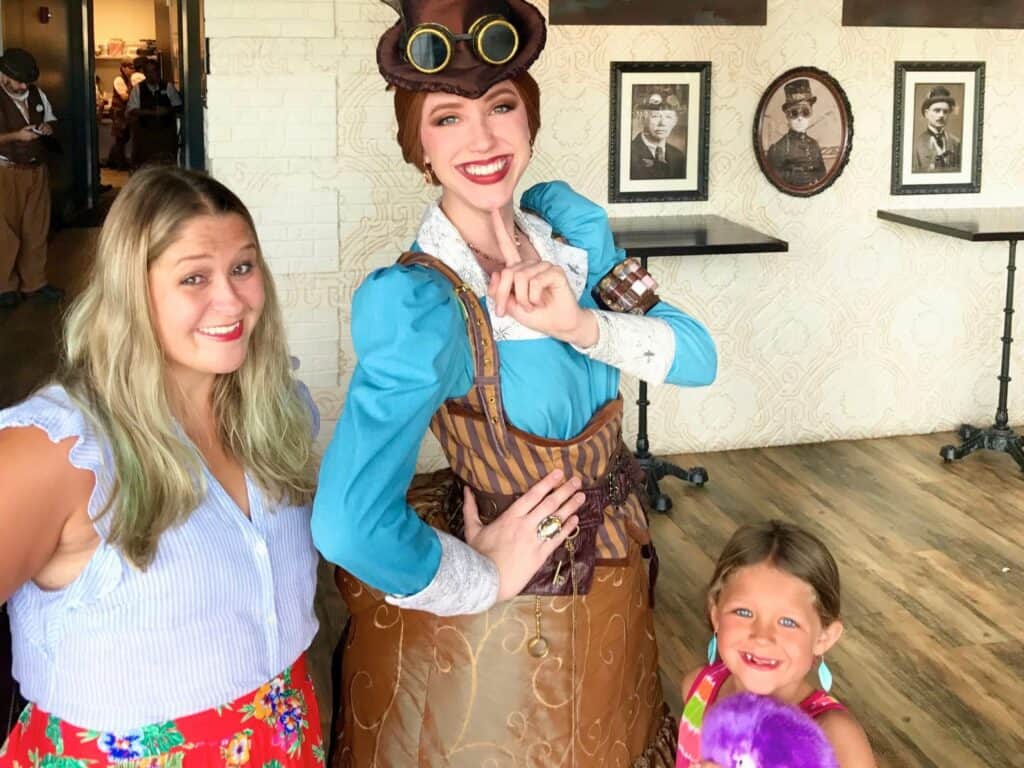 There's also a great kids' menu, and two characters — Professor Penelope and Jacques the robot — visit tables to greet guests and take photos. On the way out, visit the milkshake counter for some of the most over-the-top milkshakes on Universal property.
Cowfish: If your kids love cheeseburgers, Cowfish is a fun sit-down destination where they can try "cheeseburgerooshi," a zany mix between a cheeseburger and a sushi roll. But don't worry, they also have a standard kids menu.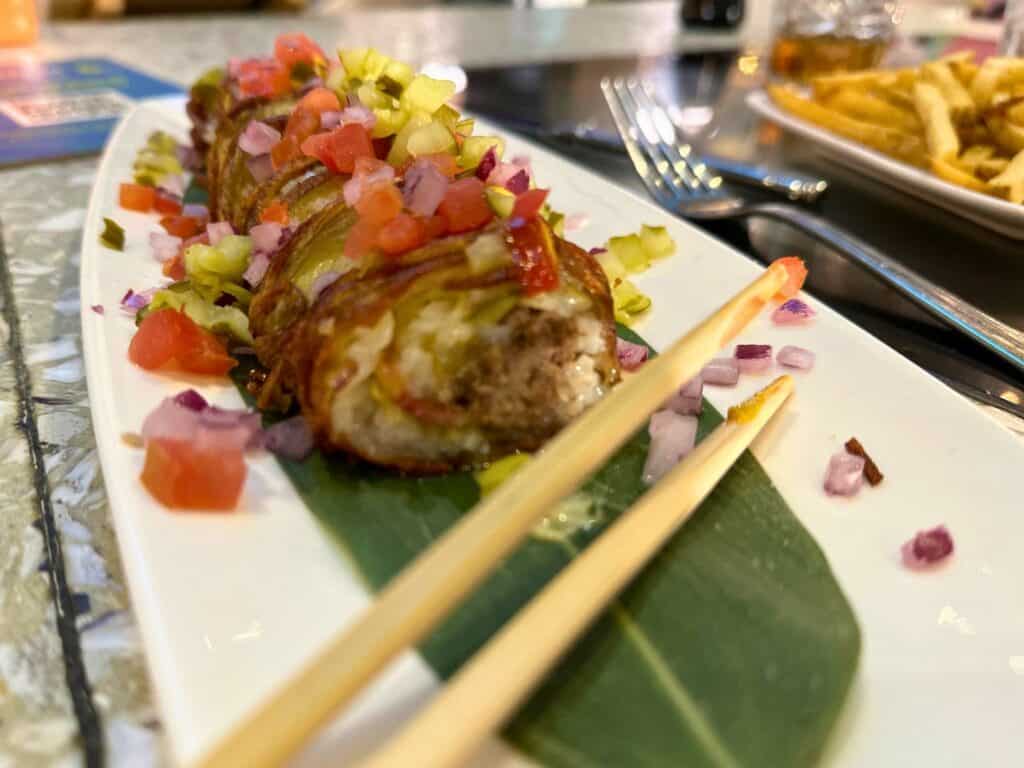 Hot Dog Hall of Fame: This quick-service restaurant serves up tons of hot dogs, from plain to Chicago-style, in addition to drinks and ice cream.
Breadbox: Fresh sandwiches, salads, and soups are the name of the game at this quick service restaurant, which also has a special menu of kid-friendly sammies.
Burger King Whopper Bar, Moe's, and Panda Express Mini Food Court: There's a miniature food court of sorts located on the second level of CityWalk. Here, families can enjoy familiar quick service staples like Burger King, Moe's Southwest Grill, and Panda Express.
VooDoo Doughnuts: A must-visit for donut-loving kids, VooDoo Doughnuts serves up some of the most colorful and creative donuts around. There are even Vegan donuts!
Shopping
Universal Studios Store: A perfect spot to shop for things like Harry Potter robes, wands, and accessories, the Universal Studios Store is fun to walk through with kids. There are also products from intellectual properties like Universal Monsters and Jaws.
Universal Legacy Store: While you'll find fun products from intellectual properties like Cat in the Hat and Despicable Me here, it's also fun to visit this store to check out the vintage props and decorations inside.
Restaurant gift shops: Some restaurants, like Jimmy Buffett's Margaritaville and Bubba Gump have highly-themed gift shops and retail areas that are fun to visit. And the Billabong shop let's you know you are definitely in sunny Florida.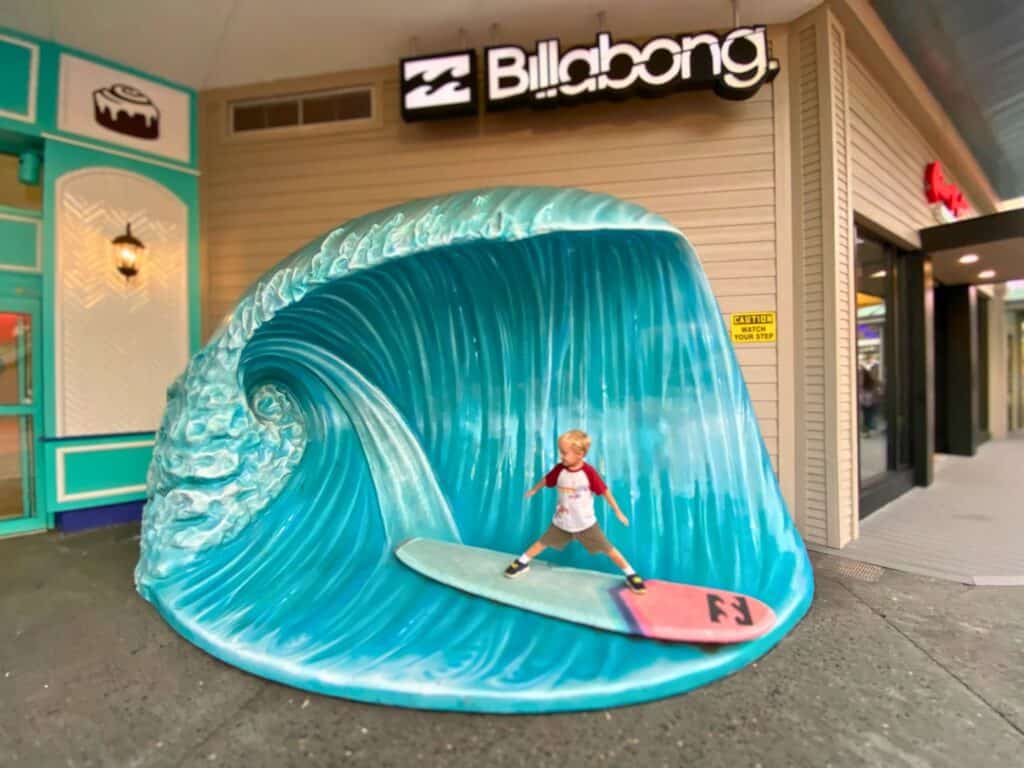 Mini Splash Area
There's also a mini splash pad area at CityWalk where kids can cool off and get wet. It's located outside of the Universal Studios Store, near the kiosk where Freestyle cups can be refilled.
One downside to letting kids go wild here is that there are no changing rooms at CityWalk and the restrooms can be crowded.
Universal's Great Movie Escape
If you're looking for a true movie adventure, consider Universal's Great Movie Escape, a pair of escape rooms themed around the Back to the Future and Jurassic World films. Tickets start at $50 per person for guests age 3 and older.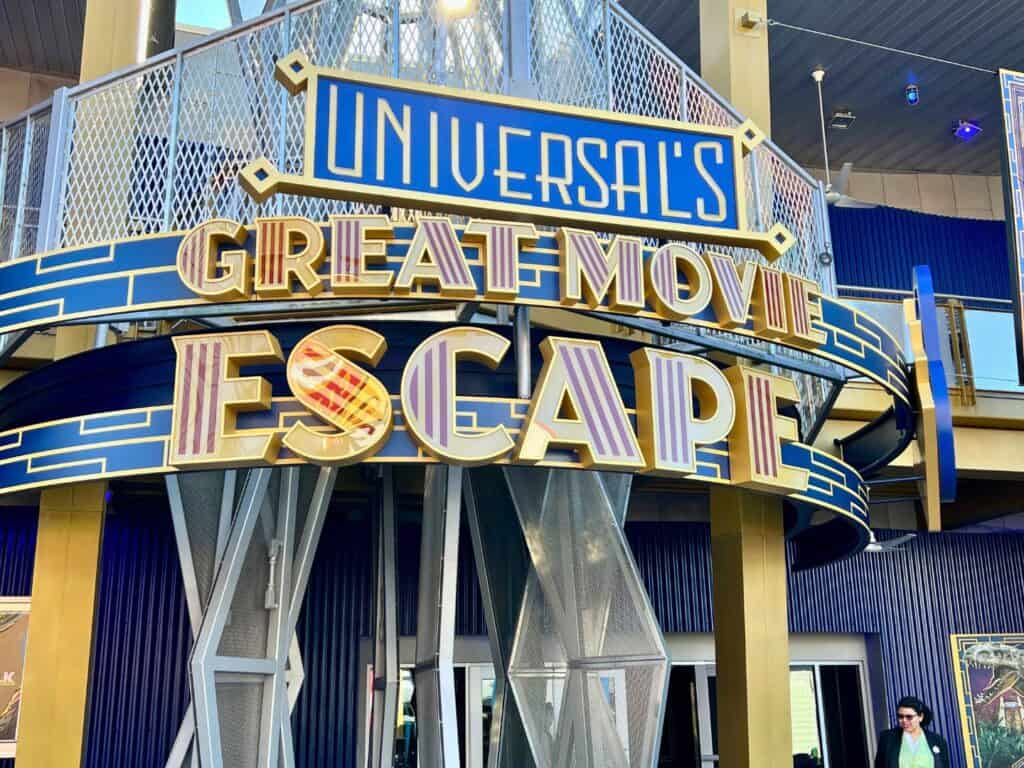 Parking options at CityWalk
Parking at CityWalk can be pricey at $30 per vehicle for standard and $50 for prime. Parking is free most nights after 6 p.m. however, with the exception of during Halloween Horror Nights.
FREE PARKING: Score free daytime parking by purchasing two or more matinee movie tickets at the Cinemark theater: Present your tickets and parking receipt at the theater box office to be reimbursed the cost of your parking.
We hope you enjoy visiting this lively and exciting family-friendly destination. You can connect with us and other parents on Facebook, Instagram, and Pinterest.
Feel free to share this blog post and plan a fun family outing together!