A Dozen Donut Shops in Orlando to Savor with Your Munchkins 
All parents have lectured their kids about how breakfast is the most important meal of the day. As it turns out, it's also the meal people most enjoy. A study conducted by OnePoll revealed that breakfast foods are America's favorite "genre" of fare — with 34% of respondents crowning morning munchies as the greatest grub.
So, one breakfast staple – the donut – seems to be especially popular as of late among Orlandoans. More and more donut shops are opening up all over town to entice breakfast aficionados with warm, fluffy, fresh-baked donuts (which can be enjoyed any time of day). Keep reading for our kid-friendly favorites!
Orlando Donut Shops for Families
Satisfy your donut desires, alongside your little sweeties, at these delicious donut destinations:
29 W. McKey St., Ocoee, Florida 34761
Now open at its new Ocoee location, this fried dough baker first gained a sweet following with farmer's market sales and, then, with a small-batch operation run out of the Chevron gas station in Oakland. The sugary selections are grand – both in size and edible embellishment.
The menu includes classics, like glazed, sprinkles and cinnamon sugar; biggie smalls, which are big donuts topped with small donut holes; ginormous apple fritters; and rotating fancy flavors, such as Milkshake (filled with strawberry and banana milkshake custard with strawberry icing, jam and whipped cream), Oreo Black Out (dipped in dark chocolate ganache, rolled in cookie crumbs and finished with chocolate whip) and Lemon Curd Cheesecake (stuffed with tangy curd pastry cream, smothered with vanilla icing and garnished with lemon zest and crushed graham crackers).
Follow DG Doughnuts on Facebook to see their daily offerings.
1222 E. Colonial Dr. Orlando, FL 32803
Who knew that donut fusion could be so amazing?! A "dochi" is a cross between a Japanese rice cake (aka "mocha") and a standard American fried donut, achieving a perfectly chewy yet crispy bite. Thanks to its bubble-like ring shape, these unique treats can be easily teared and shared with your darling donut date. If your family is hungry for three dozen or more, plan to pre-order online and schedule a pick-up or delivery (since we know your parenting schedule is packed).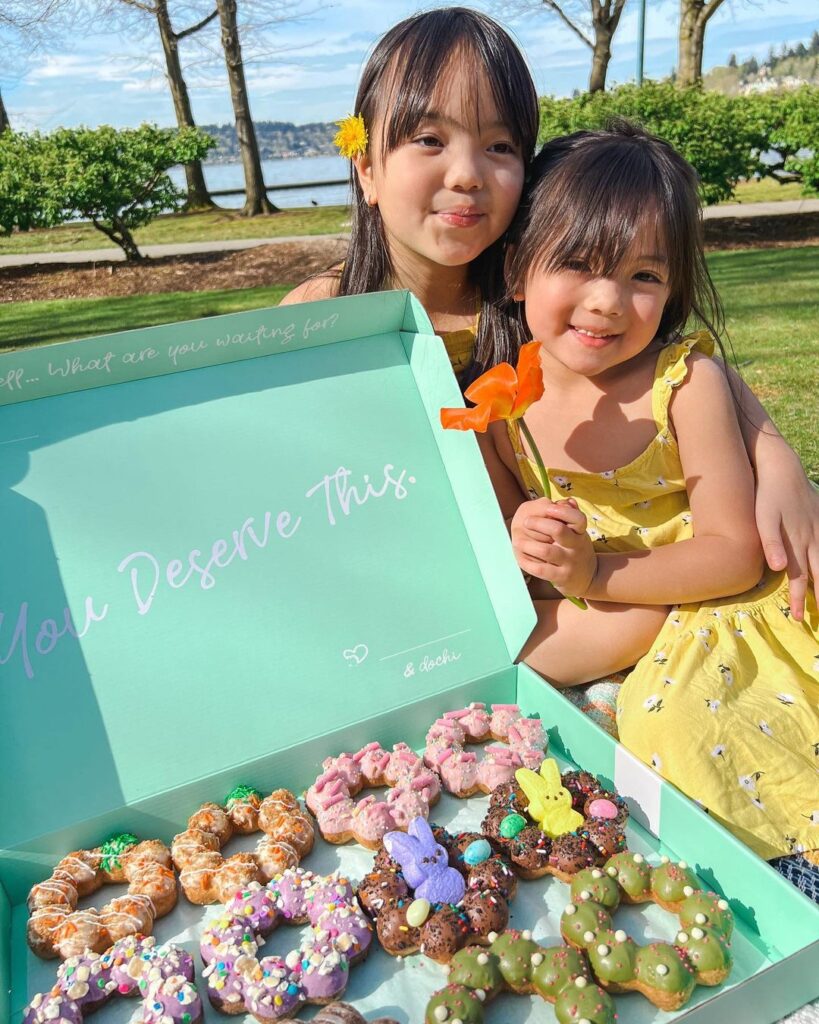 Flavors alternate weekly, so be sure to follow Dochi on Instagram. Recent favorites have included Choco Churro, Cookie Butter, Salty Maple, S'more Hugs and Taro Pebbles.
Multiple locations in Leesburg, Minneola and Winter Park
As the name eludes, Donut King could be considered royalty among local donut devotees. Do yourself a favor and fill up one of their bright yellow boxes with a dozen. This might take you some time because you'll be completely mesmerized by the sweetly stocked case that showcases Almond Crunch, Cherry Cake, Chocolate Coconut, Vanilla Butter Cream and soooo many more flavors.
4. Everglazed Donuts & Cold Brew
1504 E. Buena Vista Dr., Orlando, FL 32830
Local parents know you can get a taste of Disney without a park ticket. That's because Disney Springs boasts a train ride, carousal and tons of fun foods, including donuts that could definitely be described as "magical." Of course, if you want to grab lunch before dessert, try The Grilled Cheeeeeese at Everglazed, which is an ooey gooey classic transformed on a griddled donut.
Worried about a lack of veggie consumption? Well, next, feast on the Purple Glazed Ube, a vegan treat featuring a purple sweet potato that magically works well in a sugary donut.
Aside from donut classics and decadent specialties, explore Everglazed's "super funky" offerings, like the Black Raspberry Beret, featuring black raspberry jam, goat cheese buttercream frosting, fresh berries, mint and Frosted Flakes; or Thailicious, made with black sesame icing, charred pineapple, spicy chili-lime-garlic peanut butter topping, sweet chili sauce, micro cilantro, and sesame seeds.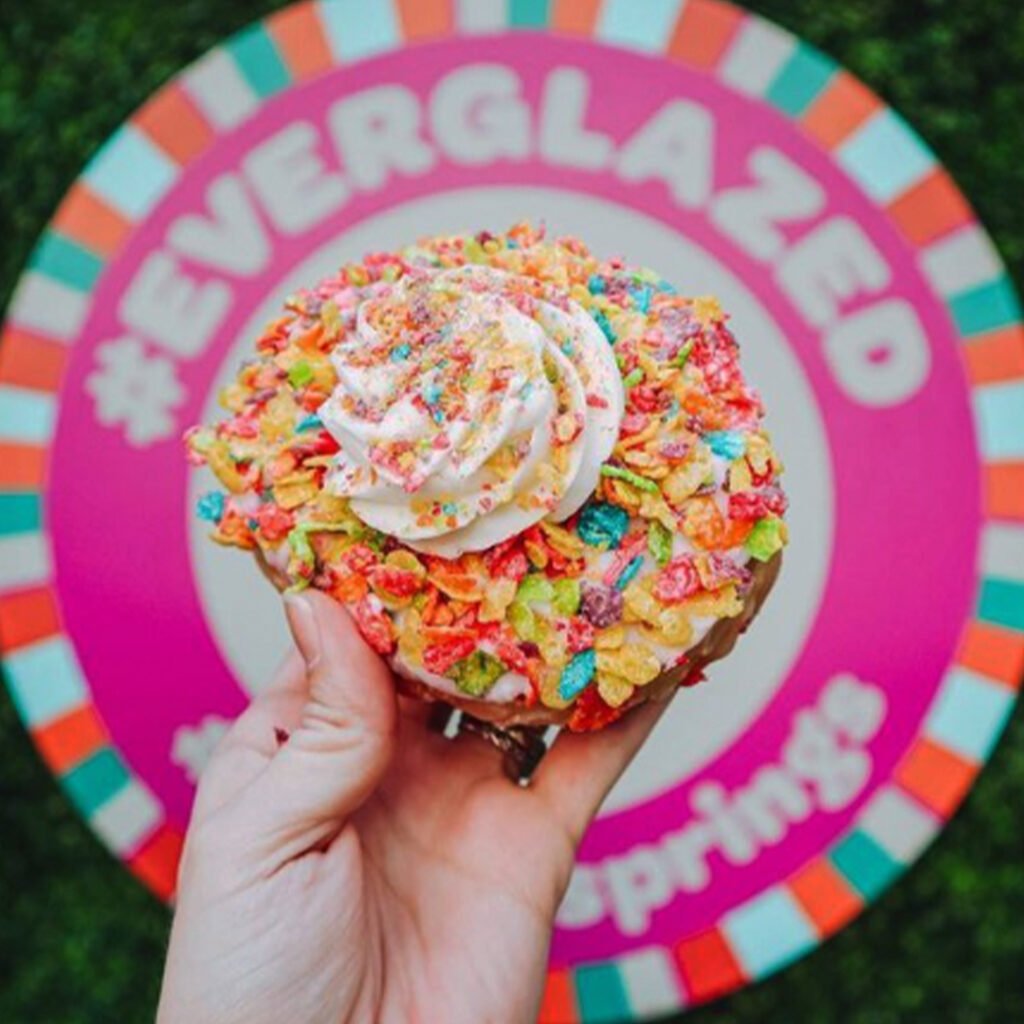 Multiple locations – Kissimmee, Orlando and Winter Park
Sure, this place may be a national chain versus a local mom and pop shop but, thanks to its open kitchen, it's worth a visit with your youngsters to see the workings of Krispy Kreme's palate-pleasing production. Expect your mouths to water as your eyes watch fluffy doughnuts glide down a sticky conveyor belt to glazed perfection. Choose from iced, glazed, filled, cake, doughnut holes and more.
225 E. Michigan St., Orlando, FL 32806
To channel that Girl Scout cookie taste with your favorite Girl Scout, order the Samoa donut at Shaka Donuts (yup, we're kind of confused as to why Samoa Cookies are sometimes called Caramel deLites – but let's table that discussion). Allow your taste buds to play even more by sampling Shaka's Donut Breakfast Sandwiches, Jalapeno Cheddar Donut Holes and other menu staples.
What started as a food truck, Smoke & Donuts is now a brick-and-mortar site. Located within the Milk District, but you won't find milk and cookies on their menu. Rather, those that crave a perfect balance of sweet and salty will be pleasantly pleased by the unforeseen pairing of smoked BBQ sandwiches and donuts.
1333 W. Broadway St., Oviedo, FL 32765
Claiming to provide fun for the "hole" family, this donut shop lets hungry patrons create their very own confection through a three-step built-to-order system that we know your kiddos will eat up. Pick your (1) donut, (2) glaze, and (3) toppings.
Can't you just picture the delightful giggles to be had while designing donuts?
276 S. Orlando Ave., Winter Park, FL 32789
This restaurant isn't just a fancy pants brunch spot. It's smoke-free and dog-friendly, so families can come to fill up on cakes, pastries and, yes, donuts. The donut menu may be less varied on flavors compared to other donut destinations, but that doesn't mean that The Glass Knife cuts corners when it comes to taste.
Your little firecrackers will be tickled pink over the Rocket Pop, a buttermilk brioche donut stuffed with a cherry limeade cream and topped with (blue) raspberry, (red) cherry and (white) lime glazes, and finished with golden star sprinkles.
Vegan diners will go nuts over the Peanut Butter Banana donut, dripping with rich peanut butter glaze, banana jam, dark chocolate ganache, non-dairy whipped topping and crushed peanuts.
3025 Corrine Dr., Orlando, FL 32803
Don't let the name of this Audubon Park donut shop mislead you. Sure, you'll find some semi-savory flavor notes on Salty's gourmet menu, but there's no shortage of sugary rockstars too. Treat the apple of your eye to Blueberry Coffee Cake, Peaches & Cream, Key Lime Meringue Pie, Guava & Cheese and much more.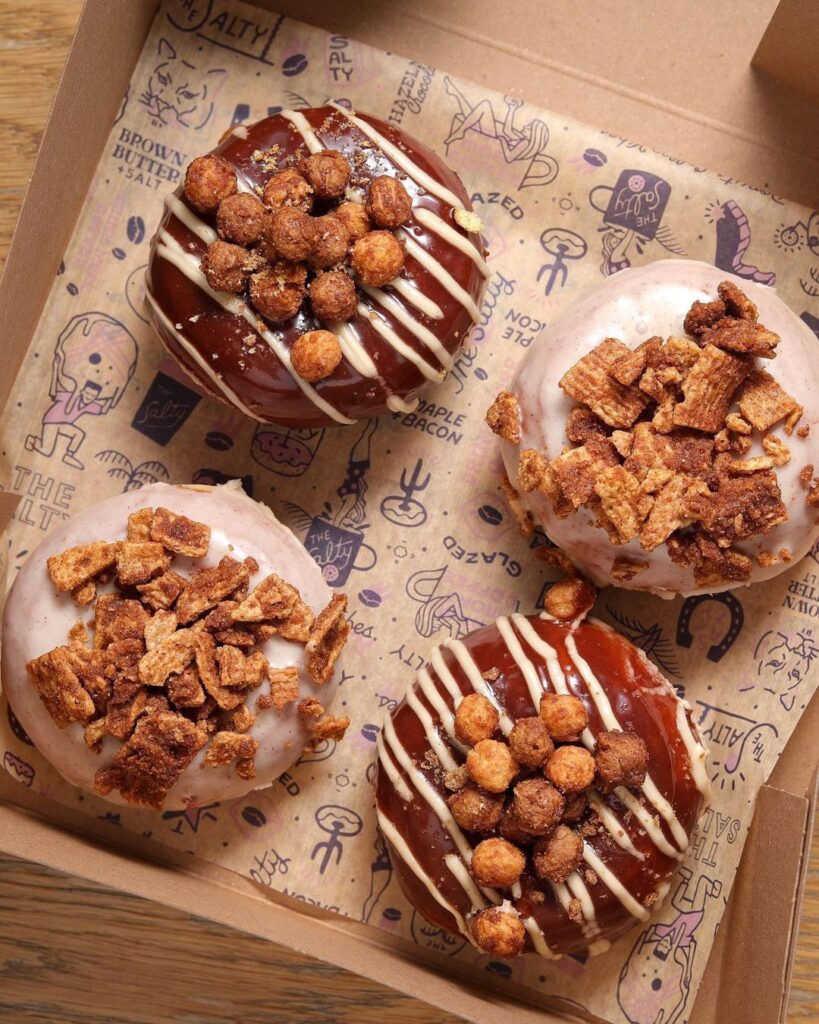 12226 Corporate Blvd, Orlando FL 32817
Nestled on the U.C.F. side of town, you can order mini- and standard-sized donuts or… the B.F.D. (aka Big F***ing Donut). It's an OMG alternative to typical celebratory cakes or pies! Believe me, your kiddo will LOL when you bring home a huge square doughnut that barely fits in a 14" pizza box instead of plain old birthday cupcakes.
6000 Universal Blvd., Orlando, FL 32819
Whether you need a morning carb fix before getting a roller coaster fix at Universal Studios or a late night sugar rush following an full day's adrenaline rush at Islands of Adventure, Voodoo Doughnut will surely thrill your taste buds like never before. Serving more than 50 types of sinfully delicious donuts, this sweet spot within CityWalk has a whimsical wow factor.
Voodoo earned a cult following thanks to fan favorites like the Bacon Maple Bar, Memphis Mafia and, of course, the Voodoo Doll, a raised yeast donut filled with raspberry jelly and topped with chocolate frosting and a pretzel stake. You can nosh on the iconic Voodoo Doll and other company specialties in other select cities, BUT the Universal Orangesicle is an exclusive masterpiece only sold at the Orlando location.
In the spirit of inclusive menus, Voodoo Doughnuts deserves props for its impressive vegan menu, featuring more than a dozen flavors, including Vegan Dirt, a vegan yeast doughnut with vanilla frosting and crushed Oreo cookies; and the Vegan Portland Cream, a vegan shell filled with vegan cream.
Also Try:
Enjoy! And good luck handling those post-donut sugar rushes!