11 Fun Things to Do in Cocoa Beach with Kids (besides the beach)
Cocoa Beach is known as a top spring break destination and a haven for surfers just about an hour away from Walt Disney World. In fact, Cocoa Beach is the closest beach to Orlando. This coastal destination is great for families. Splashing on the beach is the most popular way to spend a day, but when you're ready to venture beyond the beach, you've got lots of options. In this blog post we're sharing our top 11 fun things to do with kids in Cocoa Beach, including kid-friendly places to eat.

While the beach is what put this small coastal community on the map, there's plenty to do in this tiny town that doesn't involve the sand. Families can enjoy the day exploring everything from dinosaurs to manatees to mini golf.

Then there's the food. Eat your way around the city starting with breakfast at a refurbished gas station to lunch at a local suffers hangout to ice cream that looks like a taco.

There's plenty for the family to enjoy on a day trip to Cocoa Beach.
1. Sail Cocoa Beach
Want to test your skills as a catamaran sailor? This is your chance!

Sail Cocoa Beach offers tours on the Intracoastal Waterway and Indian River led by U.S. Coast Guard certified captains. Your captains will give you a hand at the ropes and teach you some basic sailing skills.

If you just want to sit back and enjoy the ride, that's ok too. Options include a dolphin and wildlife sail, a sunset sail and a pedal boat cruise. You also have the option to book a private tour for your own crew.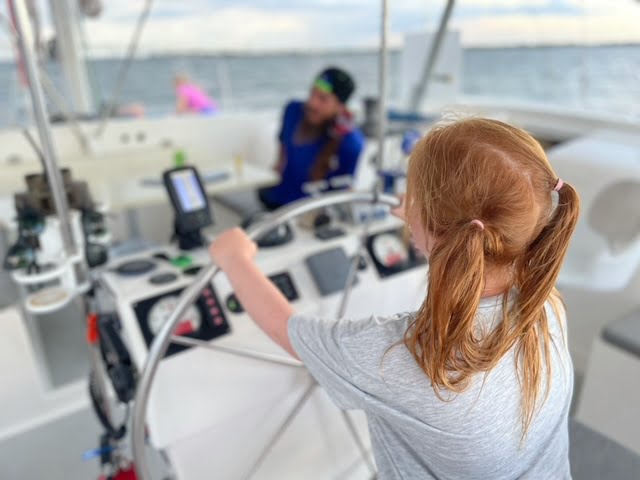 Sodas, water and snacks, like nuts and pretzels, are included on your sailing. You also can bring your own food and beverages, alcohol included, but no glass.

The best part for families is kids sail free with the purchase of an adult ticket!
Tickets can be booked up to 21 days in advance, which is highly recommended since the sailings are known to sell out.
2. Ron Jon Surf Shop

If there's an icon for Cocoa Beach, this would be it. The flagship Ron Jon Surf Shop is still going strong after opening its doors in 1963. Encompassing two stories over two acres, this megastore is open 24/7 365 days a year.

You can find everything here from beach towels to souvenirs to surfboards of course and plenty more.
Be sure to walk around the front of the building along A1A. There are some great photo ops, including a statue of Cocoa Beach's own surfing legend Kelly Slater. Free on-site parking, as well as a few parking lots across the street, are available for a few hours to allow enough time to see everything the store has.
BONUS IDEA: Located inside the surfboard rentals building at Ron Jon Surf Shop is a FREE Surfing Museum!
3. Dinosaur Store/Museum
This is a must stop for any dinosaur enthusiasts.

The top two floors of the Dinosaur Store is a 20,000-square-foot museum of dinosaurs and ancient cultures. There are hundreds of authentic artifacts and fossils from around the world. There's also a mineral cave where explorers can discover crystals from all over.

Kids of all ages can blow off some steam in the interactive, hands-on Adventure Zone. All games and stations in this area are included in the price of admission.

You'll encounter 25 live animals, including alligators, snakes and tortoises, in the Reptile Run. If you need a little down time, head to the Movie Cave for a documentary on dinosaurs.

The Dinosaur Store is free to browse, but there is a charge for the museum and Adventure Zone. Check the website for prices.
Technically the Wizard of Oz Museum is in Cape Canaveral, right next to Cocoa Beach city limits. Still, it's a fun place to visit with kids, especially when you're looking for something to do inside.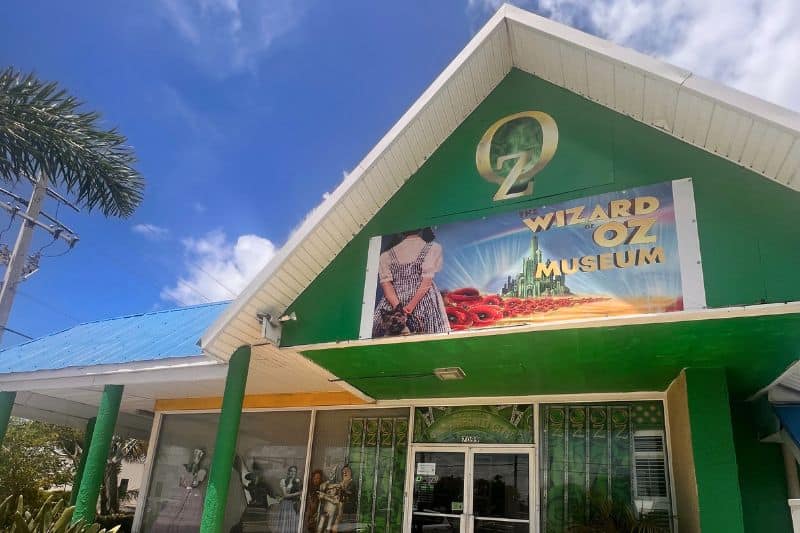 4. Surfside Playhouse
This adorable, little community theater is a wonderful place for the family to experience the arts.

This non-profit officially opened in April 1963, and has been a gem in the city ever since. There's a strong emphasis on youth whether that be through productions, camps or classes.

Check the schedule to find a show that would be suitable for your whole family.
5. BK Adventure
Cocoa Beach is surrounded by water, the Atlantic Ocean on the east and the Banana River on west. There are many numerous boating channels throughout the Banana River, which are best viewed by kayaks or a raft.

The family rafting tour from BK Adventure is recommended if you have little ones or seniors in your group. A guide will lead you through the waterways and take care of everything, including the paddling!

You also can do a clear kayak tour, a dolphin and manatee tour or a tandem kayak tour, which can accommodate two adults and a child.

July and August are great times to experience a bioluminescence, the beautiful blueish light produced by a chemical reaction from living organisms in the water.
6. Lighthouse Cove Adventure Golf

You have not one, but two 18-hole mini golf courses to pick from at Lighthouse Cove Adventure Golf.

The Paradise Falls is a winding course with several water features and hills to challenge you. The Lost Lagoon has some uneven terrain, caves and other obstacles to maneuver.
As an added bonus you can order refreshments while playing and have them delivered directly to the hole you're on.

You and your little one can have a special Mommy and Me date if you visit Monday through Thursday from 10 a.m. to 3 p.m. That's when a parent and child 5 and under can play 18 holes for a special price.
7. Jetty Park Beach and Campground
Technically located in Cape Canaveral, just outside Cocoa Beach, this unique beach and campground offers a picturesque setting located along the Atlantic Ocean. Besides Jetty Park Campground there is also public access to the beach, but you'll need a day pass.

There aren't too many campgrounds in the country where, from your campsite, you may see cruise ships, rocket launches and marine and wildlife. You also have the option to bring your own RV and camp onsite.

There are even eight air-conditioned cabins available for rent. The cabins include a queen bed, twin bunk beds, a half bath and even a mini fridge.
If you want to just hang on the beach for the day you can do so. Just purchase a parking pass online in advance. Day-of parking is NOT available. You'll be treated to a quiet beach with restroom facilities, picnic tables, and a playground!
Kid Friendly Restaurants in Cocoa Beach
8. Frosty'Nauts
Is it a taco or ice cream? It's both! Frosty'Nauts is a super fun place to bring the kids for a sweet treat.

This is an ice cream experience where you watch right before your eyes as your ice cream creation is made. The mesmerizing process starts when you pick your ice cream flavor and watch as liquid cream is poured onto a large metal plate cooled to -24 degrees.
Toppings you pick are added and then the concoction is moved around with scrapers as it eventually hardens and is rolled up and placed in a cone shaped like a taco shell.

Visit on Wednesday and kids 12 and under get 10% off with the purchase of an adult taco. You'll find other daily deals on their website.
9. The Florida Key Lime Pie Company
This small, eclectic shop filled with Florida flavor is located just a few steps north of Ron Jon Surf Shop.

It's the perfect stop on those hot, Florida days. Of course the main event is the freshly made key lime pie, which comes the traditional way – by the slice, or in a cup. But the showstopper for us is the chocolate-covered key lime pie!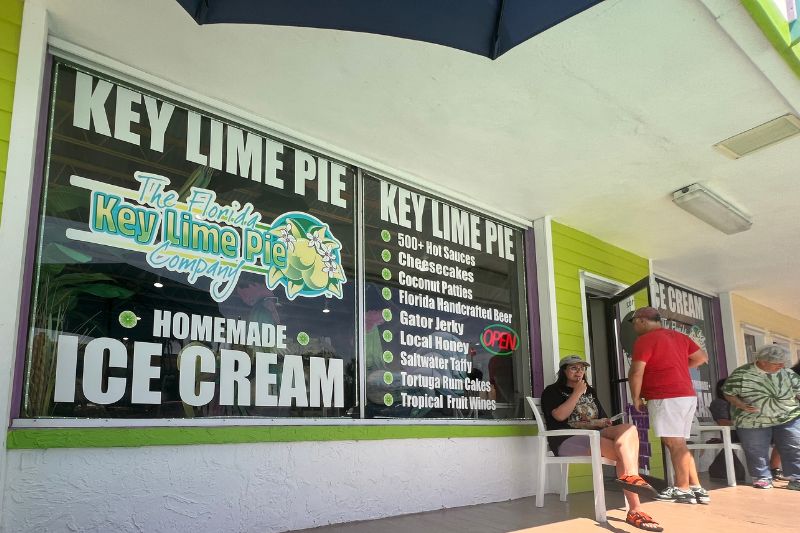 There's also ice cream, cheesecake and just about every kind of key lime offering you can think of, from beer to cookies to what's known as "Cocoa Beach Crack" – key lime yogurt covered pretzels.

Before you enter the shop, you may be greeted by Sweetie – a 7-year-old American alligator. Sweetie is a blind rescue gator who spends her time visiting schools for educational purposes and greeting customers at The Florida Key Lime Pie Company. Have your camera ready because she's available for pettings and photos.
10. Café Surfinista
This place is where the locals go to grab some good food and hang out in a relaxing environment.

You order your food up at the counter and then grab a seat at one of the many comfy, spacious seating areas. There are couches, big chairs, traditional tables, plenty of fun little nooks and crannies to explore and relax.

Both parents and kids will appreciate the laid-back vibes. There's even a ping pong table and some board games.

As for the food, this is the place to fuel up on some healthy delicious bites. The menu has a variety ranging from vegan to organic to gluten free to dairy free. The acai bowl, poke bowls and smoothies are the perfect way to refresh on a hot day.

11. 4th Street Fillin Station
This former gas station is now one of the most fun restaurants in Cocoa Beach perfect for families to dine. 4th Street Fillin Station is super popular on the weekends so get there early or try to visit on a weekday.

Most of the seating is outside among beautiful trees, including a hanging table under a 100-year-old oak tree. Pets are welcome here and the staff will even bring your furry friend some water.

The menu has something for everyone, including plant-based, gluten-free, breakfast served all day and more than 125 craft beers. Breakfast is served all day so you can get the crab cake benedict whenever you arrive.

You'll definitely want to save room for dessert. The ice cream is homemade and the milkshakes and waffle sundaes are Instagram-worthy.
More things to do in Cocoa Beach