7 Expert Tips for Visiting Discovery Cove with Kids
Escaping to an all-inclusive beach getaway may not be so easy. Or is it?
Nestled among the hustle and bustle of the theme park capital of the world is a little slice of serenity called Discovery Cove. This theme park transports guests to a tropical paradise filled with manmade beaches, lagoon-like pools, interactions with animals, and more.
Visiting Discovery Cove is a special experience for children ages 6 and up. Keep reading for expert tips to know before visiting one of the best, most unique theme parks in the country.
Pro tip: While the park is a beautiful, fun escape for the whole family, you may want to wait until your little ones are at least 6 years old to go. Most of the add-on experiences, including swimming with the dolphins, require participants to be 6.
Discovery Cove is one of our favorite places to go swimming with kids in Orlando – and surprisingly it costs about the same as going to one of Orlando's theme parks. Plus, you can often find Florida Resident discounts here.
Expert Tips for Discovery Cove 
Leave sunscreen, towels, and swim gear at home
Come hungry
Get there early
Wear water shoes
Bring a change of clothes
Check the schedule
Book in advance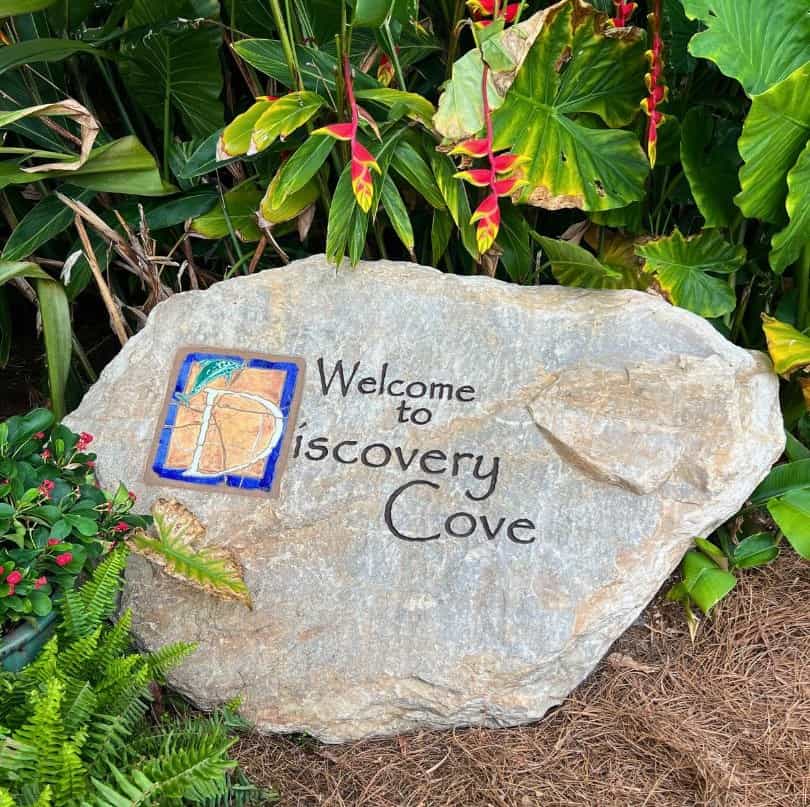 Leave sunscreen, towels, and swim gear at home
You can pack light for your day trip to Discovery Cove. Towels are provided to all guests as well as sunscreen.
Sunscreen dispensaries are positioned throughout the park for easy access. It is a specially formulated sunscreen that is safe for all the animals.
Towels are located in bathrooms and in huts positioned in various areas. Guests are welcome to take as many as they need throughout the day.
Snorkel gear and flotation devices also are available for guests. If you buy certain packages, like swimming with the dolphins, you will need to wear a provided wetsuit or vest.
The wetsuits help keep you warm since water in the Grand Reef and Dolphin Lagoon is kept at about 76 degrees. Water in other areas is a bit warmer around 85 degrees.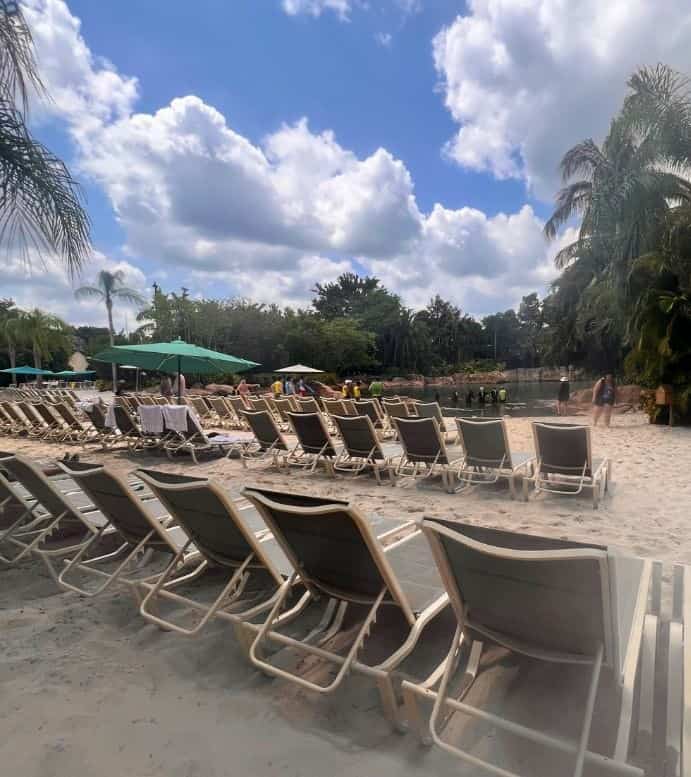 Come hungry
There's lots of food available all day long.
A breakfast buffet is served from 7:30 am to 10:30 am. It includes everything from eggs, to cereal to French toast sticks to fruit to pastries and much more. You can go back as many times as you want and get as much food as you want.
Starting at 11 am the buffet switches to lunch, which is available until 3 pm. There are plenty of options like chicken fingers, hot dogs and hamburgers, mac and cheese, salmon, wraps, salads, and lots of desserts.
There also are vegan, vegetarian, and gluten-free options available.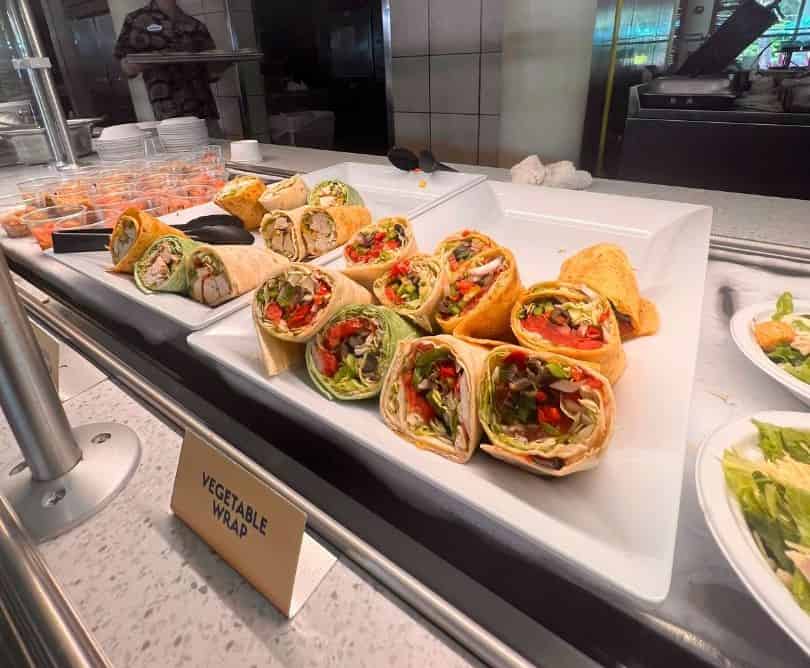 Hibiscus Hideaway Pizza is another food option that serves different varieties of flatbread from 10:30 am to 4:30 pm. This is also where you can get vanilla and pineapple soft-serve ice cream, which tastes like dole whip. What a great spot for kids!
There are two bars at the park that each have self-serve drink and icee stations as well as big, hot pretzels, cookies, and chips. No outside food or beverages are allowed inside the park, but, there's no shortage of included food or drinks.
Get there early
Check-in begins as early as 7 am. Don't be alarmed if you see a line when you pull up to the lobby. It moves quickly.
At check-in you are given an ID card attached to a lanyard. You're able to include charging privileges to your ID card in case you want to purchase something from the gift shop or pay for an alcoholic beverage, although drink packages are available.
This way you can use complimentary lockers that are available to secure your valuables for the day.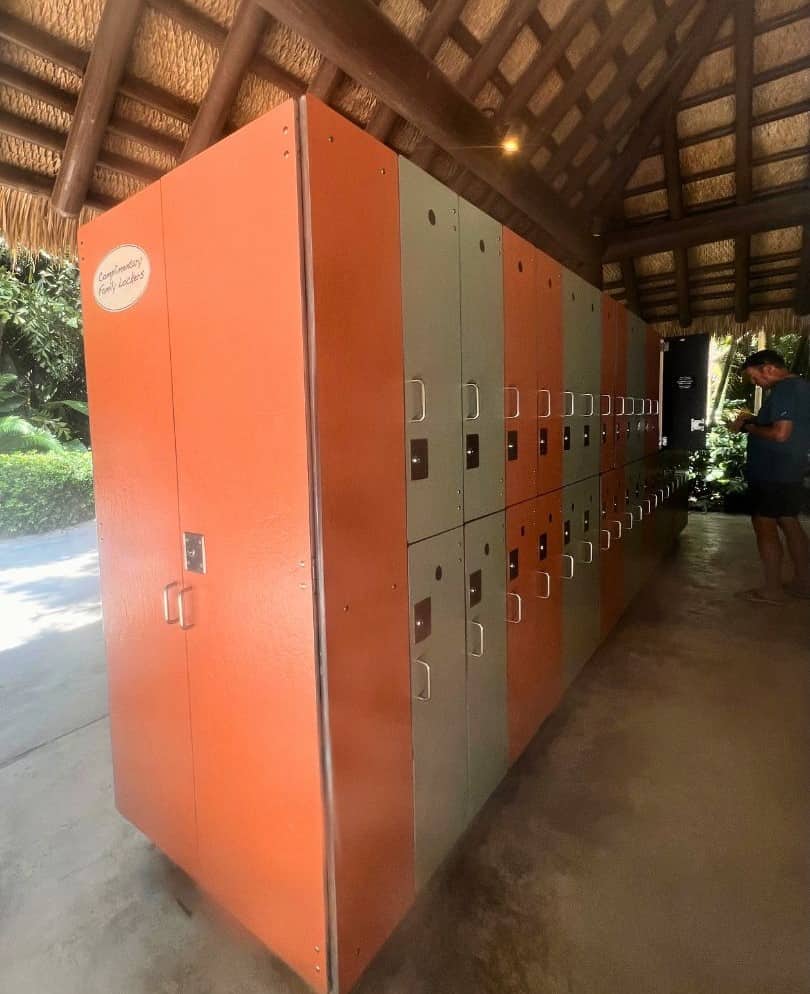 Breakfast begins at 7:30 am and all the waterways open at 9 am. Getting to the park nice and early gives you time to have a leisurely breakfast and take a stroll around the park to get a feel for where everything is.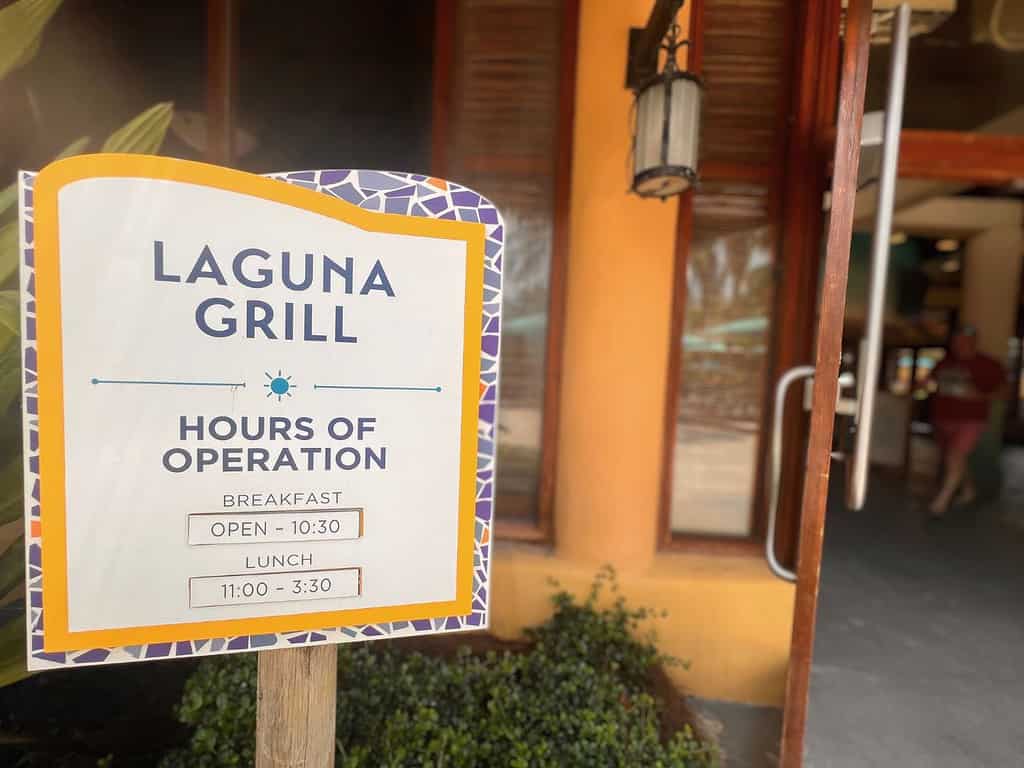 You also can pick out where your party will want to call home base for the day. There are plenty of loungers set up all over the park so you won't have a problem finding an open chair. It's more of a preference of where you want to be.
Discovery Cove isn't open late, usually closing at 5 pm. Getting there early will help maximize your time.  
Wear water shoes
The sand can get hot and walking barefoot can be uncomfortable. Water shoes are definitely helpful so you're not hopping along trying to find shaded spots to walk on.
Wind Away River is a long lazy river that takes guests through tropical areas, a cave, and even an aviary. The bottom of Wind Away River has some uneven, rocky terrain that can catch you off guard and won't feel good on your toes.
Bring a change of clothes
There are bathrooms with lots of private changing areas and shower stalls that have soap and shampoo. They even have plastic bags for you to put your wet bathing suits in.
This way you can change out of your wet clothes and be in comfortable dry clothes for the ride home.
Check the schedule
Download the Discovery Cove app. This is where you can easily find the schedule for the day, which includes various animal interactions.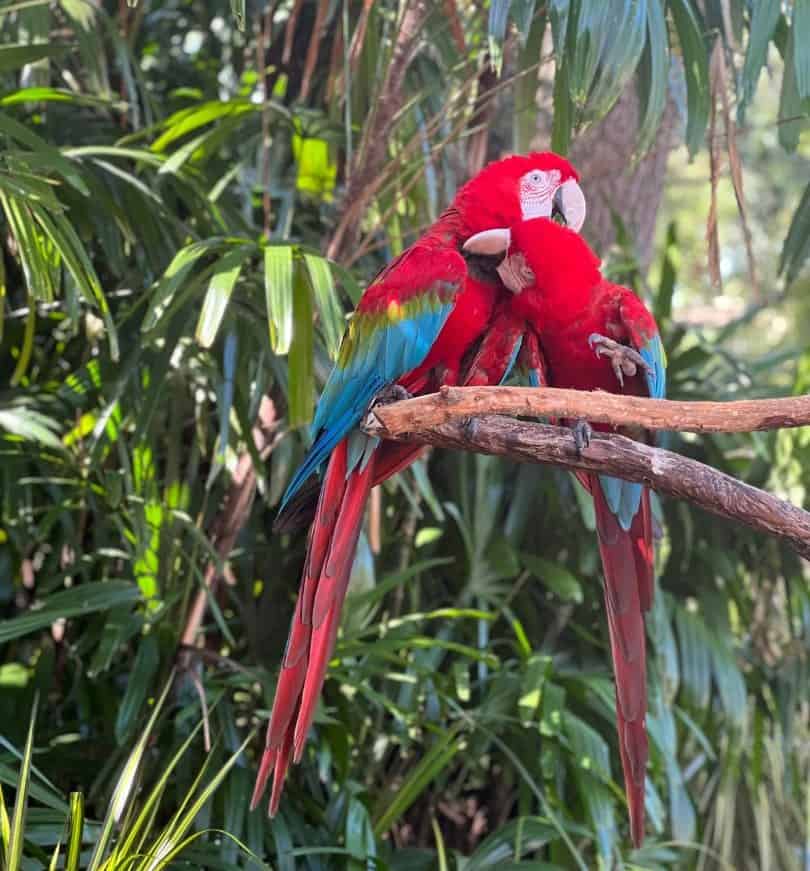 You'll have a chance to talk to a zoological professional and learn about the resident marmoset monkeys, get a close-up look at flamingos, and swim side-by-side with Asian small-clawed otters.
Book in advance
When you buy your tickets you have to select what day you will visit the park. We all know Florida is notorious for afternoon thunderstorms, and the Discovery Cove team monitors these conditions closely.
Operations will be suspended if there is lightning and thunder. If it's just a rain storm, most activities will continue.
In the event a named tropical storm or hurricane is approaching, your booking will be rescheduled or refunded.
Guests are allowed one complimentary date change prior to their visit as long as the changes are made more than 48 hours before the visit.
When booking you have the option to reserve a cabana, starting at $199, or a daybed, which starts at $129.
Discovery Cove info
Cost: A day resort pass starts at $199.20. There are Florida resident discounts and when you bundle your visit with trip to Aquatica or SeaWorld. Check the website for daily or seasonal deals. 
Hours: 8 am – 5 pm. Check-in begins at 7:15 am
6000 Discovery Cove Way
Orlando, FL 32821
---
Discovery Cove featured image from @discoverycove