Everything You Need to Know About the Florida Children's Museum in Lakeland
Orlando may be home to world-famous theme parks and attractions, but there's so much more to do with the kids here in the Sunshine State including the NEW Florida Children's Museum in Lakeland. And you really don't have to drive that far since it's an easy day trip from the Orlando area.
We recently explored this new way to play so we can SHOW you all of the amazing things you can do with the kids here. So, let's get to it!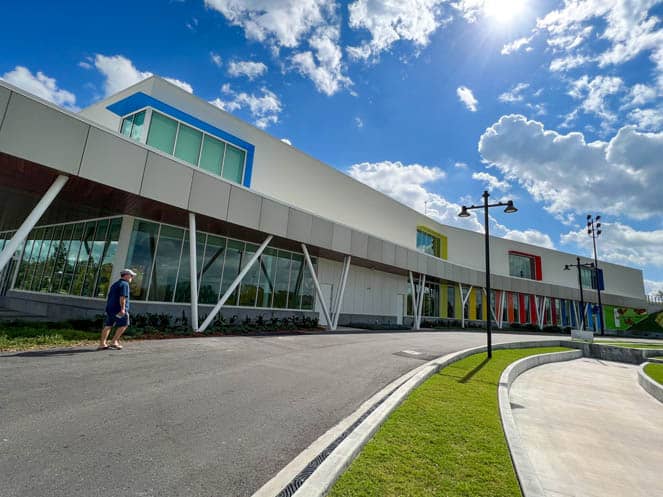 Where is the Florida Children's Museum?
The Florida Children's Museum, formerly the Explorations V Children's Museum at its previous location, is a brand new, 47,800 square foot building located in the NEW Bonnet Springs Park which is just on the outskirts of Downtown Lakeland off of George Jenkins Boulevard. It's about 7-9 minutes from I-4's exit 28 if you are coming from the Orlando area.
If you're plugging it into a GPS, the address is: 600 Bonnet Springs Boulevard, Lakeland.
Bonnet Springs Park is the perfect spot for the museum and a perfect way to spend the day with the kids. You can truly spend an entire day here and still not experience all there is to offer between the museum and the park, so expect to return again and again.
While it calls Lakeland home, the museum's creators hope it will be a place that attracts families from all over Central Florida, from coast to coast.
That goal is what inspired the name of the museum.
"Florida Children's Museum was intentional in our name change," explained the museum's CEO Kerry Fallwell. "We had been Explorations V- we were celebrating the five senses in our namesake—we still do that through programming and exhibits here, but with Florida Children's Museum being so close to 2 major international airports and so close to the theme park attractions, we couldn't help but invite the entire state to come visit."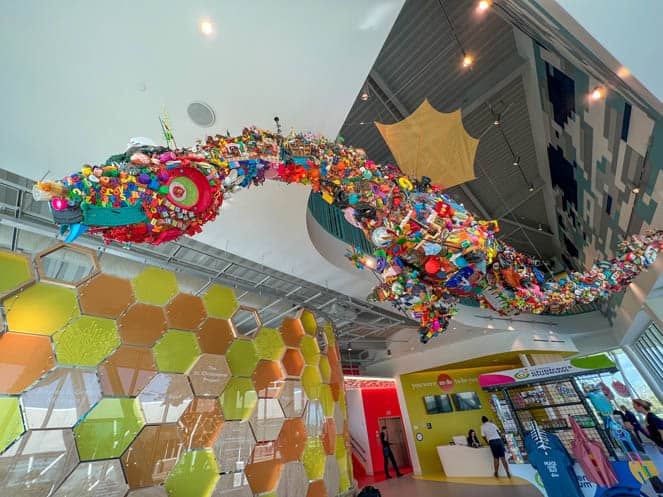 How much does it cost to go to Florida Children's Museum?
Tickets are $15 each for all guests 2 years old and older. Kids under 2 are free.
There is a 50% discount for seniors (65+), teachers, and military members–you will need to show your ID for proof, so don't forget.
Fallwell also tells us they are offering reciprocal discounts through the Association of Children's Museums, so if you are a member of a participating museum, you can enjoy a reciprocal discount of 50% for up to six people. Visiting from out of town? Check with the ACM Reciprocal Network to see if your local museum participates.
There will also be a Free Day sponsored by the United Way with four hours of free play on the last Monday of every month.
You can also purchase a membership which starts at $120. You can purchase tickets here.
Is it free to park at Florida Children's Museum?
Yes, it is free to park. You'll find the parking lot on the left side of Bonnet Springs Boulevard just after you drive by the Bonnet Springs Welcome Center. You can also park and walk from the Welcome Center parking lot since there is a 1.7 mile long paved trail that connects every single attraction in Bonnet Springs Park.
The trail is bicycle and foot-powered scooter friendly. And stroller and wagon friendly too!
What is there to do at Florida Children's Museum?
At 47,800 square feet, the museum is two-stories of non-stop, kid-friendly fun! And, here's the best part…it appeals to a wider audience with exhibits designed for kids of all ages and stages from babies to up to 12 years old.
"We worked very intentionally with our exhibit designers to go up to age 12 because of the lack of things for those kids to do," said Fallwell, who is also a mother of a 10-year-old. "They still want to play, but they need to be engaged in a different way than your younger children and making sure they felt seen and have the opportunity to be creative in a safe place."
So let's dive in and explore all of the exhibits at the Florida Children's Museum!
Design Park Exhibit
The Design Park exhibit area on the first floor is one of those areas designed with older kids in mind. It's a creative space geared for kids ages 6 through 12 years old, but even younger kids will enjoy playing here.
One of the coolest features here is the long air-hockey-type table where kids can set scarves, feathers, paper airplanes and more soaring across the table.
There are also smaller play stations where kids can design a LEGO build, construct a house, play with magnet tiles, and more.
If you look at the image below, you'll see a hanging notebook with a variety of different design builds kids can follow or simply design something on their own.
The space also features a really cool pipe wall for kids to try and get a tennis ball to travel through. While older kids will like it, the younger ones will too, so this is a great place for them to play while older siblings are focusing on their own activities.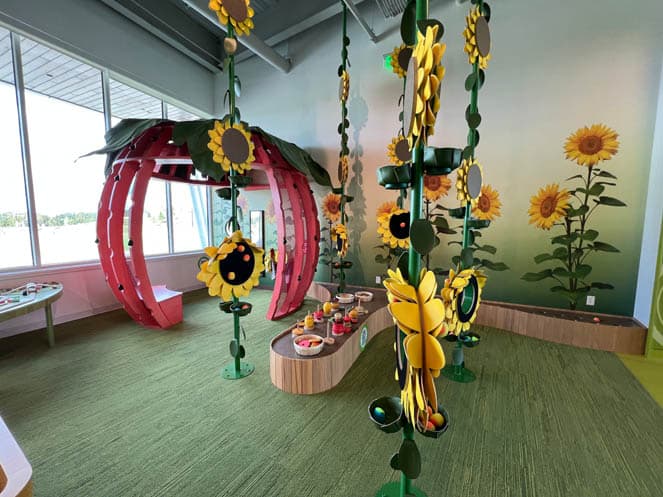 Watermelon Seeds Exhibit
This is an absolutely adorable space designed for little ones up to age 6, but again, older kids will also enjoy playing here.
It is a bright, colorful space on the first floor that also tells a story about the community.
"There was a lot of research in the beginning, so we took a deep dive into what is Central Florida now? And that's when we learned watermelon is the fastest growing industry in Polk County," Fallwell told us.
To celebrate this important crop in our community, they designed this entire exhibit around the sweet watermelon!
There is a huge climbing structure where kids start at the roots and vines of a watermelon plant and eventually make their way through to a slide behind the shape of a slice of watermelon.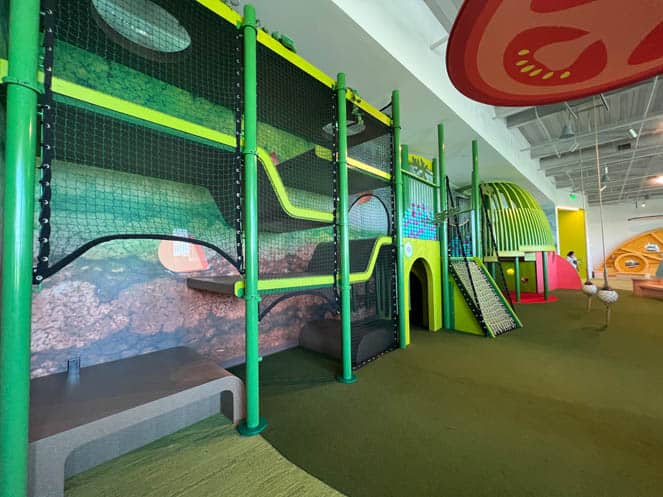 Kids can also play inside a watermelon truck and take balls made to look like little watermelons and wash them in a pretend washing station before loading them into the truck for delivery. It's a good teaching tool about where our food comes from, too!
There is even a giant strawberry structure in the exhibit, a nod to Plant City and the Strawberry Festival.
Inside this strawberry is where kids can find little vests with velcro fronts–this allows them to transform in to a 'bee' and take little 'pollen' tennis balls and pretend to pollinate the sunflowers in the exhibit. It's super cute and we think the kids will get a kick out of while learning how important these busy pollinators are.
This area also features a safe place for babies to play called the "Seed Pod". There is a padded floor, seating for parentsand caregivers, sensory circles on the wall, and toys designed just for the littlest ones.
Right around the corner from the baby play area is another really cool area with reeds kids can walk through as they make their way to a little pond which is actually a water bed kids can play on.
Like the watermelon, this exhibit is super sweet! We think you'll love it!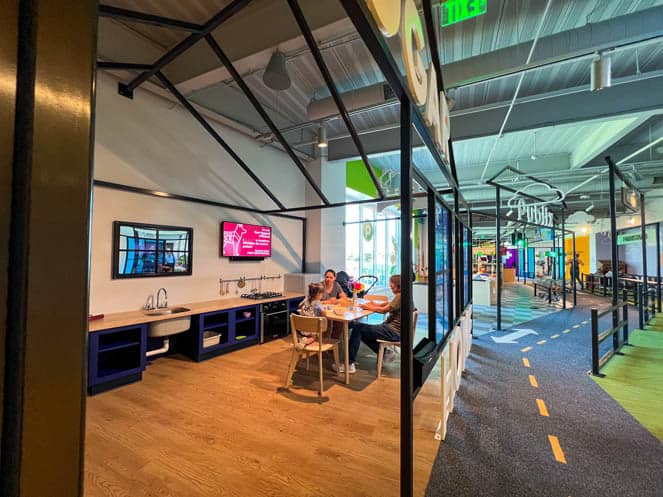 City Play Exhibit 
Let's move on up to the second floor to the City Play area!
This is a space that has a really cool design feature that allows parents to easily keep their eyes on their kids if they have multiple children heading in different directions.
It is open and airy without taking away from each individual exhibit's identity.
"Parents and grownups are the ones making the choice to bring their child here, so we want to make sure we aid their experience. Sight lines were important to us so we asked, how do you create spaces that the child feels they can really dig in their imagination, but the parent can see 2 kids on the opposite side," said Fallwell.
The story of the community continues to play out here with a Publix supermarket (Publix is headquartered in Lakeland, after all) that has scanners that actually work and touch-screen cash registers. The Publix exhibits are always a hit at local children's museums and this one is no different.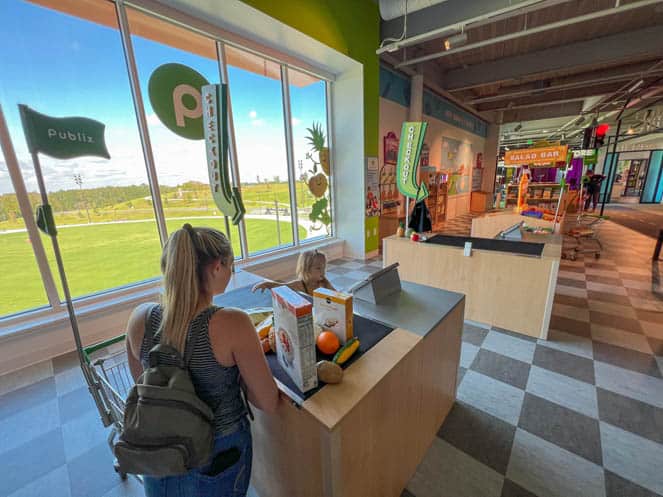 City Play is where you will find the Orange Juice Factory, another hands-on play space. It's super cute!
There is also a store, farm stand, hospital, pizza food truck and most importantly…the return of the sheriff's office car and fire truck! Several parents who got a sneak peek with their kids said they were thrilled to see these iconic items return from Explorations V.
"We have 30 years of history to honor, so it was really important for us to represent that through these iconic pieces—our Dragon of Toys hanging in the lobby, the Sherriff's car and fire truck that were hand built by the first responders they represent, those were really important pieces to celebrate 30 years that we have been successful in and to set the stage for the next 30 years," Fallwell told us.
The vehicles got a fresh coat of paint for opening day and look practically brand-new!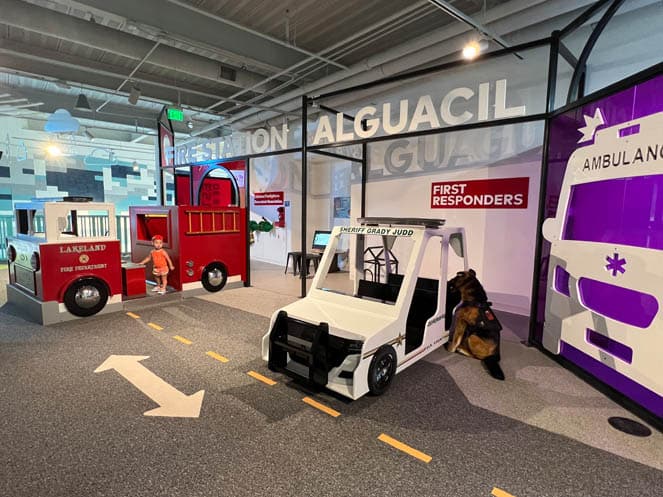 There is a lot to play with here in this nook of City Play. In addition to playing in the sheriff's car and fire truck, kids can also pretend to be a 911 operator and use a real map on a computer screen and even play with fire hoses.
Right across from this spot is another exhibit we think the whole family will love–the Bay News 9 and Central Florida 13 Weather Center.
This is where you can create your own video forecast, sound effects included–with the help of a parent or friend spinning the wind sound machines. Use the touchscreen on the camera to start recording your video and then scan a QR code at the end to save it to your phone.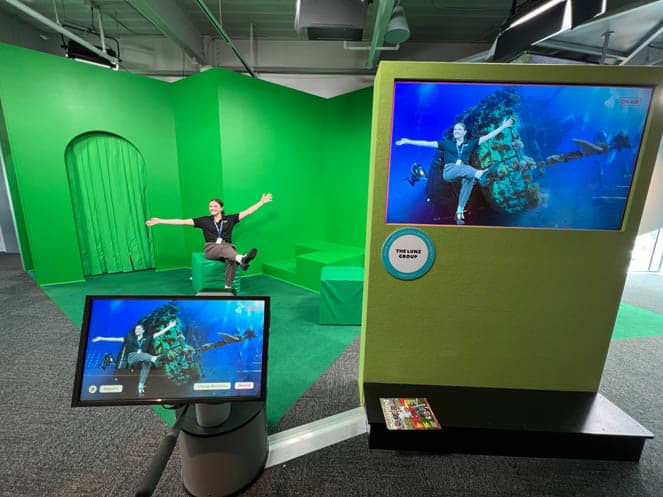 TBD-To Be Determined gallery
Let's move on to the TBD gallery on the second floor! Nope, they haven't forgotten to name this play area. In fact, it's called TBD because "everything is to be determined by the kid who comes in here".
This is where you will find the Found Sound booth where kids can step inside and create all sorts of sounds and music with instruments and even good old-fashioned pots and pans. There is also an electronic touchscreen here where you can DJ and create your own music.
Music isn't just for the ears though! Just on the outside of the Found Sound booth is a bench where you can sit and FEEL the music. You can also SEE the music as you turn a wheel behind a set of strings.
The music doesn't stop here though. A few more steps away from the Found Sound booth is the Music Box where kids can place corks and create their own song on an oversized music box!
Also in the TBD gallery is a giant green screen space where kids can place themselves in a variety of different backgrounds and make fun videos that are recorded and then can be saved by scanning the QR code at the end.
There are two different green screen spots, one with the camera looking at you from in front of you and one that looks overhead.
Right near here is also where you'll find the Stop Mo exhibit. Kids can create their own stop-motion movies with all sorts of figurines and backdrops. Again, they can record the movie and then save it to show off to their friends later!
There is so much more we didn't even get to, but we wanted to at least share some of our favorite things during our sneak peek tour.
But, we didn't get to see EVERYTHING because another exciting addition in the outside area is still under construction and will be opening soon. There will be a giant yellow gator-themed climbing structure named after Blinky the alligator that once called downtown Lakeland home.
There will also be giant lily pad shade structures and a sandbox play area. One really cool feature about this outdoor playspace is that from the road, you'll only see the lily pads and a gator head peeking up! We thought that was a super cute idea!
The outdoor space will feature a fruit and vegetable garden too!
A Sensory-Friendly Museum
The museum was designed with all kids in mind. There are adjustable shades on the windows, sound dampening on the walls and predictive floor paths.
The museum has also teamed up with CARD (Center for Autism and Related Disabilities) at USF to create Sensory Kits for families who may need them. Kits include noise-reducing headphones, sunglasses, and a sensory toy. You can learn more about the museum's Sensory Inclusion work here.
A Community Resource
The Florida Children's Museum is also home to the United Way's Carol Jenkins Barnett Children's Resource Center. This is a place where families can learn more about social services for low-income families and take part in free developmental playgroups, parent education classes, and more. Participants in the programs will get to stay and play for free at the museum.
What else is there to do near the Florida Children's Museum?
Where do we even begin? First-it's on the site of the NEW Bonnet Springs Park, a 168-acre play space for people of all ages. We're sharing everything we love about Bonnet Springs park here to help you plan your day.
We think Fallwell said it best, "You can spend days here and still not see everything."
If you get hungry during your visit, right across from the Museum is The Depot Cafe where you can get sandwiches and even ice-cream. You can also pack a picnic and enjoy lunch in the park or venture a few minutes way to The Joinery in Lakeland which we also recommend!
Final Thoughts on the Florida Children's Museum
We truly enjoyed exploring this new place to play and we know families from all over Florida and those visiting our beautiful state will enjoy their time here together. It doesn't compete against our other children's museums either since they all offer something different and special.
We can't wait for you to experience it too!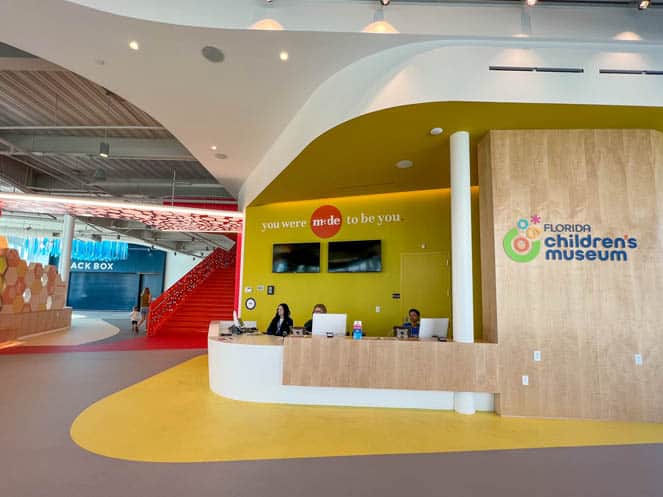 Written in partnership with our media partners at Tampa Bay Parenting.