Free Activities for Kids at Walt Disney World Resort Hotels
Here in Orlando, we're lucky to have Walt Disney World just a few miles down the road. Even if you don't have a theme park ticket, there are plenty of family-friendly things you can do at the Disney resort hotels. Best of all? These activities are completely free and open to locals – no expensive hotel stay or room key required! Here are some of the best free activities for kids at Walt Disney World resort hotels.
FREE Things to Do at Disney Hotels For Kids
Before we dive into our list of free things to do with kids at Disney World hotels, keep in mind that Disney's official policy is parking at hotels is only for guests with a confirmed dining reservation or hotel reservation. If you do not have either, plan to present your ID at the security gate and see if you are able to park. If not, consider heading to Disney Springs (free parking) to use the transportation from there to the resorts.
See African Animals at Animal Kingdom Lodge
One of our favorite Disney resorts is Animal Kingdom Lodge, a safari-themed retreat where wild animals roam the grounds. Stop by Kidani Village for a closer look at giraffes, zebras, and wildebeest, all of which you might pay to see on Animal Kingdom's Kilimanjaro Safaris tour. Find more animals, including a colorful flamboyance of flamingos, at Jambo House next door.
There are knowledgeable animal guides and interpretive signage at each location for an outing that is both fun and educational. In case of hot weather, head out to the spacious second story balconies on either side of the Kidani Village lobby. You'll find shaded rocking chairs with an awesome view of the savanna below.
Did you know you don't need a park ticket to see the nightly fireworks at Magic Kingdom? You can get an awesome free view of the fireworks from any of the four stops on the Magic Kingdom monorail line. Disney's Contemporary Resort has a spacious outdoor patio facing the park, just past Fantasia Market on the fourth floor.
Disney's Polynesian Resort is my personal favorite spot to see the Magic Kingdom fireworks. Just head out on the beach, ideally with a delicious Dole Whip swirl from Aloha Isle.
Audio from Disney's Enchantment is piped in at both locations, giving you a real feel for the magic across the water. At the Grand Floridian, you can see the Magic Kingdom fireworks from the docks near Gasparilla Island Grill or Narcoosee's. Finally, you can see the fireworks and hear the show audio at the Ticket and Transportation Center, near the ferry boat dock.
Get even more details from OrlandoDateNightGuide.com – one of our other publications.
Take a Scenic Stroll Around the Seven Seas Lagoon
Not too long ago, Disney completed a long-awaited pedestrian walkway from Grand Floridian to the Magic Kingdom. Now, you can follow the resort monorail line on foot, going clockwise all the way from the Ticket & Transportation Center to Disney's Contemporary Resort.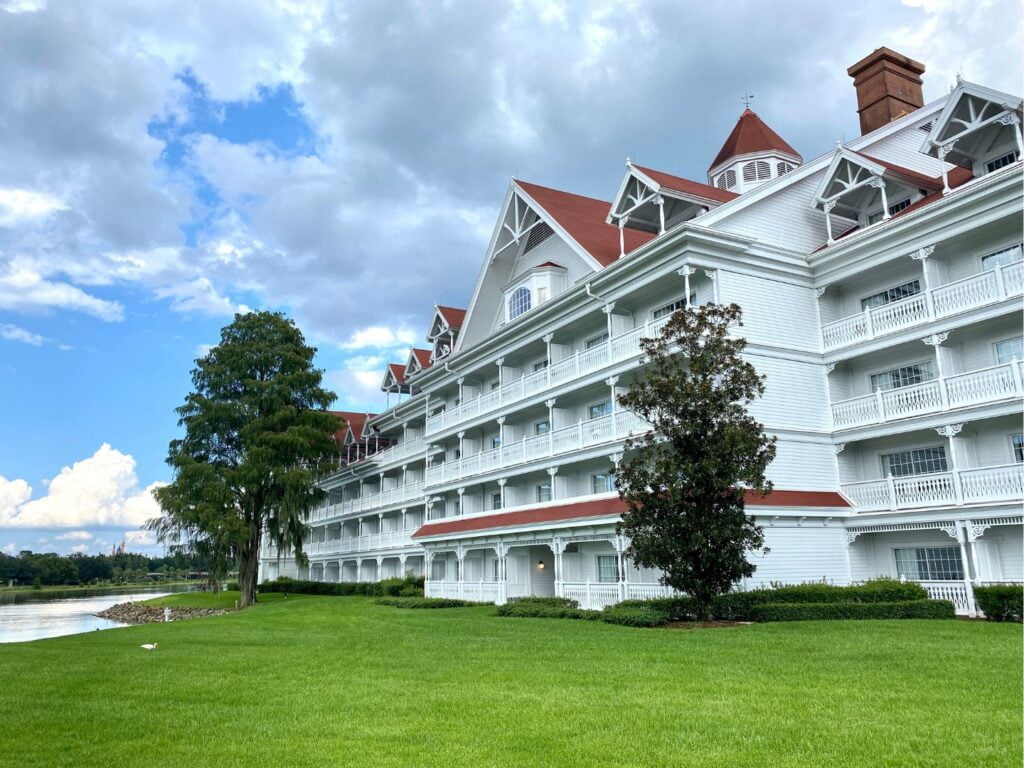 Keep in mind, there is no walkway connecting the Contemporary clockwise to the Ticket & Transportation Center, so you'll need to take a bus, boat, or monorail back to your starting point if littles are too tired to walk back.
Ride the Monorail
If a lengthy stroll around the Seven Seas Lagoon just isn't your cup of tea, or if your kiddos start to get tired along the way, hop on the Magic Kingdom resort monorail! A much easier way of getting around, the iconic Disney monorail encircles the Seven Seas Lagoon and makes stops at the same three Magic Kingdom resort hotels. Just follow signage inside each resort to the monorail boarding platform, and enjoy your ride! The monorails are also perfect air-conditioned spaces for rocking a fussy baby to sleep.
For a change of scenery, you can also take the monorail from the Ticket & Transportation Center to Epcot. The ride is longer and more relaxing, passing through peaceful wooded stretches before looping around Spaceship Earth and soaring over the front half of the park. You can catch a glimpse of Guardians of the Galaxy, World Showcase, The Land Pavilion, and Finding Nemo as you loop around the park, plus you can get a little sneak peek at what's behind all those construction walls!
Ride the Disney Skyliner
Explore several resorts in one day on the Disney Skyliner, a fun aerial gondola system that travels between Epcot, Disney's Hollywood Studios, and four neighboring resort hotels. The Skyliner is a fun, free treat for all ages, and you don't need to fold up your strollers or wheelchairs to ride. Simply soar through the sky in a colorful themed gondola and enjoy a fun scenic journey to some of the free activities on our list.
The Skyliner makes stops at Disney's Art of Animation Resort, Disney's Caribbean Beach Resort, Disney's Pop Century Resort, Disney's Riviera Resort, Hollywood Studios, and Epcot's International Gateway. Get off at Epcot to explore Disney's Yacht Club Resort, Disney's Beach Club Resort and Disney's BoardWalk Inn.
Ride the Friendship Boats
Yet another free mode of Disney transportation, the Friendship boats offer a fun, old-fashioned way to travel from Epcot to Hollywood Studios, with three resort hotel stops in between. Enjoy gorgeous views of Disney's Boardwalk, Yacht Club and Beach Club as you motor through Lake Crescent and on toward Hollywood Studios.
Feel free to get off at any of the resorts, take a scenic walking path between the Boardwalk and Hollywood Studios, or hop on the Disney Skyliner when you're ready for the next adventure.
Step Into Your Favorite Animated Movies
Take a stroll around the themed courtyards of Disney's Art of Animation or All-Star Movies resorts for a fun, immersive journey into your family's favorite animated movies.
Play in the Elephant Graveyard, ka-chow with Lightning McQueen, and marvel at a human-sized dinglehopper at the Art of Animation Resort. All-Star Movies, meanwhile, features landscapes and characters from classic films like Toy Story, 101 Dalmatians, Fantasia, The Mighty Ducks, and The Love Bug. Take photos with larger-than-life movie characters and grab a snack onsite to round out your day.
Play Bocce at Disney's Riviera Resort
Relax at this breezy coastal Riviera-themed resort and try your hand at bocce, a popular European lawn game with simple rules for casual play. A white ball, called a pallino, is thrown out on the court, and the goal is simply to throw your team's balls closest to that marker. If bocce doesn't hold their attention, let the kids run around on the lawn, relax on the gentle porch swings, or play a game of giant lawn chess.
Watch Old-Fashioned Street Performers at the Boardwalk
This vintage Atlantic City-style boardwalk is perfect for old-fashioned family fun. During the day, it's a great spot to rent a surrey bike, relax on the beach, and share a sweet ice cream treat. Try Boardwalk Ice Cream for simple cones and cups, or walk over to the Beach Club and split the infamous Kitchen Sink Sundae, which has five scoops of ice cream and a boatload of toppings.
By night, catch free live entertainment all around the boardwalk, including musicians and my personal favorite, magicians! These professional entertainers put on a great show and often ask for audience volunteers to help with the act.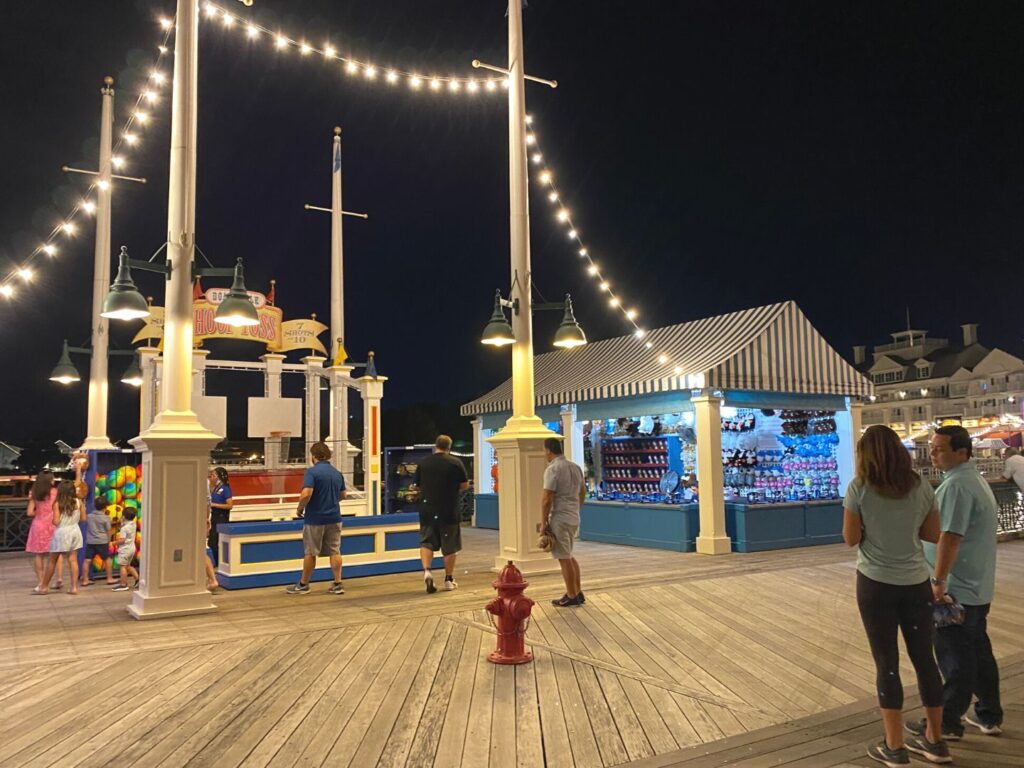 The live music, theatrics, and cheeky audience interaction are fun for all ages.
Relax on the Beach
If a day at the beach is more your style, pack a picnic lunch and spend the afternoon at one of the beautiful Disney resort beaches. Keep in mind, you can't actually swim in the lake, so there is no need to bring swimsuits or floaties. Feel free instead to cuddle up on beach chairs or a blanket with sunscreen, books, and beautiful views.
Some of our favorite Disney resort beaches are located at the Polynesian, Disney's Beach Club, Caribbean Beach Resort, Fort Wilderness, and the Grand Floridian. In the evenings, you may even catch an outdoor movie on the shore at Disney's Beach Club.
These are intended for resort guests, but you do not need a room key to stick around for the show.
Explore the Nature Trails at Wilderness Lodge
This Great American Northwest nature lodge is home to several quiet trails that are suitable for all ages. For a quick, stroller-friendly jaunt, explore the short boardwalk trail leading from the pool area to the boat dock. Don't miss Fire Rock Geyser, near Geyser Point Bar & Grill, where you can see a simulated geyser eruption at the top of the hour!
For a longer journey, continue on the paved villa trail past the boardwalk, or turn back and take the Wilderness Nature Path along the edge of the lake. You might even notice footprints from the critters who came before you! Feel free to bring your own bikes for this stretch of trail, or rent some on site from Teton Boat and Bike Rentals. For even more outdoor fun, head over to Fort Wilderness Campgrounds next door.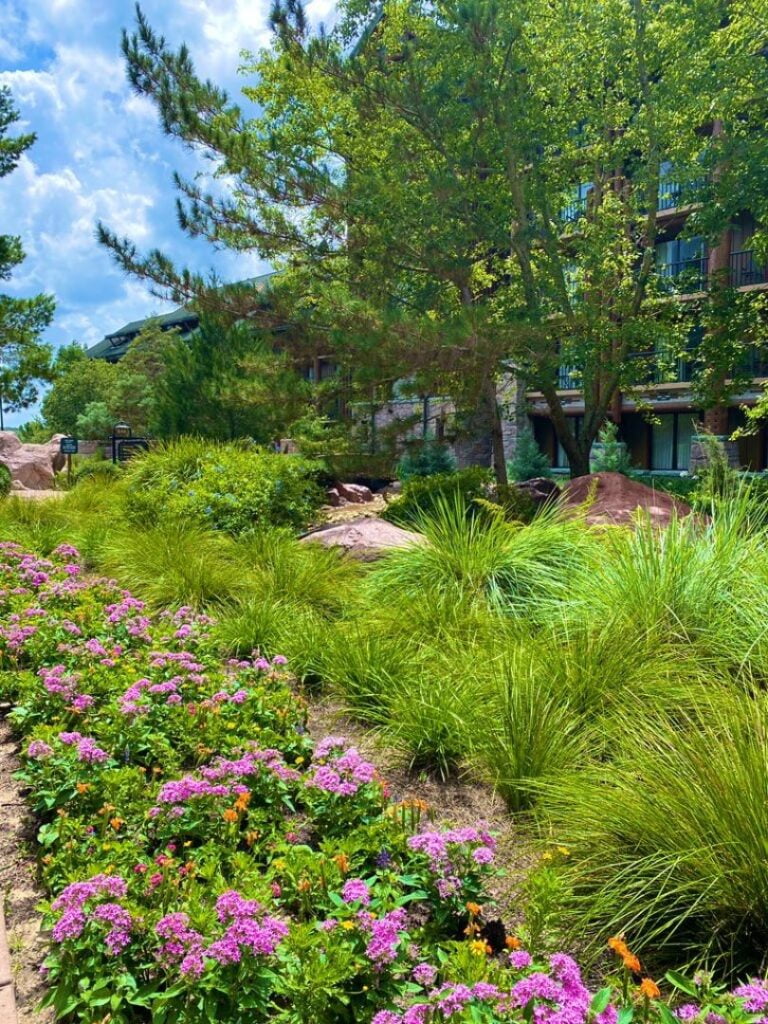 See a Sparkling Electrical Water Pageant
Catch a nightly musical pageant, complete with twinkling sea creatures and a patriotic display, from the shore of the Seven Seas Lagoon or neighboring Bay Lake. You might catch a glimpse from the monorail, but if you want to watch the short pageant all the way through, head down to the shore for the best views.
In addition to the viewing locations listed for the Magic Kingdom fireworks, you can get a great view of the water pageant near the boat docks at Magic Kingdom, Disney's Contemporary Resort, Wilderness Lodge, and Fort Wilderness.
Free Activities for Hotel Guests
For even more fun, consider booking an overnight stay at one of the Walt Disney World resorts! Florida residents, Walt Disney World passholders and Disney+ subscribers can all take advantage of special hotel savings throughout the year. Hotel guests get some serious perks, like early access to dining reservations, additional theme park reservations, early park entry, and more. Plus, you'll unlock access to even more fun activities that are only available to resort guests.
Themed Swimming Pools + Splash Pads
If you've spent any time at the Disney resort hotels, then you've likely gotten a glimpse of their incredible themed pools. We're talking pirate ship water slides, a Fantasia-themed interactive play area, and an enormous Finding Nemo pool where kids can dance and play beneath giant jellyfish. Your hotel key card unlocks any pools at your hotel, and in some cases, the hotel's sister resorts!
Plus, enjoy complimentary games and other organized pool activities during your stay. Just ask for a schedule of activities upon check-in, or look for signage around the resort.
Exclusive Playground Access
Most of the Disney World resort playgrounds require key card access. As a hotel guest, a whole new world of fun opens up to your littles! We especially love the whimsical Port Orleans Riverside playground, which has its own miniature paddle boat detail, and the Finding Nemo reef-themed playground at Art of Animation.
Nightly Movies Under the Stars
Ask about free showings of outdoor movies when you check into your hotel. Depending where you stay, these might be shown at the pool, on the lawn, on the beach, and so forth. My personal favorite is the Chip 'n' Dale Campfire Sing A-Long at Fort Wilderness, where you can roast marshmallows and hot dogs over an open fire. This particular experience is currently closed, but as more entertainment and meet and greet options return to the resort, I'm hopeful that the campfire movies will be back very soon!
Complimentary Campfire Activities
While the full sing along experience has not yet returned, you can still roast s'mores at several Walt Disney World resorts, Fort Wilderness included! Complimentary campfire activities are included for guests staying at these select hotels. My favorite fire pit is located at Animal Kingdom Lodge's Jambo House, in a quiet rocky courtyard with a great view of the savanna.
Free Crafts, Games and More
Many hotels have special recreation and craft areas called community halls. These indoor spaces are filled with fun activities the whole family can enjoy, including crafts, book rentals, foosball, air hockey, and more. Most activities are free to hotel guests, though some, like DVD rentals, do have a small fee. Find community halls at these locations.