Hotels Near Disney World with Awesome Kids Clubs
Whether you're visiting Orlando or you live here, there are plenty of Orlando hotels near Disney World with kids' activities and kids clubs to get help families relax. We're sharing our favorite Orlando hotels that have kids' clubs so parents can catch a break, and kids can be taken care of and have a great time.
You may also want to dive into our list of Orlando hotels with water parks.
Orlando Hotels Near Walt Disney World with Kids' Clubs
JW Marriott Bonnet Creek
Hidden Garden Kids Club
The Hidden Garden Kids Club lives up to its name. It's genuinely hidden.
Kids enter this magical space through a door disguised among a wall of greenery. Once inside, they'll find a large play space filled with games, arts and crafts, cozy corners with bean bag chairs and plenty of fun activities.
The Hidden Garden is for children ages 5 to 12 and run by qualified staff members who play with, entertain and look after the children while mom and dad get some needed down time.
Cost: The cost is $65 per child for half a day (9 a.m. – 12 p.m. or 1 p.m. – 4 p.m.) or $120 for a full day. There's also the option to take part in an evening program (6 p.m. – 9 p.m.) for $85 per child.
The evening program includes dinner, a craft and other activities.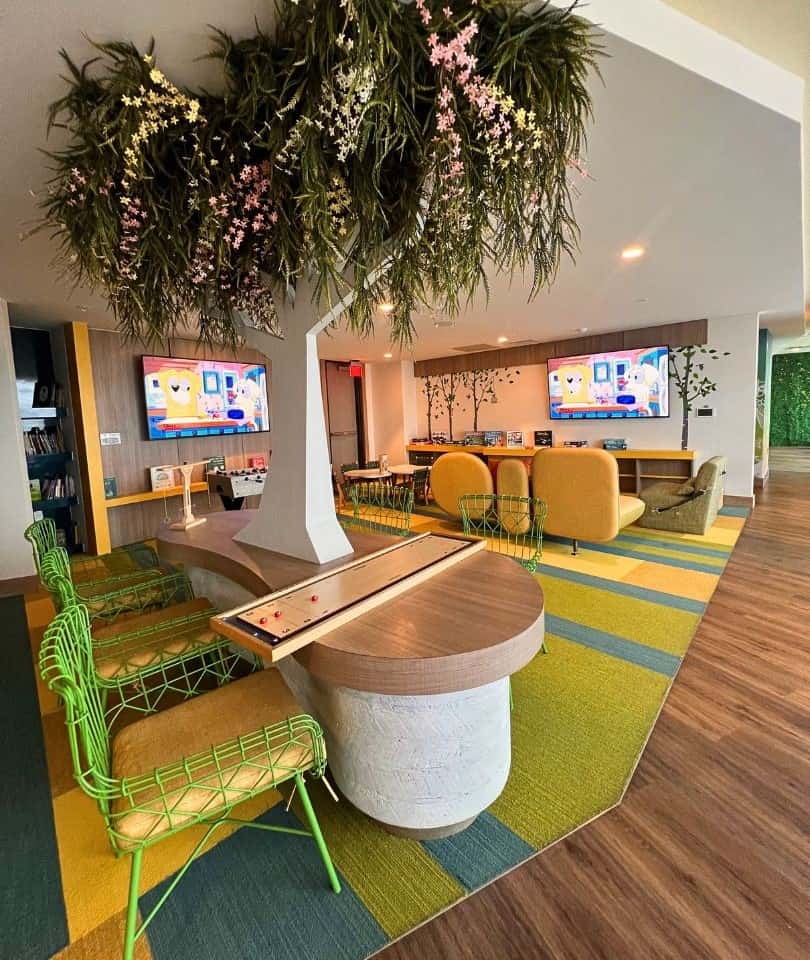 Kids Conservatory Lounge
Open area for families
Connected to the Hidden Garden is another large space open, the Kids Conservatory Lounge, which is open for everyone in the family to enjoy. Kids are can only be in this area when accompanied by an adult. It's a great place for the entire family to enjoy, especially on those hot Florida days or when the predictable afternoon showers come rolling in.
There are tons of comfy seating areas, loads of family-friendly games, books, tvs playing movies and lots more. There's even a corner of the room dedicated as a sensory corner. It has dim lights, wall panels with different textures and materials and even noise-cancelling headphones.
This space is located on the sixth-floor and includes an outside, rooftop play area complete with a rock-climbing wall and a miniature golf course, not to mention an incredible view of Walt Disney World.
The resort is located just minutes away from Disney Springs in the Bonnet Creek resort area.
Look for fairy doors! The family fun at this resort, whose clientele is typical 50% families and 50% conventions, is not just limited to the sixth floor. Small fairy doors are located all around the resort, from the lobby to the kids' club to some restaurants. Ask at the front desk for a fairy door cheat sheet and set out on your scavenger hunt.
Now if you want to find a fairy door in your hotel room, you'll have to book one of the four family suites. These suites can sleep seven people, have a living space, two bedrooms and two-and-a-half bathrooms.
The kids' room is the showstopper. It has a loft full-size bed and a queen bed below the loft. There are shelves stocked with books, a massive wall blackboard, complete with chalk, and a cozy circular seating nook.
Even the kids' bathroom is stocked with baby soap and plenty of bath toys to enjoy in the huge tub. There's also a rainforest shower in case your little ones prefer that.
Don't forget to look for the fairy door in the family suite!
Four Seasons Orlando at Walt Disney World
Kids for All Seasons: Complimentary Kids Club
The price tag for a room at this luxurious resort can be hefty, but it includes something super valuable: child care!
That's right, the kids club is included in your room at Four Seasons Orlando at Walt Disney World!
Kids For All Seasons is open to children ages 4 to 12 from 9 am to 5 pm.
The complimentary kids' club is run by qualified counselors who hang out with the kids all day facilitating games and activities and taking them to fun spots around the resort. The inside of the kids' club is so unique, they may not want to leave. It has an arts and crafts area, dress up clothes and even a volcano that occasionally "erupts."
Just outside the kids' club is a playground and games like ping pong and foosball. A few steps away is the five-acre water park that includes a lazy river, two water slides, a large splash pad area and family pool where movies are often played on a large screen. 
Family Activities
When the family wants to enjoy some quality time together, the Hideout is the place to go. It's an indoor space that has tons of games including a massive Pac-Man console, a pool table and plenty of video game consoles.
When checking in to the hotel kids will get a scavenger hunt which takes them all around the resort getting stamps. Once all the stamps are complete it can be turned it for a treat from the café Lickety Split.
If the family is craving a touch of Disney, no worries. You don't have to leave the resort. Ravello offers a character breakfast with Mickey, Minnie and Goofy on Thursdays and Saturdays and select Tuesdays.
The buffet breakfast is from 7 am to 11 am and even includes a photographer to capture the memories made. It's open to non-resort guests, but reservations are needed.
There is an evening-based program offered select nights for a cost of $75 per child. It includes dinner and a swim shift and runs from 5 pm to 8 pm.
Walt Disney World Swan and Dolphin/Swan Reserve
Camp Dolphin Kids' Club
Camp Dolphin is located in the Dolphin Resort and open to guests at that hotel as well as the Swan and the Swan Reserve.
Camp Dolphin is available to children ages 5 to 12 from 4 pm – 11 pm.
Depending on how long your child is there, prices range between $50 and $85. The night of supervised activities will include crafts, movies, video games, dinner, and more.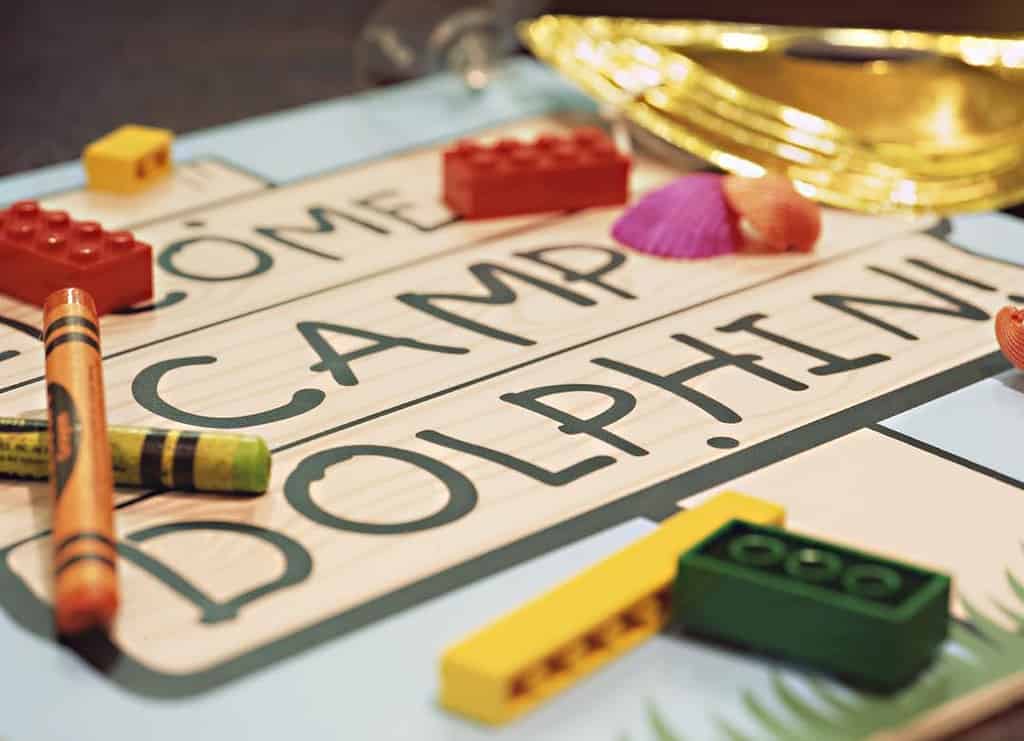 The alone time will allow Mom and Dad to enjoy one of the resort's 23 restaurants and lounges, take a short walk over to EPCOT, or ride the skyliner to Hollywood Studios.
Parents do need to remain in the EPCOT Resorts area including the Swan and Dolphin hotels, Swan Reserve, EPCOT theme park, Disney's Hollywood Studios, or the nearby Disney hotels: Disney's Yacht Club, Beach Club, or Boardwalk.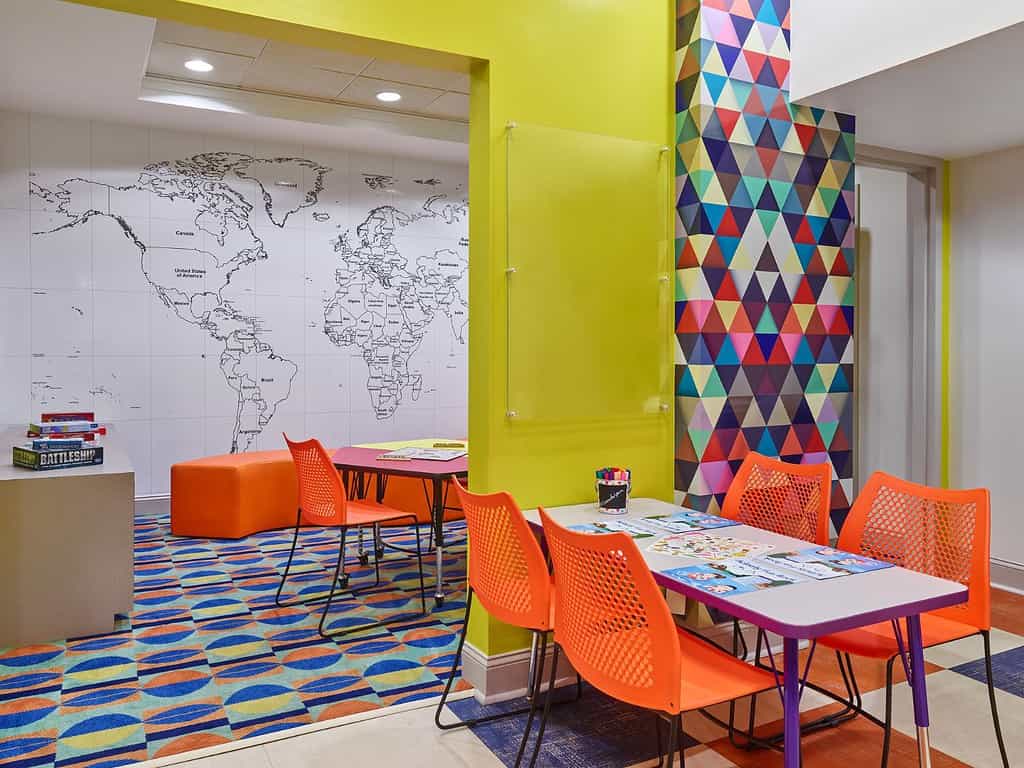 Waldorf Astoria and Signia by Hilton Orlando Bonnet Creek
WA Kids Club
These two resorts are connected by a convention space, and guests at both places are able to take advantage of WA Kids Club.
There are three different child-care options available, all including activities ranging from pool-side fun, crafts and games. WA Kids Club is open to guests ages 5 – 12.
The morning program is 10:30 am – 1:30 pm. The afternoon session starts at 2:30 pm and ends at 5:30 pm. Astoria After Dark is 6 pm – 9 pm. All sessions are $100 for the first child and $50 for each additional child.
Located in the Bonnet Creek area, Mom and Dad are close to all the Disney entertainment if they want to enjoy that while the kids have their own fun.
BONUS IDEA
Free Things to Do at Disney Hotels