10 International Trips With Non-Stop Flights From Orlando Your Kids Will Love
Orlando isn't always considered a hub for international travel, but there are over a dozen spots on the globe with non-stop International flights right from the magical place we call home. In fact, WorldDate.info indicates the Orlando International Airport (MCO) offer 102 international destinations.
Looking to take the family on an epic adventure, to discover new cultures and new cuisines? Look no further than this list of international destinations straight from Orlando that are great for kids. And, we've included what to do when you get there.
You can also explore destinations with non-stop domestic flights from Orlando.
International Trips With Non-Stop Flights From Orlando for Kids
Orlando to Puerto Rico
With historic Colonial buildings and forts, El Yunque rainforest, and breathtaking beaches, this trip is great for a long weekend or a whole week exploring by car. No passport required!
Average Flight Cost: $134-195 RT
Travel Time: 2 hrs 55 min
Airlines: Frontier, Spirit, Southwest, JetBlue
What To Do With Kids:
Visit the forts in Old San Juan
Go ziplining in El Yunque rainforest
Go for a horseback ride
Visit a coffee plantation
Go to the Caribbean's biggest mall
Kayak in a "glowing" bioluminescent bay
Savor local cuisine along the "pork highway"
Orlando to Cancun
More than just a party or cruise destination, families can enjoy local water sports, swimming in sinkholes or visiting ancient Mayan ruins.
Average Flight Cost: $165-250 RT
Travel Time: 2 hrs 10 min
Airlines: JetBlue, Spirit
What To Do With Kids:
Swim in a cenote
Visit Aktun Chen cave
Swim with turtles at Akumal
Shop for souvenirs in Playa del Carmen
See Mayan Ruins at Coba, Tulum or Ek Balam
Rent a car and go for a road trip through the Colonial villages of Valladolid, Merida and Izamal
Orlando to San Jose (Costa Rica)
This trip calls for a rental car and an adventurous spirit. Expect bugs, rain, mud, and a whole lot of fun. Visit the towns of Bijagua, Guanacaste, Samara, Tamarindo and La Fortuna.
Average Flight Cost: $250-520 RT
Travel Time: 3 hrs 16 min
Airlines: JetBlue, Spirit
What To Do With Kids:
Take a dip in the many hot springs pools
Get out on the river for some epic adventure rafting
Take waterfall or volcano hikes
Visit a chocolate or coffee farm
Arrange an eco tour like kayaking, horseback riding or zip lining through the forest
Orlando to Mexico City
Experience authentic Mexico and see Colonial architecture, vibrant markets, the world's third largest pyramid and more.
Average Flight Cost: $340-550 RT
Travel Time: 3 hrs 38 min
Airlines: Aeromexico
What To Do With Kids:
Float down canals on the iconic Xochimilco boat ride
See one of the largest pyramids in the world at Teotihuacan ruins
Enjoy vistas and opulence at Chapultepec Castle
Feel like you are in Europe in Polanco
Learn about Mexican history at the Anthropology Museum
Visit the mercados in the Zocalo historic center
Go to the Frida Kahlo Museum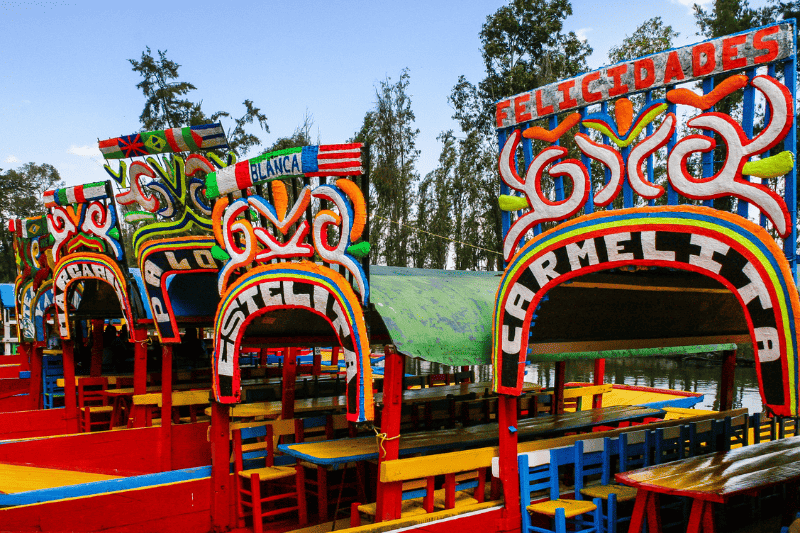 Orlando to London
By far the easiest of the trips on this list, everyone speaks English and it's just a short hop across the pond.
Average Flight Cost: $400-1300 RT
Travel Time: 8 hrs 20 min
Airlines: British Airways, Norse Atlantic, Virgin Atlantic
What To Do With Kids:
See the crown jewels, walls of swords and beefeaters at the Tower of London
Step up your selfie game with all the greats at Madame Tussaud's Wax Museum
Take a spooky historic walk through London's seedy past on the Jack the Ripper Tour
Go for a Sunday Roast
Take the Warner Bros Studio Tour (where Harry Potter was filmed!)
Enjoy street food and boho shopping stalls at the Camden Market
Check out the mummy exhibit at The British Museum
Orlando to Frankfurt
Use Frankfurt as a jumping off point for a road trip around Germany. Here are some recommended towns to visit and things to do.
Average Flight Cost: $900-1500 RT
Travel Time: 9 hrs 15 min
Airlines: Eurowings Discover (Lufthansa, United)
What To Do With Kids:
Stroll quaint streets in Rudesheim am Rhein
Stay in a castle in Colmberg
Spend the day in Rothenburg ob der Tauber
Pop in for a meal in Dinkelsbuhl
Check out Munich's markets, or visit in late September for Oktoberfest (yes, it's family friendly!)
Take a hike in Schwangau then visit Neuschwanstein's fairytale castle
Take a ride through the Black Forest
Follow the wine road and stop for a picnic
Explore old town Strasbourg before heading back towards Frankfurt to depart
Orlando to Montreal
A quick jaunt north to the land of French transplants and maple syrup, there's plenty to do for a long holiday weekend.
Average Flight Cost: $300-600
Travel Time: 3 hrs 5 min
Airlines: Air Canada
What To Do With Kids:
Have brunch at a sugar shack
Try all things maple
Go to an orchard or winery
Explore the local markets
Have lunch in Old Town Montreal
Drive to Quebec City's quaint Old Town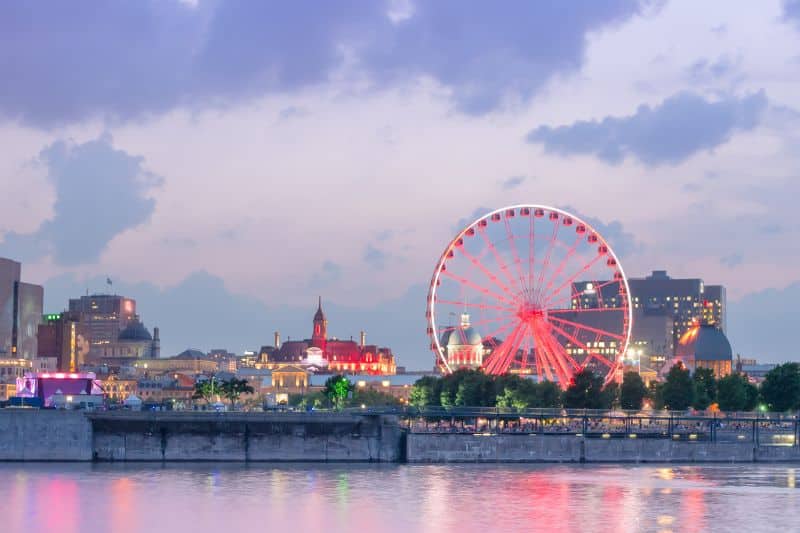 Orlando to Dublin
More than beer and leprechauns, a visit to Dublin offers families a chance to explore castles and green spaces.
Average Flight Cost: $550-1100 RT
Travel Time: 8 hrs 15 min
Airlines: Aer Lingus
What To Do With Kids:
Orlando to Reykjavik
This wintry wonderland in Iceland is a great first exposure to overseas travel. Full of adventure, the outdoor enthusiast family will love this trip.
Average Flight Cost: $700-1200 RT
Travel Time: 7 hrs 30 min
Airlines: Icelandair
What To Do With Kids:
Wildlife and sightseeing boat tours
Seek out the Northern Lights
Visit waterfalls and geysers
Swim in thermal baths
Explore lava fields and craters
Go for a hike
Orlando to Dubai
The longest flight on this list, exploring Dubai's magical and gold-washed world is worth the trip. From navigating the old souks to reveling in the grandeur of one of the world's richest cities, this trip is a stunner worth the time in the air.
Average Flight Cost: $830-920 RT
Travel Time: 14 hrs 5 min
Airlines: Emirates
What To Do With Kids:
Do not miss: a desert safari ride, including optional sandboarding, ATV rides, hawk encounters, henna tattoos, camel rides and a traditional meal with entertainment
Take an abra boat ride to the Gold Souk
Visit the many souks in Dubai including the Old Souk, Spice Soul, Textile Souk, Souk Al Bahar, Souk Madinat Jumeirah
Have lunch in a traditional tea house
See the enormously tall Burj Khalifa, the tallest structure in the world
Check out an impressive mall at the Dubai Mall or Mall of the Emirates
Jumeirah Mosque
Enjoy a waterfront meal at the Dubai Marina
With so many great non-stop overseas flights from our very own MCO, there's only one thing left to do – book that flight and get to packing!