Top 3 Things to Do with Kids at Kennedy Space Center to Learn About Artemis Missions
Two American icons — Snoopy and NASA are continuing their longstanding relationship with a new immersive, live show that will inspire a new generation of space explorers. All Systems Are Go! can now be enjoyed at Kennedy Space Center Visitors Complex. The roughly 20-minute show includes original music, lights, puppetry and more. It's one of the best things to do with kids at Kennedy Space Center Visitors Complex!
One of the best things of all is that the show explains the Artemis missions to head back to the moon – and why these missions are so important. Besides this awesome new show that is simply perfect for kids, there are other fun things to do that help your family learn about the next generation of space exploration.
BONUS IDEA! Blast off into one of the best things for kids to do at Kennedy Space Center is Planet Play – before you go read our expert tips for Planet Play.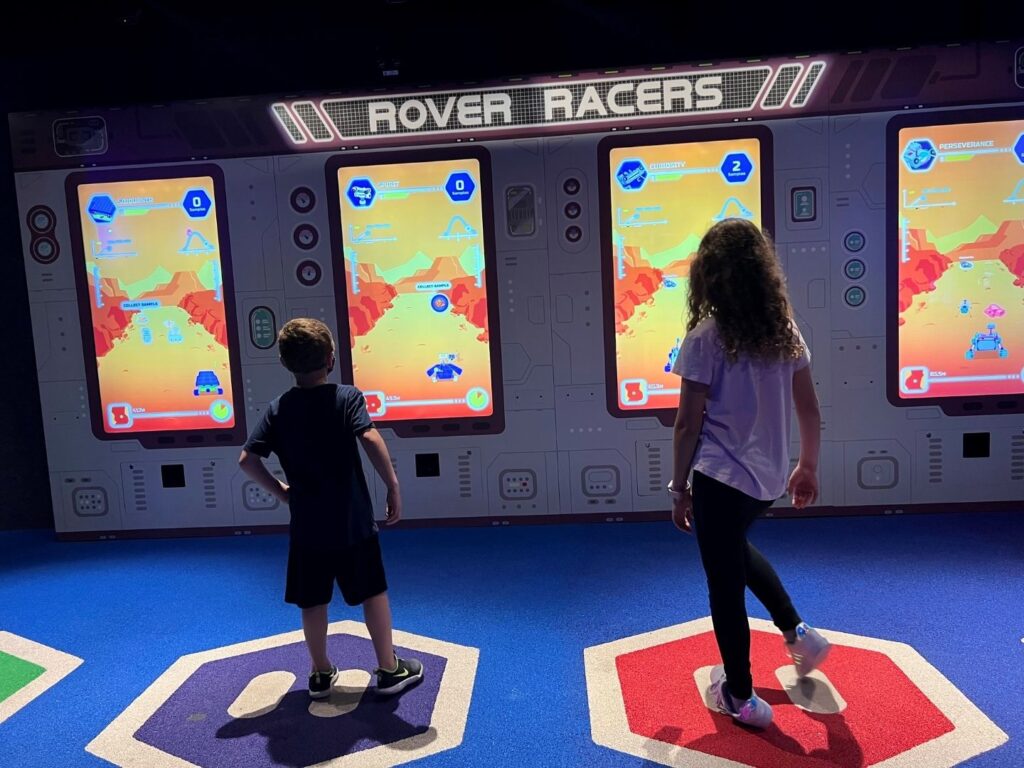 New Attractions at Kennedy Space Center Visitors Complex
1. All Systems Are Go Starring The Peanuts Gang
Snoopy is joined by his Peanuts friends as the loveable beagle and his sidekick, Woodstock, are called on to assist with Artemis, the newest NASA mission. The all-important call comes from the one-and-only Artemis Launch Director Charlie Blackwell-Thompson, who happens to be NASA's first female launch director.

Blackwell-Thompson makes a special video appearance in the show. The entire production is comical, entertaining and educational, giving space fans of all ages some knowledge into the Artemis missions.

Charlie Brown and his friends explain that Artemis is designed to continue work started by the Apollo missions – return to the moon and prepare for expeditions to Mars.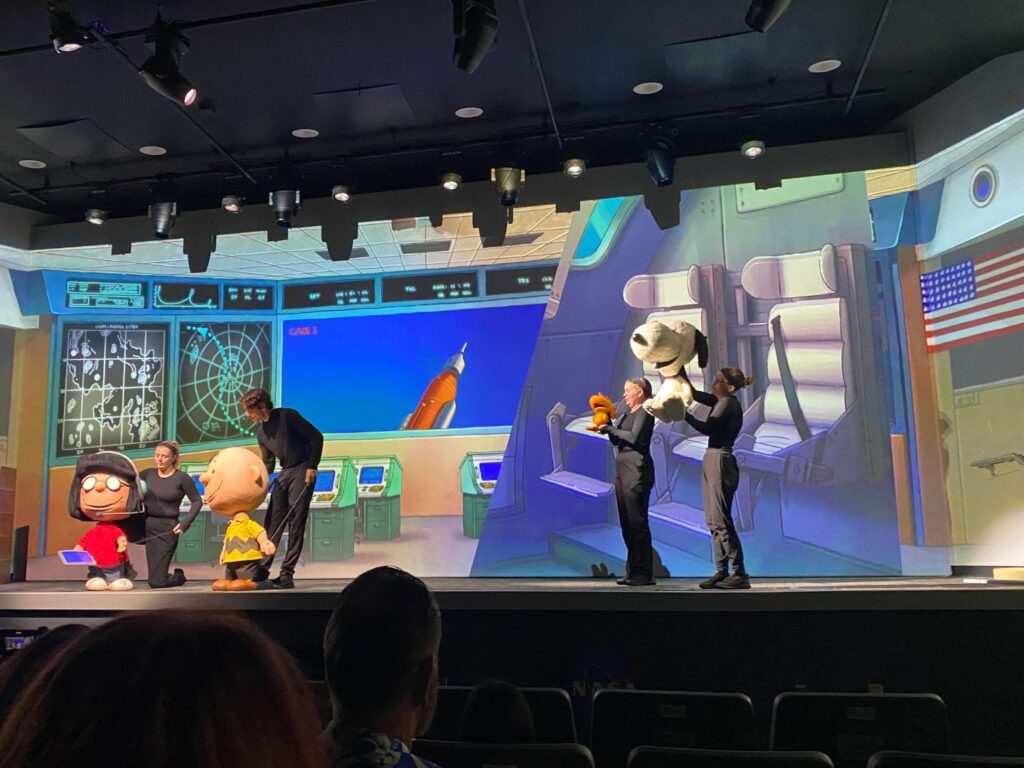 "We have been working hard to make sure that our multi-generational appeal extends to our youngest space explorers," said Therrin Protze, COO of Kennedy Space Center Visitor Complex. "This new show will delight guests of all ages as it features the loveable Peanuts characters and Snoopy, who has contributed to the excitement for NASA human spaceflight missions for more than 50 years."

NASA plans to put the first woman and first person of color on the moon with the Artemis missions. Lessons learned from those missions will prepare space explorers for the next step: landing on Mars.

The show All Systems Are Go! incorporates these messages in a fun and playful way.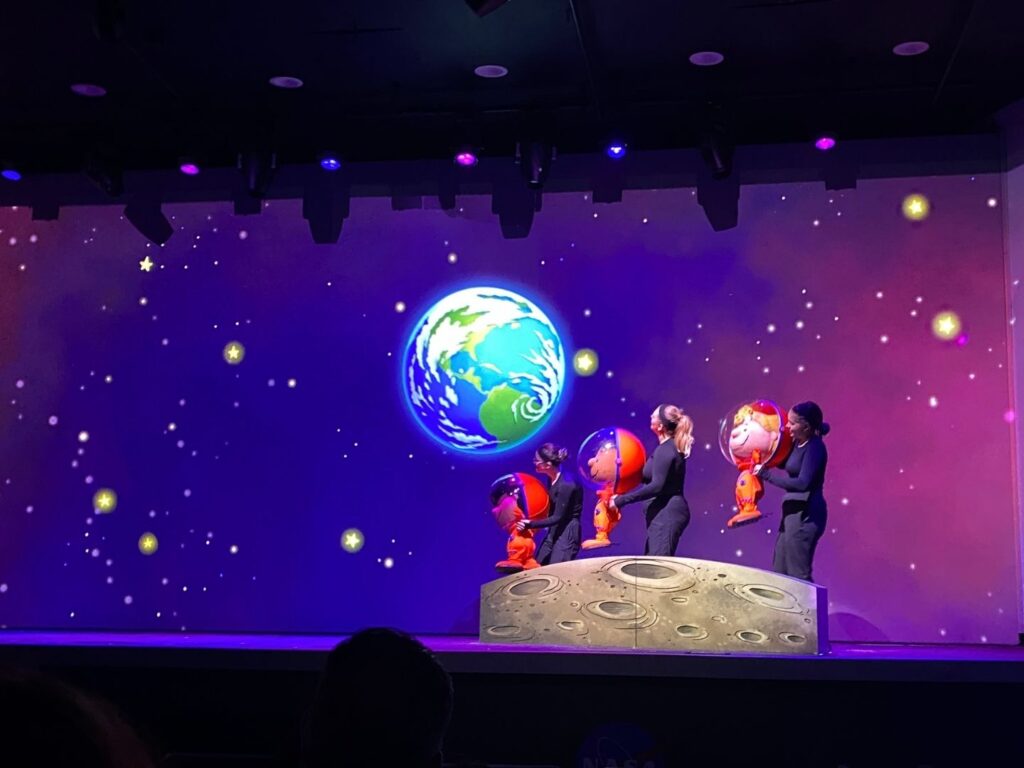 Be sure to get to the 300-seat theater early to enjoy the preshow, which is an interactive experience where you unlock hidden space images around the theater with your smartphone. There's also adorable Snoopy space-themed merchandise available for purchase.
NASA's history with Snoopy
The relationship between the space agency and America's beloved black and white pup began 50-plus years ago with the Apollo era. Snoopy creator Charles Schulz helped get America excited about space exploration with comics of Snoopy on the moon.

Snoopy even took a flight to space in 1990 when he was taken aboard space shuttle Columbia during the STS-32 mission. Astronaut Snoopy also made an appearance as a balloon in the 2019 Macy's Thanksgiving Day Parade.

There's even a TV series on Apple TV+, Snoopy in Space, where the Peanuts gang explores the world beyond. Peanuts also is partnering with GoNoodle to help encourage a new generation of to follow along on the Artemis journey.

Over at Kennedy Space Center Visitor Complex, All Systems Are Go! is performed a few times a day. The show is included with park admission.
2. LEGO® Build to Launch
Another great use of characters that kids love is the LEGO® Build to Launch room. This exhibit is kind of easy to miss if you don't know where to look.
You'll find it inside the massive IMAX building. You don;'t have to see an IMAX movie to participate in this LEGO® exhibit.
It's a must-do with kids.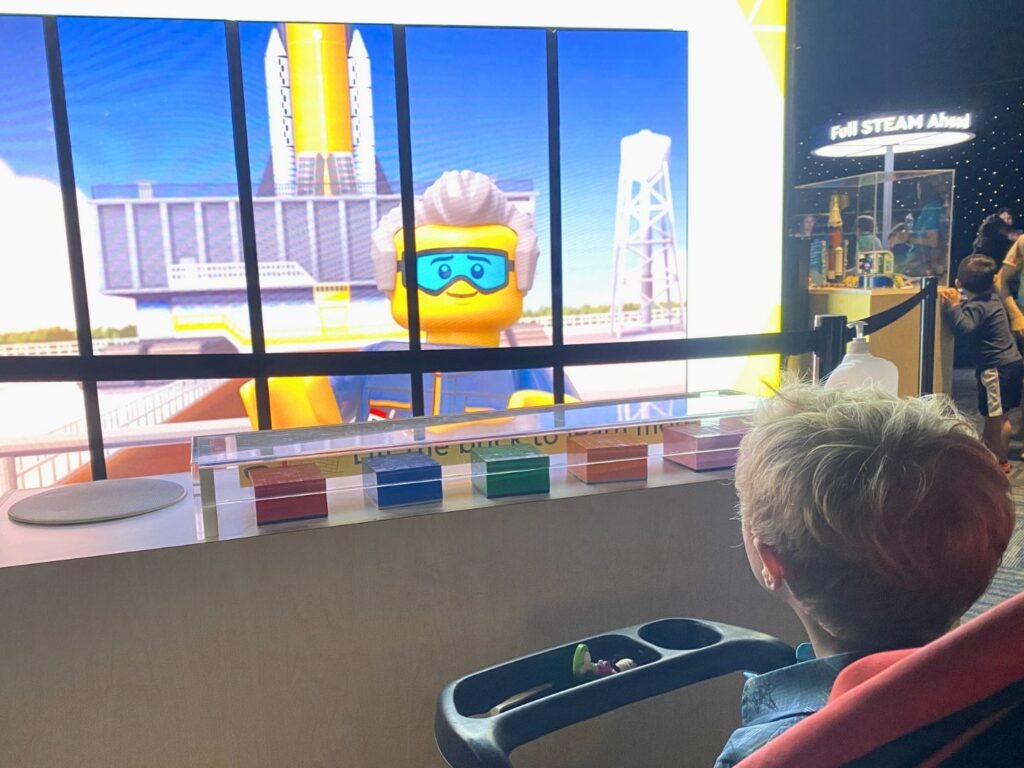 You can learn about the different roles people have in the Artemis missions – as told by funny and lively LEGO® characters. Kids can select which roles and characters they want to learn about by lifting colored LEGO® bricks. The clips are short and entertaining, perfect for kids!
An awesome LEGO® model of the Space Launch System, the SLS, makes it more approachable for kids to see the most powerful rocket ever built!
3. Gateway: The Deep Space Launch Complex
This new complex contains multiple captivating attractions. The big highlight inside the Gateway complex is a ride! The Gateway: The Deep Space Launch Complex highlights the new era of space exploration that we are now experiencing as well as what is on the horizon.
The Spaceport KSC is a motion theater ride. With your commander steering the path, launch aboard one of four unique journeys through the solar system and beyond during an immersive ride.
IMPORTANT INFO:
Height restriction of 39 inches or 99 centimeters.
There is an available "child swap" room, allowing adults to alternate their turn on the ride.
For those guests unable to transfer to the ride seats or have restrictions or sensitivity to motion, they may select the Observation Bay to experience a full ride, minus the movement.
Also inside the Gateway Complex you can see actual spacecraft that have served in recent launches. Most notable of which is the Orion Exploration Flight Test-1 (EFT-1). Launched in 2014 for Lockheed Martin's capsule's maiden voyage test mission, the Orion EFT-1 made it possible for the actual Orion spacecraft to launch aboard the SLS during the Artemis I launch in 2022.
The Orion Spacecraft will continue to serve in the subsequent Artemis missions which will eventually mark the return of humanity to the moon, and eventually to Mars!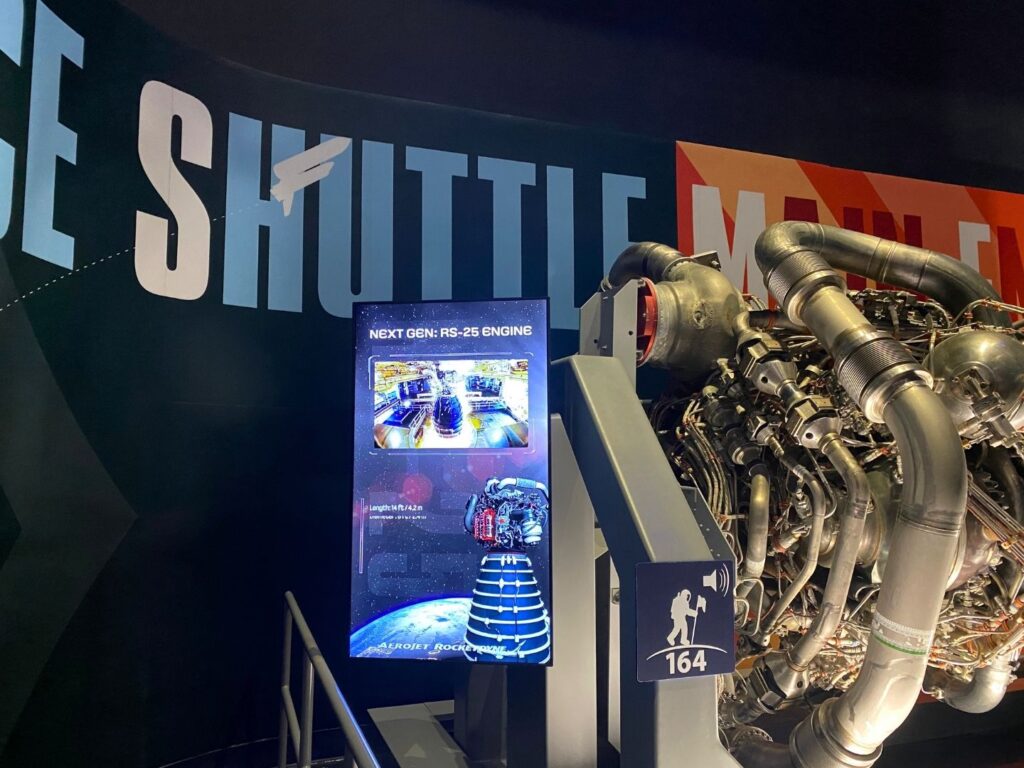 Also stop in to the Space Shuttle Atlantis® experience to see the actual Space Shuttle Atlantis itself. It's incredible! And you can see an actual engine up close. The engines used on the SLS are former Space Shuttle engines. And after all, without the Space Shuttle program, and the historic programs before that we wouldn't have the historic Artemis missions of this generation.
Kennedy Space Center Visitors Complex Info
OPEN: 9 AM to 6 PM
1-855-433-4210
Kennedy Space Center Visitor Complex
Space Commerce Way
Merritt Island, FL 32953