Expert Tips for Planet Play: The BEST Kids' Activity at Kennedy Space Center
Sure there are plenty of educational opportunities at Kennedy Space Center Visitor Complex. And in recent years the addition of more activities entices a younger generation. There are lots of fun things to do with kids at Kennedy Space Center – and the best of them all is Planet Play. Come explore outer space through play, with games, slides, nets for climbing, and even a lounge for adults.
In this quick guide, we'll cover what you need to know before embarking on playtime inside Planet Play with expert tips from fellow parents who've spent hours in this wonderland.
Expert Tips for Planet Play
Walk around the entire space and decide on a meeting point
Be prepared for a noisy, lively environment
Use restroom beforehand
Go first thing in the morning or at the end of the day to avoid a wait
Planet Play can reach capacity
Families are encouraged to keep a 20 minute time limit to allow everyone a chance to play
What is Planet Play?
The three-level, indoor play space can best be described as, well, out of this world. This indoor play area is three stories tall and immersive. The lighting is dim as the different play areas are illuminated in bold colors. You may find it difficult to keep an eye on your kids inside this immersive space – so get to know the layout before you let them loose.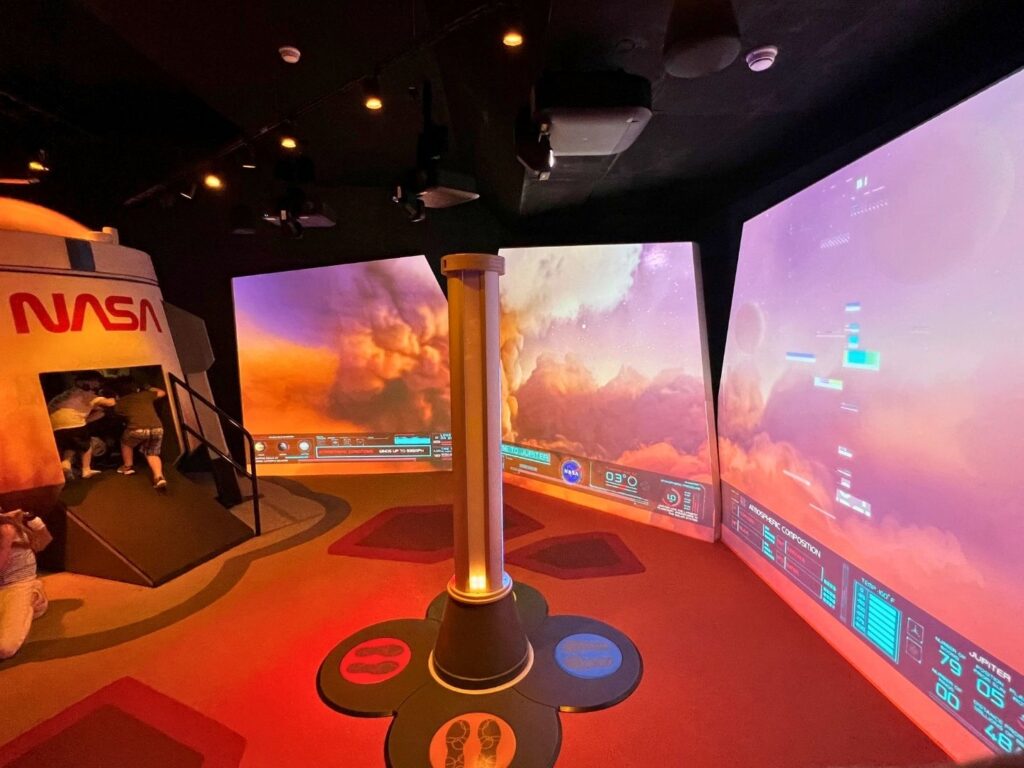 There are interactive games, obstacles and nets to climb, slides, and more.
Planet Play is designed for children ages 2 – 12, and here's fair warning: your little space explorers will want to spend all day in this interactive playground. Do yourself a favor and allow plenty of time in your schedule to play amongst the planets, stars and asteroids. This is the first place my three little ones want to go whenever we enter the park.
Important note: on busier days and during busier periods a 20 minute time limit is encouraged in order to allow everyone to play. There can be a line of families waiting to get in once capacity is reached.
Here are a few things to know before you go.
Interactive and educational activities
This "space" is filled with tons of interactive play. It's the kind of interactive play both parents and children love. Kids will be moving around, throwing balls, jumping on lights, climbing obstacles, and going down slides, all while learning and not even realizing they are absorbing educational information.
There's even a station for your artistic kids. Draw Alive allows them to color different satellites and space vehicles and then watch them come to life on a large screen.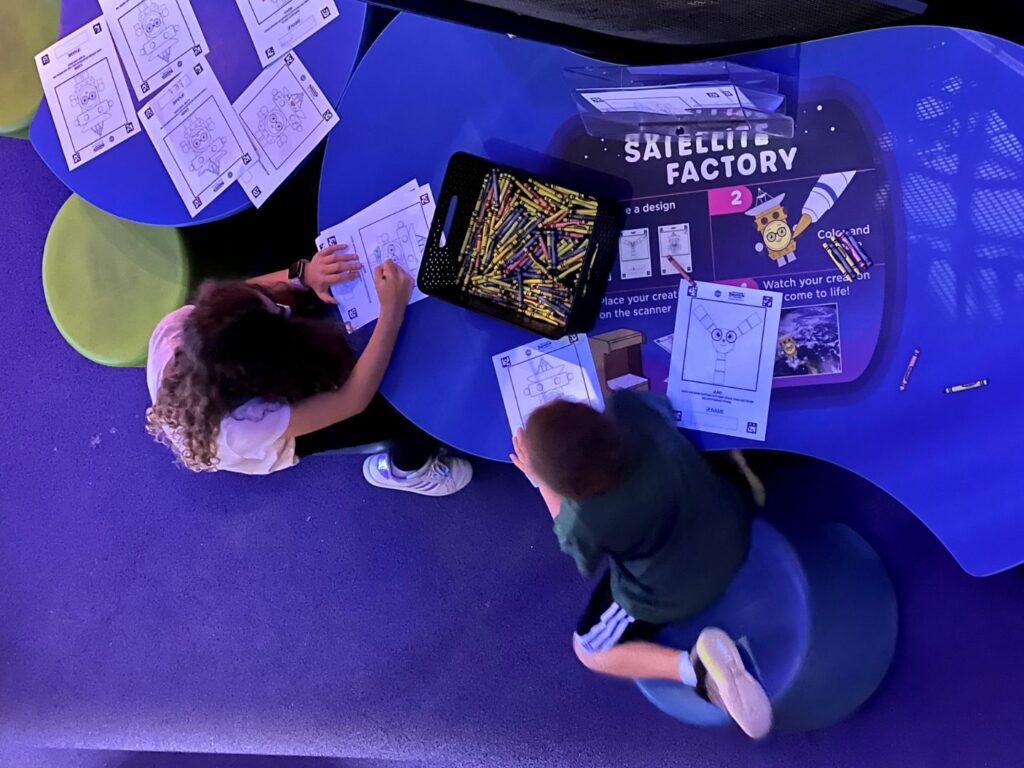 The longest interactive exhibit, 35-feet, is a slide that projects rocket launches and asteroids as guests slide down it. This slide is one of the most popular things for kids to do inside Planet Play. Kids are required to remove their shoes.
Because there is a wrap-around queue to enter the slide it can be difficult to see your child as they wait their turn, especially if you're waiting at the bottom of the slide.
Parenting pro-tip: Dress your kid(s) in bright neon colors or other easily identifiable clothing to make it easier for you to keep track of them.
Other stations have them learning about a Mars rover, constellations, features of the planets, and plenty more.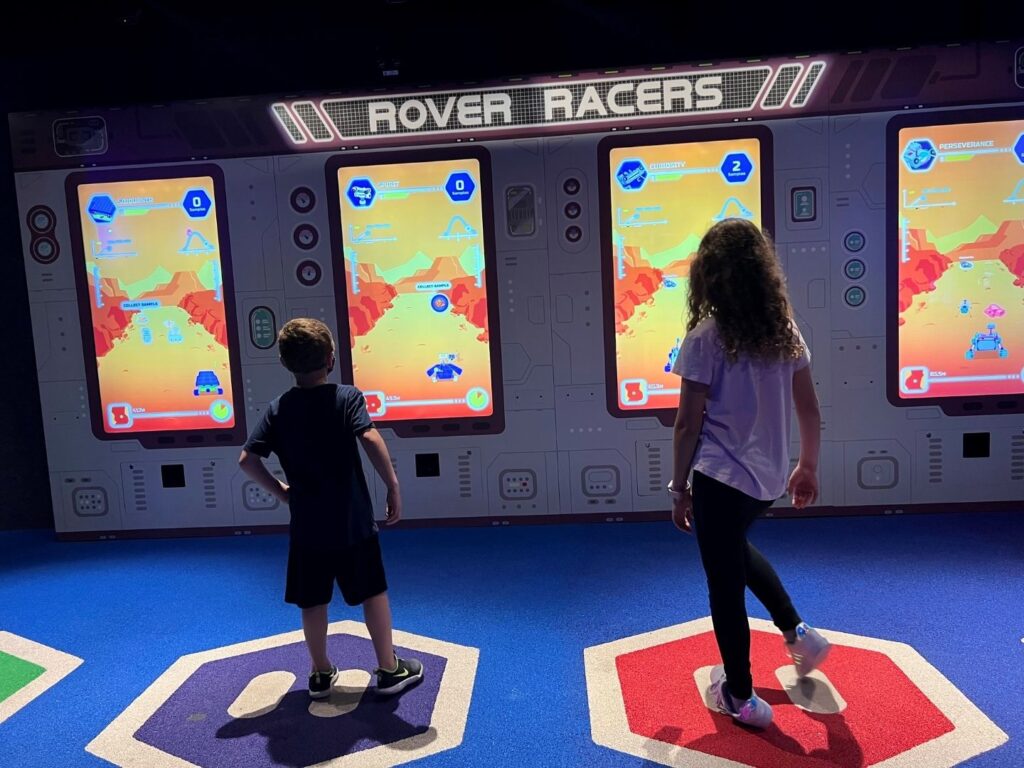 Toddler area
There is an area designed just for the little ones who may be too small to tackle some of the bigger spaces. The toddler area is designed to look like the surface of the moon. It's a soft play space with safe objects they can climb on and explore.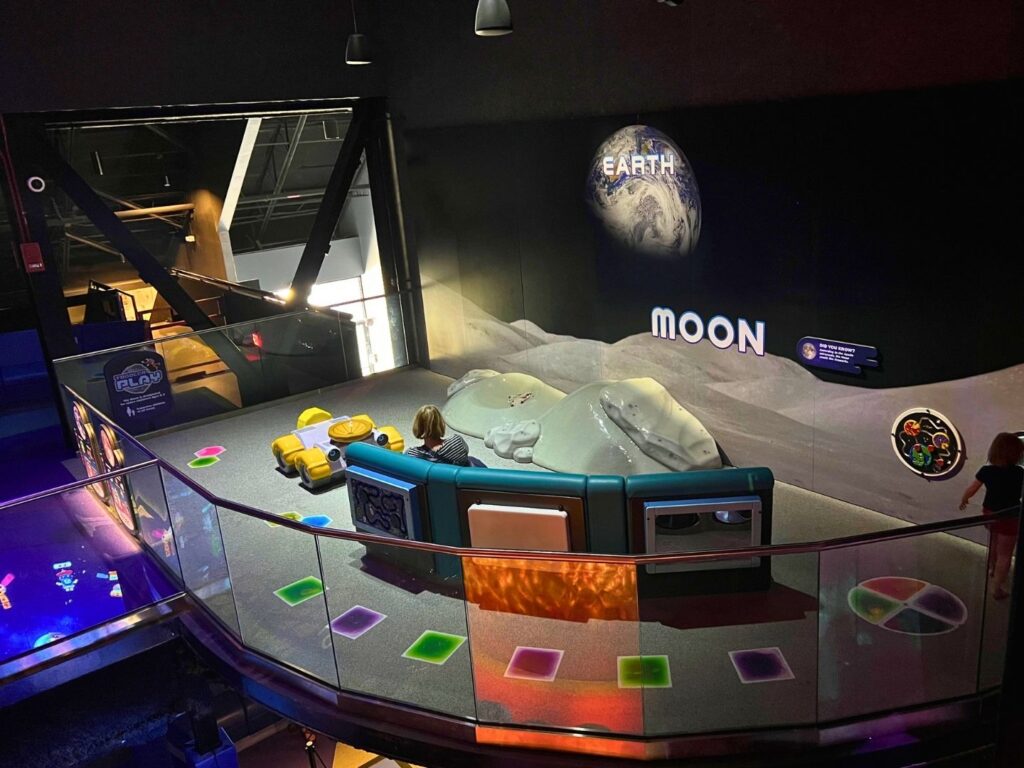 There's also a sitting area right there so parents can rest while their children play.
Relax at the lounge or benches
While the kids run around playing and discovering, parents can take a seat in a comfortable area just off the play space while still having eyes on most of the area.
On the second floor, there is a small lounge area. Have a seat in one of the large, cushy chairs. There are outlets to charge your phone or other devices.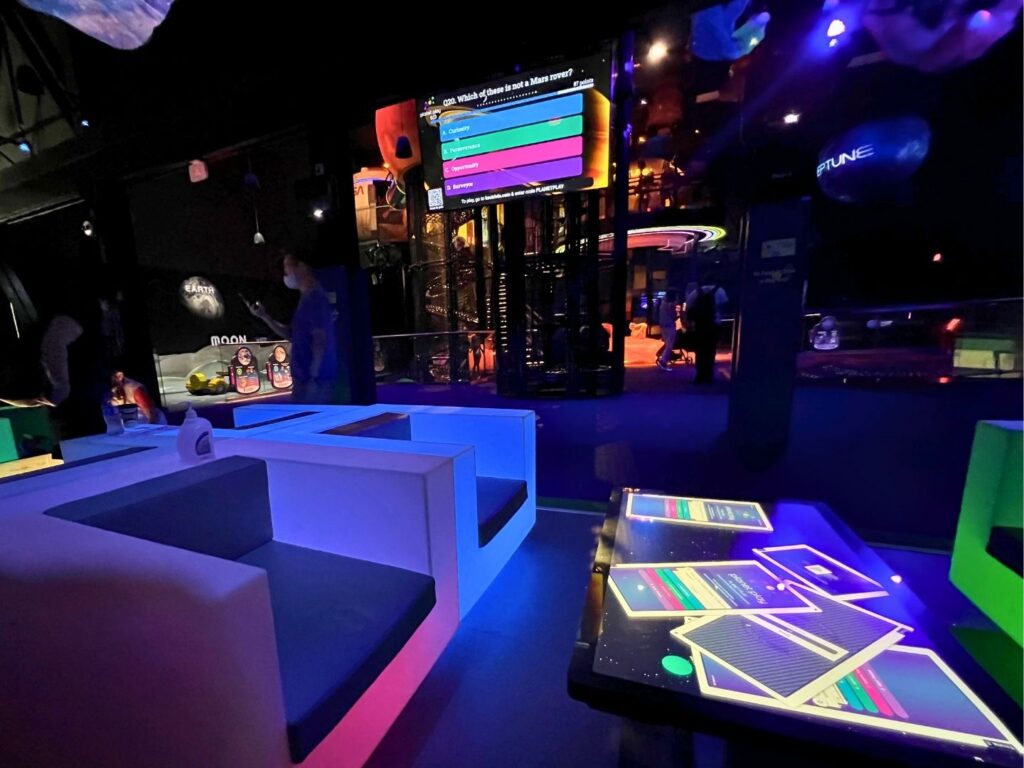 Parents also can get in on the fun too. The area includes interactive, touchscreen tables that have games on them. There's also a television that displays space trivia questions to test your knowledge. Some may consider this to be the best part of the lounge area – there's a beverage bar.
It's a sight to see
Take time to look all around. Planet Play is visually appealing with dimmed and colored lighting to simulate space, planets all around and different surfaces to feel. There is plenty to see and touch. Adults can take traditional modes, like stairs or an elevator, to get from floor to floor, but kids will probably prefer the more unconventional routes. There are slides, nets and climbing towers connecting the three levels.
Planet Play will easily become the whole family's favorite part of Kennedy Space Center Visitor Center, especially on those hot summer days when everyone needs a break from the heat.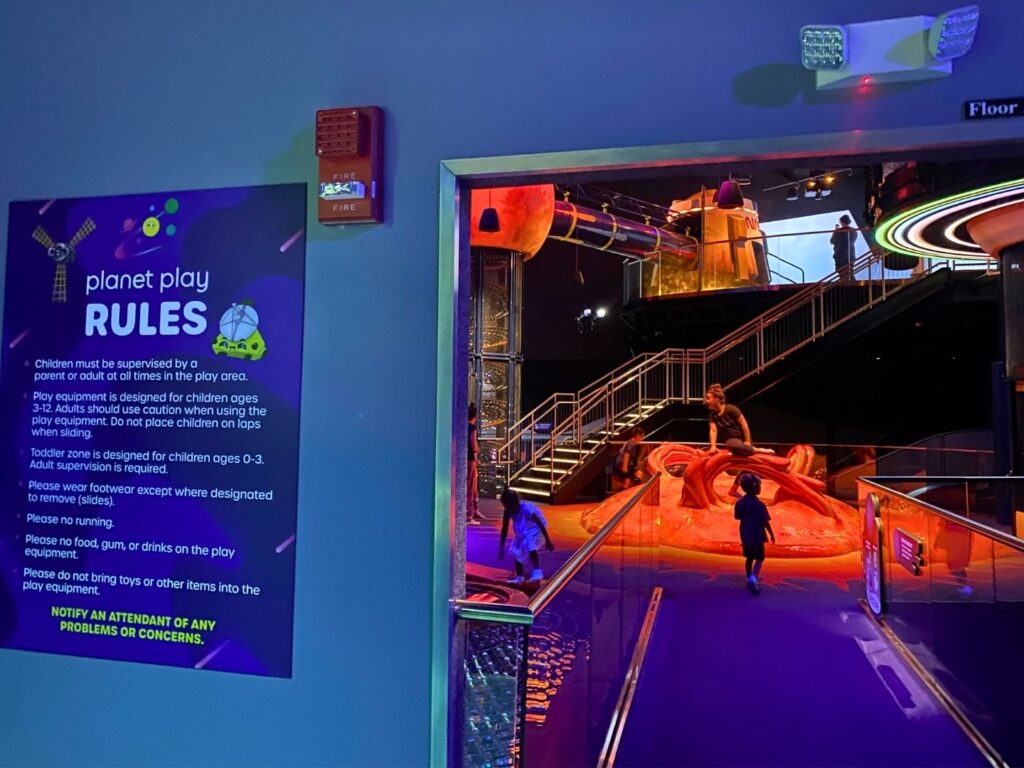 Included in the ticket price
Admission to Planet Play is included with your ticket to Kennedy Space Center Visitor Complex. The cost is $57 for adults and $47 for children ages 3 to 11. Check for various deals throughout the year including the Florida Four-Pack, Veterans Day discounts and Black Friday/Cyber Monday deals.
Limited play
There is a limit as to how many people are allowed to play at one time in Planet Play. This means you may have to wait in line before entering the space. Peak times also mean play time may be limited, often 20 or 30 minutes, to allow everyone the chance to experience the space. It's done on the honor system.
You are asked to pay attention to the time and kindly exit the area after your allotted time slot to give others a chance to explore. The capacity inside is kept pretty low and the space is large so it never feels crowded inside the play area.
Birthday parties
Imagine having the entire Planet Play just for your children and their friends. It's possible!
Planet Play is available to rent out after Kennedy Space Center Visitor Complex closes, which is at 6 p.m. There are two packages to select from. The Star Party starts at $350 and includes an hour and a half of play time and 30 minutes for cake, which you bring. The Cosmic Party starts at $700 and one hour for dinner, pizza and/or chicken tenders and fries, and a cake the host brings. Each party can accommodate 30 guests.
To book an out-of-this-world party, email [email protected].