Top 8 Kid Friendly Farmers' Markets in Orlando
Orlando farmers' markets offer an opportunity to get outside with your family while supporting your neighbors. It's one of the core events that create everything a community encompasses.
At Orlando farmers' markets, you can find hidden gems to give as gifts and gourmet foods. I have yet to meet a person who doesn't like receiving something that is unique. It's where you can purchase the freshest ingredients for dishes to feed your family knowing you are providing something wholesome that's packed with nutrients.
If you haven't ventured out into your neighborhood recently, we urge you to find one of these sites to visit. We even made sure to pick ones that will be friendly for your family.  
Kid Friendly Farmers' Markets in Orlando
City of Longwood Farmers Market
Winter Park Farmers' Market
Orlando Farmers Market
Winter Garden Farmers Market
Lake Mary Farmer's Market
Mount Dora Farmer's Market
Windermere Farmer's Market
Downtown Clermont Farmer's Market
Before we dive into the best kid-friendly farmers' markets in Orlando, here's a bonus idea! The Old Red Barn in Geneva has a monthly farmers' market. It's an authentic countryside experience!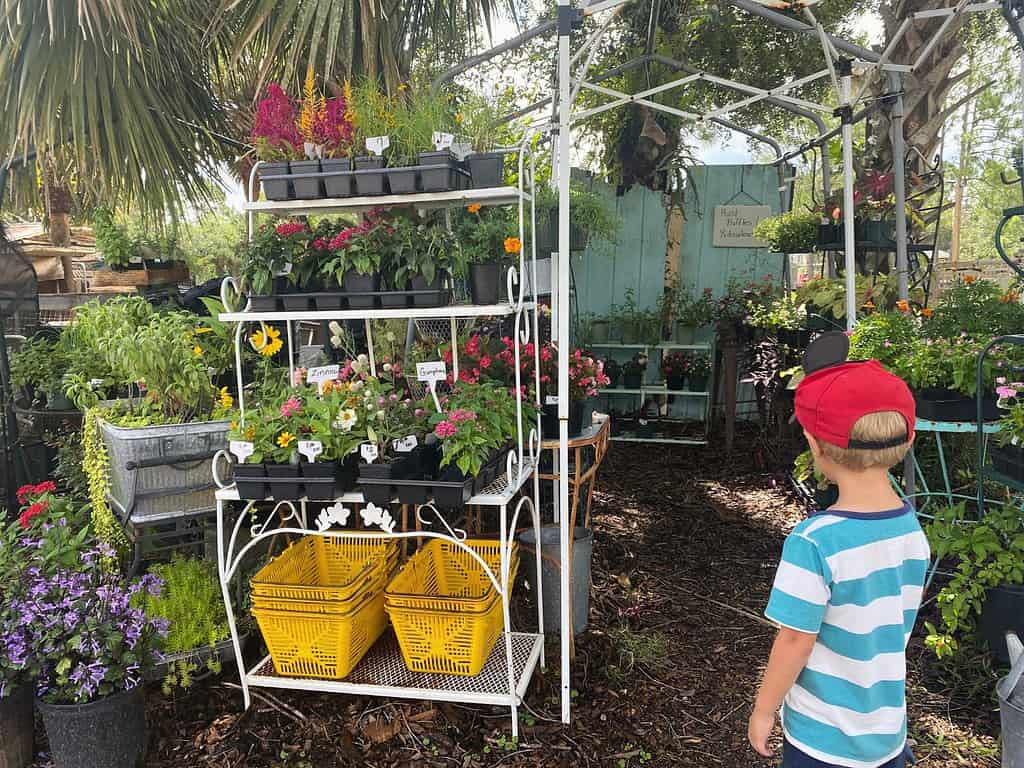 City of Longwood Farmers Market
311 W Warren Ave, Longwood
Journey over to Reiter Park in Longwood to sift through fresh produce a-plenty, local honey, fresh seafood that is also locally sourced, and handmade goodies and treats at City of Longwood's Farmers Market. The market runs along paved walkways with some grassy areas making it easy to maneuver strollers around to each vendor. This is a quaint market that is compact and a pleasant outing for those little ones with short attention spans.
Reiter Park has plenty of space to play too. After shopping, kids can expend their last bit of energy on the playground or nearby splash pad.
The market is open every Saturday. Hours vary per season but summer hours are 9am-1pm.
Winter Park Farmers' Market
150 N New York Ave, Winter Park
Every Saturday from 8am-1pm families can trek through Central Park West Meadow at The Saturday's Farmers Market.
This popular gathering place boasts vendors selling plants, prepared food items, produce and herbs, some home decor items, and even goodies for the canine family members.
The majority of the walking area for the market is grass but it's groomed nicely for unchallenging walking and stroller-pushing.
This market does not allow overly processed foods, flea market or resale merchandise, nationally distributed foods or cottage foods (foods made in unlicensed home kitchens). While items for dogs are available for purchase, dogs are not permitted in Central Park so you'll have to leave Fido behind on this family outing.
Orlando Farmers Market
20 N Eola Drive, Orlando
Skitter about the Orlando Farmers Market with eye-pleasing views of Lake Eola and handcrafted products. Items you'll find at this market are related to produce, plants, and specialty foods. Other items are added to these core values and handmade goods are strongly preferred.
Since this market is located around Lake Eola, majority of walkways are paved. Do take note that this is a popular farmers market so expect plenty of crowds to include people and dogs.
Orlando Farmers Market is held every Sunday from 10am-3pm.
Winter Garden Farmers Market
Historic Downtown Winter Garden
Expect to find produce, dairy, meats, plants, specialty foods and artisanal crafts at the Winter Garden Farmers Market in the historic downtown. This market is vast and could easily be an all-morning jaunt. There's plenty of space to meander with carts, wagons or strollers along the paved walkways.
When it starts to get a little warm, stop into Plant Street Market to peruse in air conditioning. There is a water feature kids can jump and splash through in the square so bring a swimsuit or extra clothes.
The farmers market is open every Saturday from 8am-1pm.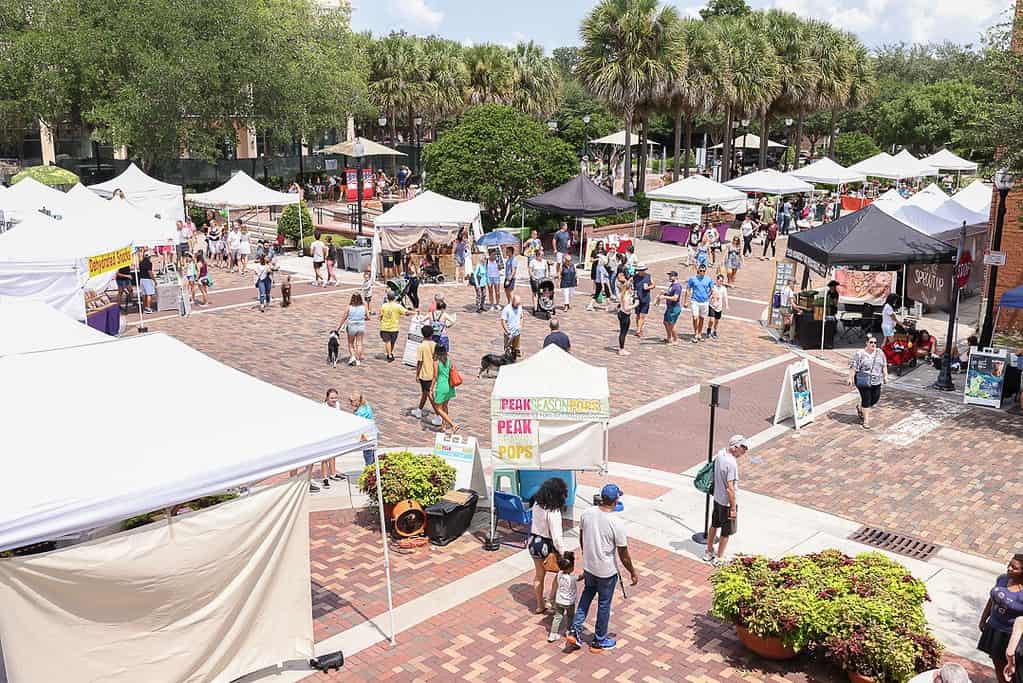 Lake Mary Farmer's Market
100 N Country Club Rd, Lake Mary
Located in shaded Central Park, the Lake Mary Farmers Market is sure to be a walk in the park. With vendors selling honey, various plants, fresh produce, baked goods, handmade crafts and even wood carved items, it will be hard to leave empty handed.
Shop to your heart's content every Saturday from 9am-1pm.
The footpath is mostly mulched paths which could be problematic for some strollers or wagons. There is ample shade for warm Florida days and a pond for viewing wildlife. Dogs are welcome but must be leashed and picked up after.
Mount Dora Farmer's Market
230 W 4th Ave, Mt. Dora
Mount Dora is a postcard town you can't wait to step into. Set in Sunset Park, Mount Dora Village Market is waiting to be explored by the entire family.
The Mount Dora Farmers' Market is open on Sundays, 9am – 2pm.
Here you will find fresh seafood, fresh produce, plants, crafts plus more. Be sure to find Donutste Doughnuts for deliciously wonderful plant based donuts that are always fresh.
There is not a play area in Sunset Park but there is a must-do playground at Gilbert Park. It is only a 3-minute ride from Sunset Park or about a 10-minute walk. Kids can let their imagination run wild as they hoist the sails aboard the pirate ship, fly like birds on the swings, climb like monkeys up the rope jungle gym, or crawl through the toddler playset.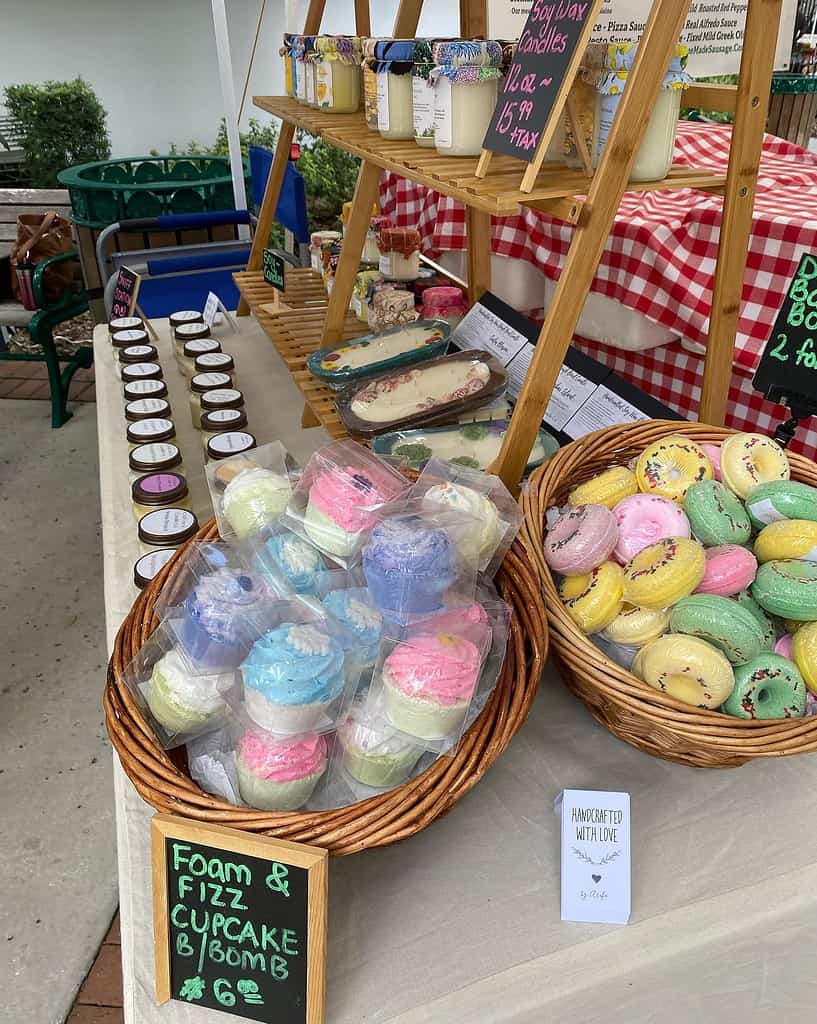 Windermere Farmer's Market
614 Main St, Windermere
This is an ideal weekday activity when you have munchkins in tow. The Windermere Farmers Market is held every Friday from 9am-2pm.
Products spotted at this market include micro greens, beautiful plants for landscaping by the Garden Club, produce grown on family farms, baked goods, soaps, coffees, olive oils, and the list goes on.
There are an abundance of vendors and the paths are paved. There are sections that can get narrow as you walk along the sidewalk between vendor tents. Bring the family's best furry friend with you as long as your canine is leashed.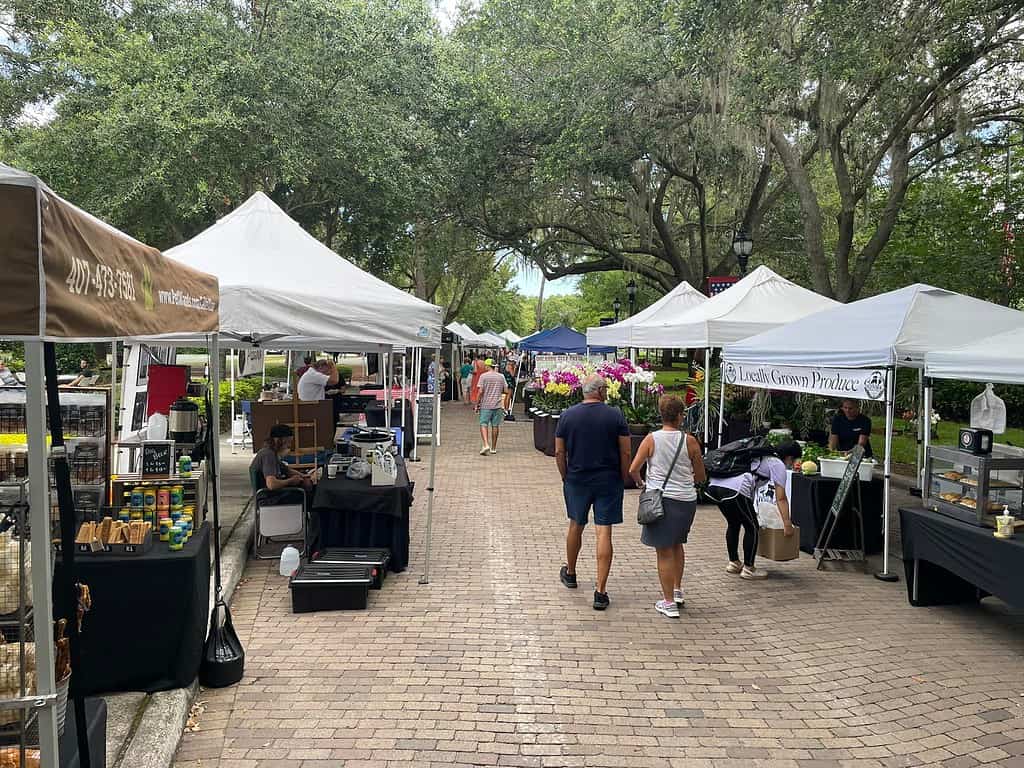 Downtown Clermont Farmer's Market
691 W Montrose St, Clermont
Breathe in the natural air while roaming around the Downtown Clermont Farmers Market. Purchasing at one of these vendors supports locals making jellies and jams, fruits and vegetables, candles, gifts for your favorite pooch, home goods and more.
Plan to shop every Sunday from 9am-2pm.
The street is closed during market days making it easy to browse from tent to tent via any means. If you have a little shopper like I do, there's a plethora of brick and mortar shops lining the street to venture in when you've stopped at all the vendors.
Looking for even more farmers' markets to try in the Orlando area? Check out more Orlando Farmers' Markets on OrlandoDateNightGuide.com – our sibling site
Featured image credit: City of Longwood Farmer's Market