Top 5 Kid Friendly 4th of July Fireworks in Orlando
Celebrate this 4th of July in Orlando with the whole family. Our nation's independence is best celebrated with a dazzling fireworks display. And if you've got your own little firecrackers with you then you're probably looking for fireworks shows in Orlando that are kid-friendly.
Boom! Whether you want to go all out or keep it simple, all the options for celebrating the 4th of July with kids are right here. These are the top 5 best 4th of July fireworks shows for kids in Orlando.
4th of July Fireworks Shows for Kids in Orlando
Rock, Freedom and Fireworks
Red Hot & Boom At Cranes Roost Park
Promenade At Sunset Walk Star Spangled Weekend Celebration
Red Hot & Boom At Cranes Roost Park
Star Spangled Sanford
When: Saturday, July 1, 5pm – 9pm
Where: Reiter Park
Cost: FREE
The City of Longwood presents Rock, Freedom & Fireworks, the third annual Independence Day Celebration on Saturday, July 1st at Reiter Park featuring live music from Papa Wheelee, food trucks, a full bar, vendors, and the best fireworks show in town!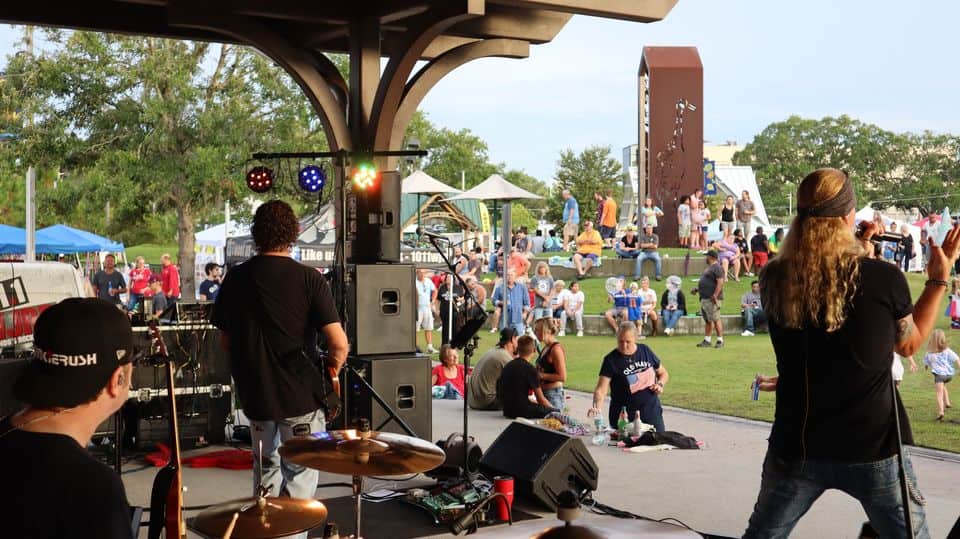 Free admission and parking for the event are located at the back parking lot of Orlando Health South Seminole, Longwood City Hall Complex, and the Longwood Sunrail Station.
The fireworks show begins at 9:00 pm.
Personal fireworks and coolers are prohibited.
RED HOT & BOOM AT CRANES ROOST PARK
When: Monday July 3, 2023, fireworks around 9pm
Where: Cranes Roost Park, Altamonte Springs
Cost: FREE
This infamous celebration takes place on Monday July 3, 2023 in Uptown Altamonte's Cranes Roost Park. The City partners with XL106.7 to bring a groovin' good time during this legendary event. Food vendors are scattered around Cranes Roost Lake to keep grumbling bellies at bay.
The event kicks kicks off at 4pm and ends with a 25-minute firework feast for the eyes.
PROMENADE AT SUNSET WALK STAR SPANGLED WEEKEND CELEBRATION
When: July 1 – 4, 2023 (Fireworks on July 4)
Where: Promenade at Sunset Walk (Margaritaville Resort Orlando)
Cost: FREE
Head to this walkable entertainment and shopping hub for a full weekend of Independence Day celebrations. Sunset Walk's Star Spangled Weekend Celebration takes place Friday to Monday. Activities include live musical performances at the Promenade Plaza, an evening car show, street performers, and an artisan market.
On Tuesday, July 4, enjoy more free entertainment at Promenade Plaza followed by a fireworks display at 9:45 pm.
RED, WHITE AND BLUE AMERICANA IN DOWNTOWN WINTER GARDEN
When: July 1 and 4, 2023 (Fireworks on July 4th)
Where: Downtown Winter Garden
Cost: FREE
Celebrate all weekend long, small town style, at Downtown Winter Garden's Red, White and Blue Americana event. The full lineup includes:
WINTER GARDEN FARMERS MARKET INDEPENDENCE DAY CELEBRATION, Saturday, July 1, 8:00 a.m.-1:00 p.m.
19th ANNUAL ALL AMERICAN KIDS PARADE & BREAKFAST, Tuesday, July 4, 8-10:30 a.m. (Pancake Breakfast: 8:00 – 9:45 am and Parade: 10:00 Kickoff)
PARTY IN THE PARK, Tuesday, July 4, 6:00-10:00 p.m.
Fireworks display on Lake Apopka at Newton Park on July 4 at 9:15pm
STAR SPANGLED SANFORD
When: Tuesday, July 4, 6pm – 9pm
Where: Riverwalk / Fort Mellon Park area
Cost: FREE
Plan a full day in Sanford strolling the streets to visit your favorite local restaurants and breweries followed by evening fireworks. The sparks will fly over Lake Monroe just after sunset. The show will be set to music and will last for about 20 minutes.
Make sure to pack blankets and chairs for comfy viewing along the water. There's a Star Spangled Sanford Kids' Zone too!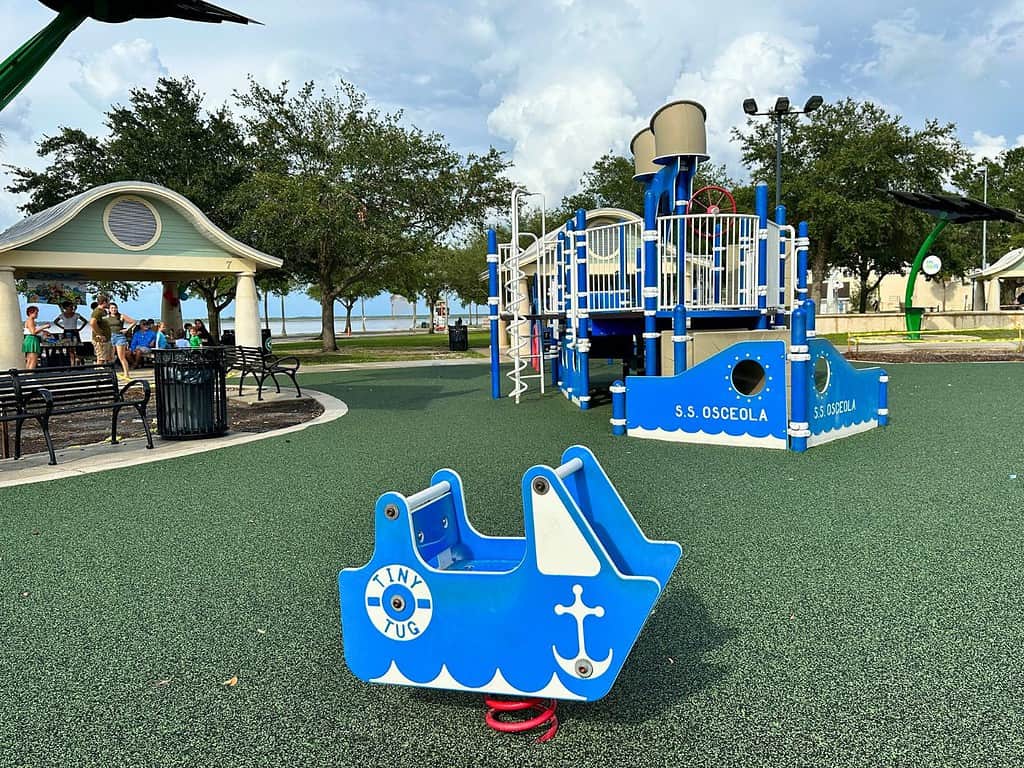 ALSO TRY:
City of Winter Park 4th of July Celebration
Tuesday, July 4, 9am – 11am
Central Park, Winter Park
Bring the family over to enjoy a Kids Zone with carnival games, balloon artist and bounce slides provided by our Parks & Recreation Family Fun Program.
9 a.m. – Welcome by Mayor Phil Anderson
9:15 a.m. – Madison Zavitz performs
9:30 a.m. – Bach Festival Brass Ensemble & Choir performs
10:45 a.m. – Bike Parade
"Smoke on the Water & Fire in the Sky" 2023 Fireworks Celebration Kickoff
Sunday, July 2, 5 PM – 10 PM
Exploration Tower at Port Canaveral
Grab your lawn chairs and blankets and head out to Port Canaveral for the July 2nd Fireworks event! This family-friendly event will include a kids zone, a DJ, and face painting. Plus ice cream, food trucks, and local vendors!
The festivities begin at 5:00 pm and the fireworks will launch after dark at 9:00pm.
Parking in the Cove is free and is first come first serve.
The surrounding area is paid parking at $10.00 per vehicle.
ORLANDO THEME PARK FIREWORK DISPLAYS
WHEN: Monday, July 3 and Tuesday, July 4
FIREWORKS DISPLAY TIME: 9:20 pm
Magic Kingdom is celebrating Independence Day with an exclusive nighttime fireworks spectacular featuring patriotic music and even DJ dance parties throughout the night.
While you're at the Magic Kindom, try to make it over to the daily Flag Retreat ceremony in the evening near the entrance of the park which often includes US Veterans. You can also snap some patriotic family photos in Liberty Square, which was inspired by the original 13 colonies.
You'll find a replica of the Liberty Bell there and even hear from our nation's 45 presidents in the Hall of Presidents.
Make use of the Rider Swap System at Walt Disney World while you're there.
WHEN: Tuesday, July 4
FIREWORKS DISPLAY TIME: 9 pm
EPCOT's limited-time fireworks display EPCOT Forever will be capped with a patriotic finale, Heartbeat of Freedom. Before you find your seat for the fireworks display, make sure to take a tour of The American Adventure pavilion and listen to to the Voices of Liberty a cappella group under the rotunda.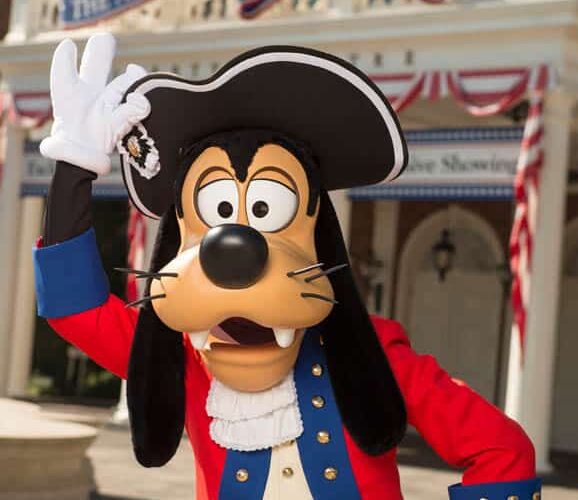 You'll also want to be on the lookout for some of your favorite Disney pals in their "Spirit of '76" attire!
Disney Fireworks Cruise
Make this 4th of July in Orlando unforgettable with a Disney Firework Cruise. Private cruises leave from Disney's Yacht and Beach Club Resort and chart a course to the International Gateway near World Showcase Lagoon at EPCOT or the Seven Seas Lagoon and Bay Lake at Magic Kingdom.
The cruises include a captain, assorted snacks and soft drinks. Festive decor is available upon request when booking and is also included. The 25-ft boat, beginning at $399 plus tax for up to 10 guest
For reservations, call (407) 939-7529. If you're on a budget, check out one of these spots for viewing Disney fireworks outside the parks.
WHEN: Saturday, July 1 through Tuesday, July 4
Find a spot near the central lake at SeaWorld Orlando and watch as fireworks ignite along with patriotic tunes. You can book reserved seating at the Bayside Stadium for an even better view–upgrades start at $14.99.
WHEN: Sunday, July 2 through Tuesday, July 4, 2023
FIREWORKS DISPLAY TIME: 9 pm (Fireworks Kick-Off Party at 8 pm at Pirates Cove)
Celebrate America's Independence Day as the skies above Lake Eloise fill with colorful fireworks. Watch as the skies fill with the biggest fireworks show of the year in the only place that transforms fireworks into LEGO bricks before your eyes.​
We hope you have a safe and happy Independence Day with your family!
Explore even more 4th of July Events in Orlando at our sibling site, OrlandoDateNightGuide.com