Creative Learning Activities for Kids: World Cultures in Orlando
As a popular vacation destination for global tourism, Orlando is a melting pot of world cultures. From international guests and staff at theme parks to families who relocate to Orlando, this area has a delightful amount of diversity. Many people want to share their cultures with others, which presents some awesome creative learning activities for kids.
For families in the area, this means there are many ways to experience other cultures. From festivals to restaurants to exhibits and more, here's your guide to world culture activities in Central Florida.
Learning Opportunities about Africa
At almost 12 million square miles in area and more than 50 countries, there's no one single African culture. When you add to that the rich vibrancy of African American culture that has developed in the past several centuries in the United States, there's a lot to explore.
Festivals
Festival dates vary from year to year, so check out each event's website for the latest information.
The Taste of Africa Food and Music Festival highlights the pan-African experience, with representation from more than 40 African countries with food and entertainment. The festival, located at Eagle Nest Park in Metrowest, includes both a Village Market, with foods from Africa to the Caribbean, as well as a Bazaar with arts and crafts.
Zora Neale Hurston of Eatonville, Florida, was a dominant voice of the Harlem Renaissance era. Continuing her legacy, Eatonville hosts a variety of ZORA festivals throughout the year, focusing on the African American community and African culture in the United States and around the world.
One of the festivals that they have is Youth Day, with a fine arts walk, STEM area, authors' row, and history exhibits, plus a high school concert. This event is there to celebrate the "cultural contributions made by people of African ancestry in the United States and beyond". Other festivals include the Outdoor Festival, Family Day, and "Traditions" Weekend.
Restaurants and Grocery
If you've ever had to remind your kid to use their fork to eat instead of their fingers, they may love eating at Ethiopian restaurants. Thick stews are served with spongy injera flatbread, which you use to scoop up the food–no utensils required.
Both Selam Ethiopian & Eritrean Cuisine and Nile Ethiopian have a variety of seasoning profiles from mild to spicy, and ordering items to share at the table is highly encouraged.
Boma is well-known in the Disney fan community as a favorite dining location, and its food is surprisingly authentic African dishes for a hotel restaurant. Because it is a buffet, kids can try a little bit of everything. If kids can't find something among the African dishes that they like, because it is Disney, there are plenty of fall-back dishes once they've tried foods out of their comfort zones.
Tajin Express (971 N Goldenrod Rd, Orlando) is the real deal when it comes to Moroccan food in the Orlando area. Some foods may already be favorites of your kids (if they love hummus or kebabs), but if they've never had chicken bastilla (chicken pie with powdered sugar and cinnamon on top), that flavor combination may be completely unexpected and delightful.
One of the first things my family does when visiting another country is head to their grocery store. It is a simple way to learn about the diversity of different world cultures because you can tell a lot about a culture by what the people of that culture eat.
In the Orlando area, we're lucky to have a variety of international grocery stores specializing in the foods of different countries.
For pan-African options, African Choice Food Market has a good selection including foods from Nigeria, Ghana, Cameroon, and more.
Exhibits
Wells'Built Museum
Originally a hotel during the years of segregation when African Americans visiting Orlando could not stay in many hotels, the Wells'Built Hotel is now the Wells'Built Museum filled with African art, artifacts, and displays about the history of the Civil Rights movement.
Disney's Animal Kingdom Lodge
You may not think of a Disney hotel when you think of cultural explorations, but Disney's Animal Kingdom Lodge has an incredibly extensive collection of African art.
You don't need to stay at the resort to wander around and look at the artwork, like the 16-foot-tall Igbo Ijele mask in the lobby of Jambo House. Young children will also enjoy heading outside to view some of the resort's animals. At certain times, cultural ambassadors from various countries in Africa are there, so your kids can practice their social skills by asking questions about life in Africa.
Asian Cultures in Orlando
Central Florida has a thriving Asian community spanning a variety of cultures. Throughout the year, there are an assortment of festivals that are family-friendly and educational.
Festivals
Festival dates vary from year to year, so check out each event's website for the latest information.
Asian Cultural Expo and International Dragon Boat Festival
Two festivals that are run around the same time (October 14, 2023) are the International Dragon Boat Festival and the Asian Cultural Expo (Bill Frederick Park at Turkey Lake, Orlando). The Asian Cultural Expo and International Dragon Boat Festival features performances, arts and crafts, and exhibits all about Asian culture. Kids will love watching the Lion Dance, Bollywood dances, martial arts demonstrations, and listening to K-Pop and J-Pop music performances.
The International Dragon Boat Festival features crew teams racing in the largest event of its kind in Florida.
Central Florida Dragon Parade
Speaking of dragons, the Central Florida Dragon Parade is a fun Lunar New Year event in early spring. Held in the Mills 50 District of Orlando, there's drumming and dragons throughout this parade that kids will love to see.
Asian Lantern Festival
A nighttime event that will take your breath away, the Asian Lantern Festival at the Central Florida Zoo in conjunction with Historic Sanford is an incredibly popular winter-time event.
The zoo is transformed with paths filled with hand-constructed lanterns in a variety of designs. This event sells out early on some nights, so keep an eye open for when tickets go on sale.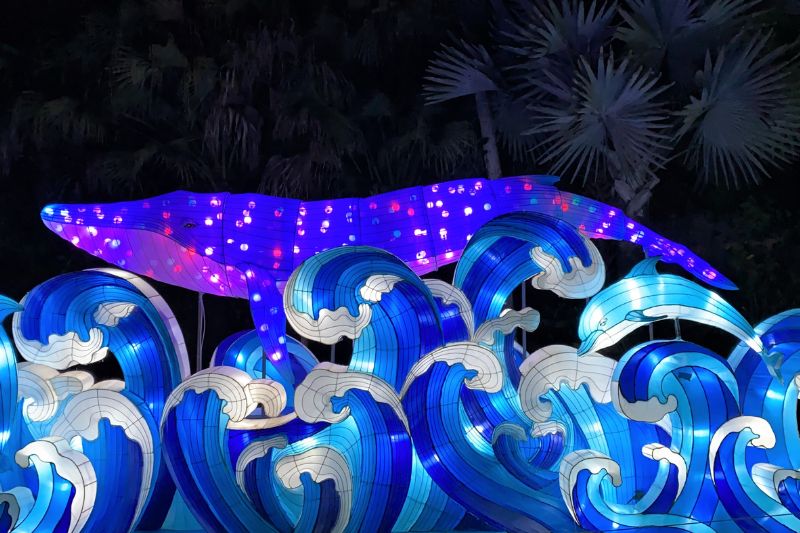 Orlando Japan Festival
If you have a child who is reluctant to go to a cultural festival, you can always mention that this festival will have Pokémon and Hello Kitty merchandise for sale. But there's a lot more to love about the Orlando Japan Festival held in November down at Kissimmee Lakefront Park.
From taiko drumming to the unique flavors of Japan, this setting is the perfect place to get a taste of Japanese culture.
Chanukah Family Festival
Celebrate the Festival of Lights with the Chanukah Winter Family Festival from Chabad of South Orlando. This event includes so many fun ideas to celebrate winter, with snow cones, Chanukah crafts, snow tubing, the lighting of the large outdoor Menorah, and more.
Orlando Holi Festival
You'd be hard-pressed to find a more colorful event than the Orlando Holi Festival. Celebrating the welcoming of spring on the Saturday after the full moon of March, members of Orlando's Indian community gather together at Orlando's Festival Park to shower everyone with color – literally – by throwing colored dust on everyone and everything. It's a lot of fun for young children and the young at heart!
Tet Orlando
Tet is the Vietnamese Lunar New Year, held early in the calendar year. Orlando's Tet Festival is held at the Central Florida Fairgrounds. The event includes food, dragon dancers, music and dance performances, and more.
Orlando Korean Festival
After few years of hiatus, the Orlando Korean Festival returned November 2022. Keep an eye out for 2023 announcements on this festival that features food, vendors, entertainment, and more to celebrate Korean culture.
Restaurants and Grocery
Asian food covers a huge variety of flavors and preparations. It's impossible to do justice to it all, but here are a few interesting ones to try.
Thai Thani
As a child, Thai restaurants fascinated me because the decor reminded me of something you'd find in some sort of fairy tale, with gold and statues all around. Thai Thani at 11025 International Drive has delicious food along with eye-catching decor. There are dishes that will be full of familiar flavors along with options for adventurous eaters.
Volcano Hot Pot
Hot Pot is a great way for kids to get a meal that is done exactly the way they want it. At Volcano Hot Pot, each person selects a soup base, picks protein and other ingredients from the buffet, and selects vegetables and other accompaniments from the conveyor belt that goes by your table to make your perfect noodle soup.
Ask any kid – vegetables taste better when they are served by conveyor belt to your table! It's a fun activity for the whole family.
Babbibi
The ability to customize a kid-size bowl of Bibimbap (the signature dish of Korea that basically means rice with meat and veggies) makes Babbibi a great option for an introduction to Korean cuisine. There's also a wide variety of other Korean dishes for any palate.
Dim Dim Sum Orlando
A relatively new dining option in the Grove area of Windermere/Dr. Phillips, Dim Dim Sum is a fun way to try a variety of Chinese dim sum foods.
Some items may be familiar, like the assortment of dumplings, but other items on the menu can be great for adventurous eaters. With a variety of items around the $5-6 range, if one item doesn't appeal to your child's taste buds, there are still options to try something else.
Tabla
If you're looking for a little bit of a variety of Asian cuisines under one roof, Tabla is a wonderful go-to spot. Their menu includes Indian, Chinese, and Thai options. Butter Chicken is a very approachable dish for kids, along with rice and bread, but one dessert that may shock them is Falooda. It's basically like a milkshake with rose syrup and noodles. It's something that is so unusual that you can be pretty sure that your kids have never tried anything like it.
Kura Sushi
Another fun dining experience, Kura Sushi is now open in the Vineland Pointe area of Orlando. I had a chance to dine at one of the Washington DC locations, and in addition to the food being amazing, this has huge family appeal and is a great way to introduce new foods. It's a sushi-go-round, and the more plates of food you eat, the more points you score to help defeat monsters and win a gacha prize.
When it comes to local Asian grocery stores, there is a variety in the area. Some of the best options include:
Exhibits
Although Orlando doesn't have large-scale museums and exhibits about Asian culture, there's so much of Asian culture fused into areas throughout Orlando that you'll happen to see as you travel around.
Orlando is home to both a Chinatown area and the Mills 50 area that used to be known as Little Vietnam or Little Saigon. Both areas feature restaurants, shopping, and public artwork displays.
Over at Lake Eola, you can find a Chinese pavilion called a ting placed in the 1980s to commemorate the sister city relationship between Orlando and Guilin, China.
Europe Heritage in Orlando
Many of the European festivals in the Orlando area have food as a primary component. If your child loves to try new foods, these festivals can be a lot of fun.
Festivals
Festival dates vary from year to year, so check out each event's website for the latest information.
Vatra Ukrainian Festival Orlando
Although the 2022 festival had a very different vibe due to world events, the Vatra Ukrainian Festival Orlando held each spring at the Apopka Amphitheater features food and music to celebrate the traditional culture of Ukraine. There are also arts and crafts and other creative activities specifically designed for kids.
St. Lucia Festival
St. Lucia's Day, a festival of lights, is celebrated in many countries in Scandinavia. The Museum of Seminole County History in Sanford is home to a St. Lucia Festival specifically focused on the Swedish celebration of St. Lucia's day. This special event includes food, music, a Lucia procession, and the retelling of the legend of Santa Lucia and the legend of the Giant Dala Horse.
Polish Festival
A relatively new festival, the Polish "Majowka" organized by the Orlando Polish Center offers food trucks, games and contests for kids, and Polish music to celebrate Polish culture and language here in America.

Central Florida Scottish Highland Games
It is no surprise why the Central Florida Scottish Highland Games are so popular for families. The athletic events, like the famous caber toss, are impressive to watch the adults participate in. But what's really neat is that there are kid versions of the athletic events for children of all ages to try!
Add to that food and music (and yes, bagpipes), and you've got a memorable family day out with lots of social interaction.
Oktoberfest Casselberry
The German American Society of Central Florida offers a classic German festival with all the oompah you'd expect. Although the kids won't partake in the beer offerings, there's still plenty to love with German cuisine and food. This event in Casselberry is offered twice a year, once for Oktoberfest and one for Springtoberfest (in April).
Orlando Greek Fest
The Orlando Greek Fest provides a great way to learn about the vivid culture and history of Greece. In addition to food and live music, there's lively dancing (including children's dance troupes) and a chance to tour the Holy Trinity Greek Orthodox Church and see stunning iconography.
Restaurants and Grocery
There's a delightful amount of options for European food in the Orlando area. Here are some selections.
Down in Davenport, the Proper Pie Company offers sweet and savory British pies, fish and chips, and sweets that kids will love, plus an afternoon tea service.
For a huge assortment of snacks and sweets to purchase and take home, the British Food Club in Orlando offers a tremendous variety.
Over at Disney Springs, there are two wonderfully different representations of European dining. Jaleo, by Chef Jose Andres, provides the flavors of Spain. The kids' menu even includes options from the main menu in kid-size servings, great for an introduction into Spanish cuisine.
Another great Disney Springs option is Raglan Road, not only for the food, but for their Irish step dance performances. Kids will be amazed at the high-energy footwork of the dancers while they snack on foods that are familiar to many kids' tastes.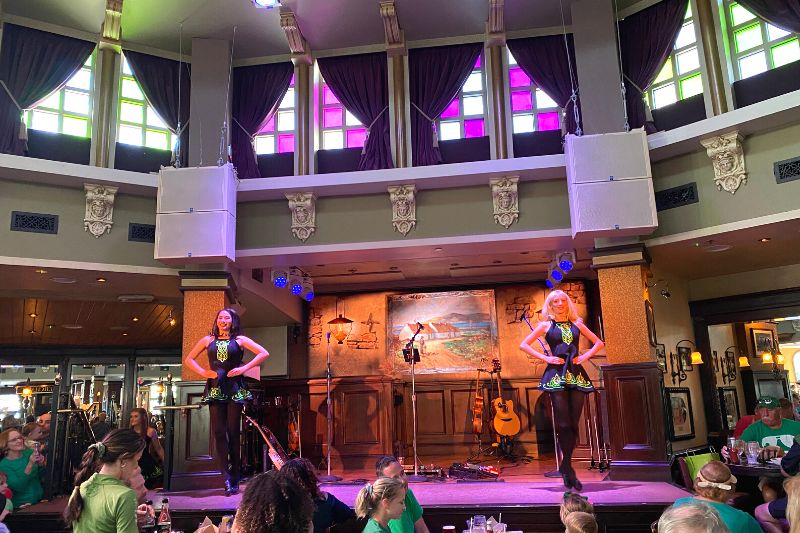 For German food, Hollerbach's in Sanford not only offers a great meal, but there's wonderful entertainment like polka music and even BINGO where you can win German meats.
The area around the Med is well represented by Bosphorous for Turkish food (with multiple locations in Central Florida) and Mykonos Greek (in Longwood) for Greek food.
And, finally, for a taste of the foods from Russia and other post-Soviet countries, Lacomka in Winter Park is part deli, part cafe, and part grocery, with foods from all over Eastern Europe.
Exhibits
When it comes to European exhibits in Central Florida, there are a few items worth noting. Rollins College has a tremendous collection of European artwork at the Rollins Museum of Art.
If you have a child who is an Animal Crossing video game fan, they may recognize the names of some of the artists on display, like Rembrandt, Thomas Gainsborough, and Paul Cézanne.
One unique exhibit that is sure to be a hit with kids is the Auto Experience at Dezerland. This gigantic collection of cars features rare vehicles from all over Europe, and even special sections devoted to James Bond and Buckingham Palace.
The Americas, the Caribbean, and Oceania
To finish up, here are a variety of festivals, exhibits, and dining options to celebrate the Americas, the Caribbean, and Oceania.
Festivals
Caribbean Fusion Festival
The Orlando Caribbean Fusion Festival at Kissimmee Lakefront Park brings together the food, music, and pageantry of a variety of Caribbean islands. There are arts and crafts, plus special children's activities available as well.
Puerto Rico Festival and Parade
Many Puertorriqueños came to the mainland United States following Hurricane Maria, further strengthening the already thriving community. To celebrate their unique heritage, they have a Puerto Rico Parade and Festival in downtown Orlando featuring floats, dancers, musicians, and so much more. Following the parade, the festival opens up with even more entertainment and activities for all ages.
The Puerto Rico Parade and Festival takes place on April 22, 2023.
Calle Orange
Calle Orange is an incredibly vibrant event held in a 10-city-block area in downtown Orlando. There are four stages of entertainment, a ton of food vendors, and more. This event showcases the huge diversity within the Hispanic community, and is a ton of fun for the whole family.
Orlando Carnival
The Orlando Carnival parade is a celebration of Caribbean American culture with colorful costumes, exciting music, and plenty of pageantry. In addition to the parade, the festival also includes a wide variety of Caribbean music, food, and crafts.
Thundering Spirit Powwow
The Thundering Spirit Powwow in Mount Dora is a wonderful family-friendly event celebrating Native American and First Nations cultures. In addition to the drumming and dancing, there are a variety of creative activities for kids to watch and participate in, like how to set up a tipi or how to make a drum or jewelry. There's plenty of social interaction at this multi-day event.
Ho'ike Hawai'i Hula Competition at the Wyndham Orlando Resort
In general, there aren't a lot of festivals to represent the myriad cultures of Polynesia and Oceania, but the quality of the Ho'ike Hawai'i Hula Competition makes it an incredible representation. Although the primary focus of the festival is around the culture of Hawai'i, the cultures of Tahiti, Tonga, Samoa, and the Maori people are also represented through dance.
The Ho'ike Hawai'i Hula Competition takes place July 22 and 23, 2023.
Restaurants
Uncle Julio's
The Orlando area is home to a lot of Tex-Mex and Mexican restaurants. One favorite for our family is Uncle Julio's. We love the decor of the place, and a highlight of the meal for kids is the chocolate piñata. This is one of the most fun ideas for desserts we've found in the Orlando area.
The Daily Poutine
Overall, options for Canadian cuisine in Central Florida are few and far between. But if your kids are curious about the nation to the north, swing by Disney Springs and stop at The Daily Poutine. While poutine may not be haute cuisine, any dish that uses french fries as a base is probably a winner with many kids.
Caribbean Sunshine Bakery
Caribbean Sunshine Bakery has been a go-to option for island food for more than 25 years. The entrees, like their jerk chicken and oxtail, are delicious, and you don't get more authentic than cow foot and okra with saltfish. (Their cakes are delicious, too!)
Sofrito Cafe
Our family's go-to choice when we want Latin American and South American cuisine is to visit Sofrito Cafe near the Disney Springs area. Build your own international feast with foods from Cuba, Argentina, Puerto Rico, Venezuela, Colombia, Brazil, Peru, and the Dominican Republic.
Poke Hana
Poke has become a trendy food in recent years. One of the reasons that Poke Hana works well for Hawai'ian cuisine is that they offer more than just poke. You can let your kids try out island favorite foods like kalua pork, SPAM musubi, and butter mochi from their Windermere and Mills 50 locations.
Exhibits
A Trek from North to South
Cultures of the Americas flourished as far back as 3000 BCE, centuries before the arrival of Europeans in the 15th and 16th centuries CE. At the Orlando Museum of Art, they have an exhibit called A Trek from North to South that showcases art and artifacts from cultures like the Maya, Zapotec, Aztec, Moche, and Inca.
Central Florida is truly blessed with so many options for young children to see and experience different cultures from around the world.
Here are some other fun ideas of things that you can do before or after visiting these festivals, exhibits, and restaurants to keep the creative learning going.
Read books about different cultures, but especially by authors of those cultures. Check with your local library for recommendations.
Listen to music from around the world. Many streaming services offer curated lists from various countries.
Learn how to say hello, goodbye, please, and thank you in another language. This is a wonderful thing to do before going to a restaurant or festival where speakers of other languages may be there. Your child can take pride in being able to be polite in other languages, and it improves their social interaction and overall social skills. It also is a simple way to practice letter sounds and to learn about countries with different alphabets.
Have an international dinner night. Either cook food on your own, or pick up food or snacks from restaurants or grocery stores. Compare how each country prepares foods differently. Make score cards so your child can rate the foods they try.
Discover where your family came from on a map or globe. Most people in Central Florida came from somewhere else, and if you can trace your roots back far enough, perhaps you can find out what countries your ancestors came from.
Show your child a map or globe of where you came from and share any stories you might have about how your family arrived here.
Feature image from Orlando Museum of Art @orlandomuseumofart