A Parent's Guide to Trick or Treating at LEGOLAND Florida
There's so much to love at Brick or Treat Legoland Florida's Halloween Event. We love the unique Halloween LEGO characters, the spooky fun shows, and the yummy specialty treats. But let's face it, trick or treating at Legoland Florida, complete with donning your costumes, is one of the best things to do here.
This fun tradition is one of our favorite places to go trick or treating with kids in Orlando and nearby.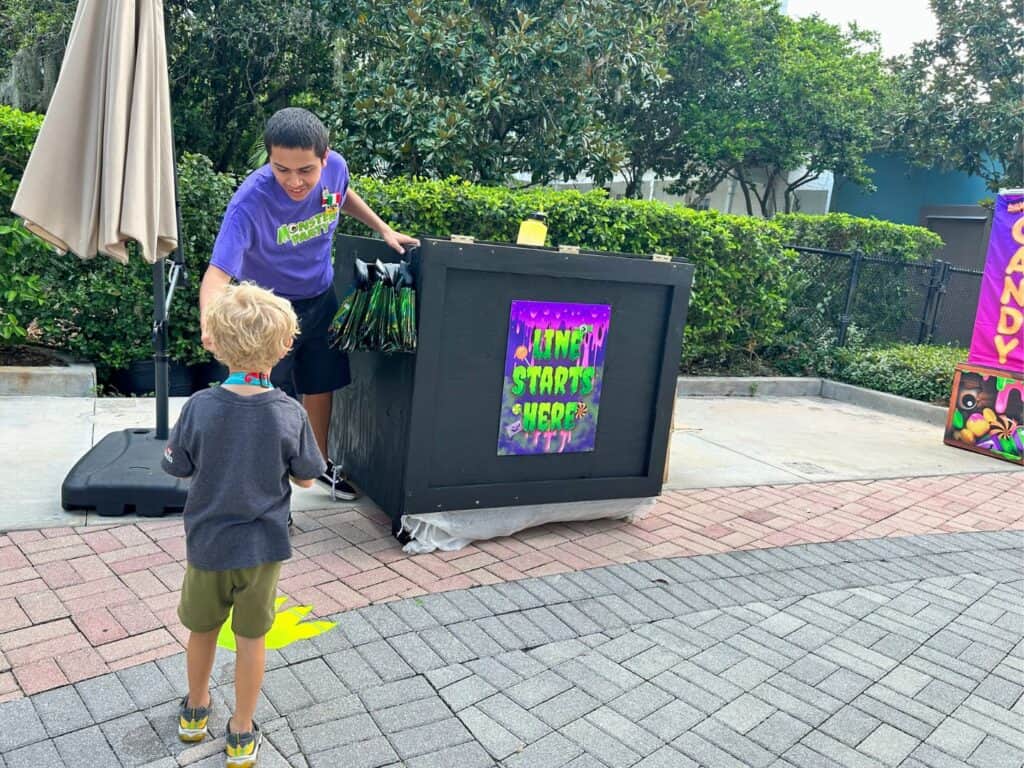 It's pretty easy and simple to do but we thought we'd provide a quick breakdown of what to know and what to expect. Pick out your costume and get ready to trick or treat at LEGOLAND Florida.
Trick or Treating at Legoland
Brick or Treat at Legoland takes place September 16, 23, 30, and October 7-8, 14-15, 21-22, 28-29, 2023. We're breaking out the full size treats and sharing these tips with you.
Trick or Treat Locations
Step-by-step process
Costume guidelines
Hours and tips
Trick or Treat Locations
Visit each of the 7 Brick-or-Treat Candy Stations for all your sweets and treats. To find each one, look for LEGO Skeleton Guy in each zone or the pumpkin bucket icon on the map!
Candy bags can be picked up at any of the candy stations. There is one Candy Station per land.
The Beginning, Near Rebuild the World
Fun Town, Outside of Heartlake Mall
DUPLO* Valley, Near THE LEGOS MOVIE WORLD Entrance
LEGO Kingdoms, Behind Kingdoms Stage
Land of Adventure, Near Lost Kingdom Adventure
LEGOS City, Next to Burger Kitchen
Pirates' Cove, Between stadiums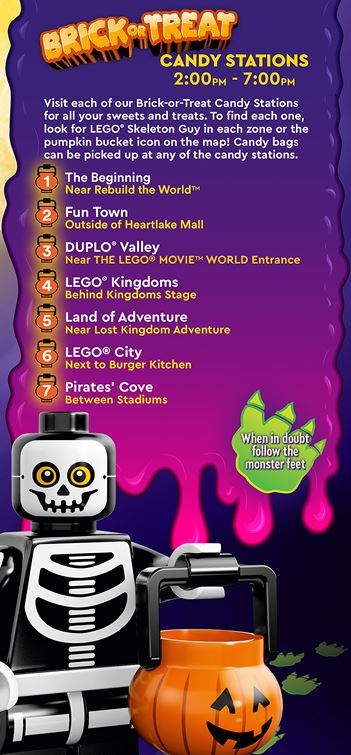 Step-by-step Process
Trick or treating at Legoland Florida is fairly simple – you don't even need to bring your own bag!
Simply visit any of the candy stations, of which there are seven, during the appropriate hours, 2pm – 7pm. Each location has bags available for you, so you can start anywhere.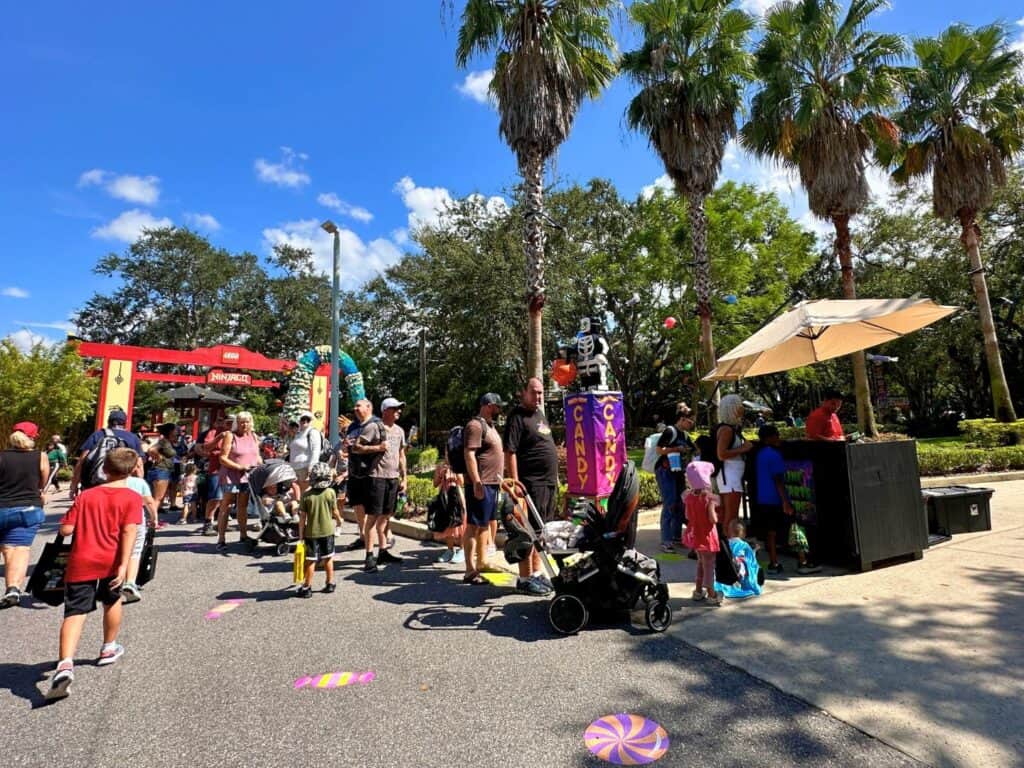 Visit the candy stations as many times as you like. Just be mindful of long lines. The stations are usually busiest right at 2pm. The stations near the front of the park, like The Beginning and Fun Town, usually have the shorter lines.
Treats are provided by GoGo Squeeze. You can expect candy favorites like Starburst, Skittles, M&Ms, Milk Way, and more.
Costume Guidelines
While there are no official costume guidelines widely published or broadcasted, generally it is best to avoid costumes that are overly scary, gory, or dramatic. Masks that fully cover the face are not a good idea, including for safety reasons.
Additionally, anything that resembles a weapon is prohibited, whether part of a costume or not.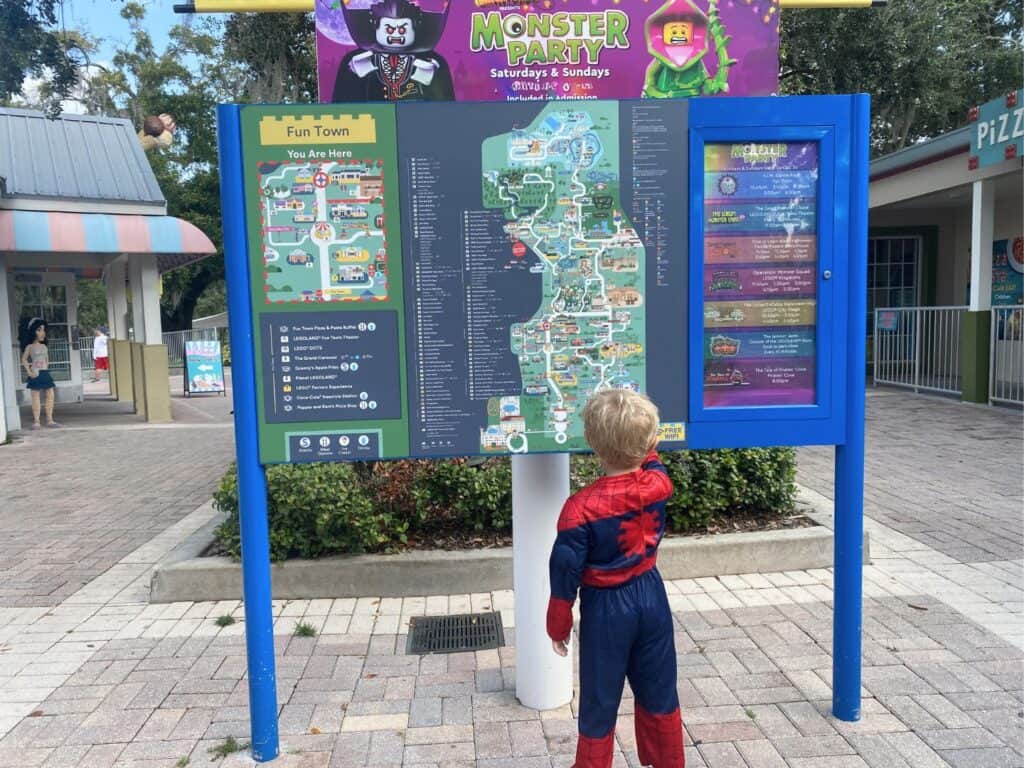 Hours and Tips
LEGOLAND Florida is open 10am – 5pm Monday – Friday, 10am – 8pm on Saturdays and Sundays when Brick or Treat takes place.
Brick or Treat is offered on September 16, 23, 30, and October 7-8, 14-15, 21-22, 28-29, 2023.
The Candy Stations are open 2pm – 7pm. The vast majority of food and beverage locations close at 7pm. The Brick or Treat fireworks display is at 8pm, lasting about 10 minutes.
It can be pretty hot during the day so we recommend packing the costume and changing once the sun starts to go down.
Bring a refillable water bottle. There are refill stations at most restrooms throughout the park.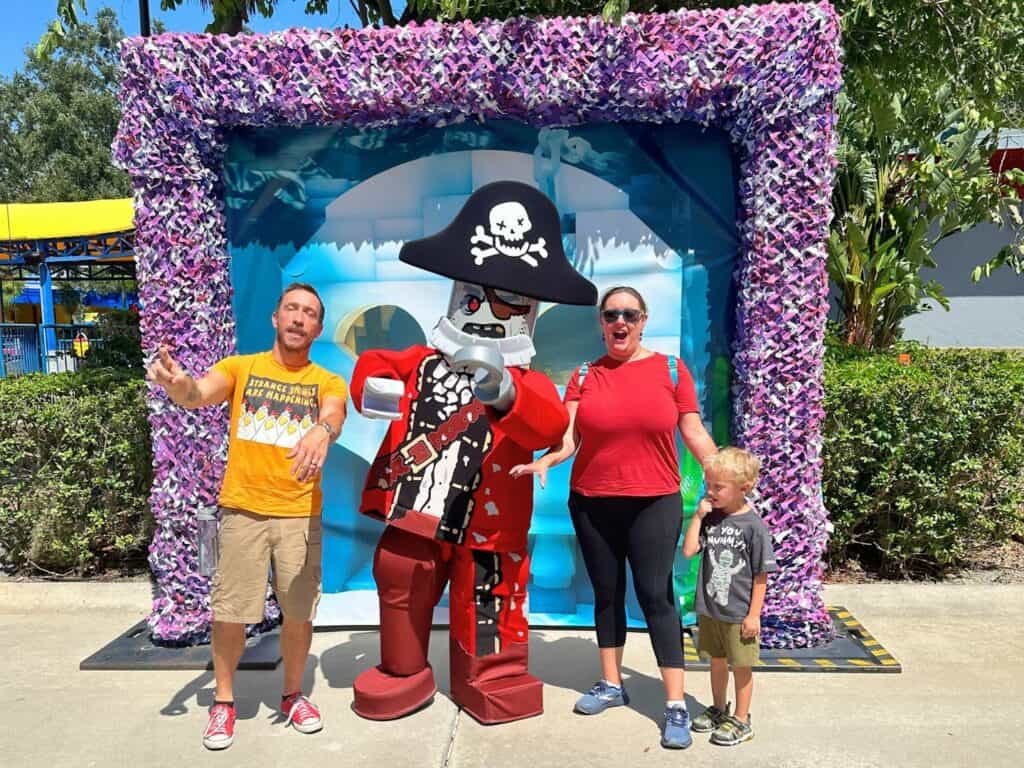 If your child has food allergies consider grabbing a second bag to place any candy you receive that is not suitable for their allergies. During our visit, we let the LEGOLAND team member, known as a Model Citizen, know that our son loves Starburst since they are okay with his food allergies and they were kind enough to give us an extra batch.
Be sure to take breaks and enjoy the park so no one turns into a cranky, over-sugared monster at the end of the fun.