Maximize the Halloween Family Fun at Legoland Florida Brick-or-Treat and more
Legoland Florida is always a creatively good time for families, but during spooky season, the theme park throws the ultimate Halloween party complete with Lego monsters, holiday Lego builds, shows, and more.
The Brick-or-Treat Presents Monster Party has a hard to say official name, but the Halloween fun is easy as can be!
Brick-or-Treat Presents Monster Party at Legoland Florida
Brick-or-Treat 2023 takes place on select Saturdays and Sundays from September 16 through October 29, and is included with regular park admission (which starts at just over $80) and select Legoland Florida annual passes.
In addition to Legoland's normal attractions, guests can enjoy shows, Halloween decor, and yes … candy. It's one of our favorite places to take kids trick or treating in Orlando (and nearby).
Pro-tip: Before you head to the event, check out our Parent's Guide to Trick or Treating at LEGOLAND Florida.
My family and I, as well as other members of the Orlando Parenting team, have visited this fun event before. Here's what to expect and what you need to know before you go.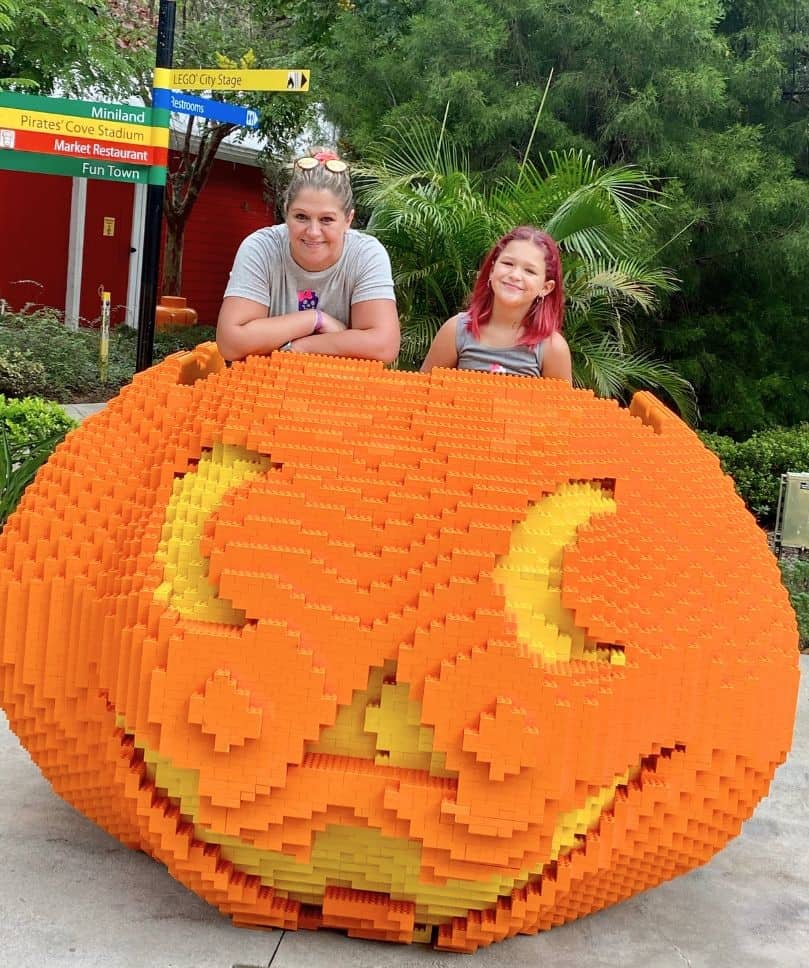 Event Details
On September 16, 23, and 30, and October 7-8, 14-15, 21-22, and 28-29, Legoland Florida will be transformed into this year's Brick-or-Treat "Monster Party." Lego minifigure monsters run the show in 2023 with character meet-and-greets and entertainment.
Here's what monstrous happenings party goers can expect.
Fireworks: There's an all-new Halloween-themed fireworks display coming to this year's party, hosted by Lego Lord Vampyre.
V.I.M. Dance Party hosted by Lord Vampyre: In this interactive dance party, kids will become Very Important Monsters as they boogie down with Lord Vampyre.
The UnbeLEAFable Halloween Night: This musical mystery show includes the newest monster minifigure in town — Lego Plant Monster.
The Jammin' Jacks: In this musical performance, a trio of jack-o-lanterns sing spooky tunes.
Boo-gie Down on the Disco Party Coaster: Legoland's The Dragon coaster gets a fun makeover for Halloween, becoming a disco party, complete with a monster soundtrack.
Zombie Pep Rally: Led by Lego Zombie Cheerleader, this fun, spooky pep rally will get guests in the Halloween spirit.
Brick-or-Treat: Trick-or-treat through the park and collect lots of candy. Don't forget, kids can wear Halloween costumes throughout the event.
Character meet-and-greets: Rare Lego characters like Lego Monster Rocker, Lego Mummy, and Lego Square Foot will be available for photos and meet-and-greets.
Special Halloween treats: From the Ghoulishly Hot Chicken Sandwich, topped with hot honey barbecue sauce and pimento cheese, to Witch's Brew lime soft-serve topped with bats, spiders, worms, and Halloween sprinkles, there will be lots of delicious Halloween treats to try.
Legoland Florida does an awesome job with their entertainment, especially during this Halloween event. We especially love the V.I.M. Dance Party hosted by Lord Vampyre and the Jammin' Jacks.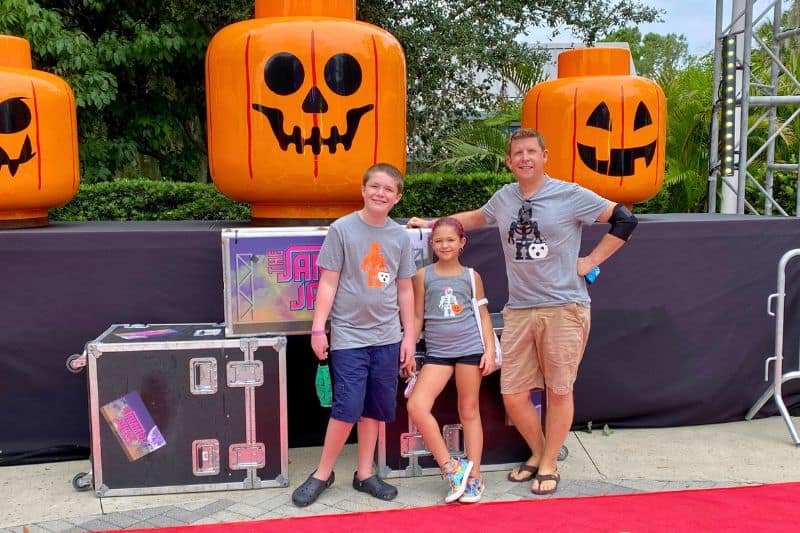 Character meet-and-greets
One thing that really sets the Brick-or-Treat Monster Party event apart is the character experience. The spooky Halloween versions of Legoland Florida LEGO characters greet guests throughout the park.
You won't find Halloween characters like this anywhere else.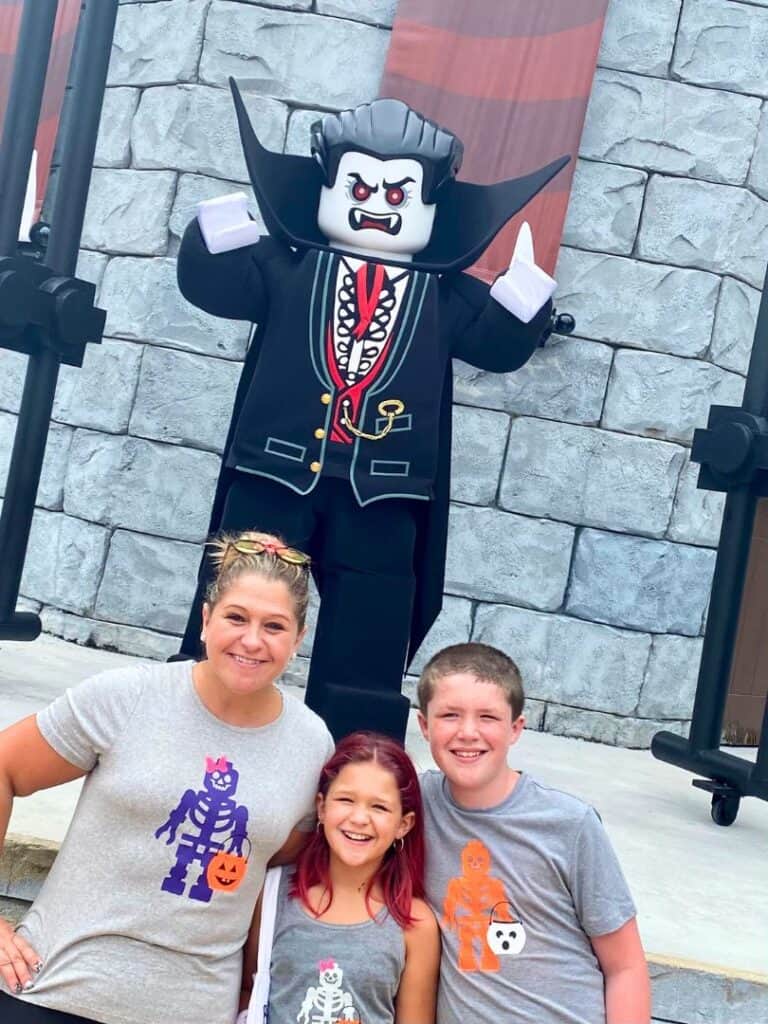 2023 Special Food
Witch's Brew Soft Serve – a cauldron of lime soft serve and all the fixings for a perfect spell (wing of bat sprinkles & gummy worms 😉)
Ghoulishly Hot Chicken Sandwich – fried chicken breast topped with hot honey barbecue sauce, pickles, and pimento cheese spread on a potato bun
Churro de Los Muertos – dulce de leche ice cream sandwiched between two cinnamon-sugar churros, then rolled in spirited sprinkles
Squad Ghouls Shake – mint chocolate milkshake with a purple chocolate rim, whipped cream and spirited sprinkles
Pumpkin Patch Pretzel – pumpkin spice sugar dusted pretzel, served with a creamy pumpkin cheesecake dipping sauce
Do-Nut Wake the Dead – a ghoulish Bavarian crème doughnut topped with green ooze, cookie crumb "dirt", green "grass" and bone sprinkles, a gummy worm, and a chocolate tombstone
Frankie-Furter – an all-beef hot dog served on a pretzel bun with sauerkraut and spicy mustard
Happy Harvest Apple Fries – delicious Granny's Apple Fries served a la mode with pumpkin spice soft serve, caramel sauce and whipped cream
Monster Potion cocktail and kid-friendly Worm Juice will be available exclusively at LEGOLAND Florida Resort hotels.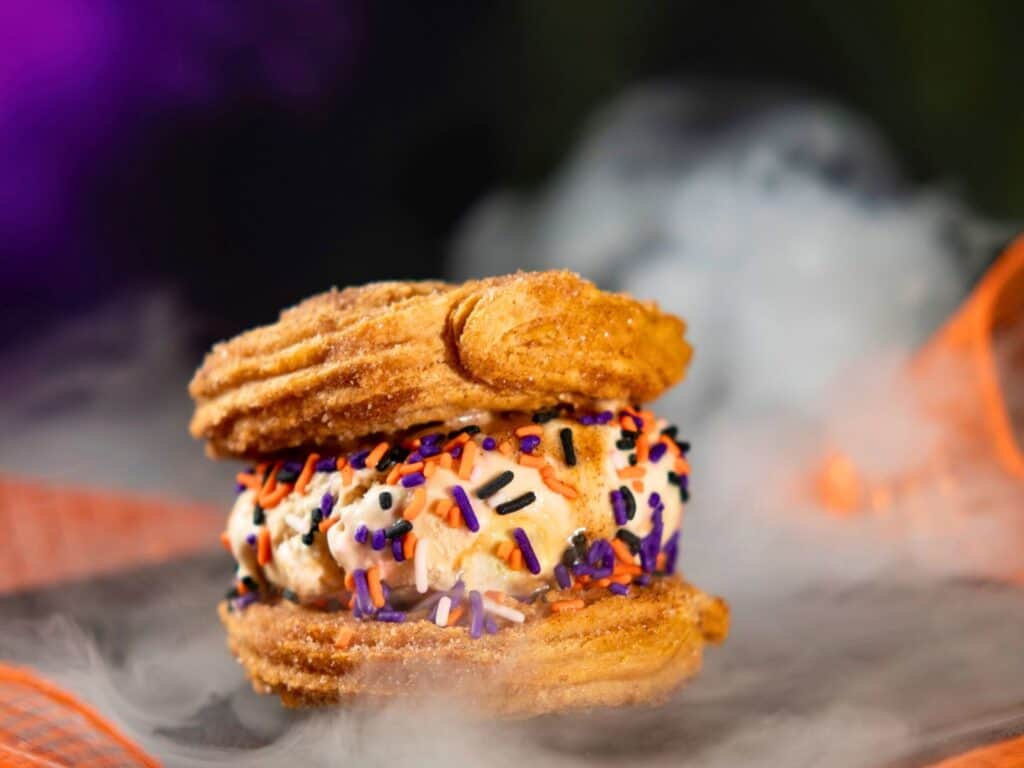 Tips for attending Brick-or-Treat
We love Legoland Florida for its simplicity and ease. It's a great theme park for families with young kids, as the entire park can be tackled in a single day.
To get the most out of your visit to Brick-or-Treat 2023, remember these tips.
Don't forget to dress your kids in their Halloween costumes, or plan to wear matching family Halloween t-shirts. Not only does dressing up make everyone feel more festive, but your photos with spooky Lego minifigures and Halloween Lego builds will be much cuter.
Legoland Florida will provide a bag for kids who want to trick-or-treat — one less thing to pack for the event!
This event is not scary. You won't experience jump scares or haunted houses, only a fun and gently spooky time!
Hotels and Other Attractions
Legoland Florida has three hotels on its property: Legoland Beach Retreat, Legoland Hotel, and Legoland Pirate Island Hotel. All three offer exciting theming, family activities, restaurants, and pools, so consider making your trip last a bit longer by booking a hotel room, too.
In addition to Legoland Florida, the property includes Peppa Pig Theme Park and Legoland Florida Water Park, so there's plenty for a family to do there.