A Parent's Guide to Crayola Experience – Best Activities for Kids
Enter a land full of color and bright hues. The Crayola Experience is a great place to take the kids when you need indoor activities. No doubt it is one of the best things to do with kids at the Florida Mall. But what can you experience? We're sharing the best things to do at The Crayola Experience.
You may think there's not much there aside from crayons. I was pleasantly surprised at the offerings when I visited for the first time with my munchkins. There are 27 hands-on activities packed into 70,000 sq. feet of space!
My kids enjoy every visit to Crayola and always ask when are we coming back as we are walking out the door. Keep reading to find out what makes this place so special.
The Crayola Experience Orlando
Each paid admission ticket entitles you to two tokens and a Scribble Scrubbie card which you exchange for a Scribble Scrubbie character.
Every activity sparks creativity and fun while letting little humans call the shots. One of the better aspects for adults is it won't break the bank; especially if you use discounts to your advantage.
Parenting pro-tip: Children who visit within 7 days of their birthday get free admission!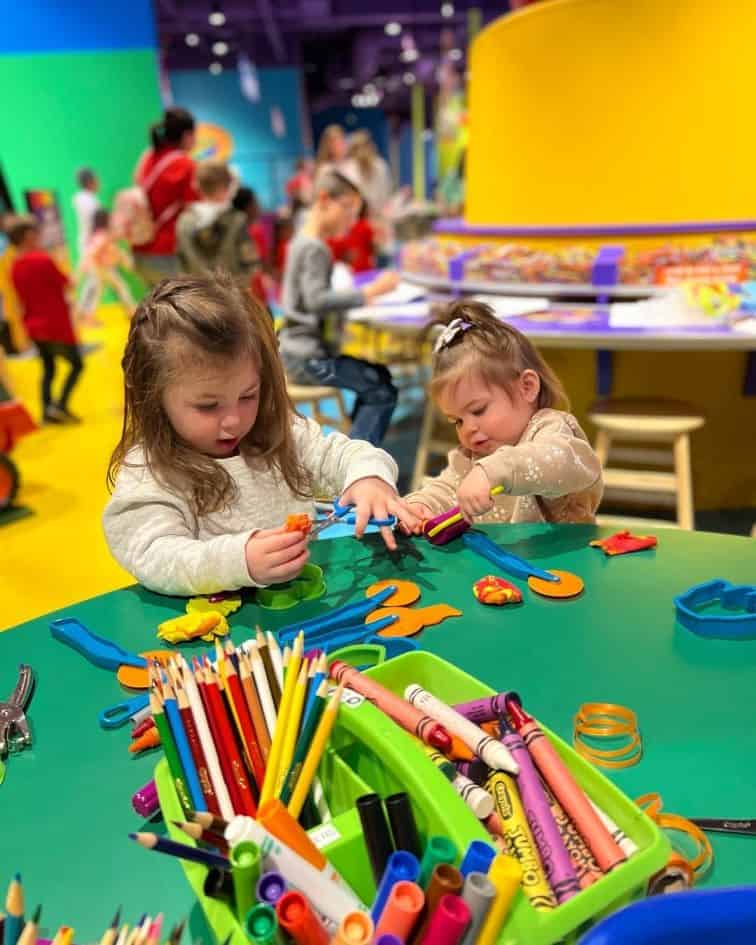 Things to do at Crayola Experience
Wrap It Up
After you've climbed the grand staircase, you'll arrive at Wrap It Up. Here visitors (children and adults) can choose a colored crayon, personalize the wrapping with a name and desired clip art then head to the wrapping station to complete their creation.
The colors offered are typically pink, purple, yellow, orange, and blue.
The crayon machines require one token which is given in your goody bag upon arrival. Additional tokens can be bought for $.50 each.
Be a Star
Create your own coloring page. Here participants choose a black and white background before sitting pretty for their picture. A computer screen faces you so you can adjust your position as needed to capture the perfect photo.
There are several background options and unlimited coloring pages can be created and printed.  
Modeling Madness
Modeling Madness is just across from Be a Star and it's home to all things dough. Crayola's Magic Modeling Compound stays pliable enough to recreate over and over until your child's masterpiece is just right.
Sculpting tools are on the tables to flatten, cut, and imprint. The coolest part? The dough can be colored! While markers can be used on any color, white is truly a blank canvas.
One token to purchase a package of modeling compound is included with the goody bag with extra tokens available to purchase for $.50 each.
Drip Art
Remember the spin art craze?! Relive it again at Drip Art.
Here anyone of any age can choose two crayon colors to melt, combine, and create. The paper spins as the melted wax crayon swirls onto the page. Each artist has the power to choose the speed of the spin for a truly unique masterpiece.
This activity is included with general admission and can be done as many times as desired.
Activity Studio
Have a project-driven illustrator? This station has color, cut, and paste projects to complete. The theme changes regularly to keep fresh ideas and creativity continuous.
Plenty of tables abound to provide space to spread out.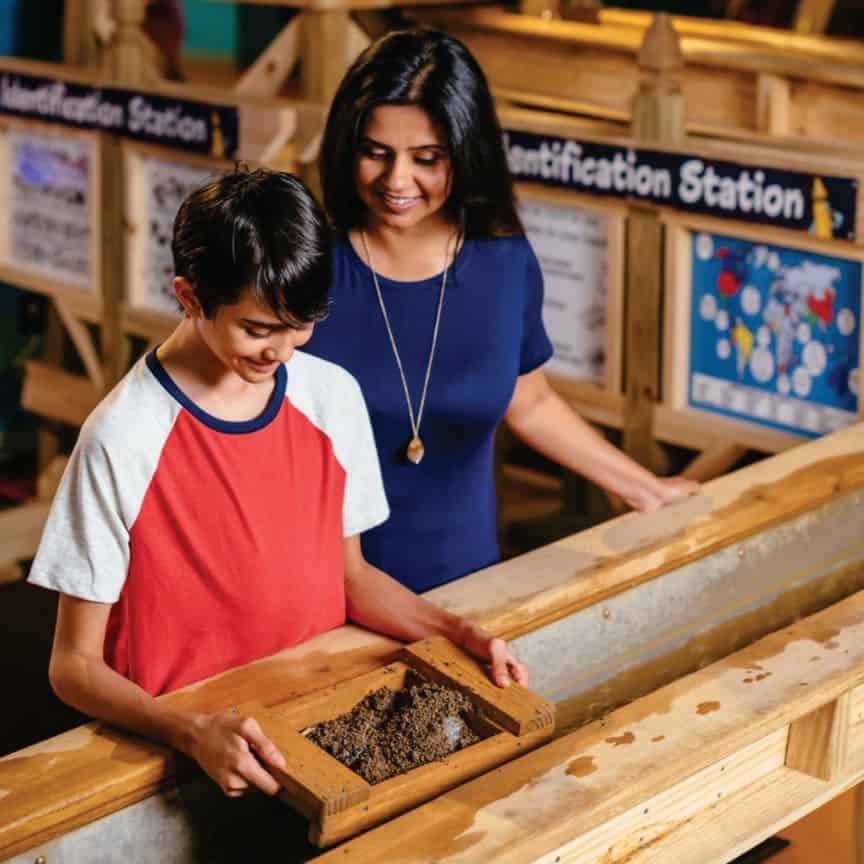 Melt and Mold
This stop is another must-do. Repurpose a regular crayon into something new and extraordinary! Each visitor chooses an unwrapped crayon from the attendants' tray before heading to the melting machine.
Put the crayon into the machine and watch as it melts into a new shape on the table. Once it cools, it's ready to color with.
Molds include an emoji face, vehicle, and diamond ring. Choose one or choose all three!
Scribble Scrubbies
If you haven't tried a Scribble Scrubbie yet, get to it! These little pets are a blast to draw colorful designs on. The best part? Every Scribble Scrubbie character can be washed and redesigned.
In our experience, there are some colors that seem to "stick" more than others creating a slightly used canvas.  Characters options are changed regularly. Annual passholders get to choose between two Scrubbies options.
You Design
For the designer in your life, there is the You Design room. Here kids of all ages can design a fashionable outfit or a rad racer. This virtual studio lets you choose a figure or vehicle from one of the templates to color, draw, and accessorize. Place it in one of the scanners and watch the big screen to see the creation come to life.
There is no limit to the amount of designs that can be created!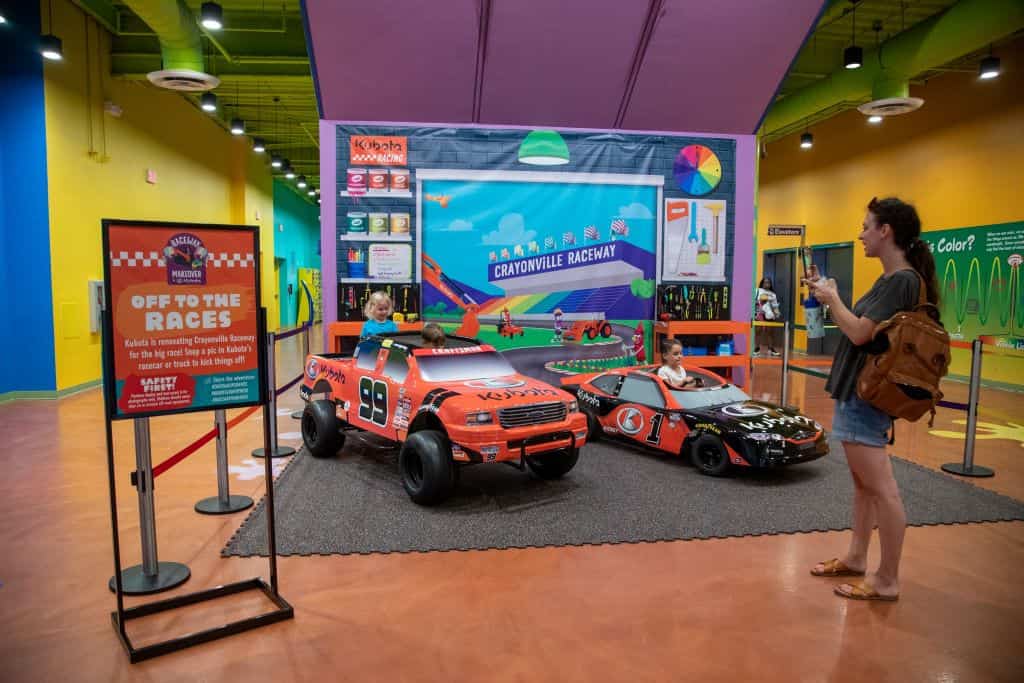 Scribble Square
It's a beautiful day in the neighborhood! Visit the Crayola neighborhood in the middle of the action. This is the one safe space to draw on the walls, floors and everything else with chalk. All little artists will enjoy freedom from rules.
Rockin' Paper
Rock out with Rockin' Paper. Kids will love getting their wiggles out along with their creation. This craft includes a template to color, cut out, and take to the attendant who will clip it up with binder clips so it can stand and set it bouncing to the beats.
Silly Selfies
Stop and strike a pose for the wall of Silly Selfies. The little people in your tribe will be thrilled to take their own picture and add digital stickers for an underwater excursion, royal adventure or other jaunt.
After the portraits are created, they are sent to the Silly Selfie wall where each portrait can be touched for a surprise animation. They can also be emailed to keep as a forever souvenir.
Color Playground and Toddler Town
There are two indoor playgrounds for your energetic little monkeys to tumble, climb and play. Toddler Town is the perfect environment for the youngest of the family to safely explore and crawl.
Color Playground is a two-story obstacle course through a box of crayons the older ones will gleefully wiggle and bounce through.
"Chaos and Creativity" Show
Can chaos create beauty? It does in the Chaos and Creativity show. When things go awry, Peri and her new friend Cat show us we can solve any problem with the help of friends.
This can be interactive if you have a child who talks to the screen when Cat the caterpillar needs to be found.
"Crayon Factory" Show
This informative show is really neat and educational. The entire audience learns just how crayons are made from liquid wax to box ready.
Learn the testing techniques and details that make a Crayola crayon a Crayola crayon.
The last ticket is sold an hour prior to closing and entry is permitted 30 minutes before closing. Let your kids add their color to the world at Crayola Experience Orlando.
Plan Your Visit
Crayola Experience Orlando
8001 S Orange Blossom Trl, Orlando, FL 32809
(407) 757-1700
HOURS
Open 7 days a week
10am – 8pm
Crayola Experience Admission
General Admission (Ages 3+) Price: $25.99 Online
Regular Price: 28.99 on site
Get $3 OFF per ticket when you buy ahead online
We hope you enjoy visiting this indoor play area. You can connect with us and other parents on Facebook, Instagram, and Pinterest.
Feel free to share this blog post and plan a fun family outing together!