AdventHealth Broadway in Orlando – The Intersection of Family Wellness and the Arts
AdventHealth has played a crucial role in fostering the community's growth and development of the performing arts. With so many exciting opportunities for families, we'll explore the 23/24 Season of AdventHealth Broadway in Orlando at Dr. Phillips Center, highlight the most kid-friendly shows, and share how attending a show can nurture your family's wellbeing.
An unforgettable family night at the theater can be found in the heart of downtown Orlando. During AdventHealth Broadway in Orlando at the Dr. Phillips Center for the Performing Arts, you'll experience an unforgettable family night out, along with some health benefits for both you and your kids. (Continue reading for health benefits below.)
This season's lineup offers many great shows for families, including Annie, Disney's Aladdin, Peter Pan, and more!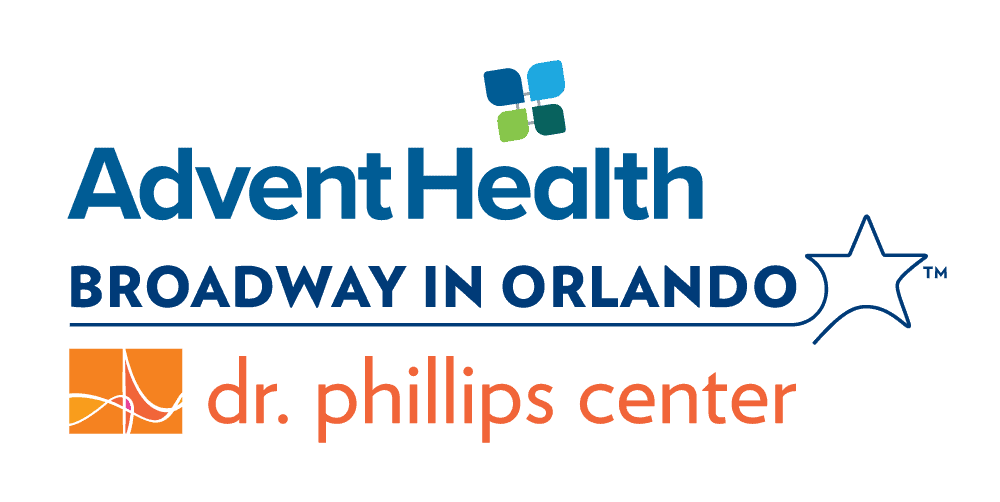 Annie – October 24–29, 2023
Funny Girl – December 5–10, 2023
Disney's Aladdin – January 3–7, 2024
Moulin Rouge! The Musical – February 20–March 3, 2024
Jagged Little Pill – March 19–24, 2024
Mrs. Doubtfire – April 23–28, 2024
Peter Pan – May 14–19, 2024
Clue – June 4–9, 2024
Les Misérables – June 25–30, 2024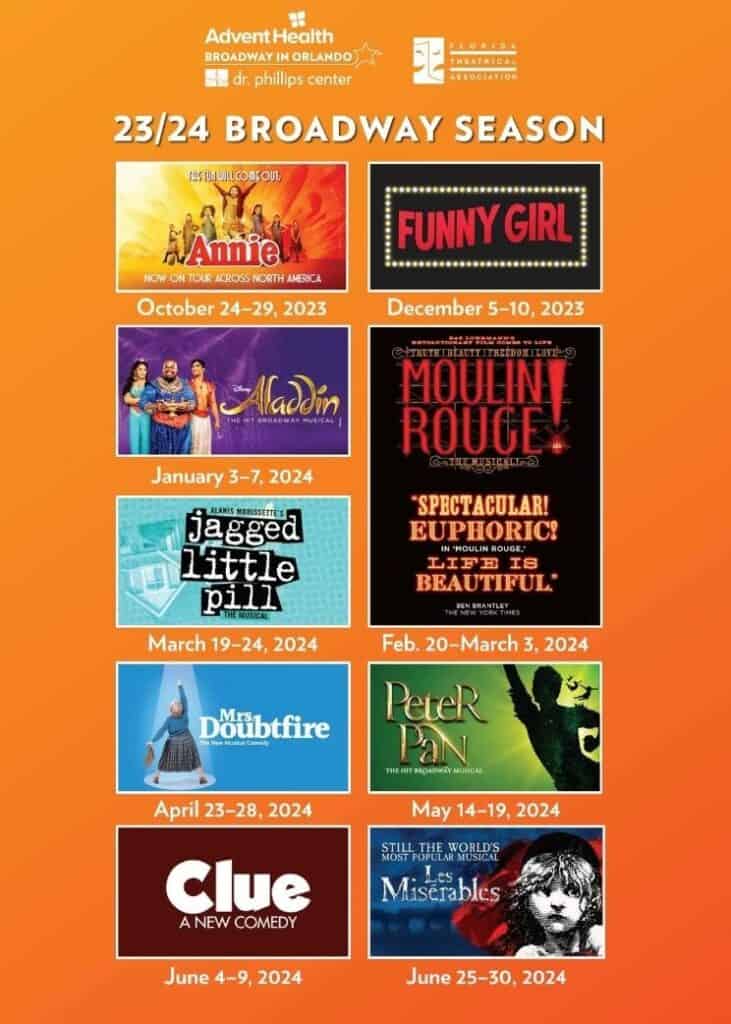 ADVENTHEALTH BROADWAY IN ORLANDO
The Most Kid-Friendly Shows
AdventHealth is proud to be the presenting partner of Broadway in Orlando for two seasons in a row! Here are the best, upcoming kid-friendly shows you should plan to attend.
Parenting pro-tip: While the stories in these Broadway shows are also available as beloved movies, they do not run for the same amount of time as the films. We suggest making adjustments for this extended timeframe.
Annie – October 24–29, 2023
Holding onto hope when times are tough can take an awful lot of determination, and sometimes, an awful lot of determination comes in a surprisingly small package. Little Orphan Annie has reminded generations of theatergoers that sunshine is always right around the corner, and now the best-loved musical of all time is set to return in a new production – just as you remember it and just when we need it most.
Annie, directed by Jenn Thompson, features the iconic book and score, written by Tony Award®-winners Thomas Meehan, Charles Strouse, and Martin Charnin. This celebration of family, optimism, and the American spirit remains the ultimate cure for all the hard knocks life throws your way.
Disney's Aladdin – January 3–7, 2024
From the producer of The Lion King comes the timeless story of ALADDIN, a thrilling new production filled with unforgettable beauty, magic, comedy and breathtaking spectacle. It's an extraordinary theatrical event where one lamp and three wishes make the possibilities infinite.
Peter Pan – May 14–19, 2024
This high-flying musical has been delighting audiences of all ages for close to 70 years and is now being brought back to life in a new production directed by Emmy Award winner Lonny Price with additional book by celebrated playwright Larissa FastHorse. The adventure begins when PETER PAN and his mischievous fairy sidekick, Tinker Bell, visit the nursery of the Darling children late one night. With a sprinkle of pixie dust and a few happy thoughts, the children are taken on a magical journey they will never forget. This extraordinary musical full of excitement and adventure features iconic and timeless songs including "I'm Flying", "I Gotta Crow", "I Won't Grow Up" and "Neverland". PETER PAN embraces the child in us all so go on a journey from the second star to the right and straight on 'til morning – your entire family will be Hooked!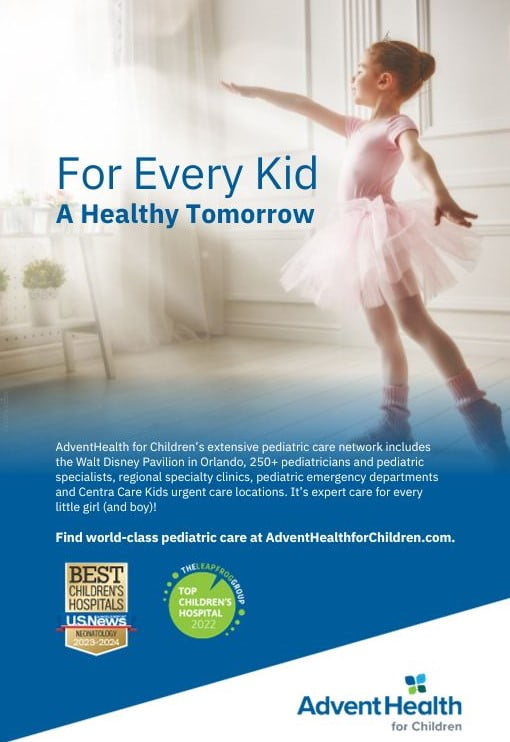 Tips for a Family-Friendly Theater Experience at Dr. Phillips Center
Complimentary Booster Seats: Complimentary booster seats are available at the guest services desk on the first floor. Present an ID as collateral. These boosters are easy to carry into the theater for the show. Please note, they are first-come, first-served.
First Aid and Family Restrooms: The AdventHealth First Aid station on the first floor is available for basic medical needs during your theater visit. Family restrooms are conveniently available on each floor; just ask a staff member for their location.
Dress Comfortably: Dress your kids in comfortable attire and take some time to explore the Dr. Phillips Center with them before the show. It's a great way for them to burn off some energy and become familiar with the surroundings.
Aisle Seats: Opt for seats near the end of an aisle to help with fidgeting or needing the restroom during your family's night out at the theater.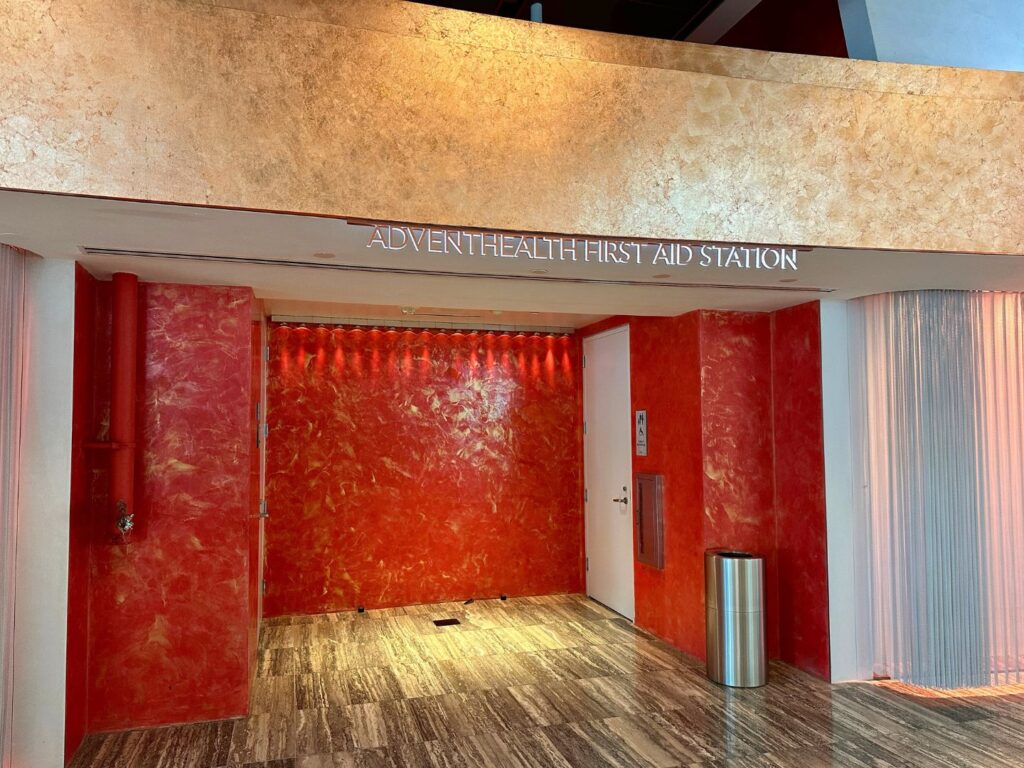 Important note – Unless otherwise noted, children under the age of two are not permitted inside the theaters.
AdventHealth's Commitment to the Arts
AdventHealth's longstanding support for the Dr. Phillips Center is a reflection of how the arts can elevate our hope and renew our health—body, mind, and spirit.
Rich Moats, Director of Integrative and Creative Arts Therapies shared the health benefits of the arts, "Music shares many neural pathways with different brain functions like moving, talking, thinking. Arts and music are whole brain experiences! Because music activates so much of the brain, it can help keep these activated brain areas strong. This has positive implications on the whole person, no matter what age they are."
Together, AdventHealth and Dr. Phillips Center are exploring the intersection of wellness and the arts. AdventHealth believes that the arts open the door to wellness and healing. For anyone, at any age and at any stage in life, being involved in the performing arts challenges the body, strengthens the mind, and stimulates the imagination.
Rich goes on to share, "For children and adults, as individuals or sharing together, more art and music is better! Learn an instrument, incorporate intentional music listening in your daily activities, join a choir, go to a concert, or if you have specific health and emotional needs, participate in music therapy – all of this can help you be more healthy and whole."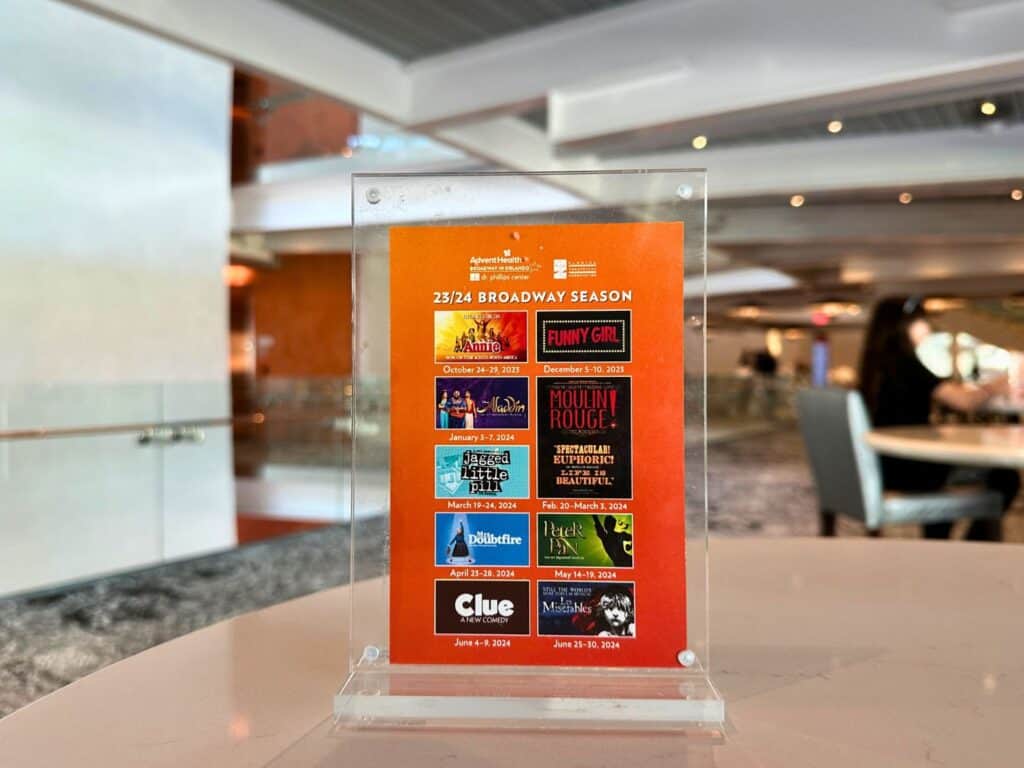 Thanks to the unwavering support of AdventHealth and the vision of the Dr. Phillips Center, there is a cultural richness in our community. Experience the arts and the power they have to heal, inspire, and elevate our lives.