How to Celebrate Halloween at Disney's Fort Wilderness Campground – Including EPIC Decorations
It's no big secret that Disney takes their holidays SERIOUSLY. And that doesn't just stop at the parks. During Christmas and the holidays at Walt Disney World, all the resorts have plenty of decorations and events to help guests celebrate.
When it comes time for Halloween at Walt Disney World, Disney's Fort Wilderness is THE place to be. From contests to decorations galore, here's all you need to know to have an EPIC celebration of Halloween at Disney's Fort Wilderness Campground.
What to Expect at Fort Wilderness During Halloween
Decorations
The campsites at Fort Wilderness offer tent camping, RV campsites, and fully-equipped cabins. Throughout the year, but especially during Halloween, guests are encouraged to decorate their campsite.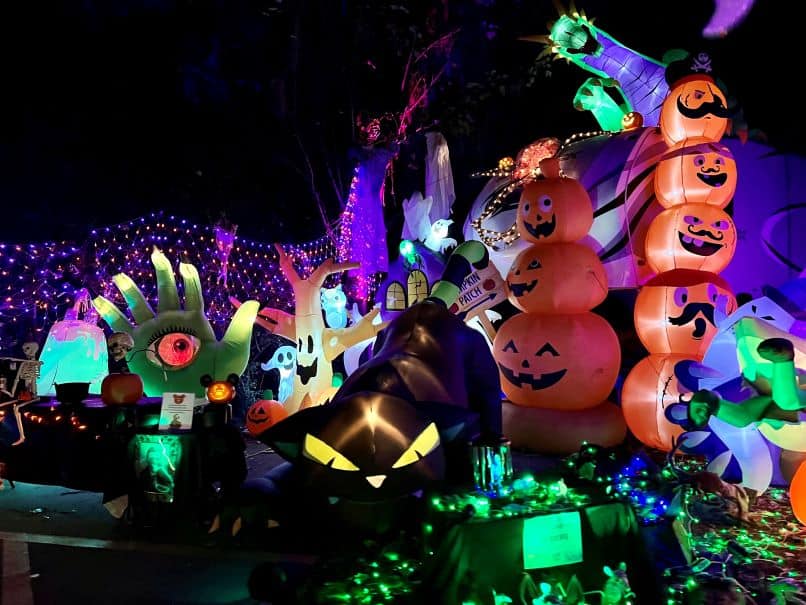 From large-than-life Disney-themed inflatables to an actual recreation of scenes from Disney rides like the Haunted Mansion, you'll feel like you've been transported to a spectacular Halloween wonderland.
Campers spend days setting up elaborate setups with life-size animatronics, music, and scenes from classic Disney Halloween movies like The Nightmare Before Christmas and Hocus Pocus.
The best part? There are over 25 loops to make your way through to check out all the amazing Halloween decorations!
And it's not just campsites that get a Halloween makeover. The golf carts alone are enough to make you say "wow!" Guests are allowed to bring their own or rent four- and six-seater golf carts directly from the resort.
You can even participate in a Golf Cart Extravaganza if you think you have the best-dressed cart around. More on that in a moment.
How to see Halloween decorations at Disney's Fort Wilderness
You *can* visit Disney's Fort Wilderness Campground if you are not an overnight guest if you wish to see the Halloween decorations. However, the official policy for parking at any Disney Resort is that you must have a confirmed dining reservation. Only the Hoop De Doo Musical Review accepts dining reservations at Disney's Fort Wilderness.
We recommend parking at Disney Springs and utilizing Disney bus transportation to Disney's Fort Wilderness.
The resort is officially "locked out" the week of Halloween itself. If you visit earlier in October you will see at least a few Halloween decorations around the entire campground.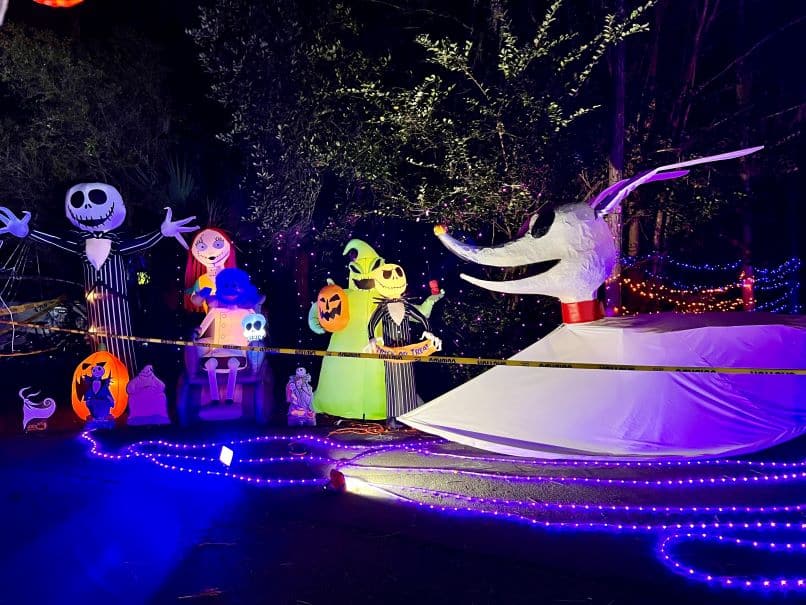 Activities
There are tons of awesome activities during Halloween weekend at Fort Wilderness. These Halloween activities are for guests with overnight reservations at Disney's Fort Wilderness Campground.
Puzzle Hunt: Pick up an activity guide at the Bike Barn to solve villanous themed puzzles.
Halloween Golf Cart Extravaganza: Staging begins at the Hitch & Hitchhike Bar to be judged for the winners circle.
Pet Parade: Bringing a furry friend? Categories for the Pet Parade are Best Disney Themed Pet, Best Family Costume and Best in Show.
Glow Grinning Party: Head to the Meadow Swimmin' Pool on Saturday night for spooky glow activities both inside and outside the pool.
Pumpkin Decorating Contest: Drop your best carved pumpkin off at The Settlement to see if yours is a winner!
Halloween Beach Bash: Celebrate Halloween with activities including a DJ, competitions for guests of all ages, and a costume contest. Fireworks viewing conclude the Beach Bash at 10:15 pm.
Camp-Or-Treat: Kids can put on their Halloween costumes and trick or treat around the campsites every evening from 6 pm- 9 pm.
Country Campfire: Head to the Meadow for a good old fashioned Country Campfire every evening at 7 pm.
Halloween Movies: When the sun sets, catch Halloween movies each night like Halloweentown and Hocus Pocus.
Note: These activities are for campground guests and are usually offered on the weekend of Halloween.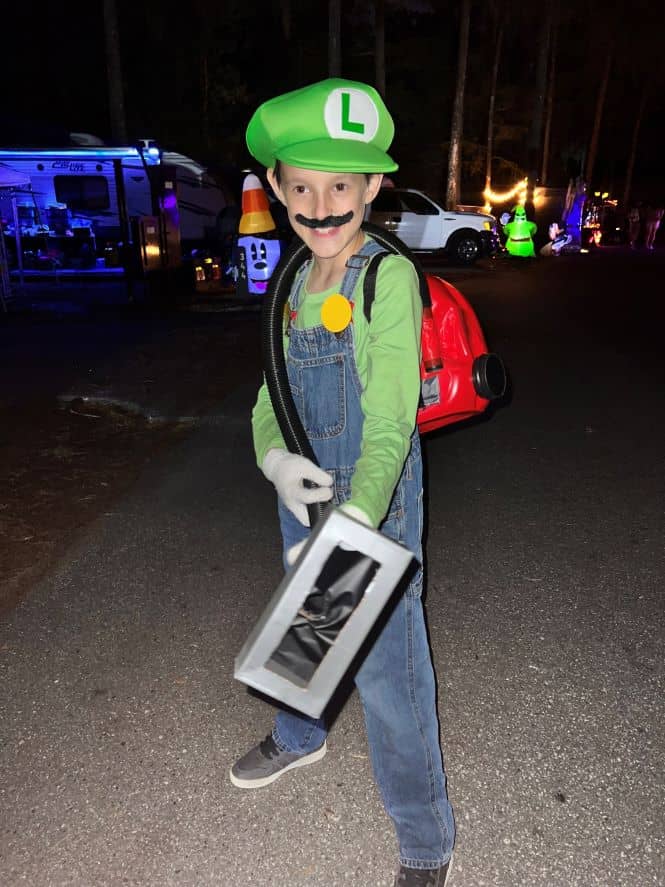 Celebrate Halloween in…April?
Can't make it in October but don't want to miss out on all the scary good fun? Every last weekend in April, Fort Wilderness celebrates Halfway to Halloween with all the same fun and excitement as October!
Decorate, trick-or-treat, catch Halloween movies, and parade down the streets in your best-dressed golf cart!
Activities
In addition to all the Halloween festivities, there is so much to do at Fort Wilderness both Halloween weekend and year-round!
Make a splash at the Meadow Swimmin' Pool on the corkscrew waterslide and relax in the whirlpool spa area. You can also go gem mining or play on one of their campsite playgrounds.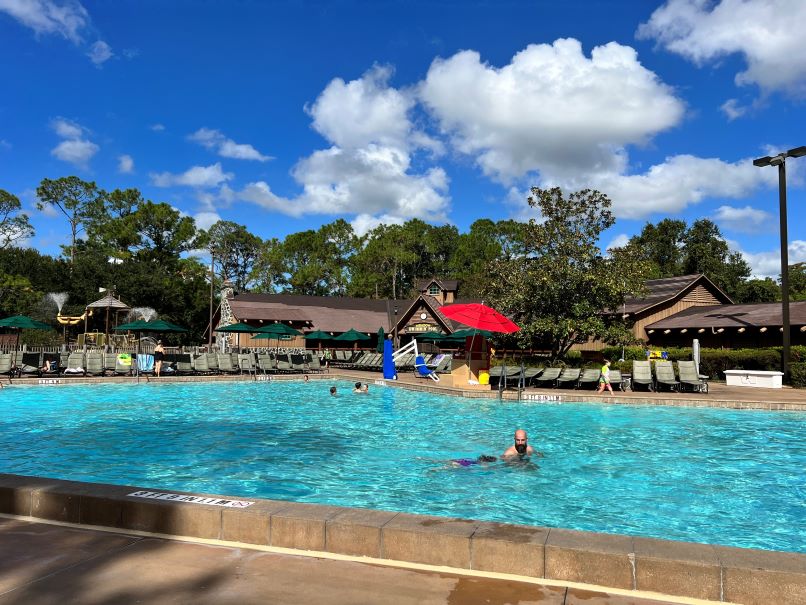 On select nights, you can head to the beach area to watch the Electrical Water Parade. If you're looking for some indoor fun, you can also play in Davy Crockett's Wilderness Arcade or Daniel Boone's Wilderness Arcade.
Enjoy activities such as archery, canoeing, and campfire singalongs. Visit the Tri-Circle-D Ranch to see some of Disney's amazing Clydesdales and visit Cinderella's ponies.
Little riders under 48″ can take a pony ride, while older children and adults can visit the stables near The Settlement area to go horseback riding.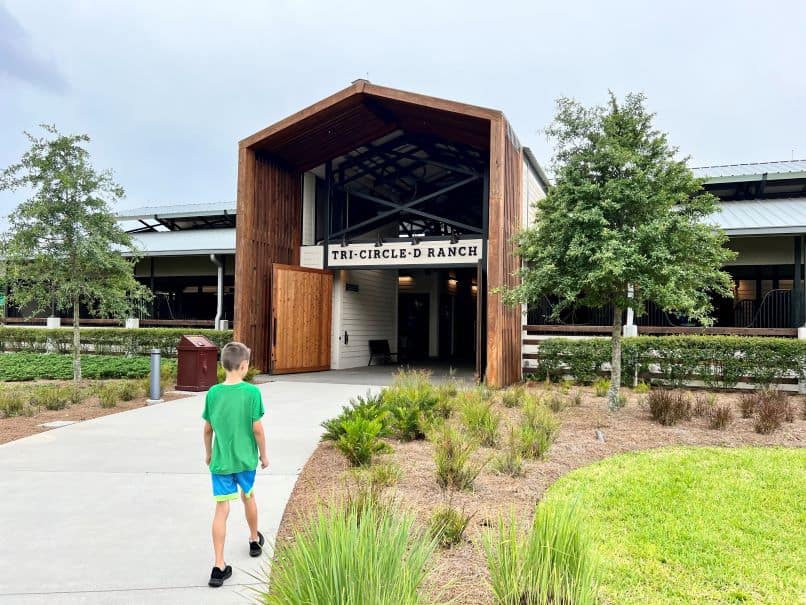 You can also take an old-fashioned horse-drawn wagon ride or carriage ride throughout the year. During the winter holidays, they also offer holiday sleigh rides.
*Some of the activities require an additional fee.
Though not sponsored by Disney, there are several fun Fort Wilderness scavenger hunt Facebook groups that we definitely recommend joining for some added fun!
Post your own goodies for people to find or go on a hunt yourself. We love Jiminy Cricket's Scavenger Hunt Page.
Dining
There are several dining options at Fort Wilderness to rustle up some grub.
Hoop-Dee-Doo Musical Review: Join the Pioneer Hall Players for two hours of rousing dancing, singing, and zany comedy. In between skits, chow down on traditional BBQ fare with all the fixings. Reservations are required.
Meadow Snack Bar: Light bites, located at the Meadow Swimming Pool.
Crockett's Tavern: Enjoy savory snacks and modern day moonshine at this frontier-inspired watering hole.
The Chuck Wagon: This culinary camper serves up classic fare and snacks.
Trail's End: Stop by for any meal of the day with some quick Southern fare and BBQ.
Reservations
Because Halloween is their most popular weekend, the resort is only open to guests from October 26-November 1.
Any outside visitors not listed on the reservation will not be allowed entry. If you are not staying on property, you can also enter the campground if you have a reservation for the Hoop-Dee-Doo Review.
Reservations can be made on their site but keep in mind, it can be tricky since they fill up quickly! Your best bet is to make reservations well in advance.
Parking and Transportation
Fort Wilderness offers complimentary standard parking to all resort guests. Officially authorized vehicles or recreation devices are encouraged to cruise around the campsite.
Golf carts are available for rent or guests may bring their own. Certain devices are prohibited such as hoverboards, utility carts, and segways. A complete list can be found here.
Disney water transportation is available from Fort Wilderness to Magic Kingdom, Disney's Contemporary Resort, and Disney's Wilderness Lodge.
Complimentary Disney bus transportation is also available throughout the campground from the cabins and campsites to the Settlement area for dinner shows, groceries, and the beach, and to the Meadow recreation area for swimming, arcade, and bike rentals.
All images courtesy of Brie Gorecki