Best Orlando Petting Zoos and Small Farms for Cuddle Time with Kids
There's not much sweeter than watching little ones interact with petting zoo animals like baby goats, fuzzy rabbits, and friendly ponies. Petting zoos and small farms can be a great place for kids to learn about animals and the world around them, and a spot where moms and dads can capture adorable photos.
The Orlando area is full of small, often family-owned, businesses that offer a full day of activities for families, not to mention some cuddle time with some seriously cute animals. And there are plenty of zoos, aquariums, and animal encounters too.
After having some fun with the critters, head to one of our favorite family restaurants in Orlando. Read on for some of our favorite places to take kids for petting zoos and farms.
Places with Farm Animals in Orlando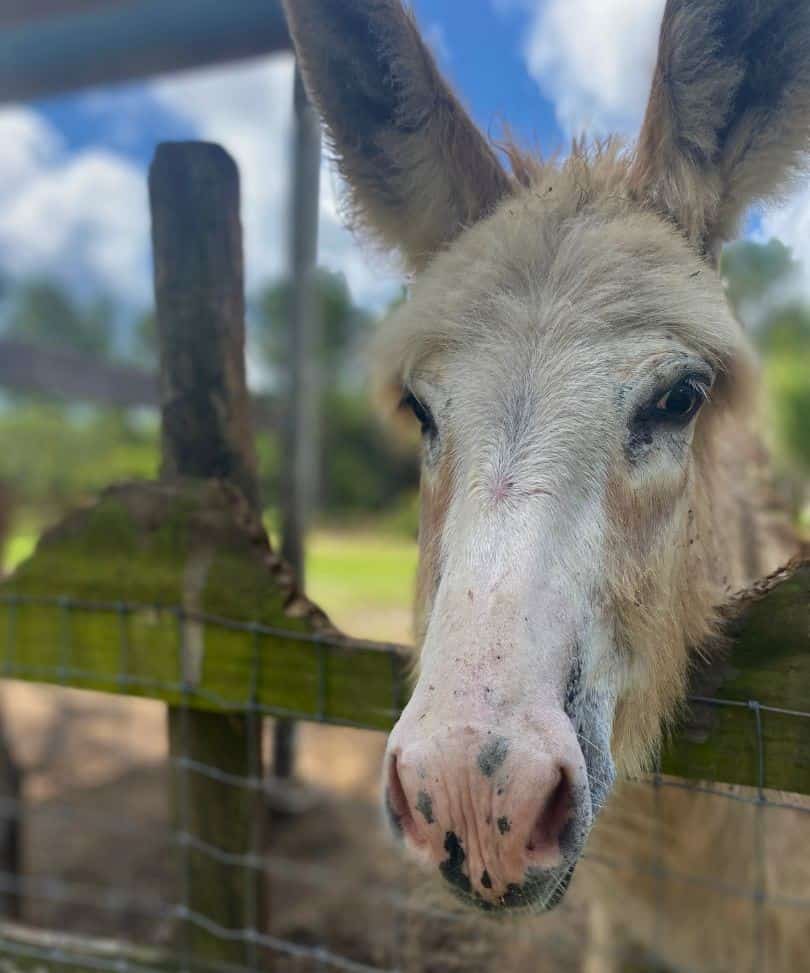 2993 West Osceola Road, Geneva, Florida 32732
Head out to the country, without going too far. Stop by Old Red Barn in Geneva for some unique antique and country shopping. Best of all there is a small farm animal area out front.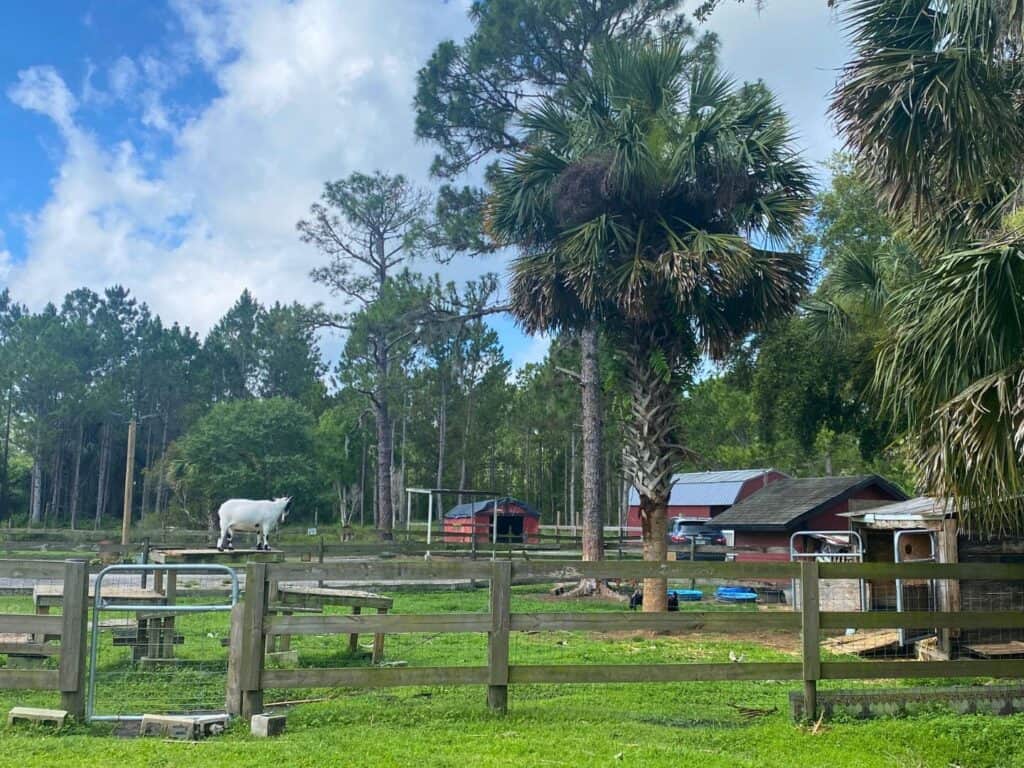 Say hello to cuties such as goats, donkeys, chickens, and a barn cat. It's free to visit this adorable farm and shopping destination. We suggest showing your appreciation for this cute spot by picking up a little something and supporting local, even just a jar or two of jelly and salsa can do the trick!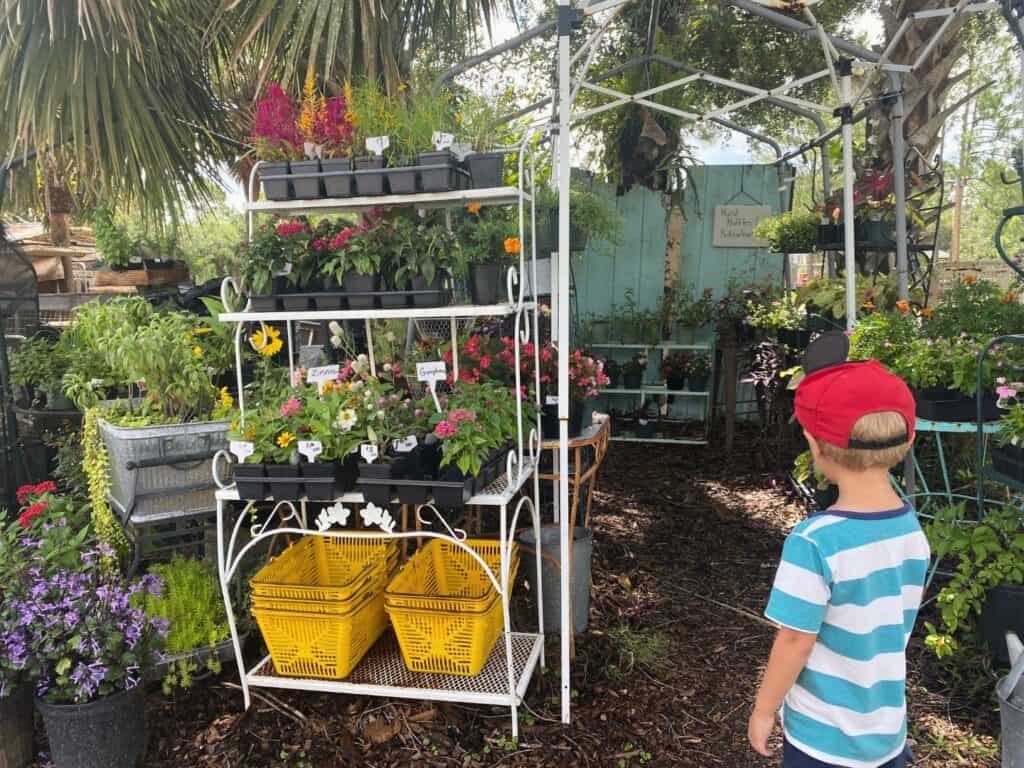 18810 Lone Dove Lane, Clermont, FL 34715
Feed and pet alpacas and llamas at this charming 5 acre family farm in Clermont. At LunaSea Alpaca Farm, there are over 30 alpacas, including fluffy Huacayas and pencil-locked Suris. You'll get to tour the nursery and hand feed the animals, and learn more about how the alpacas' "fibers," or fur, get transformed into blankets, scarves and more.
You can even shop for items made with alpaca fibers in the small gift shop. Check out their Facebook page for fun special events, like seasonal alpaca yoga, or call 352-223-9457 to schedule your visit. Reservations are required.
Cost: $10 ages 3-11 / $15 ages 12+ / Children under 3 free
35317 Huff Rd, Eustis, FL 32736
Although mainly known for its Fall Festival, Pumpkin Patch, and Christmas events (including cutting down your own tree), Santa's Farm occasionally hosts petting zoo activities and other kid-friendly farm experiences.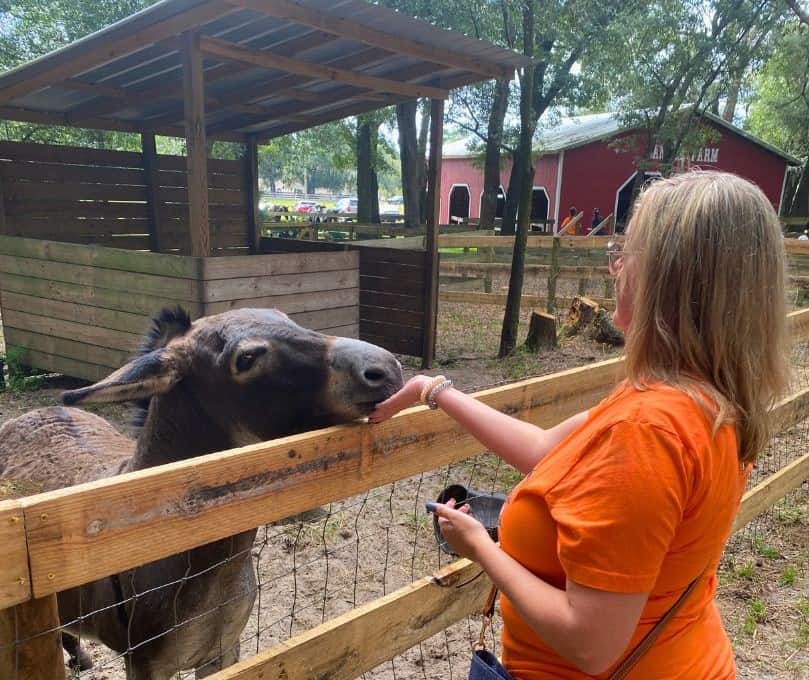 And the seasonal events are some of our favorite in the area thanks to the charm of Santa's Farm. There is lots of shade here, most petting zoos and farms in Orlando lack the same amount of shade. So when you head here you're getting a petting zoo experience plus getting into the spirit of the season!
2218 Carrington Drive, Orlando, FL 32807
This sweet homestead farm offers fun animal encounters for all ages. Meet, feed, and even cuddle baby goats in one of three kid-friendly events at WildFlower Farm Orlando.
Fables on the Farm includes story time in the pasture pavilion, followed by a meet and greet and hands-on feeding with some of the farm's baby goats.
Family Time on the Farm includes a full hour of snuggling and feeding goats, plus a fun craft activity everyone can enjoy. Kids 8 and up can also participate in one hour goat yoga and feeding sessions. Farm products, crafts, and merchandise are available for purchase at all events.
Cost: $12.50 Fables on the Farm / $15 Party in the Pasture / $22.50 Baby Goat Yoga
4510 Fort Wilderness Trail, Orlando, FL 32836
This rustic ranch, located at Disney's Fort Wilderness campground, offers pony rides and guided trail rides in an extra-magical setting. Animal lovers might see a wide variety of horse breeds at the ranch, including Cinderella's carriage horses and some of the horses of Main Street, U.S.A.
Pony rides are available for guests age 2 and older, up to 80 pounds and 48 inches. Many parents aren't aware that there are pony rides at Walt Disney World. They are simple and short rides, but it's truly magical. And since these pony rides are at Fort Wilderness, there's no theme park ticket required.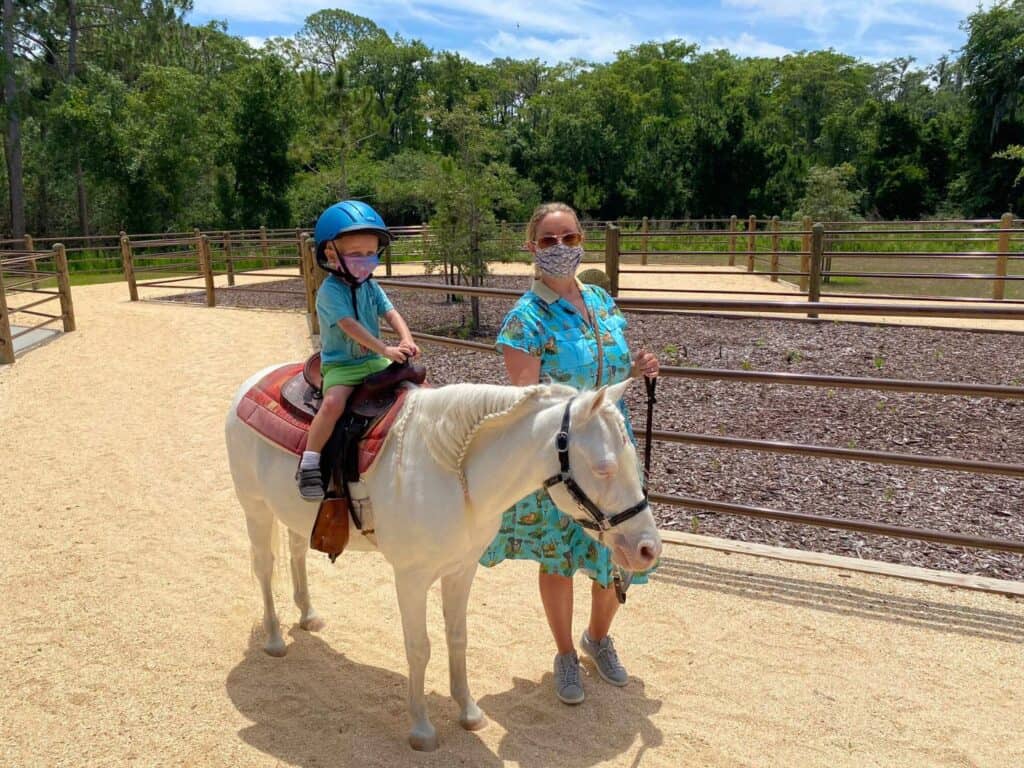 Guests 9 and up and over 48 inches tall, meanwhile, can set out on a 45-minute guided horseback trail ride, no experience required! See Florida wildlife like deer and rabbits on your peaceful stroll.
If your kid loves horses but is afraid to ride one, try a 25-minute horse-drawn carriage ride instead! You'll need to take a free bus to the Settlement Depot once you park at Fort Wilderness, so allow yourself a little extra travel time for carriage rides. Call (407) WDW-PLAY (939-7529) for reservations and other inquiries.
Cost: Pony Rides $8 per person / Horseback Rides $55 per person / Carriage Rides $55 per carriage
Bonus idea: There is a wonderful petting zoo at Disney's Animal Kingdom theme park. Take the train from the Africa section of the park to Rafiki's Planet Watch. It is a bit of a walk from the train station to the petting zoo area – but young kids will love this adventure!
Bell Family Farm and Apiary
6170 Stagecoach Rd, Polk City, FL 33868
At Bell Family Farm, there's a herd of mischievous goats and a few zebu, all of which can be seen during a one-hour farm tour. There are also board and table games for kids, hand-washing stations, and other activities. Snacks are available for purchase.
Farm owner Sarah Bell also leads yoga with goats and the farm's baby cow. After the one-hour class, there's a farm tour.
Cost: Farm and Zebu cattle experience $15.45 / Goat yoga and farm tour $20.55 / Kids two and under are free
Oak-Aged Farm
2365 Absher Road, St. Cloud, FL 34771
Oak-Aged Farm is sprawling with chickens, Nigerian Dwarf goats, and a mini pony.
You can book a visit to bottle-feed and cuddle with their baby goats or take a mini goat yoga class. The farm also hosts events and provides a petting zoo and pony parties.
There are even seasonal events like Pumpkin Carving with Goats and Movie Nights on the Farm. Visit their site to learn more and book your adorable adventure.
For Adventurous Kids
HorseWorld Riding Stables: This facility at 3705 Poinciana Blvd, Kissimmee, FL, offers horseback riding experiences and interactions with friendly farm animals.
Wild Florida: Located at 3301 Lake Cypress Rd, Kenansville, FL (near Orlando), this wildlife park offers airboat tours and a small petting zoo.
Gatorland: Located at 14501 S. Orange Blossom Trail, Orlando, FL, Gatorland has a barnyard petting and feeding area with goats, emus, and other animals.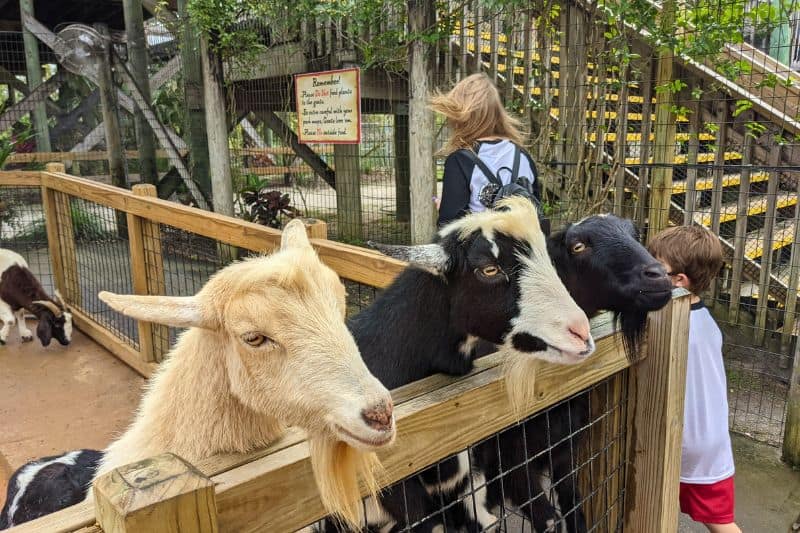 ---
Explore more animal encounters and Orlando zoos for kids, including some of the wildest, most hands-on encounters in Central Florida and beyond.
We hope you enjoy these farms and petting zoos. You can connect with us and other parents on Facebook, Instagram, and Pinterest.
Feel free to share this blog post and plan a fun family outing together!