The Best Orlando Zoos, Aquariums, and Animal Encounters for Kids
Orlando is packed with fun animal encounters for kids, from swimming with dolphins to dining with a 14-foot gator. From zoos and theme parks to natural attractions, we know all of the best local places for kids to get up close and personal with their favorite animals.
We rounded up some of the best animal encounters and Orlando zoos for kids, including some of the wildest, most hands-on encounters in Central Florida and beyond.
Whether your kid loves tigers or alpacas, you're sure to find something to satisfy their endless curiosity here! You can also explore the best petting zoos and farms in Orlando.
Also, coming soon is a new indoor animal experience, Cool Zoo Orlando.
The Best Orlando Zoos & Aquariums
3755 W Seminole Blvd, Sanford, FL 32771
See over 350 different kinds of animals at Orlando's best-known zoo, including a clouded leopard, four types of lemurs, and my personal favorite, the two-toed sloth. The Central Florida Zoo has a Herpetarium and an Insect Center, where kids can see frogs, reptiles, and invertebrates, like scorpions and tarantulas.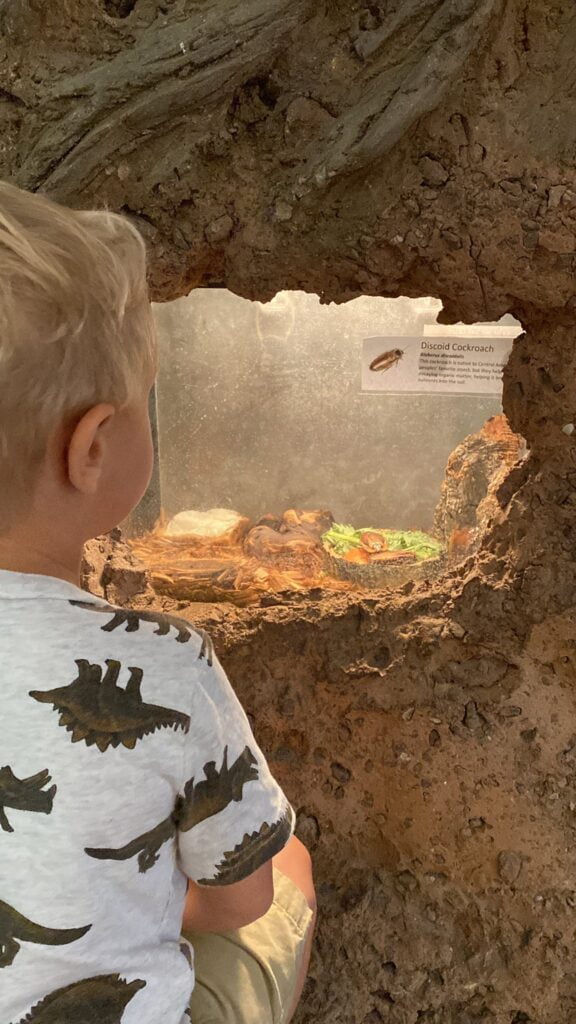 Zoo keeper chats and private animal experiences are temporarily suspended, but you can still upgrade your day with paid animal feeding opportunities or an up-close rhinoceros encounter.
Feed giraffes from 10am to 3pm for just $5 per person, and feed farm animals at the Barnyard Buddies petting zoo for $2 at 10:30am or 1pm. Plus, enjoy splash pads, play areas, and fun shows throughout the day.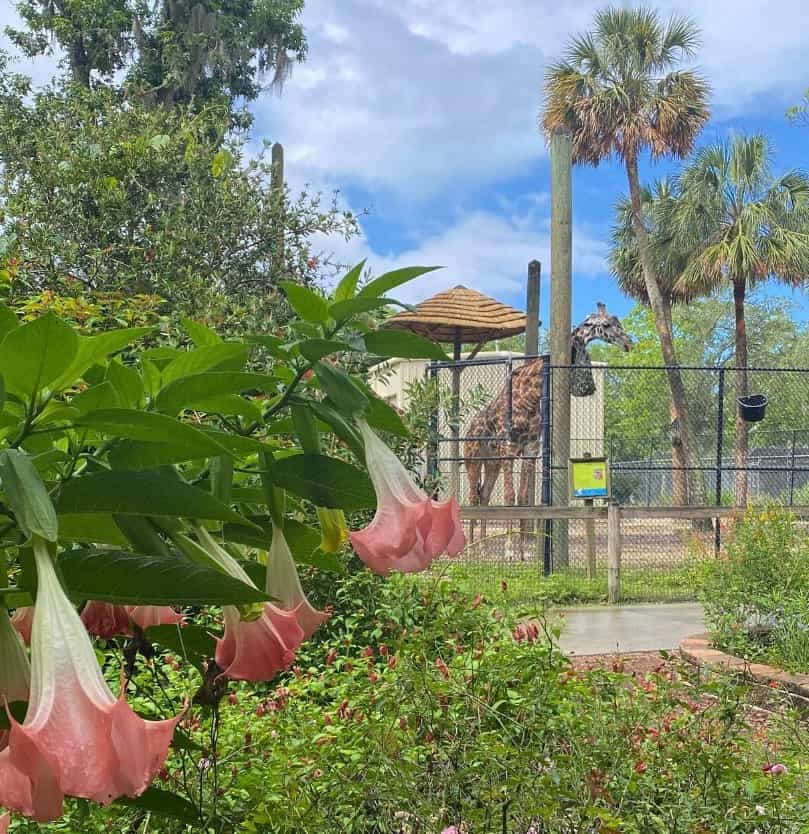 Keep an eye out for special events, like Family Sunset at the Zoo or the after-hours Night Hike at the Zoo. Annual zoo memberships, which include two adults and up to six children or grandchildren, are available for just $125 per year.
Cost: $13.95+ ages 3-12 / $19.95+ ages 13+ for a single day ticket (higher on peak days)
DON'T MISS our Expert Tips for Visiting Central Florida Zoo with Kids.
8449 International Dr, Orlando, FL 32819
Come face-to-face with sharks, eels, turtles, and more at this 25,000-square-foot aquarium at ICON Park. There are nine interactive zones where kids can learn through play, including a coastal rock pool where children can learn about and even touch creatures like anemone and starfish.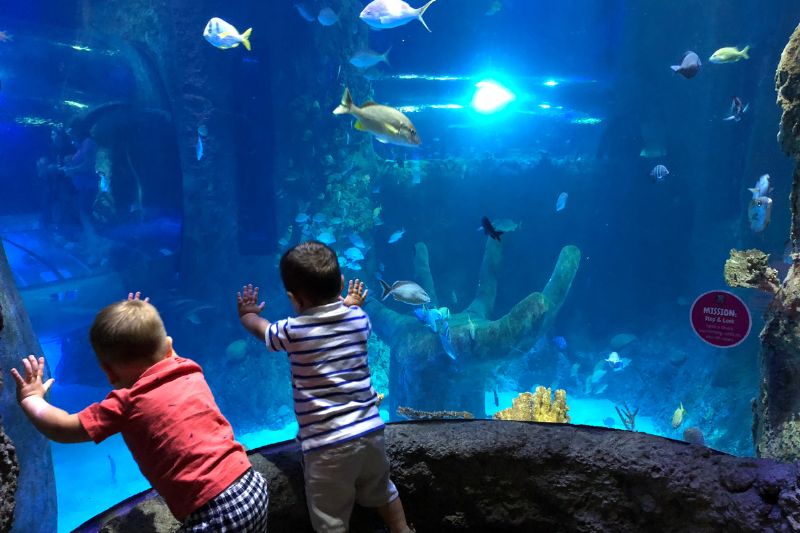 Meet a rescued sea turtle, see jellyfish glow at the moon jelly wall, and watch in fascination as sharks swim overhead in Florida's only 360-degree underwater tunnel.There are over 5,000 creatures from three oceans at SEA LIFE, making this a fun and educational spot to explore with kids.
If your kids love aquatic life, book a 30-minute behind-the scenes tour ($10) for a little bonus fun. You'll get to walk above the Ocean Overlook, help feed fish, preview newly-acquired sea creatures, and learn more about the aquarium's various rescue and breeding programs.
Cost: $29.99 ages 3-12 / $34.99 ages 13+ / children under 3 free
4235 Rambler Ave, St. Cloud, FL, 34772
For an off-the-beaten path animal experience, take a drive out to this backyard animal sanctuary in St. Cloud. Private tours are available by appointment only, and include several up-close animal encounters. You can meet a sloth, feed a capybara, and see over 100 kinds of animals on a fun educational tour.
All ages are welcome. Call or text (407) 719-6269 or email [email protected] to book your private tour. Plus, check out special events like Sloth Yoga and Christmas in the Cloud.
Cost: $50 per person, two-person minimum
Animal Conservation and Rehabilitation in Orlando
1101 Audubon Way, Maitland, FL 32751
Get up close and personal with some of nature's top predators at the Audubon Center for Birds of Prey. This small lakeside nature center is the perfect place for a peaceful afternoon out with the kids.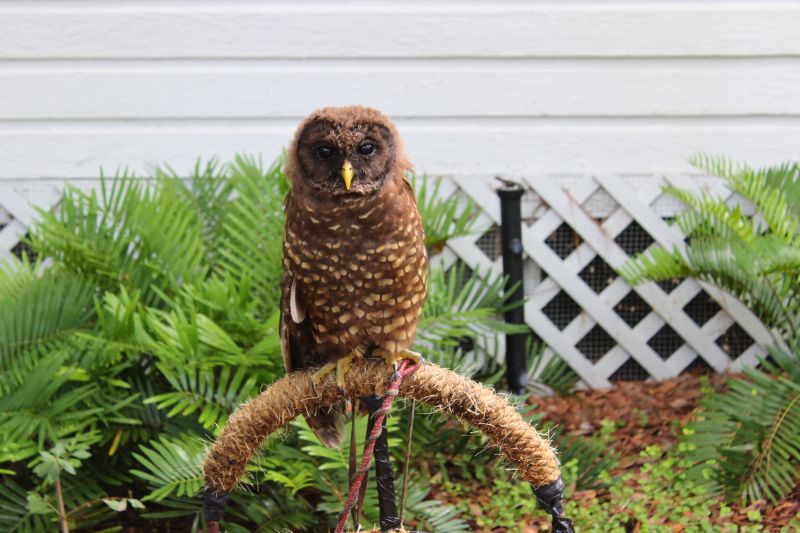 Take a self-guided tour of the grounds, and learn as you go via signage, videos, and firsthand observation. See falcons, kestrels, eagles, and more, and follow the boardwalk path over the lake to a lovely dock, where you can enjoy a picnic lunch.
Keep an eye out for the Magic of Flight rehabilitation barn, where recovering birds can recover their strength and stamina before being released into the wild.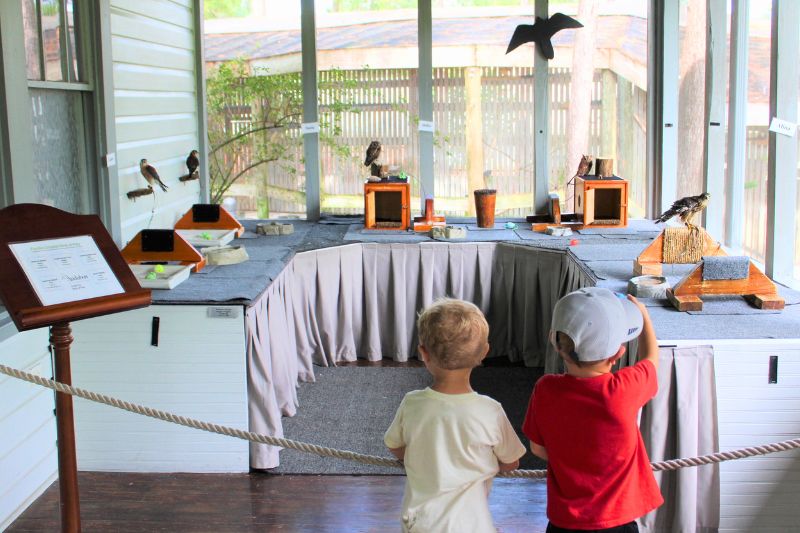 Kids can compare their own wingspans to those of various raptors, see a giant prop bird's nest, and even have the chance to see some of the birds outside of their enclosures.
Plus, learn how Audubon is advancing the conservation and rehabilitation of these magnificent animals via programs like Audubon Eagle Watch. The nature center is open from Tuesday through Sunday from 10am-4pm.
Cost: $8 per person, children under 3 free
10525 Clapp Simms Duda Rd, Orlando, FL 32832
This impressive outdoor sanctuary is dedicated to the rescue, rehabilitation, and release of injured or orphaned Native Florida wildlife. Families can take an educational refuge tour of the education center and meet some of the full-time "Educational Ambassadors," or animals that cannot be released into the wild.
Meet lemurs, bobcats, an emu, and more. The nature center is open Tuesday through Sunday from 9am-4pm. Reservations are not required, unless you choose to book a private tour.
Cost: $5 per person / $50+ donation for a private tour
10639 Toad Rd, Clermont, FL 34715
This Clermont-based horse rescue offers a variety of equine activities for visitors of all ages. All animal lovers can enjoy guided horse or pony rides, plus meet, feed or groom some of the horses on the ranch. Children as young as 2 years old can take mini riding lessons, which are just 30 minutes long and designed for shorter attention spans.
One hour riding lessons and 40-minute woodland trail rides are available for riders age 6 and up. There is no commitment required, so you can visit once or return for multiple lessons in dressage, english, or western riding.
The rescue is run by volunteers, and reservations are required for all animal encounters. Email [email protected], call or text (407) 702-8332, or send a message on Facebook to book your time.
Cost: Pony Rides $20 / Horseback Lessons: $50 / Trail Rides: $50
2850 Lust Road, Apopka, FL 32703
Little ones will love this scenic one-way drive through the wetlands of Lake Apopka's North Shore. The land here was once drained and used for muck farmlands, and is now an active swamp restoration area. The drive is approximately eleven miles long, but can take well over an hour to complete.
Keep an eye out for alligators, ospreys, great blue herons, red-shouldered hawks, and more as you coast through the marshy ecosystem. There are over 360 species of birds along the drive, with four pulloffs where you can get out of the car for a closer look. Remember, you're in gator territory, so keep a close eye on your kids.
The best time to visit is in mid-July, when you'll likely see thousands of migratory Swallow-tailed Kites foraging over the North Shore.
Cost: Free, though you may donate online if you like. See more free activities for kids in Orlando.
Orlando Theme Park Animal Encounters
2901 Osceola Pkwy, Lake Buena Vista, FL 32830
Disney's Animal Kingdom theme park is packed with incredible animal encounters, from a wildlife safari to a petting zoo. See tigers, bats, and other exotic animals on the Maharajah Jungle Trek, a stroller-friendly walking tour through the jungles of Southeast Asia.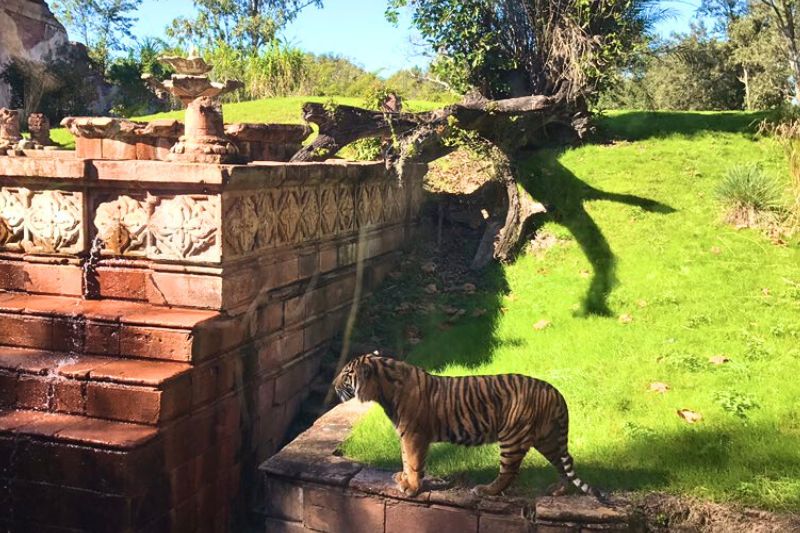 Three of my favorite animal encounters are clustered in Africa, toward the back of the park. Take a guided open-air vehicle tour of the African savanna aboard Kilimanjaro Safaris, where you might encounter giraffes, elephants, and even lions.
At the ride exit, you'll spot the entrance to the Gorilla Falls Exploration Trail, a tropical rainforest trail inhabited by gorillas, zebras, meerkats, and more.
Next door to that is Rafiki's Planet Watch, a nature center and petting zoo accessible only by boarding the Harambe Wildlife Express. This fun educational train ride goes behind the scenes, allowing you a glimpse of the backstage animal paddocks before it arrives at Conservation Station.
Here, kids can see reptiles and amphibians, witness live veterinary treatments, learn to draw their favorite Disney characters, and get hands-on at the petting zoo. Most animals are free-roaming, and kids can brush and pet farm animals like pigs, goats, and sheep. There is even an alpaca!
Be sure to check operating hours when you visit, as most animal encounters close well before the rest of the park. The last train to Conservation Station, for example, typically departs Africa at 4:30pm.
7007 Sea World Dr, Orlando, FL 32821
SeaWorld Orlando is another fantastic place to visit with young animal lovers. The park has several themed aquariums and animal preserves, where you can see everything from playful bottlenose dolphins to majestic emperor penguins.
Shark Encounter is one of the park's most popular attractions, with an immersive underwater viewing tunnel that puts you right into the shark's undersea habitat. Feed stingrays, sharks, and sea lions, come face to face with orcas, and even see extraordinary arctic animals like beluga whales, all in one day.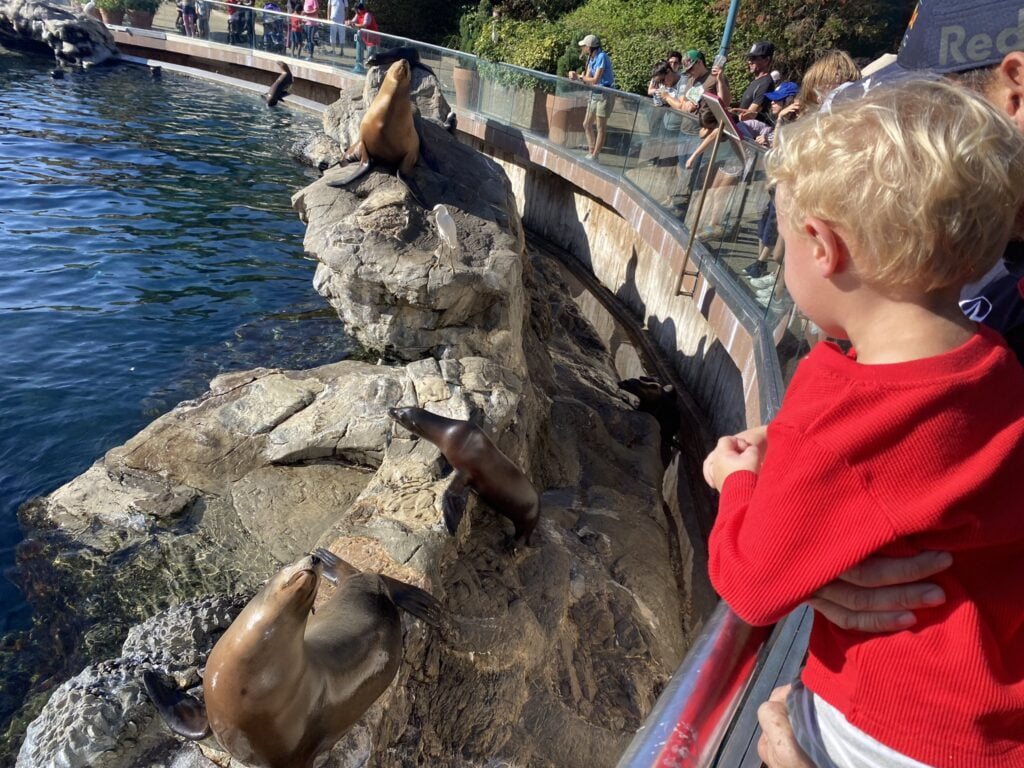 For an extra-memorable day out, book an exclusive hands-on animal encounter with your child's favorite animal.
Cost: $82.99+ for a single day ticket. Children 5 and under free with a Florida resident Preschool Card (offered annually at the start of the year)
6000 Discovery Cove Way, Orlando, FL 32821
Swim with dolphins, snorkel with tropical fish, and feed hundreds of tropical birds at this all-inclusive aquatic paradise. A day at Discovery Cove includes all of the above, plus unlimited food and drink, sunscreen and towels, and access to beautiful beaches, lagoons, and waterfalls.
There are minimum age requirements for some of the experiences, but kids of all ages will love splashing around in the water and exploring the aviary. There are also several paid upgrades available, including an animal trek, underwater walking tour, the "Trainer for a Day" package, and more.
Florida Resident Rate: $179.20 ages 3-5 / $259.20 ages 6+ / Children under 3 free
14501 South Orange Blossom Trail, Orlando, FL 32837
Introduce your kids to Florida's most famous creature at Gatorland, a 1960s roadside attraction that still retains its old Florida charm. Now a 110-acre theme park and wildlife preserve, Gatorland has thousands of animals, including alligators, crocodiles, birds, snakes, and big cats.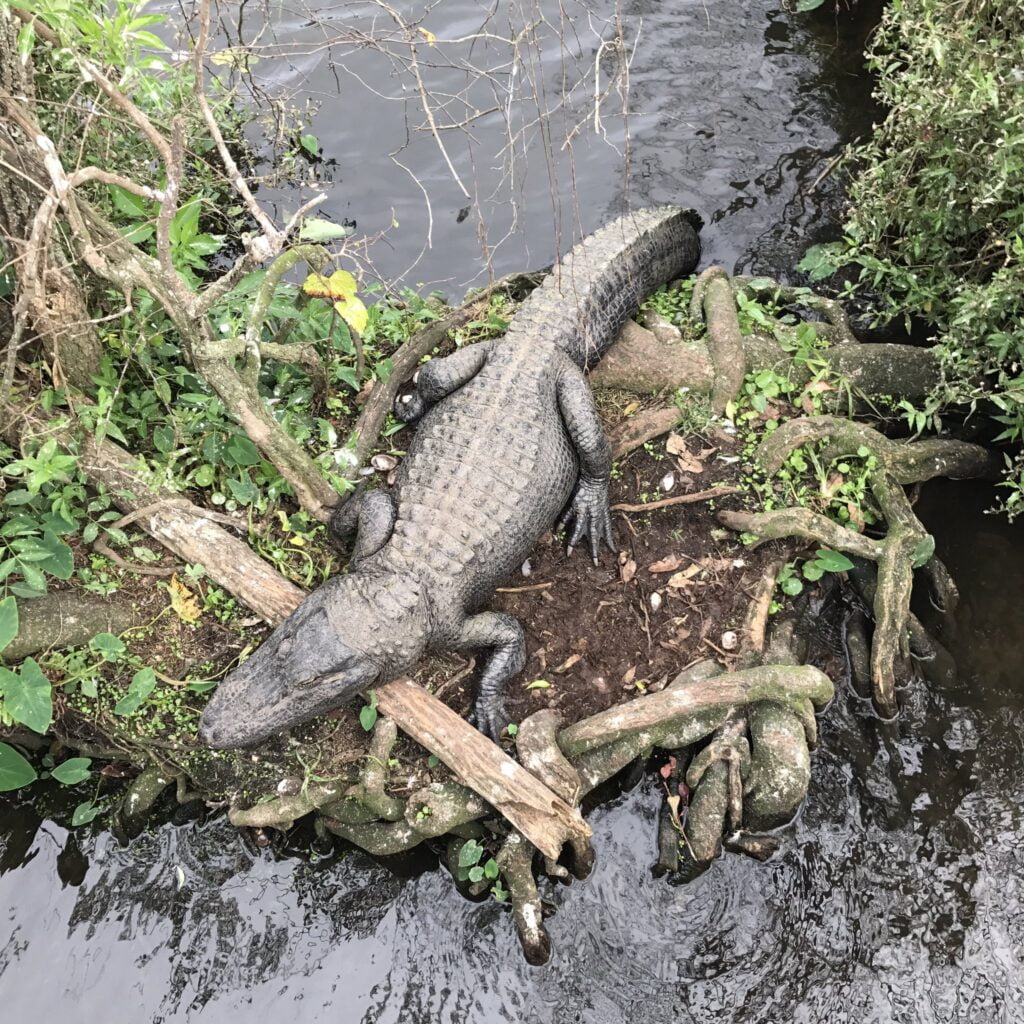 There is also a petting zoo, where you and your littles can feed and pet farm animals like goats and cows. See rare albino alligators, catch a daring stage show, and cool off at Gator Gully Splash Park.
Older children and adults can brave zip lines, take an adventure tour into the Alligator Breeding Marsh, and get up close and personal with the animals on the two hour Trainer for a Day Tour (additional cost). See all add-ons here.
Cost: $19.99 ages 3-12 / $29.99 ages 13+
18810 Lone Dove Lane, Clermont, FL 34715
Feed and pet alpacas and llamas at this charming 5 acre family farm in Clermont. There are over 30 alpacas, including fluffy Huacayas and pencil-locked Suris. You'll get to tour the nursery and hand feed the animals, and learn more about how the alpacas' "fibers," or fur, get transformed into blankets, scarves and more.
2218 Carrington Drive, Orlando, FL 32807
This sweet homestead farm offers fun animal encounters for all ages. Meet, feed, and even cuddle baby goats in one of three kid-friendly events. Fables on the Farm includes story time in the pasture pavilion, followed by a meet and greet and hands-on feeding with some of the farm's baby goats.
4510 Fort Wilderness Trail, Orlando, FL 32836
This rustic ranch, located at Disney's Fort Wilderness campground, offers pony rides and guided trail rides in an extra-magical setting. Animal lovers might see a wide variety of horse breeds at the ranch, including Cinderella's carriage horses and some of the horses of Main Street, U.S.A.
Pony rides are available for guests age 2 and older, up to 80 pounds and 48 inches. Guests 9 and up and over 48 inches tall, meanwhile, can set out on a 45-minute guided horseback trail ride, no experience required! See Florida wildlife like deer and rabbits on your peaceful stroll.
Discover more of the Best Orlando Petting Zoos and Small Farms for Cuddle Time with Kids.
See Animals in the Wild
2001 E Southport Rd, Kissimmee, FL 34746
Explore the Everglades right here in Central Florida on a Boggy Creek airboat adventure tour. See wild alligators, turtles and more from the comfort and safety of a 17-person airboat.
Choose from a half hour tour, one hour tour, sunset tour, or night tour. You can even book a private tour and pick your own pace, whether you are an adrenaline junkie or a laid-back nature seeker. The boats can speed through the swamp at up to 45 miles per hour! All ages are welcome on the boat.
The all-inclusive packages are a great deal, and include your boat tour of choice, plus lunch at Boggy Bottom, park admission, and a visit to the gem mine.
Cost: $30+ ages 3-10 / $35+ ages 11+ / children under 3 free
3301 Lake Cypress Rd, Kenansville, FL 34739
Wild Florida has animal encounters available to suit all ages and comfort levels, from airboat tours to a 170 acre drive-thru safari. There are over 150 species living within the animal park, and you might spot giraffes, zebra, bison, and more on the four mile safari drive.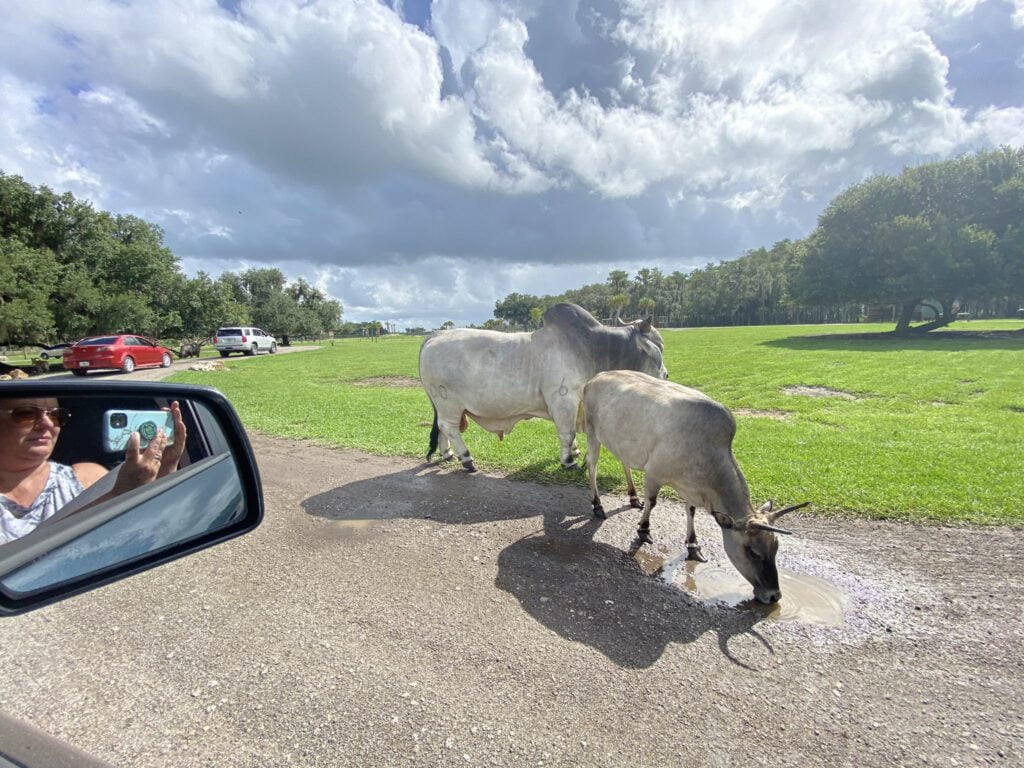 Admission to the Wild Florida's Gator Park is included with both the air boat and safari visits, so stop in to meet over 200 additional animals and catch a thrilling wild animal show. Kids can feed baby farm animals in the petting zoo, and there is also a fun covered playground where little animal lovers can stretch their legs after a long drive.
Animal lovers age 8 and up can participate in up-close animal encounters with sloths, porcupines, tamanduas, and capybaras, with even more fun add-ons available to kids 12 and up. The most daring visitors can even dine with Crusher, the park's 14-foot, 1,000 pound gator!
Cost: Airboat Tour: $31 ages 3-12 / $35 ages 13+,
Drive-thru Safari: Florida Residents $19 ages 3-12 / $24 ages 13+/ children under 3 free
Animal Encounters Worth the Drive from Orlando
8225 N Wickham Rd, Melbourne, FL 32940
See over 900 animals, including spider monkeys, otters, crocodiles, and more at the Brevard Zoo in Melbourne. The zoo is nationally recognized for its education programs for kids, which spark an early interest in conservation, science, and the outdoors. See all fun family programs, including some you can do from home, here.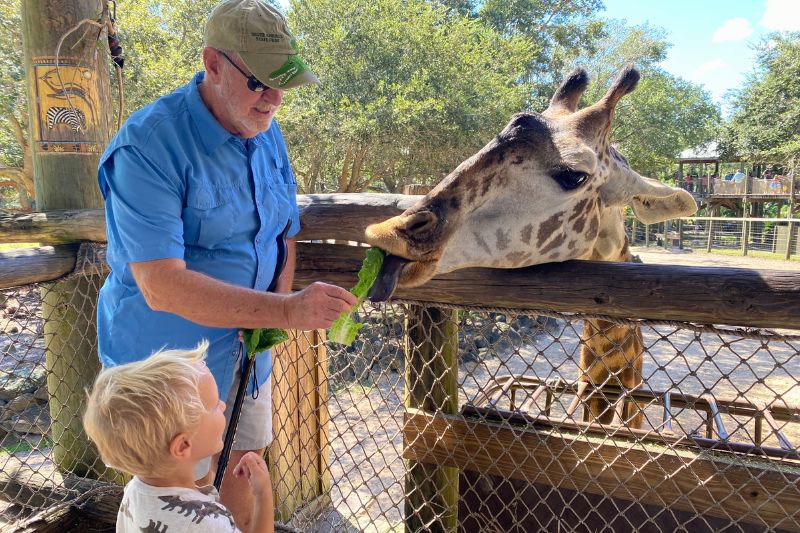 At the zoo, you can visit the animals, attend a zoo keeper chat, and learn through play at hands-on play areas. Maximize your day trip with family-friendly add ons like a kayaking tour, 10-minute train excursion, rhino encounter, and giraffe feeding (age restrictions apply).
There is also a farm animal petting zoo, a native fish aquarium at little kids' eye level, and two fun themed play areas where kids can learn through hands-on play.
The Exceptional Nature Space, meanwhile, is a safe play space specifically for kids with unique sensory processing needs. Kids can engage in open-ended nature play, socialize with other kids, and even meet animals, in some cases.
Cost: $15.95 ages 3-11 / $27.95 ages 12+ / $22.95 ages 65+ / children under 3 free
38650 Mickler Rd, Dade City, FL 33523
Located halfway between Tampa and Orlando, this working ranch and wildlife preserve offers safaris by car, safari truck, Segway (age 14+), or even camelback. That's right, you can tour the preserve on the back of your very own camel! Giraffe Ranch is one of the only places in the U.S. that offers a camelback safari experience, and it's available to guests age 3 and up!
Over 70 different species live on the 50-acre preserve, and you might see antelope, lemurs, hippos, zebras, and more on your tour. Truck, Segway, and camel safari tickets include a giraffe feeding session.
Cost: $239 per person for segway, safari truck, or camel safaris / $150 per vehicle for the drive-through safari
10850 Moore Rd. Lakeland, FL 33809
A sister site to Giraffe Ranch, Lakeland's Safari Wilderness has over 260 acres of wilderness tucked inside Florida's Green Swamp. The preserve has several different landscapes and ecosystems, and you might see anything from zebras to water buffalo.
You can take drive-through, safari truck, or camelback safaris here, as well as ATV, kayak, and sunset safaris.
Upgrade your visit with optional extras like ring-tailed lemur feeding, guinea pig colony feeding, or my favorite, a premium cheetah encounter. If you want, you can even stay the night in the preserve's seasonal safari tents, which are more like glamp sites. Compare experiences, pricing, and age restrictions here before you book. Reservations can be made online or by phone at (813) 382-2120.
Base Safari Cost: $125 per vehicle for the drive-through safari / $119-239 per person all other safaris
26205 E Colonial Dr, Christmas, FL 32709
If you like kitschy old Florida attractions, take a day trip to Jungle Adventures, located about an hour north of Orlando. This unique spot is a great place to discover the real old Florida, with a jungle nature trail, replicas of a 16th century fort and Native American village, and native Florida animals like panthers, black bears, and deer.
Check out the hands-on wildlife show, a fun animal encounter where you can see baby gators and other native critters up close. Plus, take a gentle jungle cruise through an old Florida swamp inhabited by over 200 alligators.
Cost: $17.95 ages 3-11 / $25.95 ages 12-59 / $22.95 ages 60+ / Children under 3 free
1101 West Sligh Avenue, Tampa, FL 33604
Next time you're in Tampa, take the kids to explore ZooTampa Lowry Park. The zoo was featured among the "Top 25 Zoos in the U.S" by TripAdvisor, and once you visit, you'll understand why. The zoo has five incredible realms to explore, plus rides, thrilling special events, and several inspiring wildlife rescue and conservation programs, like the David A. Straz, Jr. Manatee Critical Care Center.
Kids can see over 1,300 animal species, including elephants, orangutans, penguins, Florida panthers, tigers and macaws. Take a guided open-air safari tour, ride fantastic beasts on the carousel, and soar through the air on a ride made just for kids – no grown-ups allowed!
Upgrade your day with signature encounters like a backstage tour of the Manatee Critical Care Center, a hands-on Indian rhino feeding, or a giant tortoise encounter.
General Admission Cost: $34.95 ages 3-11 / $44.95 ages 12+ / children under 3 free