Unleash A Day of Adventure and Family Fun at Gatorland Orlando
Gatorland is a popular wildlife park and attraction located in Orlando, Florida. With its extensive collection of alligators and crocodiles, as well as various other reptiles and wildlife species, it is an exciting adventure for the whole family.
Take the kids out for a full day of fun discovering different animal species, watching daring demonstrations with alligators and snakes, take a walk on the wild side through the swamp trails, and more. After multiple visits with my family, I am sharing the best things for kids to do at Gatorland Orlando. It's one of the best animal encounters in Orlando.
By the way, fall is a great time to visit Gatorland Orlando as the weather cools off a little. Plus they offer Halloween fun with trick or treating, and a spooky haunted experience that's good for older kids.
Kid Friendly Fun at Gatorland
Alligator and Crocodile Exhibits
Additional Animal Exhibits
Gatorland's Barnyard Petting & Feeding
Swamp Walk and Observation Tower
Splash Pad / Water Play Area
Shows and Demonstrations
Alligator and Crocodile Exhibits
Basically modern-day dinosaurs, kids get to marvel at prehistoric alligators and crocodiles up close everywhere in this park. From shows and demonstrations to walks through the wild and more, there are literally gators and crocs around every turn.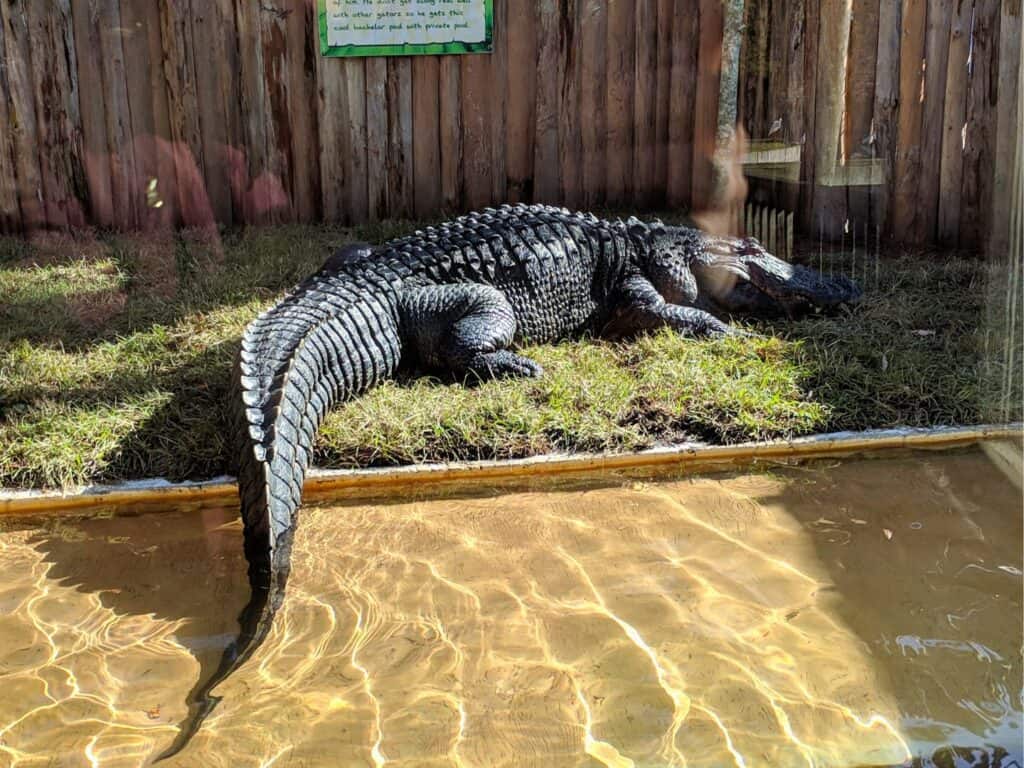 Some of the dedicated alligator exhibits include:
Baby Gator Marsh
With over 2000 alligators on site, even the smallest of children will enjoy seeing the Baby Gator marsh, which holds over 60 of them.
Each year the alligator hatchlings call the Baby Gator Marsh home until they are about 18 months old, when they get to move up to the larger outdoor pools.
Alligator Pools
The alligators can be found virtually everywhere, including in the Breeding Marsh and Jumparoo show areas by the entrance. Fun to watch, you can also give the gators "Gator Chow" – special snacks kids will love tossing into the water.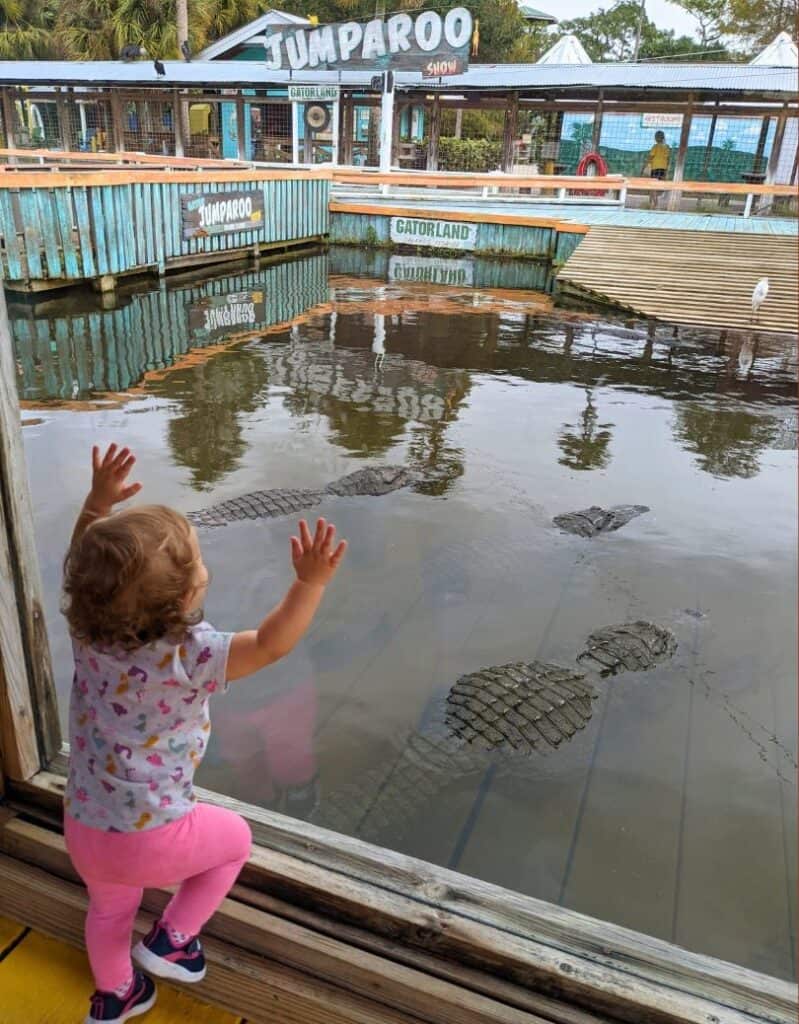 White Gator Swamp
Gatorland is home to many species of reptile, but the rarest are the white gators. With two of twelve leucistic gators known to exist, the blue-eyed white gators share an exhibit with three red or pink-eyed albino gators. Although similar, both are extremely rare to see. What a treat for your kids to see.
According to Animal World & Snake Farm Zoo, there are only about 100-200 albino alligators in the world! Gatorland Orlando gives these special gators a safe home, otherwise, they'd be easy to spot in the wild without the regular camouflage, and might not survive.
Jungle Crocs of The World
Visit the Jungle Croc exhibit to explore the visible differences between gators and crocodiles from the shape of their snouts to the protrusion of their teeth.
Bonescrusher 2
When you think you've seen it all, then stumble upon Bonescrusher 2, the offspring of legendary Bonescrusher, who ruled the park mid-century. This mammoth of a gator will definitely inspire awe in the kiddos.
Additional Animal Exhibits
In addition to alligators and crocodiles, Gatorland features other animals like snakes, turtles, birds, and lizards. Visitors can explore exhibits such as the "Snake House" and the "Breeding Marsh," which provide insights into different reptile species.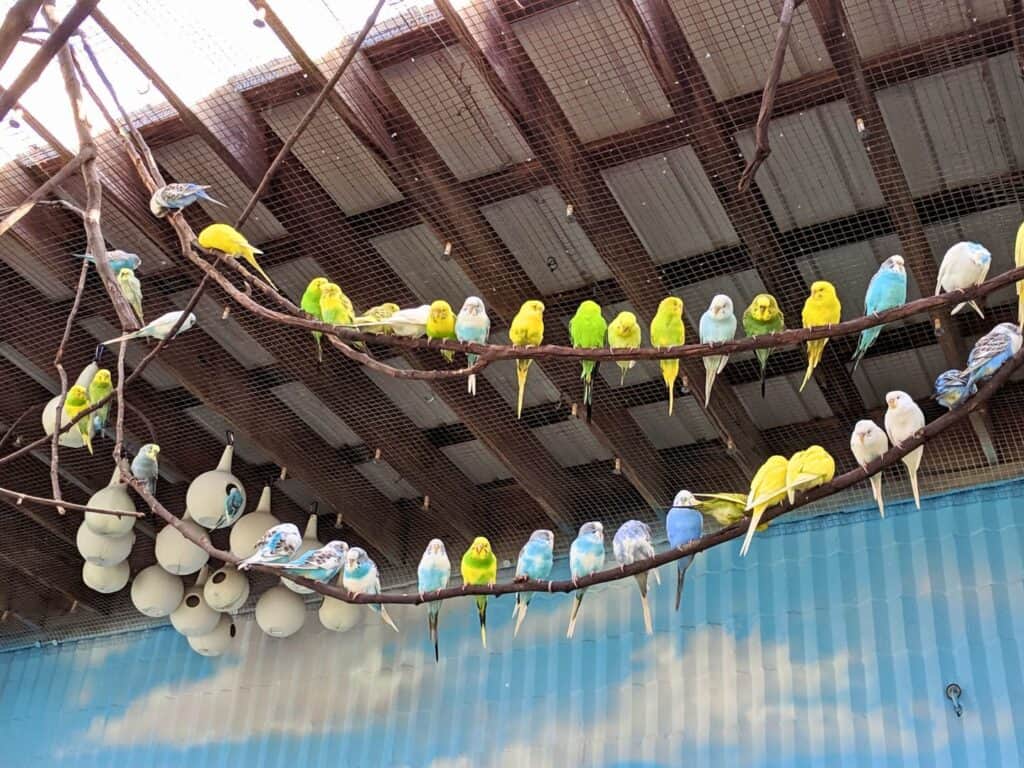 There's even emus, bobcats, panthers and giant tortoises on site, to name a few of the additional species on exhibit at Gatorland. The aviary will bring joy to all who enter, as dozens of tiny little birds are not shy about landing on your arms, head, and shoulders!
Feed birdseed to them for extra attention!
The Gatorland Express Train, for a small added fee, is a little-known gem at the park that chugs along the backwoods of the exhibits for an added opportunity to see some of Florida's natural wildlife as well.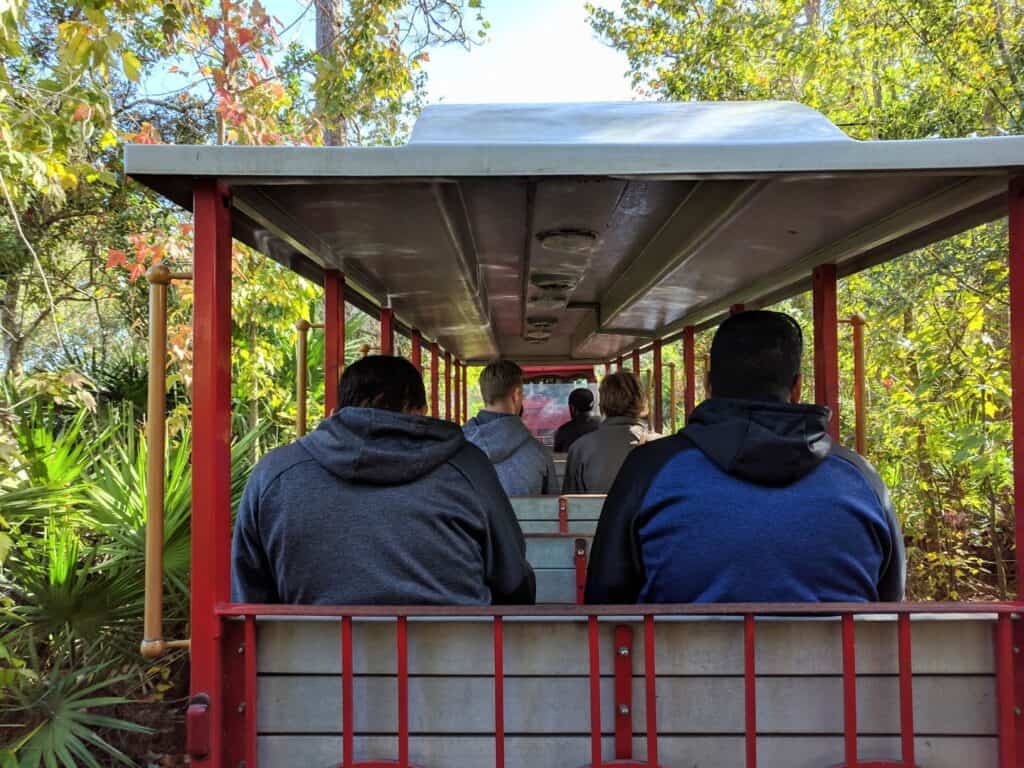 Gatorland's Barnyard Petting & Feeding
Save a little pocket change to get some animal food – this time for the adorable barnyard animals in Gatorland's petting and feeding area. With safe over-the-fence petting and feeding, kids will see cows, goats, and even emus! We made some precious memories here.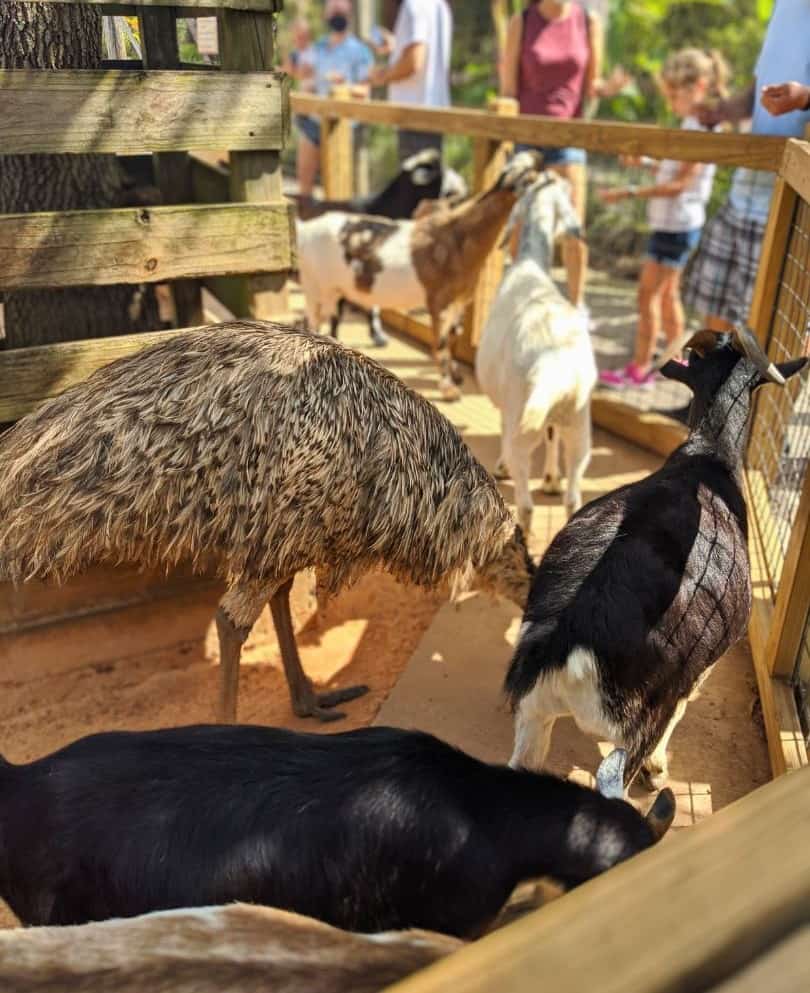 Emus can be a little temperamental with their pointy beak, so keep an eye on the little ones. Afterward, there is a wash station to clean dirty hands.
There are plenty of petting zoos in Orlando, but Gatorland's is a favorite since there is so much to do throughout the whole park.
Swamp Walk and Observation Tower
The Swamp Walk boardwalk just past the white gator exhibit is sure to be a hit with the entire family. For a few minutes, experience being completely cut off from the rest of the park as you stroll the marshlands beyond the park exhibits.
Some families may want to stop and point out plants, birds and insects, while others may want to scurry on a little quicker, never knowing what Florida's natural habitat has in store along the route! My family and I loved taking our time here.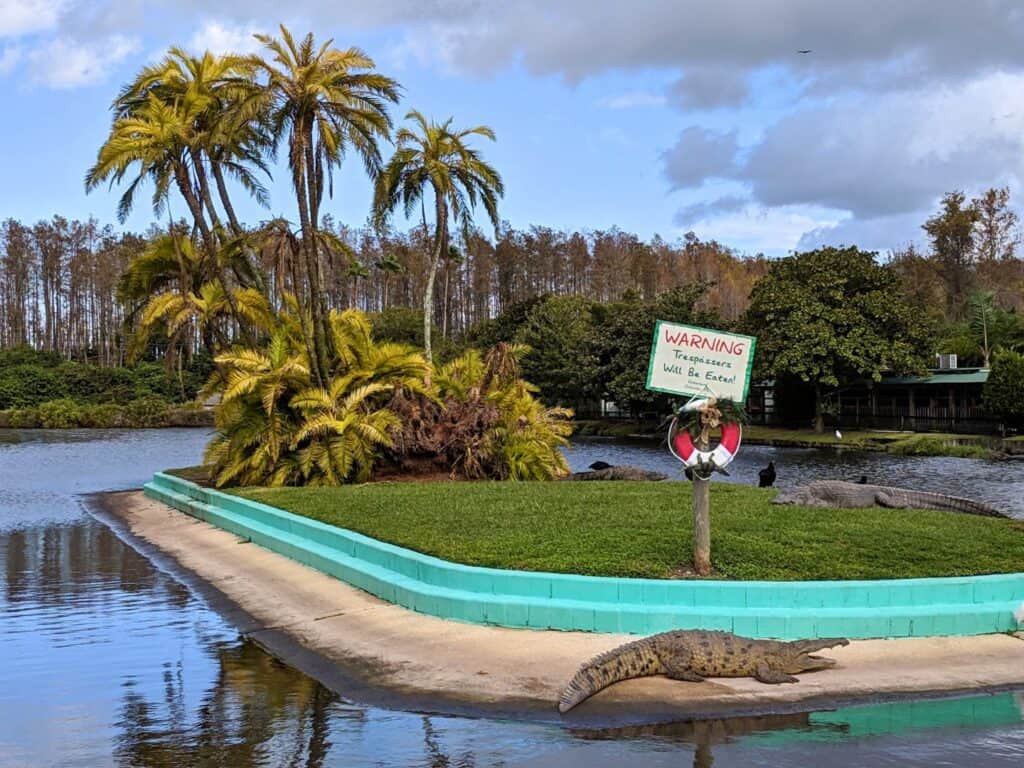 The observation tower provides incredible views of the Breeding Marsh's hundreds of alligators for those who want to make the climb, or the stroll across the marsh center will be equally as satisfying for pointing out gators in a larger and more natural environment than the pools by the entrance.
Play Areas and Shows for Kids
Splash Pad / Water Play Area
You may not consider getting wet when visiting a park full of alligators (I mean, I sure hope not or something went terribly wrong), but joke's on us. The splash pad and water play area at Gatorland are pretty epic for children, so be sure to bring their bathing suits!
Kids will have a blast with gator, bayou, and general Old Florida charm gushing out the spray cannons and water towers.
Next to a playground for those who don't want to get wet, the play area also features a changing room and a general store for sunblock and missing items.
Chow down on some ice cream near the gator pools when the kids are done splashing around.
Gatorland hosts three must-see shows for every visitor.
Gator Jumparoo
This classic show exhibits the little-known ability for gators to jump four feet or more into the air. They're jumping after their dinner, of course, which is a whole raw (store-bought) chicken! Kids and adults alike will get a kick from seeing a grown gator jump out of the water. I know I did!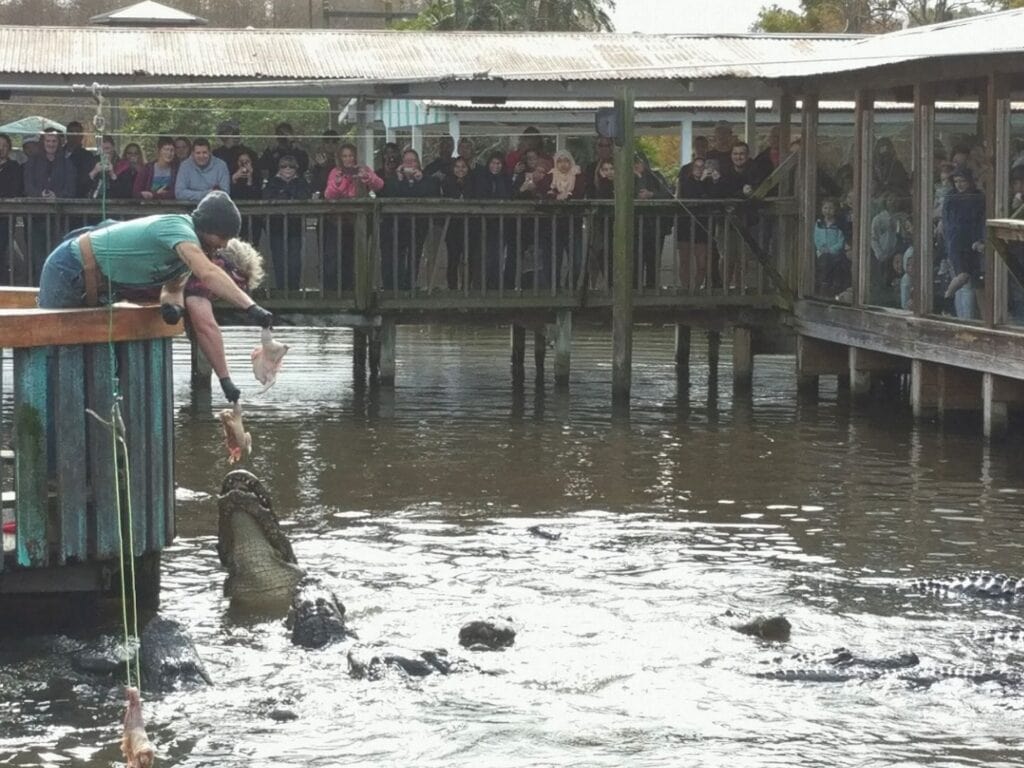 Alligators: Legends of the Swamp
This fun and educational show has a gator wrangler in the middle of a round pit, where he bravely drags large 6-8 foot alligators onto the center ring for demonstrations for the crowd. Based on survival tactics like how to run away from a gator, this daring showcase has a few surprises up its sleeve that will leave the audience breathless.
Stick around after the show to meet the gators up close! My family loved the interaction.
Up Close Encounters
This charming and very funny show interacts heavily with the audience, so expect to do some  volunteering! Boxes full of the world's deadliest slithering creatures await for a show packed with humor and fun.
Up Close Encounters is a must-do for older kids.
Plan Your Visit
Gatorland
14501 S. Orange Blossom Trail Orlando, Florida 32837 
407.855.5496
[email protected]
HOURS
Open Daily 10am-6pm rain or shine, including holidays
ADMISSION
Single day tickets are $32.99 per adult and $22.99 per child (children 2 and under are free).
Get coupons, Florida Resident discounts and Annual passes at their website and $3 off single day admission if you purchase online.
Stroller rental is available in the park as needed.
We hope you enjoy visiting this family-friendly destination for a walk on the wild side. Feel free to share this blog post and plan a fun family outing together, and explore other fun outdoor attractions for kids in Orlando.