12 Orlando Diners and Family Restaurants for Hot Dogs, Burgers, Milkshakes, and Fun Times
There's something about Florida life that gets me thinking about the good ol' days when I was a kid. I remember the good times – the 10 cent candy shop I used to frequent, where we'd grab bazooka joe bubble gum, or dum dum lollipops. I remember ice cream dripping down all over my hands and face, and I remember the hot dog stands. Yup, those were the days. 
Thankfully, with this list of 12 Orlando diners and family restaurants those bygone days can be here again. Nosh on Orlando's best burgers, milkshakes, hot dogs, and more at these great Orlando area spots to get just a little bit nostalgic with the family.
These classic diners are perfect if your kids love finger foods. And if you're looking to save a few dollars, consider one of the many Kids Eat Free Restaurants in Orlando too!
Orlando Hot Dogs, Burgers, Milkshakes
Local Diners
1. Hot Dog Heaven
5355 E Colonial Dr, Orlando, FL 32807
If you've driven up and down East Colonial Drive, then you've seen Hot Dog Heaven. Authentic Chicago style hot dogs are just one of the reasons this counter service restaurant finds itself repeatedly on lists of Orlando's best hot dog stands. Go for the relaxed ambiance but stay for the poppy seed buns and countless dog toppings.
501 N Orlando Ave, Maitland, FL 32751
Order at the outside window or dine-in at their chrome stooled counter service inside. Serving hot dogs, burgers, subs, and cheesesteaks since 1967, this establishment has been keeping the good times rolling for many years and is worth a visit.
2527 Edgewater Dr, Orlando, FL 32804
This unassuming spot in College Park is hiding away a secret – they have really good hot dogs. Known perhaps more for their attached Soda Fountain ice cream shop, the Doghouse is a unique place for getting any number of creative hot dogs.
From toppings like everything bagel, buffalo sauce and blue cheese, their Tutti Frutti dog with peanut butter and raisins to even a Spaghetti-O topped dog, you're sure to find something to suit every taste.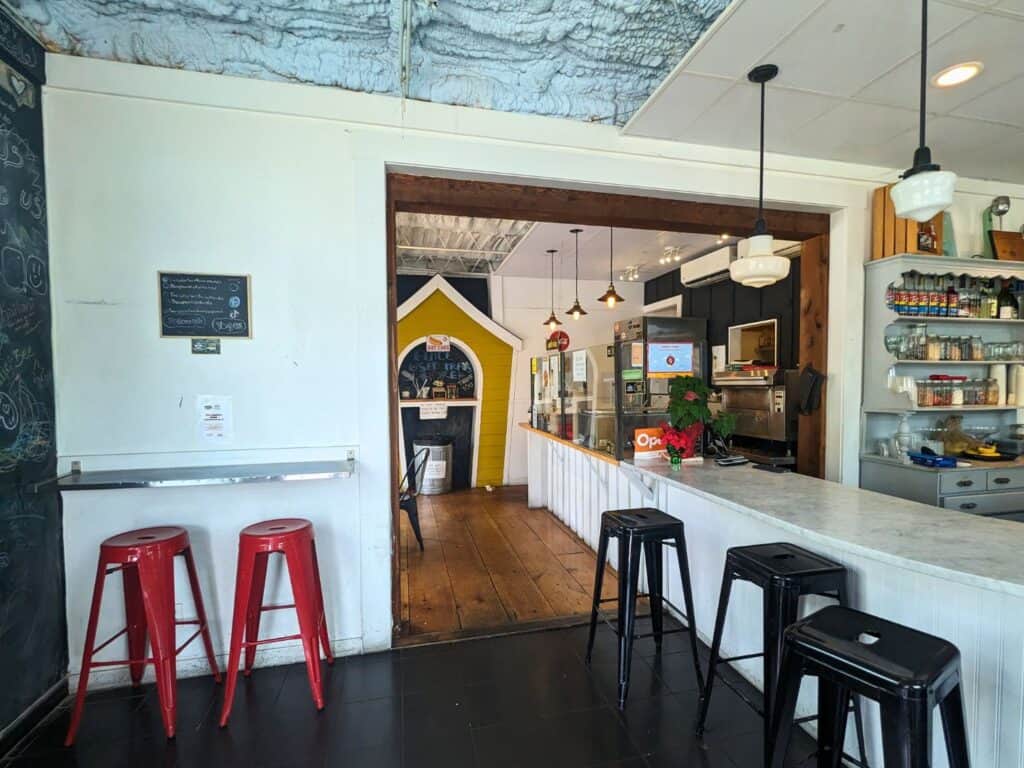 Have your hot dog with some equally creative tot flavors, or make it a meal for the whole family for under $35. 
When you're through, shimmy a few steps into the adjacent ice cream counter area for soda shoppe vibes and options like milkshakes, cones, vegan ice cream and adult-friendly spiked milkshakes. Let the kids color on the chalkboard walls and pat yourself on the back, the Doghouse will be a surefire winner for the family.
1113 W State Rd 436, Altamonte Springs, FL 32714
A more modern take on the walk up window service hot dog stand, you can still find picnic tables, charming old school atmosphere, and a lot of great variety. Get a Polish dog, chili dog, Italian or Chicago dog, and many more options.
There's a reason this place can often have a line, so get there early and come hungry.
610 N Main St, Wildwood, FL 34785
There are actually several of these around Central Florida, but I recently visited the Wildwood location, just near the junction of the Turnpike and I-75. I took my niece and nephew and waxed poetic about the aforementioned good ol' days and how they just had to have a hot dog. We fueled up on corn dogs, fresh lemonade, fried pickles, skinny fries, and more.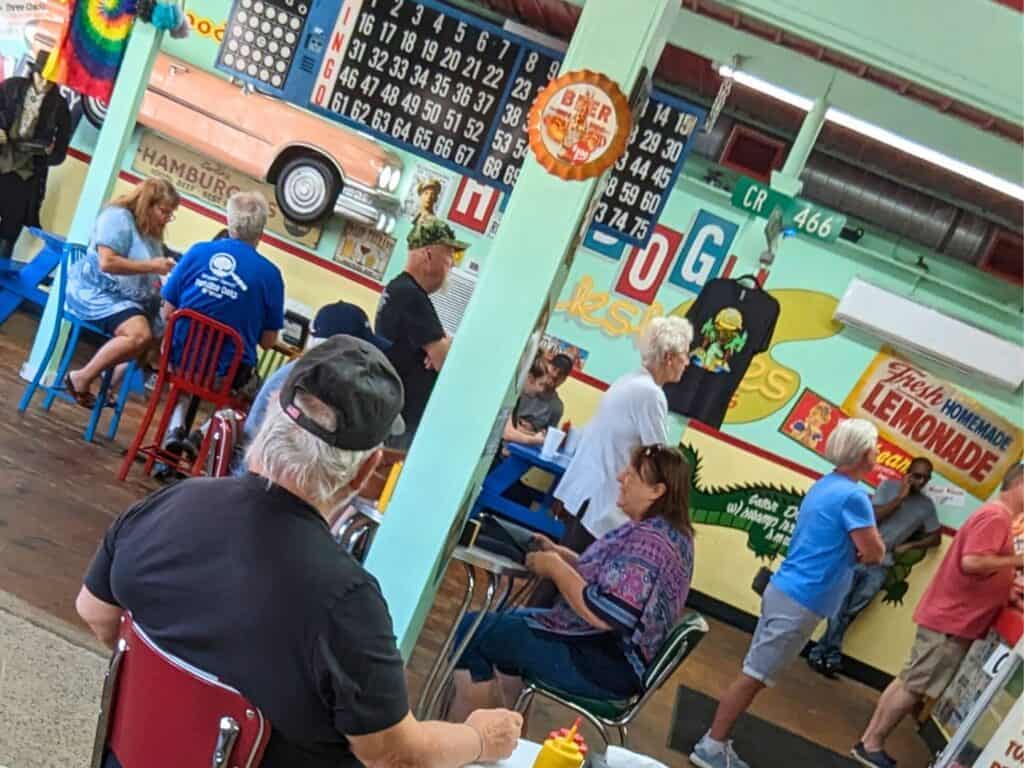 The decor is perfectly retro and chaotic, and the line for food is always full of hungry regulars. This particular stop is a great road trip idea if heading up the road, or is about 50 minutes from Downtown Orlando for a fun Sunday drive.
2929 Havendale Blvd NW, Winter Haven, FL 33881
With similar styling to the well known Sonic Drive-In, Dino's is the real deal. Drive up to your picnic table, order at the window, and expect to devour some excellent burgers, fries, and even barbeque.
4100 New Tampa Hwy, Lakeland, FL 33815
Since 1948 the Silver Moon Drive-In Theater has been entertaining Polk County residents with its giant screen films, watched conveniently from your vehicle.
The snack bar sells pizza, popcorn, nachos, candy, and more for the duration of the shows, which costs only $8 for folks ages 10 and up, and $3 for kids ages 4-9.
The showtimes are a little late (to be dark enough for viewing), but are worth the late-night drive to and from Lakeland. Let the kids sleep on the way home, and enjoy an ultimate evening of retro fun.
Discover more Orlando area drive-in theaters.
Theme Parks and Attractions
Inside Disney's Hollywood Studios
This place has all the right vibes for this list. The drive-in style restaurant is impeccably adorned with touches familiar to anyone who has ever been to an old school drive-in movie theater.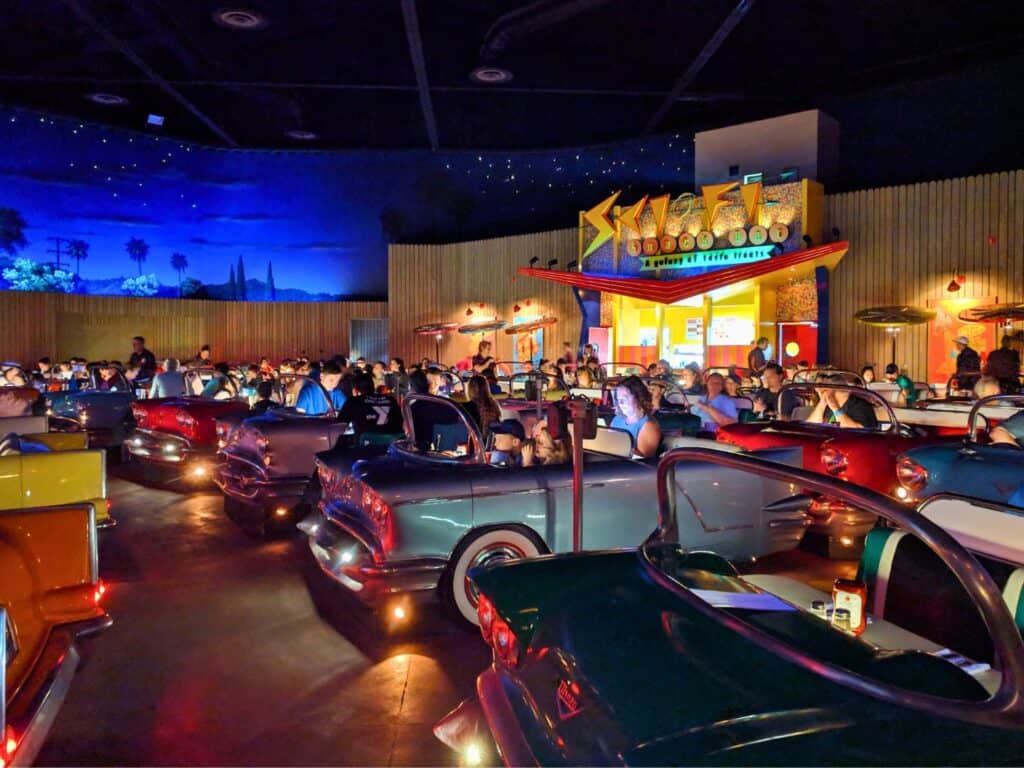 Sit in classic vehicles with blue and pink-hued pastels, perfect for transporting back in time. A full-sized theater screen showing clips of old films and concession stand cartoons entertains in the dim lighting, while standard drive-in fare like burgers and fries fills stomachs and happy hearts. 
Also check out D-Luxe Burger with its easy mobile ordering, one of our favorite kid-friendly restaurants at Disney Springs.
Inside Universal's CityWalk
We love Universal CityWalk with the kids. There are some fun shops and a few family-friendly activities here, plus Hot Dog Hall of Fame perfect for families.
This fun baseball themed hot dog restaurant has options for iconic dogs from the city of every major ball team like Chicago, Boston, and Kansas City. Outside find quirky stadium-style seating, and yes, you can even get peanuts and Cracker Jacks to accompany your meal.
9101 International Dr #1208, Orlando, FL 32819
A trendy and modern take on the soda shop menu, JoJo's serves up fried foods, walking tacos (taco fixings in a Fritos bag), and some outrageous milkshakes.
These sugar overloads start with your basic milkshake then amp them up to Willy Wonka level nuttiness with full sized cookies, candies, marshmallows, and cereals all over the cup.
Get some energy out by walking over to Monkey Joe's, also at Pointe Orlando, and a favorite trampoline park style experience.
Quick and Easy
Sonic Drive-In
Multiple Locations Around Orlando
A friend of mine used to work at Sonic when we were in high school. It was every bit the cool hang-out that my parents used to enjoy in the sock hop and greaser days. Sonic still channels the days of car hops.
My favorite dish here is always the same – a grilled to perfection grilled cheese sandwich and fries. So simple, but SO good.
Tip: dip the grilled cheese in ketchup. Do it! They even have a menu with about a dozen items all less than $4. Not too bad, and always fun for the kids.
Steak 'n Shake
Multiple Locations Around Orlando
The classic chain has changed their formula in recent years with most locations eliminating the standard dine-in experience and scaling back the menu it was known for.
The more limited menu still features favorites like their delicious cooked to order burgers, chicken fingers for the kiddos, and of course their craveworthy Oreo or M&M milkshakes.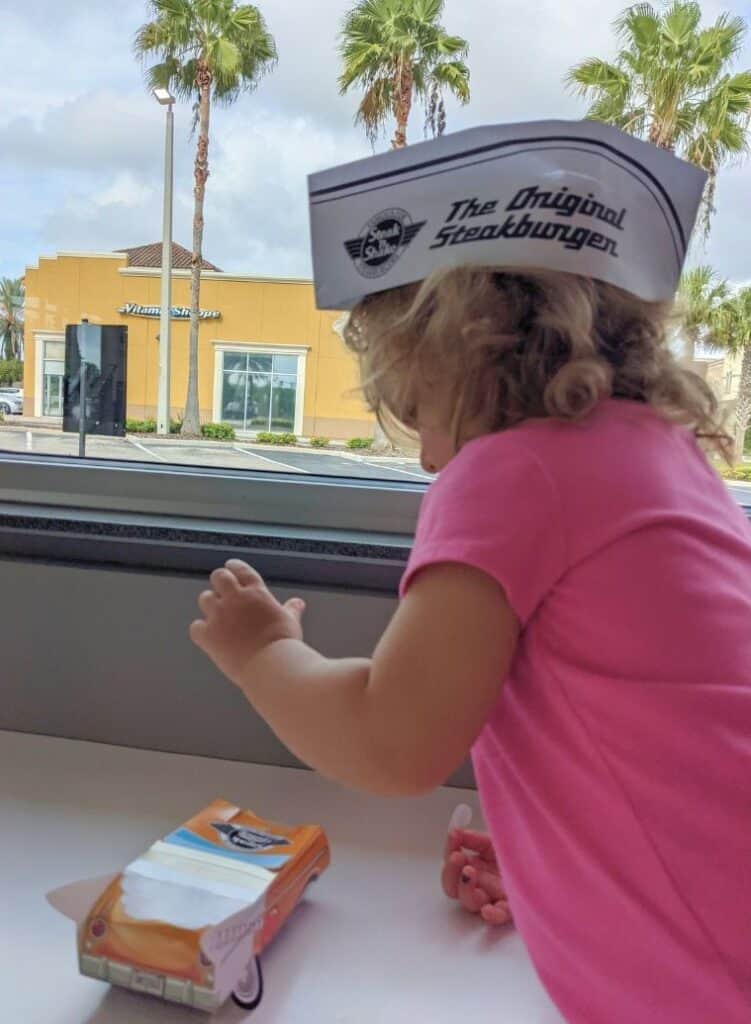 For a bonus, ask for the kids' hat. Folded inside the hat you'll also find a cardboard classic car to create, some stickers, and more fun for your little ones to stay entertained. With chrome, black, and white interior trappings, this blast from the past diner is always a good take, and inexpensive too!