Hands-Down Best Finger Food Restaurants in Orlando for Kids
Beyond the initial toddler finger food stage, kids really like to eat with their hands — no matter how many times parents command them to use their utensils. Aside from being an etiquette fail, all that finger dipping and licking can be, well, sticky and gross. But what if interactive family meals comprised of finger foods could be fun, socially acceptable and even satisfy picky eaters?! We've hand-picked Orlando's best interactive finger food eateries so kids (of all ages) can eat with their hands!
And for an added cherry on top, parents can simultaneously stuff kiddos with educational tidbits. You see, eating with one's hands is common in many areas of the world, so stir up some cultural conversation.
Here are 15+ finger food eateries that deserve two thumbs up:
Multiple Orlando locations | 1-844-4RIVERS
Forgo the fancy flatware because casual deliciousness awaits at 4 Rivers. The kids' menu features three lip-smackin' slider options: brisket, pulled chicken and pulled pork.
Packed big time with BBQ flavors, these petite sammies come with one side, a cookie and a fountain drink. And since cleaning the dishes won't be on the night's chore list, parents can also indulge in the saucy mess with an order of the smoky St. Louis Style Ribs.
8625 International Dr., Orlando | (407) 248-2222
You won't have to worry about shushing the kids at Café Tu Tu Tango. The walls of this animated place are lined with loud artwork, plus flamboyant flamenco dancers and other entertainers roam about. The menu is tapa-style with a lot more flare. Every dish is a masterpiece!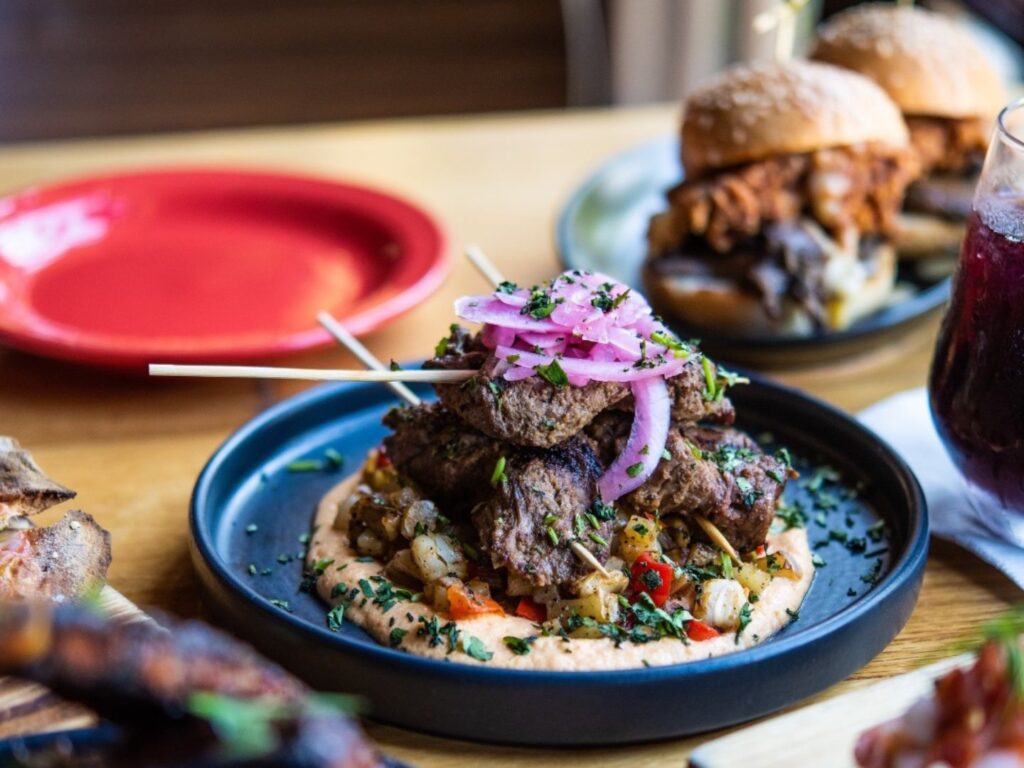 Your palates may especially appreciate the cauliflower tacos, street corn cobs, Tuscan meatballs, chocolate cheesecake pops and other bold bites.
Feature image from @cafe_tu_tu_tango
1016 E. Semoran Blvd, Casselberry | (407) 767-8232
Open since 1992, this family-owned fondue restaurant offers flavorful dip-friendly courses like melted cheese, a protein-based main course and drip-tastic chocolate.
Come on… if dunking veggies into warm, ooey-gooey cheese doesn't entice your kiddos to eat their greens, what will? Be sure to dunk safely when using fondue sticks, and be cautious of the hot boulon.
4301 N. Orange Blossom Trail, Orlando | (407) 291-8881
From playing the "Baby Shark" song on repeat to taking the plunge on the Mako roller coaster at SeaWorld, kids of all ages seem to be obsessed with sharks. Listen up hungry predators: you can sink your jaws into Grilled Shark Kabobs (or another skewered preference like shrimp, tropical chicken or beef tenderloin tips).
Of course, nothing beats classic fried shrimp for kid friendly finger food too.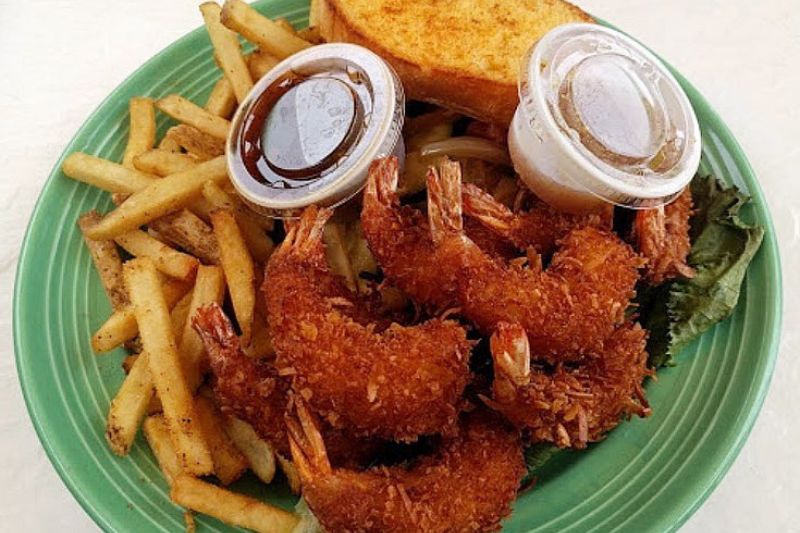 After playing with your food, play some more on Grill's Lakeside on-site playground just off the tiki-style deck overlooking Lake Fairview. The play area is fully enclosed with fencing and has a canopy cover for shade.
1103 N. Mills Ave, Orlando & 9100 Conroy Windermere Rd., Orlando | (407) 255-2200
Several items served at this "Asian street fare" restaurant are fun finger foods. We're talking edamame, egg rolls, lettuce wraps, pot stickers, sticky ribs, wings and wontons. OK, that's A LOT to eat in one sitting, especially if you plan to handle dessert too.
The deep-fried Banana Spring Rolls are topped with housemade spiced honey, Nutter Butter crumbles, vanilla ice cream, fresh berries, peanut butter and raspberry sauce. Now that's bananas indeed!
710 N. Mills Avenue, Orlando (Mills50) & 11768 E. Colonial Drive, Orlando (UCF area) | (407) 237-0013
There's no shortage of amazing taco joints in Greater Orlando. While King Bao whips up a familiar concept, you'll eat up their fresh take on handhelds. The airy taco-like buns come stuffed with your choice of protein (meat or vegetarian-friendly) and unexpected toppings.
Children may be drawn to the playfully named Mr. Potato Head, stuffed with sweet potato croquettes, sour cream, roasted corn and relish. Or perhaps the apple of your eye may prefer the Glen Rhee, made with braised marinated Korean beef, Fiji apple salsa and cilantro.
11579 Regency Village Dr., Orlando | (321) 401-6777
Odds are the kids won't ask to watch their iPads at dinner while at Kura because this distinctive place boasts enough tech. After being seated by a human host, drinks are delivered by a robot. Yes, a robot! Next, set your sights on the conveyor belt displaying assorted sushi, sashimi and nigiri. The concept of 'greedy grabber' need not apply to those dealing with hanger!
Task little ones with building fine motor skills by handling sushi rolls with chopsticks. However, to the surprise of many, it's totally acceptable – and even the norm – to nosh on sushi by hand.
Multiple locations | (407) 951-8584
Want to take your family on a Mediterranean vacation? Well, maybe start by transporting your taste buds with a visit to this fast-casual chain. Consider a gyro to be like a Greek sandwich. This flatbread handheld is filled with sliced meat (like lamb), tomato, onion and tzatziki sauce.
Other Greek dishes are just as finger-friendly, like falafel cakes and hummus with pita.
7724 W. Sand Lake Rd., Orlando | (407) 674-8899
Regardless of whether you're a righty or a lefty, it's best to eat with one's washed right hand when enjoying Indian cuisine, as the left hand is commonly viewed as dirty and unsanitary. FYI, there's a step-by-step art to eating Indian food but, if you're not sure how to handle elements of the meal, try using bread (like naan) in a scooping manner. However, this formal dining approach isn't necessary when dining within the welcoming atmosphere of Saffron, located on Orlando's Restaurant Row. Little ones may be sheepish to order one of Saffron's delicious lamb dishes but their mix of curry, masala and spices will pleasantly surprise.
420 E. Church Street, Unit 109, Orlando | (407) 219-4380
This tea house, nestled in the heart of The City Beautiful, is owned by Flor Velez and Keishla Estella, a trained tea sommelier. This mother-daughter duo present a modern experience on the classic afternoon tea. The eclectic environment is adorned with Moroccan-inspired elements popping with gold and white décor, a teapot chandelier and bold striped china.
Nosh on finger sandwiches, scones with Devonshire cream and preserves, sweet and savory pastries, loose leaf teas and signature cupcakes baked with tea such as matcha, citrus mint, earl grey, chai and coconut.
415 E. 4th St. Sanford | (407) 878-2179
Move over nachos and tater tot apps… poutine is a great, handy-dandy dish. This Canadian delicacy is actually served at several Orlando-area eateries and The Yardery doesn't disappoint.
Their version features hand-cut fries, piled with braised short rib, bacon, mushrooms and mozzarella cheese smothered in a homemade Au Jus. Plus, you'll eat up the kid-centric atmosphere, inclusive of yard games and a tire swing.
Multiple locations – UCF, Windermere, Winter Park | (407) 960-3922
Who knew grilled cheese could taste even better with an artisan tweak? Toasted amps up the classic grilled cheese sandwich with mouthwatering combinations, like the Truffle Melt, a mac'd out press of Havarti, truffle oil, arugula and fresh ground pepper.
Feel free to add bacon or a fried egg to any sandwich. For those on a special diet, Toasted has gluten-free and vegan selections. Burgers, salads, sides and soups are also available.
Kissimmee and I-Drive locations, with Winter Garden coming soon | (407) 986-5559
With 'volcano' in its name, this restaurant totally seems like the hot spot for bursting flavor. Perhaps this interactive dining experience is better suited for tweens and teens that understand the need for culinary caution.
As you might have guessed, hot pot is all about cooking with a simmering pot right at the table. As the stock simmers, ingredients are placed in, such as seafood, sliced meat, leafy vegetables, wontons, dumplings and tofu. Some compare this cooking method to fondue but, of course, the flavor profile differs.
158 W. State Rd 434, Winter Springs | (407) 604-3022
Want to make a splash with a unique interactive family feast? You can expect the "reel" deal with a seafood boil steamed to perfection at Winter Springs Seafood Station. You'll be hooked with lobster, shrimp, corn, potatoes, butter, seasonings and more. So sharable, so satisfying!
Also Try: