7 Orlando Haunted Houses That Are Okay for Kids (Tweens and Teens)
Halloween is my absolute favorite time of the year – the movies, the food, the costumes and, of course, the haunted houses. Even as a small kid, I was always fascinated by spooky stuff. Some kids just enjoy the thrill of being scared. That's not a bad thing, but as parents, we have to make sure we're letting our kids experience the thrill in a safe and age-appropriate environment.
To help you get the most out of the spookiest time of year, we're sharing a few haunted houses in Orlando for kids.
These Orlando haunted houses are ranked least scary to most. You may consider these haunted experiences for your tween or teenager. When in doubt, wait another year just to be on the safe side.
Orlando Haunted Houses That Are Okay for Kids
Important Reminders
It's always important to have a conversation with them beforehand to remind them that what they're seeing isn't real and it's just for fun.
If you're chaperoning, make sure they feel safe and free to leave safely if the experience becomes too much. It's also imperative that your child wears closed-toed shoes so they don't trip if they suddenly decide to make a run for it!
Select Nights, September 29 – October 31, 2023
Best for ages 4-12 (Happy Frights)
Best for ages 13 and up (Haunting Nights)
Running from September 29 – October 31, Leu Gardens has two options for Halloween fun so you can choose the adventure that makes the most sense for your family. I'd say this is the most kid-friendly option on this list.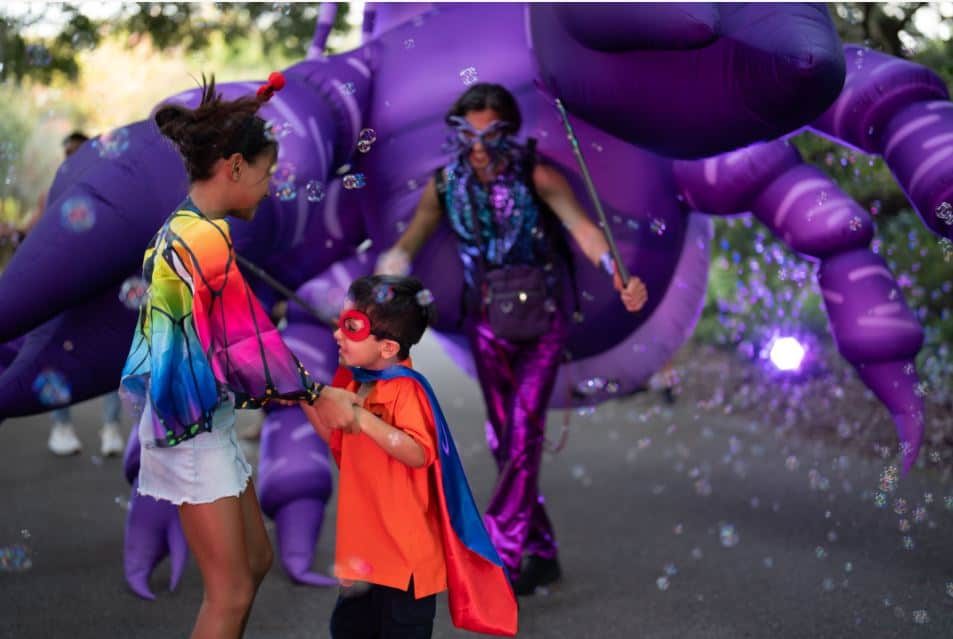 During Happy Frights, kids of all ages are welcome to walk through 12 immersive worlds and enjoy eight stations for trick-or-treating, a maze, hay pyramid and more. This event occurs during the early evening before sundown.
If your older kids are looking for a little more thrill, check out Haunting Nights after the sun goes down, recommended for ages 13 and up. This artful, elevated Halloween experience will have a more adult feel to it – without being over the top.
This option is similar to the all ages event, but includes some jump scares and a 12-foot tall jack-o-lantern. Both events feature live magic shows all night long.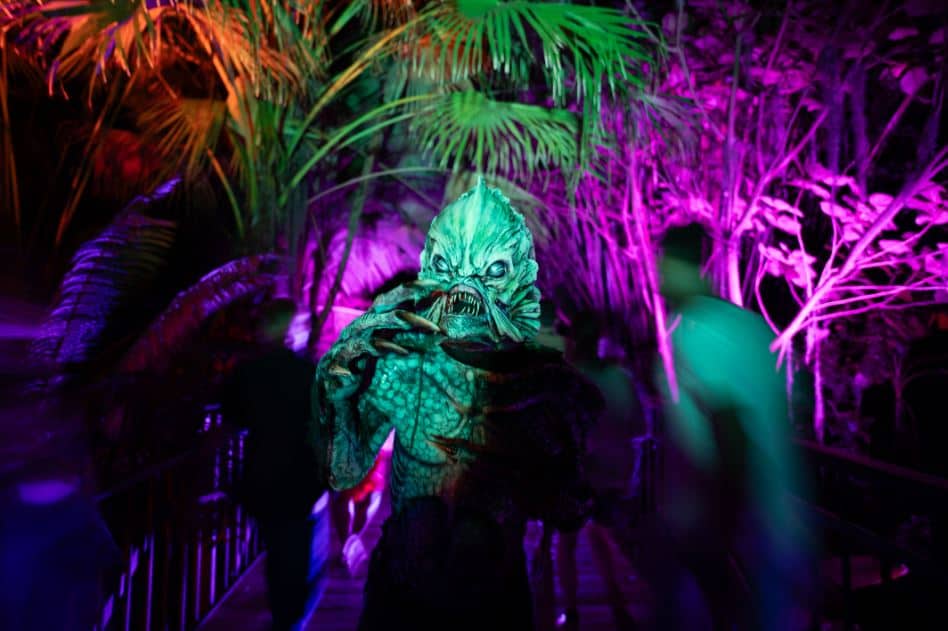 Happy Frights entry times begin at 5pm. Haunting Nights entry times begin at 7:30pm.
Tickets $25 per person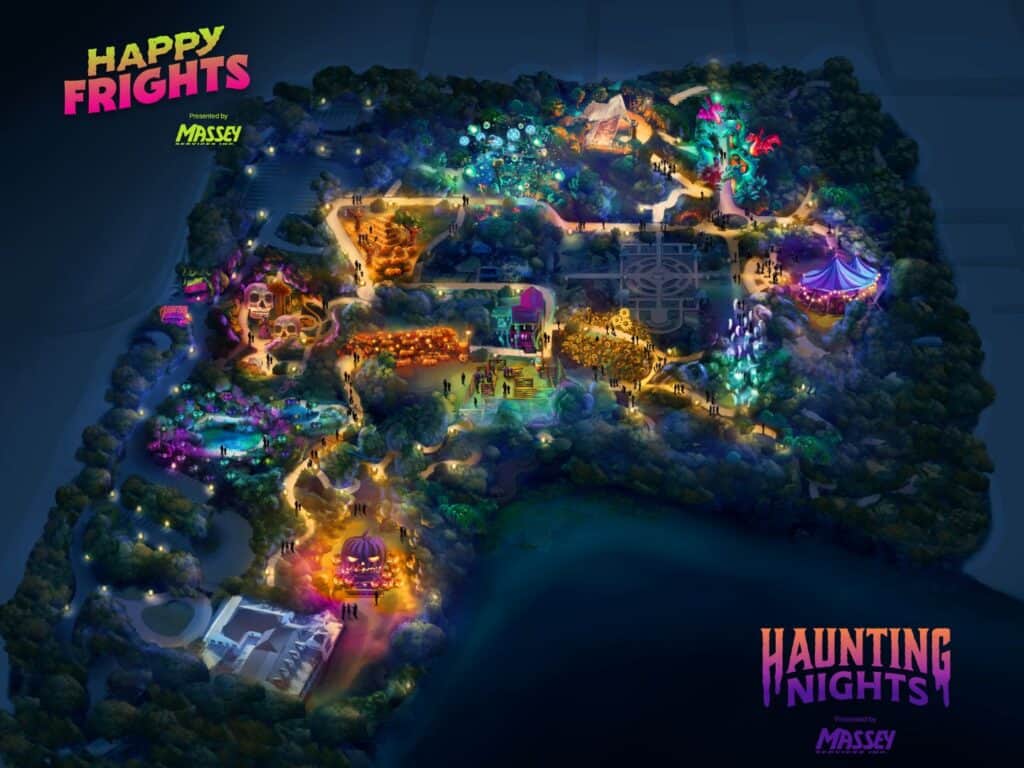 October 14th, 15th, 21st, 22nd, 28th and 28th, 2023
10am to 5pm
Gatorland Florida
Included in admission (Florida residents receive half off!)
Gators, Ghosts & Goblins at Gatorland Florida provides plenty of family friendly fun, including portions that appeal to older kids like the "Swamp Ghost's Monster Museum" which is back with an all-new exhibit that delves into the origins of our beloved haunted holiday.
This year, the museum introduces new haunt-zones to amp up the excitement. "The Creepy Creature Carnival" is where famous monsters take center stage as midway attractions, adding a unique twist to their personas. For a wilder adventure, explore the "Frightful Frontier," an old west town inhabited by cursed cowboys.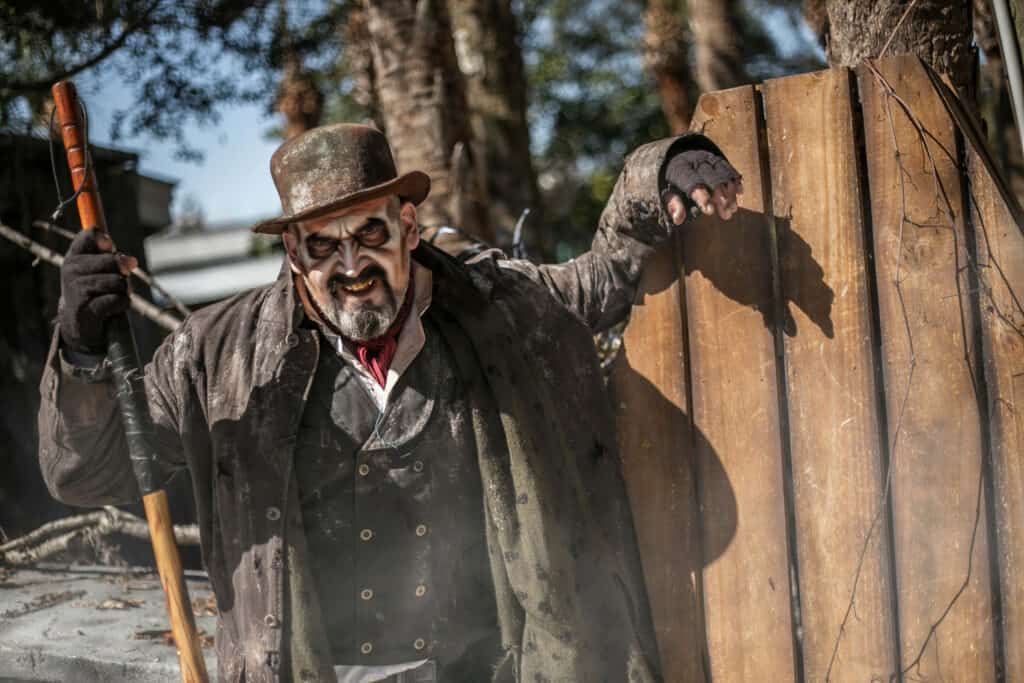 For younger kids, don't miss the Children's Halloween Costume Parade, where kids receive treat bags in return. The event also features fun shows, engaging games, and candy giveaways.
5770 West Irlo Bronson Memorial Highway,
Kissimmee FL 34746
Best for ages 13 and up
Central Florida's only haunted house open year-round, Mortem Manor is located at Kissimmee's Old Town. Journey through two floors of an old Victorian themed haunted attraction and come face-to-face with the residents who once lived within the manor walls.
The experience features live scare actors, animatronics, and special effects. Mortem Manor's age recommendation is 13 years, but younger children won't be denied entrance.
The attraction opened in 2016 and has been named "One of America's Scariest Haunted Houses" by the Travel Channel. What makes this experience unique is the movie quality sets and realistic props that are over 12-feet tall.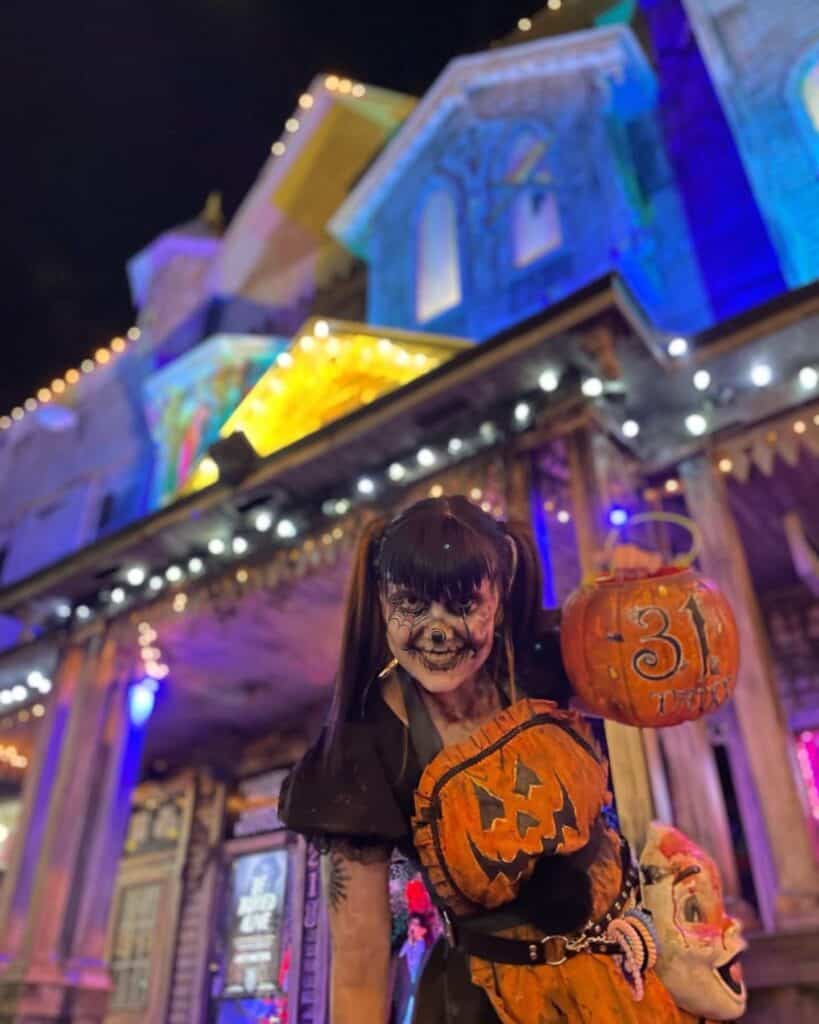 After going through the house, you should also check out the Post Mortem Boo-Tique, which features horror merchandise including masks, shirts, hand props, makeup and more. Plus, Old Town has other fun non-scary things to do if you need a palate cleanser after the experience.
Tickets are $18 per person
Select nights, September 29 through October 28
Best for ages 13 and up
Kids Day, Saturday October 14, 9 am – 12 noon for all ages
This is my favorite option on the list because it's a classic in the local community. A Petrified Forest prides itself on offering Central Florida's premiere scare trails, with three themed outdoor paths to experience.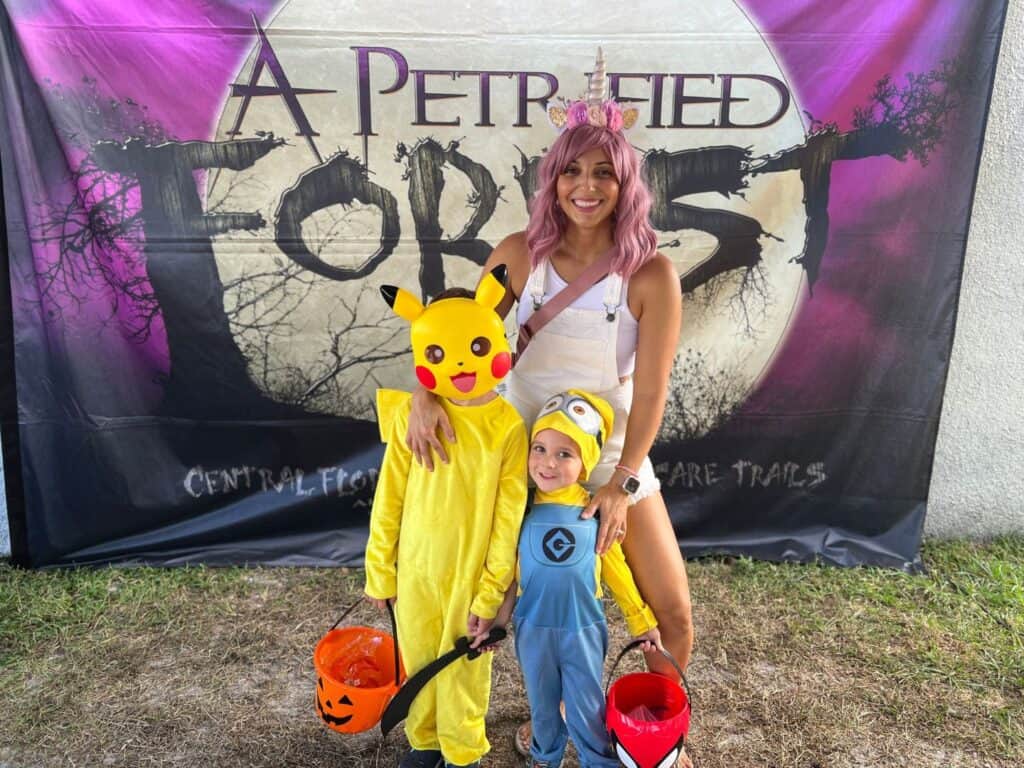 The event also features local vendors for food and drinks, laser tag, and a live DJ. The minimum recommended age is 13, and I agree. While the event is definitely not as scary as others on this list, it's still spooky – especially on a Total Eclipse night when the lights go out and the scare actors try to steal your glow stick, and yes, they might touch you.
If you park down the street in the designated event parking, you'll get to ride the Terror Trolley, which is a huge part of the fun.
One option for kids who might be a little nervous is to take the backstage tour. A team member will share some history of the event as they walk you behind the trails to see what it takes to put on the event. The backstage area is a scare-free zone, which means this is the perfect way to enjoy The Forest if you don't like to get scared.
You can meet and interview a scare actor, and if you're up for it, they may even let you participate in a scene to scare some of the guests. Highly recommend!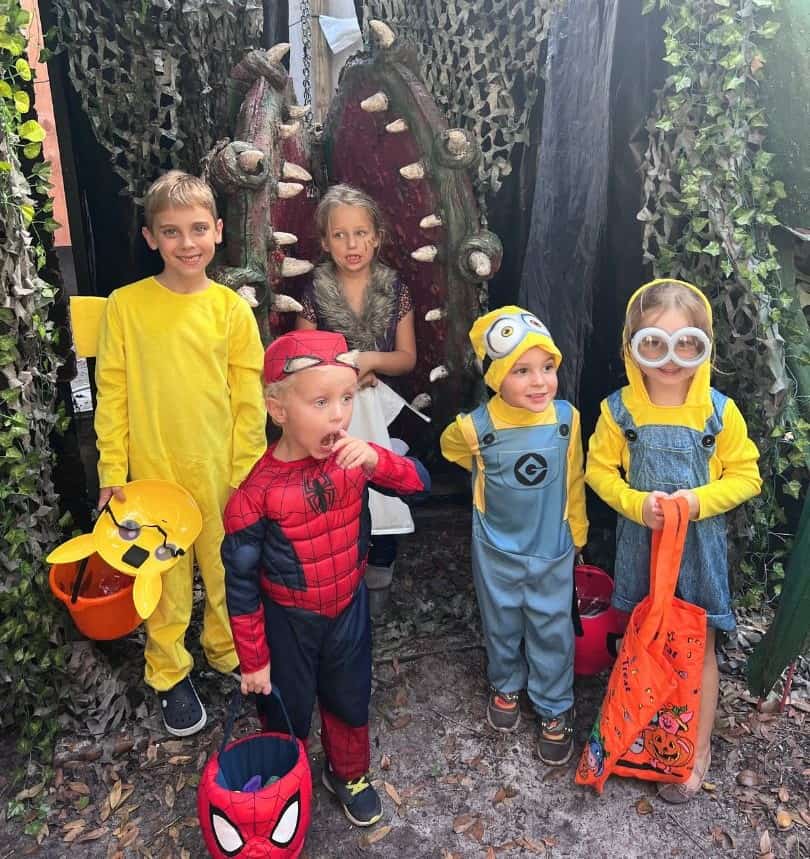 A Petrified Forest also hosts an annual kid-friendly event at the beginning of the Halloween season to raise funds for Make-A-Wish Central Florida. Children of all ages can come dressed in their costumes and walk through the trails to trick-or-treat and collect candy.
Don't worry, there are no scary characters at this event; only fun ones! The event also offers a night for those with special needs, where only those requiring assistance and their guests are permitted.
Fridays and Saturdays, September 29 – November 4, 2023
Best for ages 13 and up (haunted house), hayride for ages 10 and up
Westgate River Ranch (about one hour from Orlando)
Tickets from $18
If you live in the Kissimmee area, or vacationing nearby, it may be worth the drive out to River Ranch, Florida. The Haunting of River Ranch is a fun Halloween experience that is open to the public. Located at the sprawling Westgate River Ranch resort, the Haunting of River Ranch encompasses a haunted house and a haunted hayride.
We experienced the haunted hayride and feel it is acceptable for kids ages 10 and up. It is dark, and a little loud, but none of the actors approach the hayride or interact with the passengers.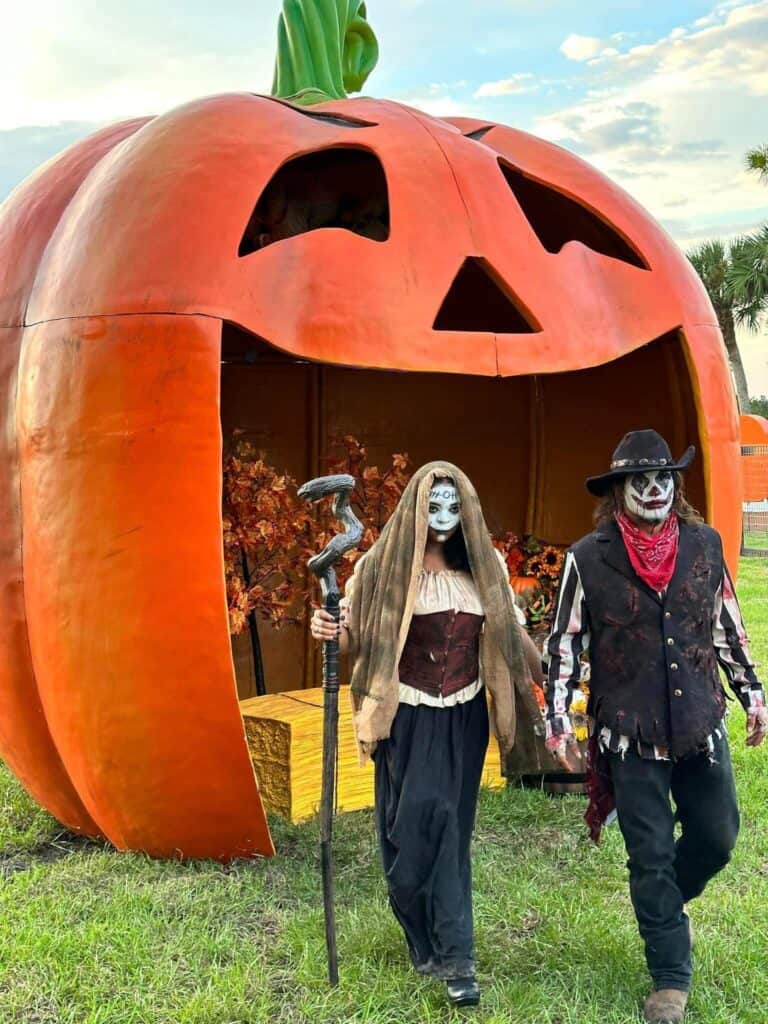 The haunted house is actually a tent and is darker and louder than the hayride. It may be best to do the hayride first and see how the kids do with it before braving the haunted house.
There is also an area for young kids full of fantastic fall activities and play areas. You may want to make it an overnight stay or a weekend getaway. We love this resort for glamping and camping with kids.
On select nights September 8 – October 31, check out one of the newest Halloween events in Central Florida, SeaWorld's Howl-O-Scream.
The event is recommended for a mature audience and contains intense adult content such as violence, gore and blood. No one knows your kids like you, so use your judgment as your teen might be mature enough to handle the haunt. There's no age requirement to attend.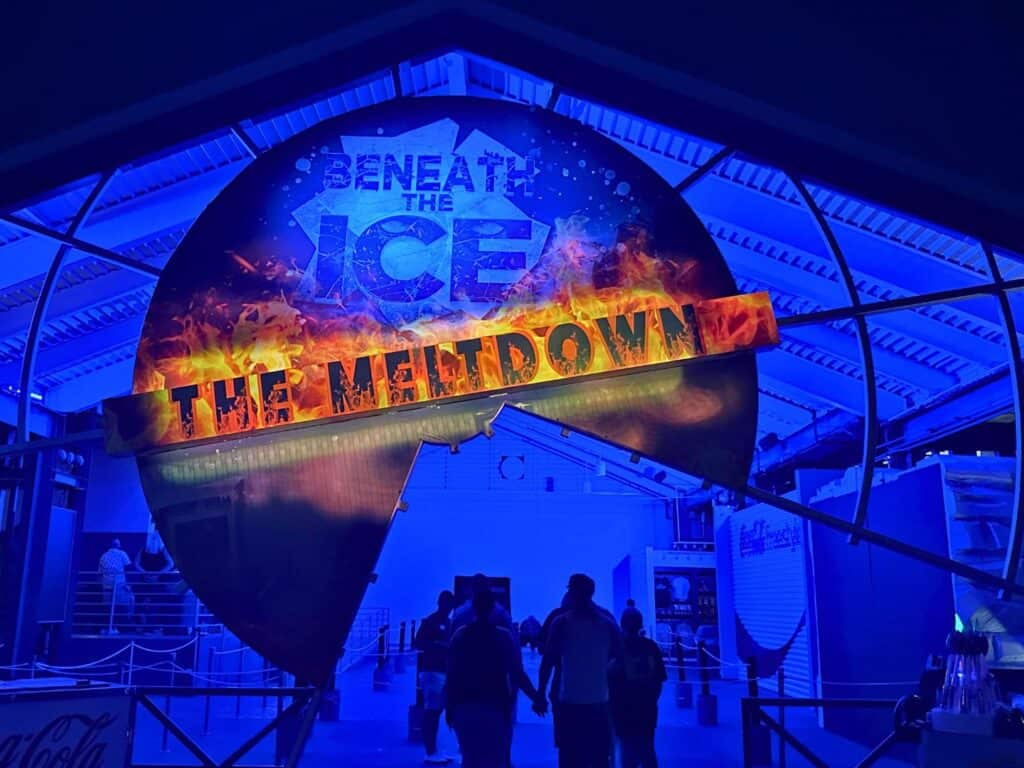 Even better news, Howl-O-Scream sells a "no boo" light up necklace to help the performers know you'd rather not be scared if possible (no guarantees but it can help).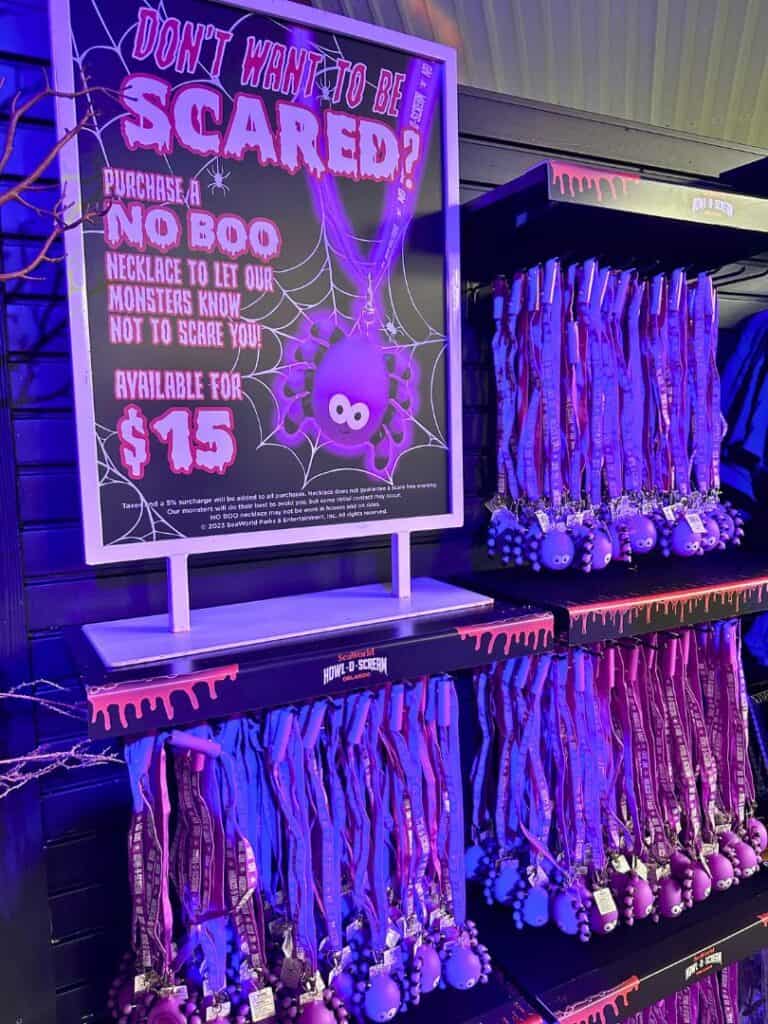 Inside the park, you can check out the haunted houses, scare zones, spooky shows and, of course, ride the coasters at night. Head over to OrlandoDateNightGuide.com for info and time-saving Howl-O-Scream Tips.
And if Howl-O-Scream is too much, then head to the Halloween Spooktacular which is included in regular admission.
The world's premiere Halloween event is back at Universal Orlando's Halloween Horror Nights for select nights September 1 – November 4. This year's event includes 10 haunted houses, including themes like Netflix's Stranger Things, HBO's The Last of Us and more!
While this event is recommended for 13 years and older, teens who are too afraid of the houses may enjoy the five scare zones and spooky shows. We've also provided a guide to know if your teen is ready to attend Halloween Horror Nights.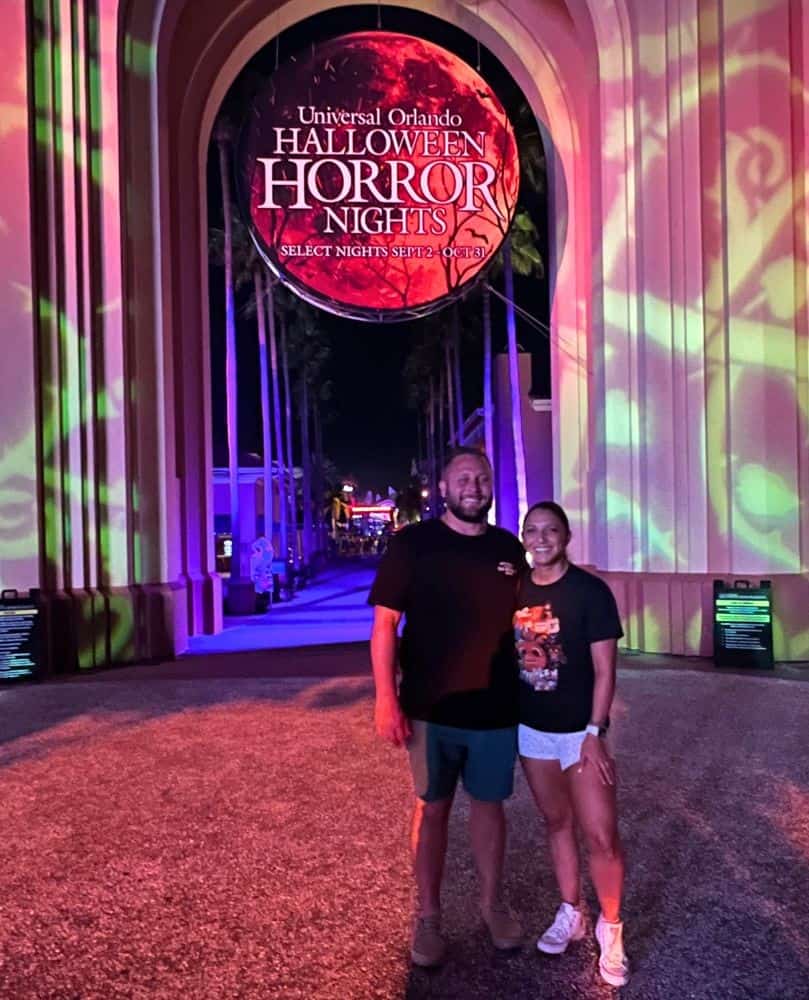 The scare zones can be less intimidating since they're in an open, outdoor space and can be walked through fairly quickly. My kids (3 and 7) love walking through Universal during the Halloween season so they can see all of the decorations in the daylight without the scary characters roaming around. That might be a safe way to introduce your teens to the event and help them get a preview of what to expect.
If you're willing to spend the money, your adventurous teen might appreciate the R.I.P. Tour, which includes a guided small-group tour and exclusive access to each of the houses and rides.
Our sibling site has some great Halloween Horror Nights Tips.
Bonus: For any Harry Potter fans, Halloween Horror Nights is bringing back the Death Eaters. This time they will roam around Diagon Alley.
An ominous presence returns to The Wizarding World of Harry Potter at Universal Orlando Resort this fall as Death Eaters appear for the first time ever in Diagon Alley select dates September 1 through November 4.
More Orlando haunted Halloween events (best for tweens and teens):
Featured image from Happy Frights Orlando – image by Quay Hu