Expert Tips and Things To Do At Central Florida Zoo (For Families)
Tucked within the beautiful, natural Florida landscape the Central Florida Zoo in Sanford, Florida is charming. Visiting the Central Florida Zoo with kids is relatively affordable and an easy way to entertain the whole family. With less crowds than Orlando's theme parks and plenty of shade, it's pretty low-key.
With over 30 visits to the Central Florida Zoo and Botanical Gardens with my son, I've got plenty of expert tips to share with you. So keep reading for tips and things to do at the Central Florida Zoo for families.
You can browse more of the best Orlando Zoos, Aquariums, and Animal Encounters for Kids.
Visiting the Central Florida Zoo with Kids
Things to Do
Train rides (miniature train)
Animal exhibits
Playground
Petting zoo
Splash pad
Giraffe feeding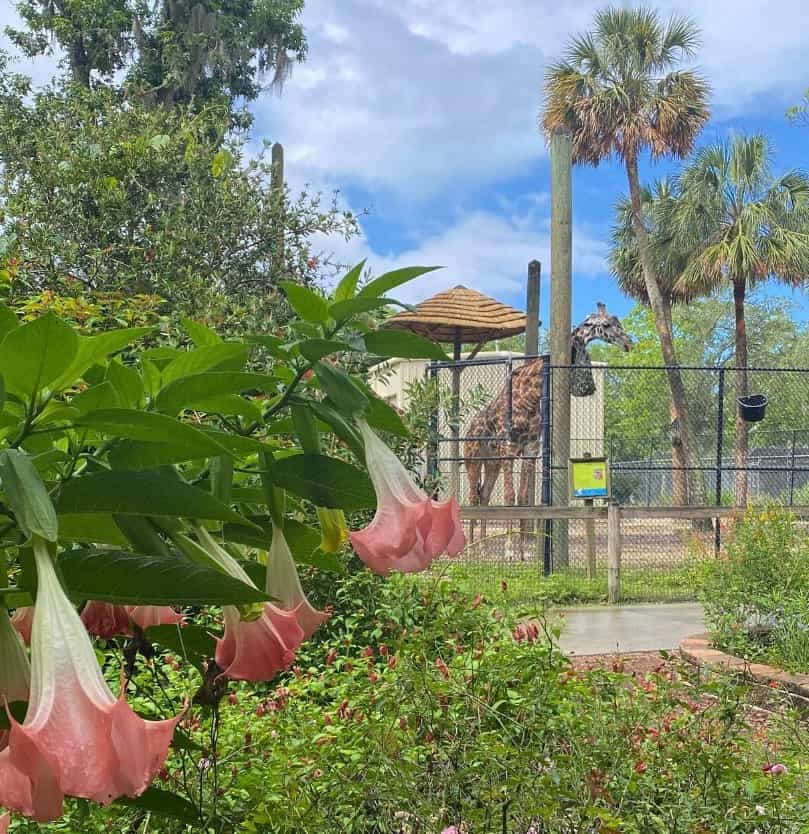 Central Florida Zoo Train
You do not need admission to the zoo to ride the train! This adorable miniature train is perfect for little toddlers, preschoolers, and other young kids to ride. The Central Florida Zoo had such a train for many years and after a long absence has a brand new train that just opened in May 2023.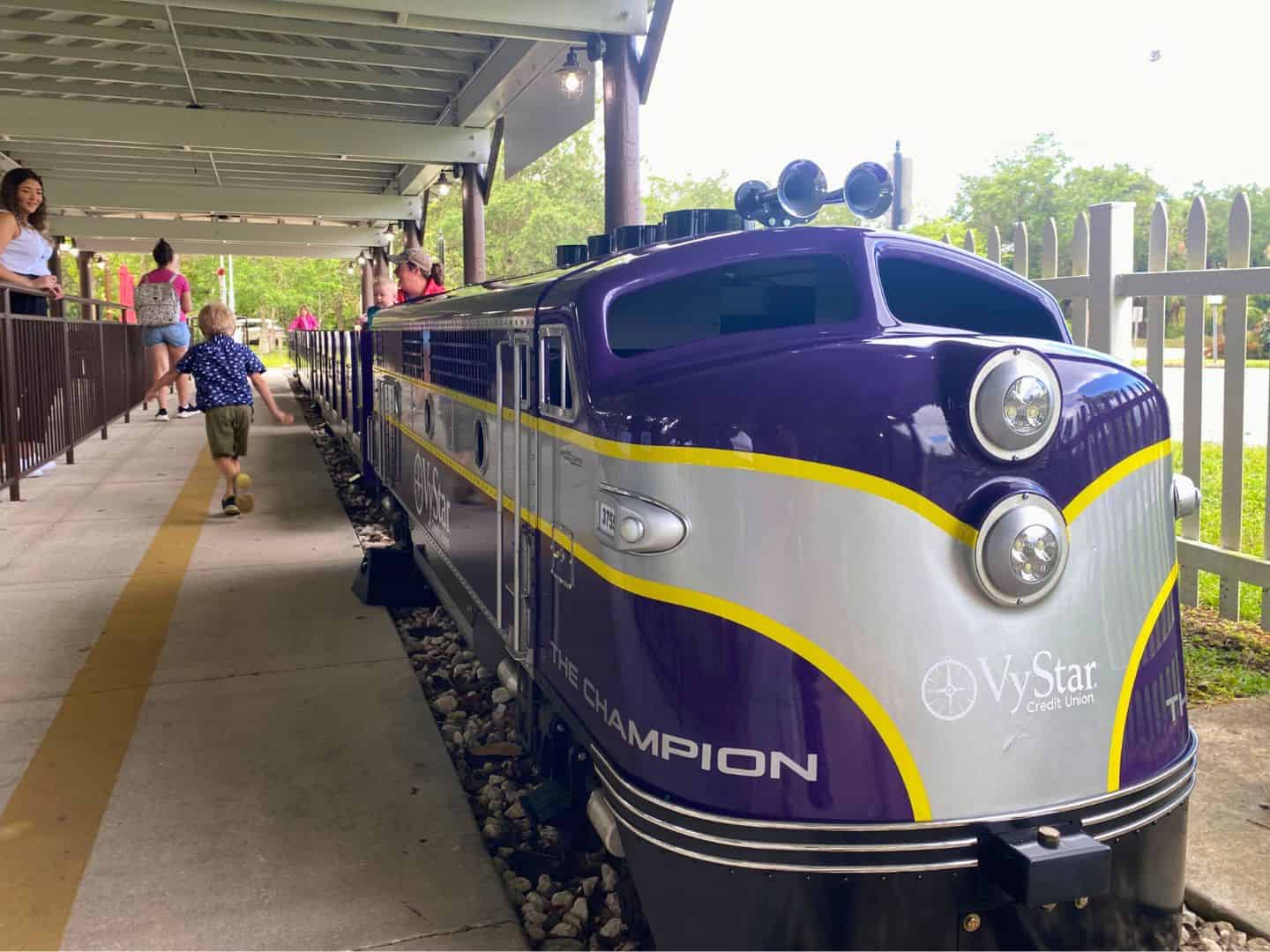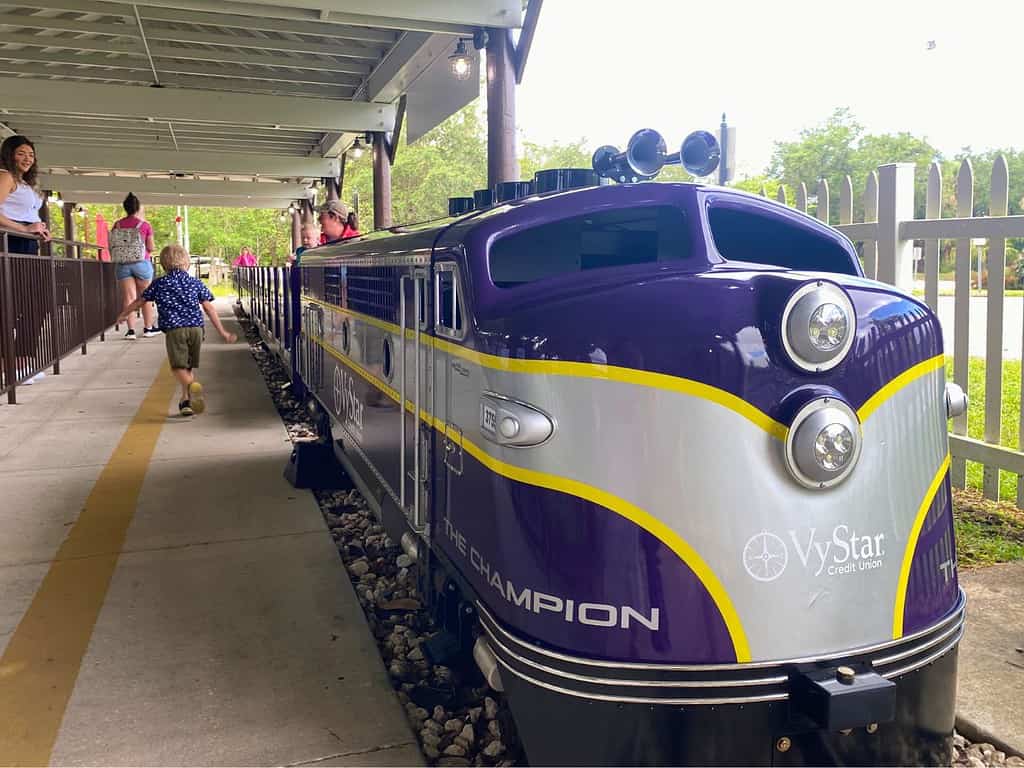 The train runs on a track outside of the zoo's entrance, so it is not necessary to have admission to the zoo itself in order to ride the train, but it is a nice add-on before or after your visit inside the zoo.
Train runs every 30 minutes from 10am – 3:30pm daily (weather permitting). It is about an 8 minute ride.
$5 per person / $4 for Zoo & VyStar credit union members.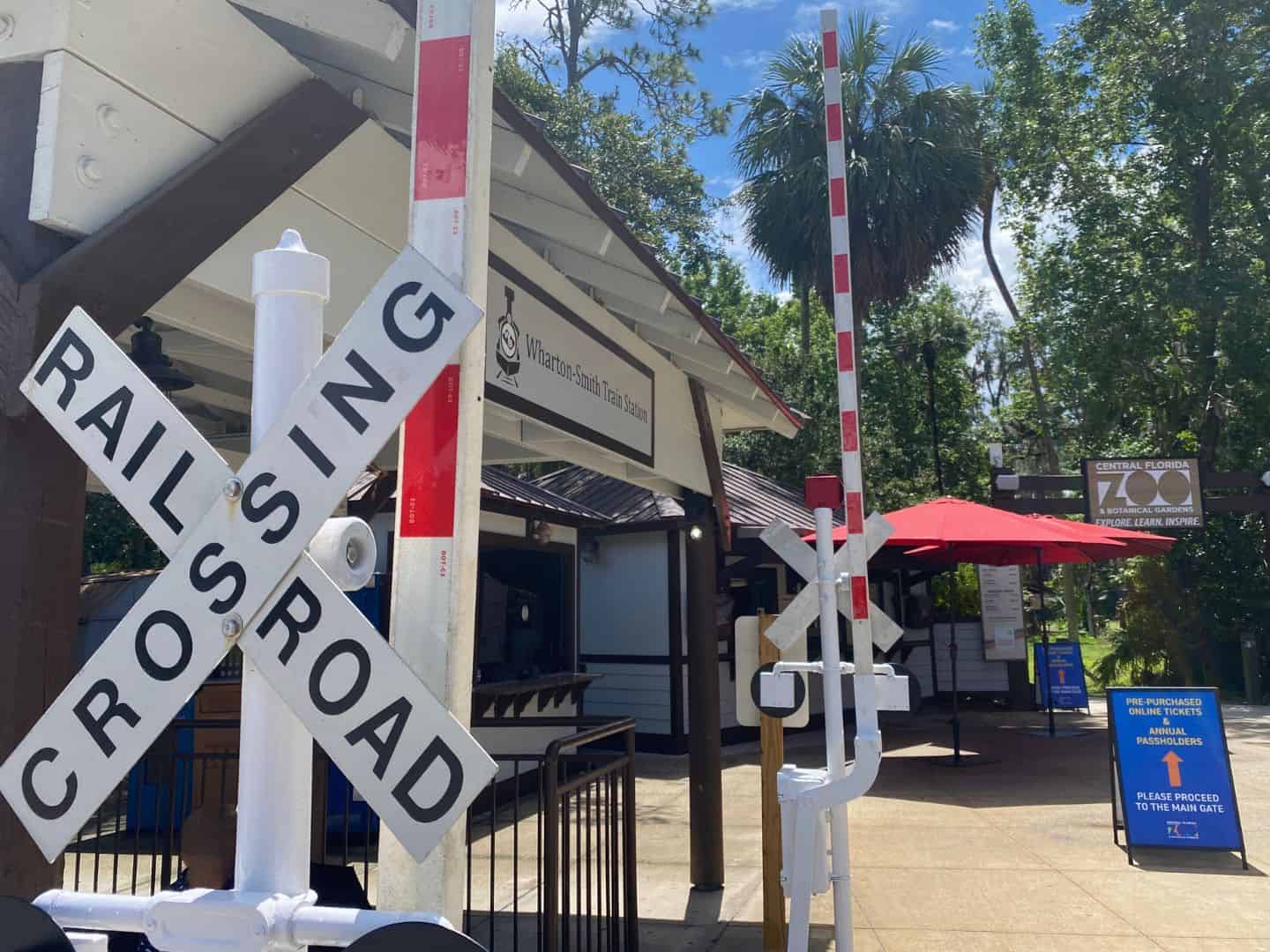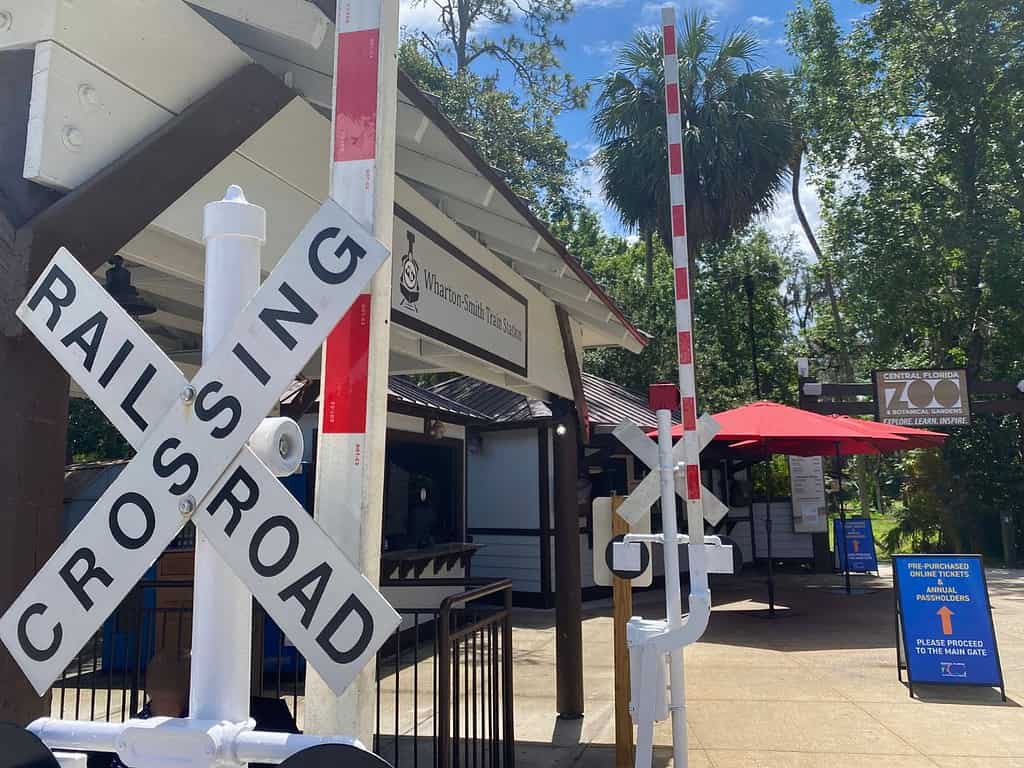 Animal Exhibits and Petting Zoo
Naturally, the main thing to do at the Central Florida Zoo is seeing the animals. The river otters, porcupines, lemurs, rhinoceros, cheetahs, and giraffes are certainly favorites. In fact, you can feed the giraffes if you wish.
Don't overlook the black bear exhibit at the back of the zoo. And the herpetarium, commonly referred to as a reptile house, is a classic spot in the center of the zoo.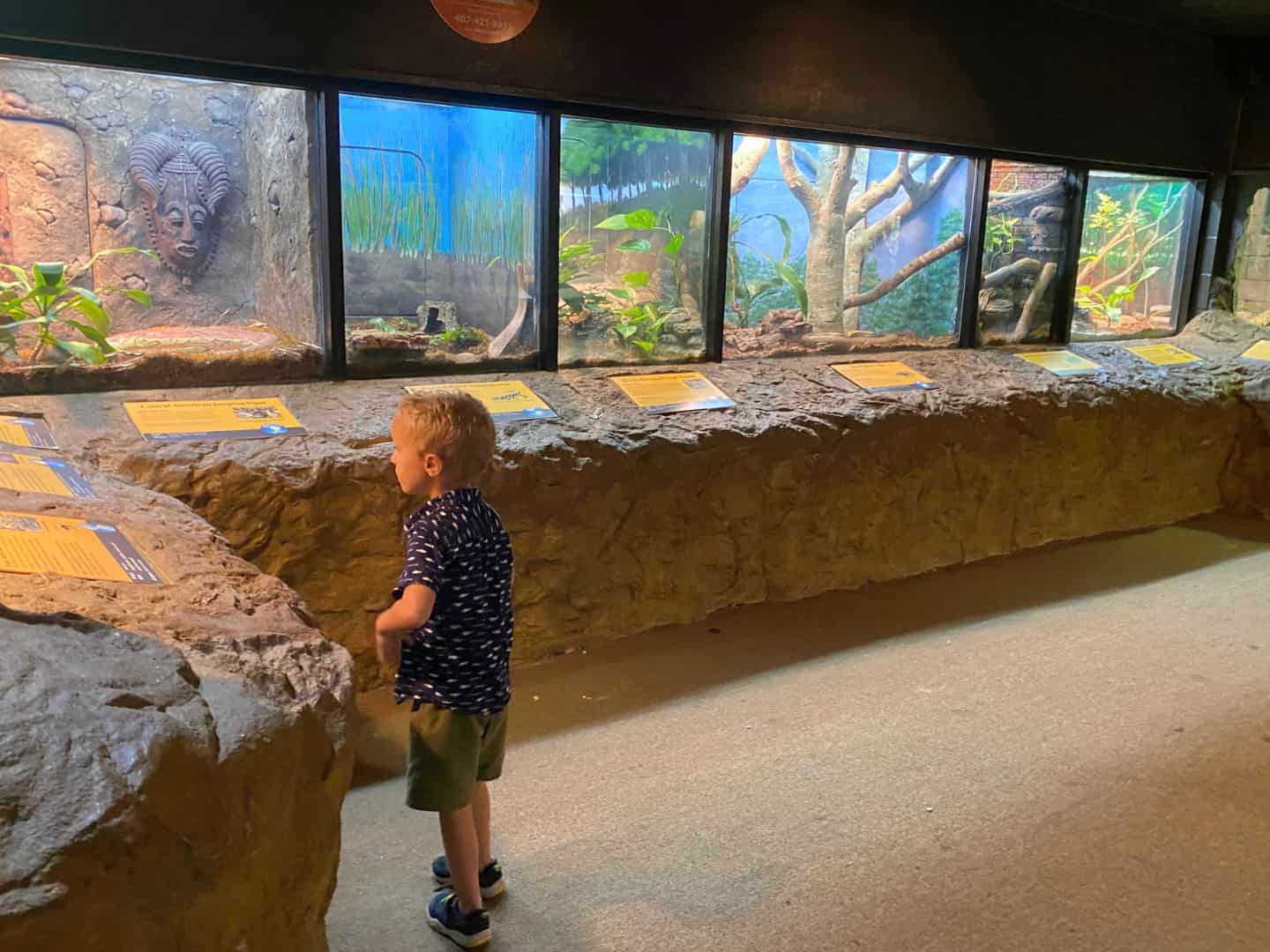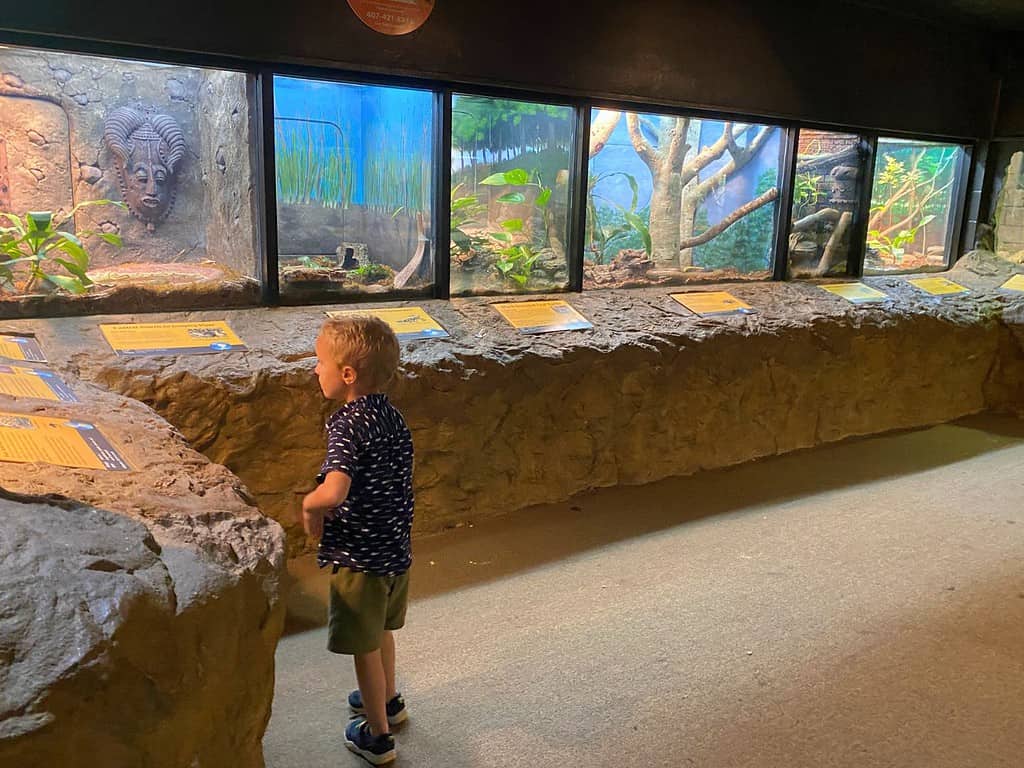 There is even a petting zoo area near the front entrance of the zoo with goats and other barnyard animals you can feed.
When you enter the zoo check the sign near the entrance for any animal encounters. There is usually one at 11:00am near the Wayne Densch Discovery Center at the front zoo. My son and I have had some one-on-one time with a zookeeper and a snake, as well as a macaw, on two separate occasions during these 11:00am encounters.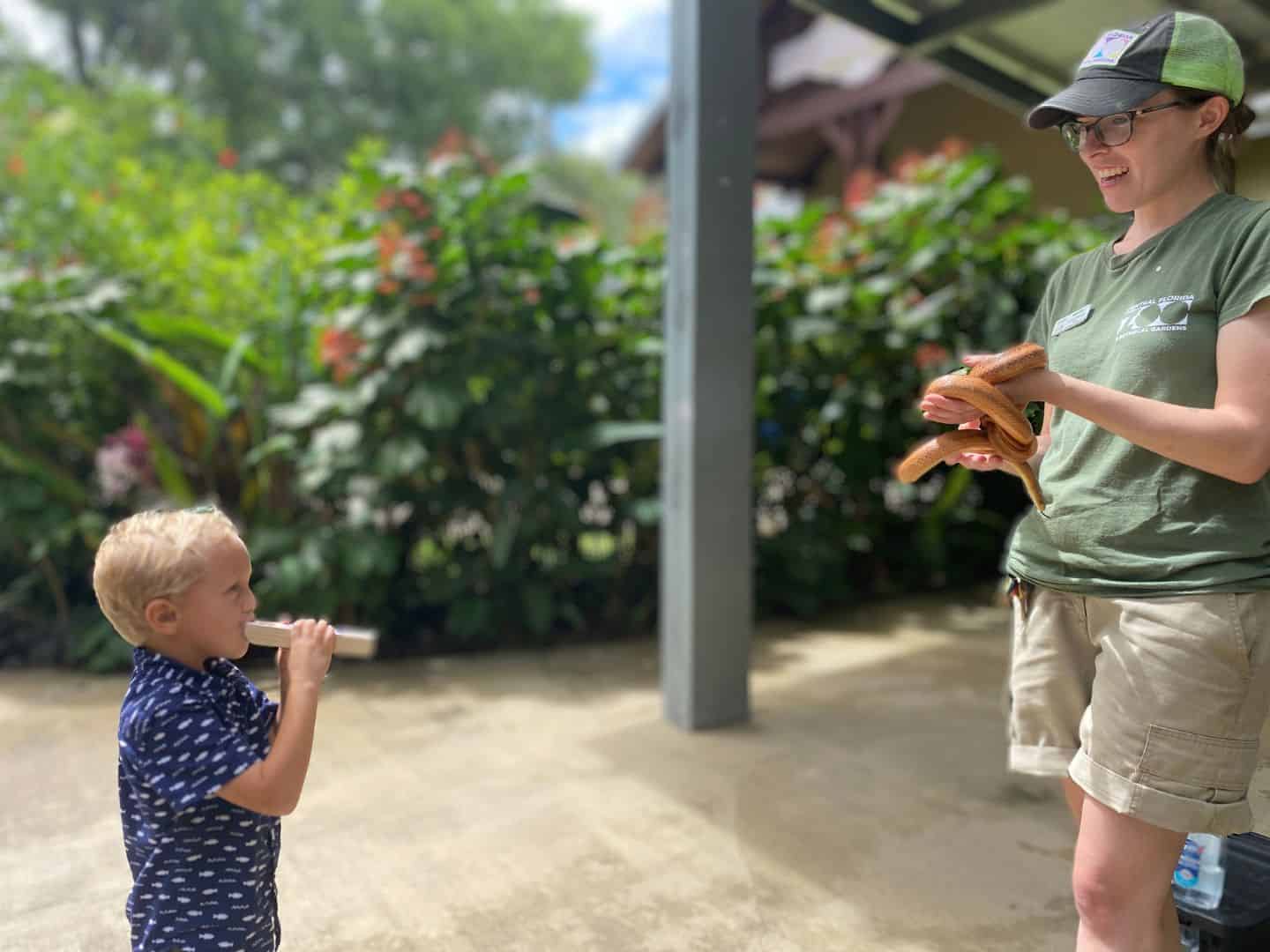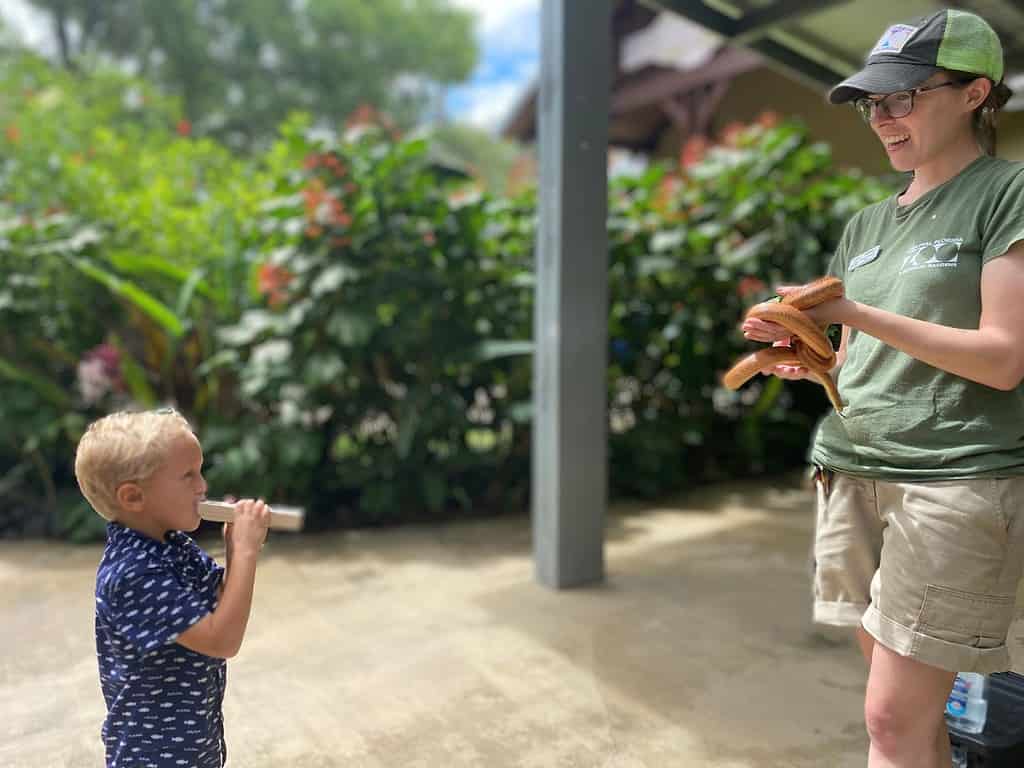 Playground and Splash Pad
It may seem silly to spend time on the playground or splash pad when you're at a zoo to see animals, but the Central Florida Zoo is one of our favorite Seminole County splash pads. Bring a change of clothes and a wet clothes bag, and a towel. There is plenty of seating around the Wharton-Smith tropical splash ground too!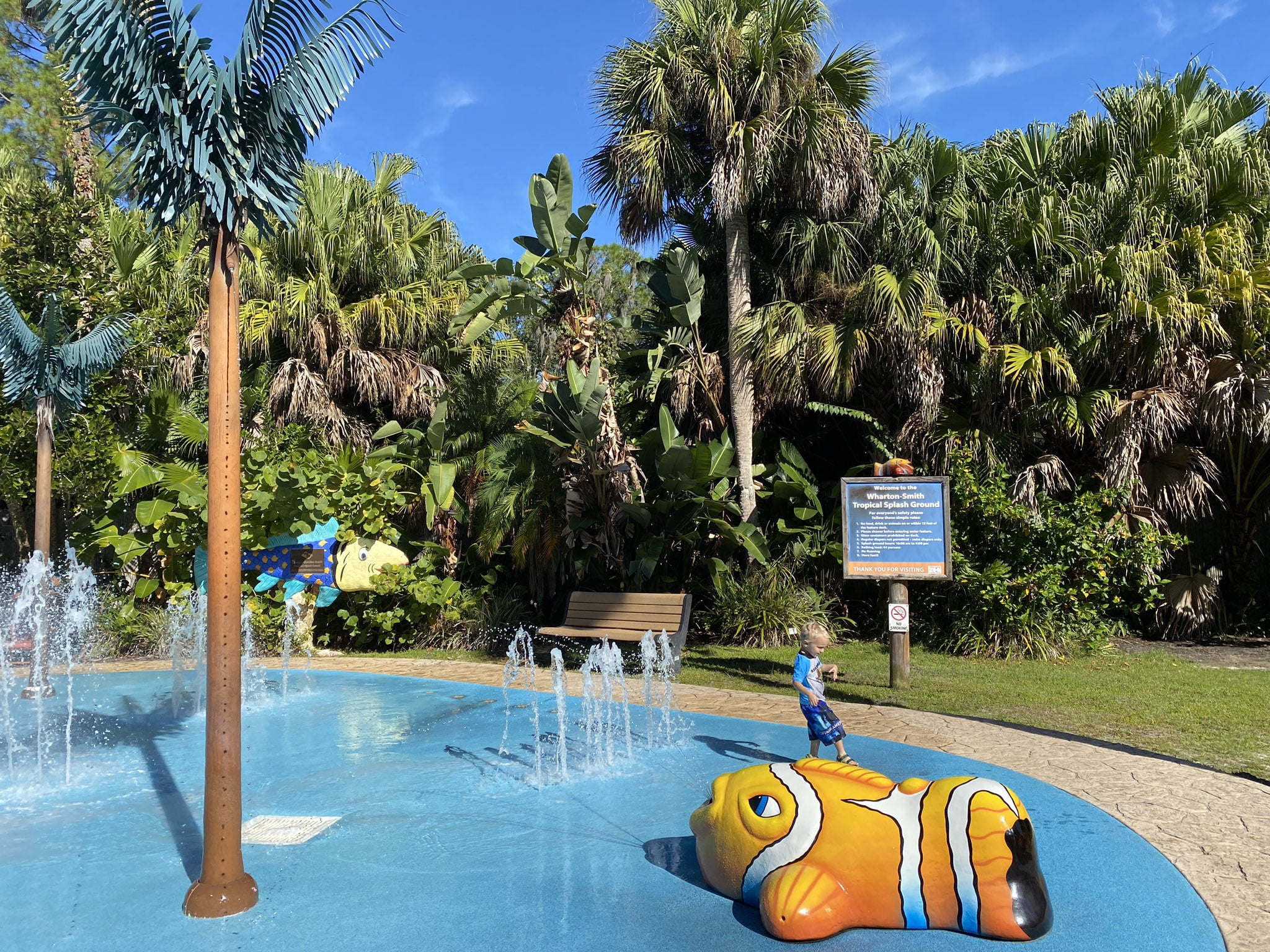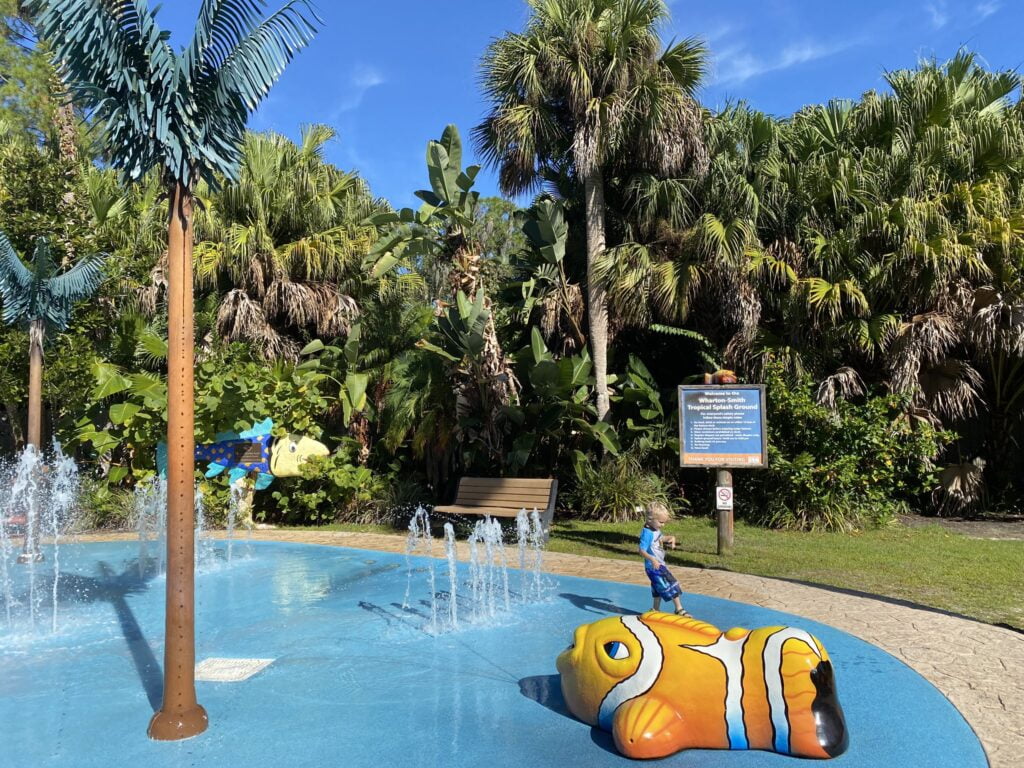 The playground at the Central Florida Zoo is small, but shaded. Kids need time to play freely on their own, and this little playground is perfect for that.
There is also a children's garden area near Graze Kitchen that is a nice fenced-in area to let the kids run and explore while you sit for a short bit.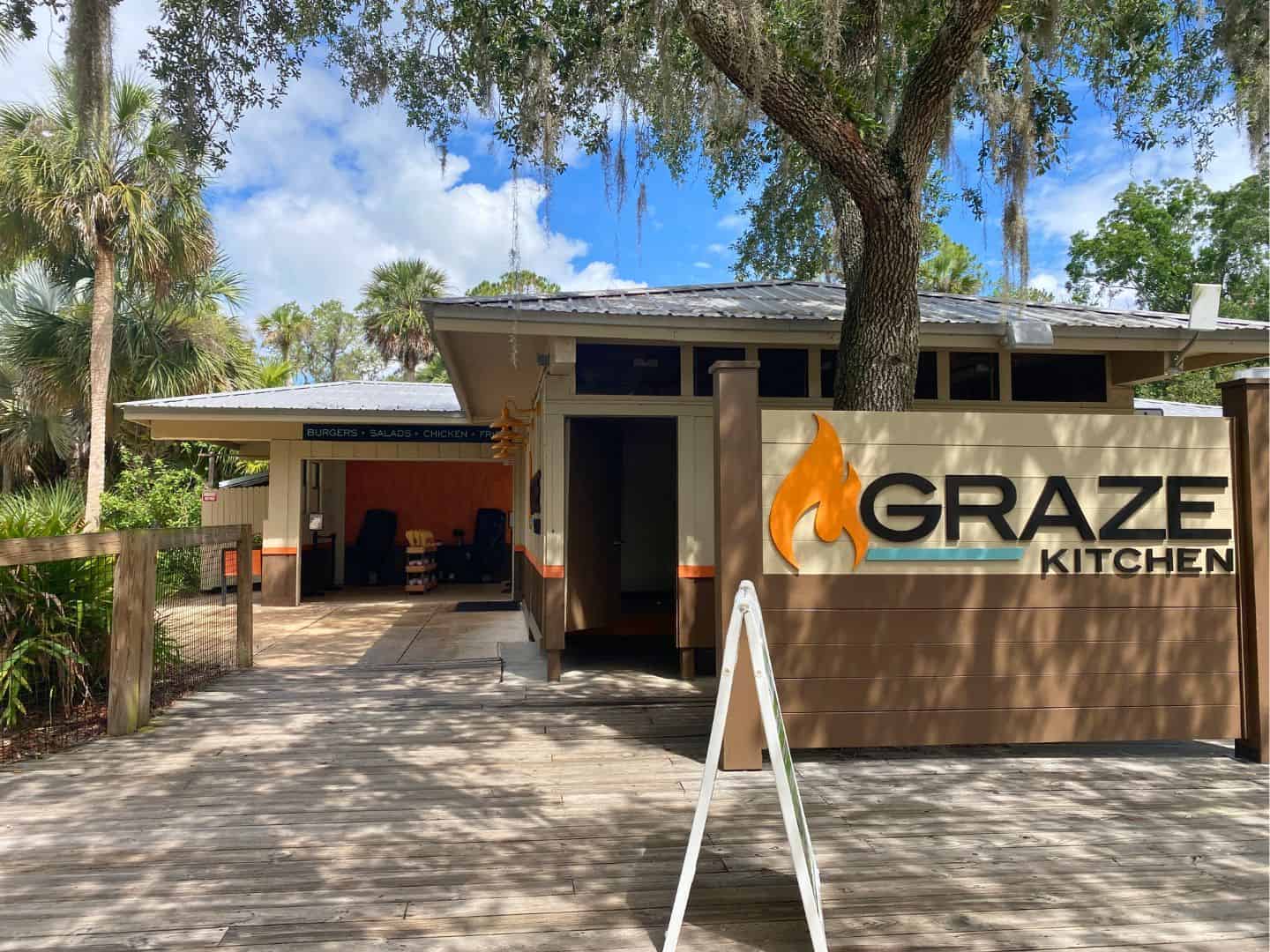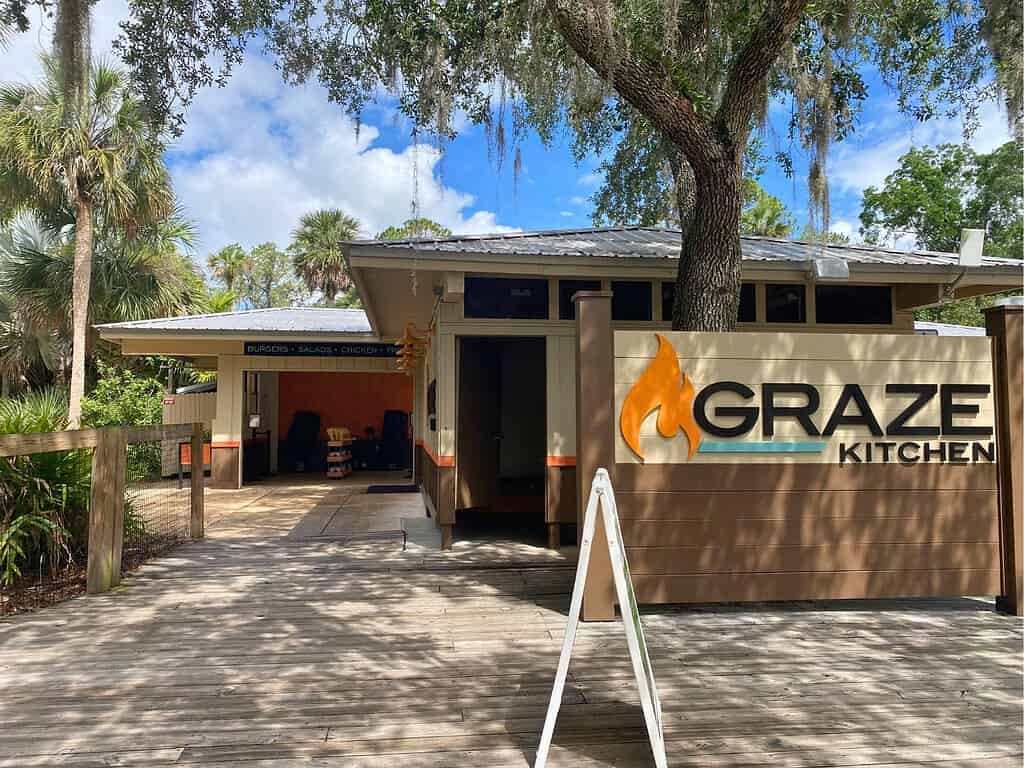 Expert Tips
After over 30 visits to the Central Florida Zoo and Botanical Gardens I've got plenty of expert tips for your family.
It's important to remember that this local Orlando zoo is built on wetlands. Some areas are a little rustic and that's part of the charm. Slow down and enjoy the natural beauty all around you.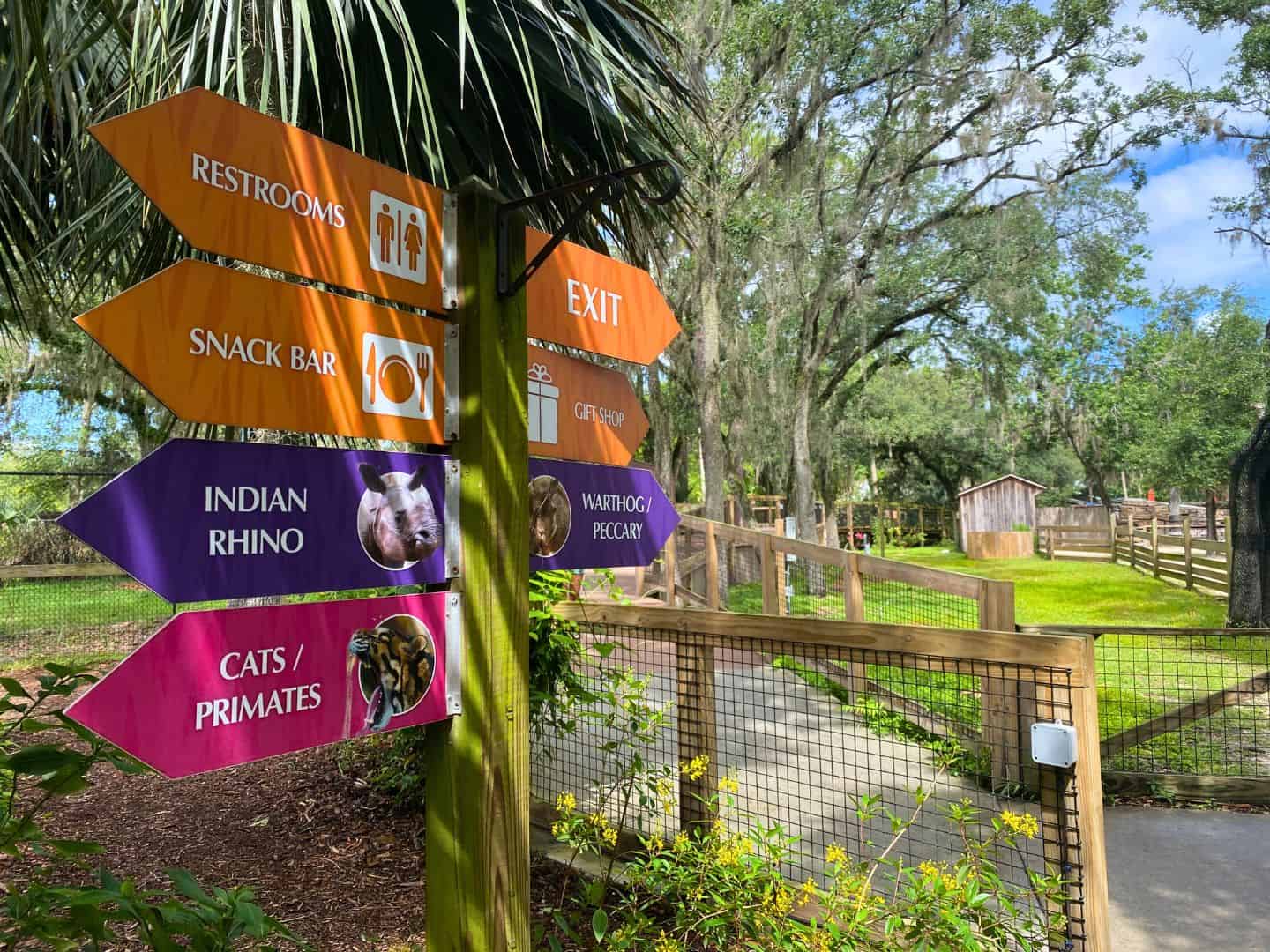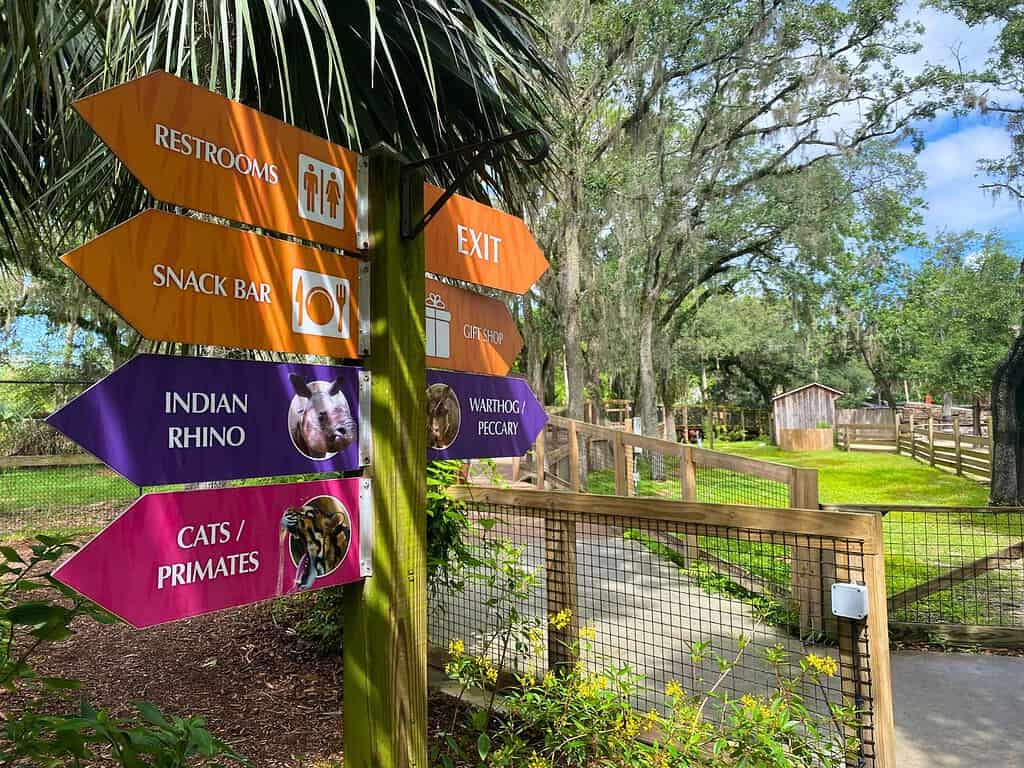 Try to visit on a weekday if you can. Weekends are much busier. And springtime tends to have lots of field trips. The last hour of the day, 3pm – 4pm is super quiet and the animals are pretty active as they prepare to head into their evening routine.
Bring a refillable water bottle. There is only one bottle refill station and it is located at the Wayne Densch Discovery Center next to the zoo entrance.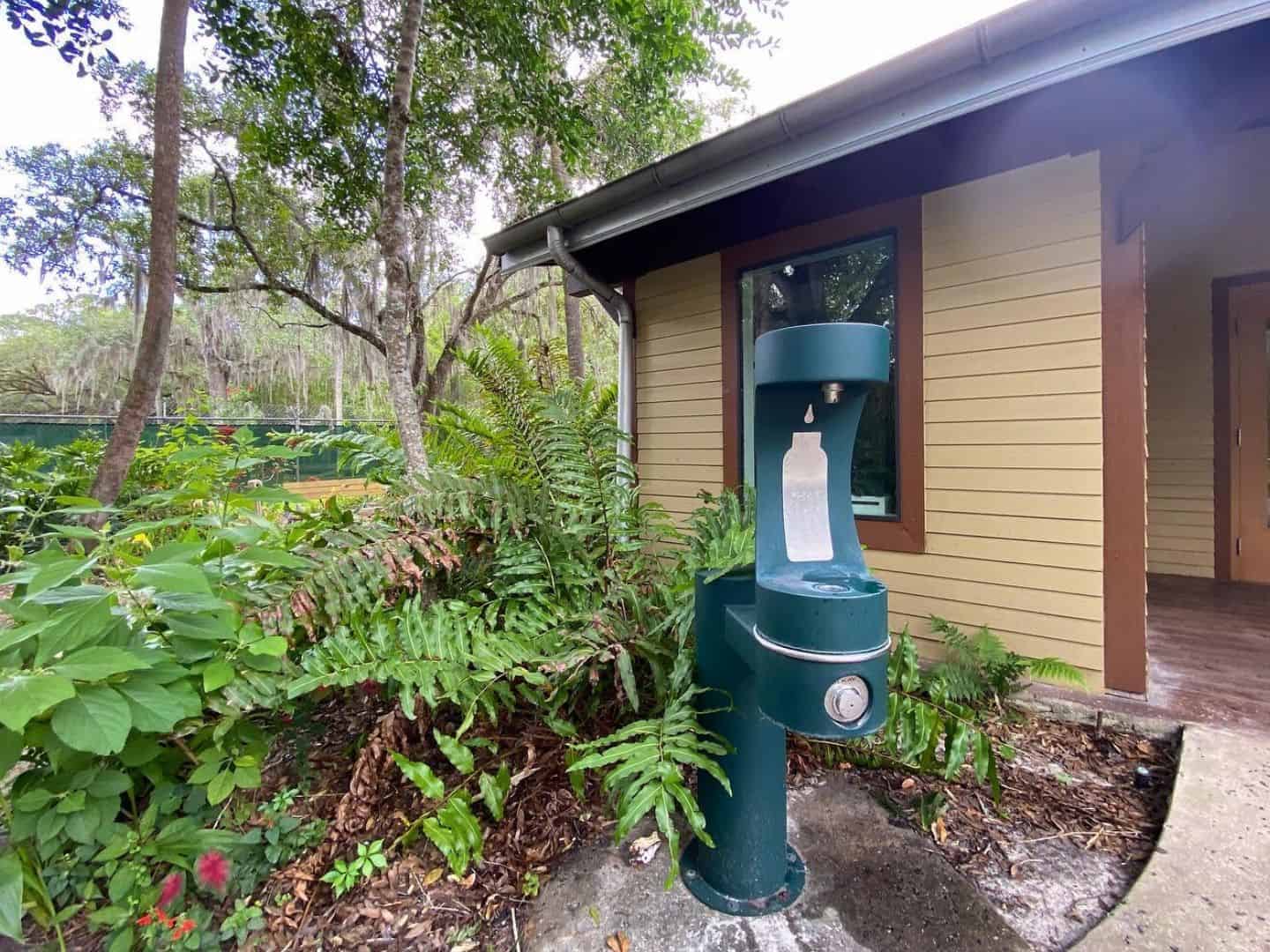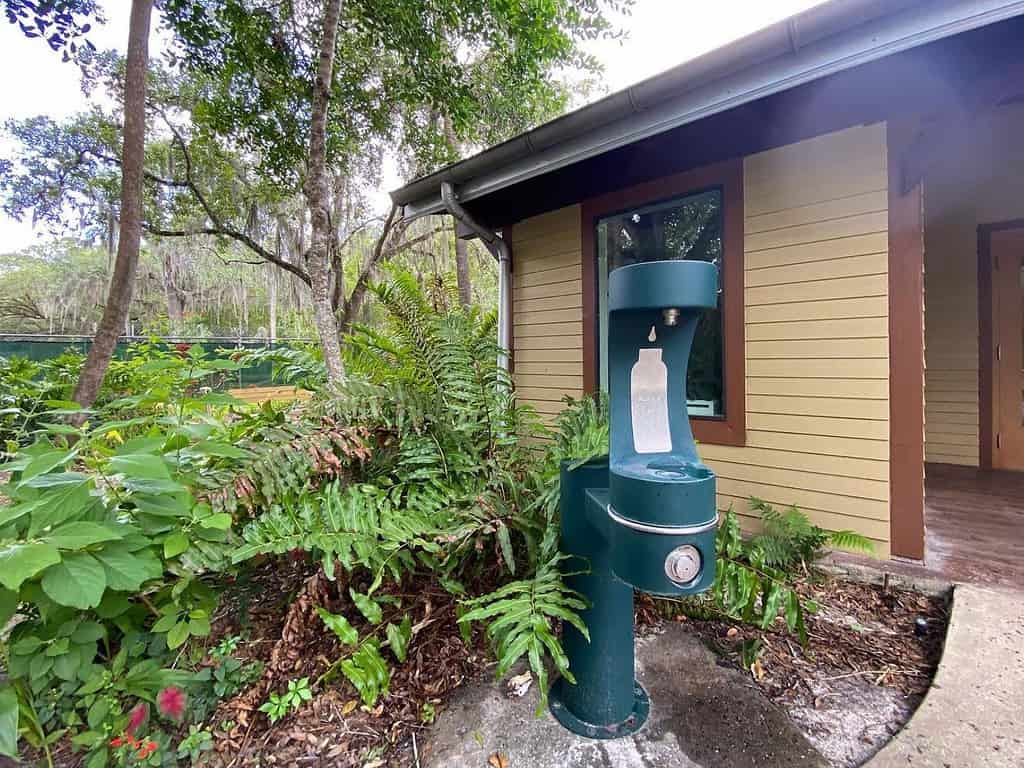 No outside food, aside from small snacks
Picnic tables located outside the entrance
Mobile order from Graze Kitchen (burgers, salads, chicken tenders, and more)
Animals can be camouflaged laying down or in the shade so be patient and look closely
Pay attention to signage, so you don't miss any exhibits
Rainy days are a good day to visit. Animals are more active and it's less crowded.
Bring a change of clothes for the splash pad
Two restroom locations inside the zoo, and a larger one at the Discovery Center near the entrance
Last entry 30 minutes before closing
Central Florida Zoo & Botanical Gardens
3755 W Seminole Blvd, Sanford, FL 32771
Daily hours, 9am – 4pm (last entry 30 minutes before closing)