8 Splash Pads in Seminole County for a Carefree Day
Florida is hot, almost all year round. It's important to hydrate, protect yourself from the sun, but most importantly–cool off and have fun! These Seminole County splash pads are near Orlando, in the suburbs. Each one is sure to put a smile on your kids' faces (and hopefully, wear them out to get a full night's sleep).
And if you're looking for something in the Orlando area then dive into our 10 Favorite Splash Pads in Orlando and Orange County.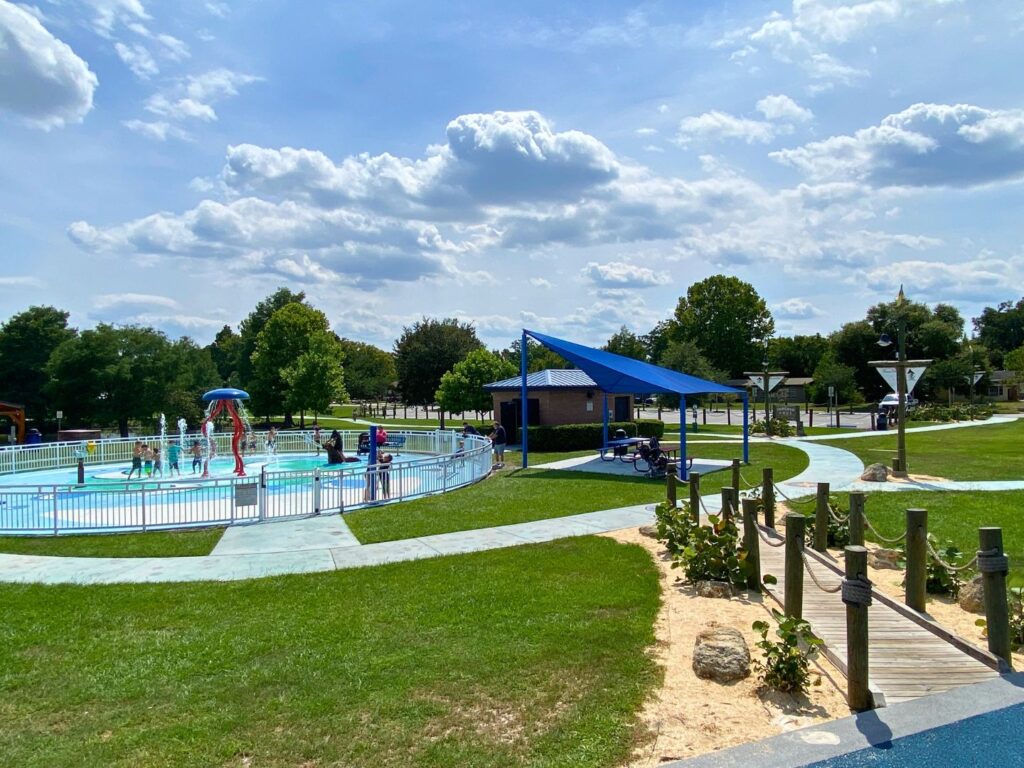 Trailblazer Park
Location: Lake Mary
$2 per person, cash

Lake Mary is a quaint town North of Orlando with a lot of room for you to take your babies and let them roam and play. Trailblazer Park is tucked away around recreational facilities and has just the right splash pad for you to cool off in the summertime!
The park has swings, a climbing net, playground equipment, and shaded areas and picnic tables to grab a snack after burning all the energy from playing.
The splash pad costs $2 a day (or, if you are a Lake Mary resident, it's $20 for a pass) and is cash only

Fort Mellon Park
Location: Sanford
$2 per person, cash

North of Orlando, in Sanford, Florida, you will find Fort Mellon Park along Lake Monroe's beautiful riverwalk. This park is near the Historic Downtown Sanford district and has a playground and splash pad, as well as some other amenities.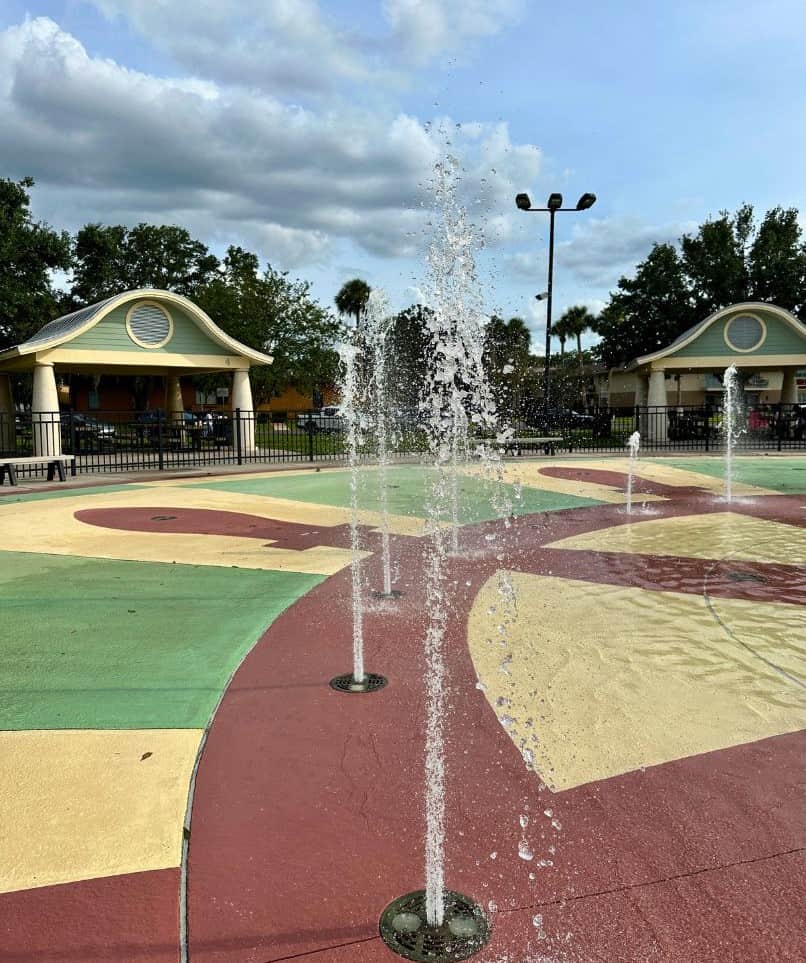 The splash pad is large and open, and the park also has eight shaded pavilions. You can rent these out to have a party or just come through and stake out a spot in the shade. It's a perfect place to take the kids and afterwards, head over to the downtown area for even more fun!

Trotwood Park
Location: Winter Springs
$2 per person, cash

Winter Springs is home to a couple of splash pads, and Trotwood Park is one of them. In this hot climate, it's great to have the option of several playgrounds and splash pads to get the kids outside having fun. Trotwood Park is full of other amenities such as a tennis court, basketball court, playground, baseball diamond, pickleball court, picnic facilities, and a fishing pier.
You'll have plentiful options for outdoor fun and can cool off in the splash pad with the little ones and hang out in the shade.

Torcaso Cove
Location: Winter Springs
$2 per person, cash

Yarrr, matey! Torcaso Cove is home to a really fun splash pad and playground that is themed around pirates on the open sea. The playground has a lot of fun, colorful equipment and is undercover, shaded from the sun.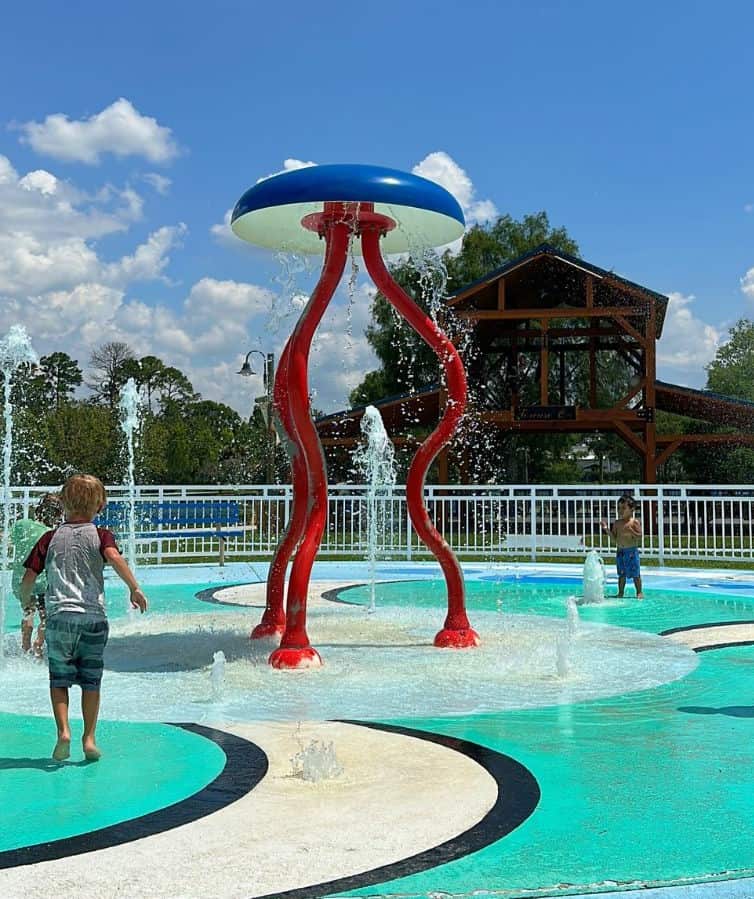 If you're looking to cool off (because Florida is very warm for most of the year), head over to the fenced-in splash pad and make some friends.
Torcaso Cove also has a sandpit for some more added fun. This beautiful park is located in Winter Springs.


Reiter Park
​​Location: Longwood

The Historic Longwood district in the North Orlando area has a splash pad, playground, and path to walk around and enjoy some peace and quiet.
Enjoy the outdoors and sunshine by walking around the ponds and cooling off in the splash pad, which is fenced in. This park is also nearby to a few restaurants, a couple of local breweries, and holds farmers' markets on the weekends.

Center Lake Park
Location: Oviedo

Center Lake Park is in Oviedo, Florida. This park has a small splash pad area that is perfect for the little ones to cool off in the summer heat. There are several amenities: a playground, dog park, life-size checker play area, a dock that circles the lake, swan boats, and the park is within walking distance of restaurants and cafes in the area.
If the family is hungry, you can also grab a quick bite to eat at the park–they offer hotdogs and ice cream. The park also commonly hosts food truck events and movies, among other fun experiences, so keep up with them to stay in the loop for the next event.

Lake Concord Park
Location: Casselberry
FREE

The splash pad at Lake Concord Park is one of the smallest ones of our list. However, the park itself is lovely. Facing Lake Concord and behind Casselberry City Hall, this park is lush and also relatively quiet.
Restrooms right near the splash pad make it easy and convenient. Bring a lunch or some snacks to enjoy at the tables. Stroll the loop around the park and show your kids the really cool art sculptures all around the park.

Wharton-Smith Tropical Splash Ground
Location: Central Florida Zoo
Included in zoo admission or annual pass

While this splash pad is not as accessible as the others on our list for Seminole County, it is so cool we had to include it! The Wharton-Smith Tropical Splash Ground is located near the front of the Central Florida Zoo and for many Seminole County parents it is worth the $99 or so pricetag for a family annual pass to the zoo.
There are tropical sea life features throughout the splash pad and best of all, tons of seating. And smartly enough, it is right next to the zoo's cafe and picnic tables. There are changing facilities and restrooms right next to the splash ground too! Brilliant!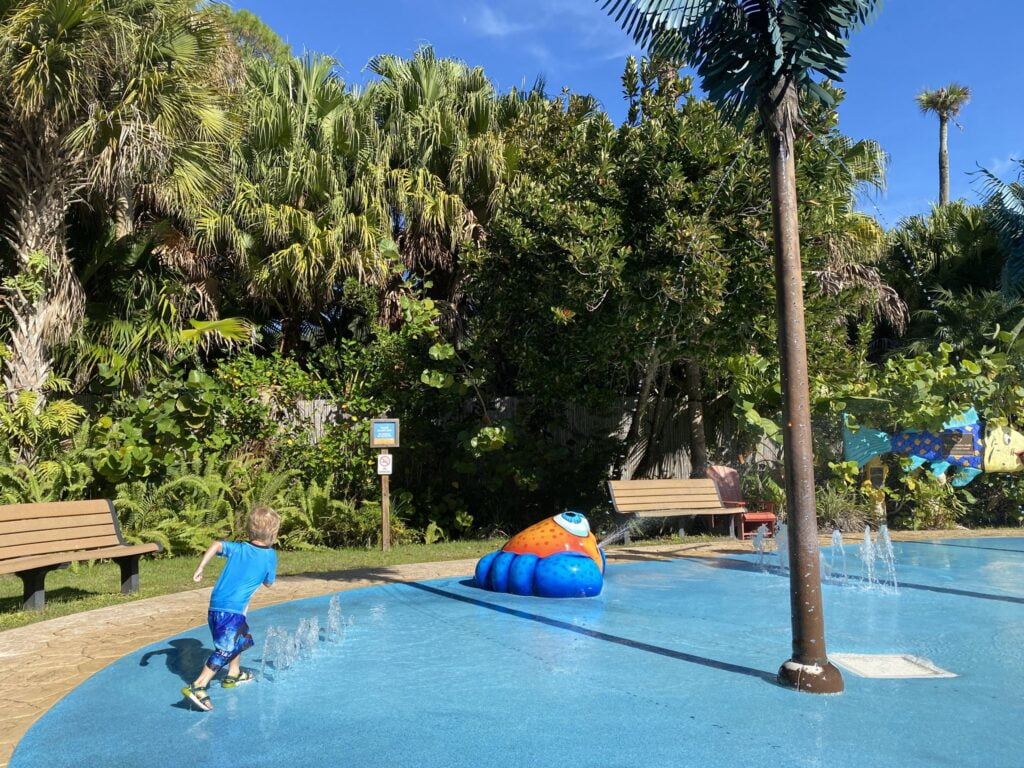 Splash pads are cheap, easy ways to get the kids out of the house to have a good time! Just bring your bathing suits, towels, sunscreen, and snacks, and get outdoors. Many are open from March until October, during the hottest time of the year here in Florida. Get out there and make a splash!