10 Fun Playgrounds with Shade for Sunny Days in Orlando
Living in the Sunshine State sure is great. But playing with your kiddos in direct sun is not a good idea for an extended period of time. Make the most of your playtime by finding a playground with shade. We're sharing our favorite 10 best playgrounds with shade in Orlando, as well as neighborhoods nearby.
Our list of playgrounds with shade includes Orlando as well as Seminole County. No matter which part of Orlando is near you, these playgrounds are worth a visit.
Local Orlando Playgrounds with Shade
1505 Kewannee Trail, Casselberry, FL 32730
This Casselberry playground is located in the Indian Hills subdivision off of 436. In addition to a shaded playground, the park also has exercise stations, jogging path, restrooms and a boardwalk that's part of the trailhead to Kewannee Trail.
701 Northern Way, Winter Springs, FL 32708
Located in the Tuskawilla area of Winter Springs, this Rocky Mountains themed playground offers plenty of shade and an adjacent splash pad if you really need to cool off. The splash pad is operational April through October each year.
104 N Moss Rd. Winter Springs, FL 32708
Also located in Winter Springs, Torcaso Park's playground has a nautical theme that's completely shaded. Restrooms and a splash pad are right next to the playground.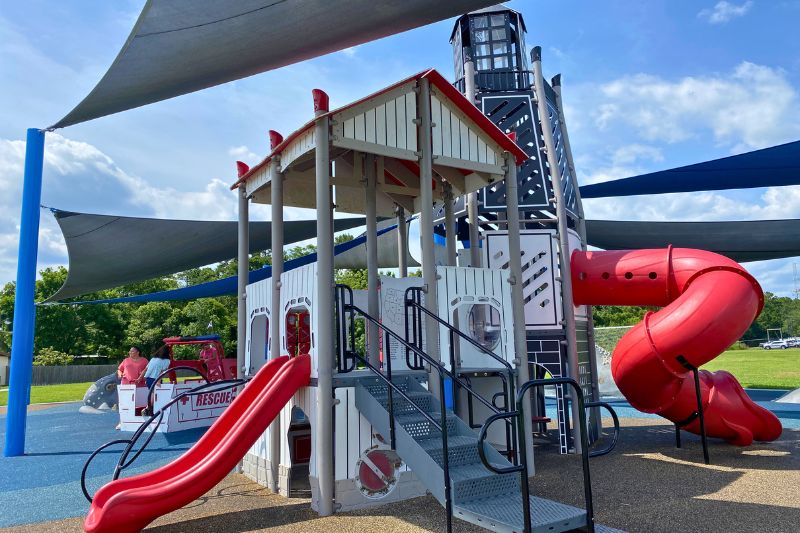 The spalsh pad is operational April through October. If you don't mind a little mess, there's also a sand pit by the pavilion, a great spot for a birthday party or special event.
512 East Washington St. Orlando, FL 32801
If you're close to downtown, stop by the Lake Eola playground for some shaded fun. You can also get some exercise in with a .9 mile walk on the sidewalk around the lake. The kids will also love a ride in one of the city's iconic swan boats.
3701 Gatlin Ave. Orlando, FL 32812
Barber Park at Lake George is a great spot for sunny day activities. In addition to a shaded playground, the park also has a splash pad, skate ramps, pickleball court and hockey rink.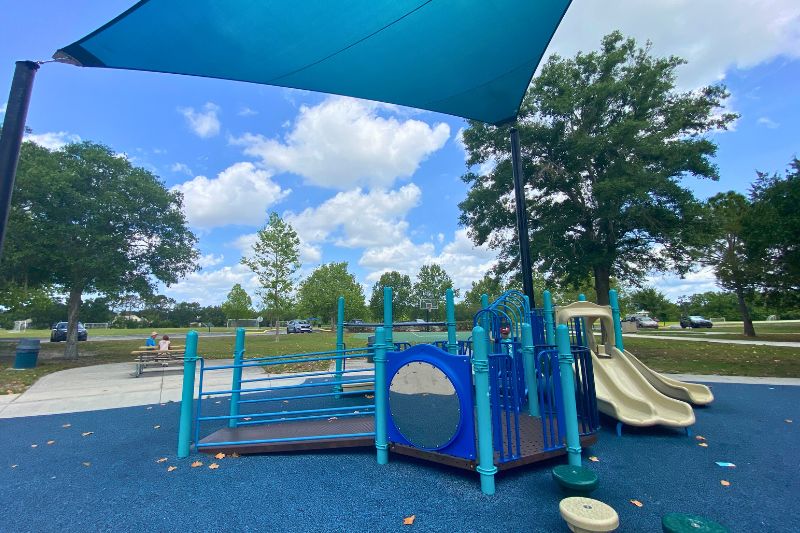 There are two playground sets. One that is great for tiny two-year-olds to preschool and then another set for school-aged kids. The dog park at Barber Park is also a great feature.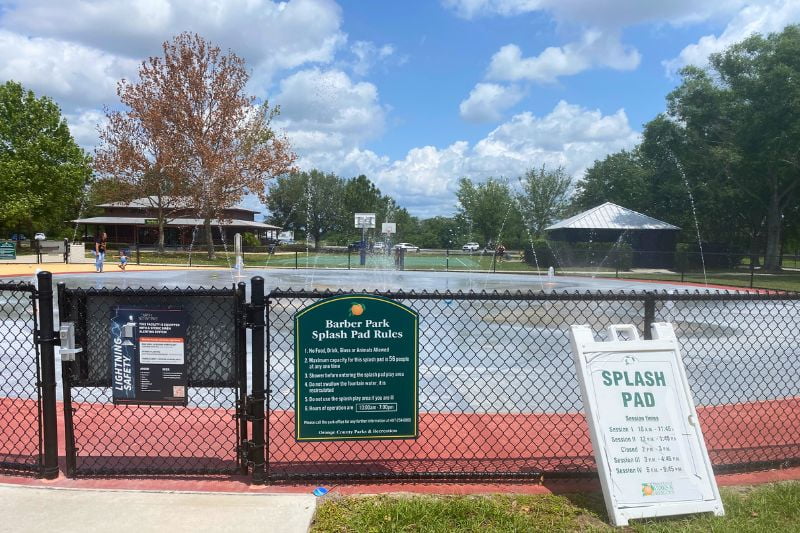 The shade is not substantial, but there is so much to do at this park that is located near metro area neighborhoods.
18501 Washington Ave. Orlando, FL, 32820
Located just off of East Colonial Drive in Bithlo, this playground has a large covering to provide plenty of shade over the entire area. There's also an adjacent splash pad that's open every day, weather permitting.
4863 N. Goldenrod Rd. Winter Park, FL, 32792
Next to the Orlando Magic Recreation Center, you'll find a covered playground that's perfect for a sunny day! Make sure to check out the rec center's website for more information about their sports and fitness programming.
You can also explore Phelps Park as well as Martin Luther King, Jr. Park both of which are in Winter Park and have playgrounds with natural shade thanks to all the trees.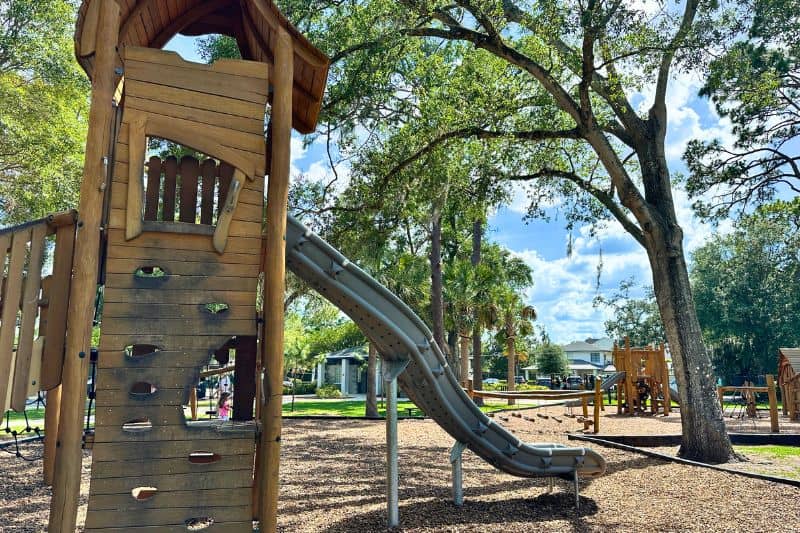 1751 Rhode Island Woods Circle, Orlando, FL 32824
If you're in the Lake Nona area, stop by Meadow Woods Park for a fully shaded playground experience and adjacent dog park. The rec center also offers both youth and adult sports and fitness programs.
10900 Chase Rd. Windermere, FL 34786
A great playground option in the Windermere area is R.D. Keene Park off of Lake Isleworth. In addition to offering plenty of shade in the play area, the park also has public boat access to the Butler chain of lakes.
715 Capehart Dr. Orlando, FL 32822
Located in the Azalea Park area, Capehart Park offers plenty of shade in its "tot lot," best suited for kids ages 2-5. There's also a splash pad open every day, weather permitting.