Why We Love Winter Park Community Playground
As a mom of two, we frequent local Orlando playgrounds a lot! But I like to mix it up and try different places to keep things interesting. One of my favorite parks on the rotation is the Winter Park Community Playground at Martin Luther King, Jr. Park on Denning Drive, just down the road from Winter Park Village.
Here's what my kids and I love about this classic spot.
Community Playground Features
Wooden climbing structures
Adaptive swing
Mommy and me swing
Tire swing
Restrooms
Pavilions
Walking path
Exercise equipment
Sports fields

Sometimes referred to as the "castle park," the Community Playground is reminiscent of the playgrounds I grew up on with its wooden features, metal slide, and tire swing.
Built in 1987, this is one of the last wooden playgrounds remaining in area and is recommended for children ages 5-12.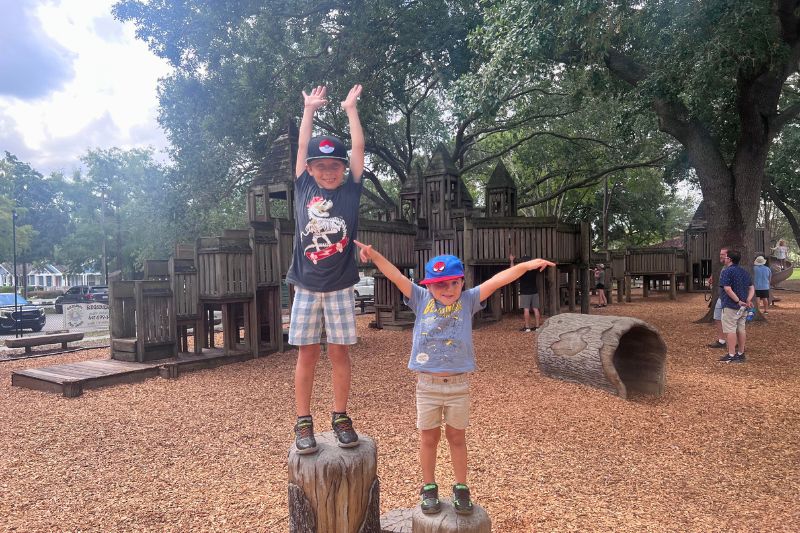 Especially in the Florida summer, it's important to visit playgrounds that have a decent amount of shade. Thanks to the many large trees surrounding this spot, the playground equipment gets plenty of shade to stay cool.
There is a small parking lot adjacent to the playground and bike racks if you're close enough for a ride there.
There are quite a few swing sets here, including one that is ADA-friendly, and my absolute favorite – a mommy-and-me swing! The park has plenty of seating with benches and a nearby pavilion.
As a parent, being in close proximity to a bathroom and water fountains is a must, and this park has both just outside the fence. You can leave or grab a gently used book from the free library box next to the swings.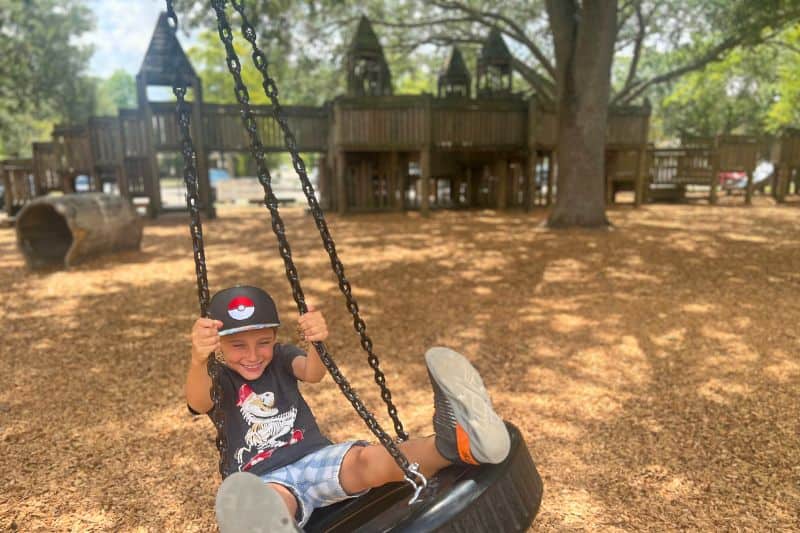 Other things to do at Martin Luther King, Jr. Park
Outside of just the playground, Martin Luther King, Jr. Park sits on 23 acres of land so there's plenty of space to explore and get some energy out. There's a football field, two basketball courts, a baseball field, two soccer fields, a multipurpose field, and a recreation center.
Next to the playground is where you'll find exercise equipment in one area. They have a cardio stepper, machines for abs, plyometrics, and presses, pull up and dip bars, and balance steps. 
If you want to go for a walk, there's a scenic half-mile paved loop around the lake. Around the trail, you'll hit the back of the Winter Park Events Center, which has a large open area with grass and steps. You also have easy access to the Winter Park Library.
Winter Park Community Playground
1050 W. Morse Boulevard
Winter Park, Florida 32789
Open 8am to dusk
Pavilion available to rent
Put this playground in Winter Park on your list to visit soon!