Top 10 Splash Pads Around Orlando to Keep Your Kids Cool
Florida is hot, almost all year round. It's important to hydrate, protect yourself from the sun, but most importantly–cool off and have fun!
Make a splash and stomp around at these local splash pads that are guaranteed to put a smile on your kids' faces and have a great time (and hopefully, wear them out to get a full night's sleep).
And if you're located in or near Seminole County then check out these 8 Splash Pads in Seminole County.
Barnett Park
Location: Orlando

Barnett Park is outside of downtown Orlando with lots of amenities, events, and a fitness center. Barnett Park has softball fields, pickleball, and you can also practice your putt or chipping in for those golf games coming up on your calendar.

You can take the kids to the playgrounds or play disc golf, head over to the volleyball and basketball courts, or take the younger children to the splash pad to cool off on those hot and humid summer days.

There are seasons and hours of operation for the splash pad, so check their website for the best time for your family to go.

Alternatively, Barber Park in Orlando has a small splash pad open daily, and there are shaded playgrounds too.

Dr. P. Phillips Community Park
Location: Orlando
$1 per person, cash

Splash the afternoon away at this colorful splash pad. The array of water structures is sure to please your kids. And the regular playground area and hiking trails are great to dry off before getting in the car.

Perhaps one of the best features of this splash pad is that is somewhat near the attractions area.

Bithlo Community Park
Location: Orlando

Enjoy one of the newest splash pads near Orlando. The Bithlo Community Park splash pad is part of a newly refreshed playground area. The splash park is fenced in, though the concrete surface may cause a little bit of concern for little ones still learning their balance and coordination.
This park is on a lake which provides a nice breeze.
Take a stroll on the boardwalk over the water before getting back in the car after some fun.

Apopka Splash Pad
Location: Apopka
FREE

Not only is this splash pad free for individuals (groups of 10 or more are a nominal charge), it offers lots of variety.
There are different features and zones meant to appeal to different age groups.

Schedule & Hours
Hours: 10 AM to 5 PM
Opening Week (Spring Break Week): March 11 through 19, 2023
Weekends Only: March 25 through May 28, 2023 (Saturday and Sunday)
Daily: May 29 through August 6, 2023
Weekends Only: August 12 through October 29, 2023

Kissimmee Lakefront Park
Location: Kissimmee
FREE

This is one of the most adorable Orlando splash pads on our list. The nature theme is precious!

The lakefront setting adds to the charm of this park. Besides an awesome nature-themed splash pad your family is sure to love the large playground and snack bar.

Parenting Pro-tip: There is a similar park in the area also called Lakefront Park, but this one is in St. Cloud. You'll find another splash pad at this Lakefront Park in St. Cloud. It is a little older and is beach themed, with a small water slide for smaller tykes.


Downey Park
Location: Union Park

Downey Park is another great option to head over to play and splash around in the playground and cool down after sweating in the sun. This park has baseball and softball facilities, sand volleyball, a fitness area, picnic pavilions, and a playground area for special needs.

There's also a dog park to let the pups play around, so you can take the whole family–even the members with furry legs. This park contains a TON of fun, all in one!

Champions Splash Park
​​Location: Clermont
$2 per person

One of the most impressive splash pads in the Orlando area is in Clermont. This gated splash pad has multiple water features and is bright and colorful. Waterfront Park, complete with a paved walking/biking trail around the lake, playground, fishing piers, and beach area is right next door.

Winter Garden Splash Pad
Location: Winter Garden
FREE

While most Orlando splash pads operate seasonally, the Winter Garden Splash Pad is open daily. As if that wasn't enough, it is open the longest, 9am – 9pm daily.

These hours are subject to change due to inclement weather and other reasons, but for the most part it is open each day.

Winter Garden is a beloved Orlando neighborhood for families. And even if you do not live nearby, the Winter Garden Splash Pad is worth a visit due to its charming location.

Lake Lorna Doone Park
Location: Orlando

Next to the Camping World Stadium, you'll find Lake Lorna Doone Park, in Orlando, Florida. This park recently went under renovations and now has a number of clean and picturesque amenities, a splash pad, nature walk, fitness area, and a putt putt course.

Disney Springs
Location: Disney Springs/Lake Buena Vista

Summertime means vacation or play time at Disney, and if you are taking some time to dine or shop around Disney Springs, you should know they have two splash pads to allow your kids to cool off. Disney Springs has a lot to offer while you are walking around enjoying the sights and smells of the beautiful walkways and mouth-watering food the restaurants are serving up.

Splash around at the main splash pad, which is located near Earl of Sandwich or the smaller one located near the Christmas Store. This will make shopping and walking around into an extra fun time!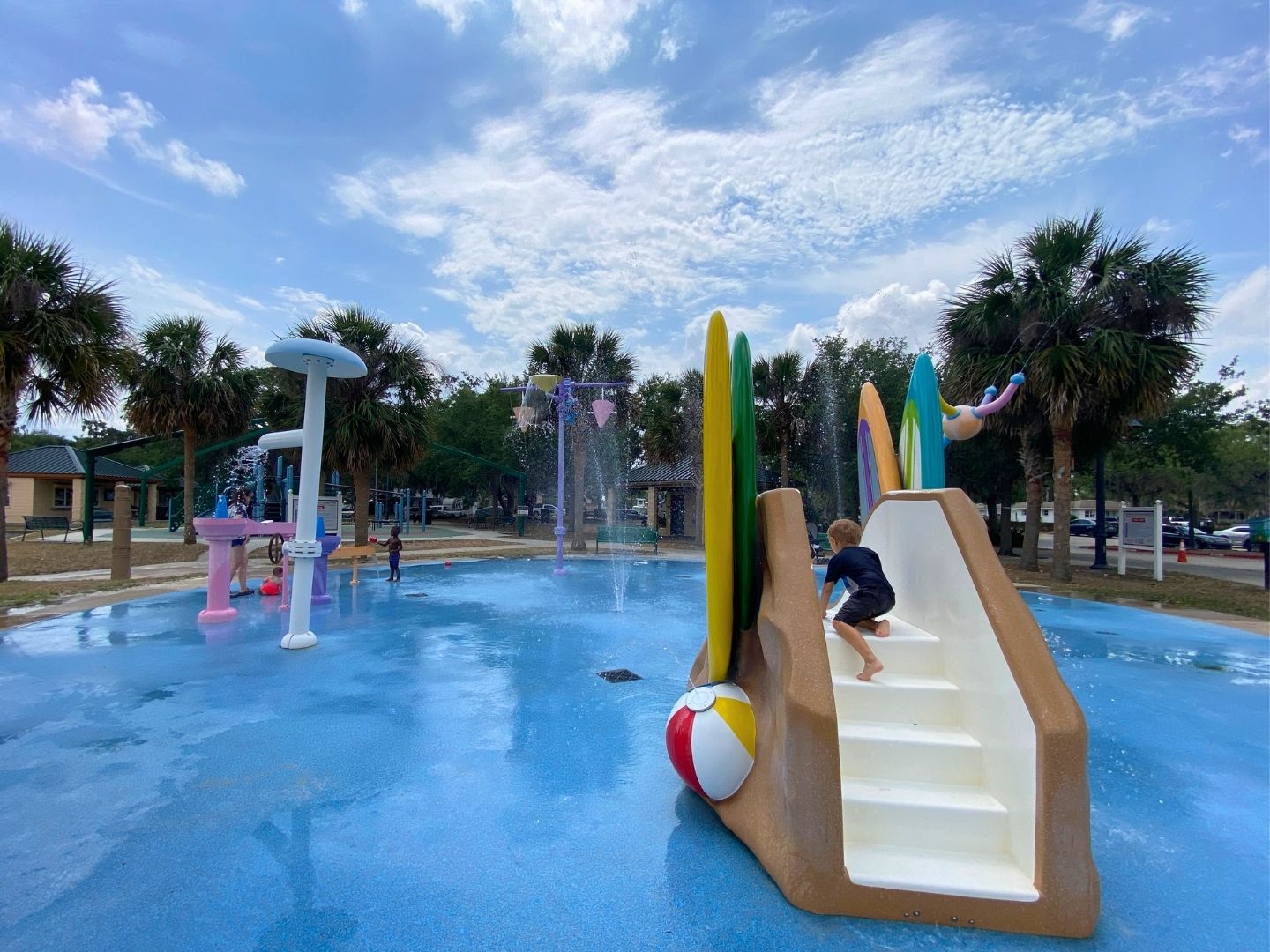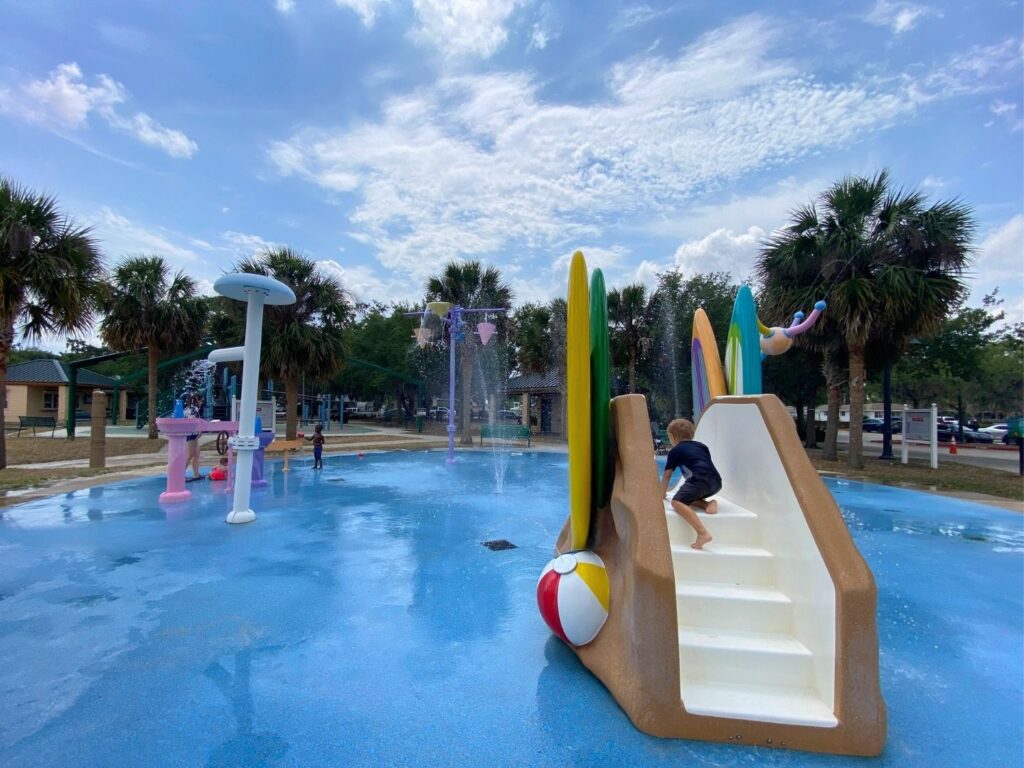 Splash pads are cheap, easy ways to get the kids out of the house to have a good time! Just bring your bathing suits, towels, sunscreen, and snacks, and get outdoors.

Many are open from March until October, during the hottest time of the year here in Florida. Get out there and make a splash!