Walk On The Wild Side At Wild Florida – The Ultimate Family Adventure
Nestled on the shore of Cypress Lake in Central Florida, Wild Florida is a zoological park and experience venue, sure to wow and amaze any family. We spent a day exploring some of what the zoo has to offer and we'd love to share that with you! We're sharing things to do at Wild Florida and important tips so you can have the best time with your kids.
Things to Do at Wild Florida
Is Wild Florida worth visiting? Our vacation dollars and fun money can be hard to come by so as parents we want to make sure we are getting our money's worth. Wild Florida has three main attractions: airboat tours, drive-through safari, and the Gator Park. You can easily spend a full day enjoying it all, making it a good value. Plus there are often Florida Resident discounts.
Let's dive in to see what to expect at each of these things to do.
One of the more popular attractions at Wild Florida is the airboat tours through the Everglades. Book the whole family on an adventure you'll never forget. You'll float deep into waters inhabited only by local wildlife, so keep an eye out for alligators, eagles, ospreys, and so much more. It's definitely an encounter worth trying.
Half-hour and one-hour tours
Children under three are free
Discounts for Florida Residents (proof of residency required)
Private and Night tours are available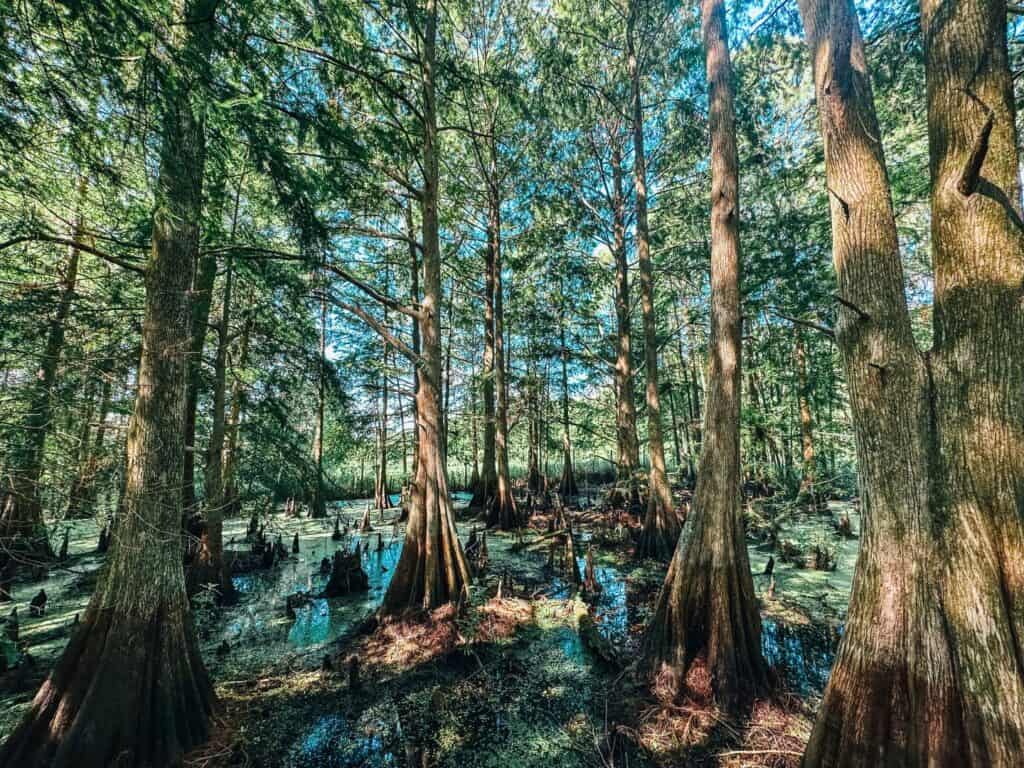 Make the transition from water to land with a 170 acre drive-through safari. You'll take your own vehicle on gravel paths to get up close and personal with over 150 species of incredible animals from all over the world.
Early in the morning is the best time to visit the Wild Florida Drive-Thru Safari. The animals are more active and there are less crowds. Once it gets busier it can take an hour or more to go through the entire drive-thru.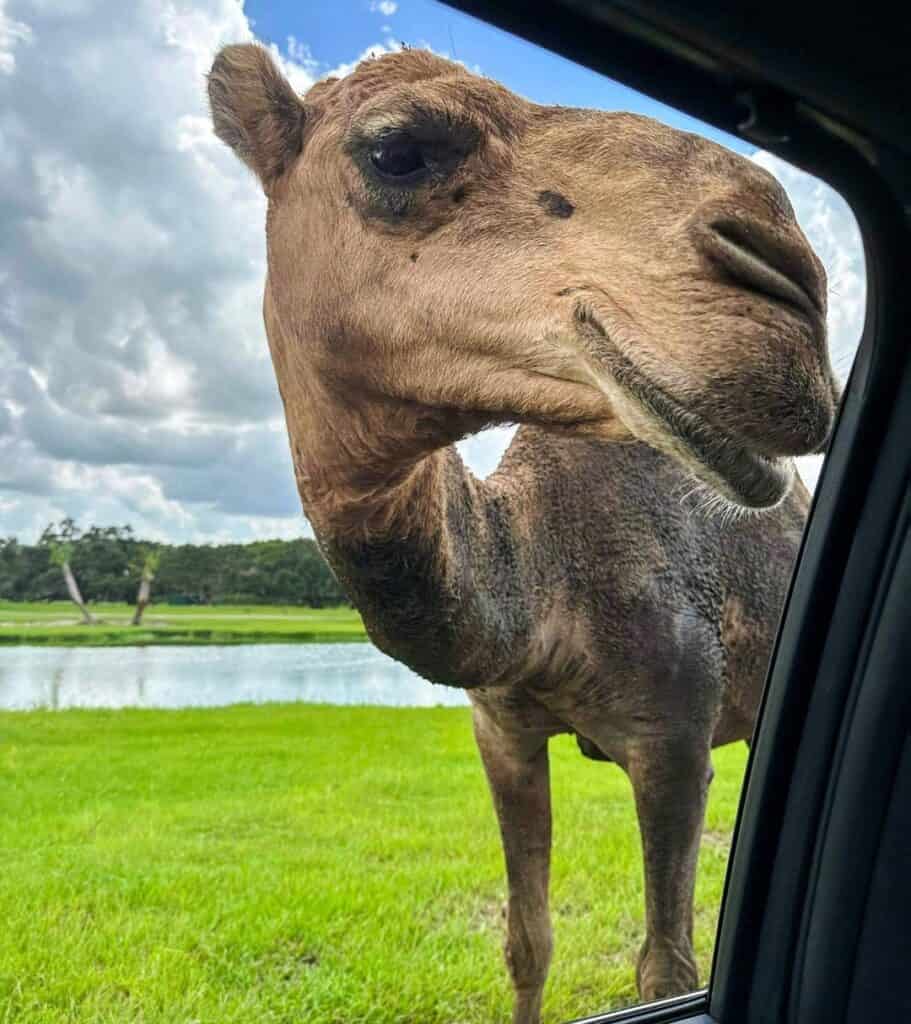 They offer giraffe feeding for an extra fee, and even a VIP package, that includes a private guided tour. So fun and such a cool way to see animals outside fenced enclosures.
Important note: Your vehicle must have a top. Vehicles like convertibles or motorcycles are not allowed through the Drive-thru Safari.
Deal alert! Admission to the Gator Park is included in the price of the Drive-thru Safari Park tickets! There are more than 200 additional animals, as well as a variety of educational animal shows, at the Wild Florida Gator Park – right next door.
Currently, the Florida Resident price for Drive-thru Safari Park is $24 for adults and $19 for children, and again that gets you the drive-thru safari as well as the Gator Park!
We are an animal encounter family, making Wild Florida the perfect destination for us. The zoo offers up-close-and-personal experiences with several of their residents, as well as shows, and observation areas.
When we arrived to check in, we were thrilled to find the staff incredibly welcoming and helpful. They gave us instructions for our encounter, a map, and recommendations for things to check out on the way. We were ready to go!
Hawk Swamp
Near the entrance to the park, you'll find a boardwalk cutting through a beautiful swamp area, full of water, trees, and wildlife. It's a shaded haven on a sunny day, and you are welcome to spend as much time as you like, searching the roots and branches for things like snakes, otters, and alligators, all of whom make their home in the area.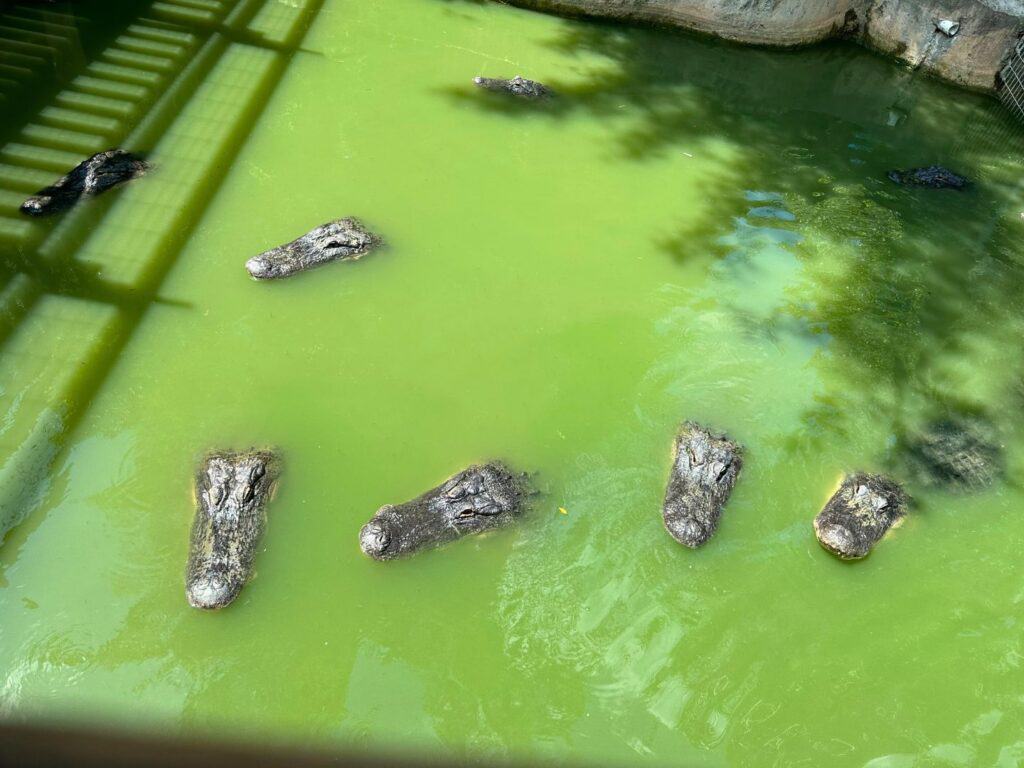 The Park
Wild Florida is home to over 200 native, exotic animals in the Gator Park. There are macaws and toucans, as well as an aviary of other birds. We saw porcupines, raccoons, sloths, lemurs, and bobcats, among other creatures.
And of course, there are several varieties of snakes, including a Gaboon viper! For the first time ever, we saw Fennec Foxes, which was so special.
Younger kids can explore a covered playground, and a petting zoo with goats and pigs. There are also some opportunities to take photos with some of the smaller gators, for a fun souvenir.
Snacks and lunch are available at the Chomp House Grill onsite, and we enjoyed salads and sandwiches at a picnic table under a pavilion on the water. The view was unbeatable.
Enclosures were incredibly clean, with staff cleaning glass windows and bedding, as well as feeding their animals friends fresh meals. I was particularly thrilled to see that food was served "enrichment" style – animals didn't just get a bowl or tray of nutrition. It was all delivered in a way that they had to work to get to the good stuff, similar to how they might in the wild.
Wildlife Shows
Wild Florida offers three wildlife shows throughout the day. At the Exotic Animal Show, a handler provides education on some native critters. Guests learn about where these creatures live, what they eat, and there are even opportunities to touch a few of the animals.
There are two regular Gator Feeding times. Guests can watch handlers feed the Wild Florida alligators, and there are also two daily chances to see the 65 year old, 13 foot long rescue gator named Crusher.
Animal Encounters
For those who want to get up close and personal with some of the residents of Wild Florida, check out the opportunities for animal encounters.
Guests can choose to spend time with the sloths, porcupines, capybaras, lemurs, or alligators. At a designated time, a staff member escorts your group to the encounter of your choice, and then stands back as you enjoy interacting with some interesting, incredible animals.
We opted for the capybara experience and had the most incredible time petting and feeding three out of four of the sweet rodents (the fourth refused to leave her floating pool, not even for snacks).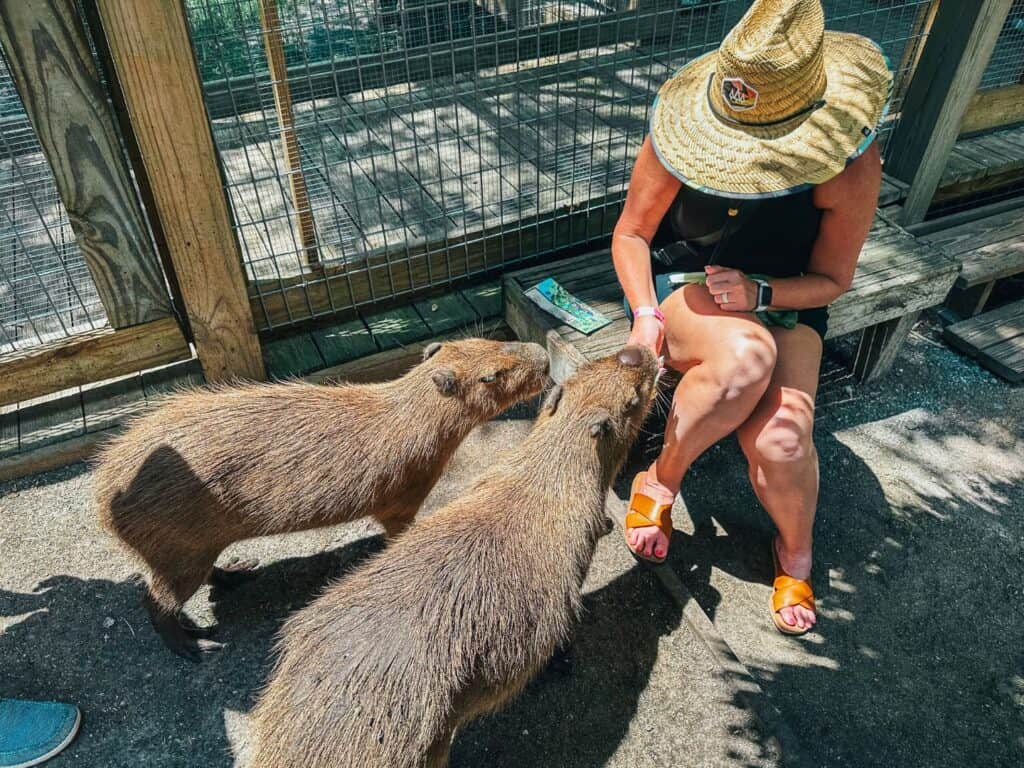 They loved nibbling lettuce, and getting all the ear scratches and nose boops. The staff members chatted and answered all our questions. It was such a fun and unique time, and the perfect highlight to the day.
The Capybara Encounter is currently $45 per person and we found it to be worth the price for such unique memories.
Wild Florida Visitor Information
Wild Florida is sure to be entertaining and engaging for adults and children of all ages. Whether you're looking for the adventure of the airboats or drive-through safari, or a more traditional zoo experience, you'll find something for everyone.
Location: 3301 Lake Cypress Road, Kenansville, FL
Phone: 407-957-3135
Hours: Monday through Saturday, 9 a.m. to 6 p.m