5 Things to Do at Dinosaur World Florida You Probably Didn't Know About
Driving along I-4 between Tampa and Orlando you can't miss it. Dinosaur World Florida's unmistakable signage and T-Rex figure stand proud along the busy highway. It has the look of a classic roadside attraction. And yet, there is a lot more to it. After visiting with my family, I want to share with you five things to do at Dinosaur World Florida so you can make sure you don't miss out.
But first, before we get into the list of activities, let's go over some important reminders about Dinosaur World. This attraction is mostly outdoors and can be visited any time of year – but you may find the cooler months to be more enjoyable.
Even though it is an hour drive from Orlando, Dinosaur World is one of the fun things to do with kids any time of year.
Dinosaur World Basic Info:
Outdoor attraction with impressive dinosaur facts and figures
Indoor portions include museum exhibits
Admission includes basic experiences, and upgraded activities are available
No food service is offered
You can bring in your own food, takeout, etc. there are plenty of picnic facilities
Dog-friendly
Parking is free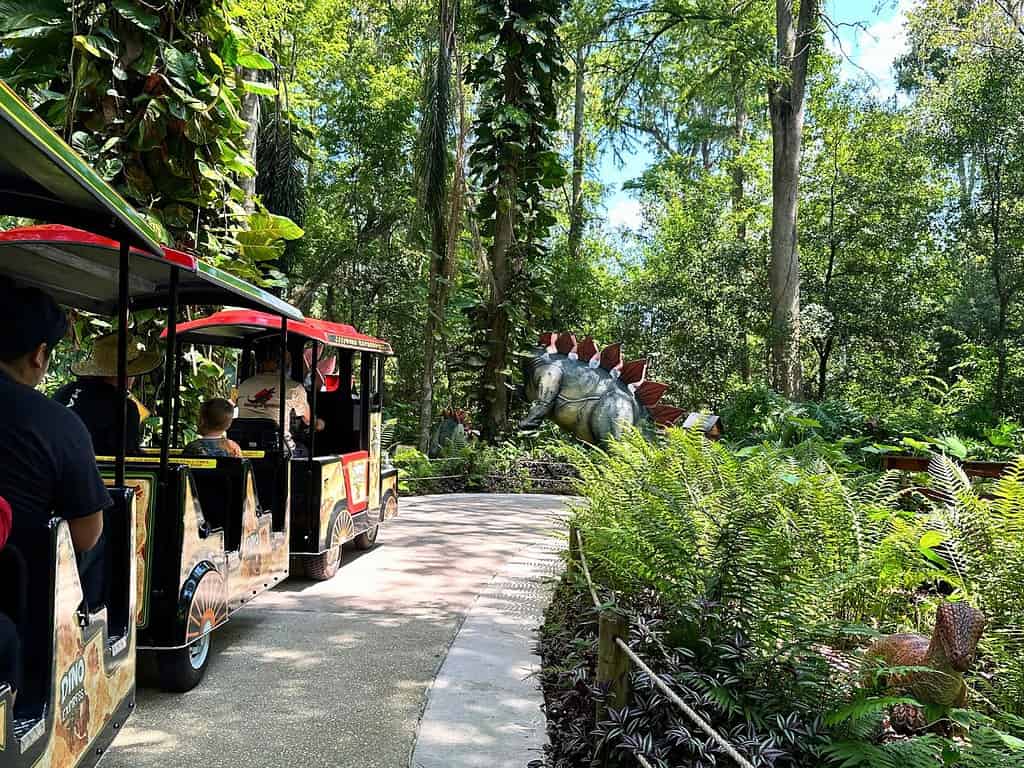 Now let's explore the five things to do at Dinosaur World that make it more than just a walkthrough roadside attraction.
Things to do at Dinosaur World Florida
Multiple playgrounds
Fossil Dig
Dino Express Train
Indoor museum
Interesting facts and information throughout
Playgrounds at Dinosaur World
As we pulled into the parking lot the colorful playgrounds at Dinosaur World immediately caught my attention. Our family goes to Orlando's theme parks multiple times a month, and one of my wishes is that there are more playgrounds in them.
Kids need space to play freely. And thankfully, Dinosaur World has a number of places for kids to play around.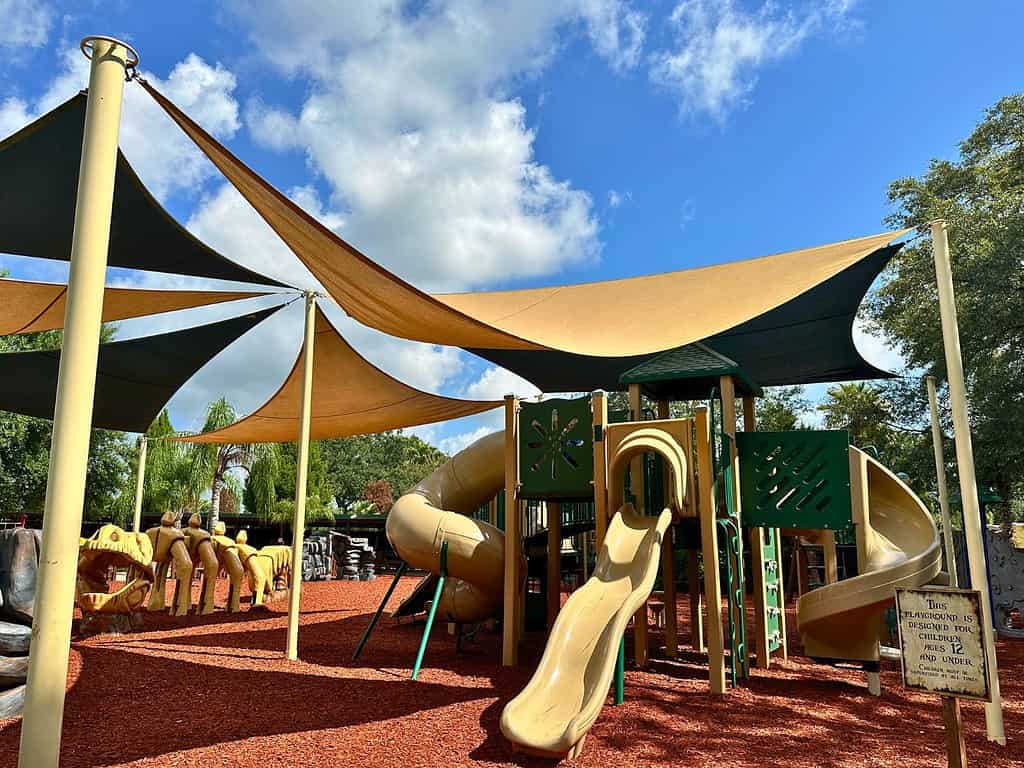 Dinosaur World has two large playgrounds, one for ages 5 and up, and one for ages 2-5. Both are dinosaur themed and have some shade.
Plus there are lots of picnic tables in the shade right here at the playgrounds.
There is also a small splash pad at Dinosaur World but it was being renovated during our visit.
Fossil Dig
One of the add-on activities at Dinosaur World is the Fossil Dig. This small spot is shaded and allows kids to sift through sand to discover bits of fossils, shark's teeth, and other interesting artifacts.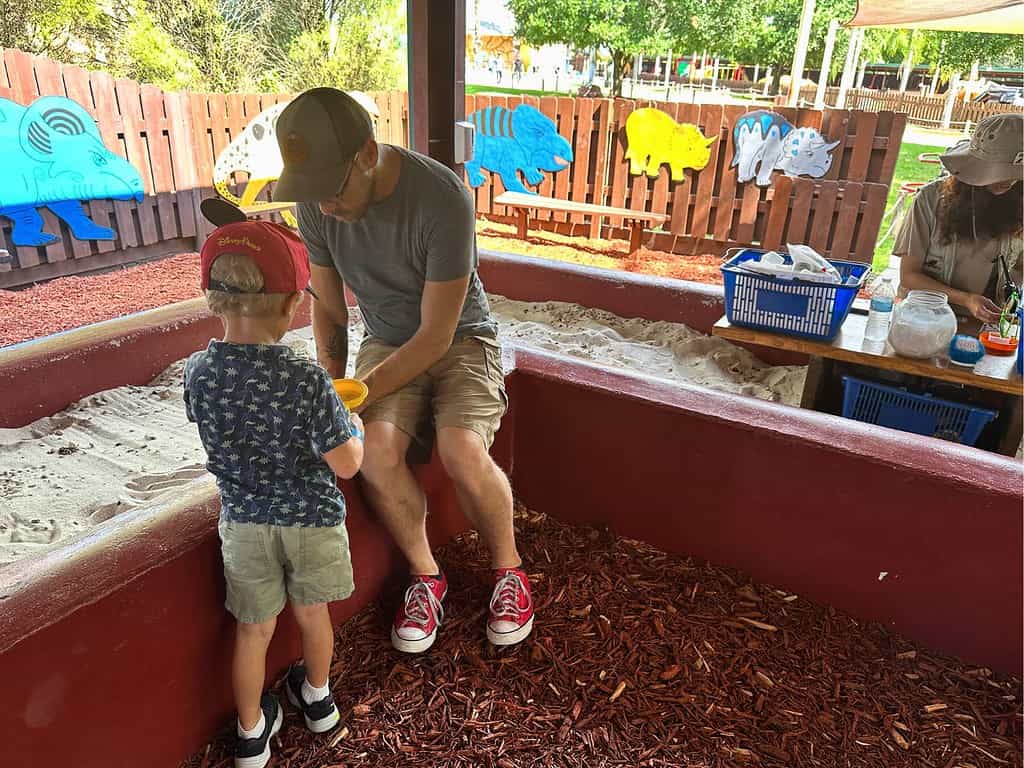 A friendly guide explains what each item is when your child is ready to finish their experience. You are allowed to take 3 items of your choice from your findings. Our son decided to stick with three shark teeth.
Dino Express Train
The large playgrounds, Fossil Dig, mini golf, gem mining, and museum are all located at the front of Dinosaur World. Then the main attraction is the back half of this 20 acre park.
The large walking trail is fully shaded thanks to the natural Florida landscape. You can walk through the trails to see 200 dinosaur figures. You can also hop aboard the train!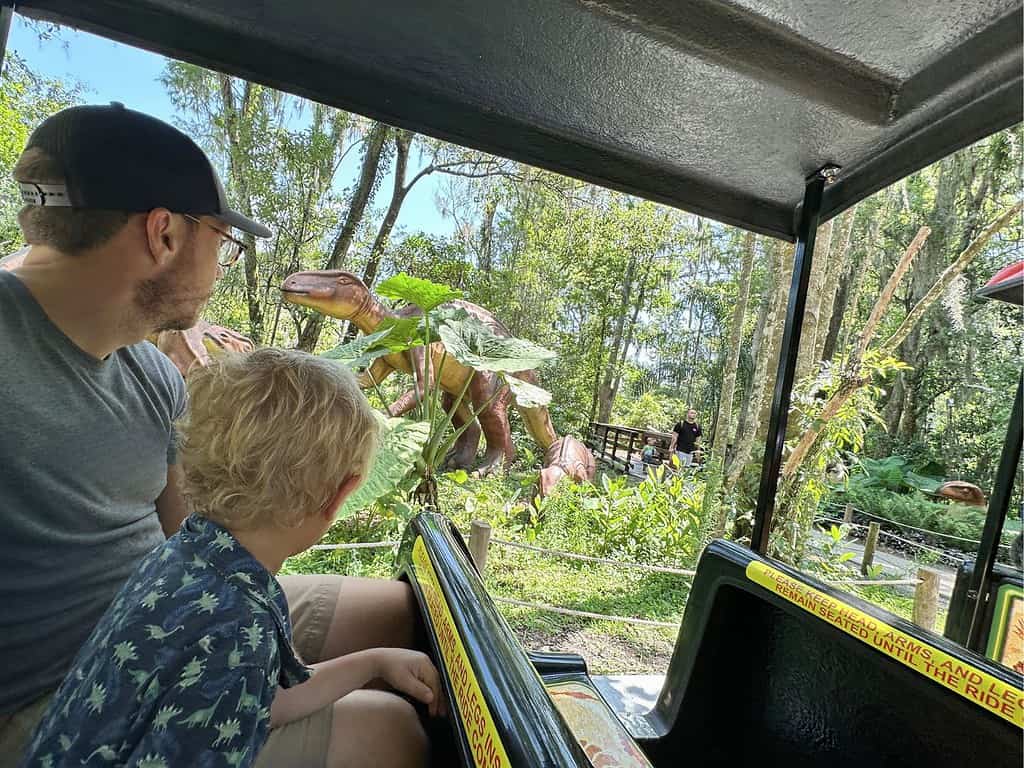 The Dino Express train is an add-on activity at Dinosaur World. There are no actual train tracks. It is like the trains you may have seen at malls or other similar destinations.
It's a great way to rest your feet and see the majority of the trails. Our son enjoyed the "Dinosaur Train" show on PBS Kids, so being aboard a dinosaur-themed train and passing by cool-looking dinosaur figures made for a big hit.
Indoor Museum
There are a few indoor exhibits at Dinosaur World. Although the Doom of the Dinosaurs and its incredible displays closed on September 30, 2023, you can still gaze at one of the most extensive collections of dinosaur skeletons. There are casts of actual skeletons, which allow more people to see these incredible displays.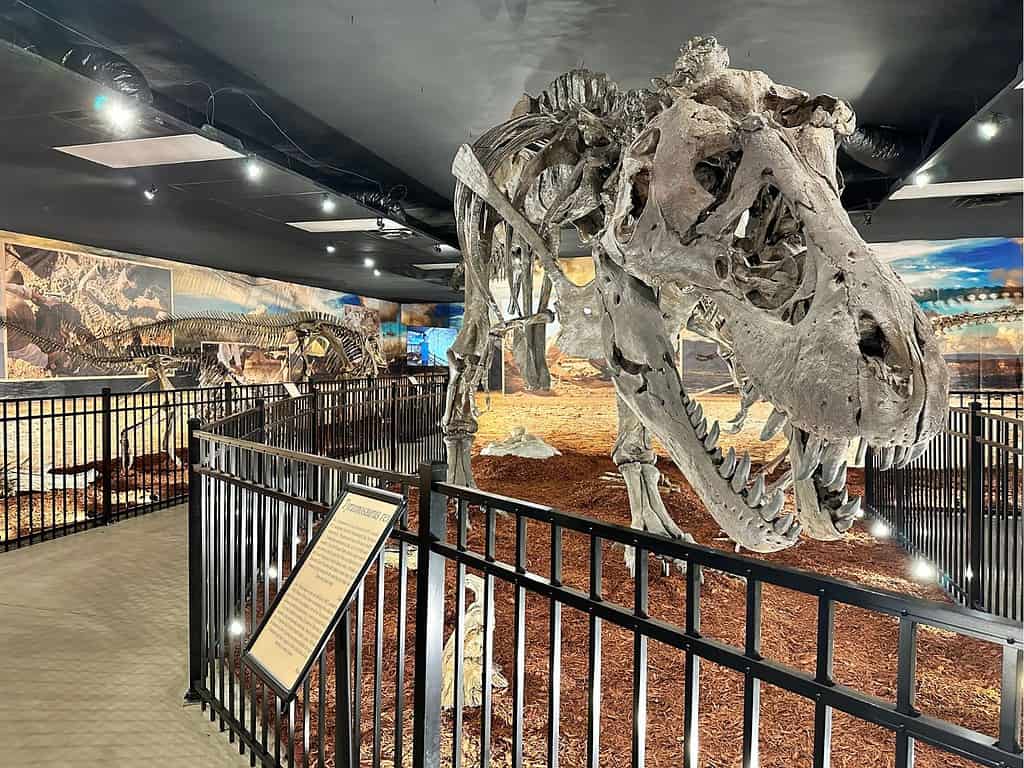 Our family had the opportunity to walk through the exhibit before opening day. Our little guy (5 years old) couldn't believe his eyes. It was his first time seeing so many dinosaur skeletons and it certainly made an impression.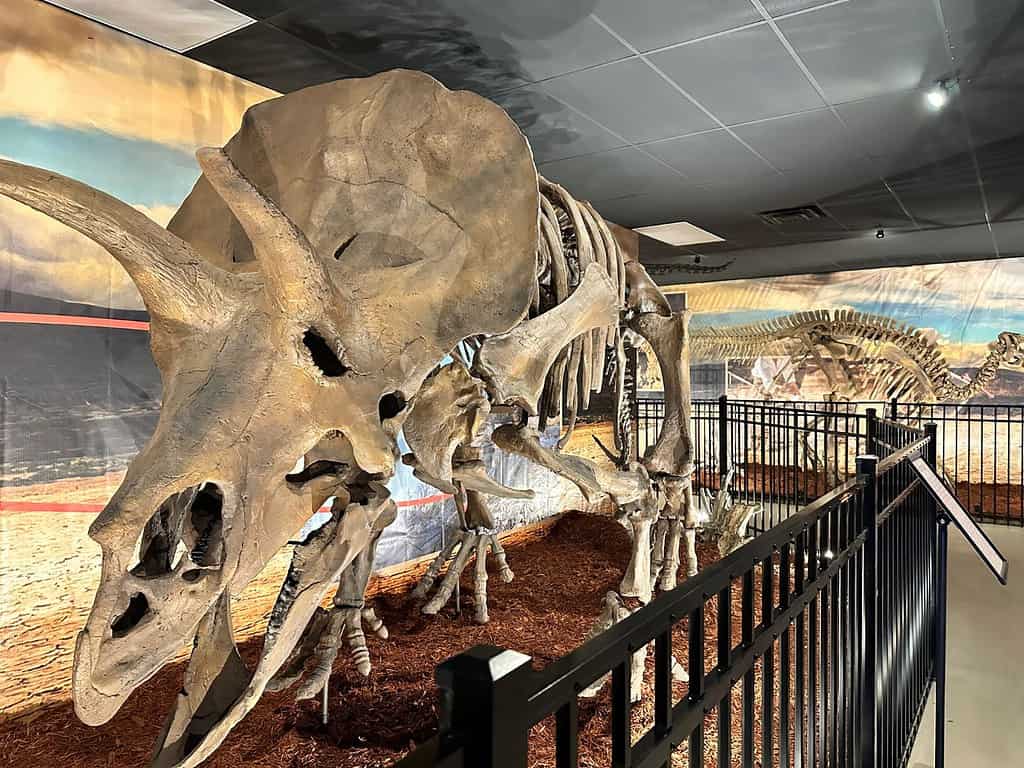 These 16 life-sized casts are presented by Paleontologist extraordinaire, John Hankla who worked with Dinosaur World Florida to bring this collection to you. Be sure to take your time and read some of the signs.
Facts on Signage
Admittedly, I did not realize how scientific and factual Dinosaur World is – I had assumed the displays might be a bit silly. Instead, I learned so much by reading the signage at the various displays around the park.
I had no idea the Hollywood depiction of so many dinosaurs, like Velociraptors, has quite a bit of inaccuracy.
Take the time to learn a few interesting facts and share them with your dino-loving kids.
Dinosaur World Florida Address and Admission
Dinosaur World Florida
5145 Harvey Tew Rd
Plant City, FL 33565
Dinosaur World Tickets
ADULT $19.95 per person plus tax
SENIOR (60+) $17.95 per person plus tax
CHILD (3 -12) $14.95 per person plus tax
CHILDREN (2 & Under) Free
Active Duty US Military receive FREE admission with a valid US Active Duty ID.