Best Florida Springs to Visit with Kids in Central Florida
We are fortunate to live in a sub-tropical climate with mild winters and warm (okay, hot) summers. Our climate provides us with ample opportunity to get outside and breathe in nature's fresh air. As if that wasn't advantageous enough, we are also gifted with a heavy pour of fresh, natural springs bubbling up from the earth below.
Connect yourself and your family with the incredible place we live, all while cooling off from the heat. We're sharing the BEST Orlando springs for kids.
And if you're looking for more ways to make a splash, jump into our list of the Best Places to Go Swimming in Orlando with Kids.
Best Springs Near Orlando for Kids
Kelly Park at Rock Springs
Blue Spring State Park
De Leon Springs State Park
Alexander Springs
…and more!
Kelly Park at Rock Springs
400 E Kelly Park Rd, Apopka
407.254.1902
There isn't much that would be more refreshing than jumping into 68-degree water during a humid-filled day. You can do just that at Kelly Park at Rock Springs!
While this park is wildly popular during summer weekends, it's worth a visit to watch the kids laugh and splash with joy as you take those mental snapshots.
If you can visit on a weekday, that is the best time to visit. Otherwise, capacity is usually reached by 9am on weekends, summer, and holidays.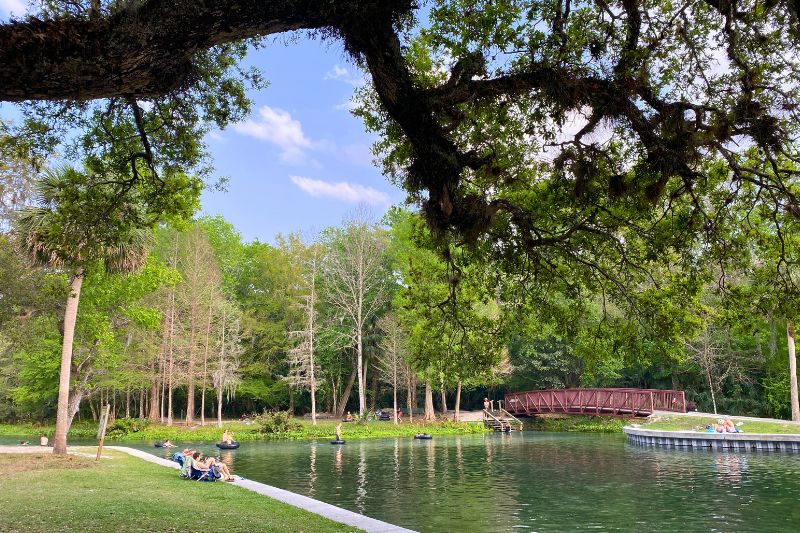 A short distance from the bubbly origin, is where families of all ages gather to wade or tube down part of the Run. Go a little farther outside of Kelly Park and canoes or kayaks can be launched for a relaxing paddle of over 8 miles.
When the children need a break from swimming or they need to dry off before the ride home, run over to the playground to release that last bit of energy. Kids will be thrilled to discover the jungle gym, tube slides and swings. There's even open areas for free play and exploration which every child needs.
Kelly Park is open 8am-8pm during the summer and 8am-6pm during the winter. The fee schedule is as follows:
$3 for 1-2 people
$5 for 3-8 people
Buses are $10 plus $1 for each person aboard
Expect a one-way trip from Orlando to be around 30 minutes.
1800 Wekiwa Circle, Apopka
407.553.4383
Wekiwa Springs has been a beloved haven for Orlandoans for decades upon decades. As with several springs around Central Florida, the water stays a perfect 72 degrees year-round. Bring your floats but leave your snorkeling gear at home. It is not permitted. The shallow water is perfect for families with younger ages. Spread a blanket on the grassy hill for a casual picnic. There are sunny spots and shade to park your crew beneath.
Stop in the nature center to get a peek at local wildlife and historical items from the area. You can usually view snakes, turtles, and an alligator!
Take off on a hiking trail to find what you just learned about at the nature center. Trails from as short as .8 of a mile to 13.5 miles long ensure there's a distance suitable for your group. The longer trail is for the more adventurous with possible encounters of black bears, deer, bobcats, gopher tortoises and turkeys!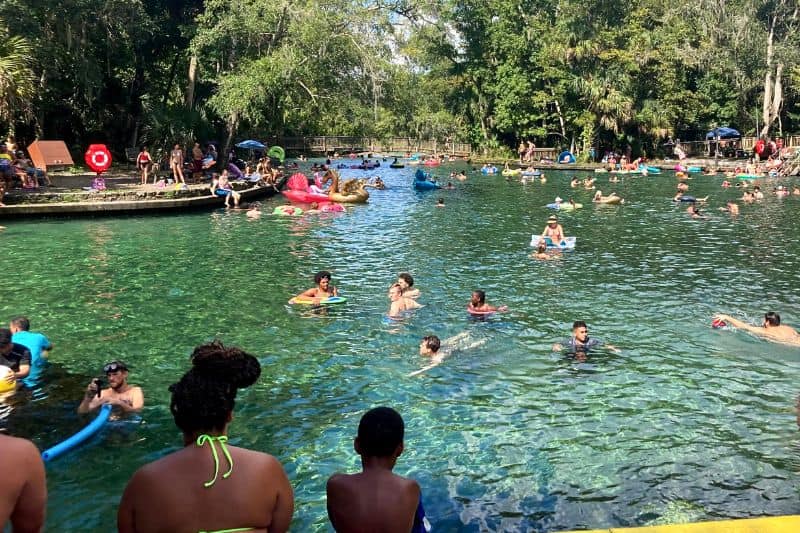 Wekiwa Springs State Park does reach capacity during peak season, sometimes by 9am. It is open from 8am to sundown daily and costs $6 per vehicle.
Since it's a hop and a skip outside of Orlando, you won't have to drive more than about 30 minutes.
Blue Spring State Park
2100 W French Ave, Orange City
386.775.3663
There's something about those docile "sea cows" that children find fascinating. Blue Spring State Park is home to over 700 manatees that have traveled to the Spring and call it home during the winter months. Because the manatees vanish during the hot Florida summers, we get to float around the 72 degree refreshing waters. The spring-run is closed from November to March to those who are not "sea cows." Note that feeling like one doesn't get you a ticket in.
Families can swim, snorkel, or tube along the run. Canoe or kayak along the back waters of St. John's River and capture peeks at wildlife around every bend.
Canoes, kayaks and tubes can be rented at the camp store. Whether you have small tots or young adults, everyone is sure to enjoy peering in the clear water from the half mile long boardwalk. You'll want to head out early to this sparkling spot though.
The park regularly reaches capacity early in the morning on weekends and holidays during the warm months.
If you are able, be sure to check out firefly season in the park. The dates change yearly but every Spring, the Park stays open an hour after sundown for a limited number of guests to let your eyes devour nature's twinkling lights that fill the Park. These firefly displays peak between 8pm and 9pm – just when it's time to leave.
Blue Spring Park is open 8am to sundown and is $6 per vehicle to enter. It's about an hour drive from Orlando.
De Leon Springs State Park
601 Ponce De Leon Blvd, De Leon Springs
386.985.4212
Visiting De Leon Springs will not only get your family into the outdoors but immersed in history too. Most of us know about the old sugar mill turned pancake house but did you know there used to be a water-skiing elephant named 'Sunshine Salty' that performed for visitors? Or that this was a site of disarray during the Second Seminole War and the Civil War? Two of the oldest dugout canoes in the Western Hemisphere were discovered in this Spring having been left behind by the original inhabitants, the Mayaca Indians.
Hop on the Fountain of Youth boat tour to learn even more details of the rich history in the area while observing Florida's natural wildlife. Tours are about 50 minutes and cost $16/adult (ages 6-64), $12/child (ages 3-5) and Free for children 2 and under.
After all of that adventure, be sure to stop into the Old Sugar Mill to make your own pancakes on the griddle in the middle of your table. Additional toppings can be ordered for creative, decadent dishes.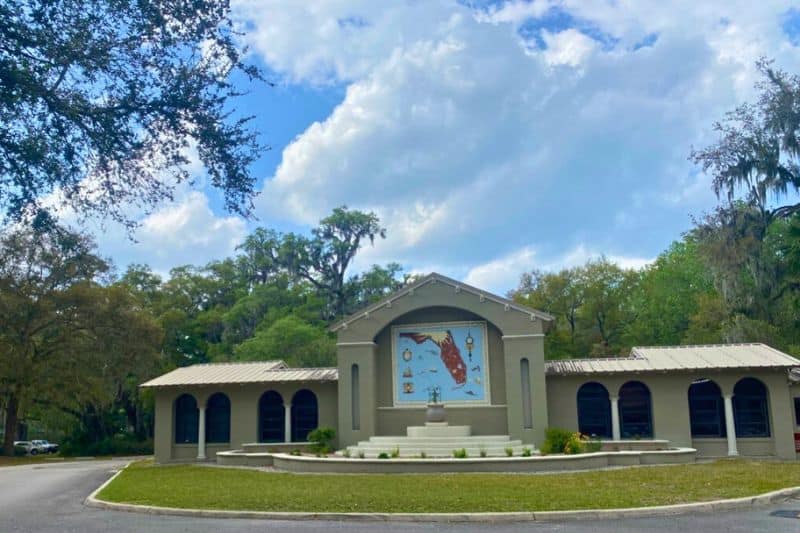 The park is open 8am – sunset daily with $6 per vehicle entry fee. It is about an hour drive from Orlando. Arrive early if you plan to shovel in some flapjacks.
Florida Springs Near Orlando – Worth the Drive
Alexander Springs
49525 County Road 445, Altoona
352.669.3522
Located in the Ocala National Forest, Alexander Springs is a gently sloping spring waiting to be explored. The Spring is known as one of the best swimming holes in the Ocala National Forest with its translucent depths. Lounge in the Spring with a float, canoe, or kayak as you gaze at the native fish darting about. It's also the only location that allows scuba diving for aquatic exploration. Get up close and personal with the mouth of the Spring.
Alexander Springs is also one of the stops along the Florida National Scenic Trail for hikers and backpackers. It's less than 10 miles between the Springs and the local towns. Hikers can walk along the Timucuan Trail which is .9 miles through jungle-like terrain. Feast your eyes upon the brilliant blue and green water.
The Park is open from 8 am – 6pm daily, although it may close later seasonally. Cost is $6/person.
The drive is just over an hour from Orlando.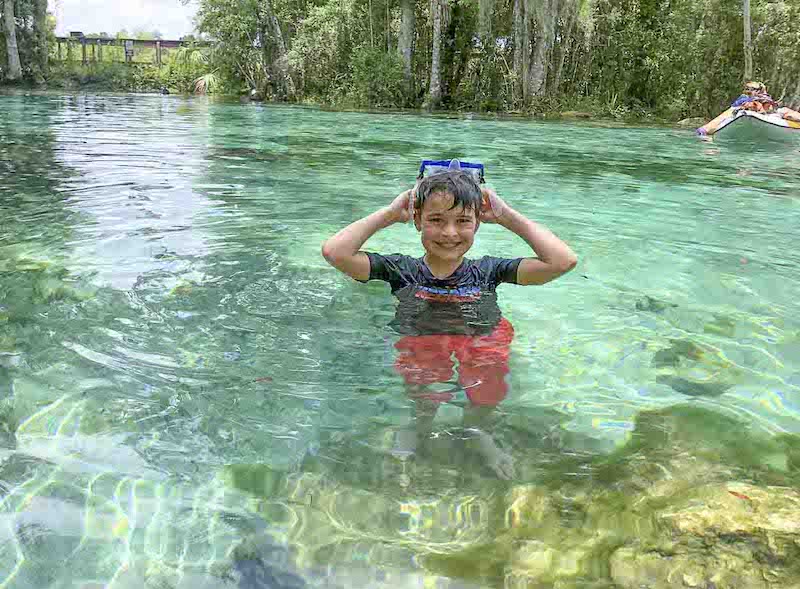 Three Sister Springs at Crystal River
123 NW Hwy19, Crystal River
352.586.1170
NOTE: This park is closed from April 1, 2023 – November 14, 2023 for canal stabilization and restoration. This closure is necessary to keep visitors safe from construction hazards.
Surprisingly, the three springs this park is known for makes up less than an acre of property. You wouldn't know it with the beauty that abounds though. Home to Pretty Sister, Deep Sister and Little Sister, these warm, crystal waters at Three Sisters Springs welcome manatees during cold weather events. Take a stroll along the ¼ mile boardwalk that meanders around each spring giving walkers an opportunity for wildlife viewing.
To swim in the see-through water, a paddle boat or kayak must be put in at one of two public boat ramps:
Hunter Springs Park
King's Bay Park
Visitors must then paddle to the Spring-Run before taking a dip or snorkeling in the refreshing H2O.
If small children are in tow, there is a trolley that takes people from Three Sister Springs Center to the Boardwalk. The trolley is included in the daily admission. Adults are $12.50/person during the summer and $20/person during the winter. Children (ages 6-15) are $7.50 all year and children 5 and under are free year-round.
The ride to the Springs is about 1.5 hours from Orlando.
Weeki Wachee Springs
6131 Commercial Way, Spring Hill
352.610.5660
Almost every young girl's dream would probably include seeing a mermaid. Little princesses will delight in watching a rendition of The Little Mermaid with live mermaids at Weeki Wachee Springs! Expect to see the sea witch and prince too. Shows run at 11am, 1:30pm and 3pm. The doors open 30 minutes before and seats are based on a first come, first served basis. Once the stadium is full, the doors are closed.
Water adventures continue aboard the Wilderness River Cruise. This leisurely boat ride runs along the Weeki Wachee River with a knowledgeable captain at the helm giving education information about the river and natural wildlife.
Splash in the River's pristine water at Buccaneer Bay. The sandy, white beach invites you to stay and play. The water park includes water slides for added aquatic fun. Covered picnic pavilions offer shade and respite from the Florida sun. Several concession stands are available throughout the park in case the snack bin starts getting low.
The park is open daily from 9am – 5:30pm. Adults are $13, kids (ages 6-12) are $8 and children 5 and under are free.
The Springs are about an hour and a half from Orlando.
Silver Glen Springs
5271 N Highway 19, Fort McCoy
352.685.2799
Bring your snorkel and your family to the Silver Glen Springs Day Use Area. These 72-degree waters are home to archeological finds of village life and snail shells. See marine life up-close and personal as you wade through the water. The Spring is nestled along the Big Scrub edge of the Ocala National Forest which is sure to serve up beauty for the optically hungry.
Meander down the 3-mile hiking trail that wraps around Lake George Trail or skip along the Spring Boil Trail which is only .75 of a mile round-trip. Because of the delicate nature of the area, only portable potties are available for visitors. They do include changing tables for little ones though.
The Day Use Area is open from 8am-8pm although hours can vary. It is $12 per person per day to use this area.
At an hour and 15 minutes from Orlando, the kiddies won't have to wait too long for the fun to start.
Lithia Springs Conservation Area
3932 Lithia Springs Rd, Lithia
813.744.5572
The saying goes, "The early bird gets the worm." That is true in the case of swimming during peak season at Lithia Springs Conservation Area. The natural spring, which flows into the Alafia River, provides refreshing, crystalline water to play away. Youngins will have open ended exploration by splashing, pouring, swimming and dallying in the natural pool.  
There are two swimming slots each day. The first session is from 9am-1pm. The second session is from 2pm-6pm.
There is a capacity of 200 swimmers for each session and this is reached during weekends.
Purchase of swim slots is closed an hour before the park closes.
The rollicking doesn't end at the Spring. Visitors have the option of paddling along the Alafia River in canoes or kayaks. Near the picnic shelters is a volleyball court and a playground to run around. Hiking trails offer a chance for adventurers to spot natural plant communities and wildlife amidst towering hardwoods.
The park is open from 8am – 7pm during the Spring and Summer seasons. Fall and Winter hours are 8am – 6pm.
It is $2 per vehicle (up to 8 people) to enter the park. Swimming is $2 per person.
During optimal traffic times, expect an hour and a half drive from Orlando.
Juniper Springs Recreation Area
26701 FL-40, Silver Springs
352.625.3147
A visit to Juniper Springs Recreation Area will take you to one of the oldest springs in Florida. This East Coast gem has been inviting outdoor enthusiasts since the 1930s. The Springs are picturesque with the green/blue water welcoming swimmers beneath a timbered canopy of native shade. Nestled to the side of the small and large bubbling waters is the Old Mill House. Saunter in for a trip to the past to learn the history of the park and how the structure was used for electricity.
Hikers will be thrilled to know this park is a stop along the Florida Trail connecting many other springs and parks. The Juniper Run Nature Trail is less than a mile round trip taking walkers, runners and limited mobility riders around sparkling springs, raw vegetation and wild animals like the infamous albino gray squirrels known to call the area home.
The Springs are open from 8am – 6pm and cost $9 per person on weekdays and $12 per person on weekends. The drive is just over an hour from Orlando.
Also try:
Rainbow Springs State Park – At just under 2 hours from Orlando, enjoy a day trip meandering through mossy oaks before dipping into a pristine pool of pumping water.