A Kid Friendly Day at Wekiwa Springs State Park Near Orlando
Flocking to Florida springs near Orlando is a favorite summertime pastime. But you'd miss out on a special time to visit, and less crowds, but heading to Wekiwa Springs State Park anytime of year. Just 16 miles from Downtown Orlando, Wekiwa Springs State Park is one of our favorite places to go swimming in Orlando and one of the best Florida state parks for kids. 
Wekiwa Springs State Park with Kids
No matter the time of year, Wekiwa Springs offers families a relaxing day in nature. See straight through to the bottom with a mask and snorkel in the spring head pool, walk the trails along the river run, and spend the day outdoors with the family all for just $6 per vehicle. 
Things to Do at Wekiwa Springs State Park
Springs and Swimming
Wildlife Viewing
Picnicking
Nature Center and Programs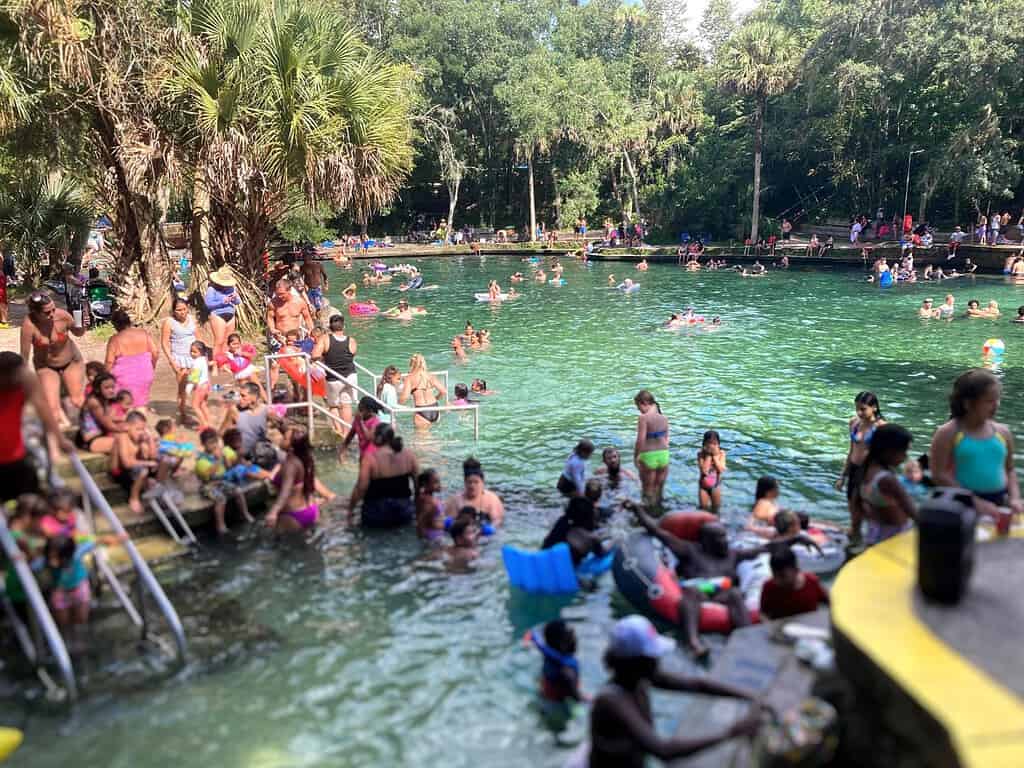 Springs and Swimming
The park is centered around Wekiwa Springs, which is a first-magnitude natural spring. The spring pumps out an average of 42 million gallons of water per day, creating a beautiful swimming area.
Visitors can enjoy swimming in the refreshing, 72-degree Fahrenheit spring water year-round. 
With crystal-clear waters, it's perfectly acceptable and encouraged to bring a snorkel mask or individual sized flotation device to splash around in comfort.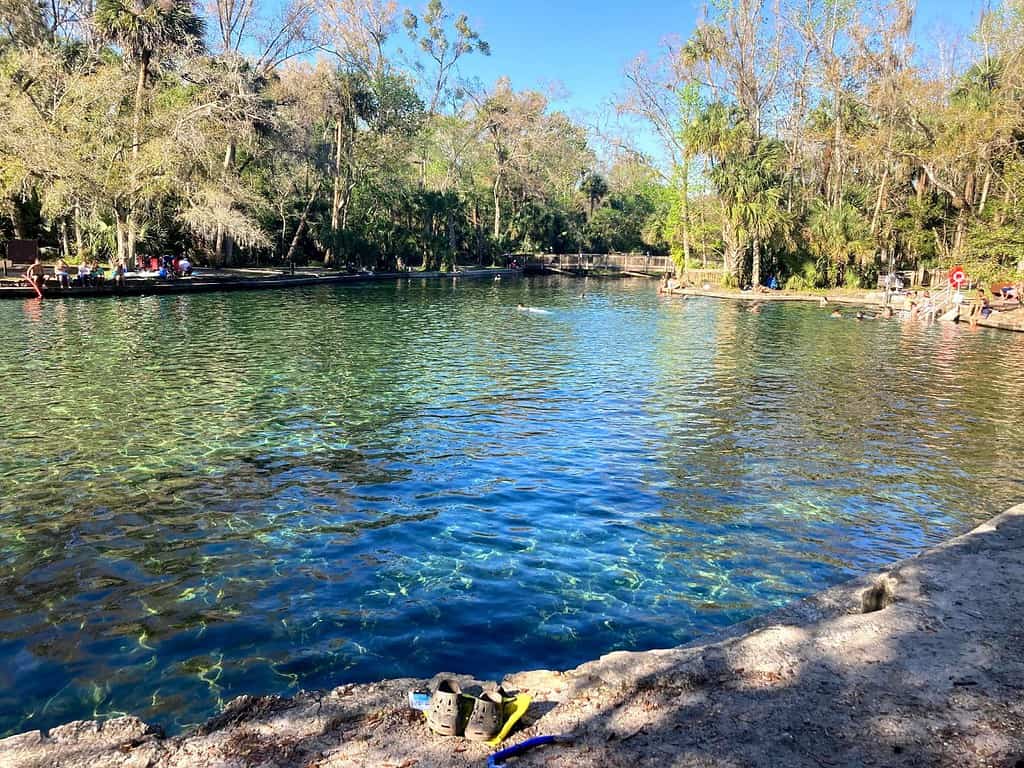 Note that there are no lifeguards on duty, however the average depth is a comfortable 4 feet on average. Because of this, jumping and diving are prohibited.
EDITOR'S NOTE: Swimming at Wekiwa Springs State Park can be challenging with little kids. When my son was about 3 years old we gave it a try. We're glad we did, but it had its challenges because there aren't any walls for little swimmers to hang onto if they need help for a moment, and there are not many entry points with stairs.
Swimming is only permitted in the designated head springs pool, but children will be intrigued by the idea that the natural pool is water from a river run, instead of the typical chlorinated hotel pool. 
This exciting spring will not only be a chilly treat on hot summer days, but will be bustling with other children ready to splash and play along. Get ready to make new friends and get some sunshine!
Wildlife Viewing
The park is home to a wide variety of plant and animal species. Visitors have the opportunity to spot native wildlife such as white-tailed deer, raccoons, gopher tortoises, and various bird species.
Birdwatching is particularly popular in the park, with over 160 species documented.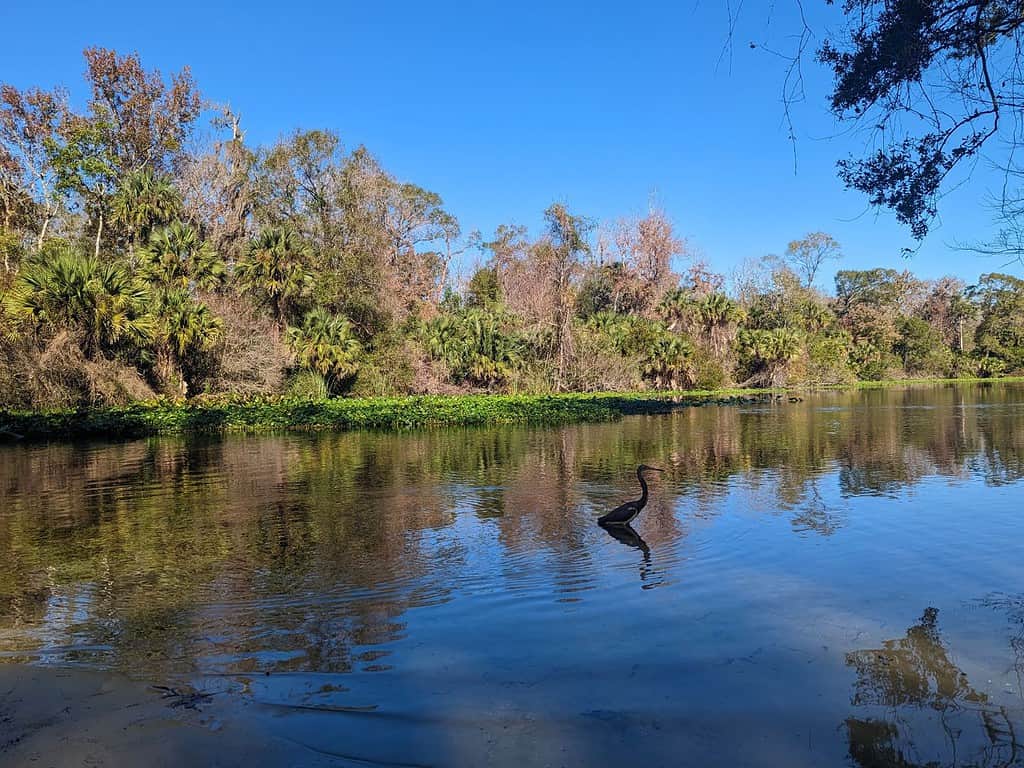 Lucky early-morning visitors or campers staying in the park will be privy to spotting dozens of deer along the camp roads.
Take a drive around before heading to the springs to locate the peaceful creatures in their natural habitat and be sure to drive slowly so as not to disturb them.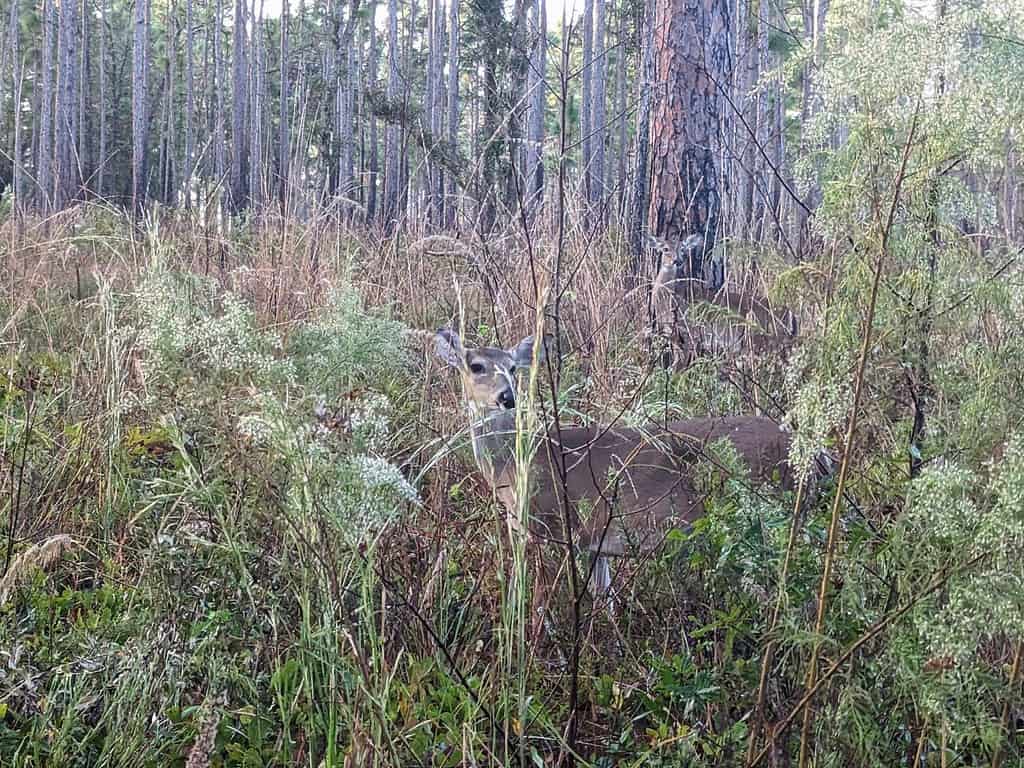 Bears are common in the park, so be sure to read up on bear safety at the posted signs near the entrance and around the park. With a good sense of humor, you'll maybe spot one waving goodbye on the way out of the park later in your visit. Keep a close watch near the ranger booth!
Kids will love keeping a watchful eye for turtles, herons, and other flora and fauna near the spring pool or along the trails. While it is rare to see alligators in the springs pool due to the sheer amount of people, signs warn visitors of their presence, so stay aware and alert at all times.
Picnicking
Picnicking is a common pastime at Wekiwa Springs, so bring a cooler full of chips and sandwiches and your favorite checkered blanket, or locate one of the many picnic tables and pavilion areas ideal for weekend cookouts.
Grills are available for day use, so don't forget the charcoal. Much like the pool area, picnic tables are first come first served, so arrive early. Larger groups can arrange reservations in advance with the rangers.
Playground: Visitors can also find a playground, horseshoe pit, and volleyball court near the picnic area, which is located to the far end of the parking lot.
Nature Center and Programs
The Nature Center at Wekiwa Springs is located just up the hill from the main spring head pool, offering children a fun exhibit to see reptiles and learn about bear safety. There's even a baby alligator to visit!
For an even more unique activity, the Junior Ranger Program is offered at most of Florida's State Parks and is a great activity for the whole family to take part in. To participate, ask for the Junior Ranger kit and complete six of the core activities to earn a Junior Ranger patch.
The more activities you complete, the more you earn towards a passport, which is the stepping stone for the ranger pin. This fun and educational activity will have the family coming back again and again!
For the techy kid, consider geocaching along one of the park's many nature trails. Hidden treasures await for those who can find them! Trails are as short as 8/10 of a mile and as long as 13.5 miles, so choose what works best for your family by consulting the trail map provided at the ranger station upon arrival.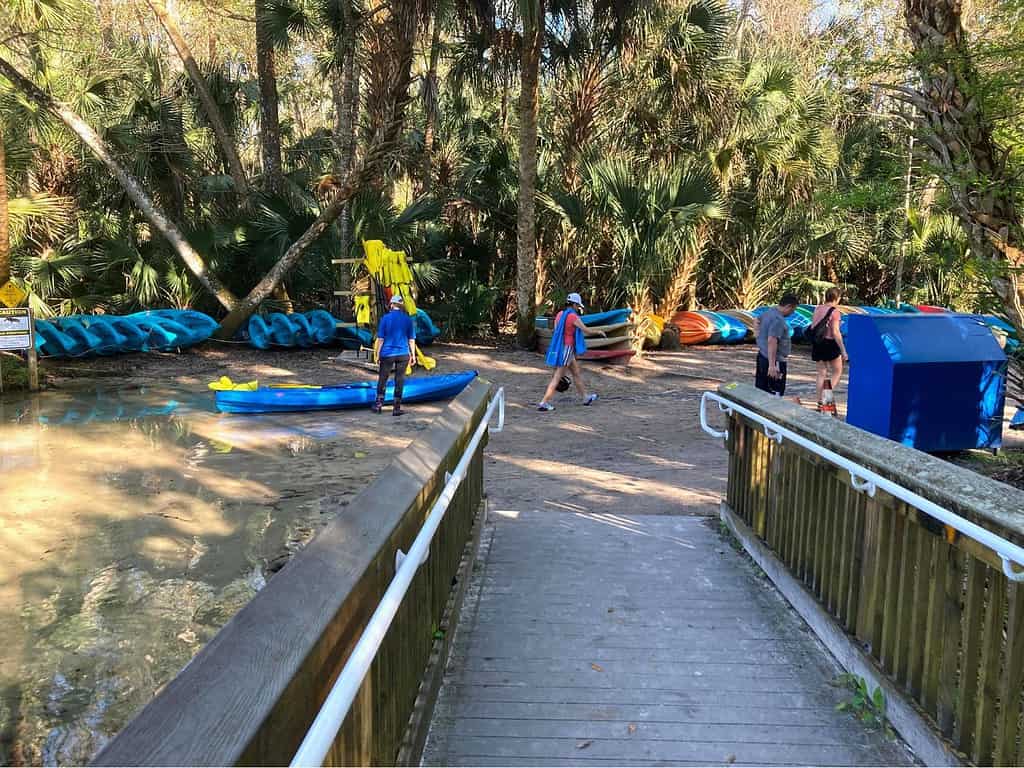 Expert Tips
Go early. Once the park reaches capacity in peak season, the park may temporarily close. If the nearly mile-long turning lane into the park is any indication, realize that car lines can be very long to get in, so plan ahead!
Scope out the best spot for your day by finding a shade tree along the pool's edge, or along the sides of the sloping hill leading to the pool.
Don't forget to pack:
Water shoes
Sunscreen
Snacks and picnic foods
A snorkel and mask
Flotation device or tube (single occupant size only)
Towel
Bug spray
Note that the consumption of alcohol is not permitted.
Plan Your Visit
Wekiwa Springs State Park
1800 Wekiwa Circle
Apopka FL 32712
407-553-4383
HOURS
Open Daily 8am until sundown
ADMISSION
$6 per vehicle, unless camping (entry fee is included in the camping fee)
We hope you enjoy visiting this family-friendly destination for a taste of life in the countryside. You can connect with us and other parents on Facebook, Instagram, and Pinterest.
Feel free to share this blog post and plan a fun family outing together!