Family Mental Health: 5 Places to Connect with Nature
As a parent, I have learned the hard way the importance of making health a priority. And while it can be easy for us parents to prioritize traditional health practices like brushing teeth and washing hands, we tend to put mental health at a lower priority. But it doesn't have to be that way.
Mental well-being is so important, in fact, that places like AdventHealth are thinking up ways to help kids and families prioritize mental health. Personally, the easiest way for me to tap into my mental well-being, and that of my family, is to connect with nature. And thankfully Orlando is full of outdoor places to enjoy as a family.
These five places around Orlando are especially great for connecting with nature with kids. Keep reading for a quick list of places to visit with your family whenever you need a mental health break and time with nature.
Orlando Places to Connect with Nature
Secret Lake Park
200 N Triplet Lake Dr, Casselberry, FL 32707
FREE
Depending on where exactly in Orlando you live, Secret Lake Park may be a bit of a trek for you. Located in Casselberry (Seminole County), this large neighborhood park has a great shaded playground for toddlers, and a large playground for older kids.
But what makes this park a great place for a quick mental health break are the two short trails. One short boardwalk takes you over a small patch of wetlands. And right next to it is a path that runs along the lake and among towering cypress trees (featured in the top image of this list).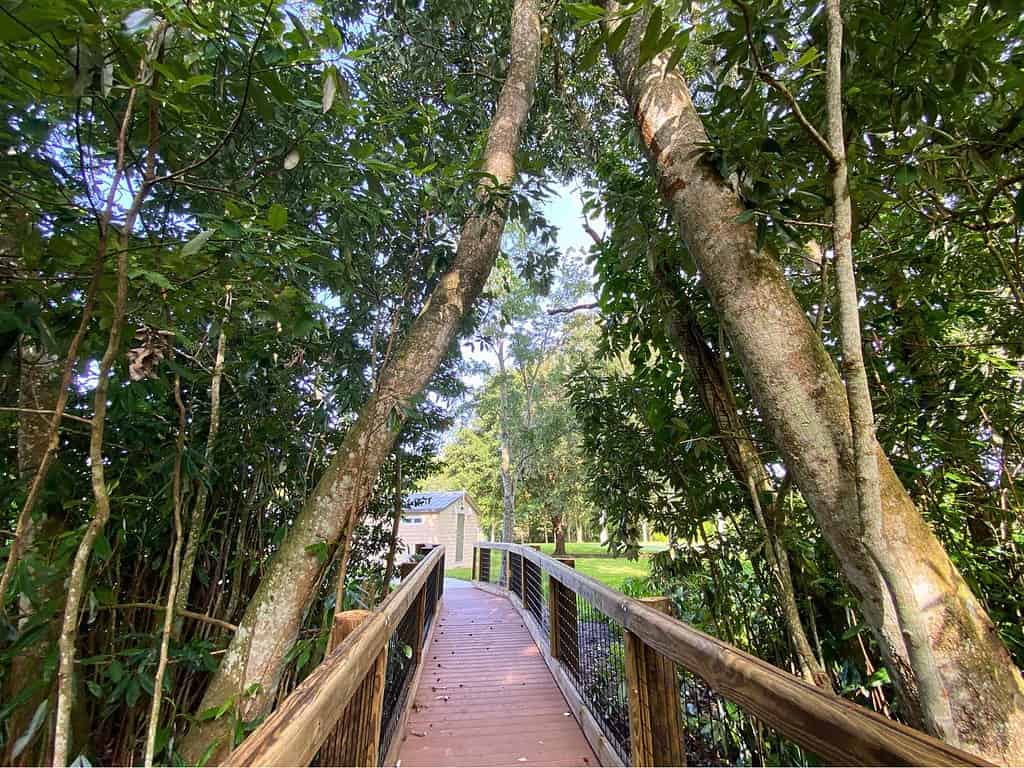 If you really want to commune with nature then consider renting kayaks from the city parks and recreation department to enjoy the lake which connects with two other lakes via short canals.
DISCOVER MORE: Best Orlando Playgrounds with Shade

Kelly Park
400 E Kelly Park Rd, Apopka
Park admission is $3 for 1 to 2 people and $5 for parties of 3 to 8.
Kelly Park at Rock Springs is a popular destination for a relaxing day of tubing. Tubes may be rented outside the park from third-party businesses, or families can bring their own pool noodle-style floats for their trip along the river.
My preference is to just swim and not worry about tubing. There is plenty of space to simply take a dip in the tranquil spring water. It feels like an oasis.
If you can visit on a weekday, that is the best time to visit. Otherwise, capacity is usually reached by 9am on weekends, summer, and holidays. In fact, the park can get so crowded on the weekends it may be best to visit during the week if your goal is to connect with nature and relax.
Kelly Park is in Apopka and is about 20 minutes from most of the Orlando area.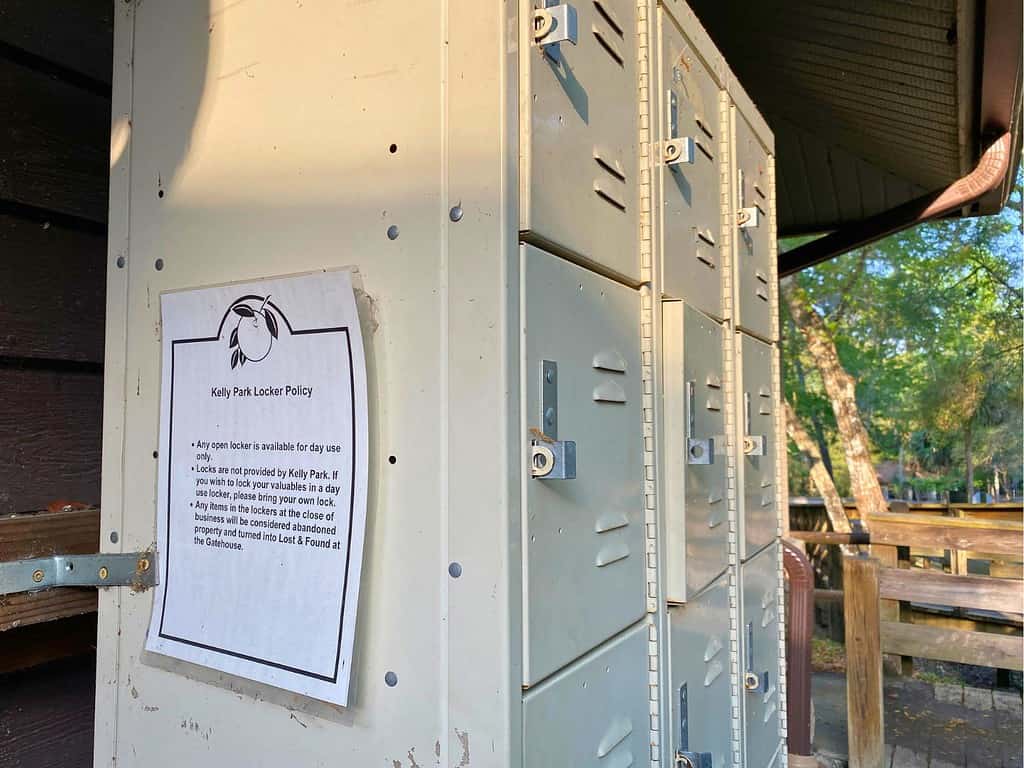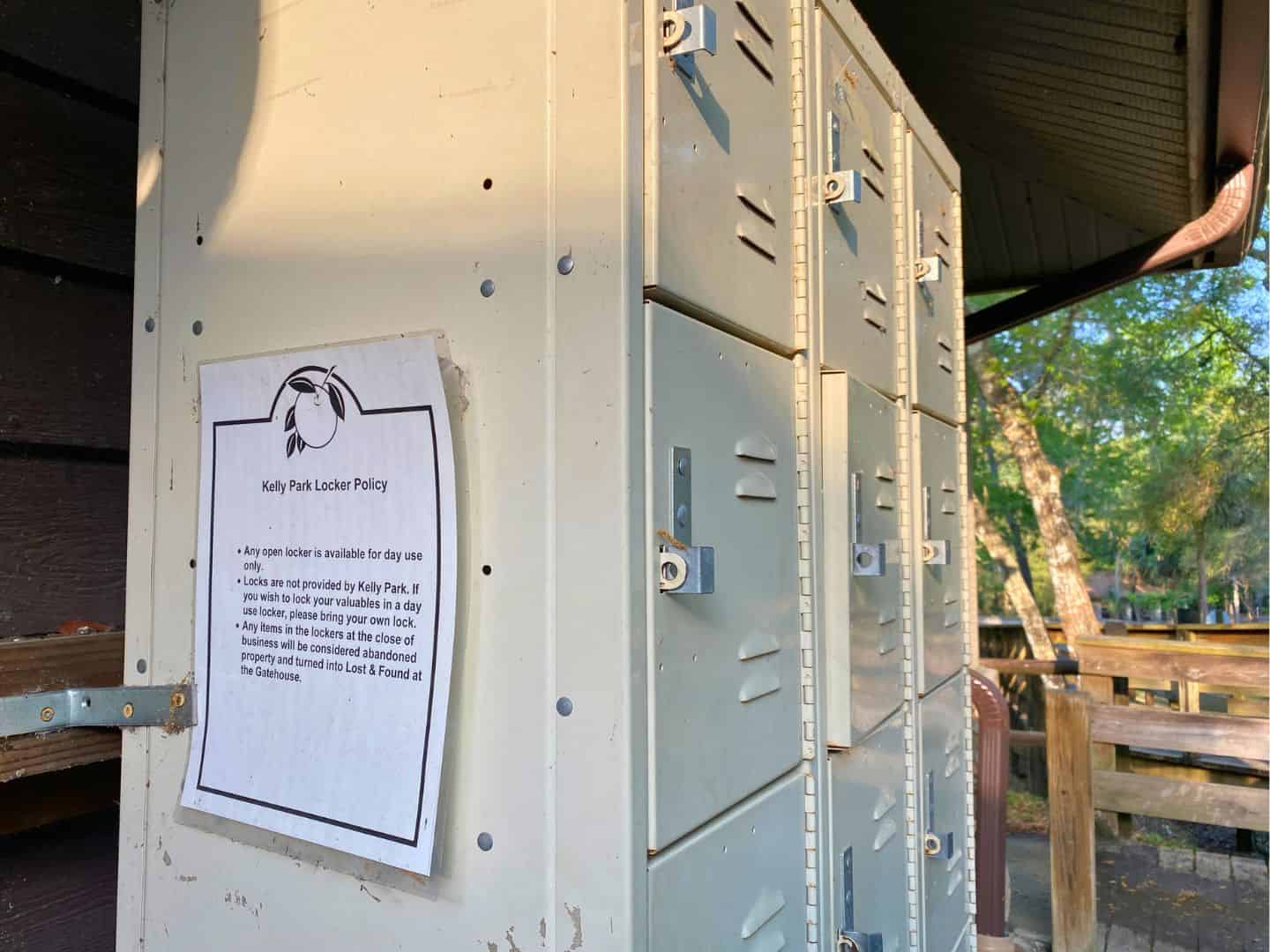 Parenting Pro-tip: Bring along your own lock and make use of the complimentary lockers.

Leu Gardens
1920 North Forest Avenue Orlando, FL 32803
Adult $15, Child (ages 4-17 years) $10
Welcome to one of the most beautiful places in Orlando. Leu Gardens is a must-visit whether you're local or visiting from out of town. This sprawling estate is home to a historical residence and multiple gardens.
After paying admission (or keep an eye out for free Mondays sprinkled throughout the year) you'll travel down a winding path. Surrounded by dense tropical vegetation you'll soon reach the center of Leu Gardens.
It's easy to give yourself some much needed calm in such a lovely place.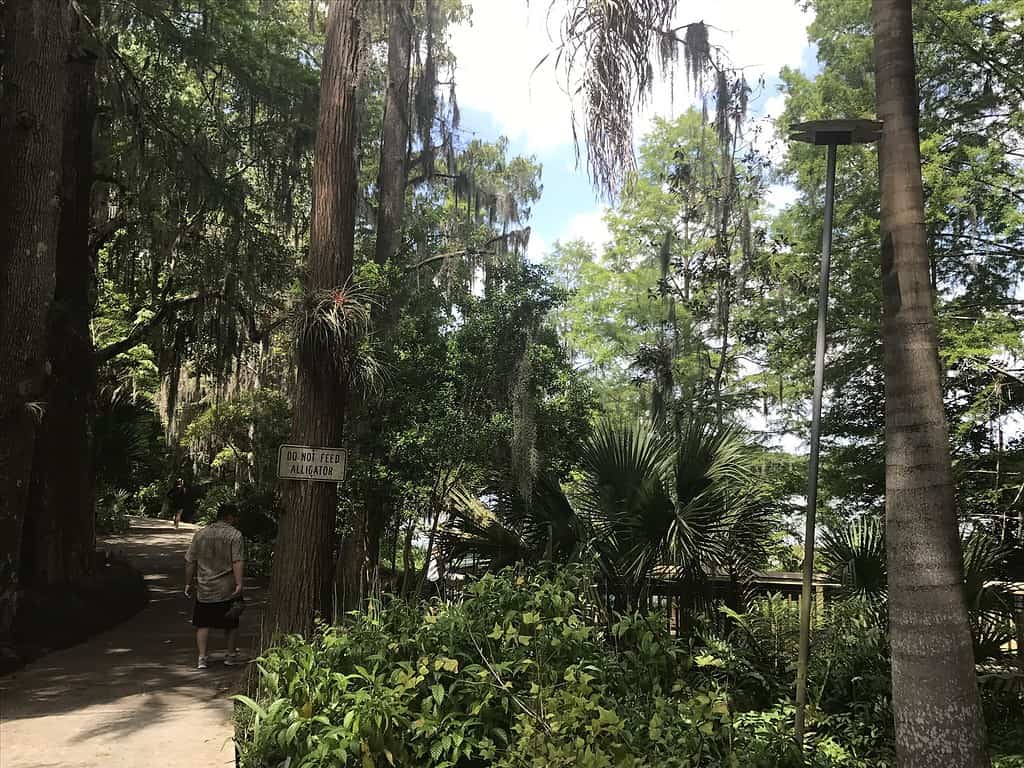 Take your pick of which pathway to travel first. Be sure to pause and rest in the rose garden.

Orlando Wetlands Park
25155 Wheeler Rd, Christmas, FL 32709
FREE
What started as a manmade wetland area to help with water treatment, is now a beloved destination for nature lovers. Orlando Wetlands Park is about a 30 – 45 minute drive from most of Orlando, and it is by far one of the best places to see native Florida flora and fauna.
A new boardwalk in the park is the ideal place to take a relaxing stroll. Slow down and observe the quiet here. Such a pause is perfect for centering yourself.
I recommend this park for ages 6 and older. There are no playgrounds here, so this massive 1,600 acre park is best for kids that absolutely love animals and nature.
Green Springs Park
994 Enterprise Osteen Rd, Deltona, FL 32725
FREE
This next park is way outside the bounds of Orlando. But if you're looking for a place of beauty and a relaxing journey to get there, it's worth it. In fact, the road leading right up to Green Springs Park is one of my favorite scenic roads in the Orlando area.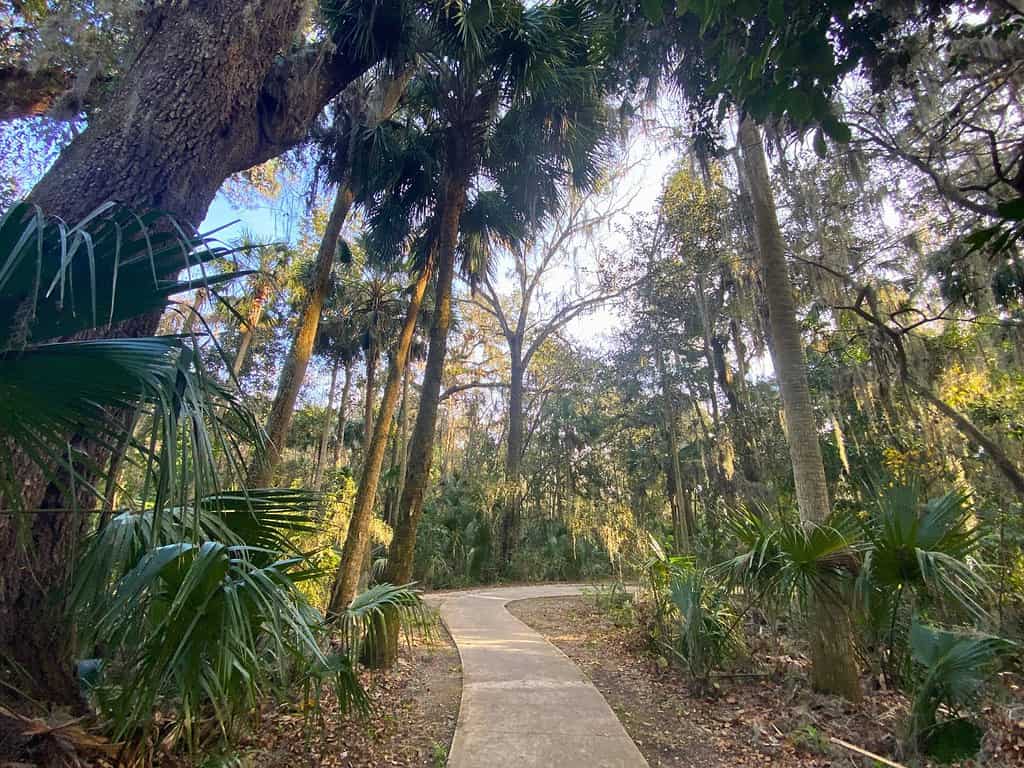 The springs of Green Springs Park are not for swimming. Instead, they are simply a small, but beautiful sight to behold. There are multiple trails full of lush trees and natural Florida beauty. And each area has great signage making it easy to navigate.
There are multiple picnic facilities and a fun playground that's ideal for school age kids.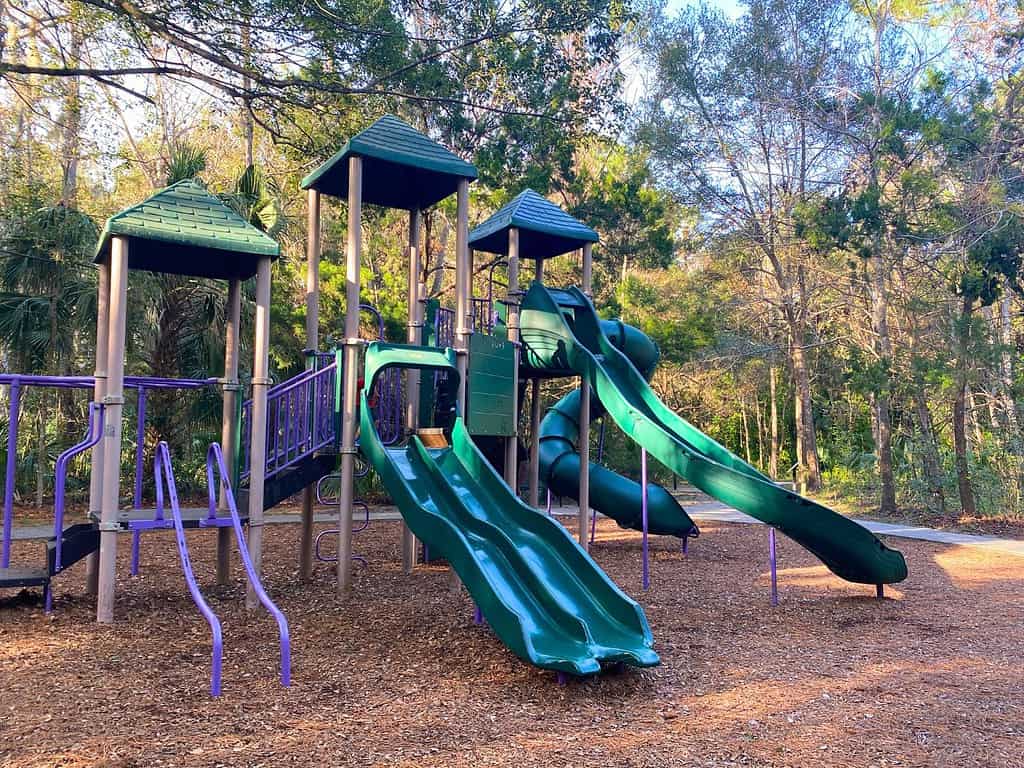 BONUS IDEA: Lake Nona Sculpture Garden
6714 Tavistock Lakes Blvd, Orlando, FL 32827
FREE
While it is not ideal for connecting with nature, the Lake Nona Sculpture Garden is worth a visit. If you're looking for a relaxing, beautiful place to go without spending a dime, this is a great spot.
The Lake Nona Sculpture Garden is located at the WAVE Hotel in Lake Nona. You do not need to be a guest of the hotel to visit. A stroll through the incredible sculptures and modern landscape will surely lift your spirits and serve as a reminder of what makes raising a family in Orlando so special.