Best Florida State Parks for Kids Near Orlando
Environmentalist and American Author Edward Abbey once said, "Wilderness is not a luxury but a necessity of the human spirit." We were created to get outside and experience nature with all five of our senses! Planning a family outing to a State Park is the perfect place to experience the wilderness and connect with the earth. So in that spirit, we're sharing the best state parks near Orlando to visit with kids.
You can also explore these FREE Things to Do in Orlando with Kids.
Budget-friendly Florida State Parks
There are other perks too! Florida State parks are easy on the wallet. For next to nothing, an entire family can enjoy a day of entertainment. Leave the remorse of spending a fortune at a theme park behind when you visit a natural park. If you have a library card, stop into your local library to check out a Real Florida Reader Day Pass just like a book that gets you (and up to eight people in a vehicle) in for FREE.
You'll also find fewer crowds at a State Park. No need to stress over virtual queues or passes to skip the line. Meander freely on and off the beaten paths.
Our list of local State Parks in Orlando and Central Florida covers the best features for kids. Let's get exploring!
Best Florida State Parks for Kids Near Orlando
Wekiwa Springs State Park
1800 Wekiwa Cir Apopka, Fl 32712
407-553-4383
Wekiwa Springs is a unique park just minutes from downtown Orlando that is perfect for observing wildlife or cooling off on a summer day. Visitors can explore miles of trails on foot, bike or horseback, and canoes and kayaks are available on-site.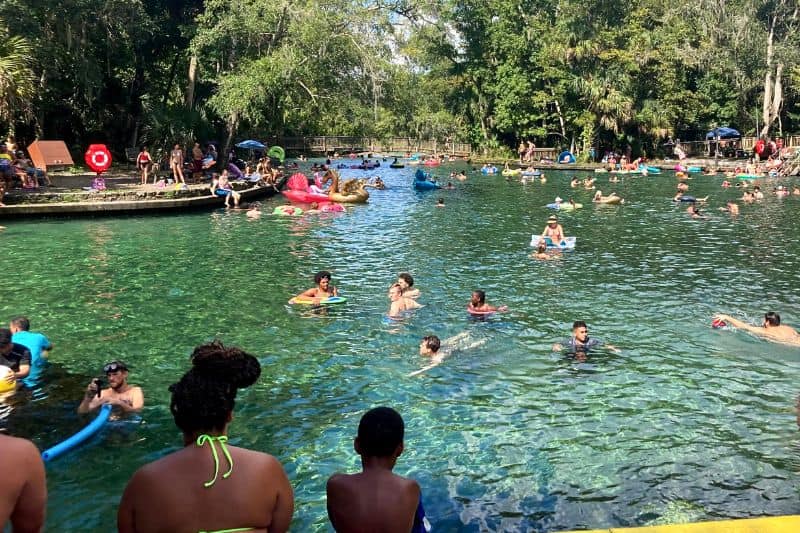 There is a small playground, however, it is far from the main attraction – the water. This might be a good place to start if you're not sure how much swimming you and your kiddos are up for – especially if you have preschoolers or younger. The playground is at the far end of the parking lot.
The park has a special place in the hearts of those who have grown up nearby, spending weekends exploring the spring vent and paddling canoes past the purple blooms of pickerelweed. The azure waters of Wekiwa Springs have made it one of Florida's longest-running tourist attractions.
De Leon Springs State Park
601 Ponce De Leon Blvd.
De Leon Springs, FL 32130
Experience over 6,000 years of cultural and natural history at De Leon Springs State Park. It was once called Acuera, or "Healing Waters" by Mayaca Indians who inhabited the area. It's a great place to cool off in clear waters, go fishing, roam the trails through the subtropical forest, and immerse yourself in history. The park also offers 50-minute eco/history boat tours on the Spring Garden Run or Fountain of Youth Boat Tour.
While you're there, make sure to visit the Old Sugar Mill Pancake House which is located in a 100-year-old replica of the 1830s sugar mill. It feature cook-your-own pancakes at the table with freshly made bread and cookies (park admission is required). Hours are 9am-5pm on weekdays and 8am-5pm on weekends.
Fun fact: During the Civil War, the spring run was once used to turn a sugar cane mill followed by a grist mill to turn corn into flour.
The park is open daily from 8am until sunset and is just under an hour's drive from Orlando.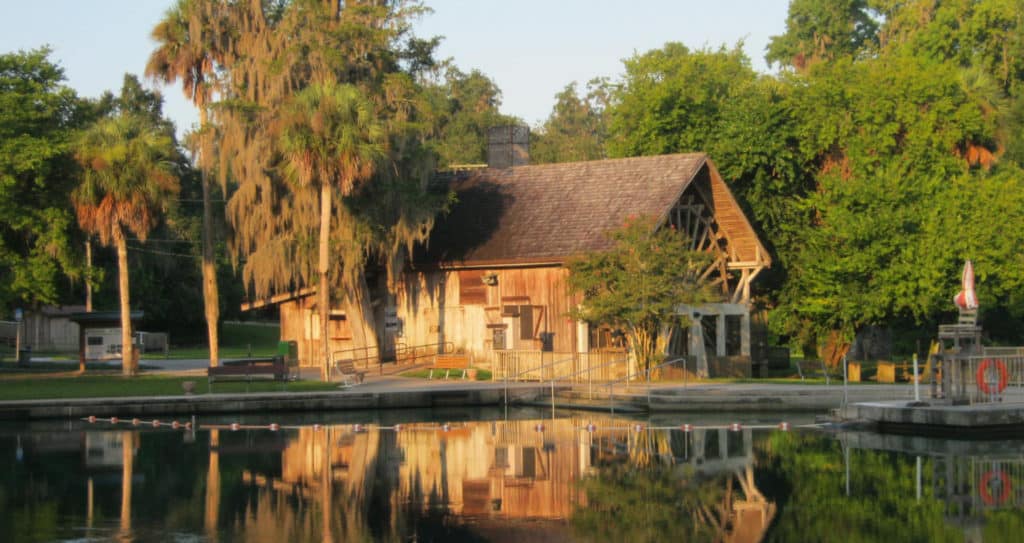 Hontoon Island State Park
2309 River Ridge Road, Deland
386.736.5309
Feel like you're on a vacation for a day as you spend time together on an island. Hontoon Island State Park is accessible by Ferry or personal boat only and is FREE to visit although, donations are accepted and appreciated.
The Hammock Hiking Trail begins at the Ranger Station and travels along Hontoon Dead River leading to a Native American shell mound at the corner of the Island. Be on the lookout for manatees during the winter months that have sought warmer waters.
There are several service roads that are stroller and wheelchair accessible to travel around but they do not pass by the shell mound. The nature trail leading to the shell mound is cleared and would be best for all-terrain strollers.
Back at the Ranger Station, find a small museum packed with nifty artifacts from the area to learn about the history of the Island and grab any necessary Junior Ranger Program information.
Traipse to the nearby playground where kids can climb, wiggle and flutter. Should you choose to stay more than a day, the Park offers tent camping and six rustic cabins to rent. The cabins are one room with bunk beds, fan, lighting and one electrical outlet. Sit on the attached screened porch during peak mosquito hours to breathe in fresh air without getting bit.
Hontoon Island State Park is less than an hour from Orlando and open daily from 8am – 4pm.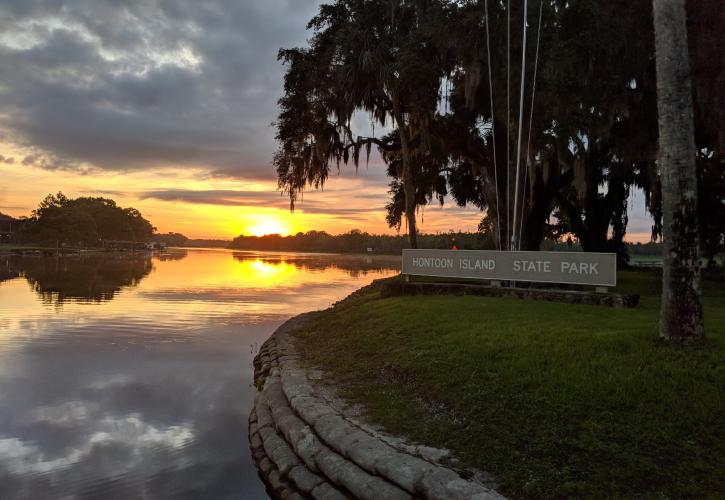 Lake Louisa State Park
7305 U.S. Highway 27, Clermont
352.394.3969
Travel just 30 minutes from Orlando to Clermont and find Lake Louisa State Park with its distinct wildlife and plant habitats. This full-facility campground is found on 4,500 acres with six lakes to fish, paddle and kayak among.
There are 23 miles of hiking and biking trails traveling through shaded canopies and fields of wildflowers. Join a guided off-road Segway tour to wander and learn about the scenery.
The Camper Canteen and Equipment Rental will ensure you are prepared with necessary gear before heading out. Near the shop and offices, there is a swimming area for water lovers to splash and float. Stay awhile and camp with glamour in the glamping sites outfitted with luxury tents for life's conveniences.
There are also 20 cabins that overlook Dixie Lake. Lake Louisa State Park participates in the Junior Ranger Program.
The park is open for day use from 8am – Sunset for $5 per vehicle.
Florida State Parks Worth the Drive
Allen David Broussard Catfish Creek Preserve State Park
4335 Firetower Road, Haines City
863.696.1112
Visit Florida's original shoreline along the Lake Wales Ridge. The Lake Wales Ridge is not only the oldest ridge in Florida but also the highest. These sand dunes were islands when most of Florida was underwater. Allen David Broussard Catfish Creek Preserve State Park calls this area home.
This park is not for the novice hiker due to the rugged conditions though. While it may not be suitable for younger ages because of the scrub conditions, it is certainly worthwhile for the older children.
This area is home to plants and animal found nowhere else in the world! See the rare scrub morning glory, scrub plum, scrub-jay, bald eagles and the Florida scrub lizards. There is a covered pavilion on premises and 6 miles of hiking trails.
The park is open daily from 8 am- Sundown and is free for day use. Expect to drive just over an hour.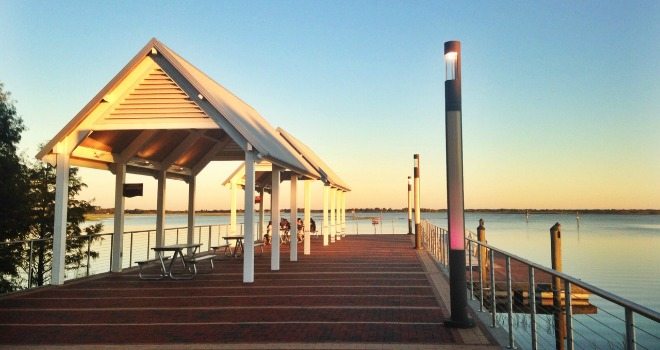 Lake Kissimmee State Park
14248 Camp Mack Road, Lake Wales
863.696.1112
Lake Kissimmee State Park is known for its cow camp. Travel down Cow Camp Trail until you arrive at the historical camp. Here you will find live demonstrations of what life was like in the 1800's when local cowboys raised and kept cattle in the area.
The camp is open every weekend from October 1 – May 1 from 9:30am-4:30pm.
Gain access to Florida's third largest lake for fishing or boating via this park located on the upper Kissimmee Chain of Lakes. The chain includes Lake Kissimmee, Lake Rosalie and Tiger Lake. There are over 13 miles of trails to discover of which 6 miles are open to equestrian use. The three-story observation tower in the picnic area offers views of Lake Kissimmee and surrounding marsh.
This park is part of the Junior Ranger Program and is open daily from 8am – sunset. Cost is $5 per vehicle is approximately an hour and a half from Orlando.
Colt Creek State Park
16000 S.R. 471, Lakeland
863.815.6761
Colt Creek is one of three tributaries that flow through the park along with Little Gator Creek and Gator Creek. Mac Lake, Middle Lake and Little Lake call the area home and were created from mining done by the previous owner.
Parts of these lakes are so deep they actually meet the aquifer and allow the water below to seep up creating a natural look to the manmade pits.
Nature is the playground here with bank and pier fishing, hiking, biking, and horse-back riding trails. The backdrop of the natural Florida paradise will provide ample photo opportunities to snap that perfect family picture.
Many multi-use areas within the park are wheelchair accessible providing an inclusive experience to all visitors.
The park has a Ranger Station available for rentals and questions. It is $4 per vehicle for daily use from 8am – Sunset and will take a little over an hour to arrive.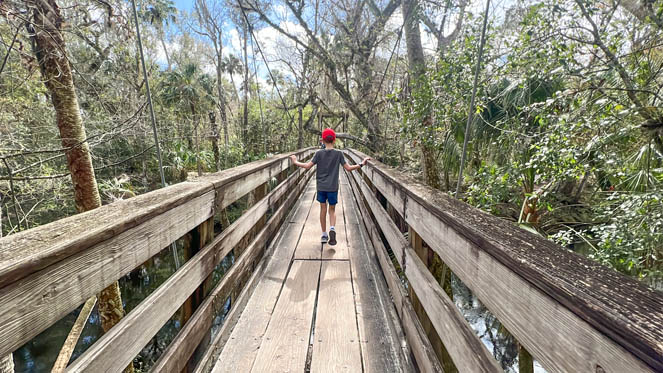 Hillsborough River State Park
15402 U.S. 301 North, Thonotosassa
813.688.9500
At an hour and fifteen minutes from Orlando, a visit to Hillsborough River State Park provides a rare sight in Florida: class II rapids. Saunter along Rapids Trail (1.2 miles) to ogle at the rushing water while listening to its roar.
Baynard Trail is for the adventurous as it leads to a suspension bridge to pounce along. Pop into the Interpretive Center to find more than 100 artifacts found at the Fort Foster Historic Site housed on the grounds.
Let the kids monkey around at one of the playgrounds in the park. There is a playground in the Riverside Picnic Area and the Pool Picnic Area.
The pool is closed for maintenance until Summer of 2024. Eager hikers will delight in knowing this park is part of the Florida Trail and connected to Fort Foster; a point of defense during the Second Seminole War.
Hillsborough River State Park is open daily from 8am to Sundown and is part of the Junior Ranger Program. It is $6 per vehicle to enter.
Lake Griffin State Park
3089 U.S. Hwy 441-27, Fruitland Park
352.360.6760
In less than an hour, arrive at Lake Griffin State Park where the main attraction is the State of Florida's second largest oak tree said to be around 400 years old.
Mammoth Live Oak is found near the entrance of the park and can be seen up close from a half-mile nature trail that passes by. The trail is not paved but is hard packed dirt accessible to strollers and wheelchairs.
Settled to the left of the entrance is a large picnic area to scatter bites about and nibble in the fresh Florida air. There is a playground located in this area for youngsters to swing, slide, crawl and jump to their heart's content. A wheelchair swing is included so no one is left out. Explore Dead River Marsh aboard the pontoon eco tour.
The tour is $25 per person for a one-hour tour and can be booked at Epic Water Boat Tours. Pop into the Ranger Station and grab the schedule for interpretive programming held within the property's amphitheater. This location also participates in the Junior Ranger Program.
There is a $5 per vehicle entry fee during operating hours of 8am – Sundown.
One of the biggest perks to me as a homeschooling mom is the educational opportunities that abound. Many parks have visitor centers packed with information about the natural flora and fauna of the area. Learn what to find and then head outside to seek it all out. Park Rangers are always eager to share their knowledge too. There is also a Florida State Park Junior Ranger Program for kids to participate in.
Also try these local parks that feel like a State Park:
Featured image: Lake Louisa State Park