We Rode the Beep Autonomous Shuttles in Altamonte Springs – Here's What to Expect
If your child can't get enough of things that move, or you're fascinated by the latest technology, a fun adventure awaits in Altamonte Springs, Florida. The new autonomous vehicle experience is now available – for free! We recently hopped aboard the new Beep shuttles, called CraneRides in Altamonte Springs. Here's what to expect and how to take advantage of this fun and free service.
This new shuttle is now one of our favorite free things to do with kids in Orlando. Keep reading for all the details and our own experience.
Basic Info – Beep Shuttles in Altamonte Springs
This new service just opened in Altamonte Springs and is in its first phase. Eventually, the Beep autonomous shuttle service will expand, and the technology on board the autonomous vehicles will get even better.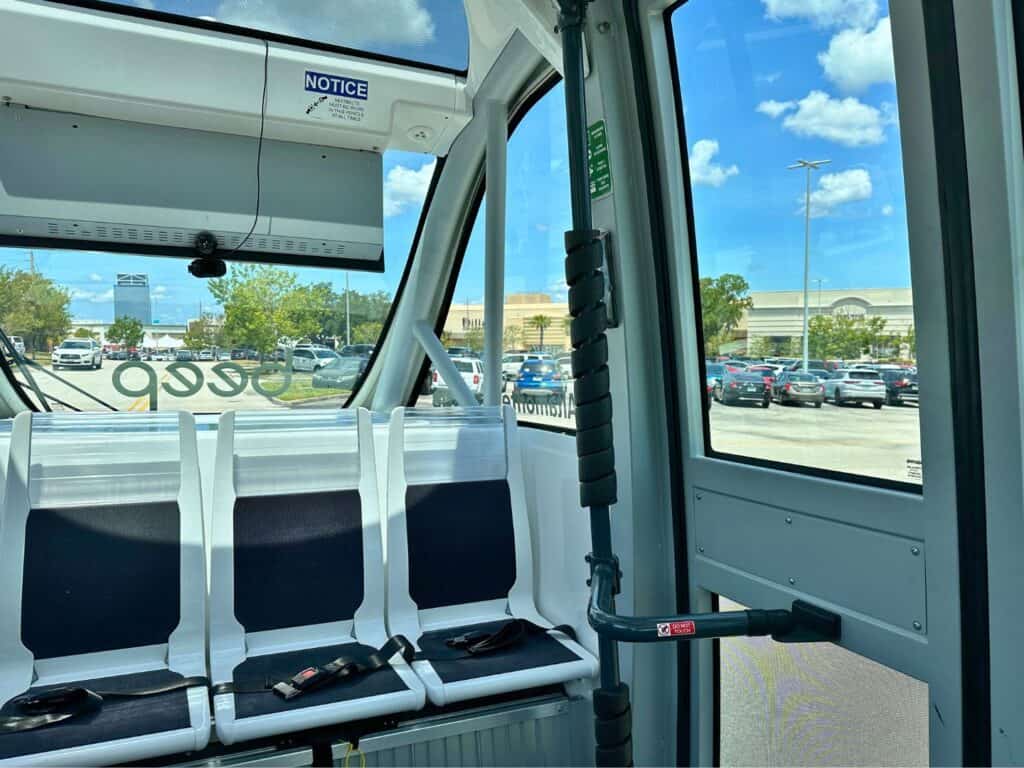 For now, the service has four stops. And there is a representative on board to assist the autonomous shuttle with learning the route and answer passenger questions. Please note passengers age 16 and under must be accompanied by an adult.
This free shuttle service runs 7 days a week! There is a short period in the early afternoon when the service is paused and the vehicles charge. Not only are these shuttles autonomous, they are electric!
Two electric shuttles can hold eight passengers — or five passengers and one person in a wheelchair
Travel up to 15 mph from Cranes Roost to the Altamonte Mall and back
Roundtrip between all four stops takes about 20 minutes
Announcements broadcast in the vehicle will be in English and Spanish
A trained attendant is on hand to answer questions, address technical issues or drive the shuttle with a controller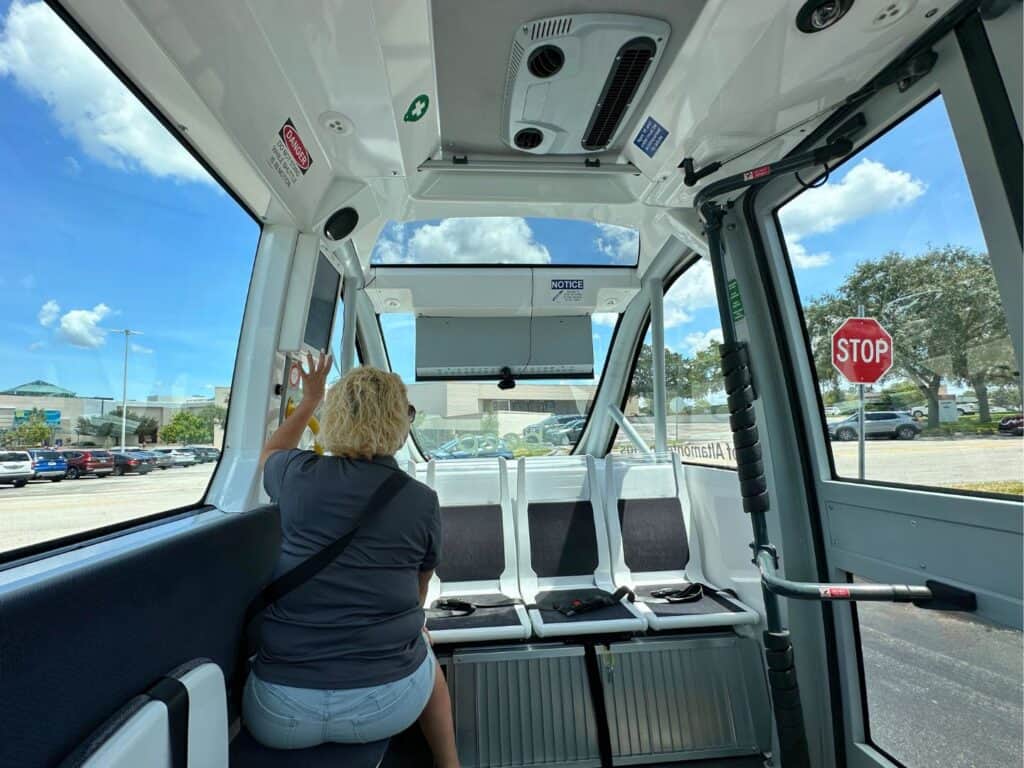 "There will always be what I call a 'human in the loop,' but we are going to transition from that being physically on board to that being remote in the next couple years," Moye said. "The vehicle basically has virtual rails and virtual eyes. It has sensors and cameras that operate the vehicle and determine if there's an obstacle or a pedestrian it needs to respond to. Much safer than anything human-driven out there today."

Beep CEO Joe Moye
Route of Beep Autonomous Shuttle CraneRides
Altamonte Mall
Renaissance Center
Cranes Roost
AMC Theaters Altamonte
These cool shuttles won't be zooming along State Road 436 or zipping across Interstate 4! Instead, they'll be cruising along a specially designed route for CraneRIDES.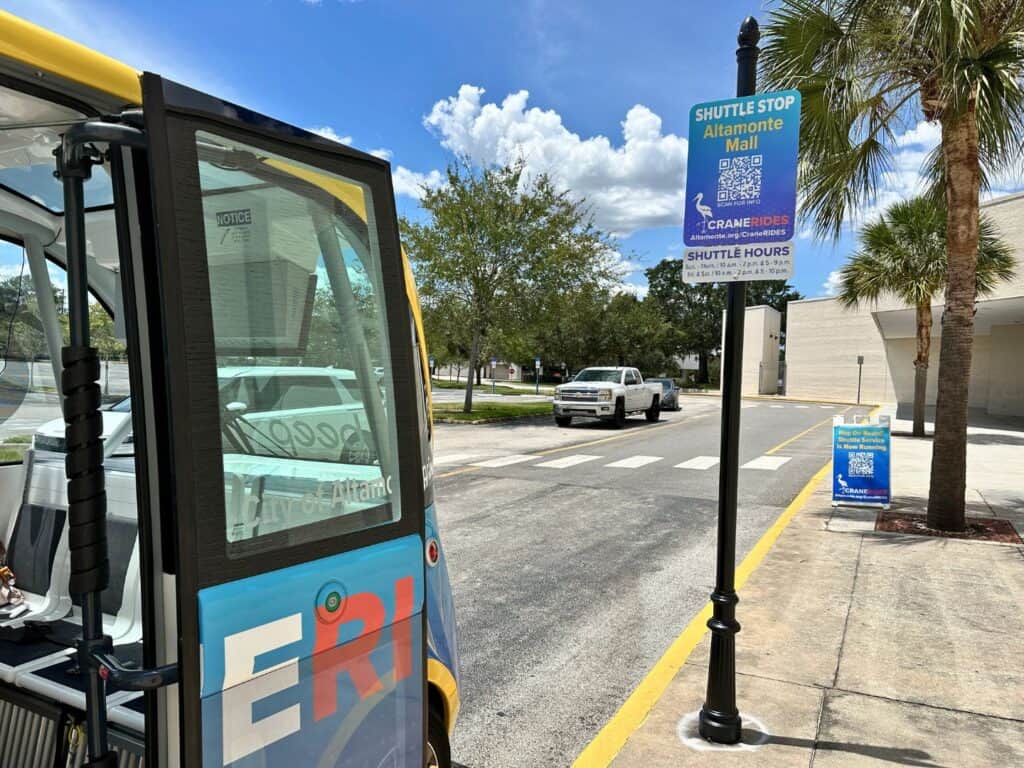 Our First Hand Experience On Board CraneRides
Excited to see the new Beep Autonomous Shuttles in person, my young son and I headed to Altamonte Mall on a weekend outing. As a native of Seminole County, it is exciting to see this new autonomous vehicle technology arrive at Altamonte Springs (Beep autonomous shuttles have been in place in Lake Nona for quite some time).
Prior to arriving at Altamonte Mall, I downloaded the Ride Beep App which shows the precise location of each shuttle. I noticed the shuttles waiting at either end of the route.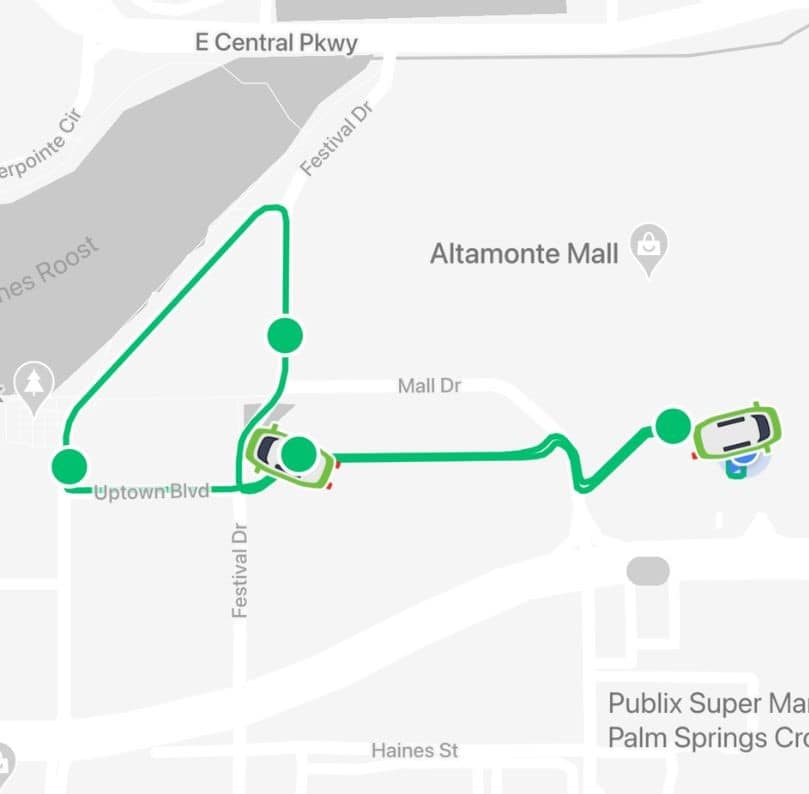 We parked near the Altamonte Mall Beep shuttle stop and immediately hopped on board. The onboard attendant greeted us and seemed excited to show off the new service. She even made sure our seatbelts were securely fastened and tight enough.
Within a few moments, the CraneRides shuttle pulled out of the Altamonte Mall stop and began traveling to the Renaissance Center.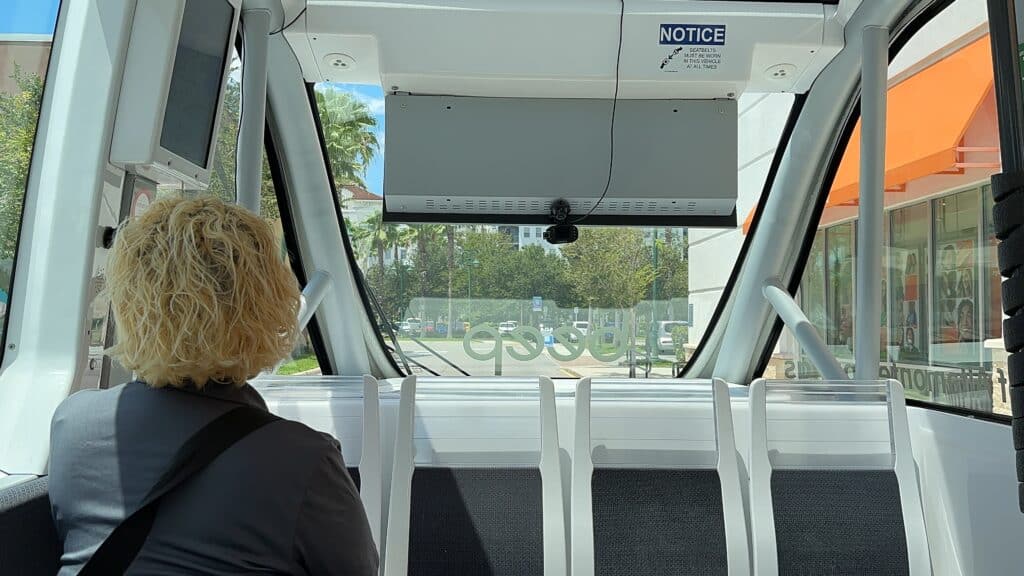 The attendant gave us a friendly heads-up that the shuttle may come to a quick stop if anything in the path is detected. As someone who easily gets car sick, I got a little worried. In the end, the ride was relatively smooth and the open design, with large windows, made it easy to see all around us.
My son loved every moment of the ride. At each stop the autonomous shuttle made cute trolley bell sounds. I noticed excited faces on kids as the brightly colored CraneRides shuttle passed them by.
Had the weather been more pleasant I would have disembarked at the Cranes Roost stop for a nice stroll before hopping back on board. I can't wait to ride this shuttle during the holiday season and enjoy the lights at Cranes Roost Park – some of the best Christmas lights in Orlando!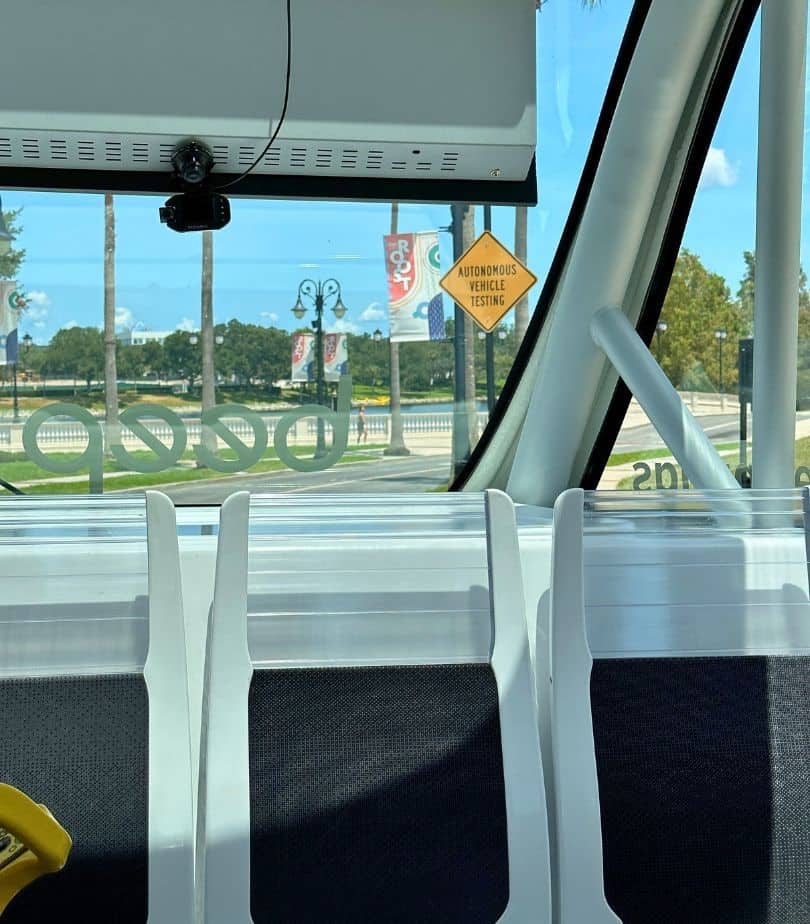 After our 20-minute round trip, we returned to the Altamonte Mall shuttle stop. By the way, the Altamonte Mall is one of our favorite places to take toddlers in Orlando.
After enjoying this first trip aboard Beep autonomous shuttle in Altamonte Springs, my son quickly asked when we can ride it again. It is certainly a fun and simple thing to do!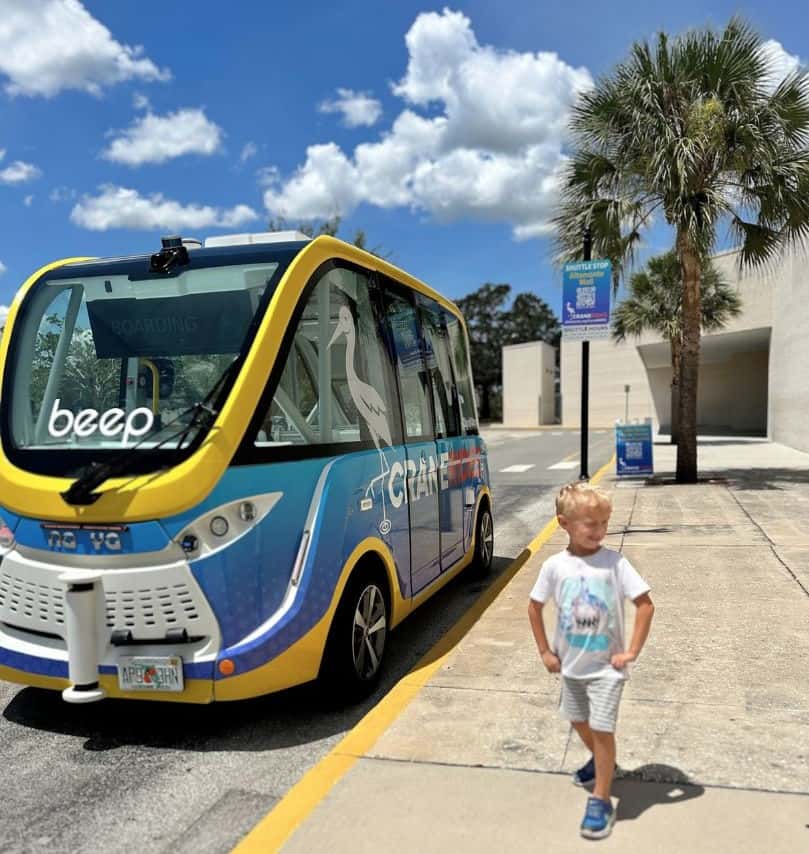 Shuttle Schedule
Sunday through Thursday: 10 a.m. to 2 p.m. and 5 p.m. to 9 p.m.
Friday and Saturday: 10 a.m. to 2 p.m. and 5 p.m. to 10 p.m.
Notice the shuttle service runs until 10pm on Fridays and Saturdays!
Future Expansion
The shuttle route right now is pretty centralized, but it will expand soon. It does make it easier to get from Altamonte Mall to Cranes Roost Park and the Renaissance Center, and once it expands in the next two years it will be even better!
Sometime in late 2023 or early 2024, the Beep autonomous shuttle will include stops at AdventHealth Altamonte, and the third year the SunRail station becomes an additional stop!