9 Best Hayrides in Orlando for Frolicking Fall Family Outing
As much as we love this time of year, it can get quite busy! With so many Orlando fall events around town, there are precious pumpkin patches for snapping photos, and corn mazes to explore. Gosh, that's a lot of time on our feet and walking around. Thankfully there are quite a few hayrides around town so you can rest your feet a bit. We've rounded up the best Orlando hayrides!
Best Orlando Hayrides
Saturday, September 15 – November 12, 2023
950 Tavares Rd., Polk City, FL 33868 (1 hour from Orlando)
Harvest Holler Corn Maze is a real working family farm with animals and fun activities.
Harvest Holler has so many fun family activities like The Minnow and Tadpole Fishing Tub, corn tubs, "See the Animals" Adventure Hay Ride, and more! This adorable hayride includes views of farm animals!
Saturday, September 23 – October 30, 2023
Also select weekdays in October
Fall activities, hayride and maze, plus fresh pumpkins to take home
$13 – $15 (tickets often sell out)
A Lot of Pumpkins located at Santa's Christmas Tree Forest is full of family fun. The maze at this fall festival is fairly simple and winds through tall fencing. It is not actually through corn like other corn mazes in Orlando. Still, there is plenty of shade, so many cute areas, and plenty of refreshments for sale.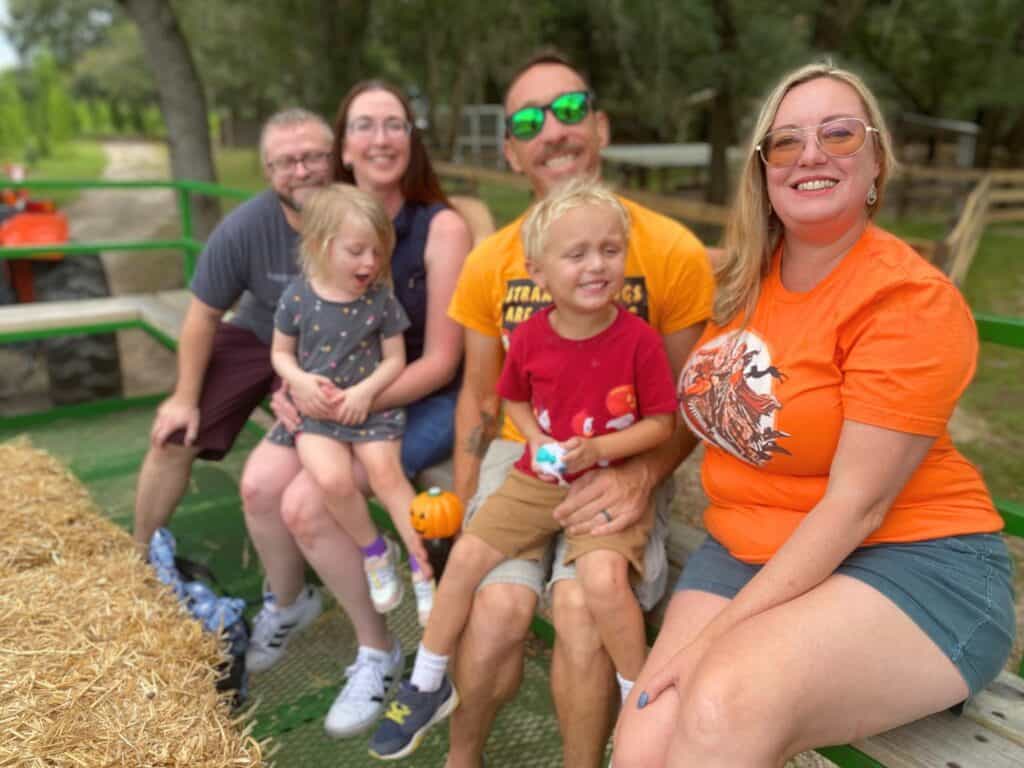 The hayride is precious too! This is the only maze near Orlando with a hayride that goes through a small tree forest.
Saturday, September 23 – Sunday, October 29, 2023 (Saturdays and Sundays)
$15 – Saturday & Sunday (ages 3 and older)
Celebrate the essence of autumn at Amber Brooke Farm's biggest festival of the year! Immerse yourself in the season's wonders with pumpkin picking, navigate their brand-new crop maze, and bask in the beauty of their sunflower and zinnia fields.
Rediscover cherished farm traditions like sliding down the hill, cow train rides, and wagon adventures.
Plus, this year, they've added thrilling archery and gel blaster ranges to the mix!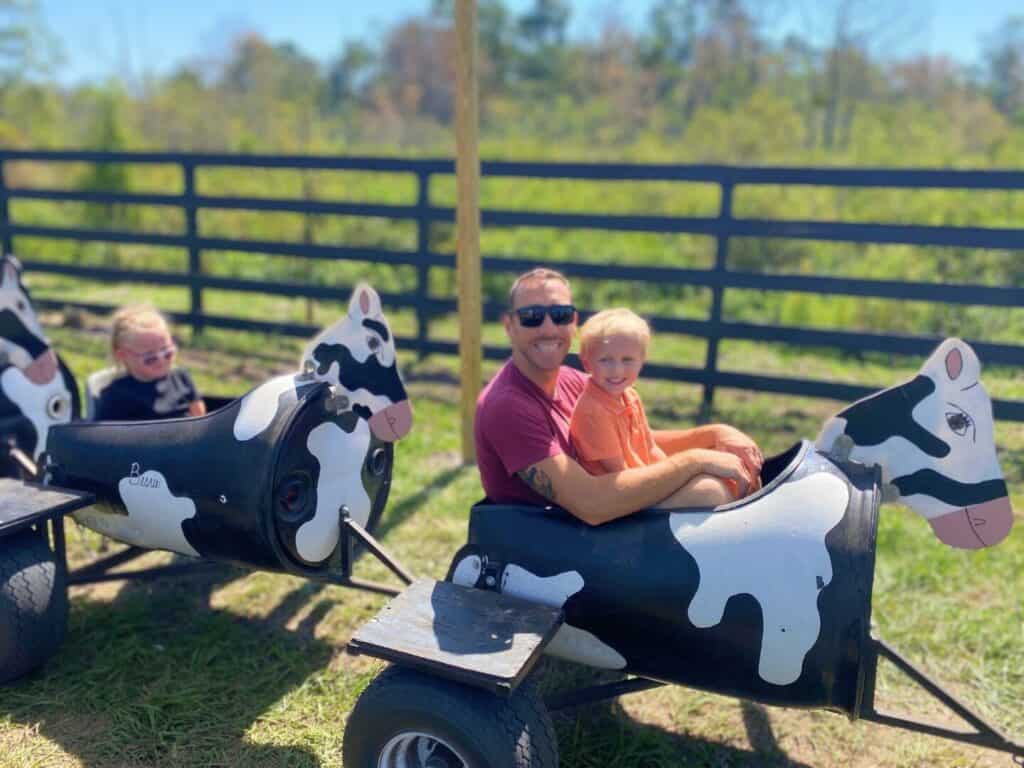 While there is not a traditional hayride at Amber Brooke Farms, there is a Cow Train Ride (barrel style) that is super fun. Plus there are beautiful flower fields and a crop maze you'll pass by as you snuggle your little pumpkin on the Cow Train Ride.
Saturdays and Sundays September 30 – November 26, 2023.; 10am-5pm Saturdays and Sundays
Great Scott Farms has a new name, but the annual tradition of the corn maze continues. This is one of the most well-known corn mazes in Orlando, but don't overlook the hay rides. Advance ticket purchase recommended. $18 per personImportant tip – There is the main corn maze and a smaller easier path if you prefer.
There is so much to do at Club Lake's Fall Festival. Enjoy hay rides, a corn maze, football area, basketball area, a charming Country Store, and more!
When: Fridays, Saturdays, Sundays, 10am – 6pm, September 30 – October 29, 2023
Where: 3403 ROCK SPRINGS ROAD, APOPKA, FLORIDA 32712
Cost: $16.95 per person, The Pumpkin Patch and Country Store are free – no admission required
Arts and crafts, corn hole, maze, and family games. This is one of the classier fall events and corn mazes in Orlando – great for a sophisticated day.
The hay ride at Fall on the Farm Grandes Lakes is a must-do. You'll cruise past the pumpkin patch, the chicken coops, and get into some of the Florida wilderness.
When: 10/7, 10/8, 10/14, 10/15, 10/21, 10/22, 10/28, 10/29
Where: Whisper Creek Farm at Grande Lakes Orlando
Cost: Adults: $49 plus 6.5% tax, Children: (3-12) $30 plus 6.5% tax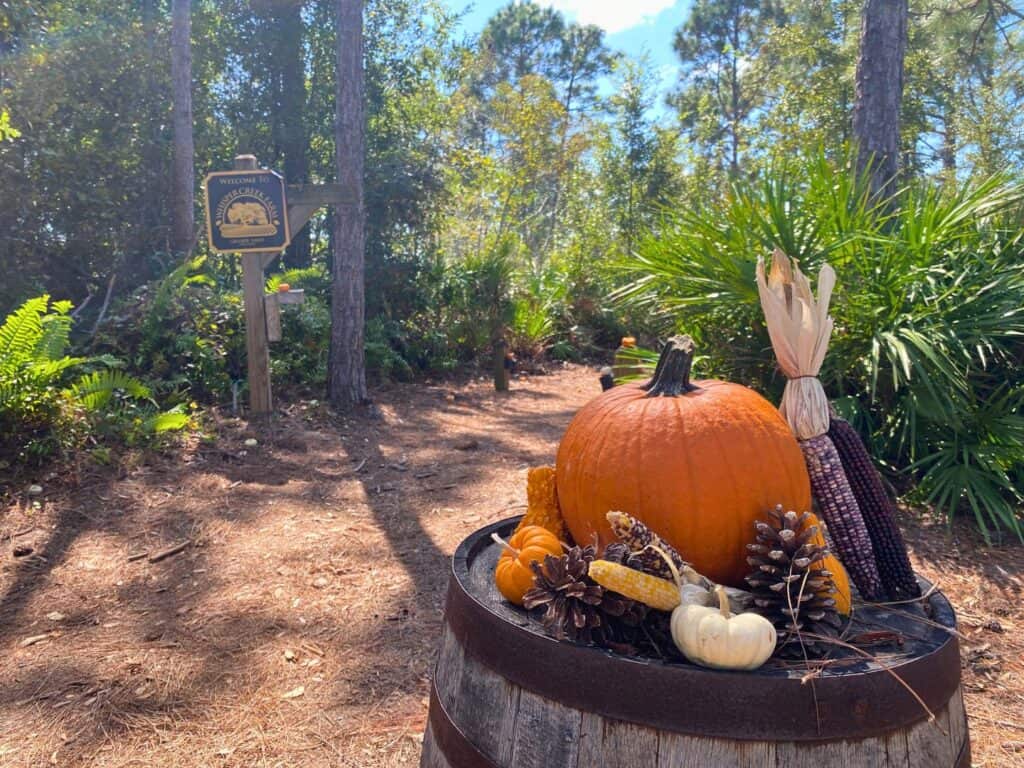 One of our favorite things to do with toddlers in Orlando is to visit Lukas Nursery for the butterfly encounter. And their annual fall festival is not to be missed!
When: October 14th & 15th, 2023 at 10:00 am to 4:00 pm.
Where: Lukas Nursery Oviedo
Cost: $10 for hayride only – $20 for all activities wristband
You have got to see this place! Partin Ranch Farms is full of fall fun and farm animals. Kick back, relax and enjoy the scenery on this hayride. You may see wildlife and get a chance to feed some Brahman cattle and view some wild Florida hogs.
You can also add on experiences like riding a genuine working combine harvester for $5 per person, or a pony ride for $10 (cash only).
When: Saturdays, Sundays, 10/7, 10/8, 10/14, 10/15, 10/21, 10/22, 10/28, 10/29
Where: Partin Ranch Corn Maze, 5601 Canoe Creek Road, Kenansville, FL 34739
Cost: $15 per person ages 3 and older
Weekends only, October 7-29, 2023
Harvest Fields, 3000 N Spring Garden Ave, DeLand
Admission price includes unlimited Corn Maze, Hayride, hay fort, round bale racers, duck races, corn hole, corn box, post pounders, and mini hay maze.