Best Orlando Restaurants to Celebrate a Child's Birthday
Birthdays are big and highly important in our family. It's a day to celebrate that special person and let them know how thankful we are to have them in our lives. If we admit it, we all enjoy being pampered and doted on for at least one day of the year.
While birthday celebrations differ for each family, there are those occasional birthdays that you want to do something a little extra. Skim through our list of themed restaurants to find the next spot for a birthday jubilee.
American Girl Bistro at Florida Mall
8001 S Orange Blossom Trail, Orlando
877.247.5223
American Girl has been encouraging girls everywhere to build quality character traits in every era since 1986. As a child of the 80's, I remember these beloved dolls and their stories. Although I never owned one of the dolls, I dove into the book series regularly. Samantha and Josefina were favorites of mine.
Over 30 years later and these dolls are still going strong while continuing to encourage girls to celebrate their individuality.
Little girls and little-girls-at-heart can dine with their favorite American Girl doll right here in Orlando! The American Girl store is one of our favorite things to do at Florida Mall.
If your child happens to be like I was and doesn't proudly own her very own American Girl doll, the store will gladly loan one for the festivities. There are several package options for parties of 4-12 people starting at $39 per child and $12 per adult.
Packages are available for ages 18 months and up and include an activity or craft, signature cake and ice cream, beverages, goody bags, a special gift for the birthday girl and a personalized planner.
There are also Take-Home parties for larger groups up to 20 people. These packages run $25 per person and include a signature cake, digital invitations, table talkers, a themed goody bag per guest, a doll-sized crown, cup and saucer per guest, and a birthday crown and gift for the birthday girl.
You can select your package and book online. For assistance, call 877.247.5223.
Hot Dog Hall of Fame
6000 Universal Blvd, Orlando
407.224.3663
"Take me out to the ball game!" It's batter up for a home run hit that kids will run bases for…hot dogs! The menu at Hot Dog Hall of Fame is bursting with iconic hot dogs from around the U.S.A. While this is a quick service restaurant in CityWalk and doesn't have a birthday area or package per se, it's themed adorably.
You will walk up to a mini baseball stadium with all outdoor seating and a big screen displaying a sports game. There's even stadium seating with small tables scattered for the full ballpark experience. This is an easy way to take in a baseball escapade during any season and on any budget.
Diners can get extravagant with the fully loaded Chicago Dog or stay simple with just a Nathan's Famous Hot Dog. Dogs can be purchased solo or as a combo for a dollar more. Combos include chips or fries but sides like peanuts and Cracker Jacks are on the menu too. Don't forget your ice cream or chocolate chip cookie for dessert!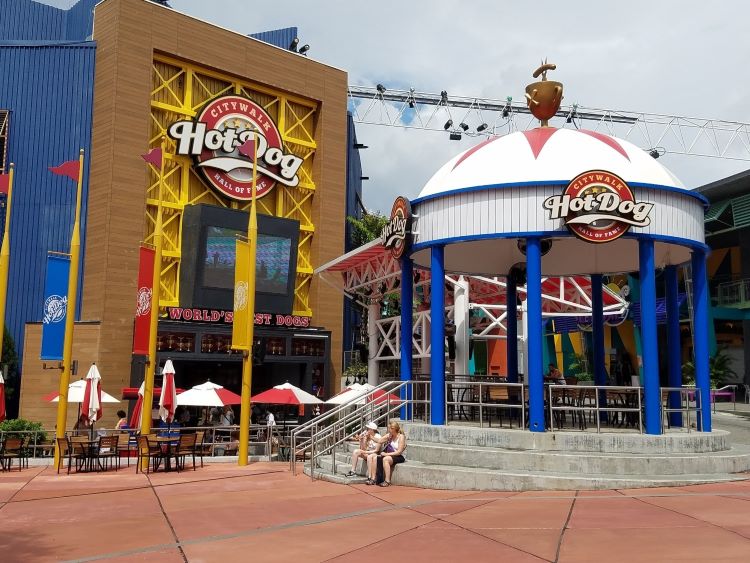 Joe's Crab Shack
8400 I-Drive, Orlando
407.352.2928
Eat at Joe's! If you haven't tested the waters at this seafood establishment, you're missing out. The staff know how to have a (clean) party and create a unique experience for special celebrations. The atmosphere takes you to a coastal shore with nautical décor to ogle at while employees offer interactive opportunities throughout the meal. Seafood lovers will rejoice in salty offerings and land lovers will delight in turf plates. Don't forget to ask about the Paint-a-Crab Dessert!
Groups are welcome at Joe's. A special Group Sales Coordinator will guide each step from planning to the last goodbye so the special birthday shark has life-long memories. Whether the party is a small group or includes all of the neighborhood kids, there's plenty of room to welcome everyone casually. Dive into the inquiry page for more details.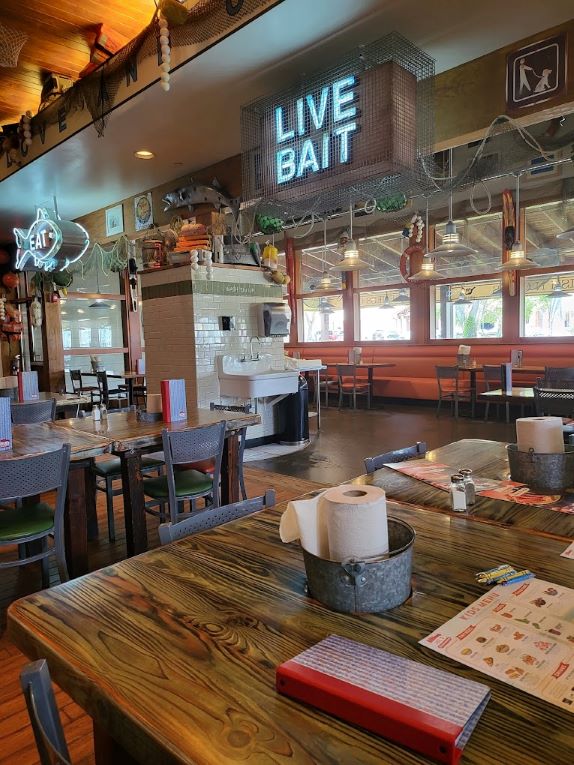 T-Rex Café
1676 E Buena Vista Dr, Lake Buena Vista
407.828.8739
Dino's are anything but dead when you visit T-Rex Café. Those giant lizard lovers in your life will have an explosive time watching the light show across the ceiling and animatronic dinosaurs. Be sure to check out the octopus bar with moving tentacles and jellyfish. How cool?! Celebrate your paleontologist with a small number of people or with a large group.
Groups must be 15 people or more to book. Parties include a 90-mintue time slot although, 30-minute increments can be added for an additional fee. Plan the menu with Jurassic Chicken Strips, Paleo Pizza or Sly's Sliders, schedule a scavenger hunt, dig into the Paleo Zone or take home a special Build-A-Dino from the onsite Build-A-Bear Workshop.
The Birthday Expedition package starts at $38.99 per person and entails a Friend-A-Saurus from the Build-A-Bear Workshop, sticker craft, and choice of kid's meal, side and beverage. Add ons are available for a customized birthday.  Inquire online to create an unforgettable birthday celebration.
Sugar Factory
8371 I-Drive, Orlando
407.270.7082
How adorably fun would a Sweet 16 or Quinceanera party be at Sugar Factory?! Not only do sweet treats await but so does the wow factor with little extras like dessert sparklers. Choose from an array of menu options. The Celebration Menu starts at $49 per person and includes three courses for guests.
Sugar Factory is located within the ICON Park complex providing many celebratory choices for activities before or after the meal is complete. Brunch, lunch and dinner are all available for booking. Contact the Events Department at [email protected] to start planning.
Toothsome Chocolate Emporium
6000 Universal Blvd, Orlando
407.224.3663
Host an indulgent soiree at Toothsome Chocolate Emporium for the steampunk lover in your household. Penelope Toothsome invented the Toothsome Chocolate Emporium in honor of her thrill-seeking parents. They set out to look for their adventurous daughter wherever chocolate could be found. Penelope knew she would have to create the largest chocolate extravaganza anywhere to be reunited once again with her family. She can be seen walking around the restaurant frequently with her robot companion Jacques. They enjoy a good old-fashioned celebration and happily pose for pictures.
The menu is packed with bites to please any palate. Appetizers like the Warm Chocolate Almond Bread or the Pork Belly Sliders will hold hunger at bay until the main course arrives. The Kids Menu is versatile with Chicken Fingers, Marinara Garginelli, Mini Burgers, Chicken and Rice, and Waffles. The Everyday Menu for the older crew includes salads, sandwiches, pasta, and entrees like the Chicken Bourguigon. Yum!
Of course, you must save room for dessert as that is the main attraction at this venue. I highly recommend one of Jacques' Specialty Milkshakes. They really are worth the hype! Since it may be hard to decide, order Jacques' Specialty Flight which includes five flavors for $50. An excellent option for shareable delights.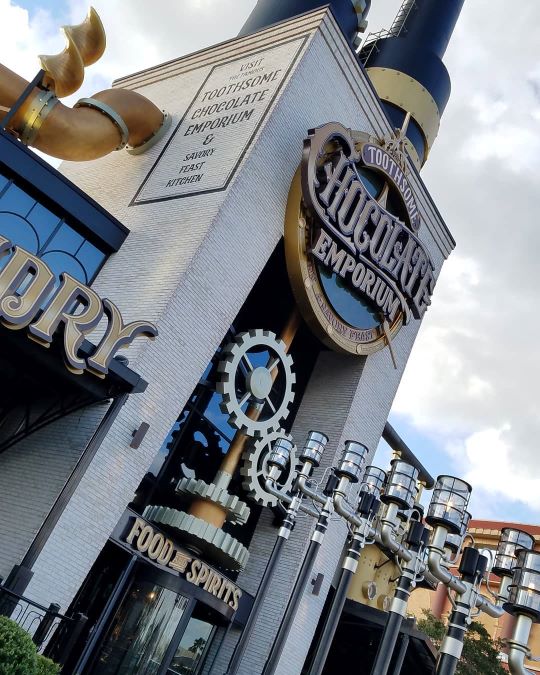 Titanic Gala Dinner
7324 I-Drive, Orlando
407.248.1166
Get dolled up and dress the part for an evening aboard the Titanic. Captain Smith and Margaret "Molly" Brown will host the dinner party with fellow passengers to create an unforgettable night as they recreate the evening of April 14, 1912. Diners must be a minimum of 7 years old to attend. All passengers are encouraged to dress accordingly although there is no dress code. Since the atmosphere of the North Atlantic in April is the time frame, it can get cool.
Guests check-in at 5:30 for boarding passes and seating assignments. There are 8-10 people seated at a table. The Gala includes the Captain's cocktail party, a tour of the Titanic and first class dinner. The dinner has 4 courses with the main course including a child's option of chicken fingers and mac and cheese. Ages 12 and up are $69 per person and ages 7-11 are $42 per person.
Rainforest Café
1800 E Buena Vista Dr, Lake Buena Vista
407.827.8500
Hoop and holler with the jungle animals as you dive deep into the Amazon at Rainforest Café. Every inch of this eatery is covered with lush landscape and animatronics such as birds, elephants, gorillas and beautiful schools of fish. Your little monkey will have a blast partying like an animal.
The kids menu is wildly inclusive for even the pickiest eaters. Chicken, pasta, hot dogs and burgers are just samplings of entrée options for the younger family members. The sales team is at the ready to help plan the perfect jungle expedition. A sparkling volcano shaped cake, animal hats and even characters are a few of the endless possibilities. To make the celebration extra special, spend the day at Animal Kingdom and end at the Rainforest Café located just outside the entrance of the Park.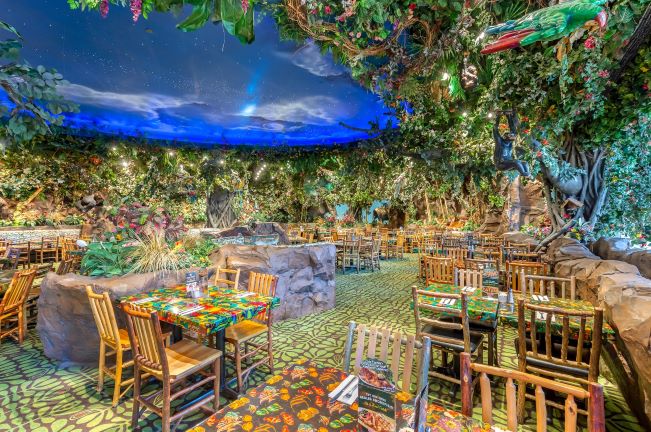 Ford's Garage
8201 Vineland Ave, Suite 1801, Orlando
407.602.3673
Those little car and truck enthusiasts will get revved up for Ford's Garage. Nosh on bites while being surrounded by vintage Ford vehicles, gas pumps, and other items. The most notable attraction is the Model A hoisted on a faux garage lift with spinning wheels and an occasional smoke puff. Listen out for the periodic horn toots too.
There is a plethora of nibbles on the menu but since Ford's Garage is known as a burger joint, that's what I would suggest. The Kids Menu has a cheeseburger, chicken sandwich, fish planks and grilled cheese. All burger buns, including the kids, comes stamped with the restaurant's logo which my munchkins thought was pretty cool.
Chef Mickey's
4600 World Drive, Orlando
407.939.5277
Disney fans of all ages can get goofy at Chef Mickey's in the Contemporary Resort. There isn't a child I know that wouldn't revel in celebrating their special day at a spot in the most magical place on Earth. The "Fab 5," Mickey, Minnie, Donald, Daisy and Pluto, join diners for dances, hugs, hellos and photos as they parade their way through the restaurant.
There is a brunch and dinner buffet to nosh on all you can eat goodies. The brunch buffet features sweet and savory choices like breads, waffles, scrambled eggs, bacon and a carving station. Dinner boasts flavorful nibbles from land and sea such as steak, pork, shrimp, chicken and vegetable stir fry. Don't forget to add a special order Mickey cake to end on a sweet note.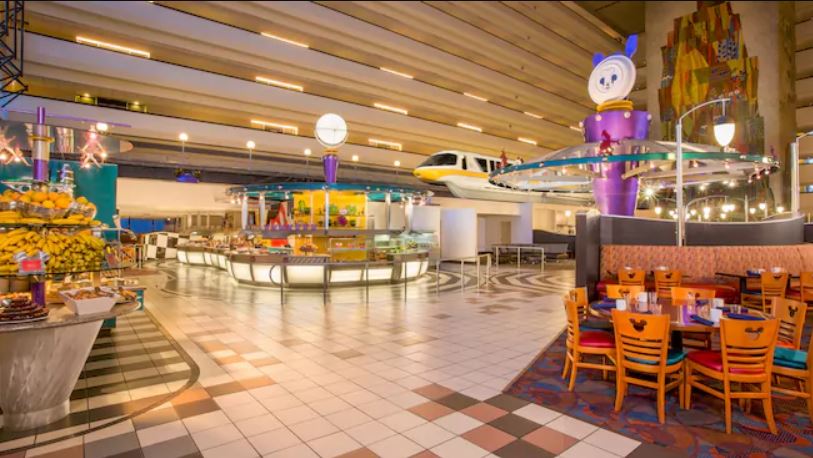 Mythos Restaurant
6000 Universal Blvd, Orlando
407.224.3663
Journey to the lands of mythical structures with ancient carvings at Mythos in Universal Studios. Located in The Lost Continent inside Islands of Adventure, park passes will be required to partake in this menu of unique fare. Once you've taken in the impressive exterior of this establishment, head inside the craggy grotto for the edible experience.
Lamb, grilled octopus, and pad Thai are a few of the unique selections to devour. Don't worry! There are plenty of menu items to please the less adventurous palates. Burgers, salad, and fish are safe bets if you prefer to stick to an American cuisine.
The Kids Menu also boasts normal dishes like grilled cheese, pizza and chicken fingers. Save room for a decadent dessert. The Graham Cracker Pudding is calling my name!
Also Try:
Friendly's Diner – This restaurant is a throwback to a classic diner with delicious diner food offering a homey feel.
Millie Moo's – This isn't exactly a restaurant but you can grab some bites while the tots play the day away!
PopStroke – A fun time for golf fanatics of every age. Golf and food meet at this experimental concept.  
Featured image credit: T-Rex Cafe