Parent's Ultimate Guide to Central Florida Zoo Homeschool Classes
Being outdoors and in nature has many benefits on children physically, mentally and emotionally. Studies have proven that time in nature isn't just a desire for some children but a necessity for all children according to this Harvard Health blog article. Of course, for you parents who homeschool like me, we know this without needing studies to tell us because we see it before our eyes every day.
Maximize the power of nature and learning by enrolling in one of the Homeschool Programs at Central Florida Zoo & Botanical Gardens. We're sharing our firsthand experiences and tips!
Zooventures
Every month from September to May homeschool families can bring classroom learning to life with interactive and up-close experiences through Zooventures.
Classes are affordable for homeschool families at $16.00 for annual passholders and $19.00 for non-passholders. I can attest the quality of learning content is worth the cost per class.
Classes are broken into the following age groups: 5-8 and 9-13. My oldest belongs in the first age group and has enjoyed attending Zooventures classes. Classes are from 2:00 – 4:00 on a Tuesday or Thursday afternoon typically during the second week of the month.
We usually arrive 15 minutes early for check in at the Wayne M. Densch Discovery Center located directly outside of the zoo gates.
Children do not need anything but a water bottle and face mask (for animal interaction only) to attend class unless otherwise noted specifically. Parents and guardians DO NOT attend class with the child. Let your baby bird soar from the nest!
This is where my younger two children and I would hop into the Zoo for independent learning for a couple of hours. It's convenient that class ends and the zoo closes at 4:00.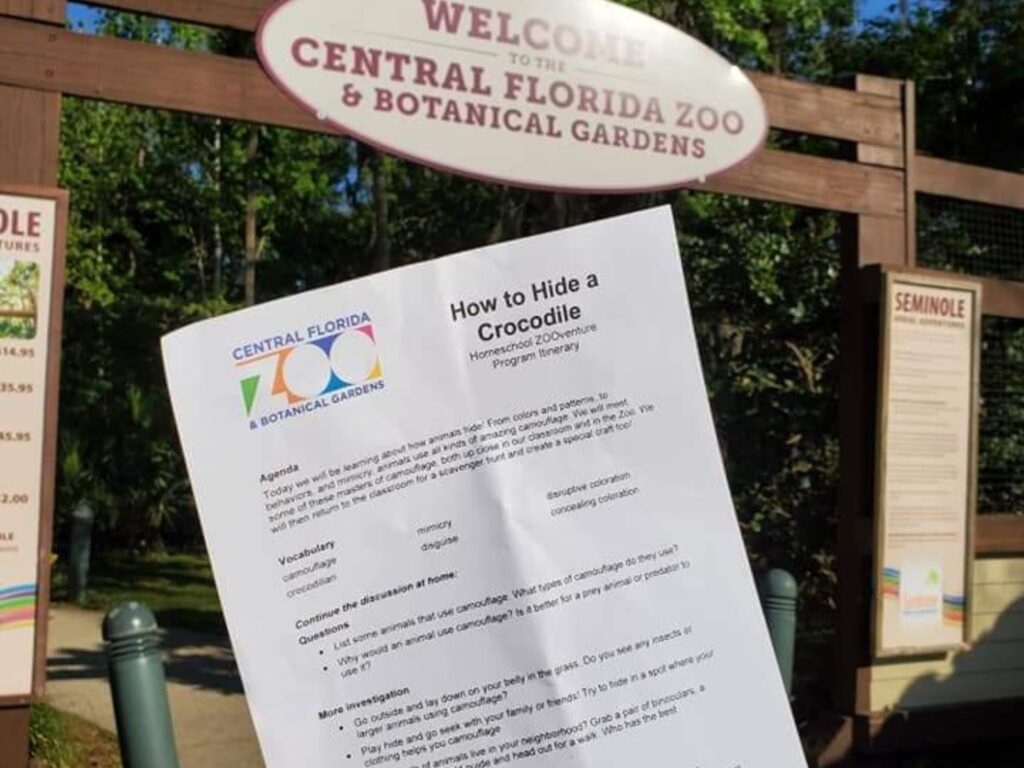 Classes at Zooventures
Each year has brought new and different class content. The remainder of this school year will focus on:
Ages 5-8
Big on Bears – We're going on a big bear adventure to learn about Florida's amazing black bears!
Amazing Africa – Students explore this fascinating old-world continent's lands, cultures, and animals.
Take Flight – Experience the world from a bird's eye view. On the ground or in the air, what is lifelike as a bird?
Zoo Keepers – Learn what it takes to care for animals at the Zoo. Whatever the weather, Zookeepers are on duty and taking care of the animals.
Ages 9-13
Zoo Animal Enrichment – Discover how Zookeepers make every day a busy day for animals in the Zoo.
Expert Egg Detectives – Become an expert on eggs! Birds, reptiles, and more, there's lots to explore!
Crazy About Crocodilians – Powerful predators with fascinating adaptations and behavior.
Zoo Careers – It takes a large team of people to run a zoo! Join us to learn about the behind-the-scenes staff that keeps things going.
Students spend part of the time in a classroom setting and part of the time learning about their topic in the zoo. "How to Hide a Crocodile" was a homeschool class my son attended.
The first part of class was instruction on different animals who use camouflage in nature, both predators and prey. The students then took a class trip into the zoo to see animals who use camouflage and mimicry for survival.
For example, river otters are dark on top to blend with the murky river bottom when looking from above and a light silver on their underbelly to blend with the water when looking from below. At first glance, they can also resemble a log floating in the water.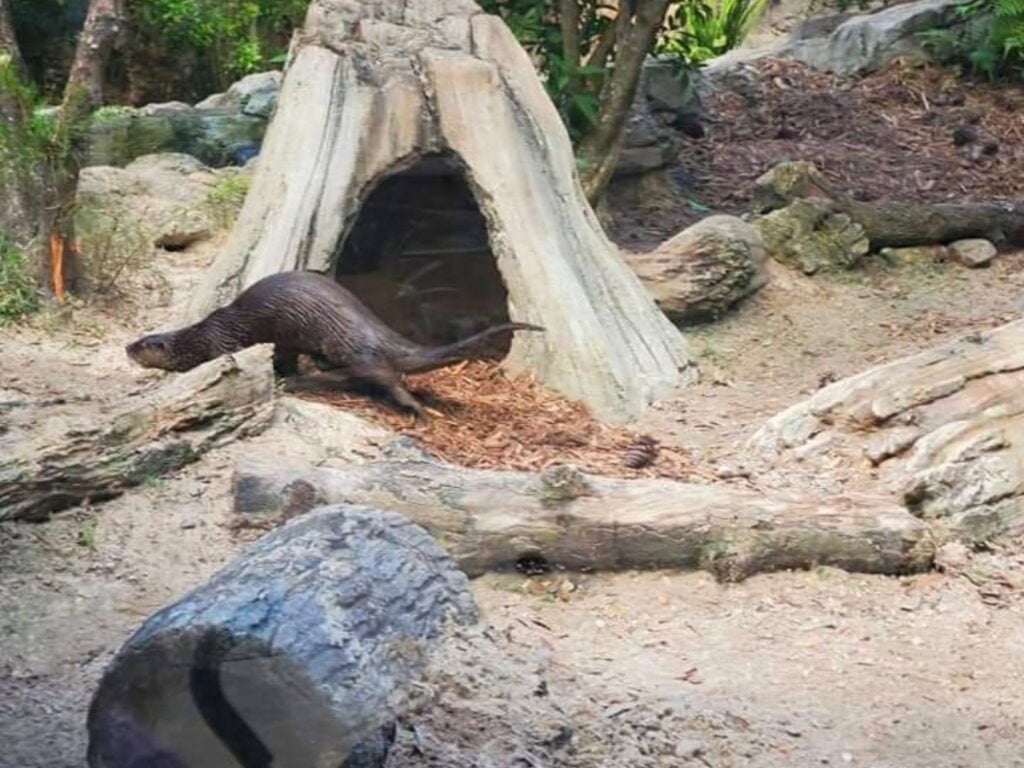 The students observed this at the otter enclosure. Sometimes animals and insects are brought into the classroom for a closer look.
At 4:00, I arrived back at the Discovery Center to check my son out. Photo ID is required for pick up and the person picking a child up must be listed as an authorized person.
Parents are handed an envelope with a survey and the class agenda for that day during check out. The agenda is a wonderful resource to see what was discussed in class, how to continue the learning at home and for homeschool record-keeping purposes.
Family Workshops at Central Florida Zoo
For families looking to learn together, try one of the Family Workshops. These workshops are for families of every age and size. They also run from 2:00 – 4:00. Program cost is $30 per family for passholders or $35 per family for non-passholders.
Listen to Animal Tales!
In search of an educational and FREE opportunity to explore the wild side of nature at the Zoo? Join an Orange County Library System storyteller in the Discovery Courtyard for animal tales.
Storytime is from 10:00 – 10:30 on select dates and is rain or shine. In the event of inclement weather, story time will be moved inside the Wayne M. Densch Discovery Center. Check the Zoo's story time page for the next event.
Volunteer at the Zoo
Don't limit learning to the classroom though! Volunteer opportunities are available for youth ages 13-17. Students must complete an online request form to receive an application. Once the application is completed, the teen will be contacted for an interview. Teens selected will attend a three-day training program and must successfully pass a final exam. Teen volunteer schedules are on select Saturdays and Sundays.
High school students looking to earn volunteer hours for their Bright Futures Scholarship can apply to volunteer. Students will man activity stations for Zoo guests to learn more on animal topics. This volunteer position does not have any animal contact and solely interacts with Zoo guests.
Seize the opportunity to attend a remaining class before summer break. In doing so, you'll have plenty of ideas to continue learning throughout the summer.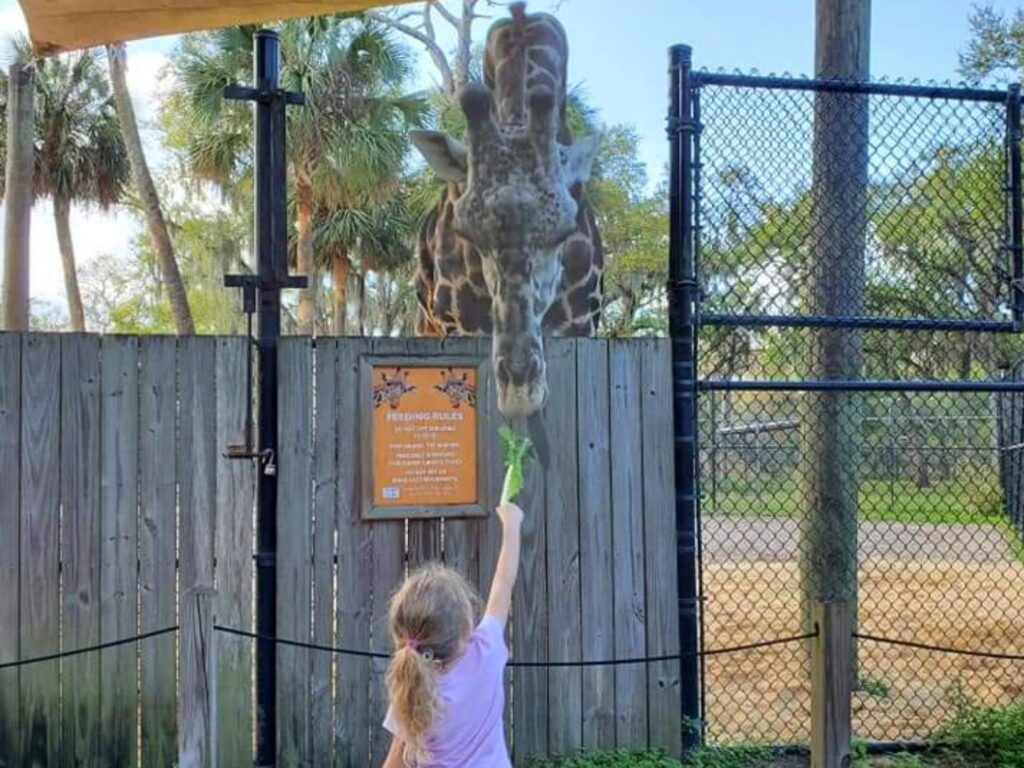 Central Florida Zoo & Botanical Gardens
3755 W. Seminole Blvd.
Sanford, Florida 32771
Phone: 407.323.4450 ext. 123
Email: [email protected]
Feature image of Homeschool Programs at Central Florida Zoo from @centralflzoo